The Best Watches Of The UEFA Euro 2020 European Championships
Finding some of the most remarkbale timepieces on the wrists of players and managers active at Euro 2020
With the UEFA EURO 2020 European Championship football full swing underway, we see all kinds of watches on the wrists of famous European football players. Most of them are from the same brands, though. Rolex, Audemars Piguet, Patek Philippe, and Richard Mille are kings in the land of football. No surprises there, really. Neither are the models of those brands. But we have tried to spot some less common timepieces. At the same time, they might still be part of the usual brands. Some of them may be less expected. Or maybe there is an interesting story. So let find out what has been on the wrists of some of the prominent players and managers of the UEFA EURO 2020 European Championships.
Where there is a lot of money, there is a high concentration of luxury timepieces. That comes as no surprise. Just as it's no surprise that many of today's football players love wearing an expensive watch from the well-known brands that are popular at the moment. The majority of players wear watches from Rolex, Audemars Piguet, Patek Philippe, and Richard Mille. Additionally, you can already guess what the most common models are. From Audemars Piguet the Royal Oak and Royal Oak Offshore, from Patek the Nautilus and Aquanaut, and from Richard Mille and Rolex, it's various models.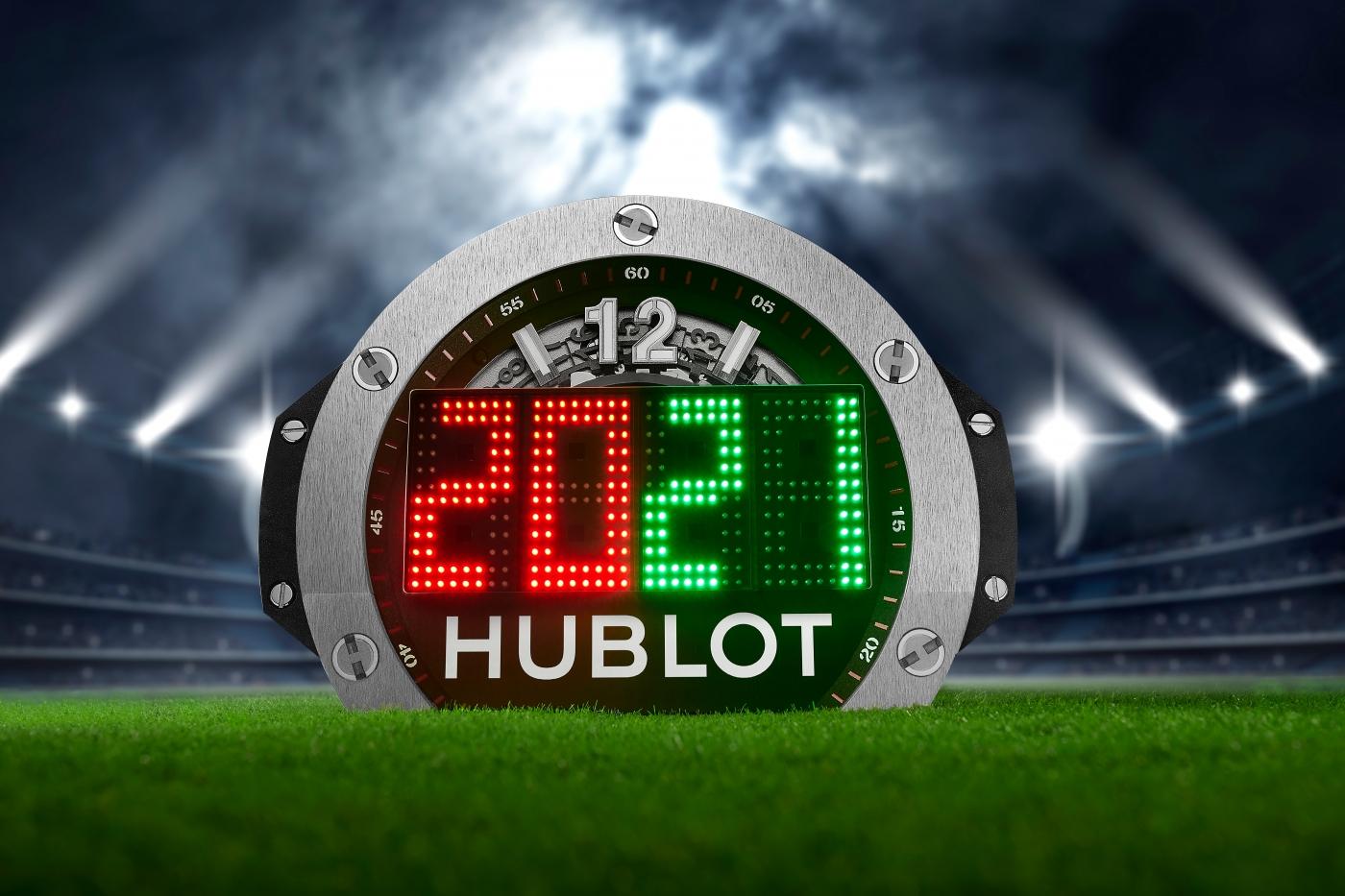 The limitation of a brand deal
A minimal number of players have brand deals like Kylian Mbappé with Hublot. Portuguese superstar Cristiano Ronaldo was linked to TAG Heuer and Jacob & Co in the past. And the same goes for non-European superstar Lionel Messi who was an ambassador for Audemars Piguet and is currently tied to Jacob & Co. But the downside of a brand deal is that you can't wear just any watch you like. And most of the players like to mix up their watches so that a brand deal might be less tempting.
This list is not about the value of the pieces but rather about a rare sighting or remarkable story. On top of that, we are not the ones to judge who wears what. But we have to address Cristiano Ronaldo as he is the biggest star of the tournament. There is no way around concluding that he wears some of the most horrible watches out of all of them. Pretty much every piece he wears is "iced out," and it seems as if his motto is: "As long as it's tacky and expensive, I'll wear it." It seems obvious that he is focused on showing off his wealth through a series of ostentatious pieces from a variety of brands like Franck Müller, Rolex, Bvlgari, and Hublot.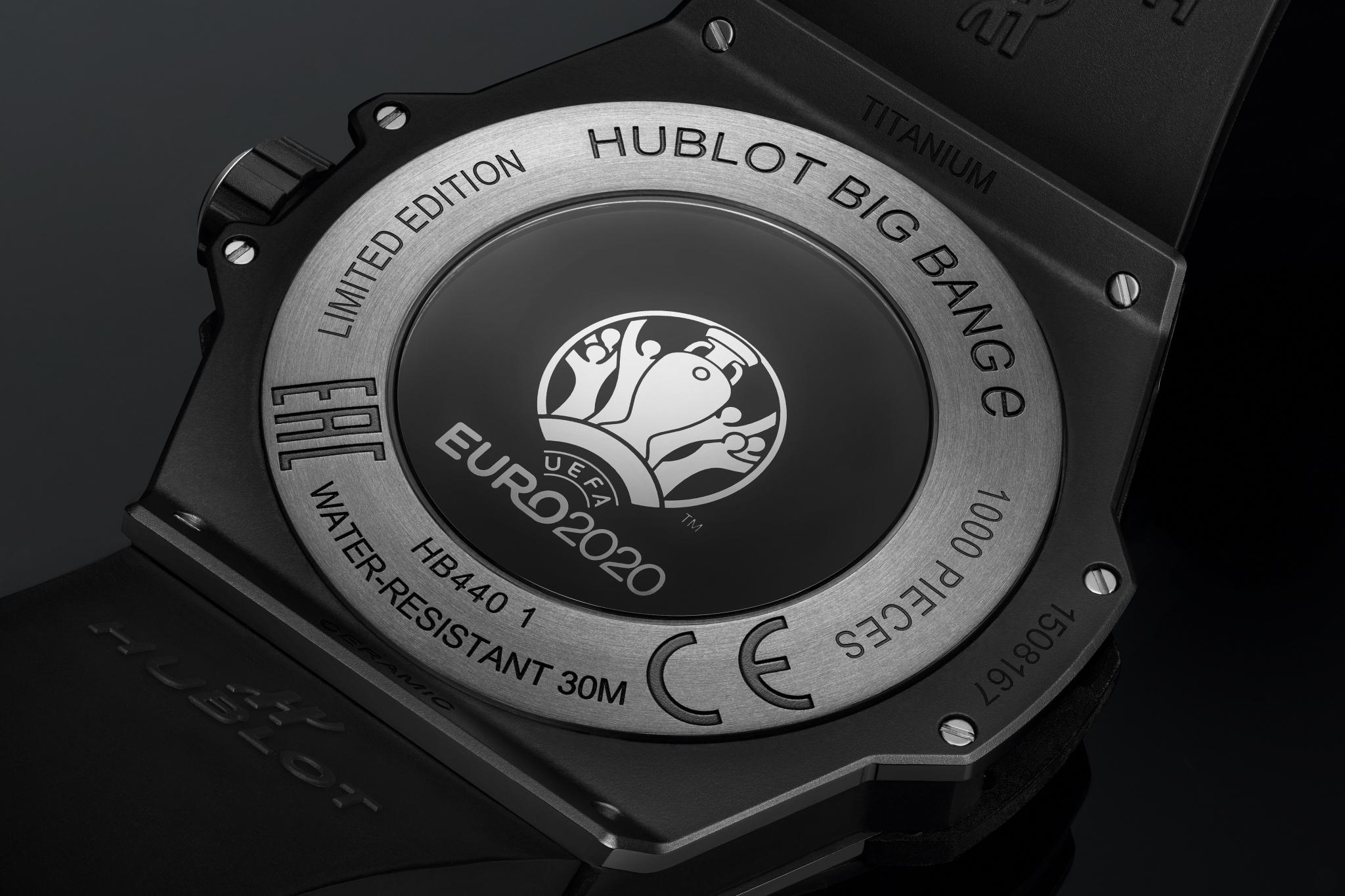 Hublot and football
Hublot is the biggest name in football when it comes to sponsorships. The brand is a partner and the official timekeeper of the UEFA EURO 2020 European Championships. Just like for previous tournaments, the brand created a special timepiece for the occasion, the Big Bang E Euro 2020 Edition watch. On top of that, Hublot equips all the referees during the tournament with special Big Bang e Referee watches. Additionally, the substitution board used by the fourth official is sporting Hublot colors.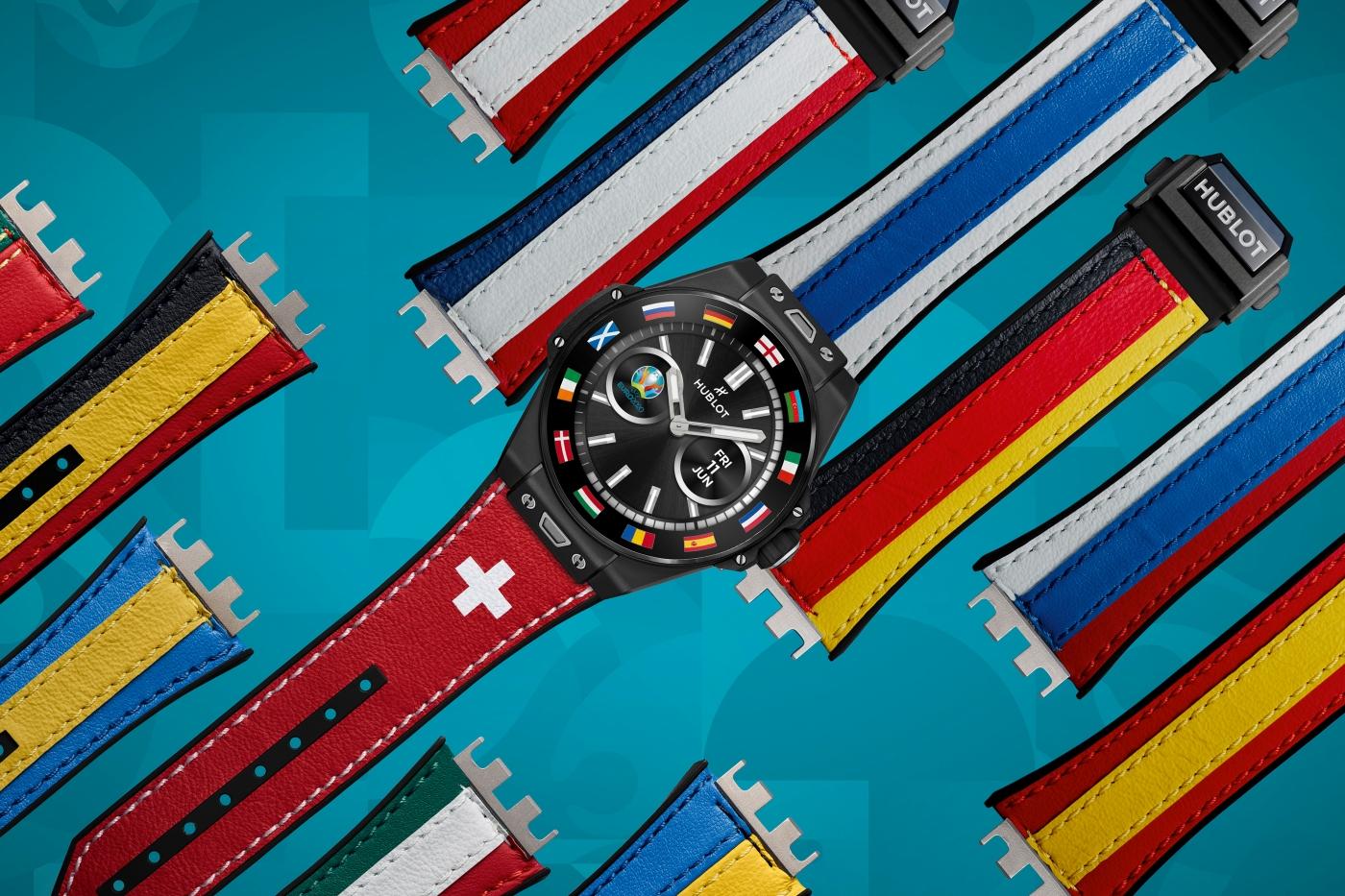 I have to give Hublot credit for claiming the world of football. Where the sport was and is not on the radar of many of the other traditional luxury brands, Jean-Claude Biver and Ricardo Guadalupe perfectly recognized the opportunities of becoming part of the world of football. In the traditional world of watches, football has always been a "no go." But Hublot is definitely not a traditional brand, and they have always been open about their marketing strategy. Football is a world full of wealthy teams, players, and managers that millions of fans look up to. It's been a great success for the brand and has certainly made Hublot a recognized name with football fans worldwide.
Spotting the best watches
Many of the traditional watch brands do not want to be associated with football. Many of the football players active at EURO 2020 do want to be associated with traditional luxury brands. While it's hard to spot all the different watches during the actual EURO 2020 tournament, we have seen quite a few interesting watches on players' wrists in recent times. So let's have a look. And while we're at it, we'll also look at some of the watches of the different managers. Do they also wear the same expensive watches as the players, or are they less flamboyant? Let's find out.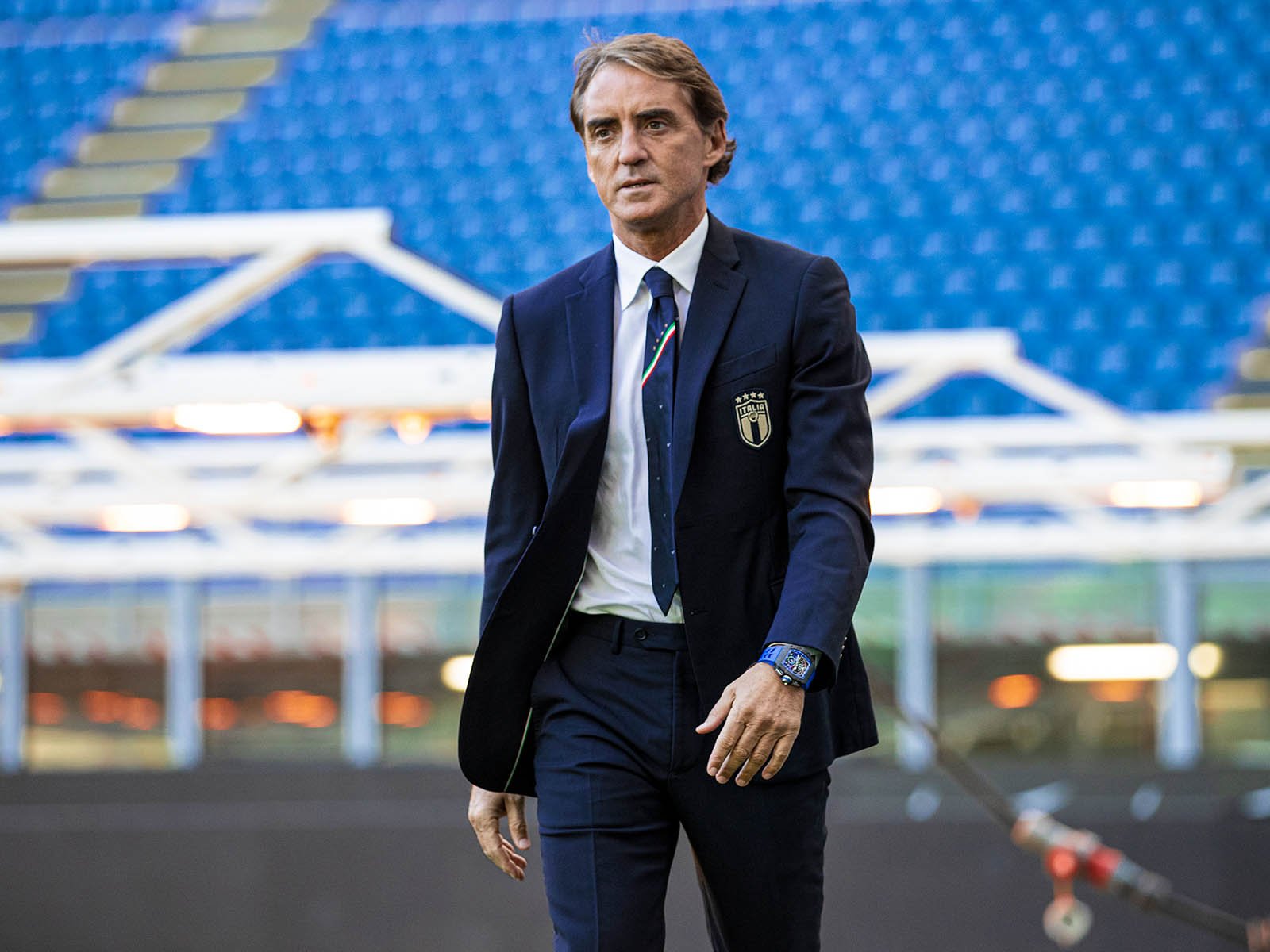 Roberto Mancini — Richard Mille RM11-04
Let's kick things off with Italy manager Roberto Mancini. He has been a brand ambassador for Richard Mille since 2013. The first model, the brand created for the Italian manager, was the RM11-01 when he was still a club manager at Manchester City in 2013. In 2018 when Mancini was appointed as the new Italy manager, Richard Mille created a second model Mancini with the RM 11-04. In the characteristic carbon tonneau-shaped case, you will find the skeletonized automatic RMAC3 movement. It features hours, minutes, seconds, oversize date, month, flyback chronograph with central minutes counter and variable-geometry rotor. What makes the piece special is that it's a flyback chronograph with a dial that displays match time based on two 45-minute halves and up to 15 minutes of stoppage time.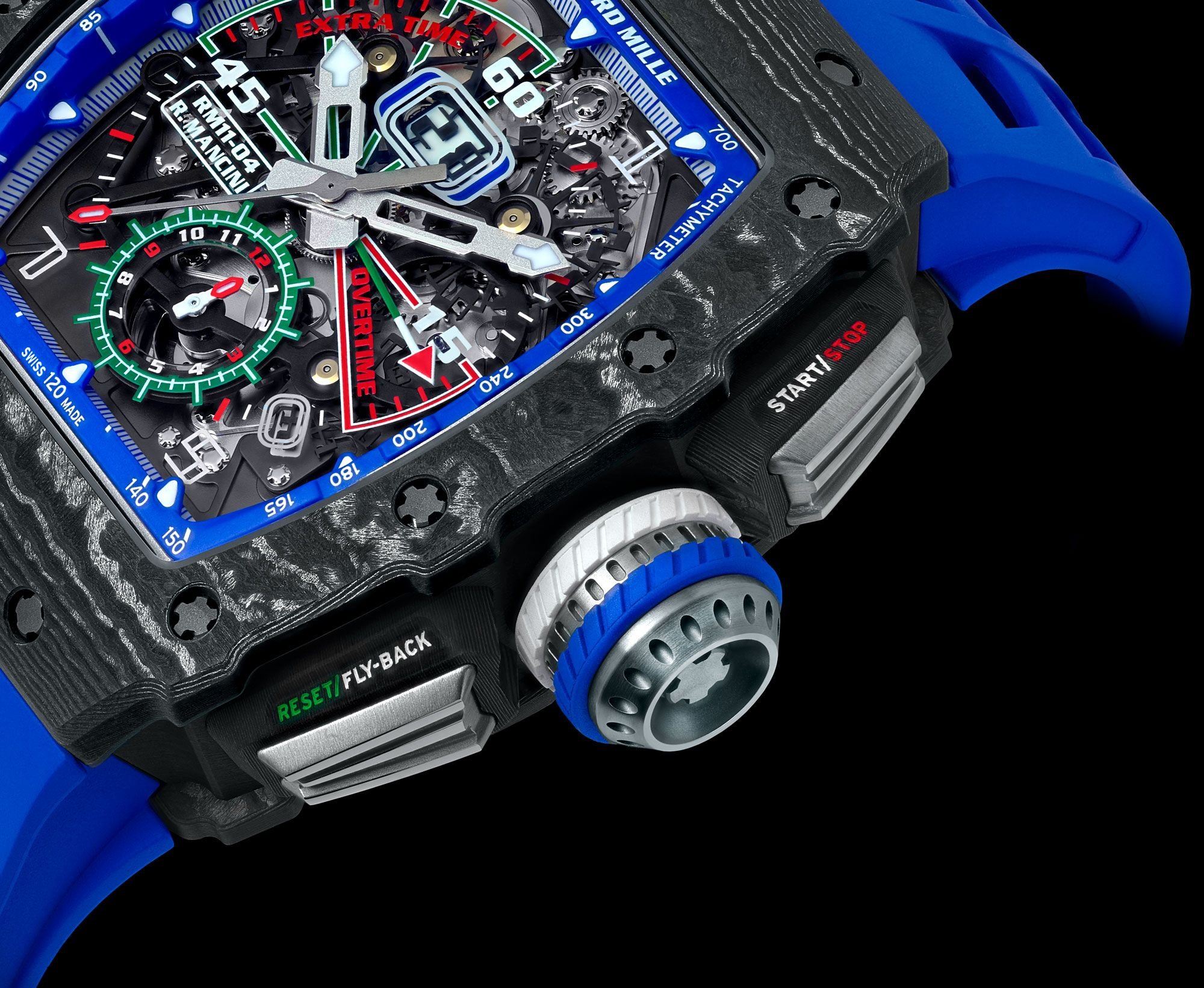 This has to be the ultimate football watch. Obviously, there are other ways of keeping track of time during a match, but that's not what it's about. Richard Mille is just as much about making a statement as well as creating a functionally impressive timepiece. The RM11-04 features a 49.94mm Carbon TP case shaped, so it sits perfectly on your wrist. The previous RM11-01 featured the colors of Il Tricolore, the Italian flag, on the skeletonized dial. The current RM11-04 takes it one step further with its blue tachymeter scale and blue strap representing the Squadra Azzurra. I love is that this model is specifically tied to Mancini. It means other players could wear it, but it will be weird seeing it on the wrist of anyone but Mancini. With the popularity of Richard Mille amongst football players, it's a pretty clever statement piece altogether.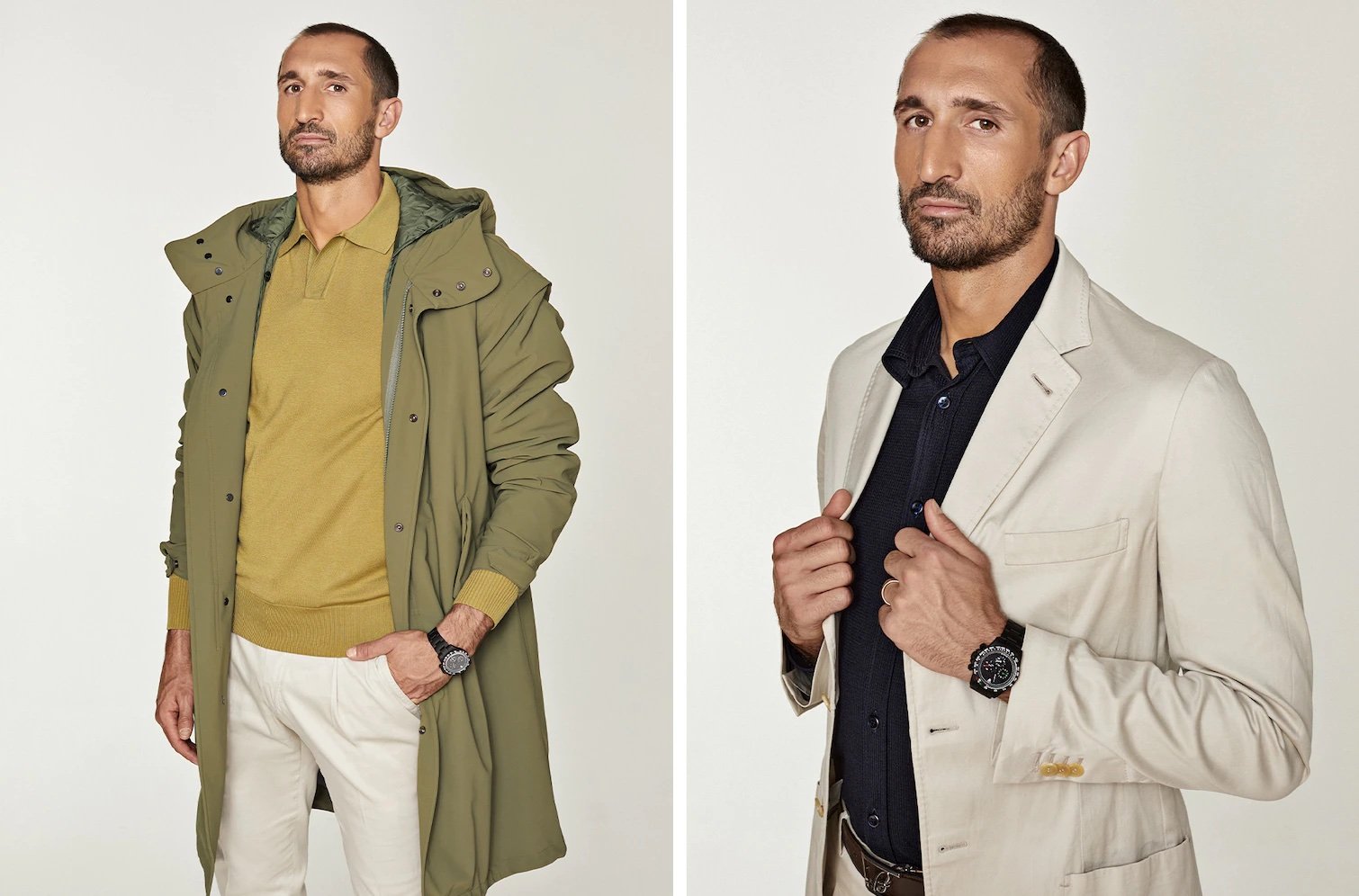 Giorgio Chiellini — Rolex Capitano Daytona × MAD Paris
The Italian player I picked is legendary Juventus defender and Italy captain Giorgio Chiellini. While I was researching the Italian players and their watches — Rolex is definitely king in Italy — I found out Chiellini announced a partnership with online luxury retailer LuisaViaRoma just two weeks ago. The Italian luxury goods store worked together with Chiellini and the people at MAD Paris to create 18 modified Rolex Daytonas. Why feature this butchering of the original Daytona? Good question. My answer to the question of whether you should modify an original Rolex is: if the brand wanted you to have it that way, they would have created it for you. So no, I am not a fan of these watches.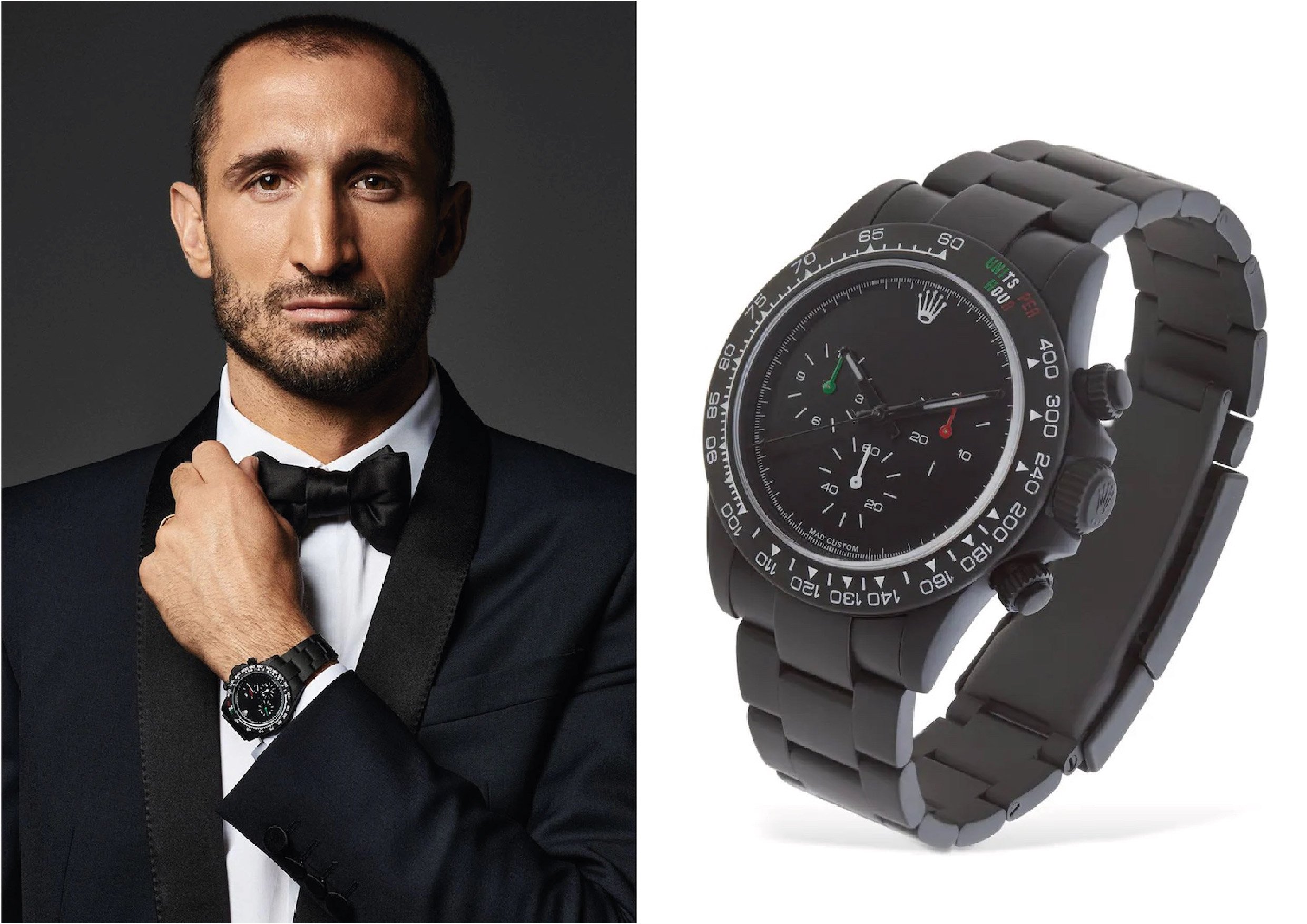 But I have to be honest because I do enjoy seeing Seiko mods a lot. At one point, I will add one to my collection. So does that make me a hypocrite? I guess it does. Conceptually I understand what the people at MAD Paris have done. To make the red, white, and green color of the Italian flag stand out, you have to apply a DLC coating. But what I absolutely don't like is that the Rolex logo was removed. The iconic coronet is not enough for me. But overall, I guess what I miss most is the luxury feel the original Rolex has. It simply doesn't look like an expensive watch anymore, which is my biggest issue. For €54,000, you would think that would at least have been secured.
Christian Eriksen — Patek Philippe Nautilus 5712/1A
Undoubtedly, the biggest story of EURO 2020 is the horrific accident that happened to Danish player Christian Eriksen. Luckily he is on his way to recovery. When it comes to watches, I am always curious to see what the Danish star wears. Scandinavia has a phenomenon known as The Law of Jante.  This set of rules from the 1930s has grown into a social attitude that disproves individuality and personal success. Well, Christian Eriksen doesn't necessarily live by those rules as he has been seen wearing a Patek Philippe Nautilus 5712/1A. While the list price is nowhere near as high as the gold references, it is still a costly watch.
After the Nautilus 5711 in steel and rose gold, this is probably the second most popular Patek Philippe model. It keeps the same 40mm case and steel bracelet as the time-only model. But the 5712/1A is powered by Calibre 240 PS that additionally features a moon phase, a small seconds subdial, and a power reserve indicator. Compared to the gold models of some of the other players, a steel Nautilus looks rather distinguished. Maybe the Danes will let him get away with it because of it. On top of that, where most players can be seen wearing various watches, Eriksen is loyal to his Nautilus. And I like the idea of buying one expensive watch that you love and wear it to make it your signature watch.
Memphis Depay — Audemars Piguet Royal Oak Concept GMT Tourbillon
Dutch striker Memphis Depay just inked a two-year deal with FC Barcelona during EURO 2020. It's a great move for Depay, who failed to impress at Manchester United but became one of the stars of the French Ligue 1 at Olympique Lyon. Depay is the kind of person that Dutch people have a strong opinion about. You either love him or hate him. Part of it is caused because he is not afraid to show off his wealth, including costly watches. The most interesting, in my opinion, is the Audemars Piguet Royal Oak Concept GMT Tourbillon. It's a watch that fits his love-hate character perfectly. There are quite a few fans of the Royal Oak that absolutely hate the Royal Oak Concept series. I love the Royal Oak Concept series as it perfectly combines forward-thinking in movement, materials, and shapes.
The specific model Depay wears in the pictures is the 44mm GMT Tourbillon that features a titanium case with a black ceramic bezel and a skeleton dial. Audemars Piguet first released the watch with reference 26560IO.OO.D002CA.01 in 2010. The piece is powered by the hand-wound AP Calibre 2913 that operates at 21,600vph with the escapement rotating inside the tourbillon cage every 60 seconds. The movement has a power reserve of a whopping 237 hours as a result of a twin-barrel construction. The GMT display at 3 o'clock shows the time in the second timezone, based on 12 hours. Light and dark 12-hour discs indicate whether it is night or day. Personally, I love the conceptual character of the series. And this is probably my favorite of the series, so that I might cut Memphis some slack this time.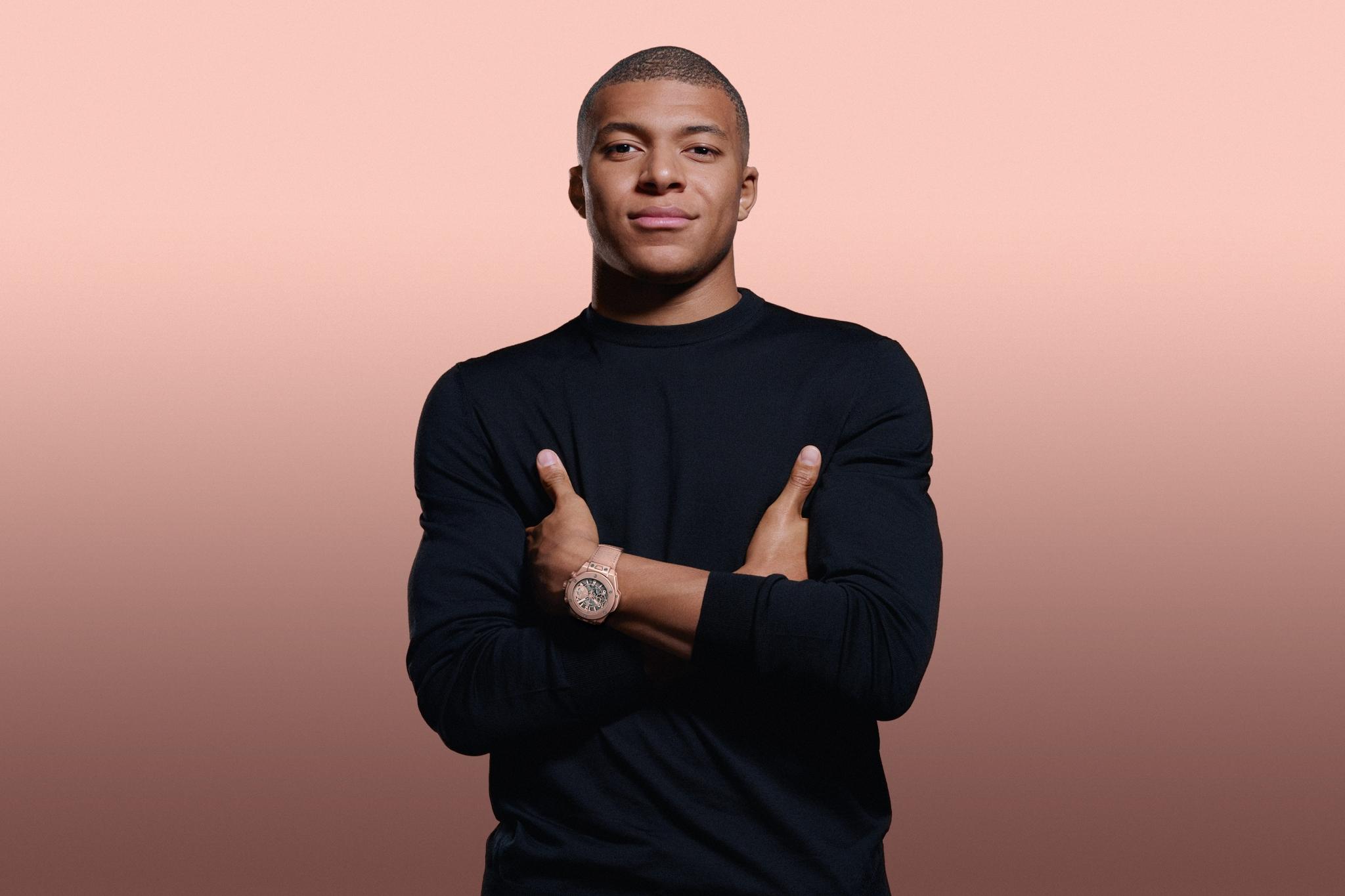 Kylian Mbappé — Hublot Big Bang Millennial Pink
French superstar Kylian Mpbappé is a brand ambassador for Hublot. Ever since he teamed up with Hublot, he has been seen wearing various Hublot models. In July 2020, Mbappé was the face of a special Hublot release. The Big Bang Millennial Pink was created in collaboration with Lapo Elkann from Garage Italia. Hublot has collaborated with Elkann before under the Italia Independent name. The first was a series of great camouflage Big Bang Unico models in 2015. The second collaboration was a series of Classic Fusion models in 2017 created with fabric from the legendary Rubinacci brand that led to spectacular results. Finally, in 2018 both parties released the Big Bang Unico Teak models that were less impressive. For 2020 Garage Italia and Hublot worked on the Big Bang Millennial Pink. The idea? To create a 42mm Big Bang in a gender-neutral color.
As you would understand, the collaboration alone is enough of a story to tell as the two parties have been working together for years with spectacular results.  And I must say I like the color as it's somewhere between salmon color and sand color in reality as you can see. Hublot, however, did not just release the watch as the next collab with enfant terrible Lapo Elkann. Instead, they used the global fame of Mbappé for the bigger impact and awareness. It's another bold move by Hublot, as the world of football is far from progressive in that sense. The watch was limited to a production run of 200 pieces, and we know Mbappé received one as he posted it on his Instagram. But we have yet to see it on his wrist. But for now, he is wearing the Big Bang E Euro 2020 Edition during the tournament.
Joachim Löw — Omega Seamaster Diver 300M 007 Edition
Within the German squad, we see a lot of usual suspects on the wrists of players. It's a mixture of Rolex Daytona's, GMT-Masters, Day-Dates, and different Nautilus models. While they are all amazing timepieces, it's pretty much more of the same. However, the watch that stood out immediately was the Omega Seamaster Diver 300M 007 Edition on the wrist of German manager Joachim Löw.  The watch stands out because it looks different. The combination of the titanium case with the titanium mesh bracelet contrasts really nicely with the combination of brown colors on the dial and the bezel. But it's the bracelet that tells you immediately it's the Seamaster 300M released for the still upcoming Bond film No Time To Die.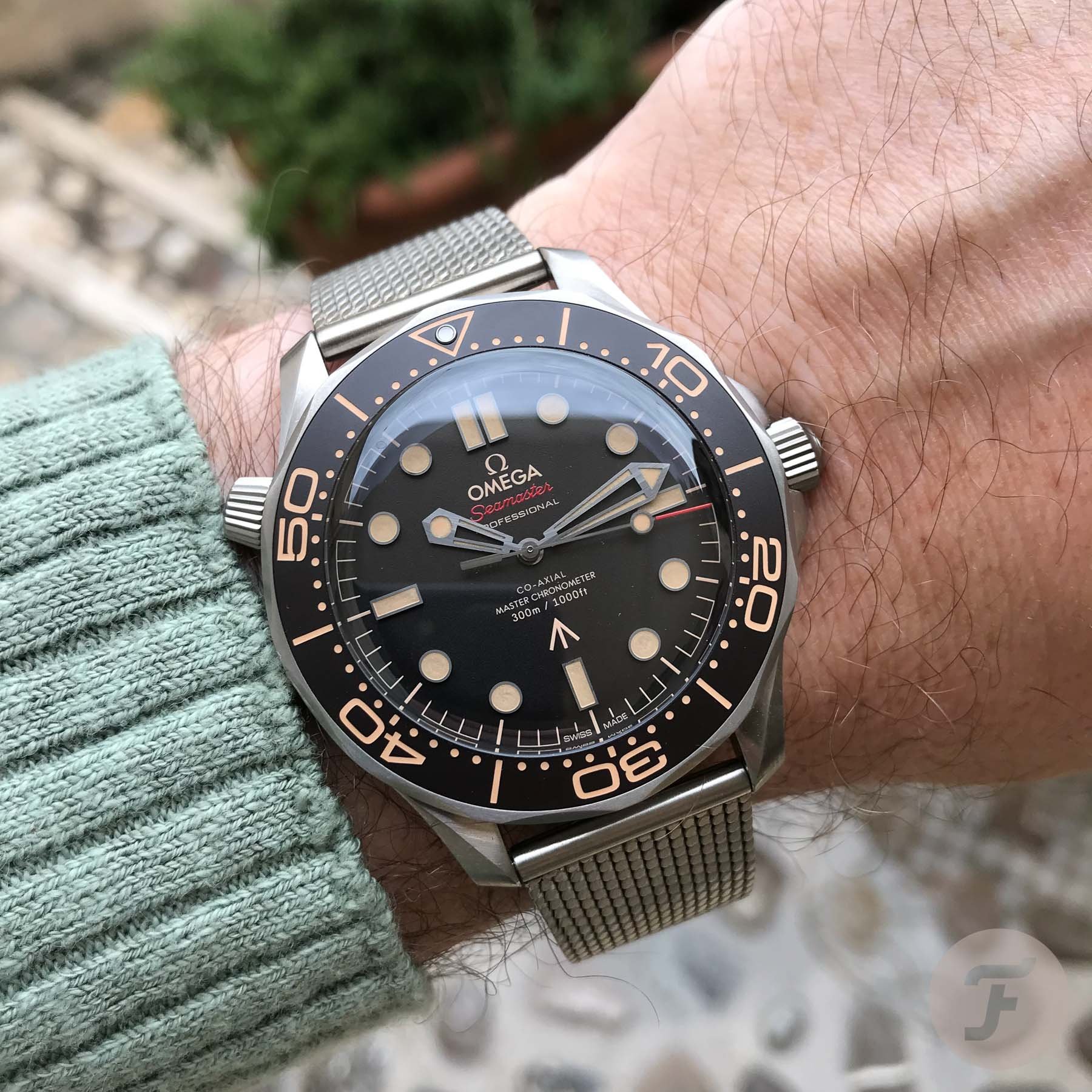 Löw has been seen wearing various watches and brands during his tenure as manager of the German squad. In 2010 the German Football Association actually had a partnership with IWC. In the years to follow, Löw and Team Director Oliver Bierhoff could be seen wearing a string of different IWC models. Amongst them, several limited-edition pieces were created to commemorate the partnership. But ever since the deal has been over, both men have been mixing it up. Bierhoff spotted an Omega Seamaster 300M Diver Chronograph next to a Patek Philippe Nautilus 5711/1A. But the Seamaster that Löw has been wearing lately is the true winner here. Compared to many of the watches on football out there, it's an understated piece that only truly reveals its beauty if you wear it and know the story behind it.
Frank de Boer — White Gold Rolex Day-Date ref. 228239
On to another manager that wears something a bit less understated. The manager of the Dutch team Frank de Boer has been seen wearing his 40mm white gold Rolex Day-Date ref. 228239. Although you could say it's still understated compared to the yellow gold and rose gold versions, of course. While most Dutch audiences might recognize it as a Rolex, they probably do not suspect it to be an almost 40K white gold one. Being Dutch myself, I have to say I like De Boer's watch of choice. It's a luxury watch that does not scream its price and looks great on his wrist. Maybe this is the perfect watch for a successful manager that would like to wear something very nice but not as flashy as some of the players.
But De Boer mixes things up when it comes to brands. He can also be seen wearing several different IWC models. Two of them are an IWC Portugieser with a black dial and black leather strap and an IWC Big Pilot on a leather strap. Additionally, during his time in the United States at Atlanta, United De Boer also wore an older generation steel Rolex Daytona. Looking at the watches De Boer wears, I have to say I greatly respect his choices. They reflect his upbringing in a very normal Dutch household where showing off your wealth is not something you do. His current white gold Day-Date is a perfect reflection of his success as a player without forgetting his roots. It shows he has thought about what suits him, and that's great to see.
Harry Kane — Patek Philippe 5370P
England's number one goal scorer Harry Kane is a true watch enthusiast. A few years back, he could be seen wearing several Hublots and a yellow gold Rolex Daytona with a white dial. More recently, he is known to wear a variety of different Patek Philippe models. Amongst them, a steel Aquanaut ref. 5167A and a rose gold ref. 5167R both on rubber straps. He actually wears them the most when out in public. On top of that, he also owns the very popular rose gold version of the Patek Philippe Nautilus Chronograph ref. 5980/1R. As we know, these models are top-rated amongst football players, and we see them a lot on their wrists. But Kane's absolute best watch is the Patek Philippe Split-Seconds Chronograph ref. 5370P in platinum. He hardly wears it out in public, but that's understandable as it a very exclusive and expensive watch.
Currently, Patek Philippe only offers the 5370P with a blue dial on a blue leather strap. Kane actually owns a previously released model with a black enamel dial on a black leather strap. Patek enthusiasts consider it "Pure Patek" as it honors the brand's rich past and combines it with the highest level of modern-day watchmaking. The 5370P is a 41mm split-seconds chronograph powered by the manually wound Caliber CHR 29‑535 PS. The deep black enamel dial with Breguet numerals, 30-minute counter, and seconds subdial looks stunning. Combined with the stunning platinum case, it's a feast for the eyes. And it continues if you turn the watch around and get a view of the brilliant movement. I could go on for a bit, but it's safe to say this is by far the most impressive watch I have seen from a football player currently active at EURO 2020.
Kevin de Bruyne — Audemars Piguet Royal Oak Chronograph 41mm
The last player on this list is Belgian midfielder and Manchester City playmaker Kevin de Bruyne. De Bruyne is the key player in the Belgian squad that could lead the team to the title. Proof of that came during the group stage of EURO2020 in the match against Denmark. Within 25 minutes, De Bruyne changed the match around with an assist and a goal. It showed just how important he is for the Belgian team. Off the pitch, De Bruyne has been seen wearing a yellow gold Daytona. But the one watch I think fits his character perfectly is the 41mm Audemars Piguet Royal Oak Chronograph ref. 26331ST.OO.1220ST.02. It fits his easy-going character better than a flashy Daytona. On top of that, it's a watch that personifies his style of play as the stylish architect of both City and the Belgian national team.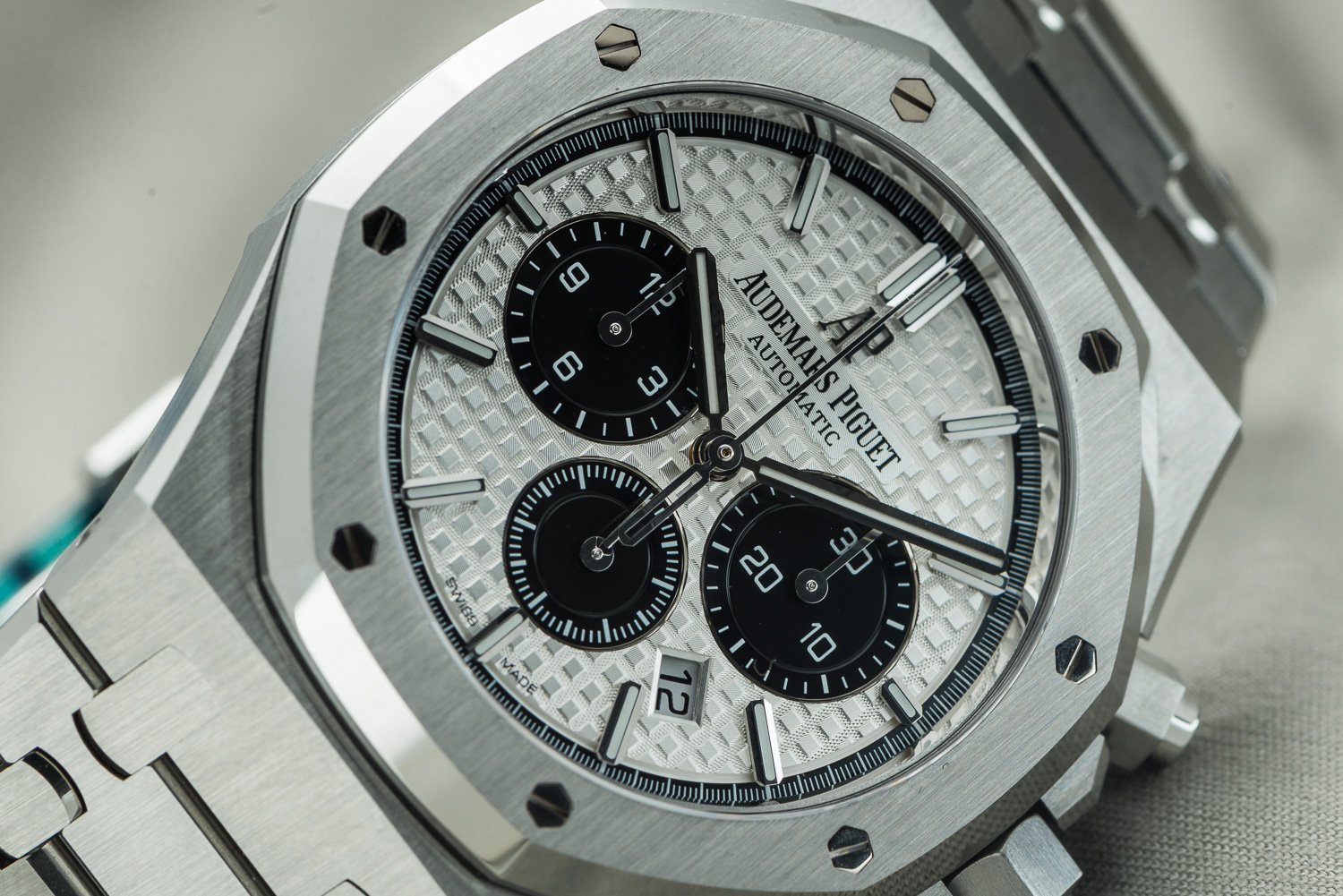 The 41mm Royal Oak Chronograph De Bruyne wears features a two-tone black dial with silver sub-dials. It is one of three 41mm Royal Chronograph models that Audemars Piguet currently offers. Next to the fact that it fits De Bruyne as a character, it would also be my personal pick out of all the watches featured on this list. Personally, I prefer the panda dial version you see pictured over the one De Bruyne wears. The remarkable thing is that there aren't too many players that wear a stainless steel Royal Oak Chronograph. Most players prefer a Royal Oak Chronograph in precious metals or one of the open-worked or Perpetual Calendar models. De Bruyne sticks to the steel chronograph version is simply a great choice and a perfect closer for this list.
Final Thoughts on EURO 2020
There you have it, a list of some of the most interesting watches on players' wrists and managers currently active at EURO 2020. As mentioned before, this list is not about the most expensive watches or the most popular watches. We tried to pick the watches that stand out because they are not the usual watches players wear or have a nice story attached to them. But I'm sure there are plenty more great watches to be seen during the UEFA EURO 2020 European Championships. Let us know in the comment section what some of your favorites are. Because when it comes to football and watches, there is plenty to discuss!