The Citizen Homer HO140501 — A Rare Beauty From The '60s
Uncovering another Citizen gem
The subject of today's article is the Citizen Homer HO140501. It's a watch that shares its general design with several other watches from the brand and the period, but it has some subtle yet key differences that we'll discuss. It's no secret that vintage Japanese watches are at or near the top of my favorite subgenres, and this rare piece helps to explain why.
Slowly but surely, I'm getting around to covering the vintage Citizen watches that sit within my collection. It's a challenge for a couple of reasons. First, there's the endless battle of finding the time to photograph and write about these mysterious little gems. Second, there's the whole mystery part. Normally, when I write about a vintage watch, there's a decent amount of information about its history, significance, and so on. With Citizen, however, it's always a struggle, so I end up giving my thoughts on the watch without bringing in a whole lot of backstory. Still, I think it's important to feature a watch like the Citizen Homer HO140501 because, well, just look at it.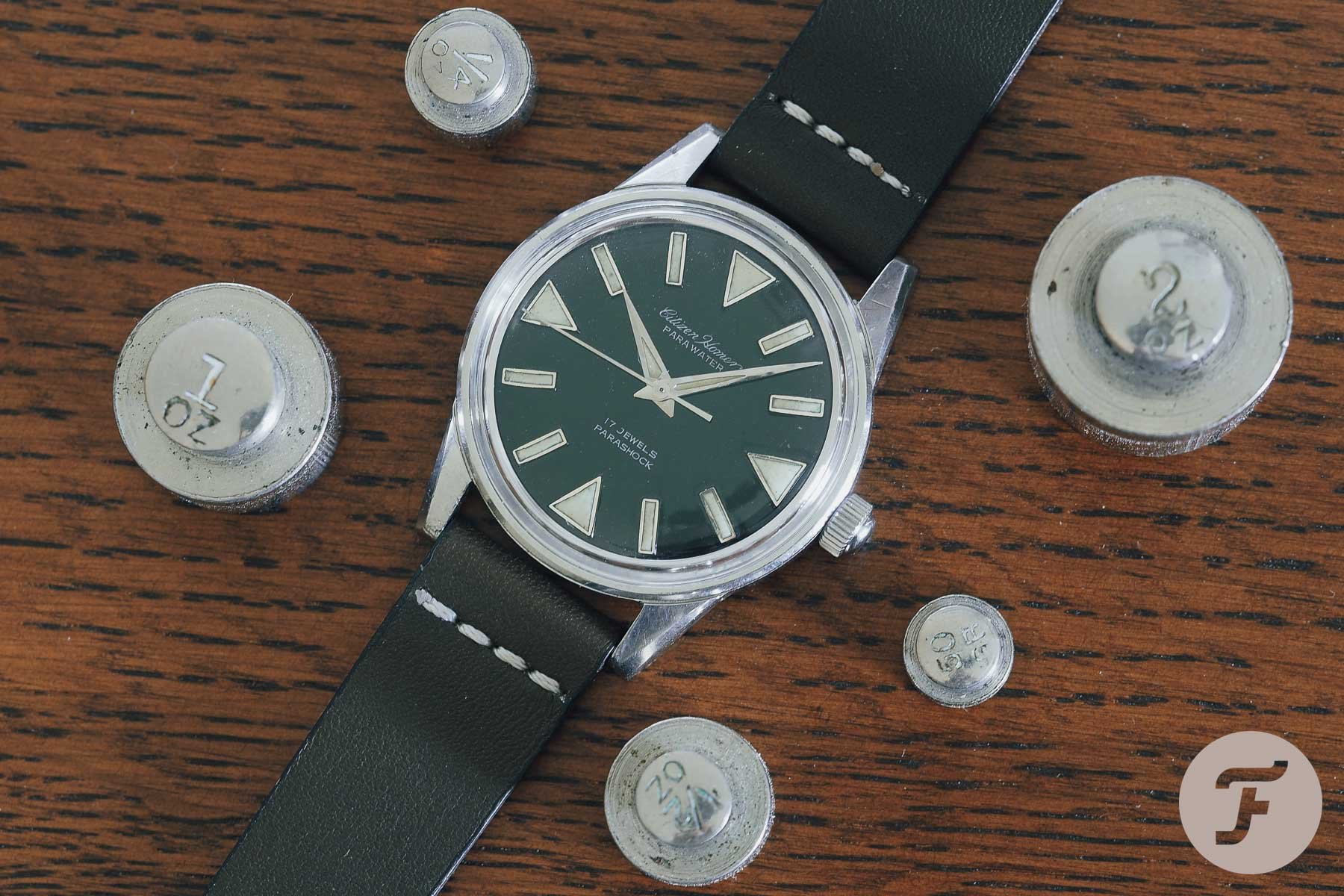 The Citizen Homer HO140501
The Citizen Homer HO140501 you see here dates to 1964, making it nearly 60 years old. As part of the Homer series, it was an everyday watch with reasonable functionality due to a modicum of water resistance. The term "Parawater" on the dial is old-world Citizen speak for this attribute. The watches used a 17-jewel manual wind movement that was incredibly pervasive throughout the Citizen lineup. Hundreds of Homer variants were produced using this family of movements with the majority including a date function.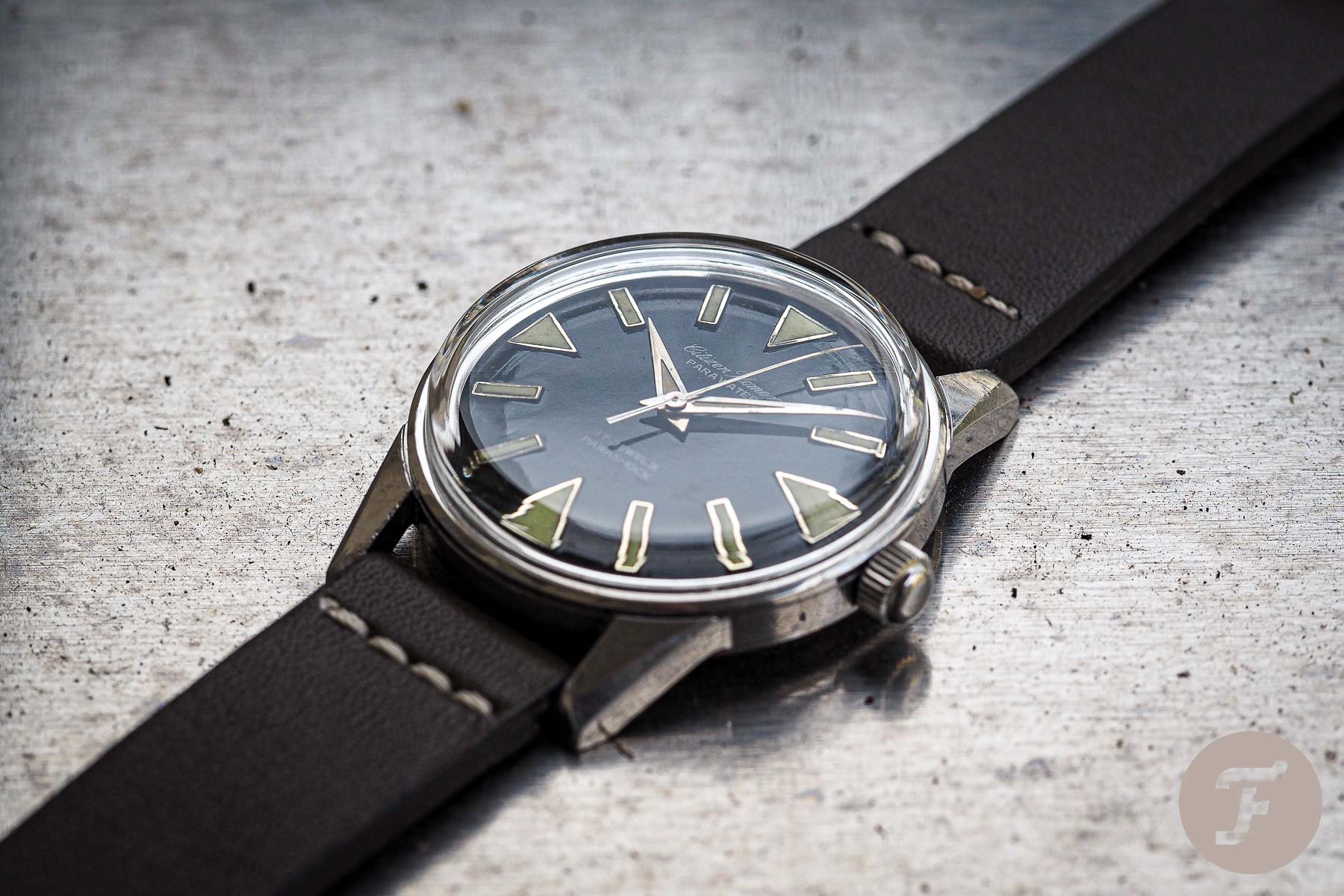 A dark dial with loads of lume — a rare find
Citizen watches from the '60s and '70s, like the Homer, were very much in keeping with the times — most of the time. That meant sterile-looking pieces with silver dials and no lume. If you've read any of my articles in the past, you know that these types of watches aren't my bag. No, I look for the outliers, and, thankfully, there were plenty. Citizen did produce watches with lume on these "normal" everyday watches and sporadically launched pieces with dark dials. Finding watches with both is rare. Then, because I'm a watch nerd, I naturally gravitate toward non-date models. Adding this desire ups the rarity factor even further. Enter the Citizen Homer HO140501.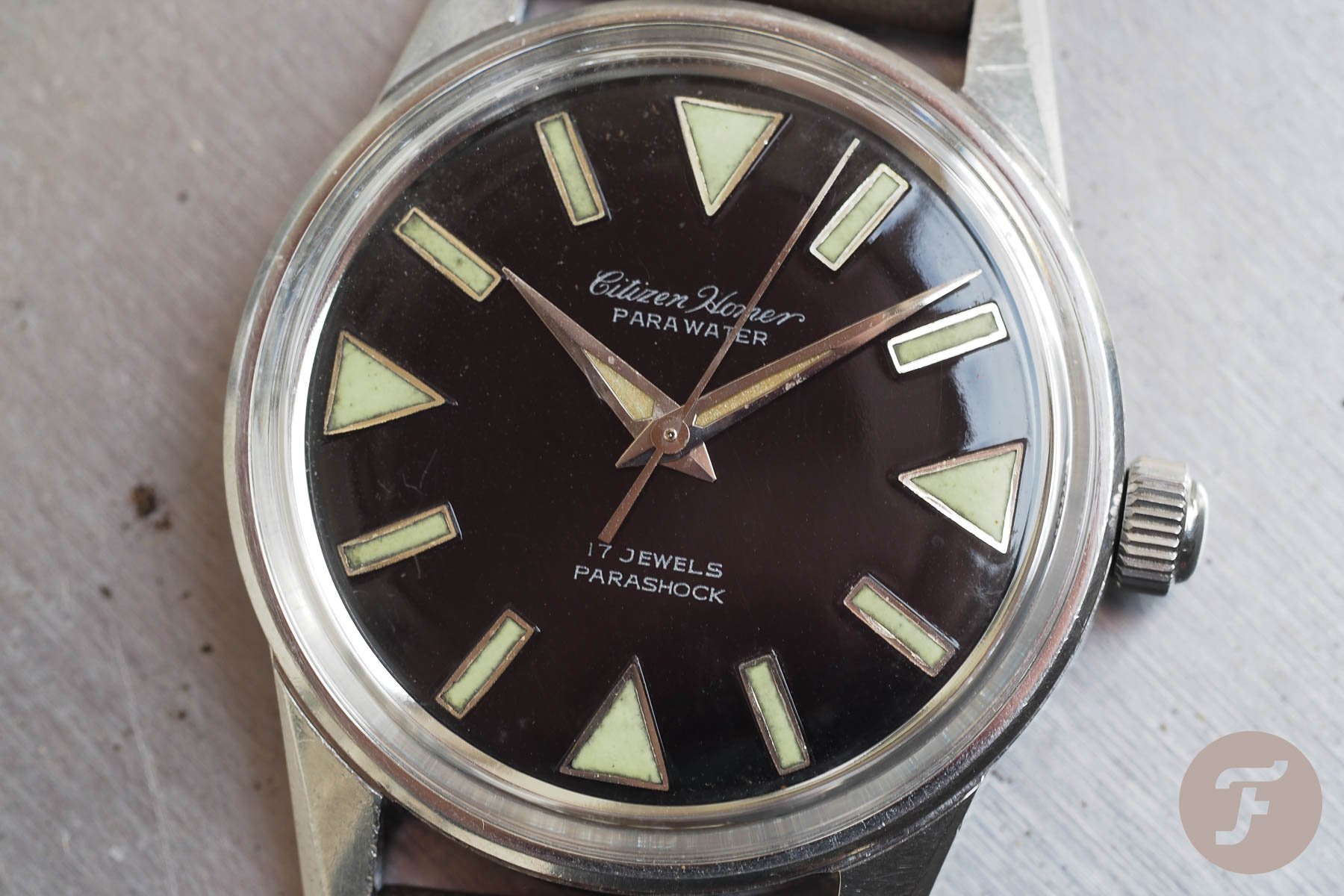 A dial we've seen before with a twist
You may recall the Citizen Auto Dater Uni that I covered a couple of years back. Interestingly, it is also from 1964 and has a similar dial design. The difference is that it has an automatic movement and date. Citizen issued several of these watches with glossy black dials and bold lume plots. Most came with a date function, though, regardless of whether they were with a manual or automatic movement. Therefore, I almost skipped past this Citizen Homer HO140501 when breezing through one of my favorite Japanese auction sites. I'm glad I took a closer look.
I enjoy the Uni that I referenced above, but this Citizen Homer HO140501 watch is truly something. Some key points stand out on this watch. The real benefit of a dateless watch is the opportunity for symmetry, and the benefit is quantifiable. Furthermore, the white printed font against the glossy black dial provides just the right amount of contrast. Add to that the mix of cursive and block lettering. Lumed dagger hands work in concert with the triangular hour markers at 3, 6, 9, and 12.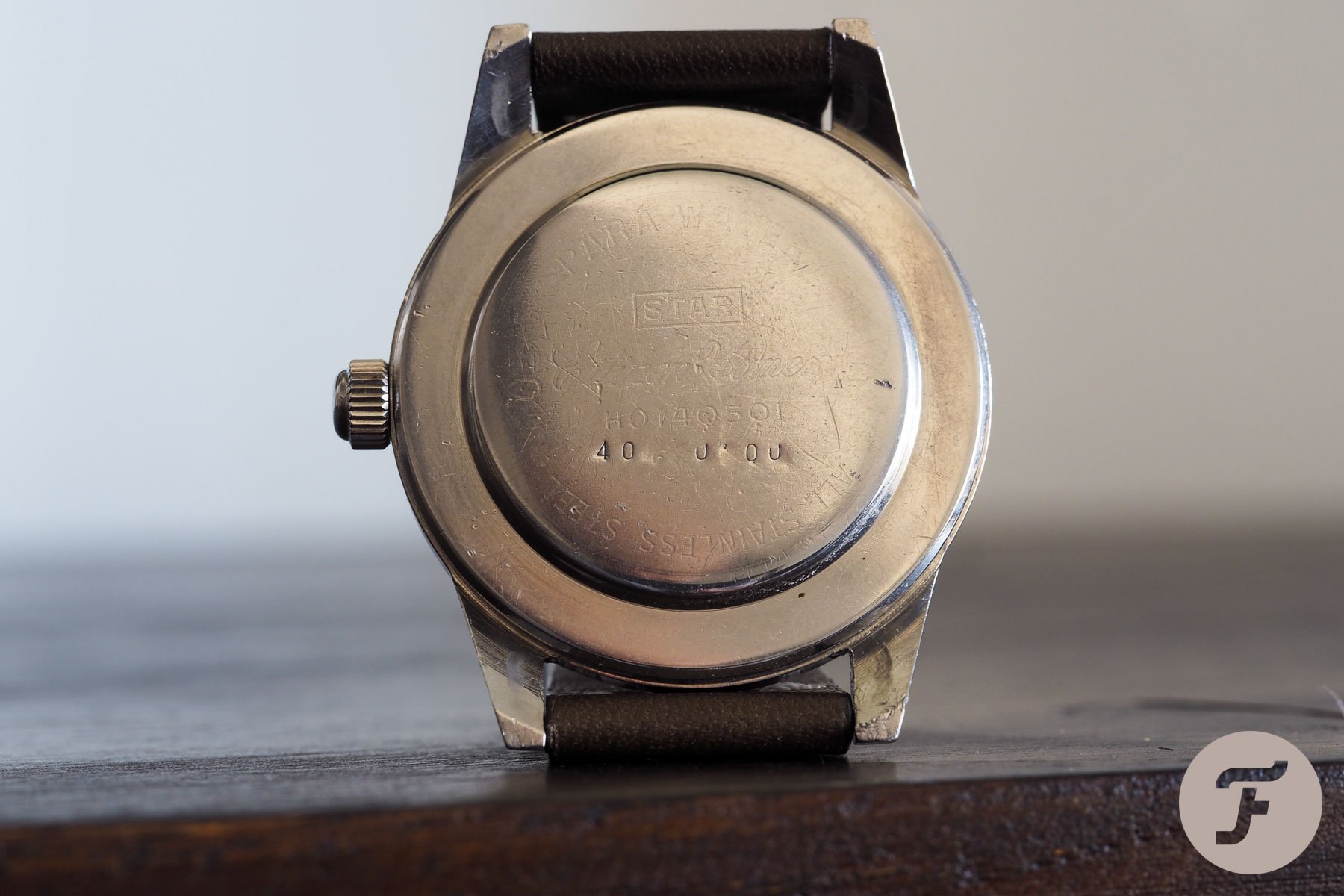 Lovely details
The dial of the Citizen Homer HO140501 is pure magic for me, but the supporting cast is just as praiseworthy. Citizen chose to outfit this watch with a wildly tall acrylic crystal, and it adds a lot of depth to the glossy dial. Then, when viewed from the side, it looks like some sort of magnifying glass. The stainless case is also perfect at 37 × 43mm and brings in chamfered lugs — another detail that's not on all Homers. The lugs are chunky enough to make this watch wear well even with a narrow 18mm strap. Finally, a large crown helps the watch give off more sporting vibes. It's nice enough to use, and the movement winds smoothly.
Watches like the Citizen Homer HO140501 don't strike me as daily pieces, but they are excellent for use every so often. This piece is certainly modern enough size-wise to work these days, and it's fun to know that no one on the same continent is likely wearing anything remotely similar. Such is the joy of collecting oddball pieces from Japan!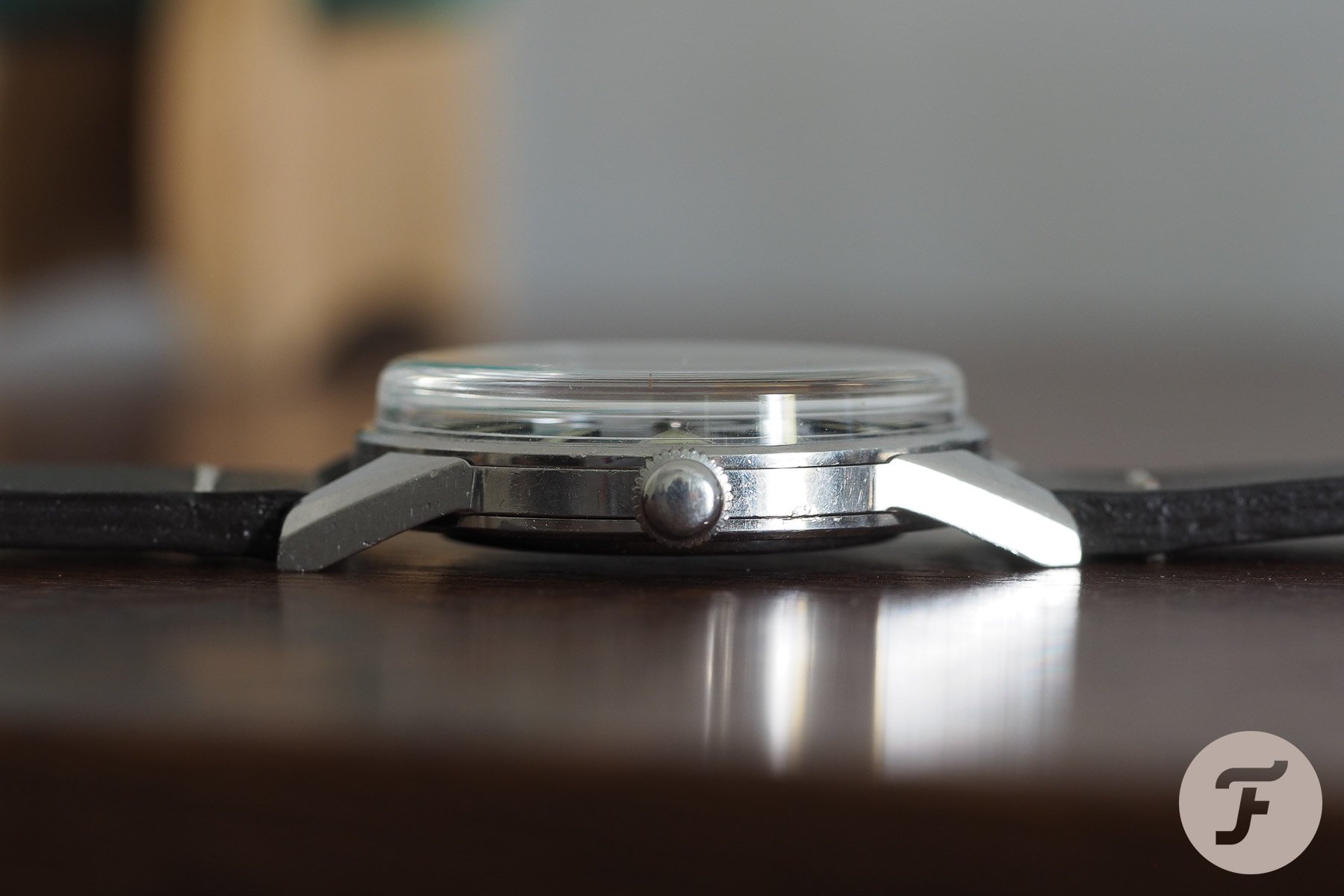 A fun buying experience with service needs
Speaking of which, I stumbled upon this Citizen Homer HO140501 on a Japanese auction site and had casually told myself that I'd enter the fight closer to the ending time. I believe it was a Sunday, and I was puttering around the house when I realized that I had totally forgotten about the watch. I grabbed my phone only to see that there were roughly 10 minutes left in the auction. Thankfully, my friend Eric was online and ready to help in the bidding process. A couple of dealers were trading ¥1,000 blows (about €7) in a war of attrition, and I decided to raise things all at once and out of nowhere by something like €200. The two sad warriors soon retreated into the distance, and the Homer was mine.
Upon receiving the watch, it was evident that the Citizen Homer HO140501 had a nice dial, hands, and case. The movement and crystal, however, were kaput and I required a donor. I managed to find a similar watch on the same site for roughly $80 that had the same case design, but with a rotten dial. Thankfully, everything worked out, and watchmaker James Marien in Belgium was able to save the day. I've worn the watch every so often since receiving it back several months ago, and it's always a satisfying feeling to know that I helped get this rare piece back on the road.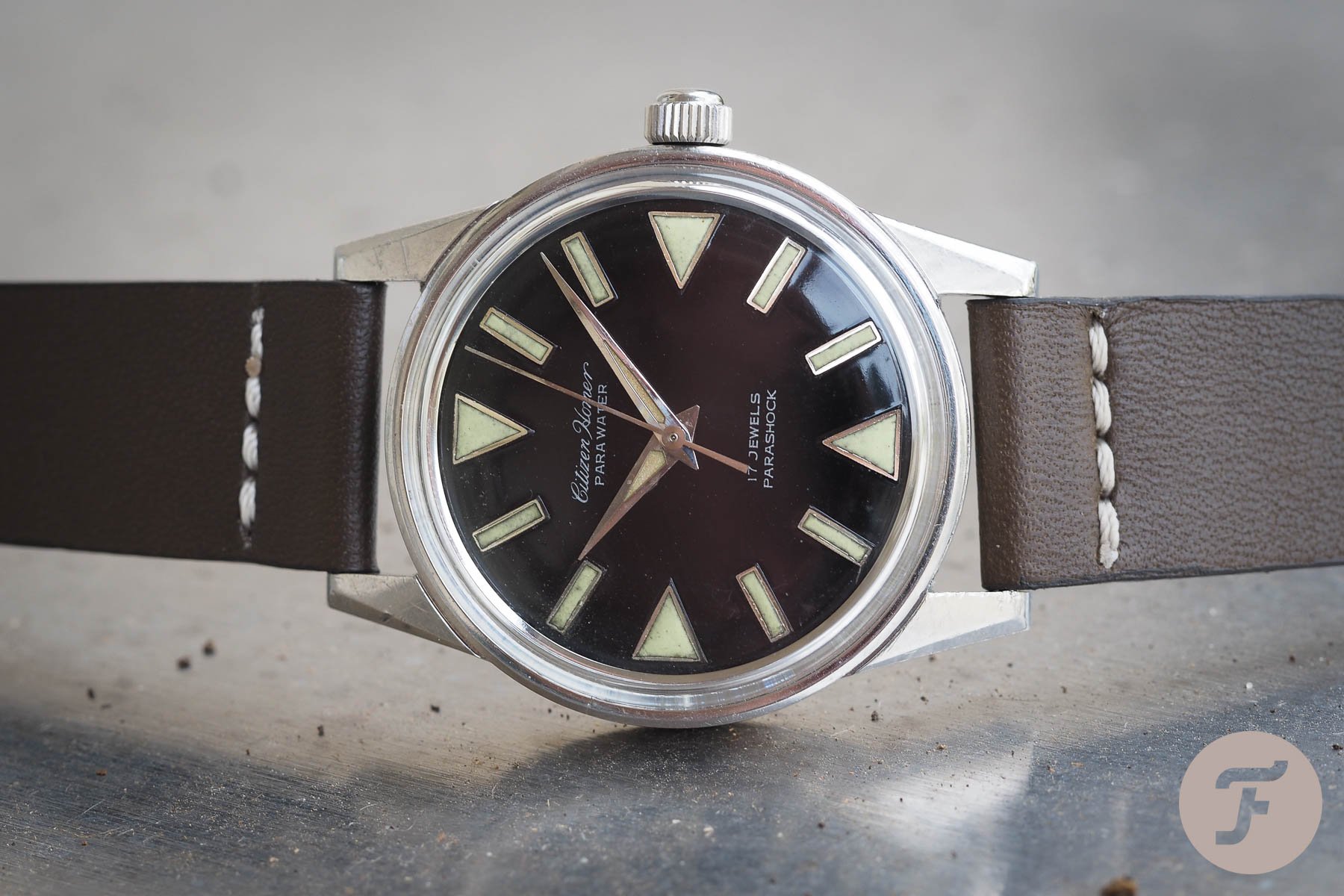 Final thoughts
I honestly have no clue what the market price is for a watch like the Citizen Homer HO140501 because it's so seldomly seen. Normally, watches like this sell for anywhere between €600 and €1,200, but I suppose it all comes down to the bidding group. If one were located outside of Japan, perhaps it will sell for a pittance, while the home crowd would clearly bid differently.
With its manual-wind movement, dark dial, lack of a date, and loads of lume, the Citizen Homer HO140501 is about as good as it gets for me. It also shows that there are still plenty of surprises when it comes to vintage Japanese watches as I had no idea that this one even existed. I go for long periods where I see nothing new and then stumble upon pieces like this — what's will be next?