The Dark Motif Of The New Louis Vuitton Tambour Carpe Diem
Louis Vuitton stands for living as if one's were to die tomorrow...
Known for its streetwear credentials and monogram bags, Louis Vuitton is known for being ahead of the curve, and it has been since its foundation in 1854. With its new Tambour Carpe Diem watch, Louis Vuitton continues to make a bold statement.
The Calaveras motif has become a popular contemporary motif in art, design, and fashion. Previous years showed it is no different with watches. This year the French luxury Maison brings to the table the new highly complicated timepiece — the Tambour Carpe Diem. Closely related to the Memento Mori concept, the dial is a symbolic reminder of the transitoriness of life. I must confess I love how wild Louis Vuitton went to execute this concept.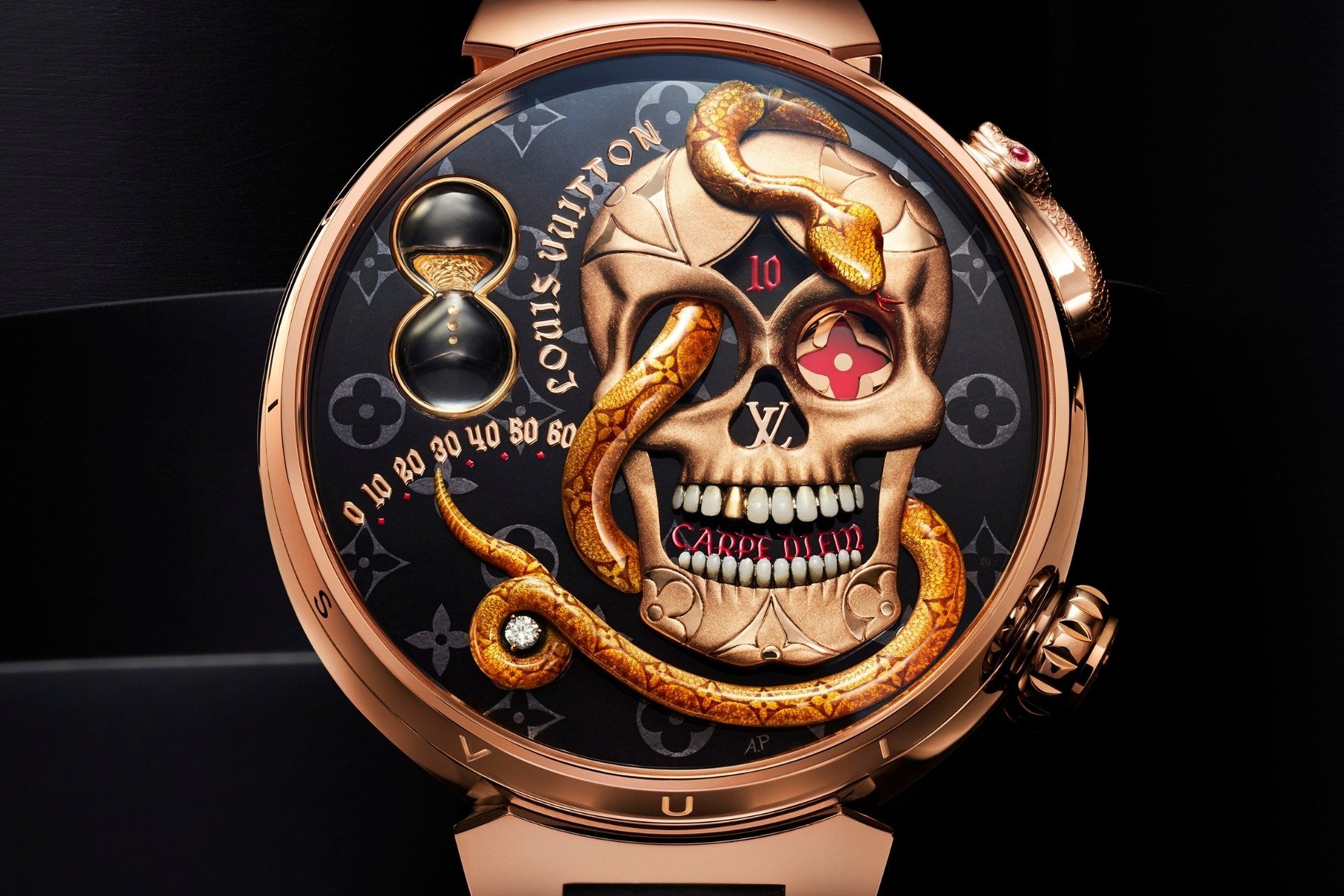 The Dark Side Of Life Is Death 
The dial features a range of death-related symbols such as a pink gold skull, a snake adorned with the famous LV monogram, and an hourglass. Pressing the ruby-set snakehead located at the 2 o'clock position, causes the dial to come to life. The skull and snake magically indicate the time. Firstly the snack head lifts to reveal the hour indicator, while its tail shows the minutes. Moreover, the power reserve indicator resembles the hourglass. Pure magic. If you thought that I've just listed all the surprising elements you are so wrong! As if that were not enough, the skull's jaw infuses the dial with the life force by laughing and then revealing Horace's "Carpe Diem".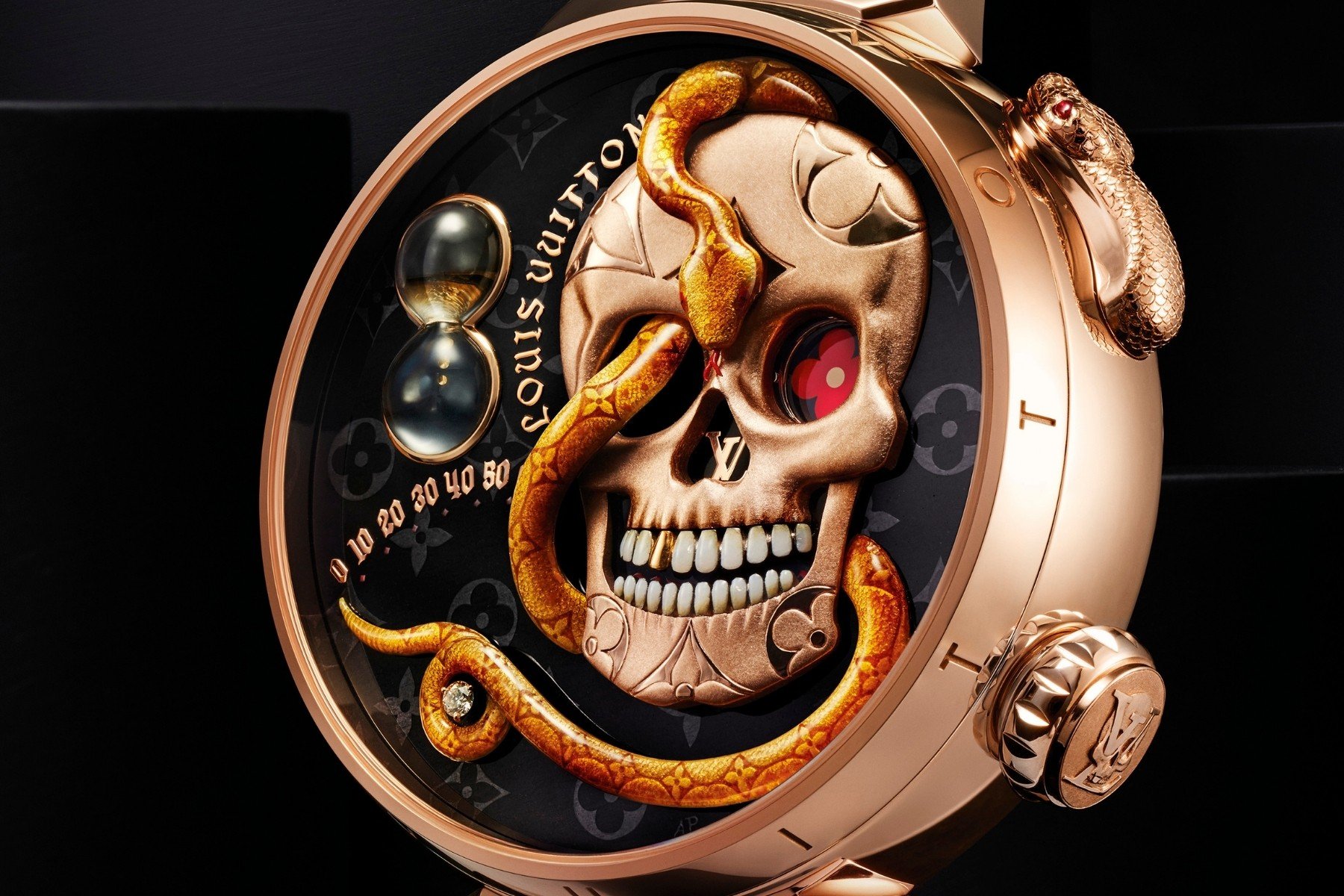 Haute Horlogerie By Louis Vuitton
The 18-karat rose gold case measures 46.8mm and is 14.42mm thick. I must admit, it's massive. However, there are two mind-blowing aspects I like in this particular design. The first one is the dial with hand-crafted elements made by Anita Porchet and Dick Steenman. The second is the finish of the LV 525 Caliber.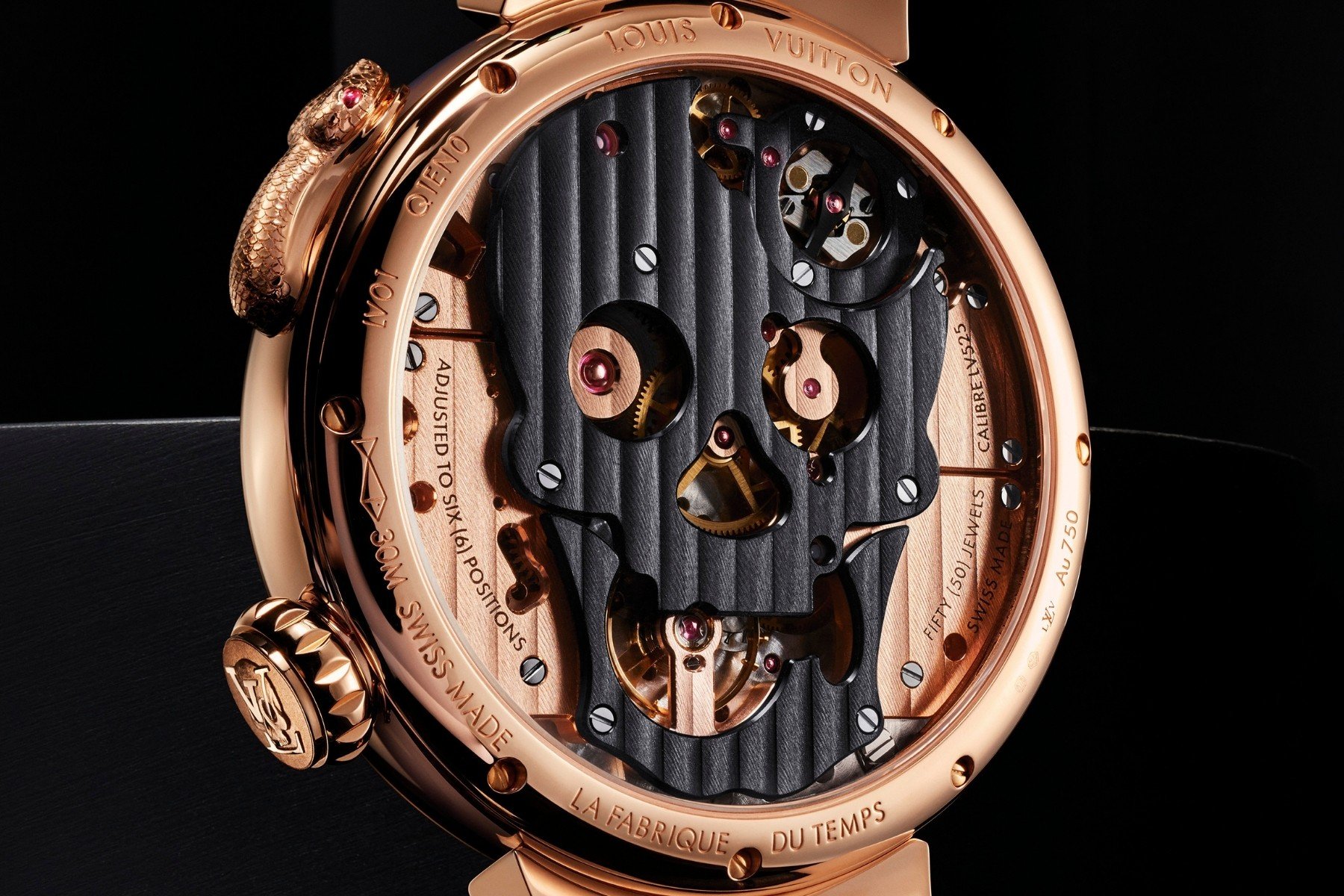 The LV 525 Caliber
When it comes to its functionality, the hand-wound mechanical LV 525 Caliber supplies 100 hours of power reserve which I find impressive. The movement comprises 426 components operates at 21,600vph and utilizes 48 jewels. Moreover, it will give the owner the pleasure of admiring the jumping hour, retrograde minutes hand, and power reserve indicator. The retail price of the Tambour Carpe Diem is €470,000. For more information, visit the Louis Vuitton website.