The Fast And The Fratelli: Omega Speedmaster Racing Co-Axial Master Chronometer Vs. Nivada Grenchen Chronomaster
Say hello to the hands-down favorite to win it all...
Omega Racing
Nivada Grenchen
Finally, it's my turn to step into the arena. I've enjoyed taking a backseat so far in the competition and watching the track-based carnage unfold, but I've got to say, I'm excited to buckle up for what is sure to be a thrilling race to the finish. Maybe, just maybe, I'm doubly excited because I actually think I might win this. Why am I confident? Check out my picks: the Omega Speedmaster Racing Co-Axial Master Chronometer Chronograph 44.25mm 329.32.44.51.01.001 and the Nivada Grenchen Chronomaster 86010M. Both are stunning watches, but there is one clear favorite (in my opinion) when it comes to snaring the crown of the greatest modern racing chronograph.
For my money, very few of the watches my peers nominated for this competition really evoke the spirit of racing. Yes, they all meet the criteria of the competition, but some would look wholly out of place in the pits if you ask me. Chronograph watches are often given a tachymeter scale because the designer doesn't seem to know what to do with all that peripheral space. Having a tachymeter scale doesn't make a chronograph a racing chronograph, in my opinion. There is something intangibly stylistic about the definition. Perhaps it's the color. Maybe it's the layout. It's also possible that any material other than steel sets my teeth on edge. Whatever it is that constitutes a true racing chronograph, I think we can agree that the Omega Speedmaster Racing Co-Axial Master Chronometer Chronograph 44.25mm has got it in spades.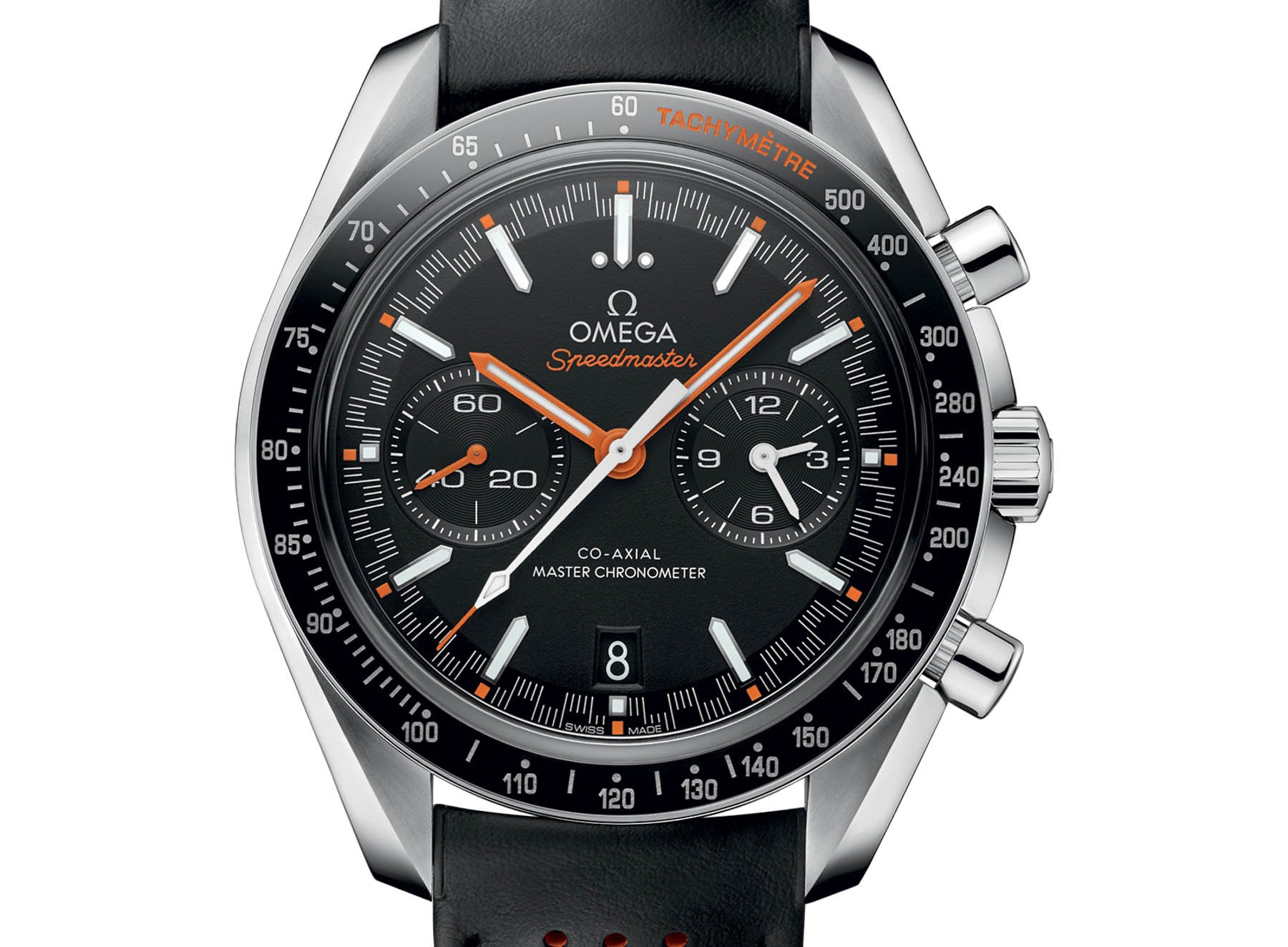 An unusual bias
I wasn't lumbered with the Nivada. I asked for it. Honestly, I think it is one of the most handsome chronographs currently on the market (if you can actually get your hands on one). However, I am going to be clear about this from the get-go: the Omega is the one for me in this competition. Would I be more likely to wear the Omega in real life? Nope. I would choose the Nivada if I could have either. But this isn't a contest based on my daily wearing preferences. This is about finding a truly excellent racing chronograph, and the Omega is that in a way that practically no other modern watch can claim to be.
Under the radar
This Omega collection slides under the radar all too often. In fairness, we're probably to blame for that. The small racing arm of the Speedmaster catalog is frequently overawed by the power of the Speedmaster Professional and its inimitable Moonwatch history. We fawn over these pieces and their history at the expense of almost everything else in the collection. However, as someone who is wearing a Speedmaster MK IV while writing this article, I am positioning myself as a champion for the forgotten enclaves of Speedy goodness.
…it is a proper watch (as RJ would say).
I'm a recent convert to the Speedmaster in general. I'm an even more recent acolyte of anything too far outside of the Moonwatch canon. Even my '98 Broad Arrow Replica feels close enough to the Moonwatch legend to sit comfortably alongside it. The MK II (decent), MK III (not for me), MK IV (hello, baby), the MK 4.5 (went slightly off the boil), and the Heritage and Racing series take some getting used to because they aren't what we see pushed on social media (or even Fratello) all that often. But getting over those prejudices is worth it.
Giving this Racing chronograph a chance is something you won't regret. Why? Because it is a proper watch (as RJ would say). This isn't about posters, billboards, or too-often retrodden history. This is a return to the very roots of the Speedmaster. It is a timing tool for the track. And it is glorious because of it.
Specs may deceive
This is a pretty big watch. It is built to be seen. Its legibility is one of its strong suits and the colors used really help in that regard. Another nice touch is that the split-seconds markings in between the seconds are done in accordance with the movement's operating frequency (4Hz). That means, theoretically, whenever you stop the chronograph, it will land plum on or in between dial markings (depending on the effect of gravity on the backlash of the chronograph wheel teeth).
…it seems to add a more "technical" character to the watch.
It's an odd curiosity that Omega decided to put the exact diameter in the name of this watch. Let's face it — 44.25mm is hardly a "sexy" attribute. Most brands would have rounded it down to 44 if at all they deemed it necessary to include a distinguishing measurement in a collection of identically-sized pieces. I believe Omega did this because it seems to add a more "technical" character to the watch. Which, as I said before, is truly a tool built for purpose and should be respected as such.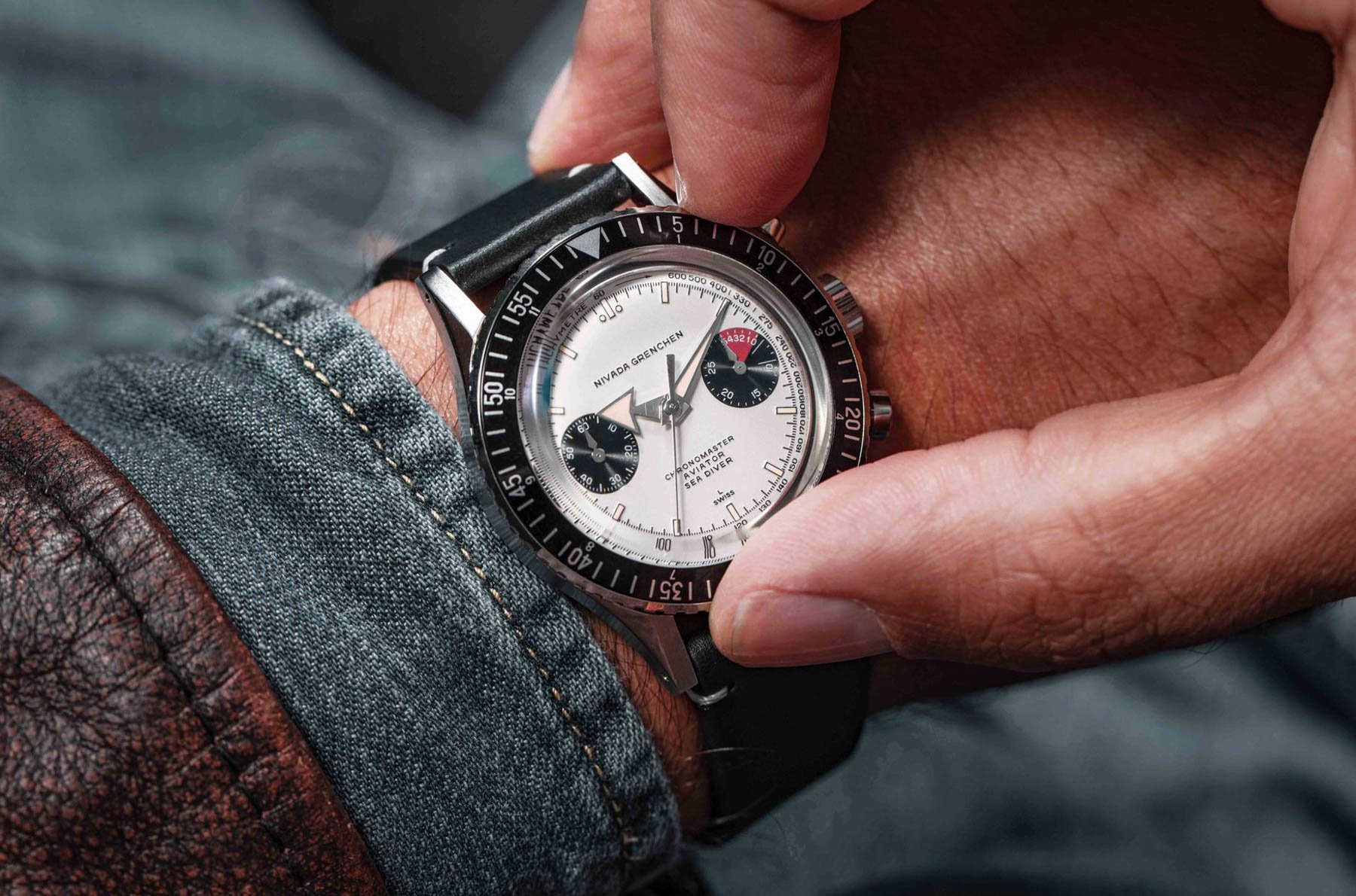 Its challenger
At the time of writing, my choice to challenge the Omega is actually sold out. The 86010 Panda Manual from Nivada Grenchen was a runaway hit when it debuted for some pretty patent aesthetic reasons. While this model is currently unavailable, the version of this watch without the delicious broad arrow hands that sucked me in is still in stock. Regardless, this contest was never about purchasability; it is about finding out what you, the Fratelli, deem to be the best racing chronograph of the last ten years.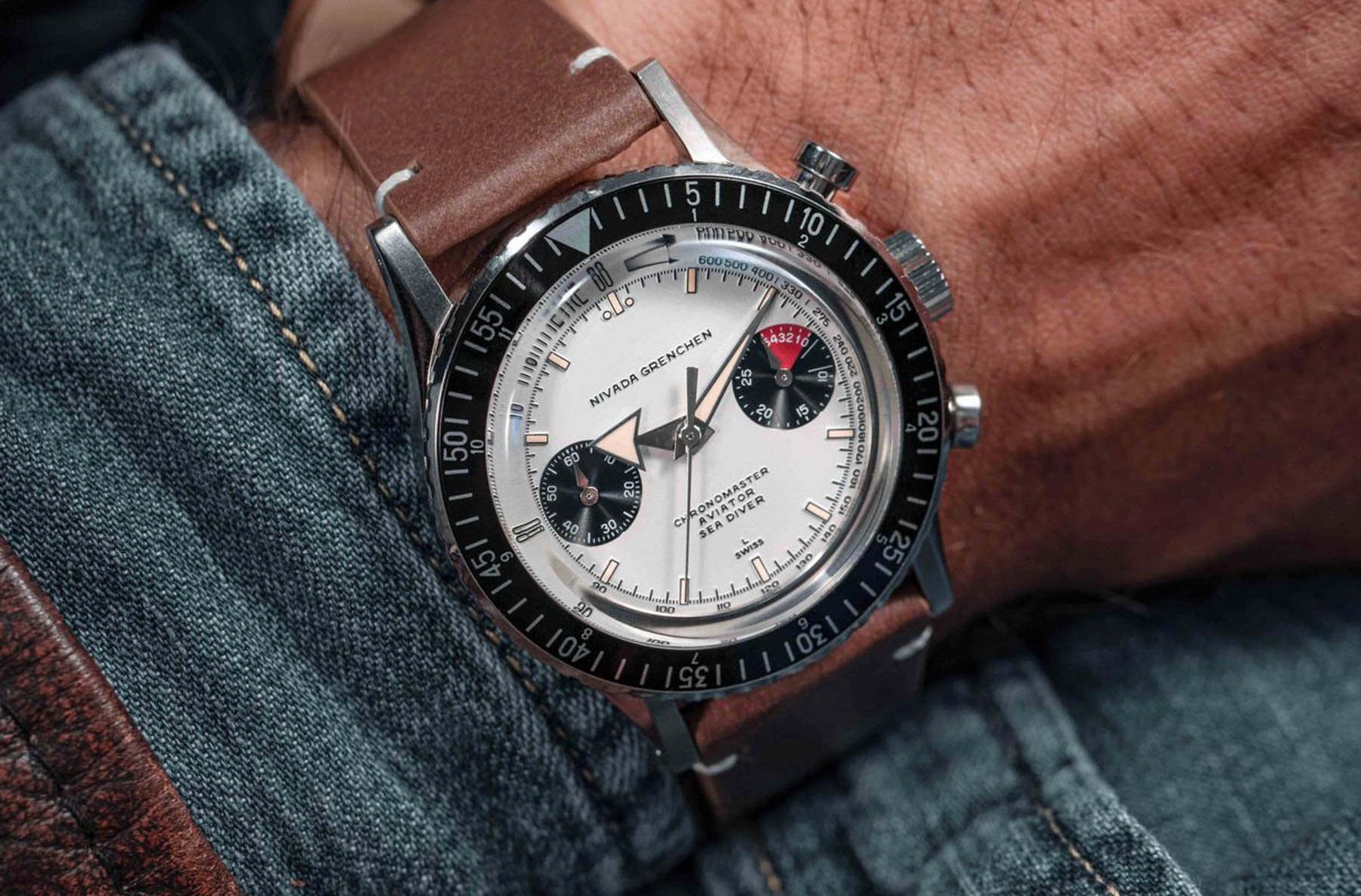 So does the Nivada qualify? Sure, it ticks all the entry criteria, but this is honestly a watch meant more for the skies than it is for the racetrack. Still, in the spirit of variety and novelty, I included it. I also included it because visually, these two watches couldn't be much further apart for a pair of timekeepers that meet the same entry criteria. This pairing is what I love about our hobby and is what keeps me coming back for more and more. There is so much to talk about when comparing these two models. Completely different styles go head-to-head for your vote.
The effect is one of space and grace.
This retro-inspired design is certainly very wearable. Its 38.3mm diameter is worlds away from the hulking 44.25mm housing of the Omega, and it taps into the very modern trend of scaled-back chronographs. The smaller diameter means the sub-dials are set widely apart and reduced in size so as to mesh with the encircling chapter ring. The effect is one of space and grace. It is exacerbated too by the crisp white background and black-and-red sub-dials, providing such a stark contrast that the elements seem entirely separate from one another.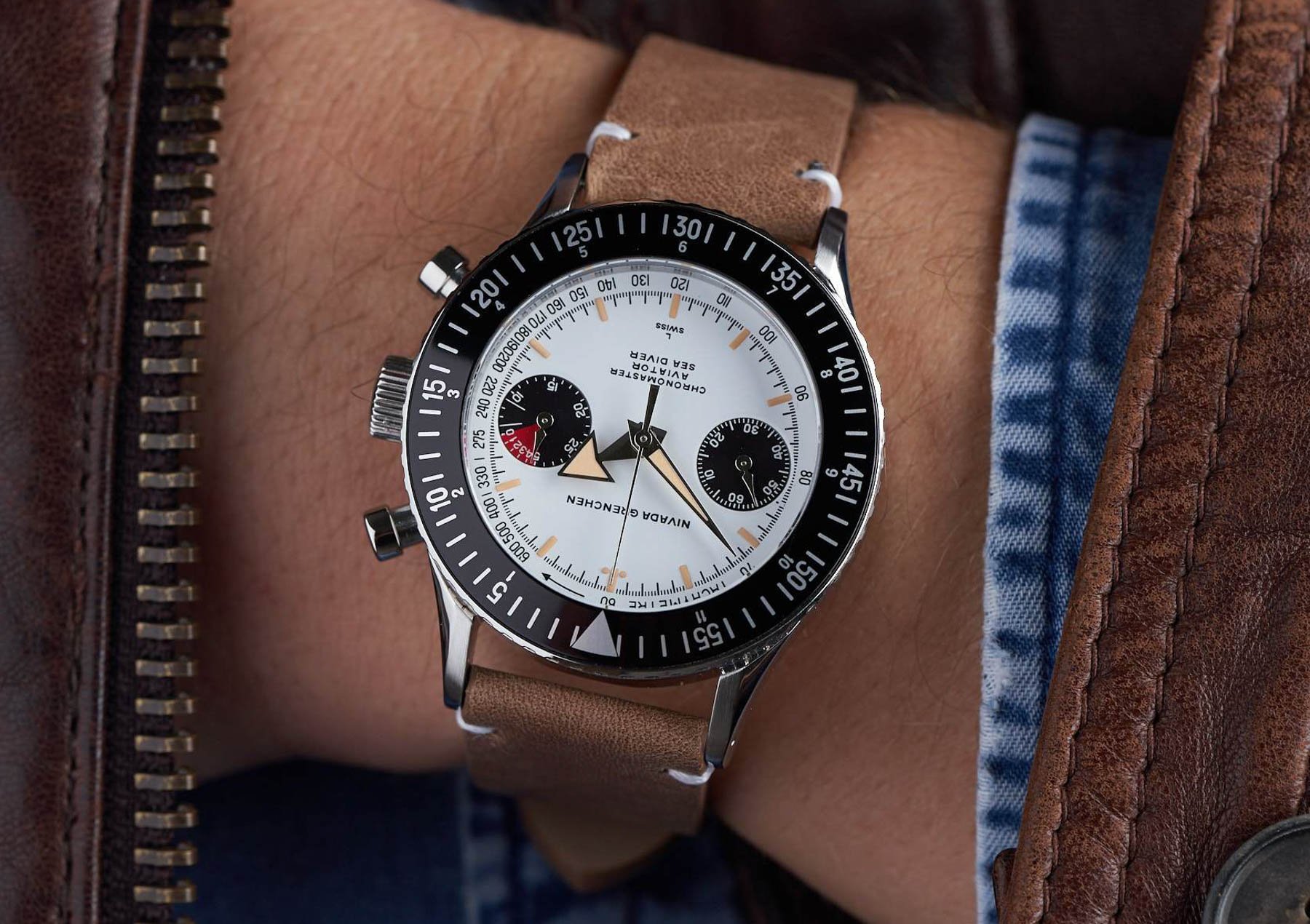 The Fast And The Fratelli — Head-to-head
Can the 100 meters of water resistance boasted by the Nivada tempt you away from the Omega, which only has a paltry 5 ATM rating to its name? Does the fact the NG costs less than one-fifth of the price (CHF 1,570 vs €8,300) sway you in its favor? Do you actually prefer a more standardized movement like the hand-wound Sellita in the Nivada over the in-house co-axial of the Omega? There can be no doubt about which of these watches will be the cheaper to maintain in the long run, after all.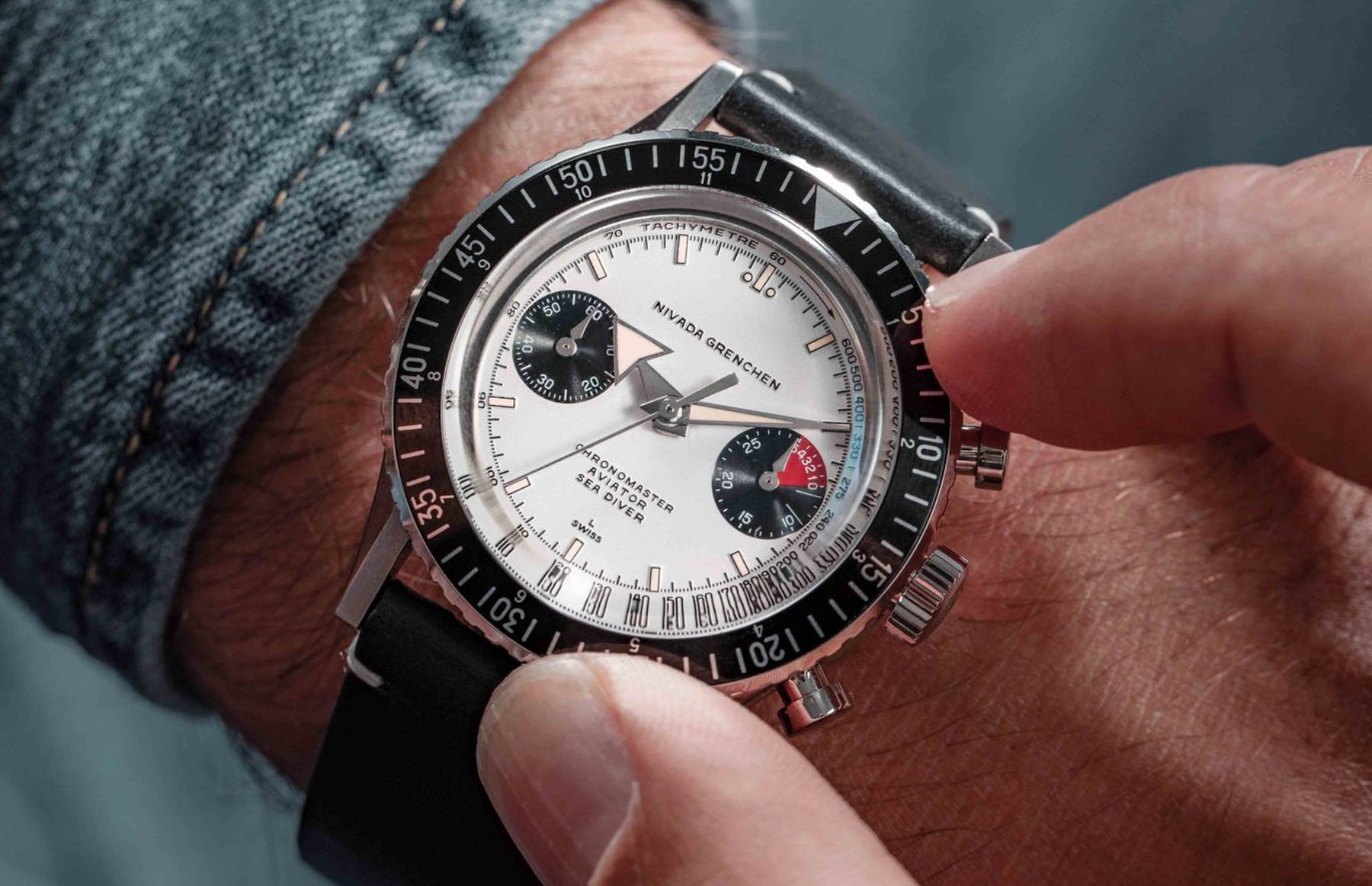 But this all comes down to your voting priorities. It comes down to how you see the industry. It comes down to whether or not you are voting as a buyer, a contextualizing analyst, or a technically-minded observer. So don't just vote. Let us know why you voted the way you did. There are no right or wrong answers here, and every opinion is welcome. Share with us your thoughts in the comments section below.