The Fast And The Fratelli — Shootout Round: Thor's Massena LAB Uni-Racer Vs. RJ's Omega Speedmaster Caliber 321 "Ed White"
Loaded dice, anyone? Gentlemen, start your engines
It's time for a shootout round! This week, the pre-quarterfinal shootout for The Fast And The Fratelli has begun, with Lex and Ben in a blistering fight. Your voting counts, as it decides who drops out ignominiously, and who comes one step closer to the podium. Today, lined up on the grid is the powerful "Ed White" Speedy versus the homage champ Uni-Racer from Massena LAB. This is the Norwegian writing the intro after fueling up the Uni-Racer with a distinct feeling of being the underdog in this race. But let's fire up the engines, and you, just vote!
As always, both editors will be presenting their watch and giving all the reasons why they believe it should emerge victoriously. We're not just aiming to get to the quarterfinals here. Everyone in the race is going for gold. So read below, see who persuades you, then make sure to vote at the end of the article. Only one of these two watches will make it to the next round, and yes, it's up to you folks.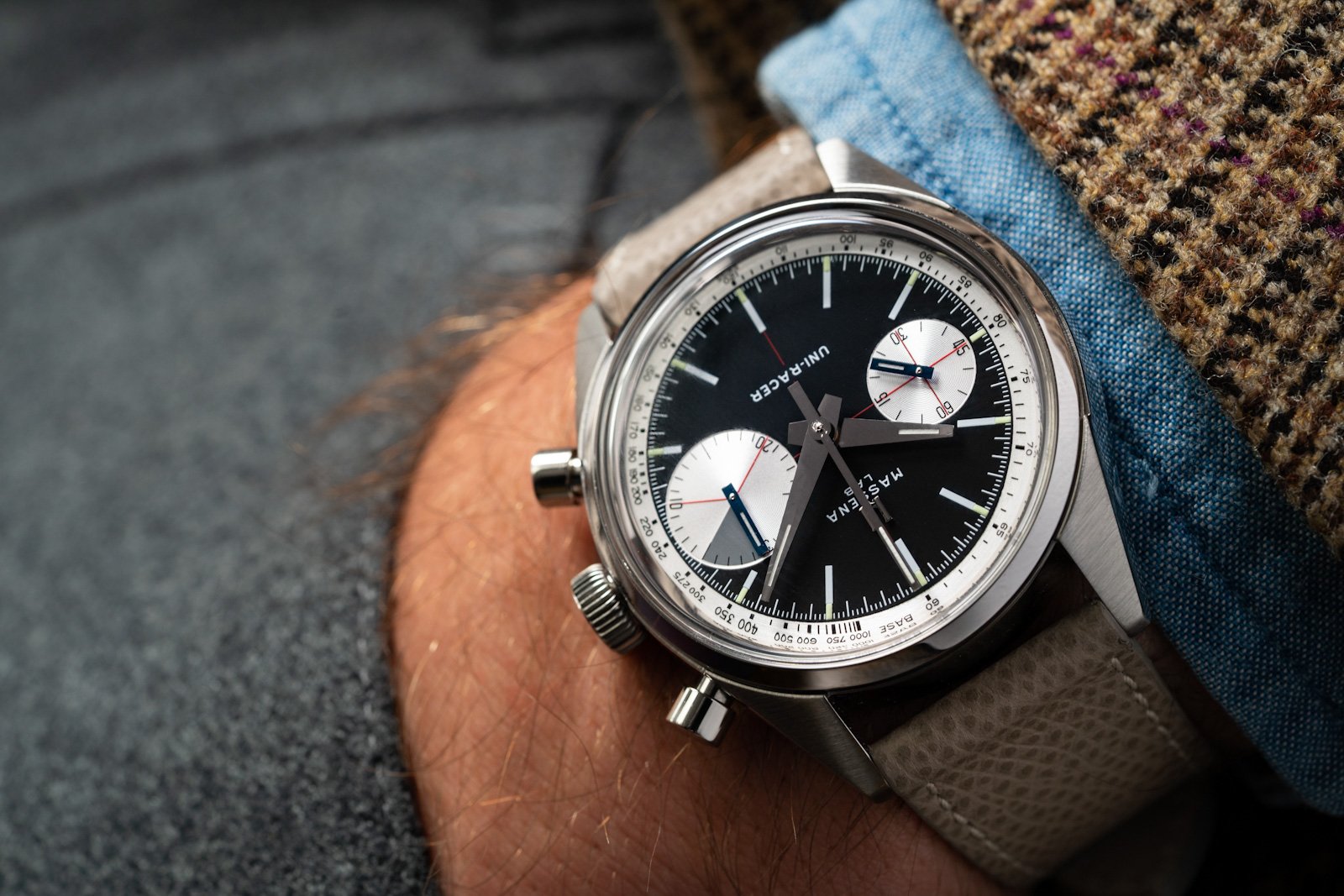 Thor — The Massena LAB Uni-Racer revs up for an unlikely win
Seriously? I'm up against the Speedmaster Calibre 321 and Robert-Jan!? Thanks for nothing, guys. This must be a conspiracy against the new guy, as even coming in with 300+ articles under my belt from Australian Time+Tide, I'm being treated as the office intern. OK, that's not quite true. I'm grasping at straws here, aiming for the sympathy vote. The Massena LAB Uni-Racer trounced the fresh Bernina from Farer, despite a fire in the comments section keeping me busy all bloody weekend. But it deserved to win. If you want vintage perfection at under $5000, the Uni-Racer is the one to pick. The three years that Massena LAB spent researching the elusive Uni-Compax "Big Eye" shows in every little detail. It's an iconic Universal Genève redefined, hitting several nails on the head in the process. As for me, I never knew the original even existed.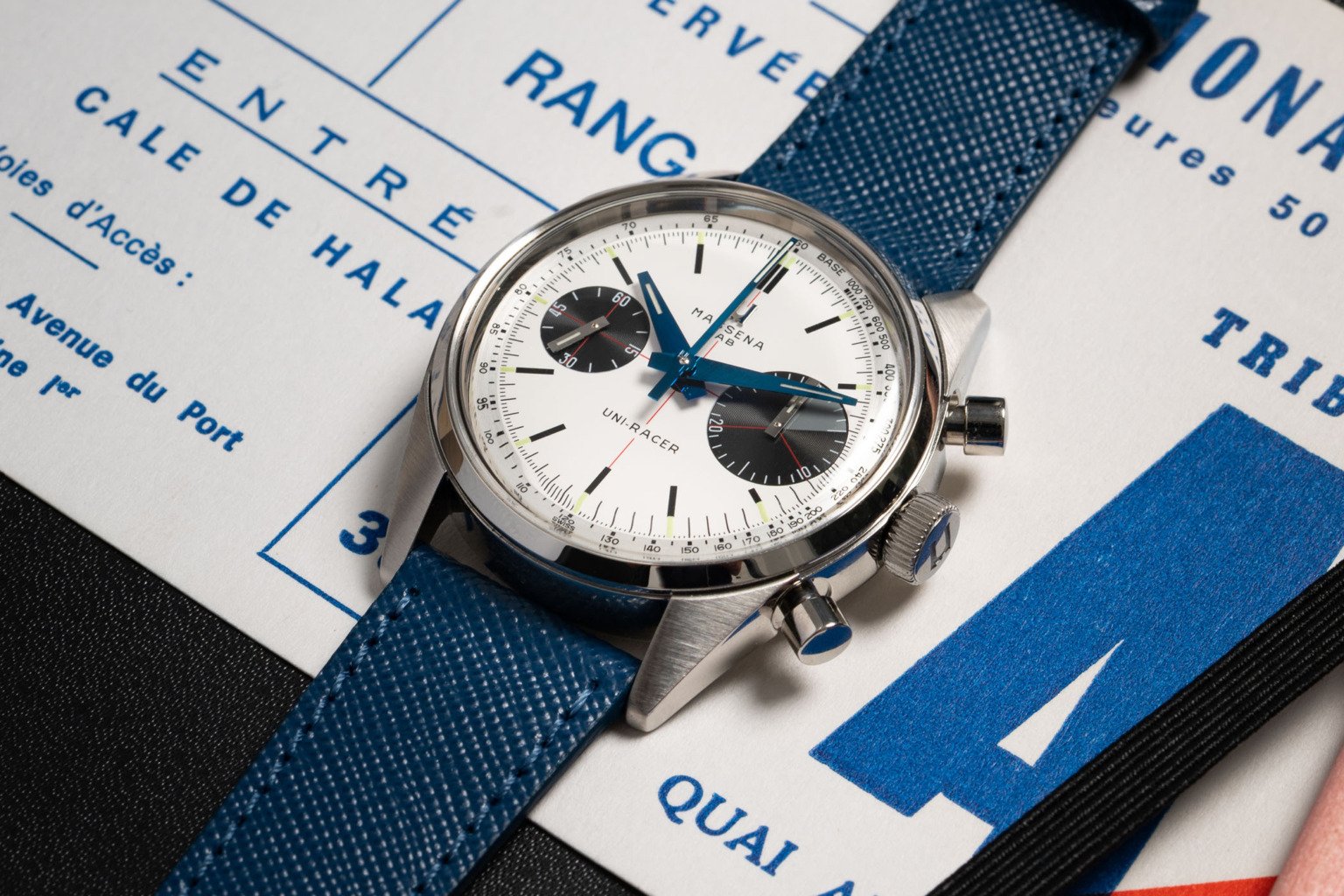 How can William Massena's homage perfection stand a chance?
If you see me keeping out of the Ed White's lane, that is because it is hardly a direct competitor. But could the underdog still win it? The hand-assembled, numbered movement in the Speedy of Dreams is simply delectable, but I'm a smooth leather strap kind of guy, and who out there has $14,000 to spend on a dream Speedmaster? I'm staying in the outside lane, with the asymmetrical dial of the Uni-Racer keeping good time inside its Goldilocks 39mm case. With its vintage-feeling manual-wind Sellita SW510 M and 58 hours of power reserve, it's got plenty of stamina. The Uni-Racer is everyday cool at its best.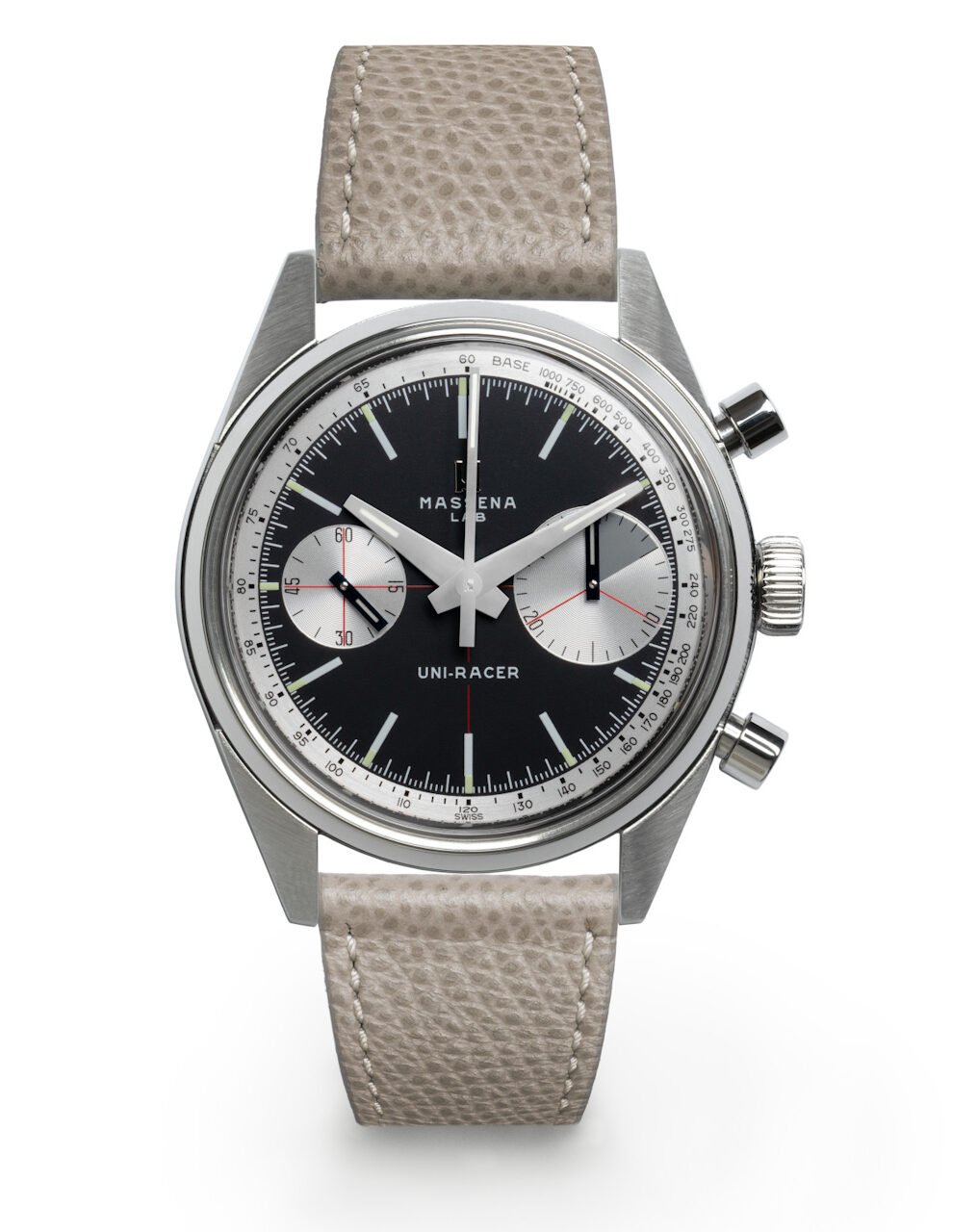 Bring some contrast and color into your life
On the racetrack, my Uni-Racer stays back, saving fuel for a late attack should the Speedy brake too early before the hairpin. I have a crisp reverse panda dial on my side, so at least that's something. Small touches of red make for discreet pops of color, and there's delicate snailing on the silver chronograph registers. The blunt baton hands are immaculately proportioned, just like their inspiration, and the rectangular chronograph pointers are just achingly cool.
The Massena LAB Uni-Racer was USD $3,495. Most are sold out, but some are still available. Unlike the quiet Speedy tonality, there are some fresh colors too. So here's my final pitch! Get one of these babies before they evaporate from the site faster than you could say "homage." Why? Does your wife understand how much the Calibre 321 Ed White costs?! Get the sharp Uni-Racer now, and save up slowly and carefully for the Speedy without her knowledge. Have your cake and eat it, but just eat it later. The danger, of course, is falling too hard for the Massena. But then again, you could have both versions of it and still only spend half of the Speedy grail budget. That's a win-win in anyone's book.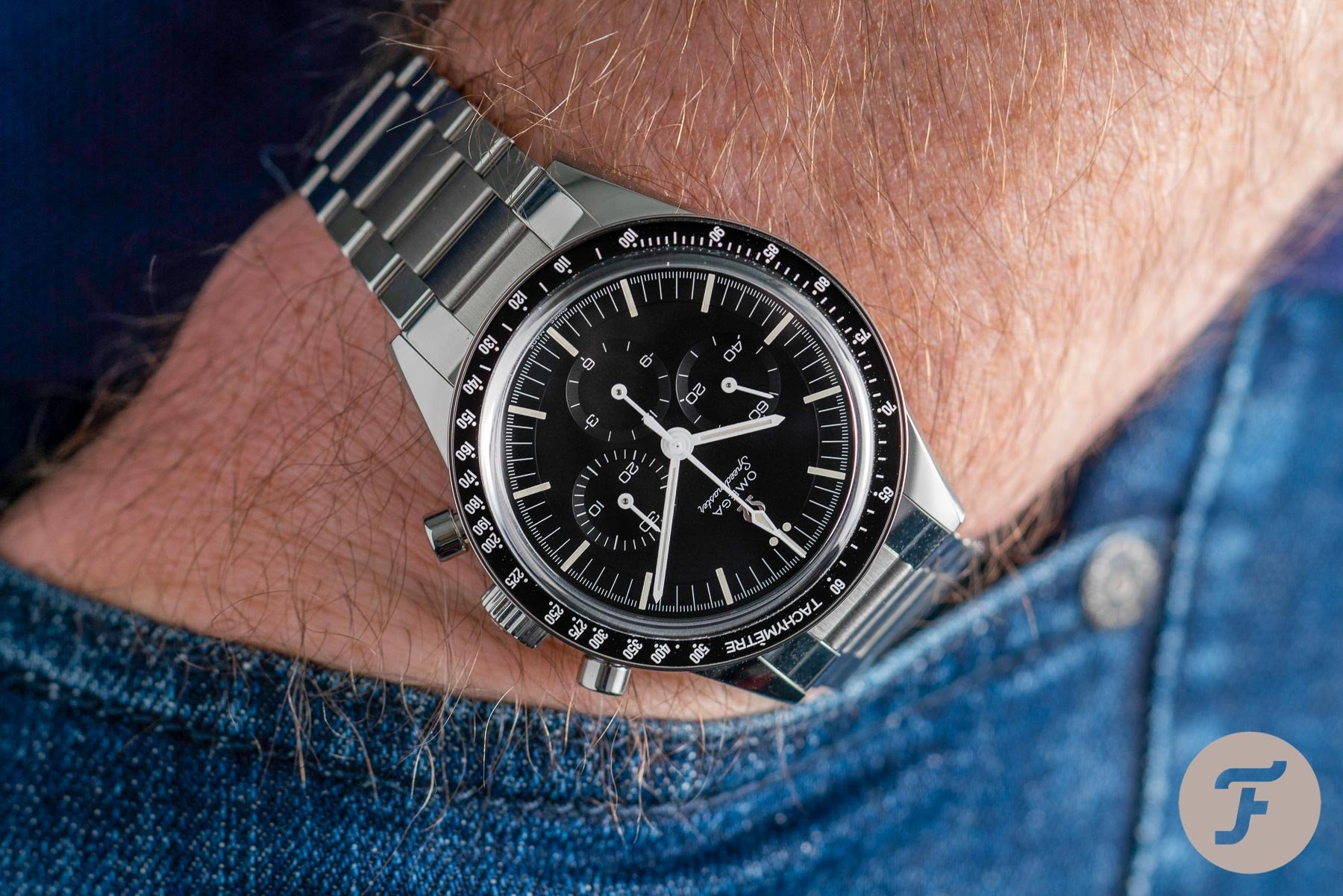 RJ — Omega Speedmaster Calibre 321
Thor is being too modest here. With his article count on Fratello already, he will quickly surpass some of the other longtime writers here. So getting the pity vote will not help much, I hope. Anyway, this competition is not about the price tag, but about the watch itself. At USD $3,495, the Massena LAB Uni-Racer is much more affordable than a $14,000 Speedmaster Calibre 321, for sure. But is it a nicer watch, even when we take off the price tags? I don't think the Massena LAB Uni-Racer is a bad-looking watch at all. Well, perhaps except for those ridiculously shaped hands… But I mean, what's not to like about a dual-register chrono with some funky elements on the dial?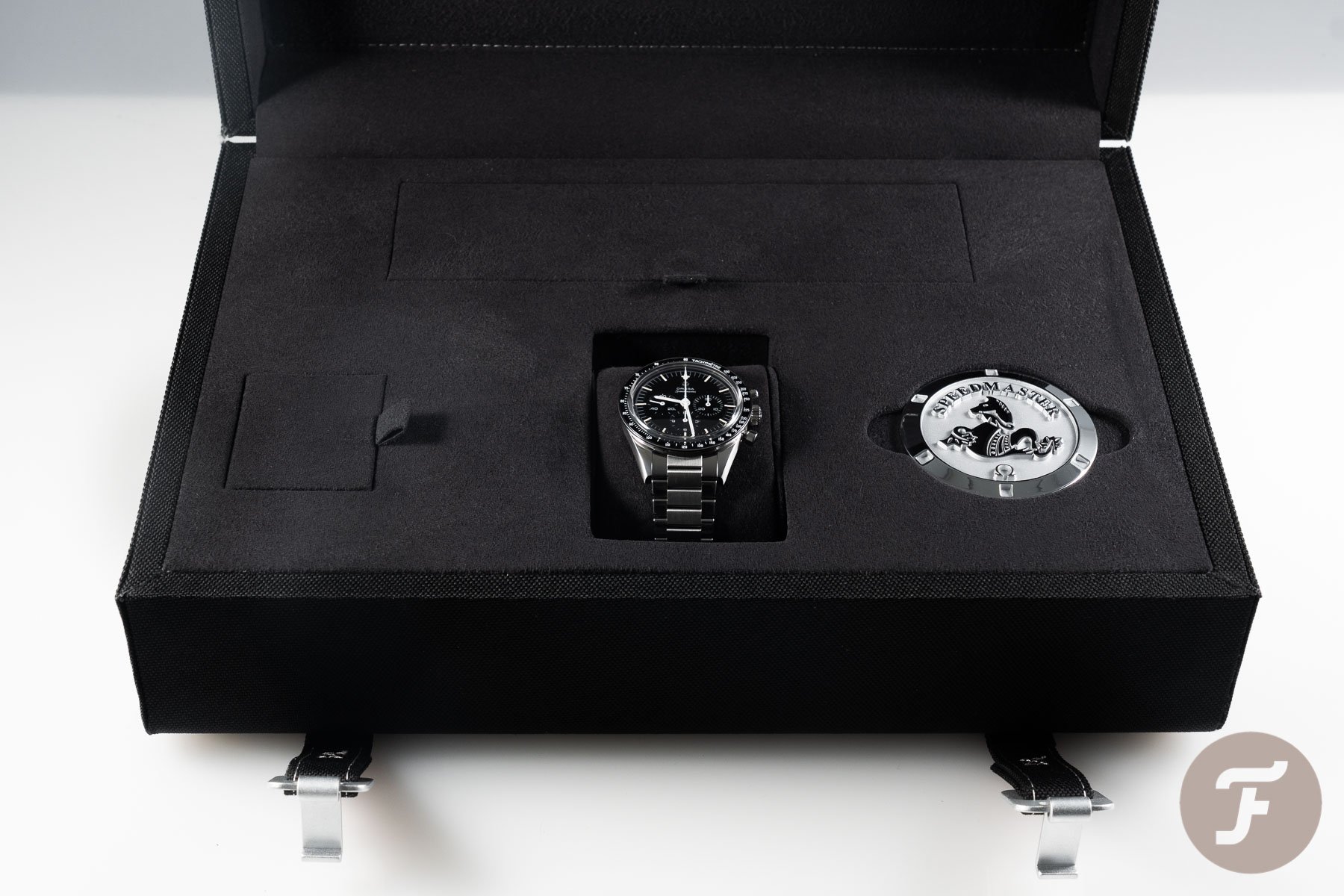 Microbrand problems
Inside the Massena is Sellita's manually wound SW510. It derives from the SW500, which in turn, is basically just a copy of the Valjoux 7750. It's a solid movement indeed, which can be serviced by just about any watchmaker. And I feel that that's important with watches like this, as after-sales service for microbrands might be tricky in the future. Not every microbrand will survive in the end. You'll need to be able to rely on a movement that can be serviced by a watchmaker. What will be tougher, though, is when you need replacement parts for the watch other than for the movement (like the hands, a dial, a crown, and so on).
That is, in large part, also the reason I kind of stick to the big brands. I do have a few microbrand watches, but I never want to spend too much money on them for the reasons stated above. When I purchase a watch, my intention is to own it and wear it for a long time to come. Being able to have it serviced or repaired 10 or 20 years from now is a box I'd definitely like to check off. But anyway, just like the price tag, let's not include this factor in our decision-making process.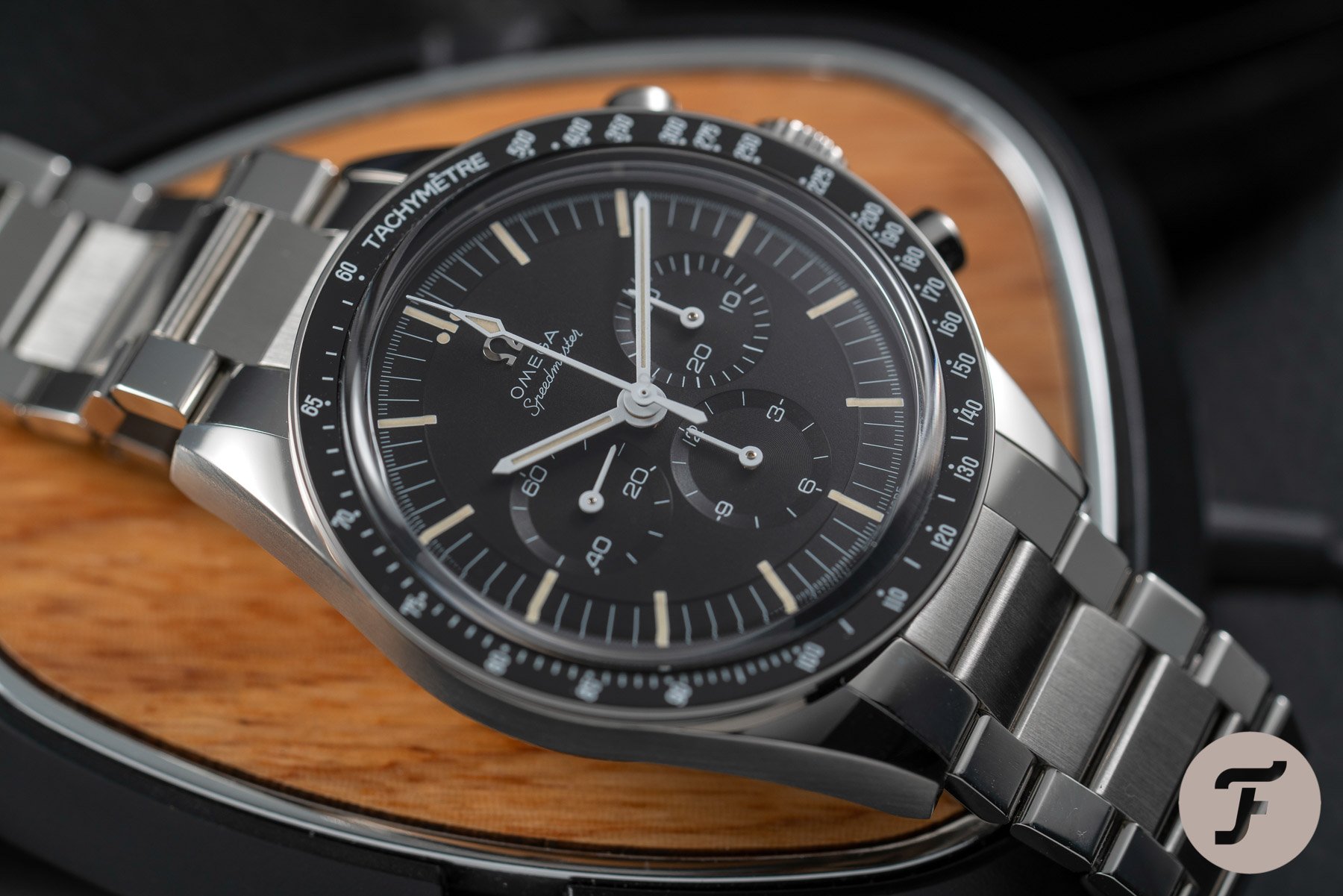 The perfect Speedmaster?
Back to the Speedmaster Calibre 321 in this shootout. A lot has been said and written about the Calibre 321, and despite the price, the demand is real. Just today I received another two messages from our readers asking about the availability of this watch (unfortunately, I don't have those insights). This has been going on since its introduction in early 2020. You can read about the specifications and how it has been built elsewhere on Fratello, or even in its last round when it beat the TAG Heuer Monza. But let me tell you this: I'm not only very impressed by the looks of this watch and the beautiful iconic caliber 321 chronograph movement, but also by how it actually wears on the wrist.
I own the Speedmaster '57 60th Anniversary from 2017, as well as the special CK2998 for Hodinkee's 10th anniversary in 2018. These are similarly sized and have straight-lug cases. But this Speedmaster Calibre 321 is something else. A part of that is due to its beautiful bracelet, of course, with its flat links and incredibly good finishing. I nearly don't dare to say this, but as I used to have several Audemars Piguet Royal Oak watches, the Speedmaster Calibre 321 is just as comfortable as those APs were. It sits incredibly well on the wrist, and the size of 39.7mm makes it almost the perfect watch for everyone. Even with big wrists like me, you can easily pull it off.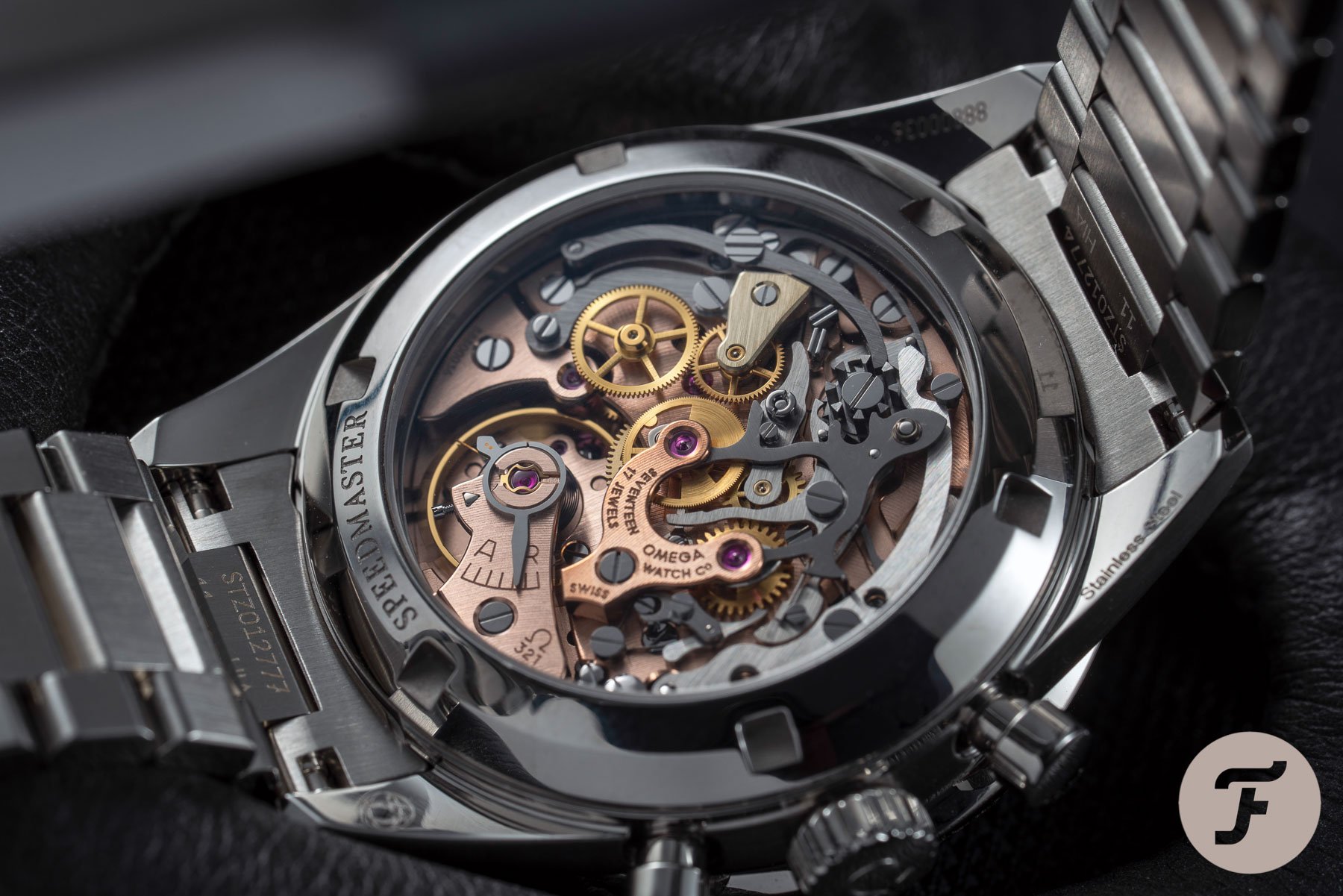 Listening to the community
Then, of course, there is the caliber 321 chronograph with column-wheel mechanism and Sedna gold coating. Everything about this watch is done with the utmost care and attention. If Omega would have used a Hesalite crystal and an aluminum bezel insert, many might mistake it for a vintage Speedmaster 105.003 in pristine condition. But Omega didn't, and that decision makes the Speedmaster Calibre 321 not only a perfect tribute to the third generation of the Speedmaster but also a perfect daily companion. The Speedmaster Calibre 321 is Omega showing you the result of years of work on the movement, and also how it listens to the Speedmaster community regarding aesthetics. It's a masterclass in getting all the details done right, like the dial, the hands, the case, and the bracelet.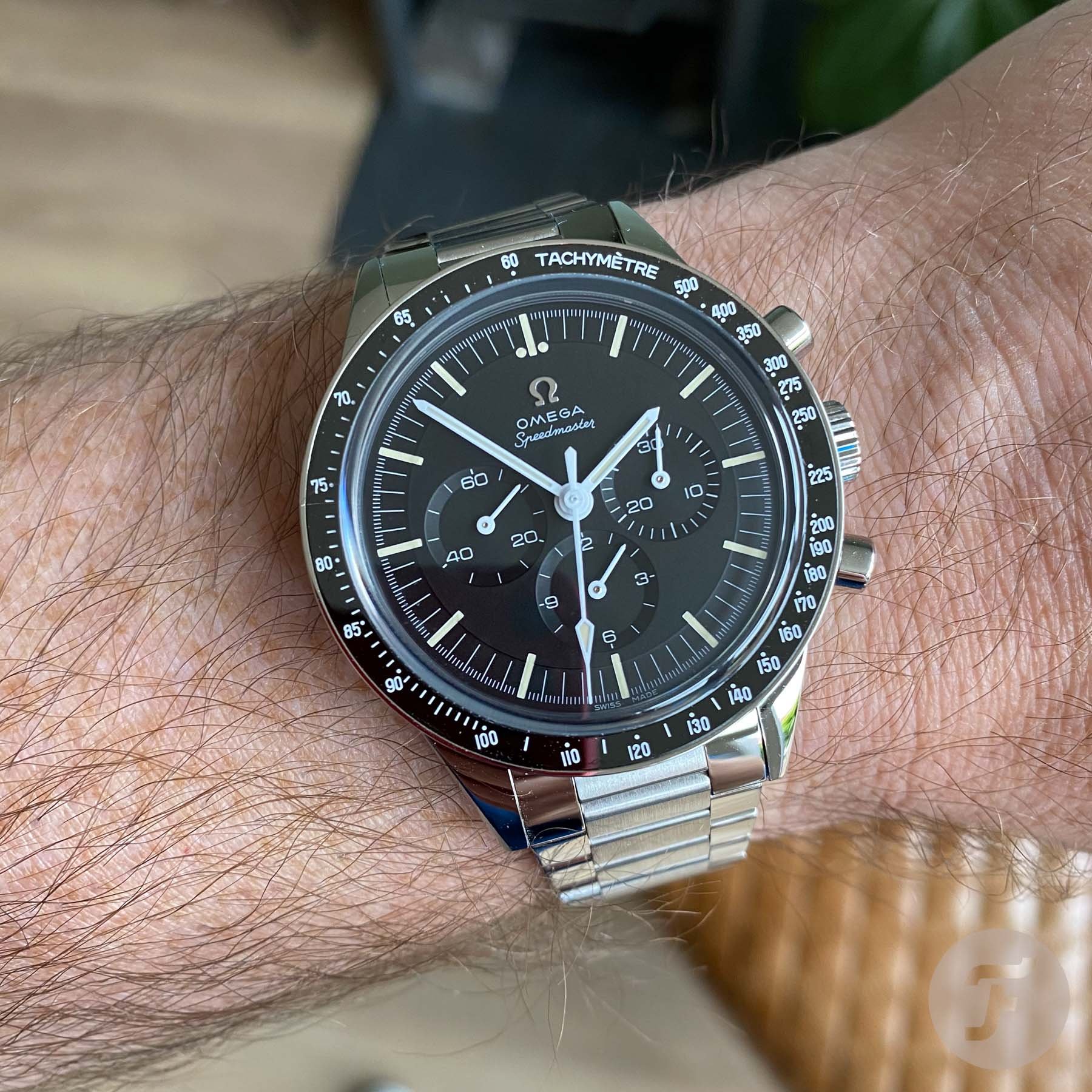 The Speedmaster Calibre 321 is a perfect companion for racing. It has a very readable dial, a big tachymeter scale on the bezel, easy-to-use pump pushers, and it is reliable. Perhaps it isn't a Master Chronometer like the new caliber 3861 models, but it is a rugged and solid movement with legendary status. It even survived a few rides in the Saturn V rocket and a few splashdowns in the Apollo Command Module. Can you really beat that?