The Five Best IWC Watches Released In 2021
It was a big year for the Big Pilot's Watch
The year 2021 was an amazing one for IWC, thanks to so many great Pilot watch releases and the brand's innovative way to show its new watches to the world. By using large "containers" located in several cities around the globe with live connections to Schaffhausen, it gives those viewing the watches the chance to directly ask questions about the new IWC Pilot's watch collection. But the brand has a long-standing history and reputation when it comes to its pilot's watches. In fact, IWC has been designing and manufacturing them since 1936.
IWC delivered the 55mm pilot watch ref. IW431 to the German Luftwaffe in 1940 and the Pilot's Mark 11 to the British Royal Air Force in 1948. You will find that today's IWC Pilot's watches are clearly descendants of those early models. When it came to Pilot's watches, IWC went all out in 2021, from the "Tribute to 3705" to a Big Pilot's Perpetual Calendar Tourbillon Edition "Le Petit Prince", as well as numerous other variations on the aviator's watch. Although all these IWC watches all share the same theme, it wasn't that difficult for me to sort out which I feel are the best IWC watches released this year. Of course, it's a very biased and personal overview, but rest assured I was able to try them all out myself, rather than having to depend on opinions, images, and descriptions of others.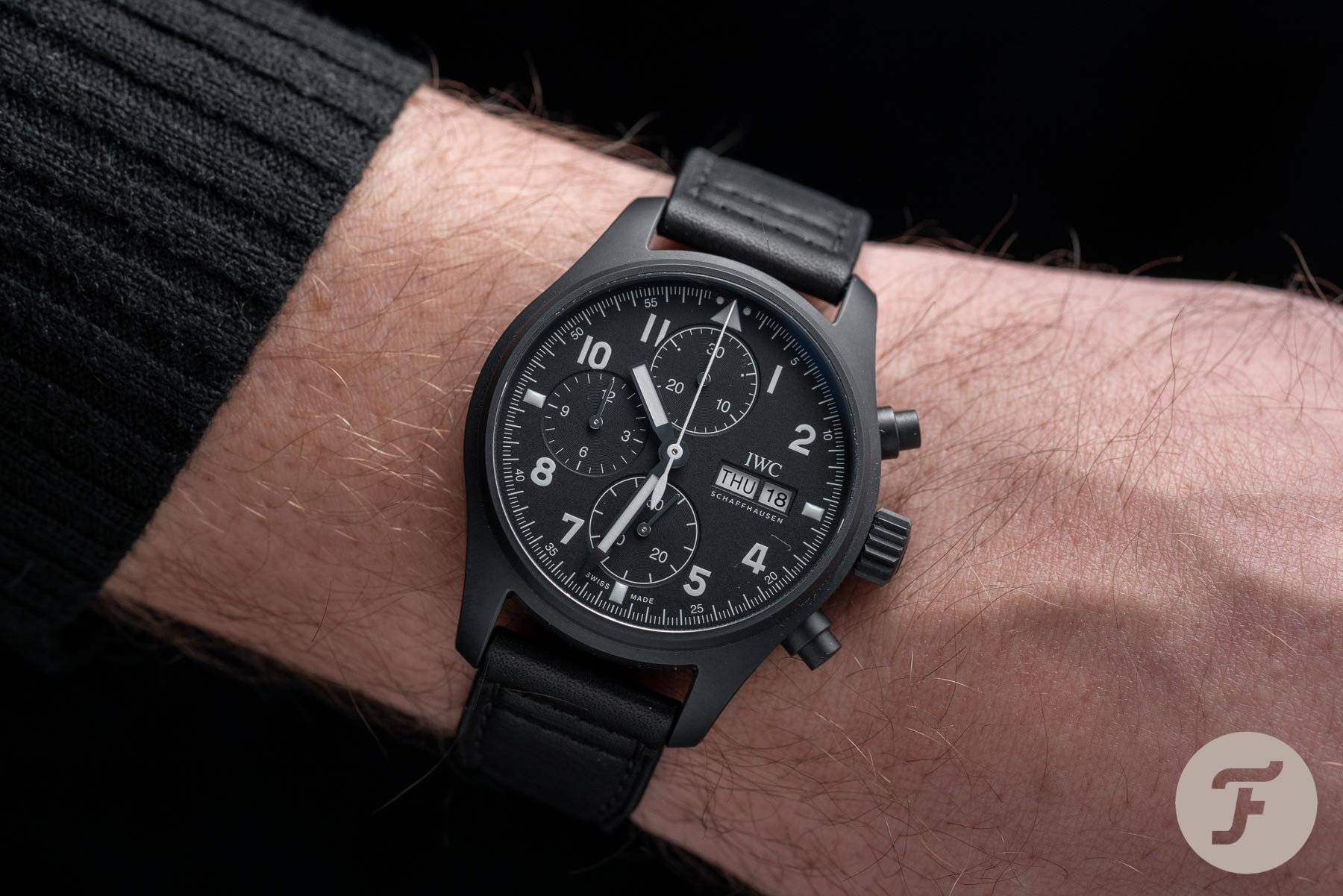 Best IWC Watches Of 2021 — Pilot's Watch Chronograph Edition "Tribute to 3705"
Early in 2021, IWC introduced its Pilot's Watch Chronograph reference IW387905, better known as the "Tribute to 3705". A limited-edition watch of only 1,000 pieces, it pays tribute to the original reference 3705 chronograph from 1994. It was an era when this line was still referred to as "Fliegerchronograph". At the time, the 3705 was a Valjoux 7750-powered 39mm chronograph in a ceramic case.
Not an exact copy
This tribute watch is a little bit bigger at 41mm, and it uses IWC's own Ceratanium, a titanium alloy that looks like the ceramic case of 1994. Furthermore, the movement has been replaced by IWC's in-house caliber 69380. It is not an exact copy or re-edition, but a tribute. And I like that. If I were an owner of an original 3705, I wouldn't like it if IWC came up with a copy of the watch roughly 25 years later. Not only that, but I also appreciate innovations when it comes to watchmaking and materials used. The retail price of the IWC Pilot's Watch Chronograph IW387905 is €13,000, and it is only available online.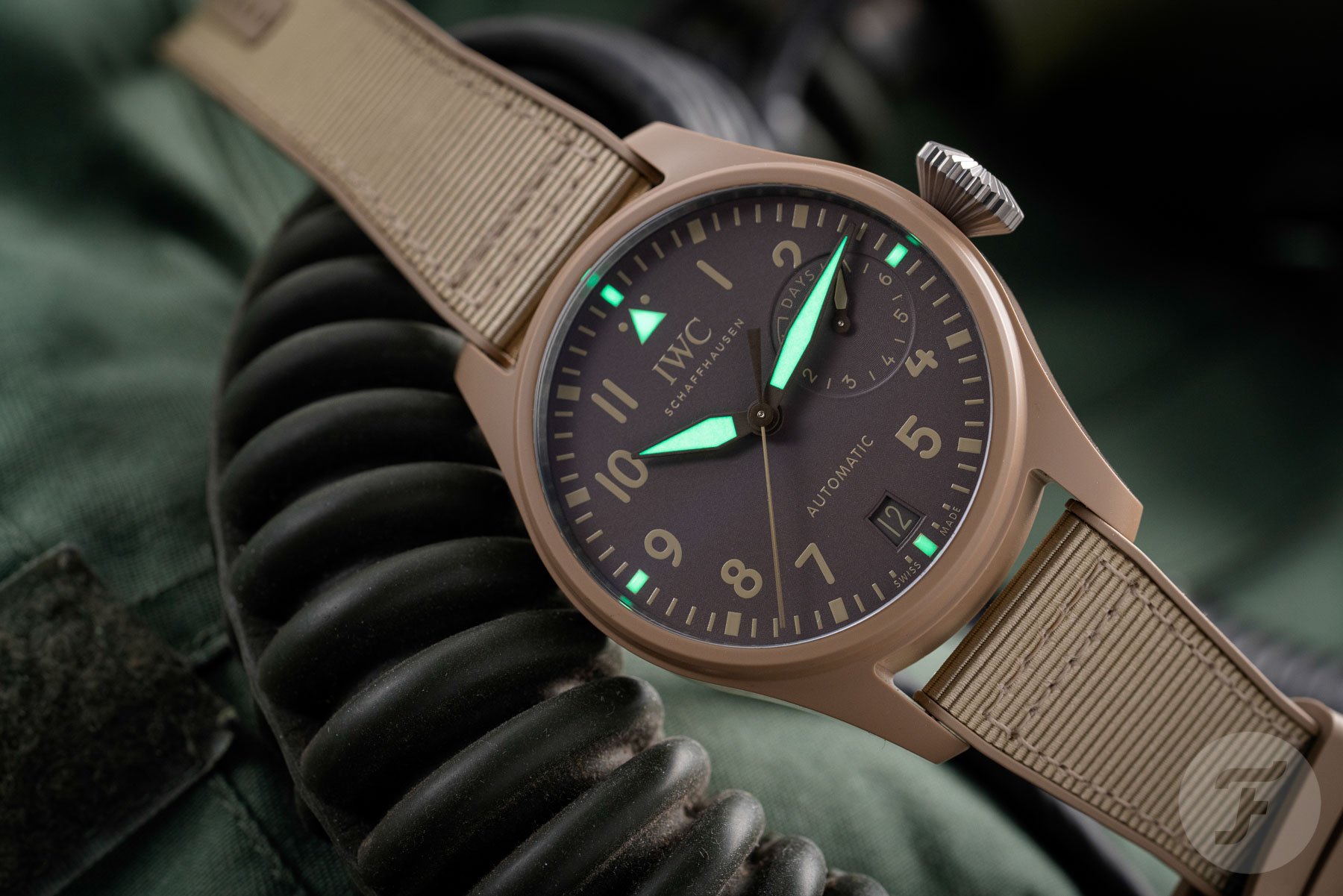 Best IWC Watches Of 2021 — Big Pilot's Watch Top Gun Edition "Mojave Desert"
With a 46mm case diameter, this IWC Big Pilot's Watch Top Gun Edition "Mojave Desert" is not for the fainthearted. But that also applies to the aesthetics of this watch, using sand-colored ceramic and a brown dial. When we had this watch in the office, it was tough to get it off the wrist of my colleague Lex as he enjoyed it very much. In general, I consider myself a purist when it comes to watch design. Only on rare occasions am I in favor of a variation over the OG version of the watch in question.
Not your "only watch"
In this case, I think the "Mojave Desert" edition is incredibly well done, and it doesn't necessarily need to be that second or third Big Pilot's watch in your collection. I do believe, however, that this watch doesn't work as your "only watch", given its outspoken design, color, and (especially) dimensions. Inside is IWC's caliber 52110, a large and beautiful automatic movement. However, this time it's covered up with a case back with the Top Gun engraving. The retail price of this IWC Big Pilot's Watch Top Gun "Mojave Desert" is €14,900.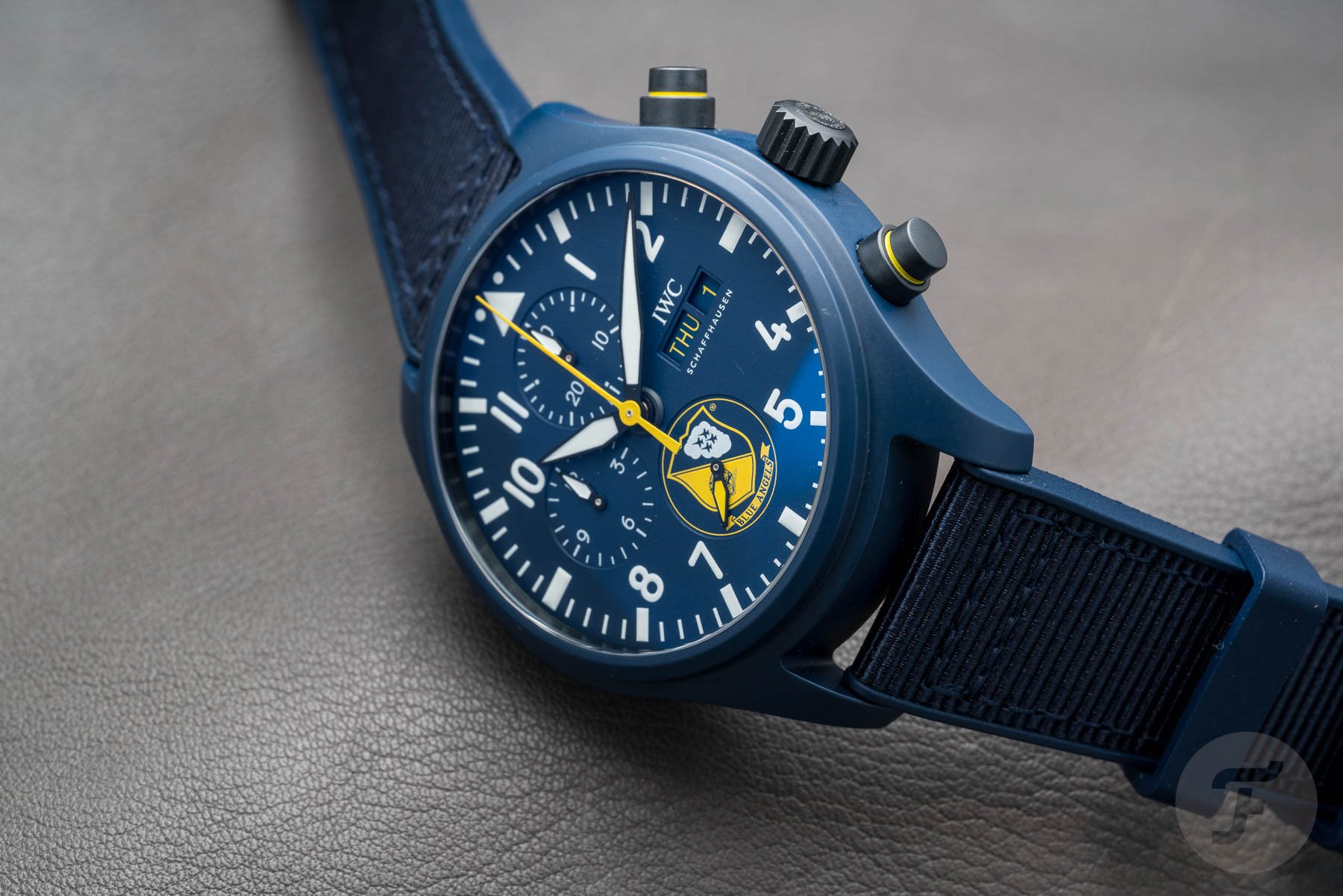 Best IWC Watches Of 2021 — Pilot's Watch Chronograph Edition "Blue Angels"
IWC did three editions for the US Navy and its elite squadrons — the Royal Maces, Tophatters, and Blue Angels. All three are ceramic watches that have the squadron's patches and use matching colors on the dial and strap. When I was a kid, I used to read a lot of comic books, including Buck Danny about a US Navy pilot. In one of the installments, pilot Buck Danny is the leader of the famous Blue Angels squadron. It was my introduction to the Blue Angels, and ever since then, it's always had a magical element to me.
Just 500 pieces per year
IWC's tribute to the Blue Angels translates into this blue ceramic 44.5mm Pilot's Watch Chronograph, which is limited to 500 pieces per year. The watch is powered by the same movement as in the "Tribute to 3705". It comes with a blue rubber strap with a textile inlay. Blue and yellow are the colors of the Blue Angels, and it's unmistakably a tribute to this elite squadron. This watch has a retail price of €11,600.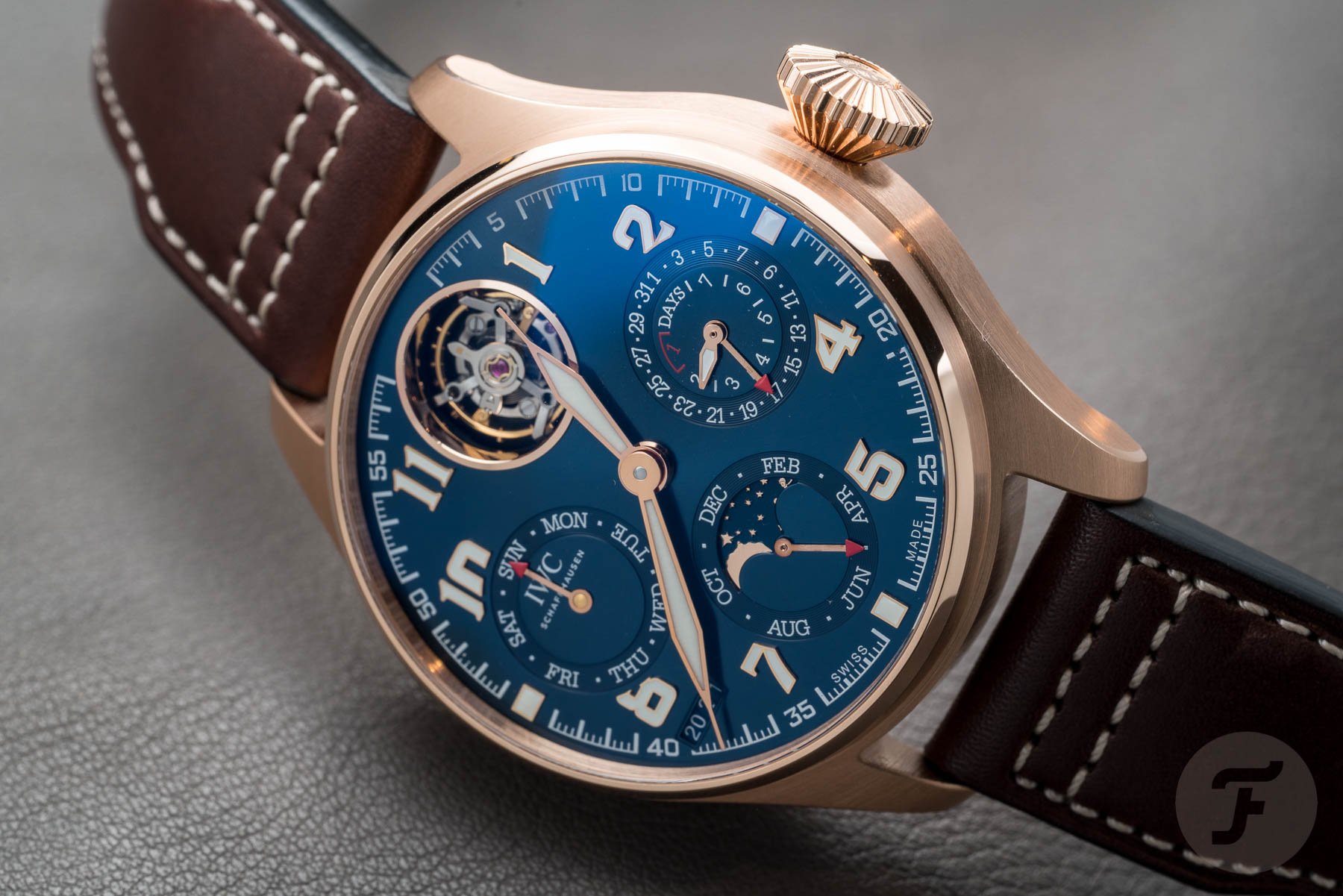 Best IWC Watches Of 2021 — Big Pilot's Watch Perpetual Calendar Tourbillon Edition "Le Petit Prince"
This is perhaps the least "Pilot" watch in this overview of IWC's 2021 Pilot's watches, but it is one of my favorites from the collection. I am a fan of Le Petit Prince, even though I only discovered Antoine de Saint-Exupéry's story at a later age. I tried to watch the Le Petit Prince (Paramount Pictures) on Netflix a while ago with my daughter, but it saddened her so much at the time that we stopped the movie. I'm looking forward to when she's a bit older and I can show it to her again. Anyway, IWC has done several watches with the "Le Petit Prince" theme, but this new Big Pilot's watch reference IW504803 featuring a perpetual calendar and tourbillon is a real masterpiece.
The case back is just as beautiful
There are only 50 pieces available with a price tag of €127,000, so it's not for everyone, I guess. The 46.2mm diameter case is made of 18K rose gold. And not just any rose gold, but IWC's very own gold alloy, which goes by the name of "Armor Gold". This alloy is more wear-resistant than regular 18K gold. That means that it is harder, and that comes in handy with a watch as large as this. Although the front side of this watch shows everything this watch has got to offer in terms of complications, you should also have a look at its marvelous case back. The gold rotor pays a wonderful tribute to The Little Prince.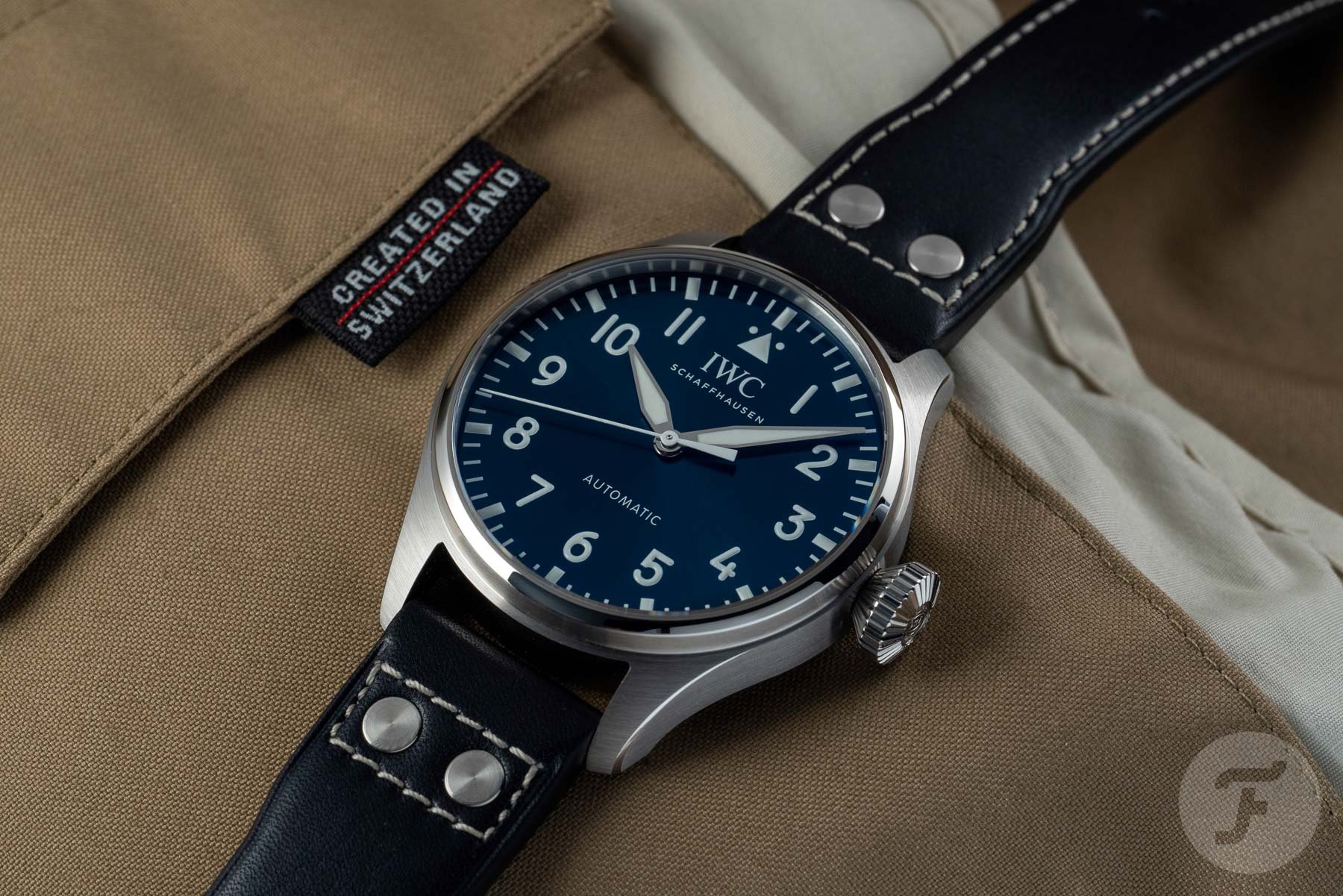 Best IWC Watches Of 2021 — Big Pilot's Watch 43
Last but certainly not least, there's this 43mm edition of IWC's Big Pilot's watch. When 46.2mm (the size of the regular Big Pilot) is too big for your wrist, the Big Pilot's Watch 43 might be a very good alternative. I thoroughly enjoyed wearing this watch, and as IWC sent us the original reference 5002 Big Pilot's Watch (ref. 5002) at the same time, I could make a proper comparison between the two. The 46.2mm version, for me, is simply too much, even considering the fact that I have large wrists.
All day long
I don't mind wearing a big watch, but I happen to find myself taking them off when I get home from work, for example, and putting on something more modestly sized. This IWC Big Pilot's 43 is one I kept on all day long. The no-date automatic caliber 82100 powers the watch. It's a design choice I applaud, as it keeps the dial clean. The watch is available in a few variations, but I prefer the black dial with a leather strap (rather than the steel bracelet). This is reference IW329301, and it retails for €8,950.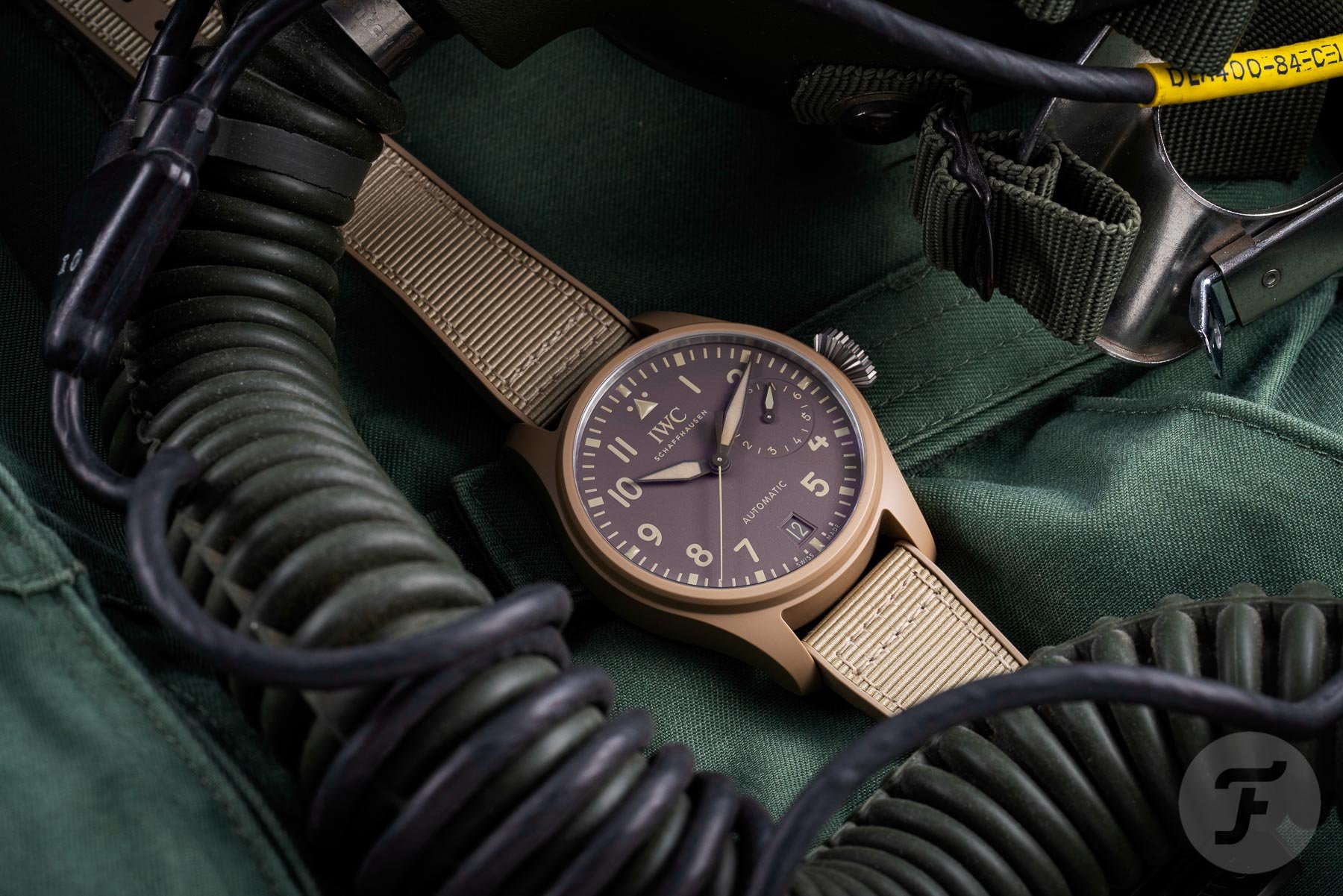 Which one is your favorite?
Which of these Pilot's watches did you like the best? And were there any other IWC releases that you wish had made the list? We'd be interested to hear what you have to say in the comments, so if you have the time, let us know down below. Check out these models as well as many others on IWC's official website.
This is a preferred position post. Learn more.