The Five Most Exciting NOMOS Glashütte Watches In The Catalog Today
Not your usual choices...
You all know I'm a fan of the NOMOS Glashütte brand. I worked for the company for three years in the sales team. Thanks to NOMOS, I was able to meet hundreds of fascinating watch lovers around the Northern Hemisphere. Sharing our opinions on the watches within the catalog (and those that had sadly departed it) was something I really enjoyed.
I was always resolutely honest in my assessment of the brand's watches, even when most employers (and probably NOMOS too, at times) would prefer their staff to adopt an entirely diplomatic position regarding pieces that didn't so much tickle their fancy. But the truth is, I disagree so strongly with that strategy I simply refused to adopt it. Why? Good brands don't need it. It is to their detriment. Passion is what drives this community. Obscuring negativity dilutes positivity. It can even call into question the genuineness of your effusively positive opinions.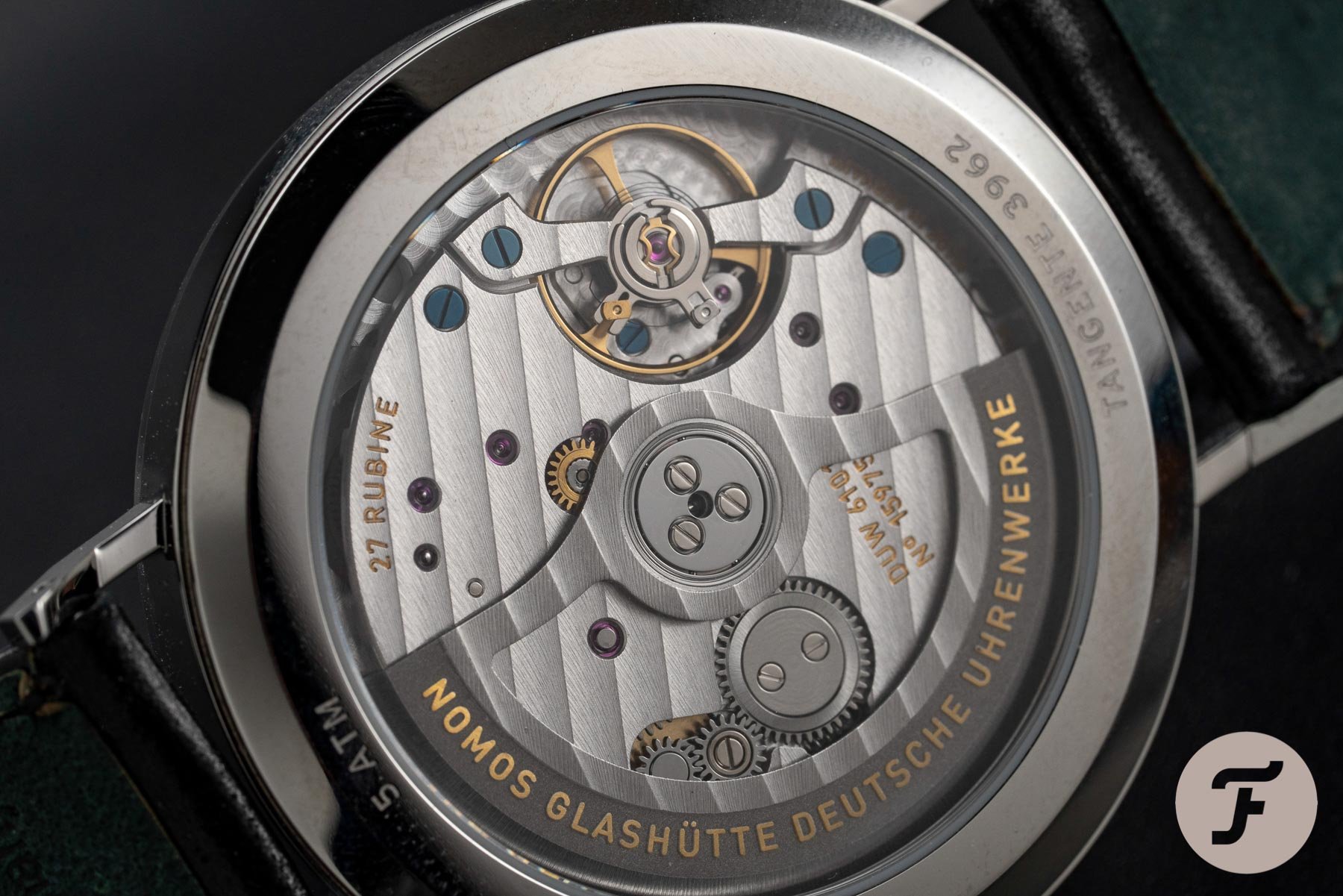 My opinions on pieces are not facts. They are informed opinions, sure, but they are subject to my tastes. My tastes differ from those of other watch lovers. When it comes to brands like NOMOS, we can (or should be able to) agree on one thing: these watches are supremely well designed. Sometimes people think that good design is subjective, but it isn't really. Taste is subjective. It is wholly possible to love something because it is an example of "bad" design. So when someone I speak to expresses their love for a piece I just don't get but know to be well designed, we have the basis of an interesting discussion. We are able to bond with and learn from one another. That's one of Fratello's main reasons for existence: to foster a respectful community that enjoys a rational disagreement every so often.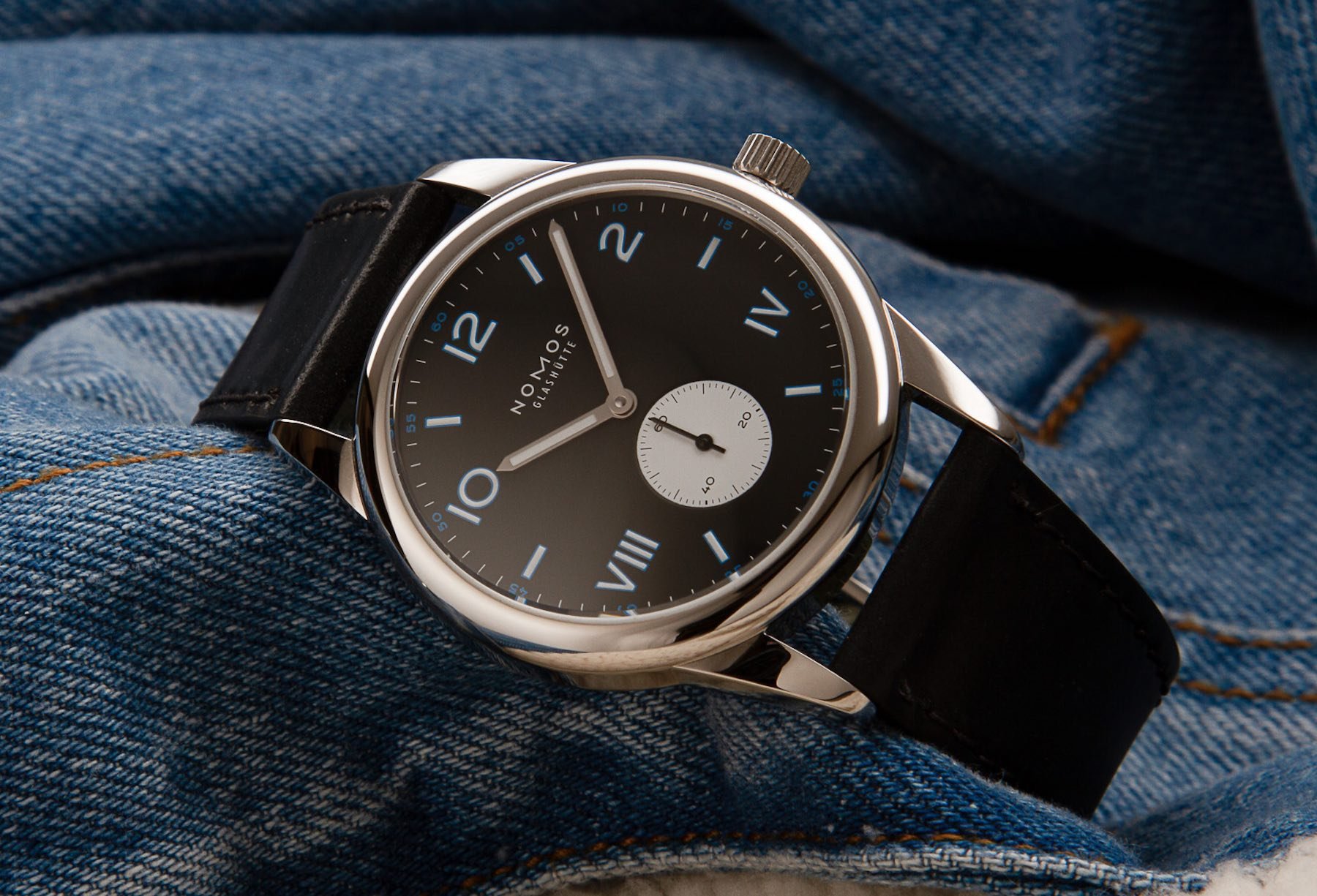 What we're here for
I feel really strongly about this. It's important to me that what I write on the pages of Fratello is presented in the right way — as a starting point of a conversation. There is so much joy to be had in this industry. Even though many of the pieces we write about (and even more of those we privately fawn over) are completely unattainable for the vast majority of us, they are still an essential component of our shared passion. It's fun to discuss Richard Mille, MB&F, or, I don't know, Jacob & Co. every so often. But it's probably fair to say that when the subjects of our discussions here on Fratello are genuinely attainable, it's even more exhilarating.
As such, I've decided to present my five favorite models from the current NOMOS Glashütte collection right now. I'd like you all to chime in with your favorites and why you like them in the comments section below. What would you like to see from NOMOS in the future (wild answers encouraged)? And which models would you gladly see booted out of the collection to make way for more of what you like? Let the fun times roll…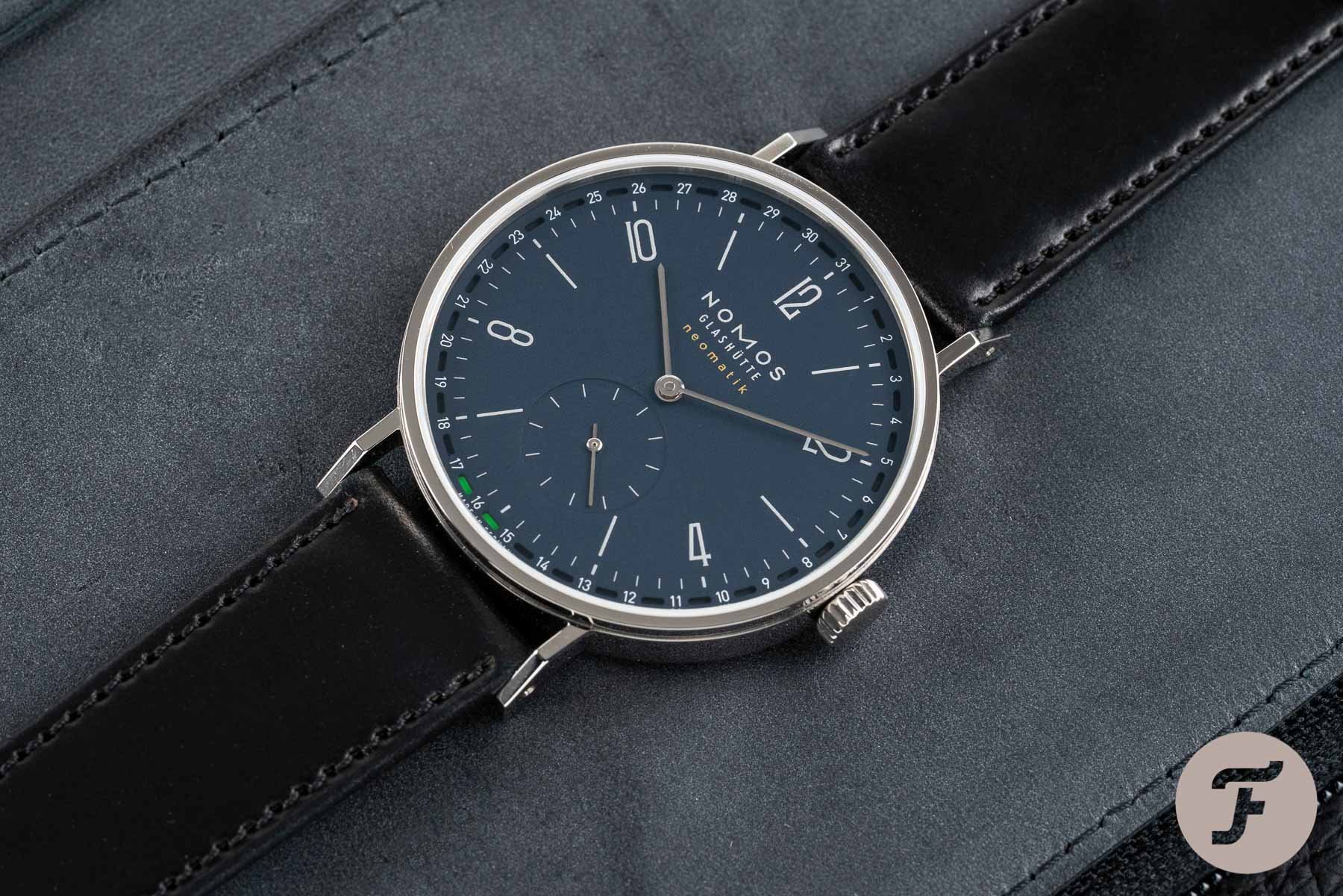 5: The NOMOS Glashütte Tangente Neomatik 41 Update "Seahawk"
Yes, I'm really pushing this nickname. I love it almost as much as I love this new watch. It's truly one of the darkest, meanest, most imposing NOMOS watches I've ever seen. Historically, I've been unmoved by the most quintessential of NOMOS Glashütte watches, the Tangente. I own a 35mm (which has always been my favorite), but I genuinely only wear it to art galleries.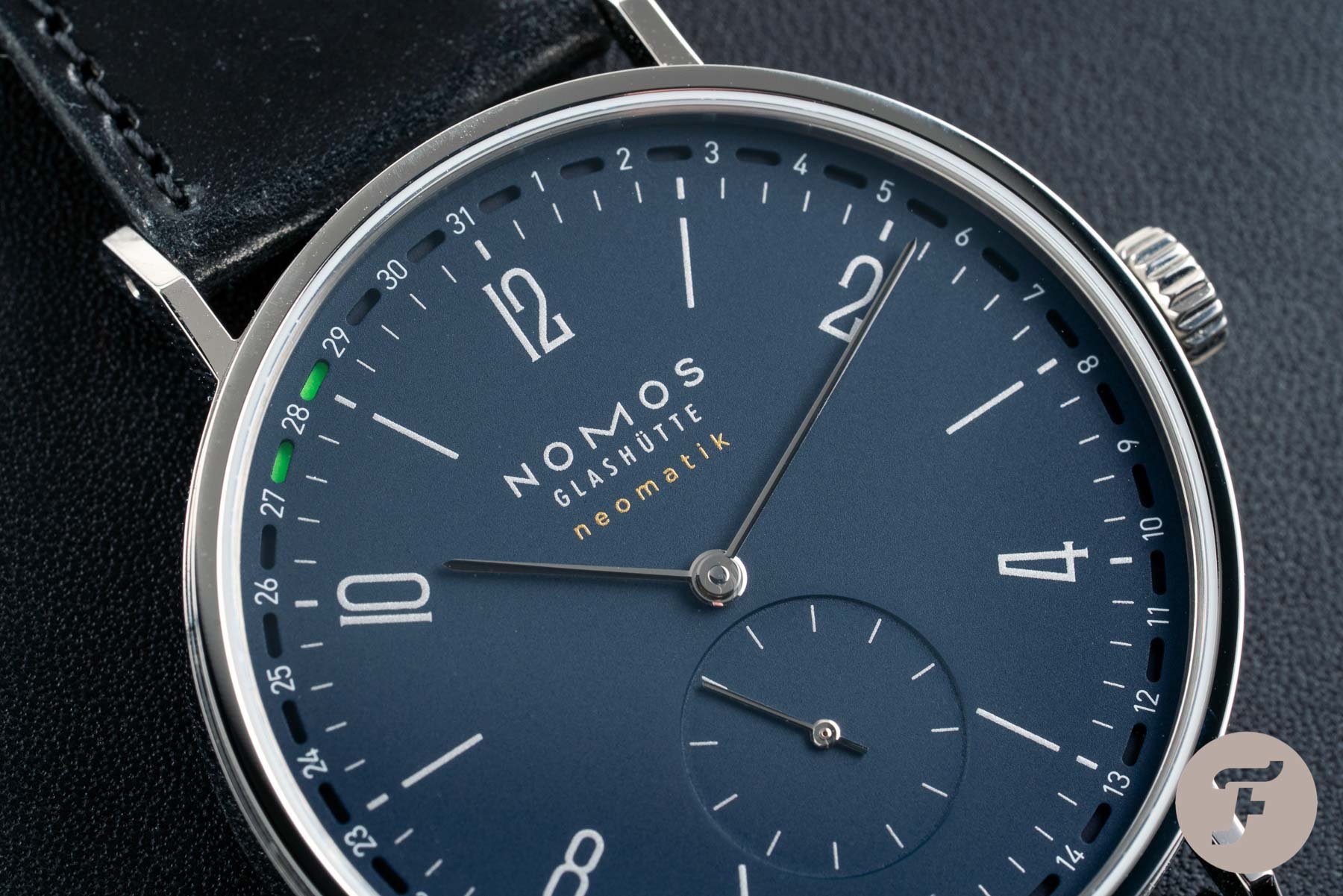 If that's the most pretentious thing you've ever heard, I apologize for befouling your ears, but I'm actually being serious. It just looks right in that environment. This one, however… This one is the Hell's Angel of the Tangente family and I want to see more like this. Weirdly, I think we might…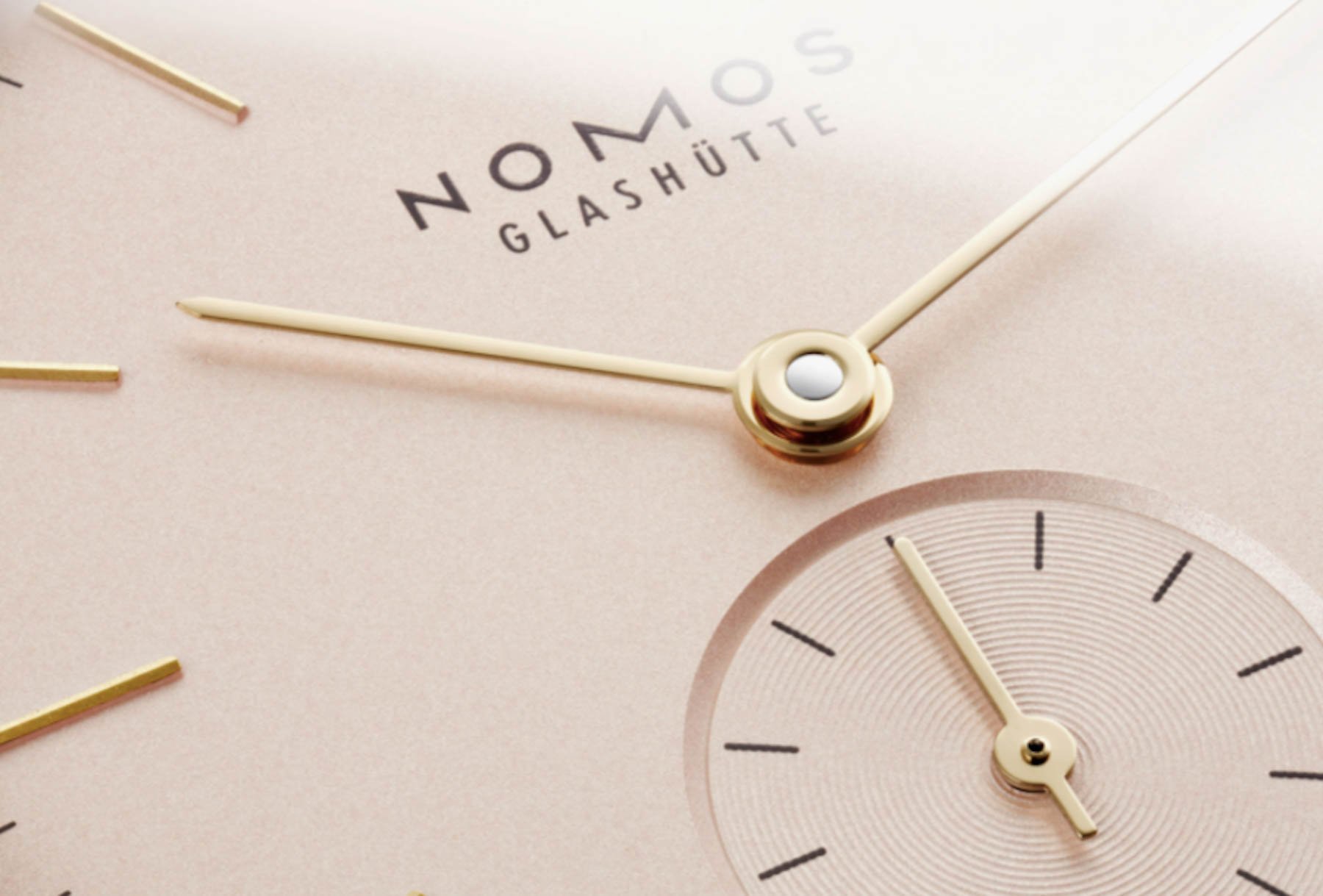 4: The NOMOS Glashütte Orion 35 Rosé
A curveball? You bet. But look at that dial! It comes in either a 33mm or 35mm case size. I might go completely off base here and choose the 33mm for myself (I'm not joking), but I've slotted the 35 in here at the number four position because it is such a unisex sleeper. The long lugs of the Orion and the generally impressive visual impact of NOMOS watches mean this one looks like a vintage dream on a man's wrist, and like an excellently versatile accessory on a woman's. The steel case, the blush pink dial, and the rose gold colored hands mean this piece will look at home next to almost any kind of jewelry you own. It's an absolute stunner and needs to be seen to be believed.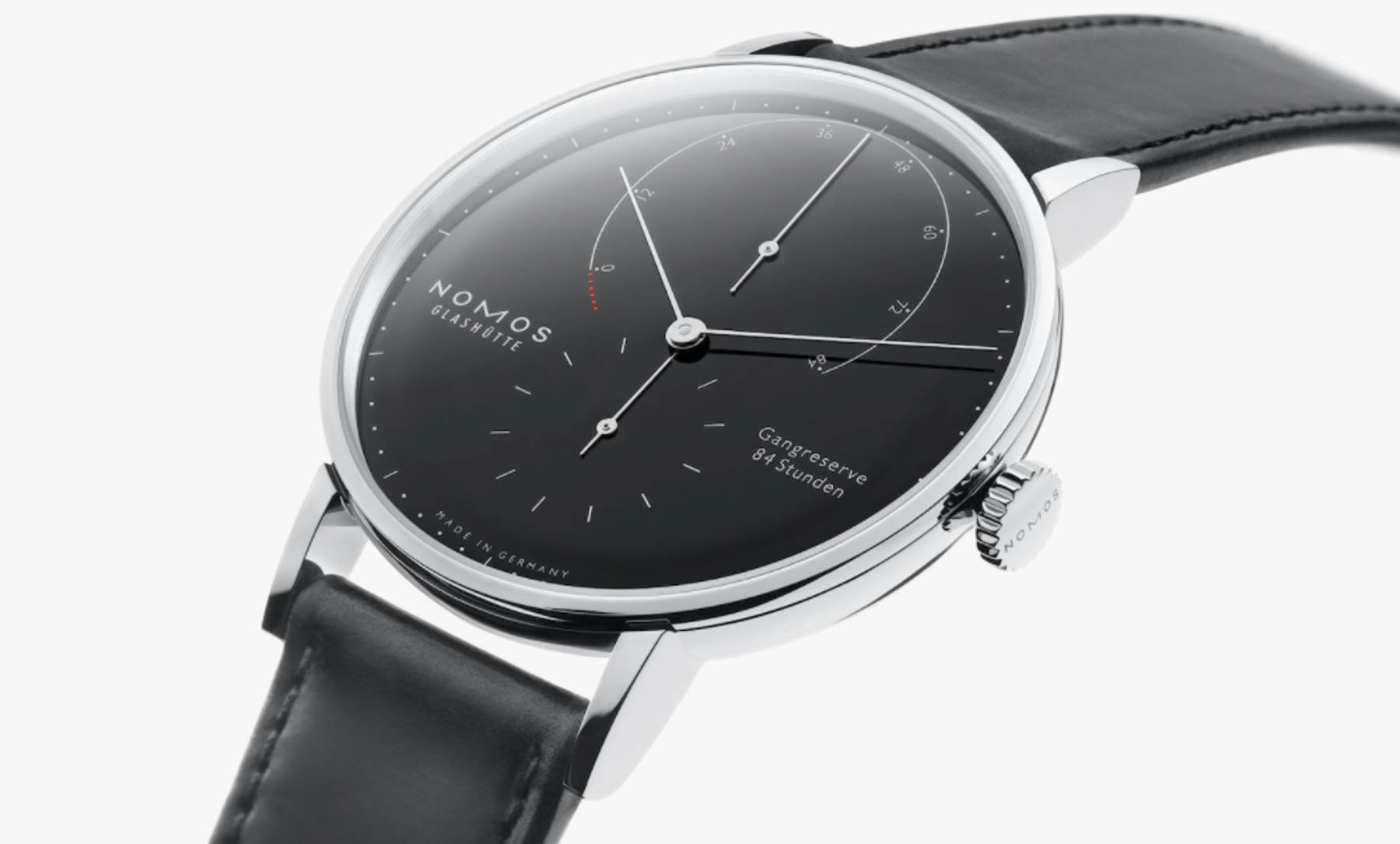 3: The NOMOS Glashütte Lambda — 175 years watchmaking Glashütte (black)
I really struggled with this pick. I knew it was going to be a Lambda but I couldn't decide the model. In truth, my favorite has always been reference 954 (that's the 39mm wide rose gold model with the samtschwarz (velvet black) dial), but the dawn of the steel Lambda collection opened my eyes to the possibility of more…
But reference 960.S2 is something special. Including it on this list was a bit of a risk because it is sold out online and almost certainly sold out in all retailers given its sub-6K price tag and 175-piece limitation, however, I am supremely confident we haven't seen the last of the steel Lambda, and just as sure that we haven't seen the best of what this watch can offer.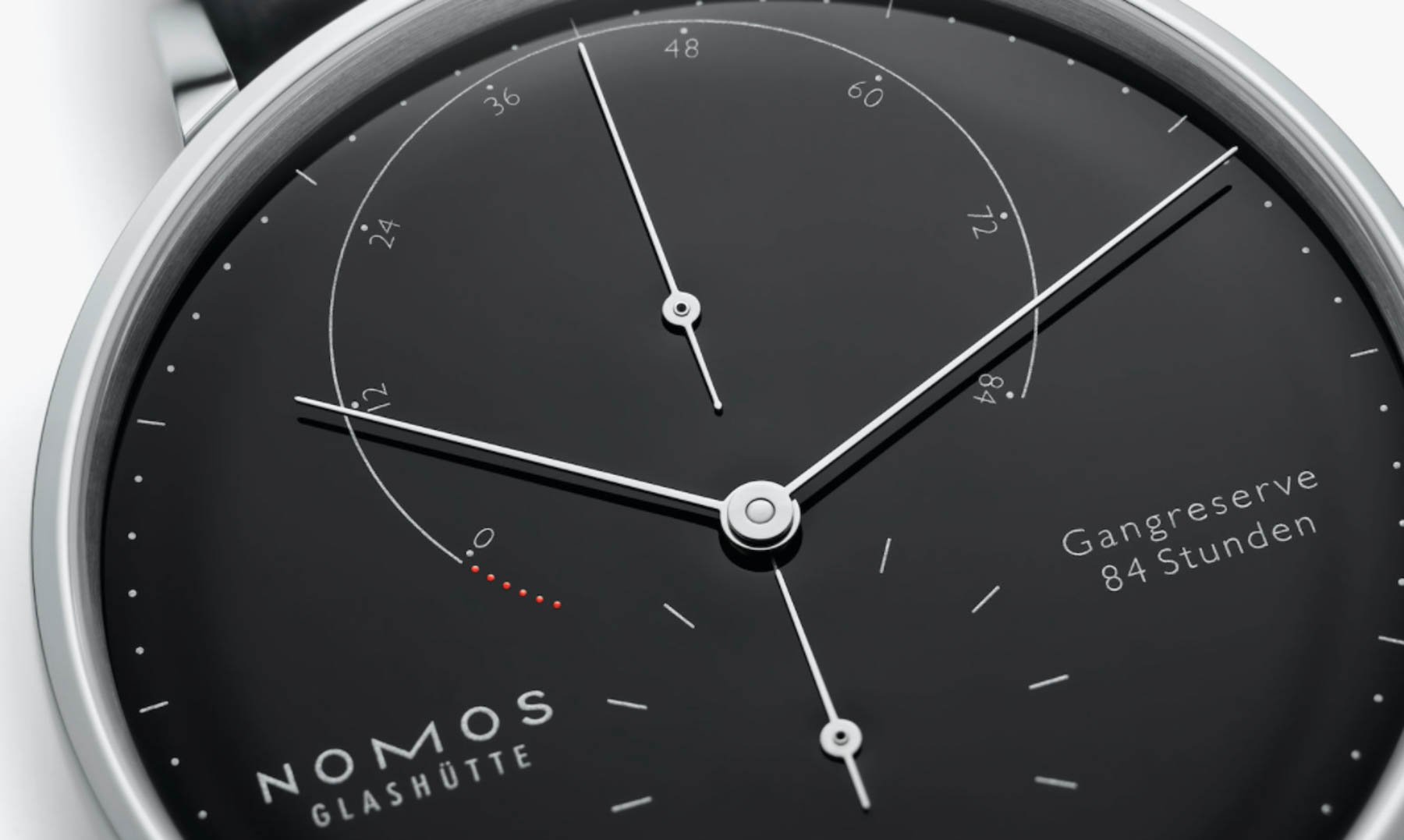 What do I have in mind, you ask? Well, firstly, I'd like to see a steel version in 39mm. My colleagues at NOMOS used to berate me for preferring the smaller version over the original, "purer" 42mm model, but I stuck to my guns then and I'm not budging now: the Lambda is a truly enormous watch. In 42mm, I find it unwearable. Yes, I have 16.5cm wrists but I also have a 56mm Casio Mudmaster that looks daintier than the original Lambda on me.
Secondly, and finally, I'd like to see either a "flat" black or the samtschwarz dial (which is kind of a black rhodium finish) in the steel case instead of the "enamel" dial we got in the limited edition. Why? I didn't dislike the glossy dials of the limited release, but I think when we get the matte versions we will see the Lambda in all its indisputably understated glory.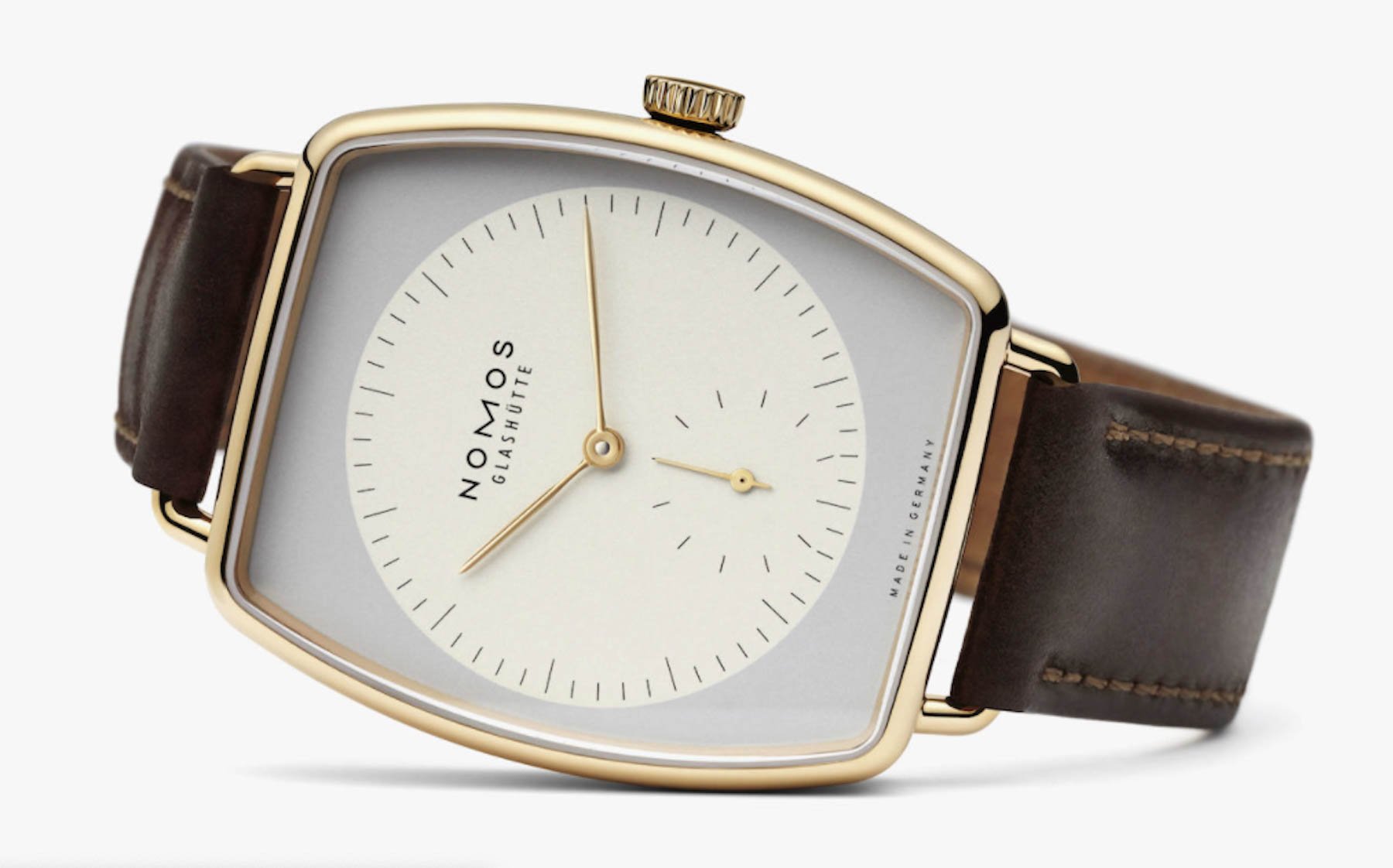 2: The NOMOS Glashütte Lux Hermelin
Finally, a bit of gold! The gold versions of the Lambda are the classics in many people's eyes, but for me, the pure, brazen simplicity of the Lux series is the very greatest expression of confidence this catalog has to offer. The accent colors on the dial are nothing short of genius. I've chosen the Hermelin here because, quite clearly, it is the "best" of the three, but I've often threatened to go bonkers and buy the Zikade (that's the fizzingly fresh electric (and I do mean electric) lemon dial that goes with absolutely nothing and therefore everything) and the Zobel (a rich shade of aubergine that, upon reflection, should be used more often in watchmaking) because they are just so damn weird.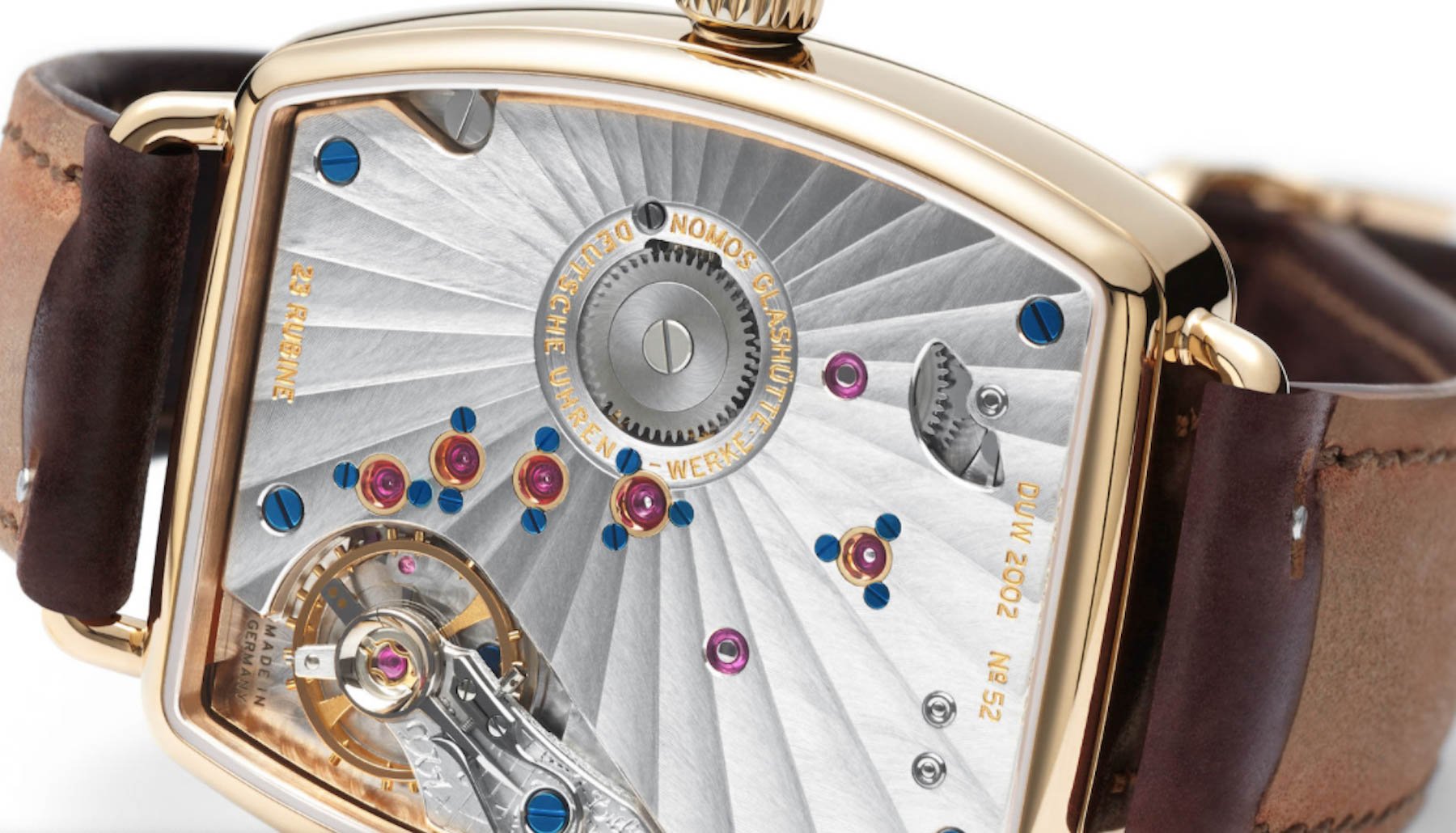 Yes, the Lambda gets the headlines, but the Lux is the sneaky cool sibling of the most popular kid in school. It's one of the most "luxurious" items I've ever held in my hands. It is a simple three-hander with nothing of its horological brilliance on show, it is in an oddly-shaped tonneau case, it is relatively small, it comes in funky colors, and it costs a shade under 15K. Honestly, it's nuts. And it's absolutely brilliant for it.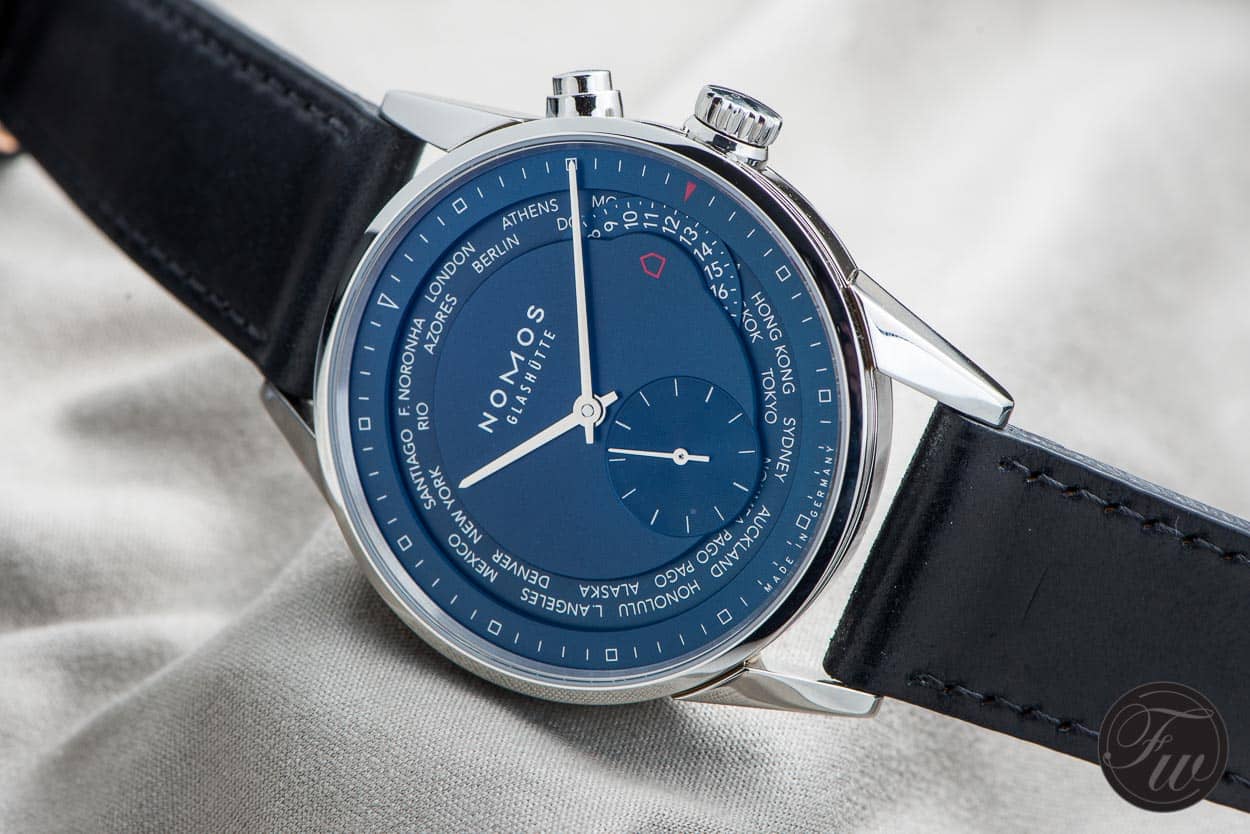 1: The NOMOS Glashütte Zürich World Time
The NOMOS Glashütte Weltzeit (or World Time, as the brand is calling it now) is probably the best thing the brand has ever done. It is amazing that I have remained so pumped about this watch for so long given the almost entirely static nature of the family. There are just two World Time watches in the Zürich family. There is a white dial version, which I wore for two of my three years with NOMOS (not buying that watch when I had the chance is my biggest regret in watchmaking — it had been all over the States and Europe with me and was a reliable companion), and there is this, sumptuous midnight blue model.
Either way, it was rare. And with good reason.
When I worked for the brand, this model in particular was almost impossible to source. It was on a six-month waiting list, at least. Why was that? Reputedly (and I'm honestly not sure if this is just a romantic justification created by the brand's dial maker's), the four dial components were incredibly hard to color match, and the quality control process experienced a high failure rate due to this particular shade of blue appearing very different when applied to different substrates. Either way, it was rare. And with good reason. It still gives me a rush to see one of these on the wrist of a fellow watch lover in the wild. But where do you come down on it? Let me know in the comments below.
This is a preferred position post. Learn more.