The Five Most Expensive Omega Speedmasters Ever Auctioned
...and a Moonwatch 145.022 is one of them.
Aside from the 2007 OmegaMania auction, the auction results on Speedmasters have gone up tremendously in recent years. On the one hand, I hate it when one of my favorite watches (read: favorite) is becoming so expensive, on the other hand, you can also interpret it as the recognition it deserves. In this article, I show you the five most expensive Speedmasters auctioned.
The good thing about the Speedmaster is though, that you can still buy that "standard" Moonwatch for a very decent price. Especially compared to the competition out there, the Speedmaster Professional Moonwatch is quite an accessible watch. Until you go vintage, of course, of which you will find some extremes in this overview of the five most expensive Speeedmasters ever.
The Most Expensive Speedmasters Ever
The ur-Speedmaster is the one that gets the highest results, the famous reference CK2915 that started it all in 1957. A proper example will fetch hundreds of thousands of dollars, but there are several important parameters in order to be worth so much. It doesn't always have to do with the condition or originality of the watch, but also with the auction itself. Bidding wars have often lead to crazy prices paid for objects.
In this overview we have 4 Speedmaster CK2915-1 references, that's right, all -1 iterations, and one later Speedmaster reference that is considered special for a very obvious reason. As of late, I've seen watch auctions that I simply don't understand. Watches that are in a brand's current catalog (and production), being sold via auction for prices far over retail price. It's a matter of supply and demand, that's obvious, but it just blows my mind that people are willing to go so far for something that's far from being unique.
With vintage watches, including the five most expensive Speedmasters below, at least you purchase something that has a story to tell, or at least can play a bit with your imagination. The aging process of watches also often comes to play, how a Speedmaster of 1958 looks today is also important. Did the dial discolor, are the hands and indexes in this nice caramel color? And, not unimportant, to be able to own something someone else can't have (anymore). It is all in the game of watch auctions.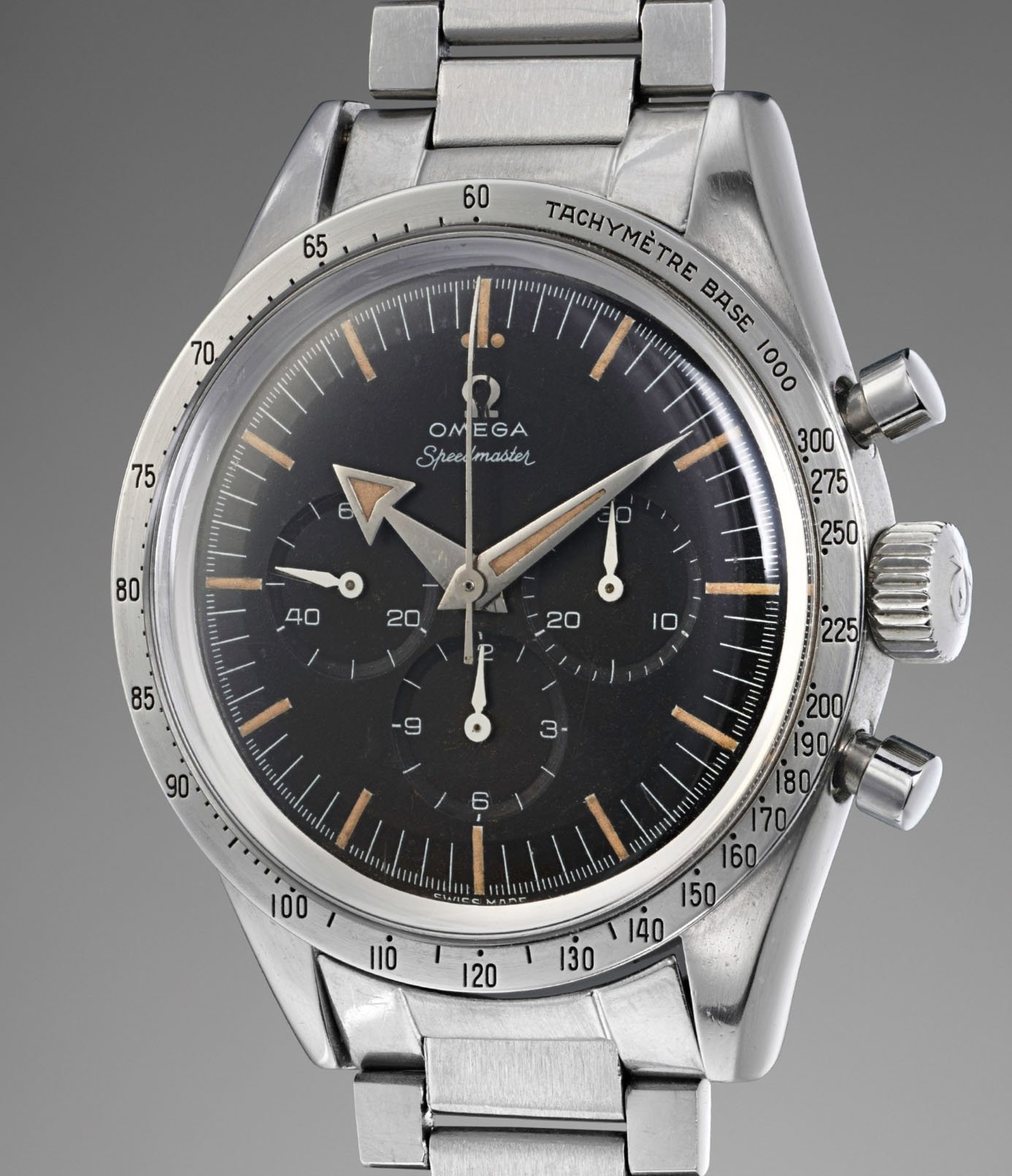 CHF 408,500 — Speedmaster CK2915-1
The highest amount a Speedmaster fetched — thus far — is this CK2915-1. It was auctioned by Phillips on May 13, 2018. According to information gathered by Omega's Archive department, it was sold to Costa Rica on December 17, 1958. The Speedmaster CK2915 was in production from 1957 to 1959 and replaced by the CK2998. There were three different iterations of the CK2915, the -1, -2, and -3. The -3 was already indicating what the CK2998 was going to be, with a black bezel insert and alpha hands instead of the famous broad arrow hands.
Here it often gets a bit wobbly, as you will find different combinations using different parts or elements of iterations. It is easy to just say it is not correct, or uses replacement parts, for example. But my colleague Gerard has spoken to some of the older watchmakers back in the day, and they indicated that they often just used what was there.
If there was stock of certain parts, they simply used it. Anyway, this CK2915-1 uses an A2 bezel, meaning the second iteration bezel with a rounded '3' instead of a flat top '3'. This bezel was also used on the CK2915-2, which went into production in 1958. It is said that the original radium lume of this dial has been replaced with tritium. To some, that would be a no-go, but to others, it is perfectly fine to invest high sums in any way. It's not always an easy task to say why a watch fetched such a high price, often you simply don't know as there can be a multitude of reasons. But, in this case, the aesthetics and technical condition must have been of great importance for the buyer.
$324,500 — Speedmaster CK2915-1
A very early CK2915-1 reference, manufactured in 1957 and sent to Omega's Italian agent on November 11, 1957. This watch didn't have the original reference 7077 bracelet with flex links but otherwise looks amazing. It has the first iteration bezel, with the flat top '3', and the dial seems crisp. These first Speedmaster CK2915 references only had "Speedmaster" engraved in the case back, and so has this one. The Seahorse engraving in the center of the case back came later, in 1958. This auction took place exactly a month after the most expensive Speedmaster, but now at Christie's (who did less of an effort with the condition reports, etc.) and sold for $324,500USD.
$275,000 — Speedmaster CK2915-1
When you're a Speedy Tuesday regular, this watch might look familiar to you. We published an interview with the buyer of this watch. It was auctioned by Bukowski's on October 25th, 2017. You can read our interview with its buyer here. This Speedmaster CK2915-1 dates back to June 6th, 1958. An all correct and beautifully looking first generation Speedmaster and at the time, in 2017, it was a record price paid for a Speedmaster and still holds a proper position in this overview of the most expensive Speedmasters ever.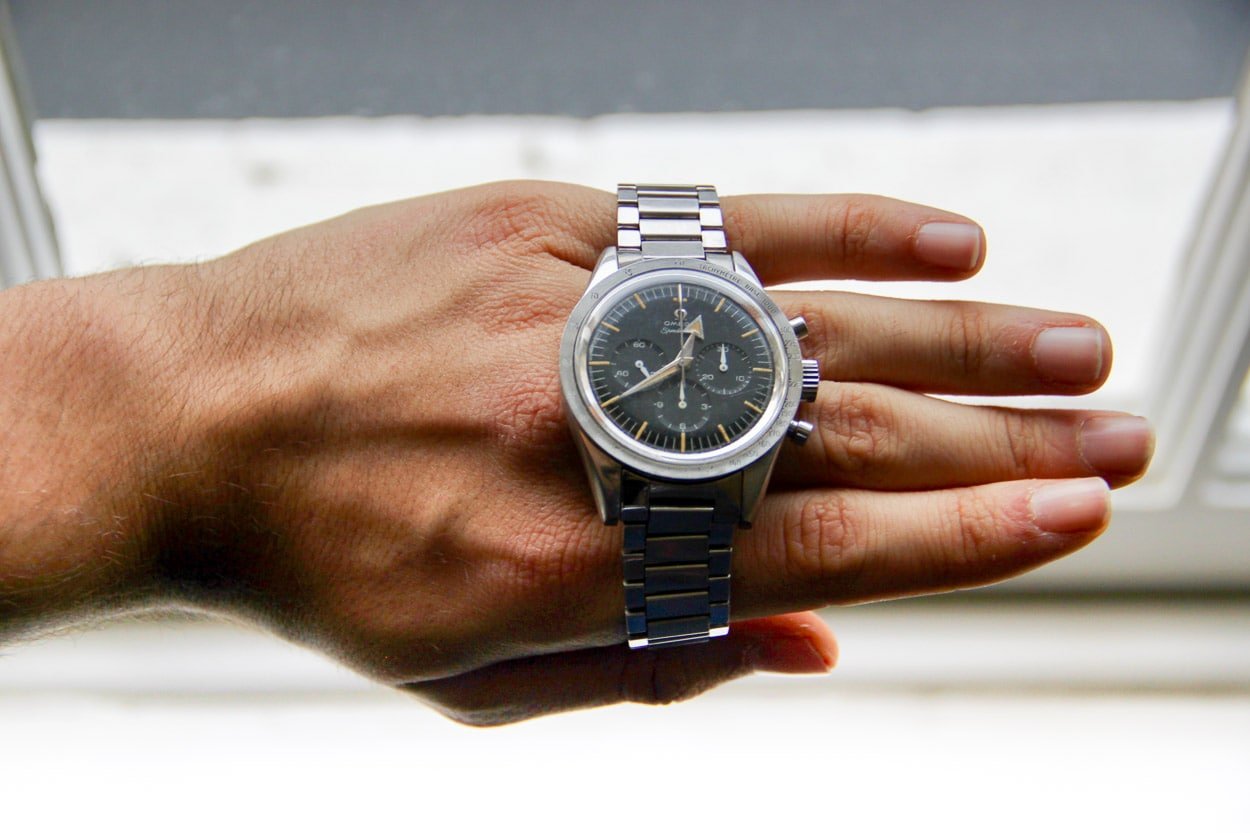 The watch only had one owner in its nearly 60 years of existence and was never tampered with. Therefore, it came with all original parts and a perfectly functioning 7077 bracelet. The hammer price was SEK1,850,000 (Swedish Krona) and added with the buyer's premium it converted into $275,508.
$250,000 — Speedmaster CK2915-1
Another Speedmaster from 1958 is this reference CK2915-1 that sold on July 19, 2019. This auction "Omega Speedmaster: To the Moon and Back | Celebrating 50 years since Apollo 11" had a number of CK2915 references, but this particular one fetched the highest amount. In total, there were 50 lots that were all Speedmaster related. This CK2915-1 is all original, but it shows its age and use. The tachymeter scale nearly disappeared from the bezel, the case has seen a bit of polishing and according to Sotheby's, the hands have been possibly relumed. In this article, our friend and space collector Larry talks about the auction itself and the "Broad Arrow" Speedmasters in the auction. Nevertheless, this Speedmaster CK2915-1 fetched $250,000 during this special auction in New York.
$245,000 — Speedmaster Professional 145.022
The only reason for a Speedmaster Professional 145.022 to be sold for an amount like this, is when it is a flown one. And guess what. This one has! During the last Apollo mission in 1972, astronaut Ron Evans Jr. used this watch. Evans oversaw a specific project, for which he used a Speedmaster 145.022. This Speedmaster has its own special history. Rather than being supplied by Omega, it was instead given to Evans by the company responsible for the heat flow experiment onboard the Command Service Module.
It was mounted (glued) to a piece of the dashboard. Originally auctioned with a much later reference 1450 bracelet, it wasn't — of course — used with that in space in December 1972. Sometimes it makes me wonder what if one of the Apollo 11 Speedmasters will be auctioned? In my opinion, it would take first place in this overview of the most expensive Speedmasters ever.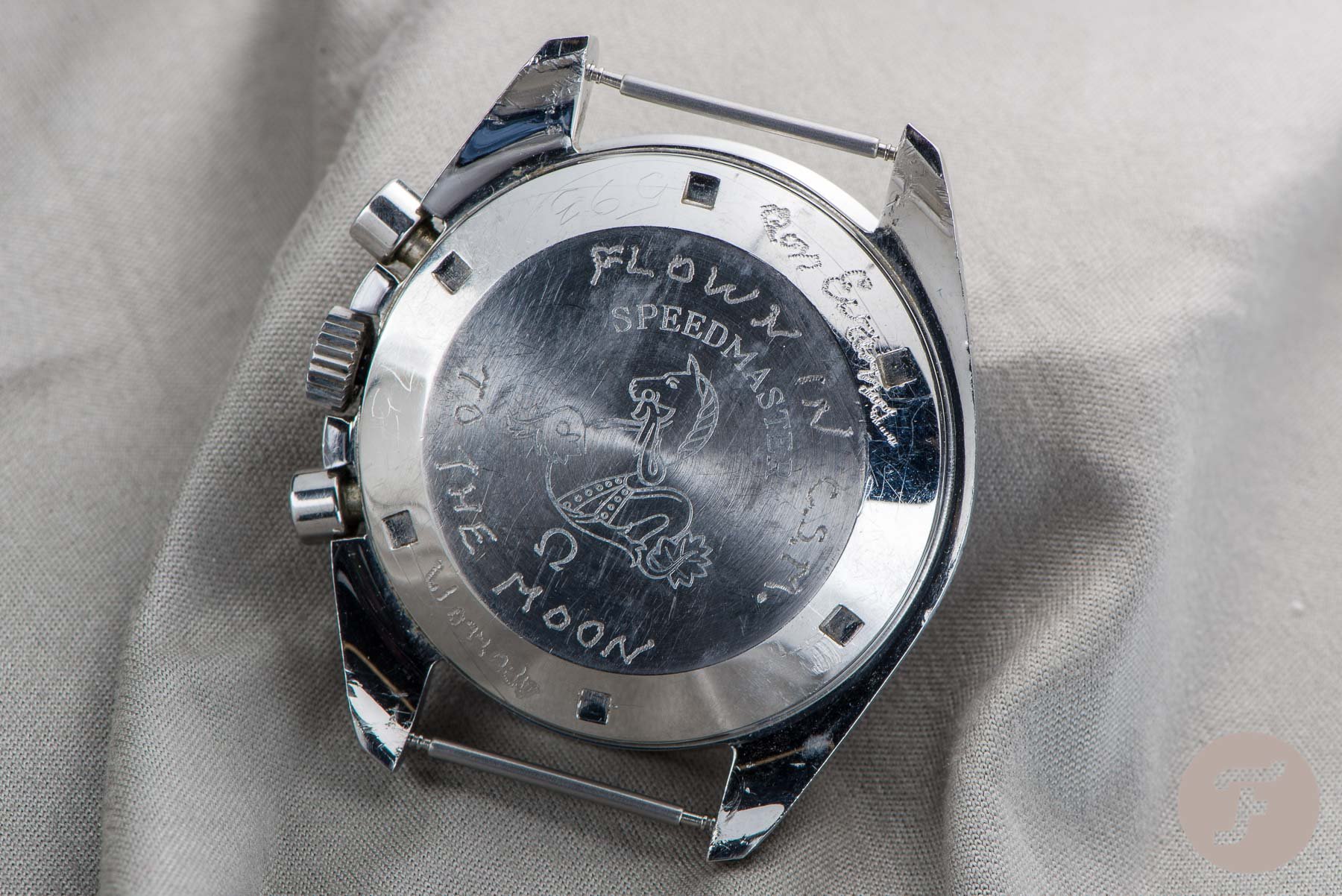 This Speedmaster Professional 145.022-69 has some handmade engravings, indicating it was Ron Evans Jr's own watch. These were done by astronaut Ron Evans Jr after it was recovered from the Apollo 17 Command Service Module. This was the most expensive item of the Speedmaster 50 Auction from 2015, that we wrote about here. Second most expensive lot? Another Speedmaster CK2915 from 1958, a -2 iteration that fetched $118,750.
As I wrote at the start of this article, I love the fact that the Speedmaster receives the attention it deserves, and it took quite a long time. Aside from the OmegaMania auction that is. What I love about the Speedmaster is that you can still find a wonderful vintage execution that will not break your bank (entirely). And if vintage is not for you, for whatever reason, a new Speedmaster Professional Moonwatch Master Chronometer is a proper alternative.