The Glashütte Original Seventies Chronograph Panorama Date In Turquoise: My New Favorite Chronograph
Does it get any better?
I thought I'd seen perfection. I thought I'd stared into the green face of God and known inner peace. Truthfully, when I "passed" on the opportunity to buy the Glashütte Original Seventies Chronograph Panorama Date with a green dial, I was convinced my best shot at happiness and fulfillment in life had passed. And yet, the oft-marginalized "other" brand in Glashütte has thrown me (and 99 other would-be owners) a lifeline. Say hello to the Glashütte Original Seventies Chronograph Panorama Date in turquoise, and get ready to say goodbye to 13k.
The exact price of this blue-dialed beauty will vary depending on your region. I'm in Germany so the 19% VAT here means the Glashütte Original Seventies Chronograph Panorama Date retails at €12,900. For those of you subject to 21% VAT, expect to pay €13,200. Price differences are annoying, but at least in this case it shouldn't be a deal-breaker.
In all honesty, I didn't "pass" on the green-dialed variant of this handsome model. I simply couldn't afford it. Frankly speaking, my current finances (as I await the result of last year's tax return) will likely preclude the possibility of me buying this model. That would be devastating. Since the release of the Glashütte Original Seventies Chronograph Panorama Date in green, I have been obsessed with this model, but completely uninterested in the duller dial colors that call the core collection home. With this 100-piece limited edition release in turquoise, however, I have a new favorite.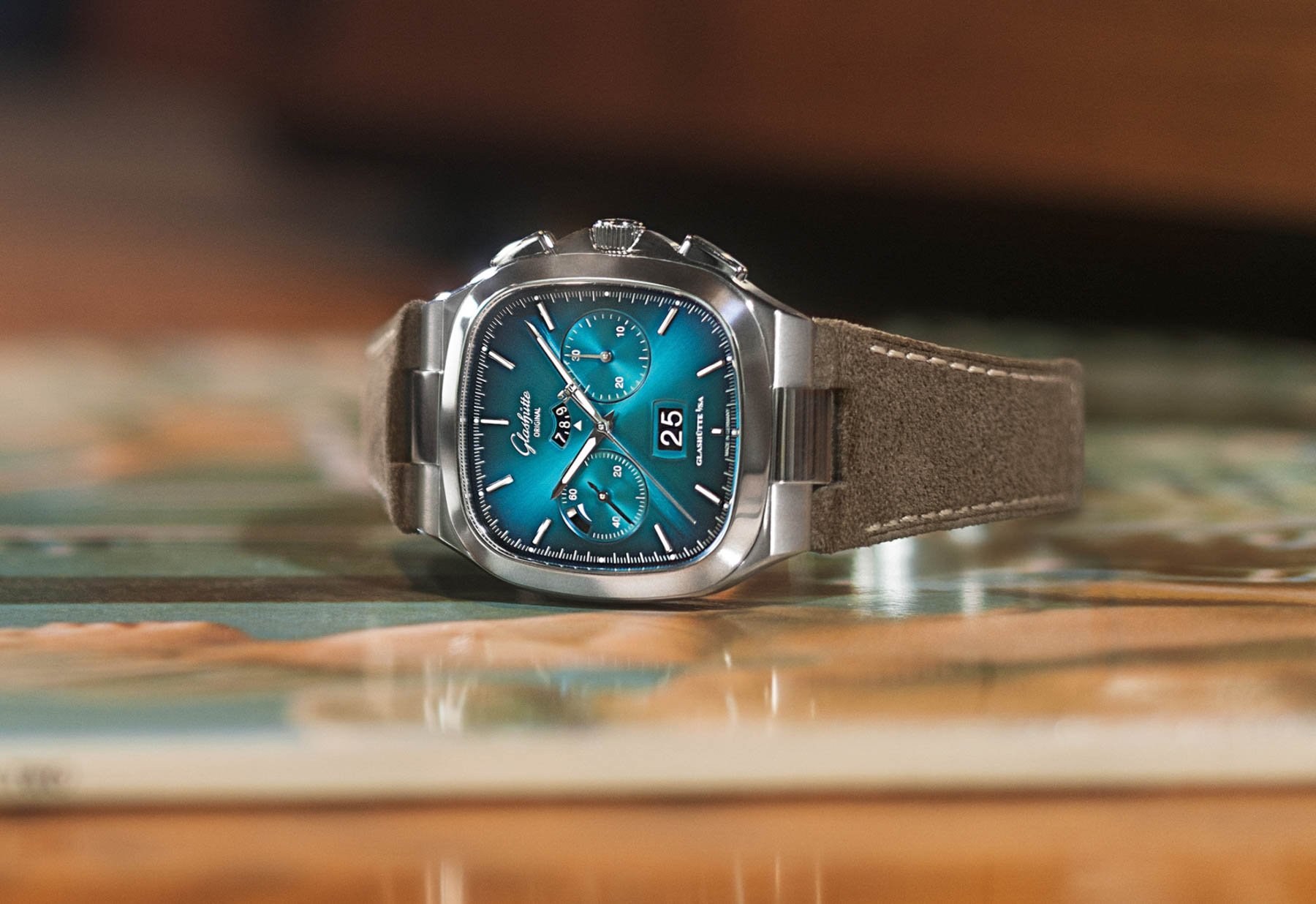 Updating yesterday's news
I just want to address a very small elephant in the room: yesterday, I published an article about five excellent Daytona alternatives that were nothing like Rolex's premier chronograph. Full disclosure: I wrote that article one month ago and had I not been laid up in bed suffering some pretty nasty side-effects from my second Covid vaccine toward the end of last week, I would have updated it to slide in the Glashütte Original Seventies Chronograph Panorama Date at the number one spot, pushing the JLC down to second place. I would have added the GO at the expense of the Breitling Chronomat Red Arrows limited edition, which is all but sold out now (there are reputedly a few left with Breitling's authorized dealers but the online stock has gone).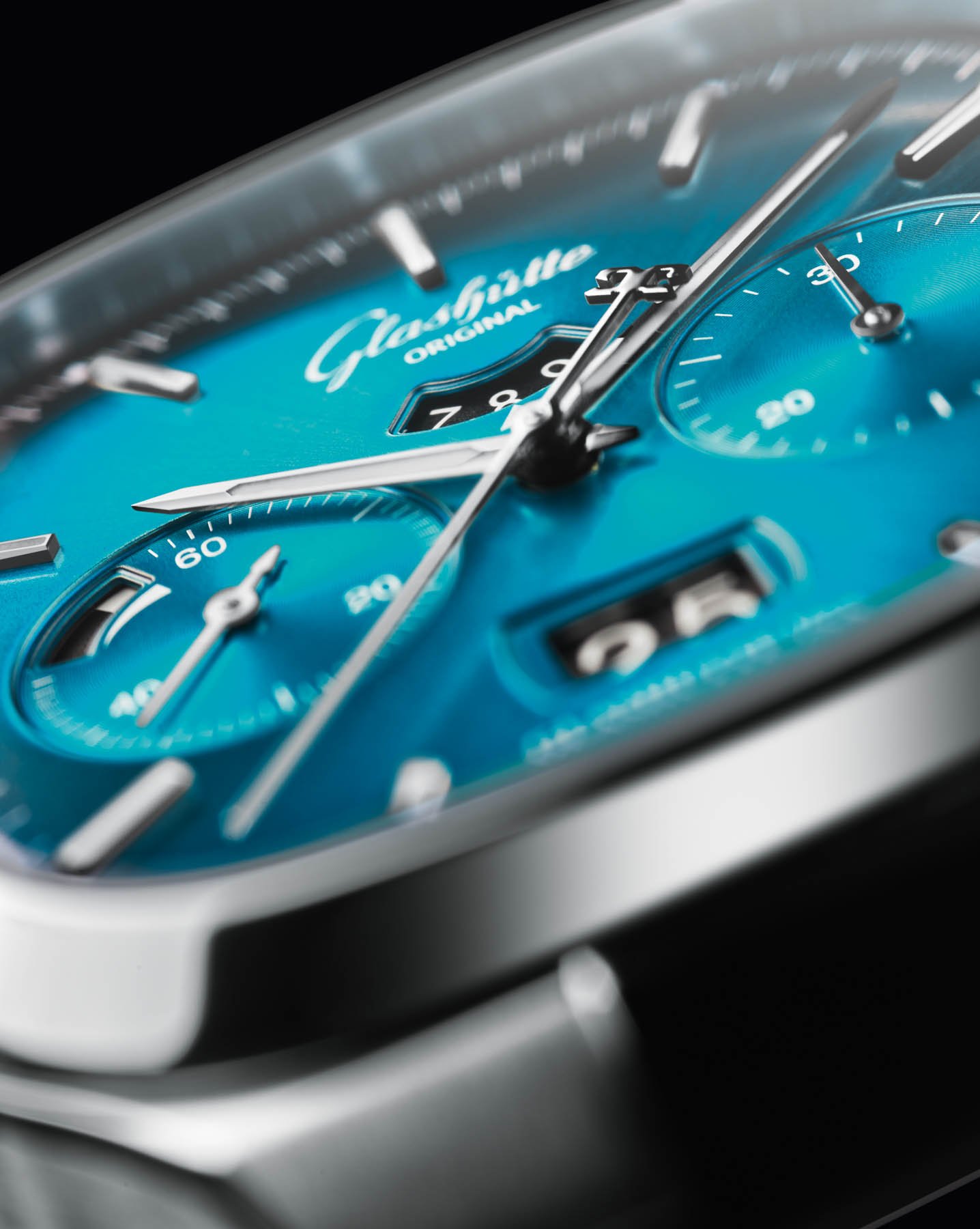 Regardless, I stand by the five watches I listed yesterday as excellent chronographs. I just think this one might be my new favorite chronograph in the world. I mean it. There are no price restrictions, no thought of availability, and no thought of prestige caveats to be added to that statement. Simply put, hands-down, this is the chronograph I want more than any other right now. Perhaps even more than the A. Lange & Söhne 1815 Rattrapante. Crazy? Yes. But the heart wants what it wants. And while I am impressed by the Lange, I am totally smitten with that degradé turquoise.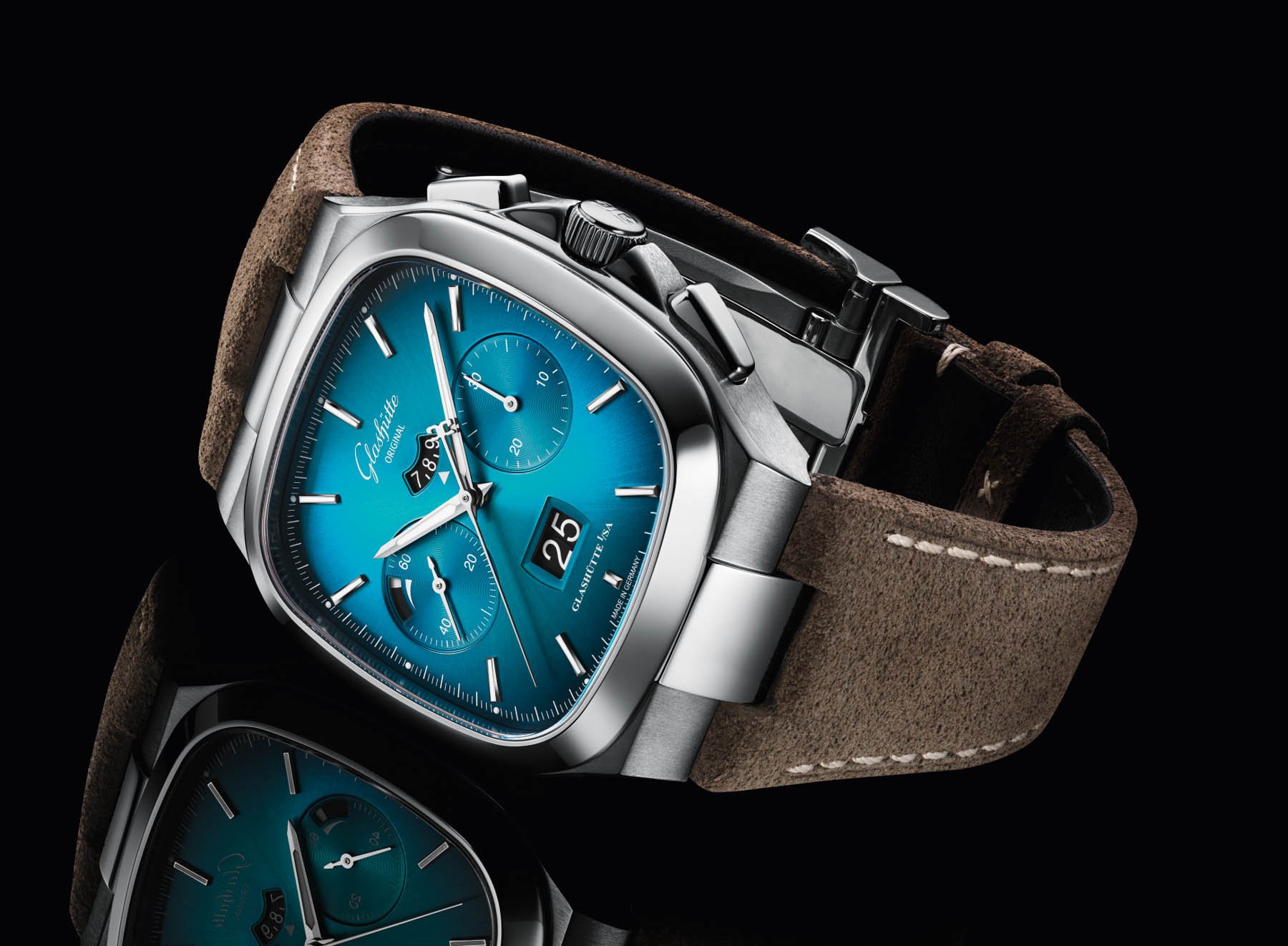 A color and case combo to die for
I'm addicted to green dials. I have more than a few in my collection and, generally speaking, green is my go-to color when speculating as to how a brand might improve a classic offering already available in every other shade of combination under the sun. However, there is one other, very specific shade of dial that always grabs my attention. You guessed it, it's turquoise.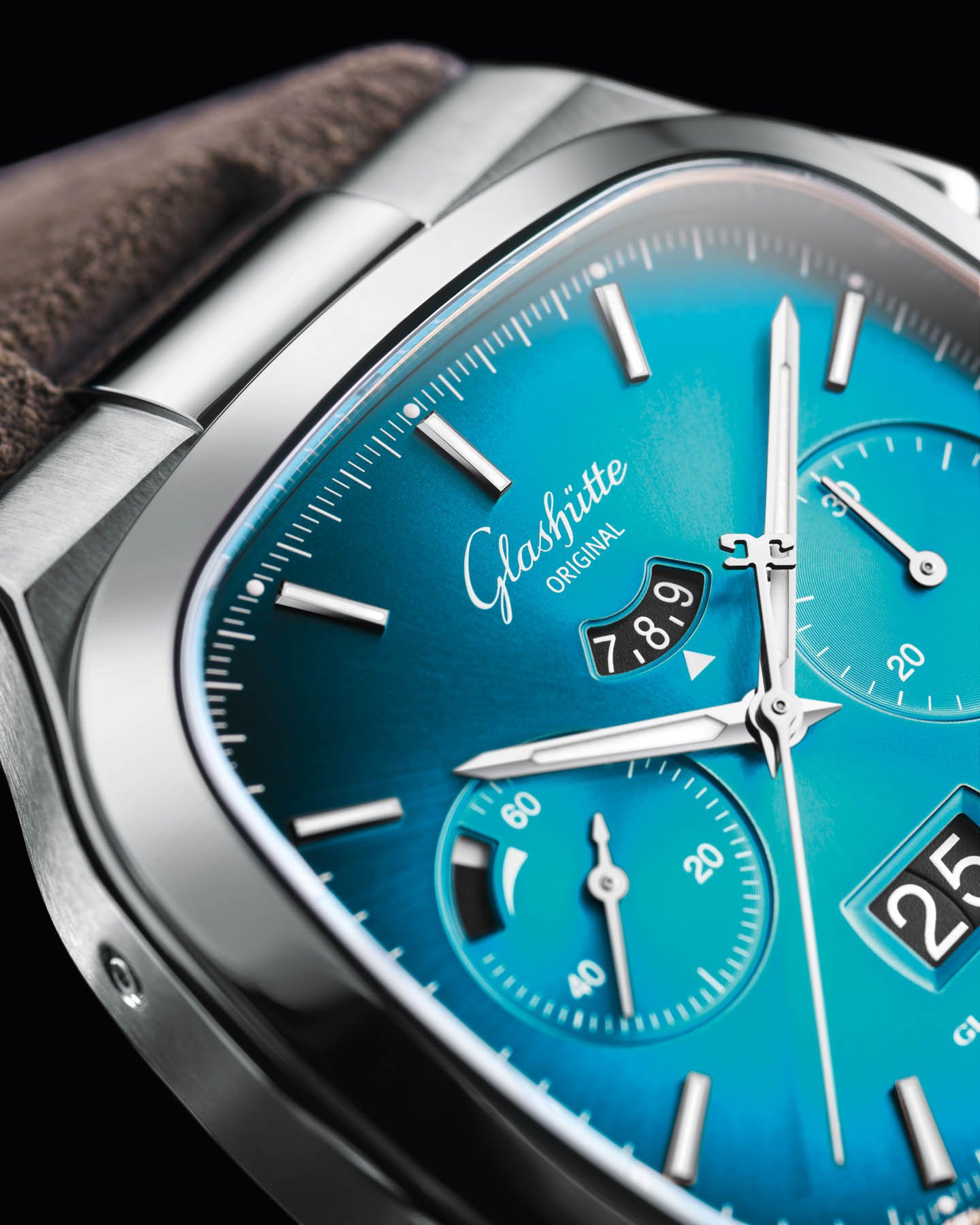 A lot of brands try to get this color right, but few manage it. In fact, up until this point, the best I'd ever seen (and this as a watch I otherwise had little desire for that very nearly ended up getting purchased because of its dial color alone), was the Oris Great Barrier Reef III. Since that watch, I haven't seen any better attempt at Turquoise. Until now.
When you take that perfectly executed shade and through in a degradé element I'm sold. This is just too good. Glashütte Original's dial manufacture in Pforzheim has excelled itself once again. Seriously, I don't even want to imagine how good this thing looks in natural light. I can't bring myself to picture it on my wrist, knowing how much the green came to life in the metal.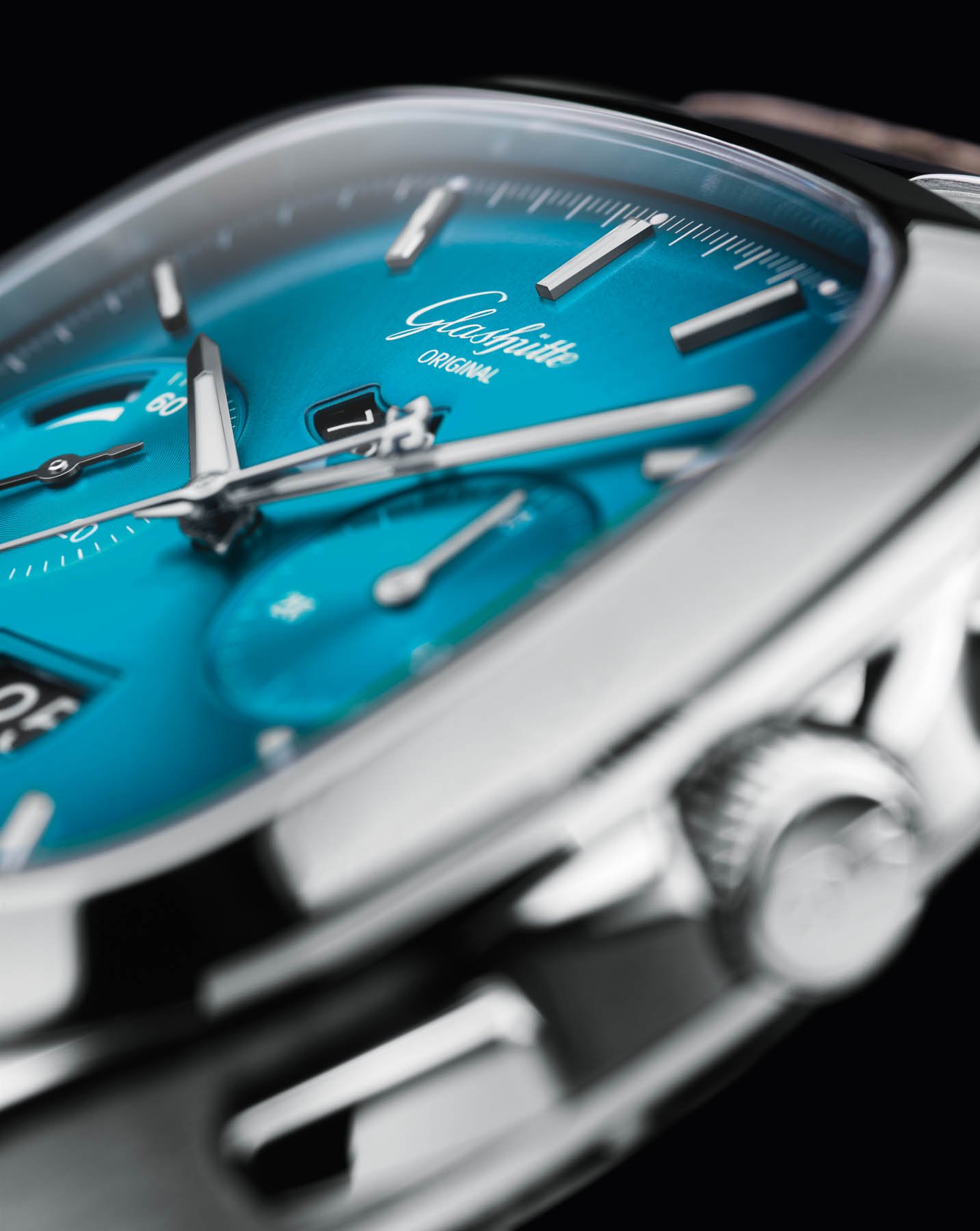 Mike TV
I have a crush on TV cases. I don't know why. Honestly, I'm not sure when it developed. I'm almost 100% sure it had nothing to do with SevenFriday but I wouldn't stake my life on it. Whenever and from wherever it emerged, I am glad of it. TV cases are not for everyone, I understand that, but they seem to be a little bit like a clandestine gentlemen's club that requires a secret handshake to enter. When you know, you know; and when you know you know, you know how lucky you are to know. Needless to say, this 40 by 40mm case that stands 14.1mm thick on the wrist is a finishing masterclass.
To strap or to bracelet?
In this case, for this case, I would actually choose to strap. That might seem like a bit of an odd decision given the integrated nature of the bracelet, how attractive and well-made it is, and how off-putting the vestigial center link might be, but here's the thing: the taupe, nubuck strap, perfectly complements the dial color and softens what otherwise becomes a very stark and unnecessarily "professional" piece. I think the real joy of this collection — of all Glashütte Original's throwback lines — is the colors. Allowing the colors to blaze in all their glory is key. And the key to that is a little bit of contrast and a pared-back vibe that brings out the Joie de vie I expect anyone dropping 13 thousand on a watch like this is keen to express.
Am I moved by the movement?
In my first draft of this article, I neglected to mention the movement at all, given that this is a dial update and nothing more, but one really should never overlook the excellent work being done by Glashütte's watchmakers. We must acknowledge, of course, that Glashütte Original is part of the Swatch Group (as big-brand rival A. Lange & Söhne is part of Richemont) and so benefits from the shared know-how of many, many brands. This shows in the construction of the GO Chronograph caliber 37-02, which although retaining the traditional German 3/4 plate, has a centrally-mounted rotor that gives off a somewhat more Swiss vibe than the rest of the watch.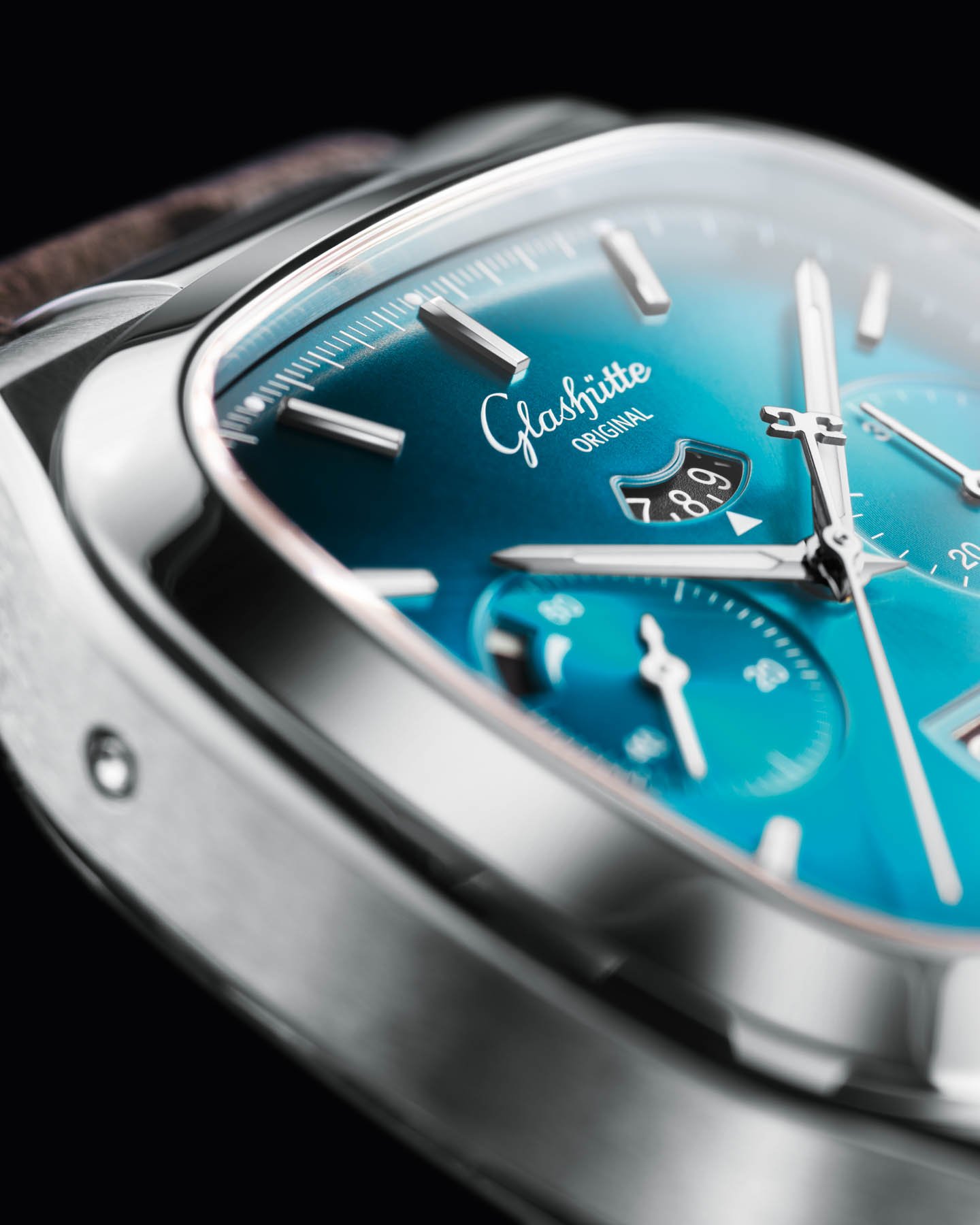 While I love the architecture of German watch movements in general, here the centrally-mounted weight looks lovely through the sapphire case display window, which, thanks to some clever angle reduction and gentle stepping, integrates the circular window with the TV case very sympathetically. This 4Hz movement has a power reserve of 70 hours. Could this model have survived as a slightly slimmer manual wind? I think so, but I'm loathe to suggest that would make as much sense for the core versions of this chronograph as it seems like it would for the turquoise model.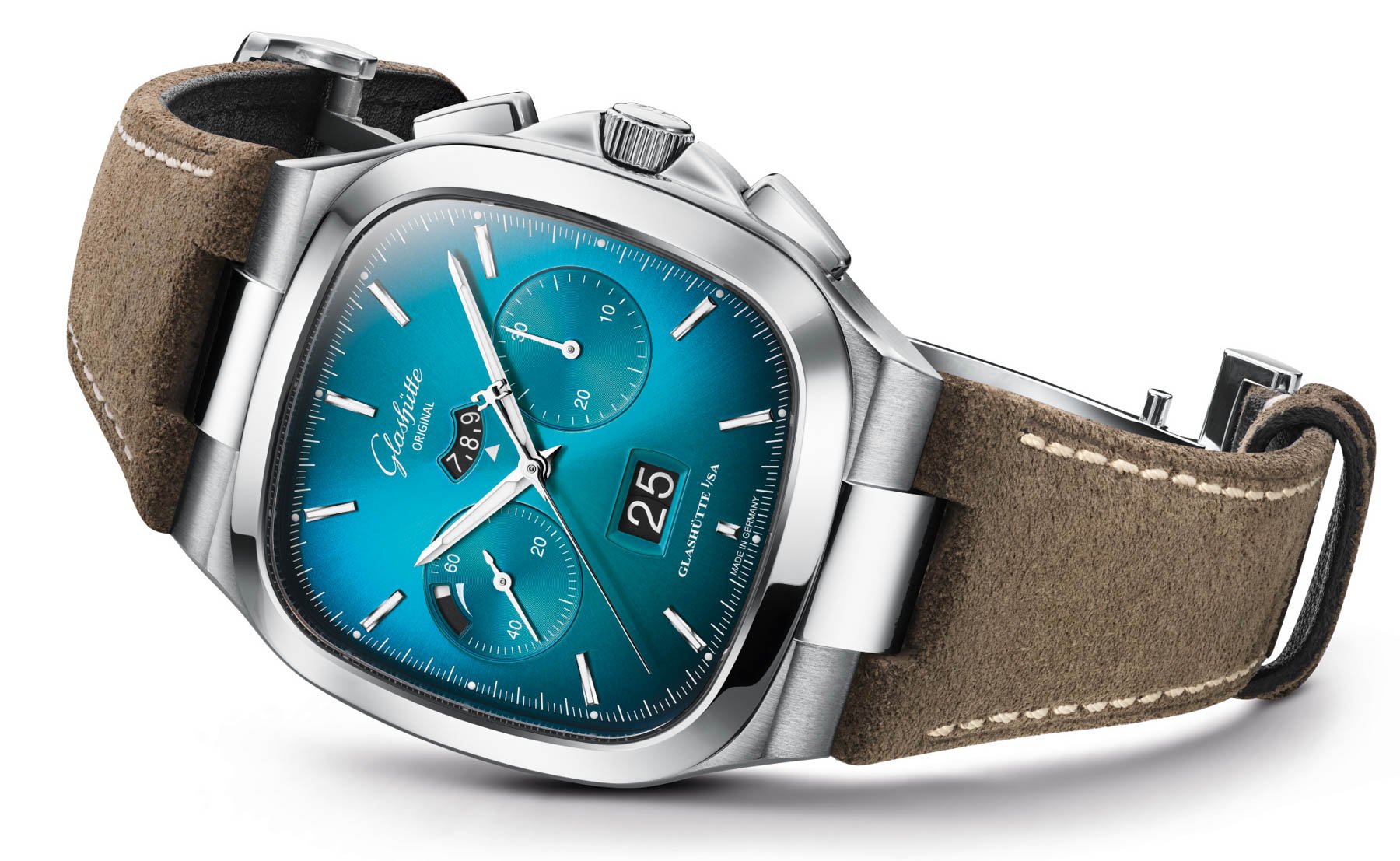 A special kind of weirdo
While it might seem odd to suggest a watch's dial color should have any impact on the movement at all, my reasoning is thus: the two core versions of the Glashütte Original Seventies Chronograph Panorama Date are presented in very (very) muted colorways. They are all business, while this watch screams fun. For the core collection, an automatic movement seems a must, because the implication is that hose watches will be daily wears. This one? Less so. So could it have been manual and sub 14mm thick? I think so. Am I glad it is an auto? Yes, because I'm the kind of weirdo that would wear turquoise every day.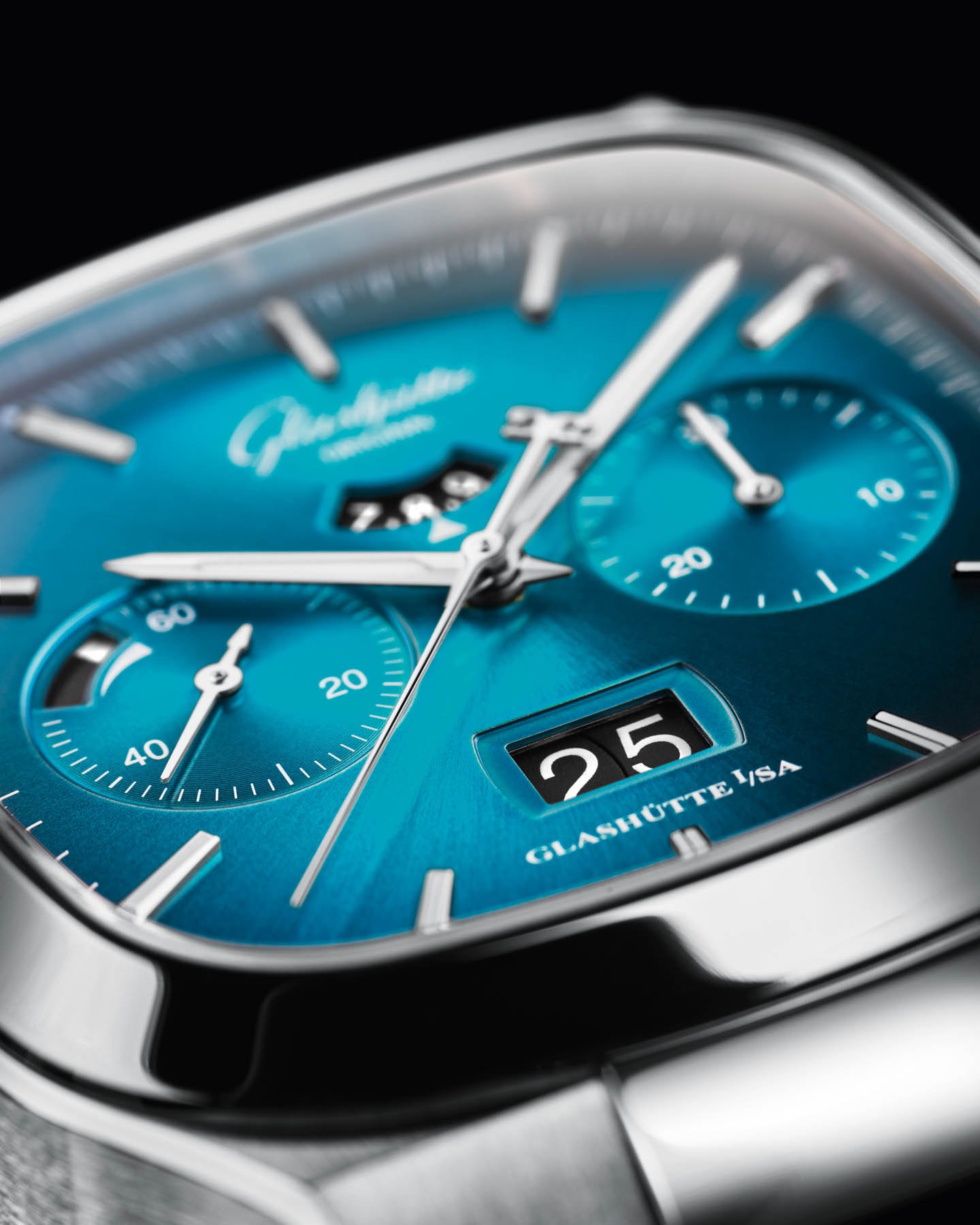 Conclusion
The Glashütte Original Seventies Chronograph Panorama Date has just become my favorite release of what is shaping up to be another strong year in the world of watchmaking. With Geneva Watch Days 2021 now on the horizon, there are still plenty of opportunities for this model to be usurped atop my list, but I would be surprised if this watch drops off the podium once 2021 is in the books. It's an amazing watch in an amazing color and limited to just 100 pieces. If you want one, good luck. I'll see you in the scrum. Learn more here.