The Grand Seiko 62GS — A Masterstroke Of '60s Design
Enjoying one of Seiko's all-time greats
The Grand Seiko 62GS is a well-known reference for old and new fans. As a vintage piece, it was the sub-brand's first automatic model. Today, Grand Seiko is a standalone name and the 62GS has its own place in the Heritage collection. In this article, we'll go hands-on with the original and discover why it's so unique.
It's hard to believe that after writing so many articles on Seiko and Grand Seiko, I've only owned one of the latter. That's right. Despite a deep-seated admiration for all things Seiko, the lone Grand Seiko in my collection was the 44GS reissue from 2013 (reference SBGW047). You see, dressier watches aren't part of my daily routine, and historically speaking, this was very much Grand Seiko's wheelhouse. I've looked at newer models such as the SBGK009 or even an SBGW235 like the one Gerard has. Somehow, though, some other watch, Seiko or otherwise, always took priority. Finally, the drought has ended because, after almost ten years, a vintage Grand Seiko 62GS has entered the stable. This was a long time coming, but what a gem!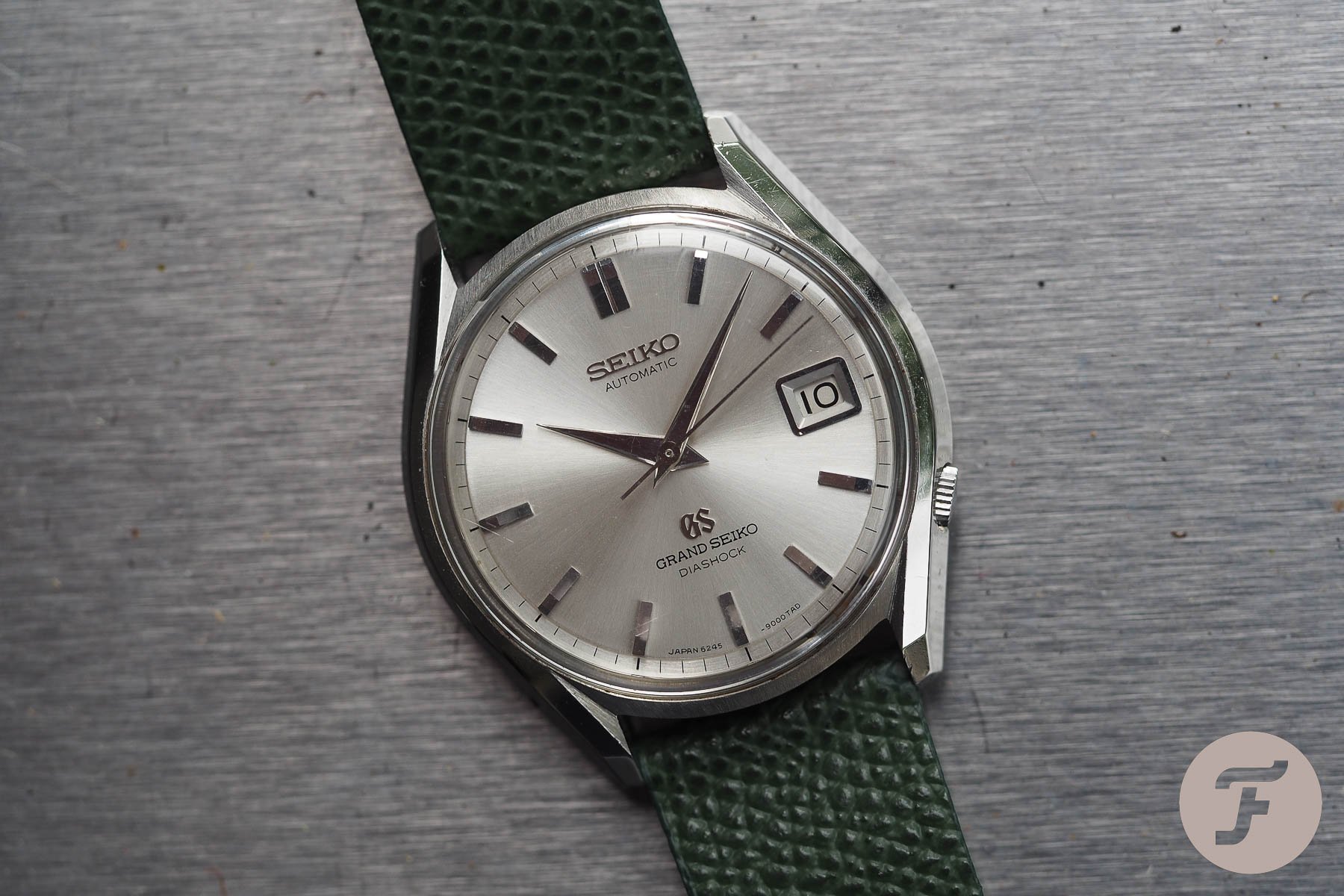 The birth of the Grand Seiko 62GS
As always, when discussing a vintage watch, a bit of history helps. I will say that there are some really good articles in existence, so I'll summarize some key points (Rescapement has a thorough recounting). The Grand Seiko 62GS is a bit of an interesting case because it actually started life as the Seiko Seikomatic 6245/6246-9000. Those watches debuted in 1965 and featured a chronometer rating, something Seiko had bestowed on several of its watches since 1960. Shortly after the debut of the Seikomatic, though, the official Swiss chronometer agency declared that watches had to be tested in-country to qualify. Undeterred, Seiko decided to play a game of oneupmanship by creating its Grand Seiko Standard. The 6245/6246 models then fell under the Grand Seiko line. Consider the move as a bit of an early version of METAS, if you will, because the Grand Seiko Standard required an accuracy of +5/-3 seconds per day versus the Swiss requirement of +10/-1 seconds.
Essentially, we have a watch that started life as a Seiko and then became a Grand Seiko. The 6245 that you see here has a date, and the 6246 has day/date functionality. Scholarship puts the debut of the Grand Seiko 62GS at 1966. Oddly, Grand Seiko uses 1967 as the date (perhaps it's more convenient for issuing anniversary pieces). Regardless, we do know that these models were produced until early 1968, which gives them a short production window.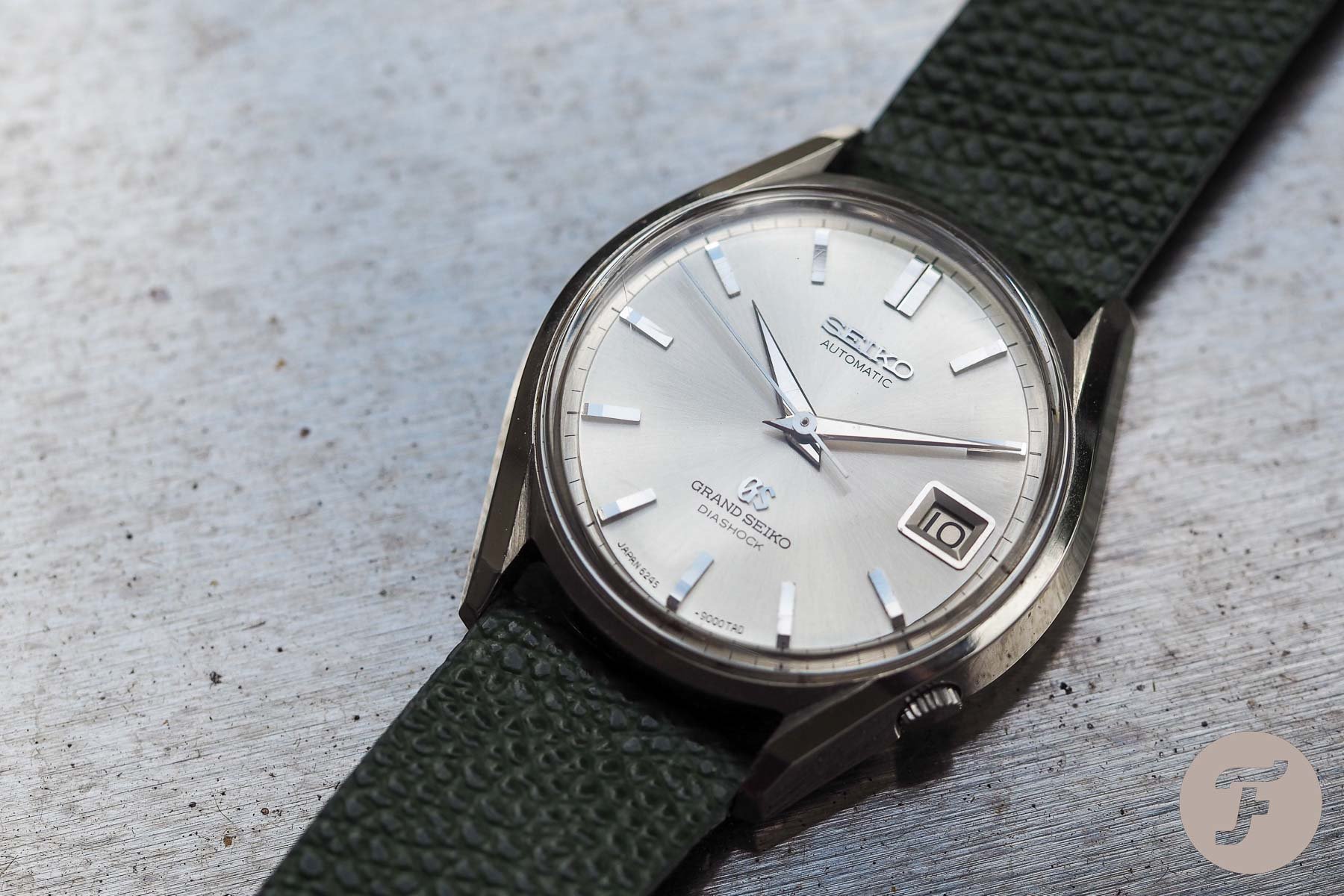 Muddy start explained, but why do we care?
So, we've discussed a little about the beginnings of the Grand Seiko 62GS, but why is it important? Firstly, the 62GS was the first-ever automatic Grand Seiko. That sounds fairly ho-hum, but consider that this was the highest-priced steel model in the lineup. Automatic watches were advanced, and furthermore, the watch contained a quickset date and/or day. The 35-jewel 6245 and 39-jewel 6246 also used Seiko's Magic Lever automatic winding system. We'll hit on this from an aesthetic standpoint later, but Seiko made it clear that this was a "set it and forget it" opportunity. Thus, the crown was minuscule and almost hidden at four o'clock. Finally, Seiko brought in an interesting "bezel-less" design and mounted the crystal directly to the mid-case. This was not your standard, subdued, mid-'60s office watch.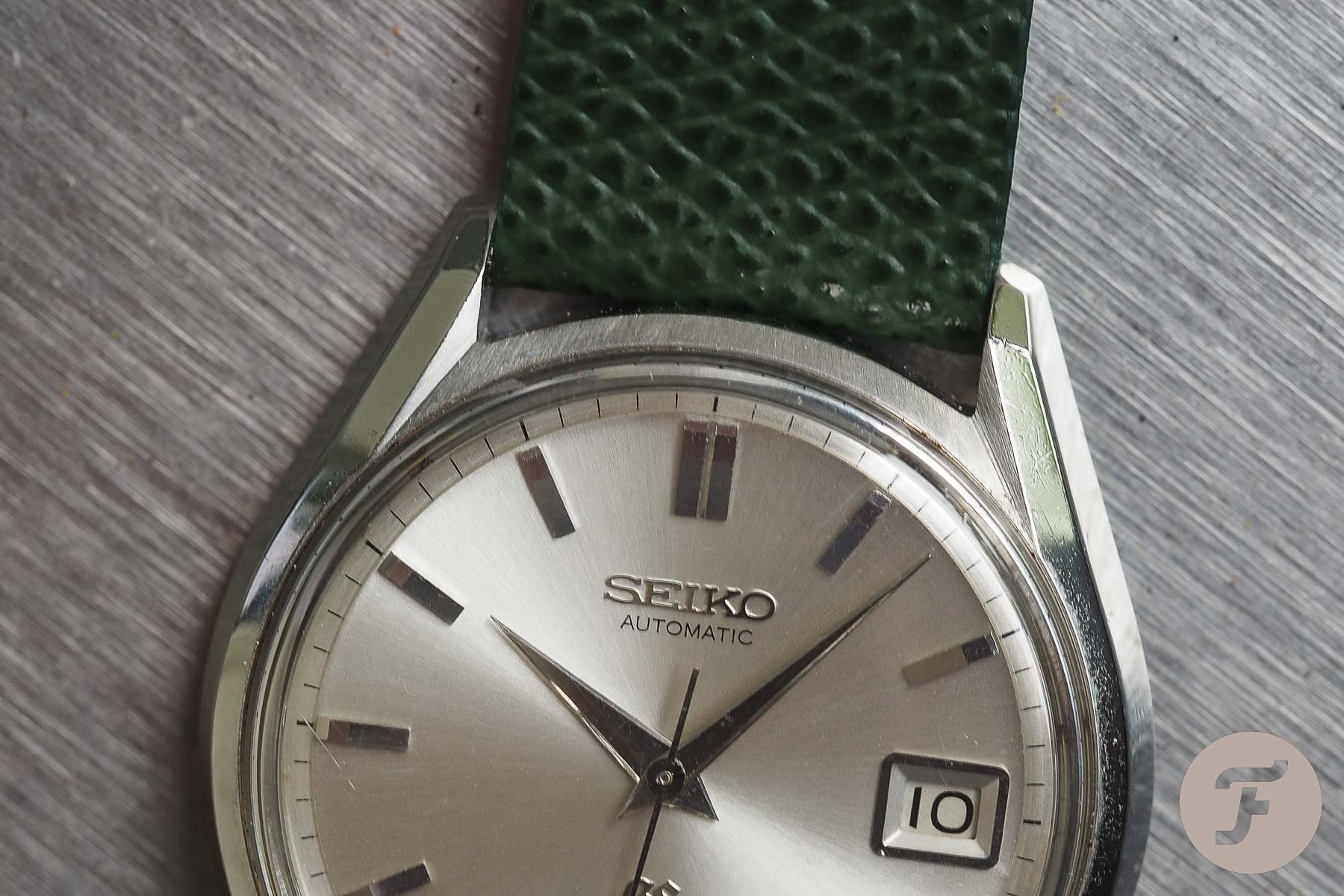 The 62GS is all about the subtle details
The backstory was certainly necessary on the Grand Seiko 62GS and I suppose we've now set a baseline as to why this watch is technically interesting. However, this piece is all about the details. Upon first glance, though, I admit that it might not be painfully obvious what makes this watch so fantastic. At the risk of sounding like a mid-2010s neckbeard who jabbered incessantly about the qualities of the then-obscure Japanese brand, this watch really deserves to be held. Hell, this GS deserves to be studied because it was way ahead of the pablum that the best from Switzerland were trotting out at the time.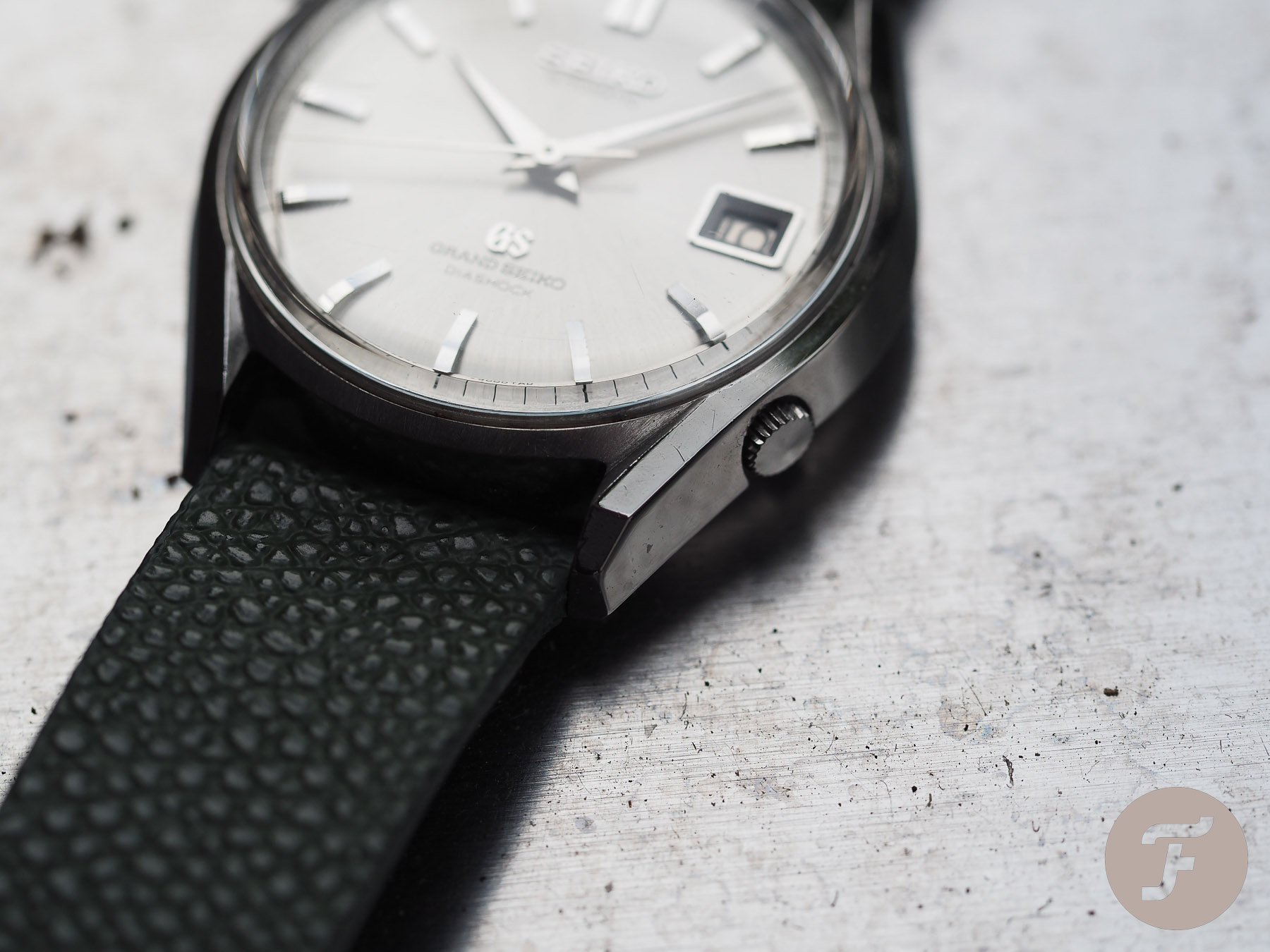 The Grand Seiko 62GS comes with a 36.5mm steel case that feels unlike just about any other Seiko — Grand or otherwise — that I've held. Instead of the flat, sharply angled surfaces found on other iconic models like the 44GS, the 62GS adds a slightly more organic look. Still, the finely polished angles are there. The channeled and ridged lyre lugs are truly complex, and in person, they reflect light beautifully. This, folks, was Taro Tanaka's "Grammar of Design" taken to another level.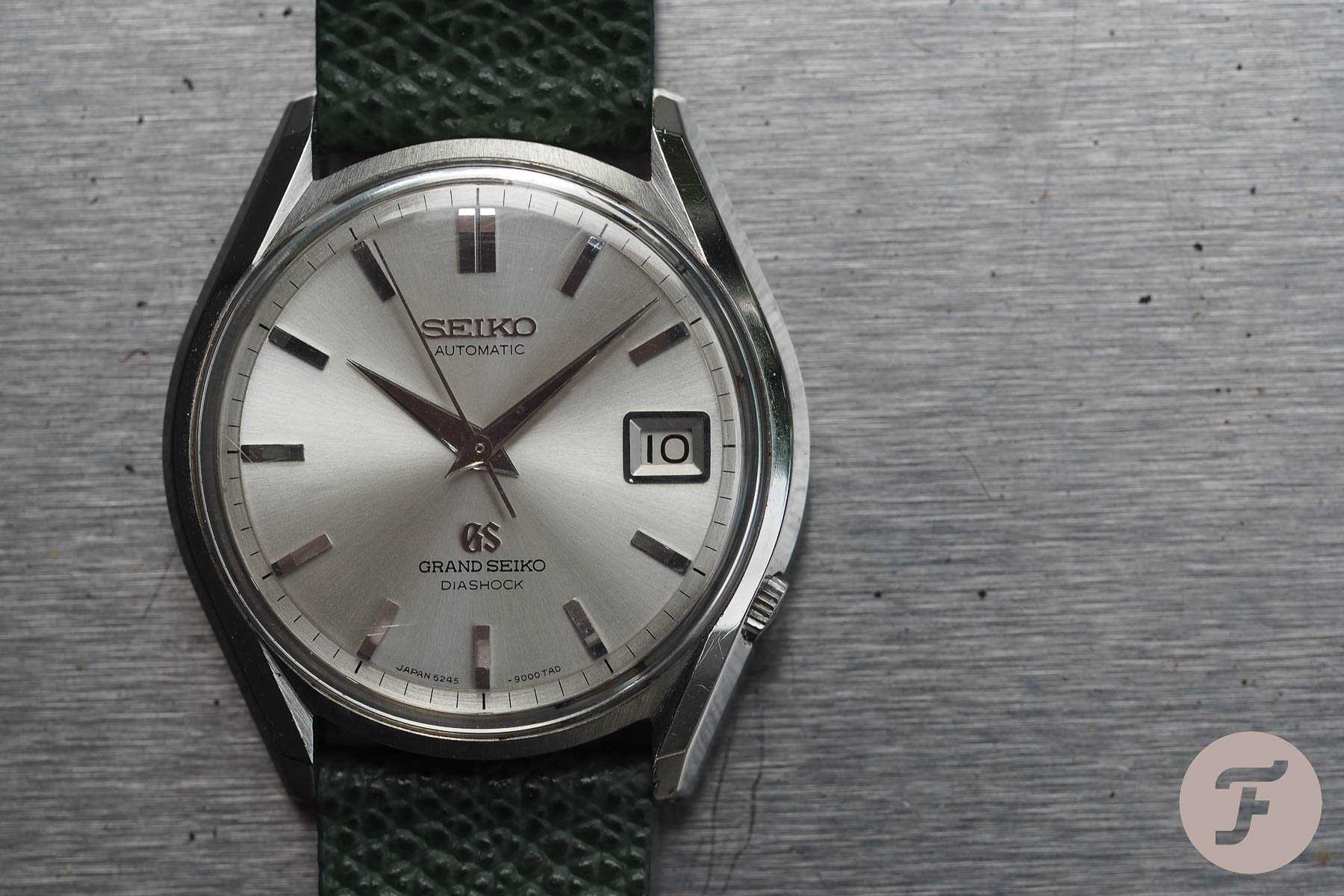 A pure design
The lack of an external bezel also brings purity to the design that other dress watches lack. Even slim dress watches appear slightly heavy compared to this lithe design. The dial also impresses with its details. A simple silver sunburst background actually transitions into a step dial. The outer minute ring shifts gears and takes on radial brushing. Then, the applied indices, logos, and hands show the type of precision that would easily suffice (and impress) on a modern watch. While we're at it, check out that black "Grand Seiko" font for the lovely serifs. The crystal? It's a tall acrylic affair that works in harmony with the rest of the design.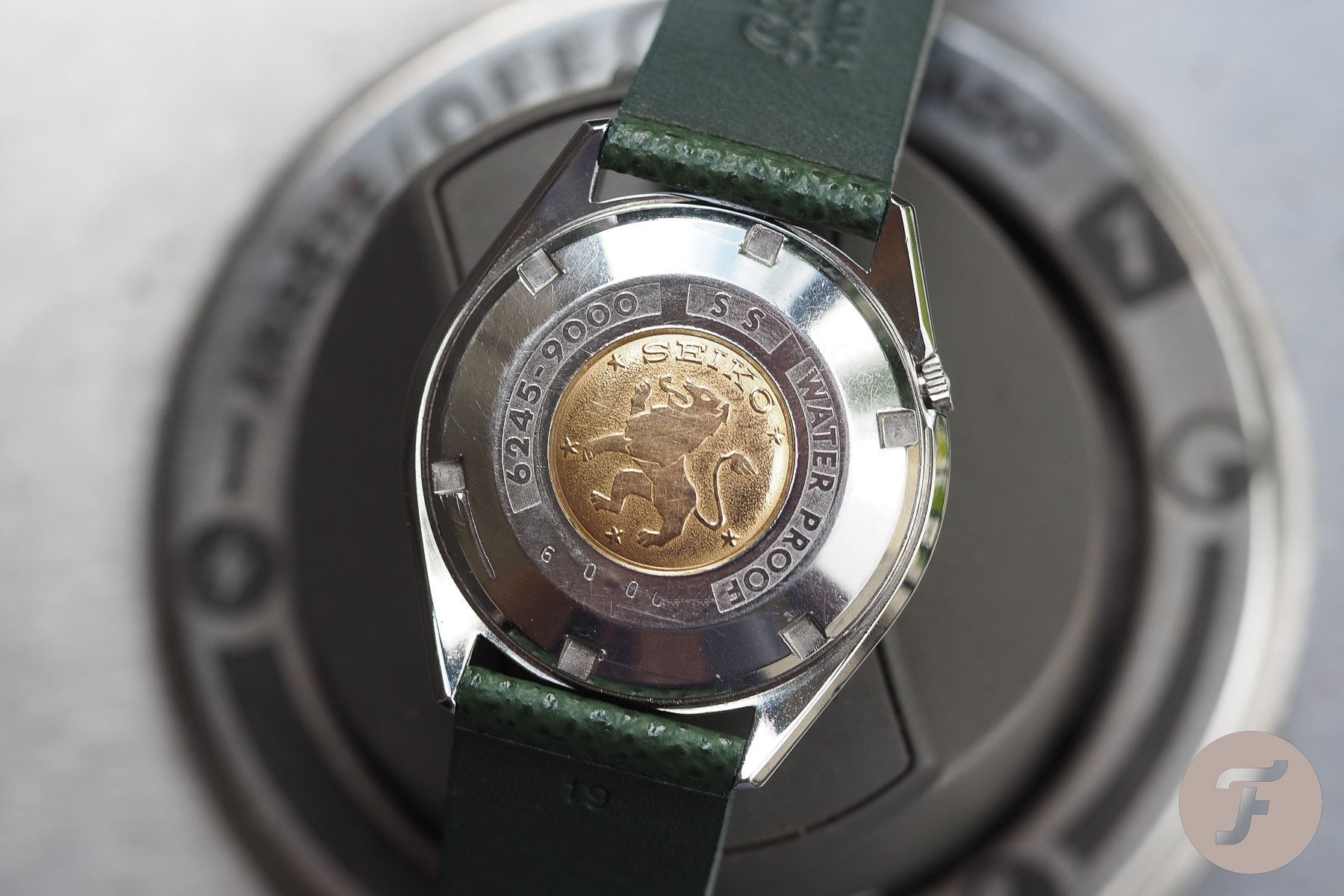 An automatic movement under a lovely case back
Because of the automatic movement, the Grand Seiko 62GS lacks one of the brand's beautifully engraved crowns. You'd probably find it funny, but this was a real detractor for me when considering one of these in the past. Now, though, my stance has softened dramatically, and I find the minuscule crown endearing. The way it interrupts the angled case flank is at once instrumental and oddly yet pleasingly discordant.
The Grand Seiko 62GS — or any Grand Seiko, for that matter — possesses a wonderful case back. A screw-down affair, it is clearly robust, but the visual toughness is balanced by the grandeur of a gold medallion. The lion stands proudly, and in this instance, it retains much of its detailing. I know that it's a case back, but scoring one of these watches without a decent one is a bit of a shame.
The 35-jewel automatic caliber 6245 is a lovely movement. Despite the fact that it can't be hand-wound, the rotor spins smoothly, solidly, and quietly. Pulling the crown out one stop activates the quickset date function and the changes are buttery smooth. It's so precise that it feels as if it were made yesterday. As far as timekeeping, I have absolutely no idea when the watch was last serviced, but it's dead accurate over several days with no noticeable gain or loss.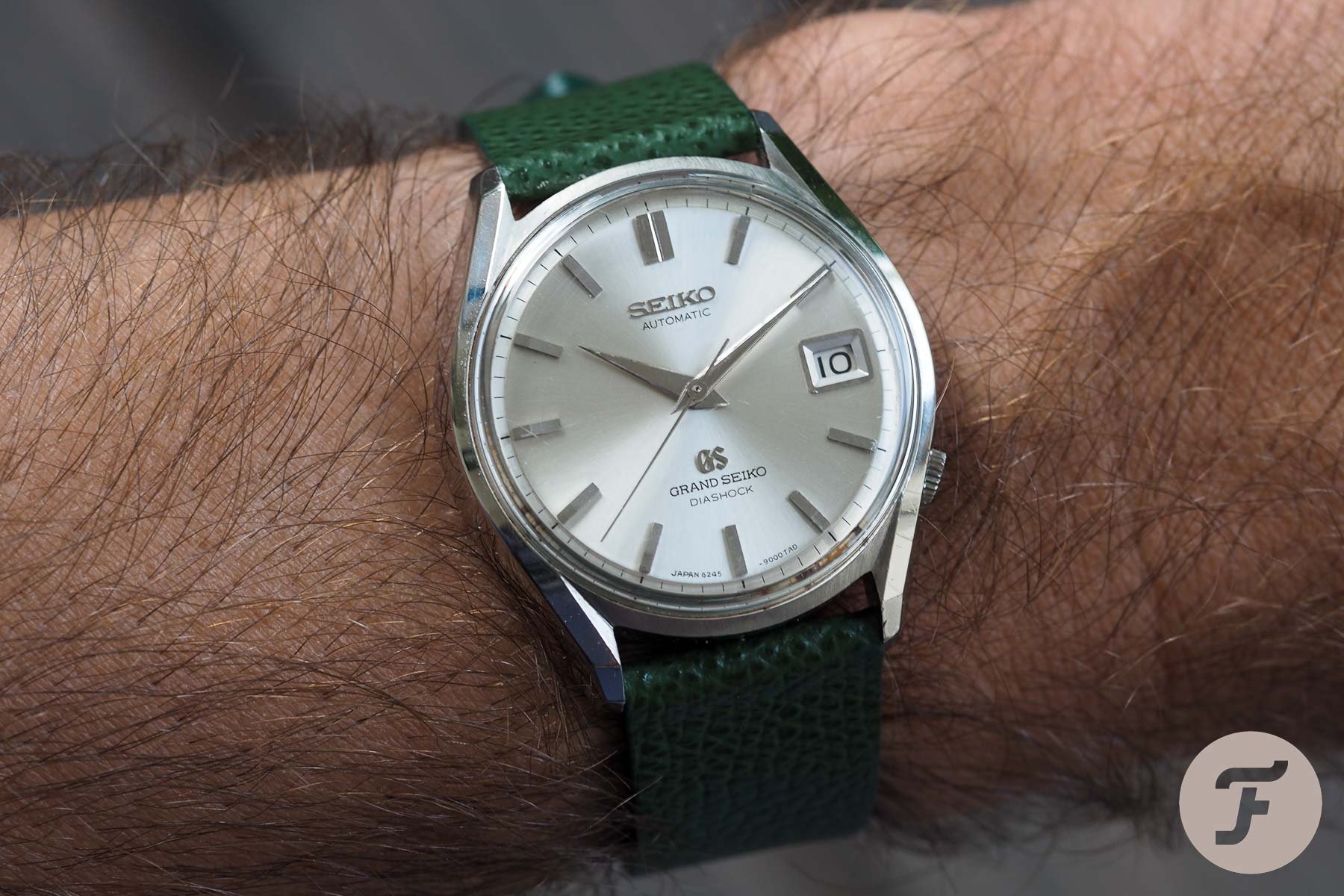 The Grand Seiko 62GS on the wrist
The Grand Seiko 62GS wears wonderfully on the wrist. It certainly isn't large but with a 19mm lug width, it plays a little larger than it should. The other aspect of this watch that's hard to fathom is how robust and current it feels. The build quality is superb and there's none of that charming but rickety feel that's present in most vintage watches. This 56-year-old timepiece isn't going swimming any time soon, but it does feel ready for daily duty. As far as accompaniments, I think that a nice, bold color works well with these businesslike silver dials. Instead of the traditional black reptile, I went with a "Paris Green Seamless" strap from GLC, and I think it turned out very well indeed!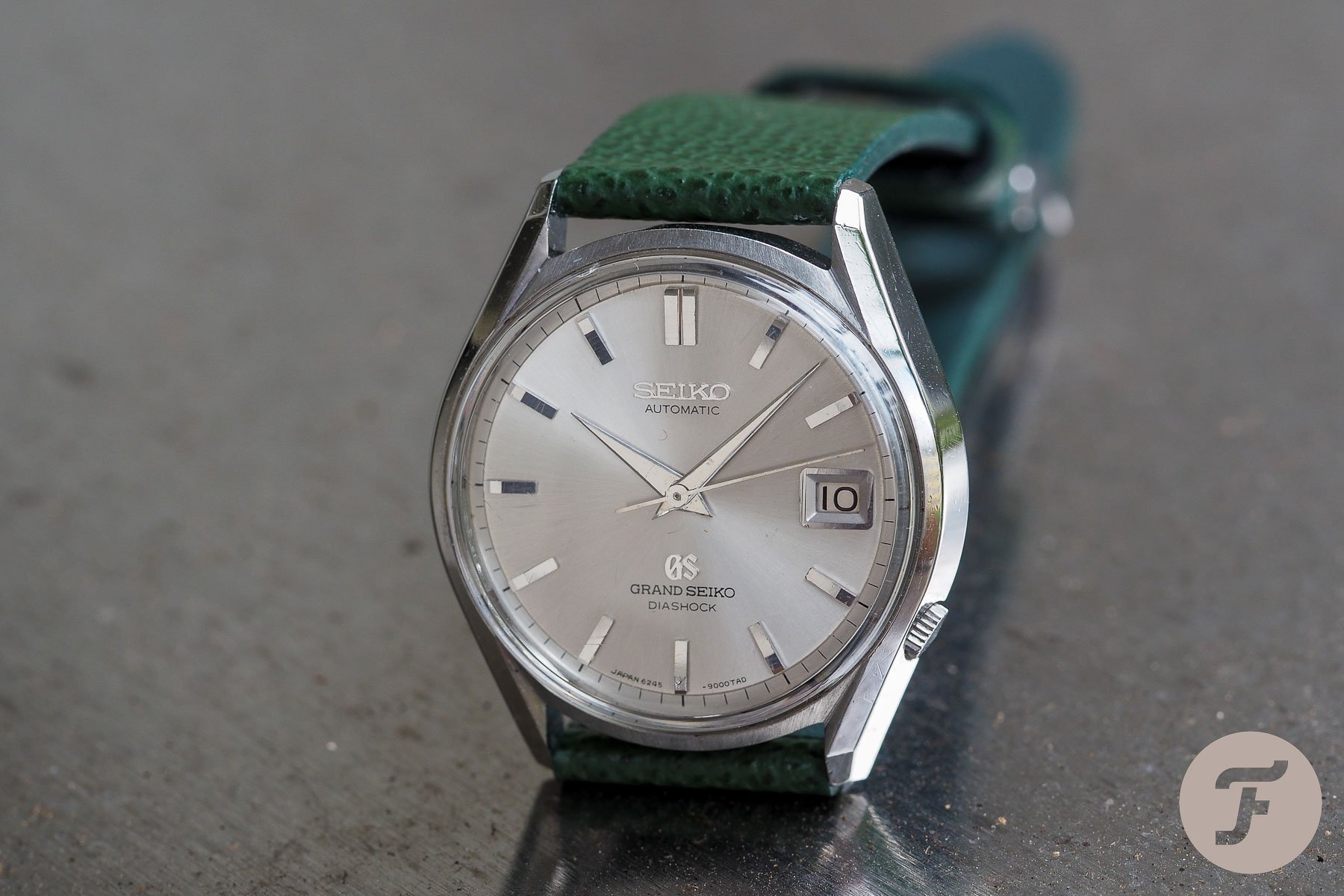 Finding your 62GS
I looked casually at many Grand Seiko 62GS models over the past four or five years. As I said, something else always took priority, but I knew I'd get there one day. I knew I wanted a 6245 reference with a date only, and the case, dial, and case back had to be good. Regarding the case, heavily polished versions are aplenty on various sites. Don't be pulled in by one of these watches. Mine may have had a slight polishing on the flanks, but it retains all of its edges, and that's absolutely key. Movement parts exist, but cosmetic parts are typically difficult. A good model should run somewhere around the US$2,000 mark, and that strikes me as an amazing value. Admittedly, I paid a bit less, but I took a real gamble. In the listing, the watch was sitting on an ill-fitting '80s bracelet and had terrible photos and a scratched crystal. Thankfully, a little elbow grease on the crystal had a dramatic effect.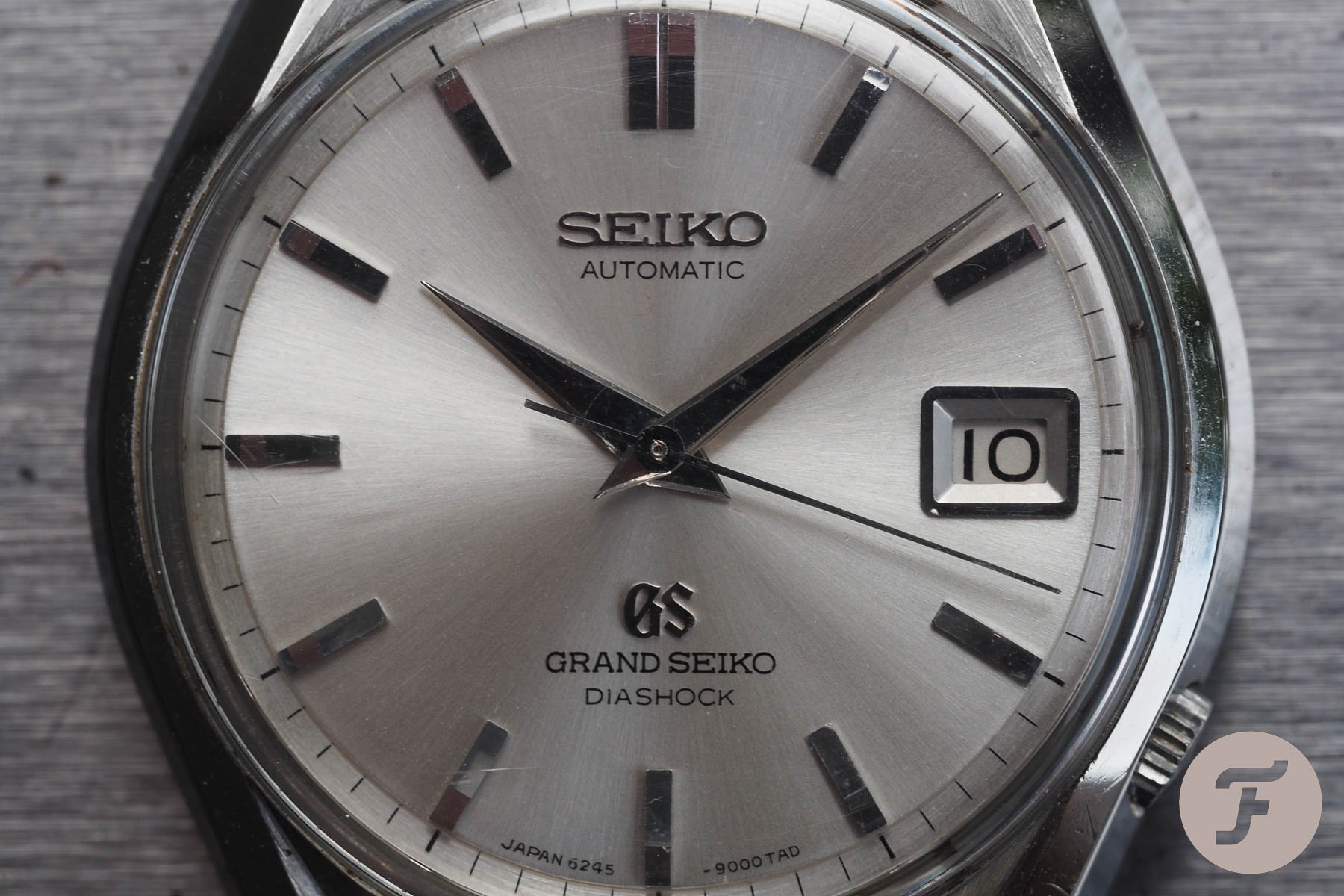 Final thoughts
The Grand Seiko 62GS strikes me as one of the more distinctive dress watches from the 1960s. Its clean case lines, lack of a bezel, and casual disregard for a proper crown are just a few of the aspects that make it so special. Of course, the dial is pure Grand Seiko and contains everything we admire about the brand such as the finely applied indices and logos. I'm truly happy to own this piece and am really enjoying the ride so far. One piece of advice: don't sleep on these. They are simply that good.