The Haven Chilton – A New Chronograph from the Midwest
A Vintage-Inspired Chronograph from America's Industrial Backbone
Today on Fratello, we take a look at the Haven Chilton, a real passion project from a small team of Midwesterners.
If you're a faithful reader of Fratello, you'll know that we don't cover a ton of microbrand watches.  We have nothing against them per se, but it's generally not our niche.  I do make it a point to cover limited edition pieces from the Diver's Watches Facebook Group and we throw in the occasional higher-end piece from MING or others.  But sometimes, something comes along that should be covered, even if there's a touch of bias involved (hey, I called Ohio and Detroit home for the better part of 10 years!).  That "something" is the Haven Chilton chronograph.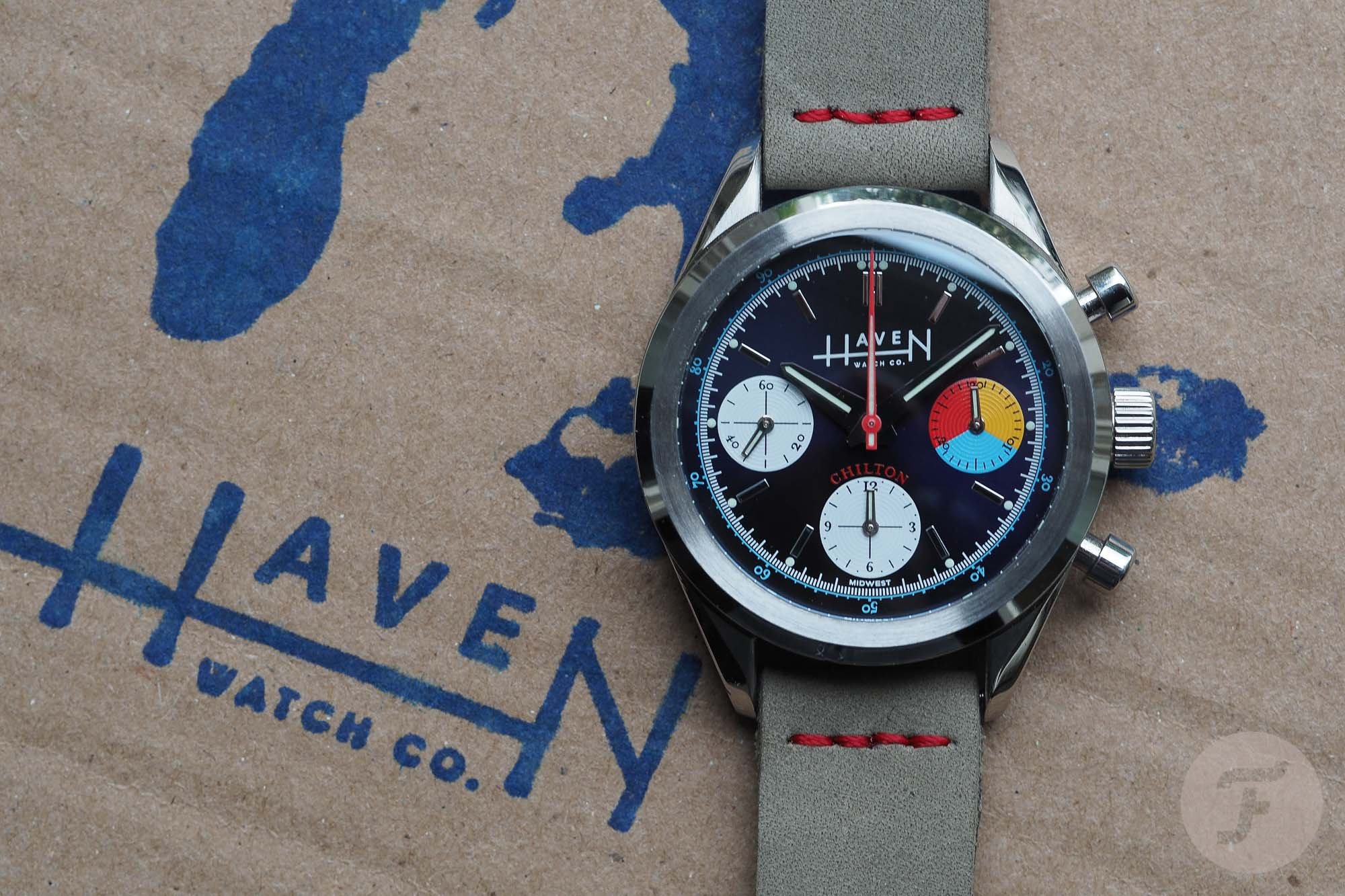 The Haven Chilton – From the Midwest
You're forgiven if you've not heard of the Haven Chilton or the brand in general.  They're new and were founded by a gentleman by the name of Weston Cutter.  Weston teaches English in Indiana and considers himself as a vintage watch nut primarily due to a 7734-powered Tissot chronograph that he received from his father a number of years back.  That watch started the bug and he's been through a lot of watches since that time.  In fact, if you're a frequent visitor of the "On the Dash Chronocentric" forum, you may have run across Weston as he sometimes posts there or sells a watch to make room for something else.  Personally speaking, Weston and I had a bit of an "on again, off again" banter about the vintage watch phenomenon in general via email a few years back.  And so, when Weston reached out some months ago to let me know that he was taking on the challenge of making a watch – not just any watch, but a manual winding chronograph for that matter – I was intrigued and agreed to take a look at the finished product.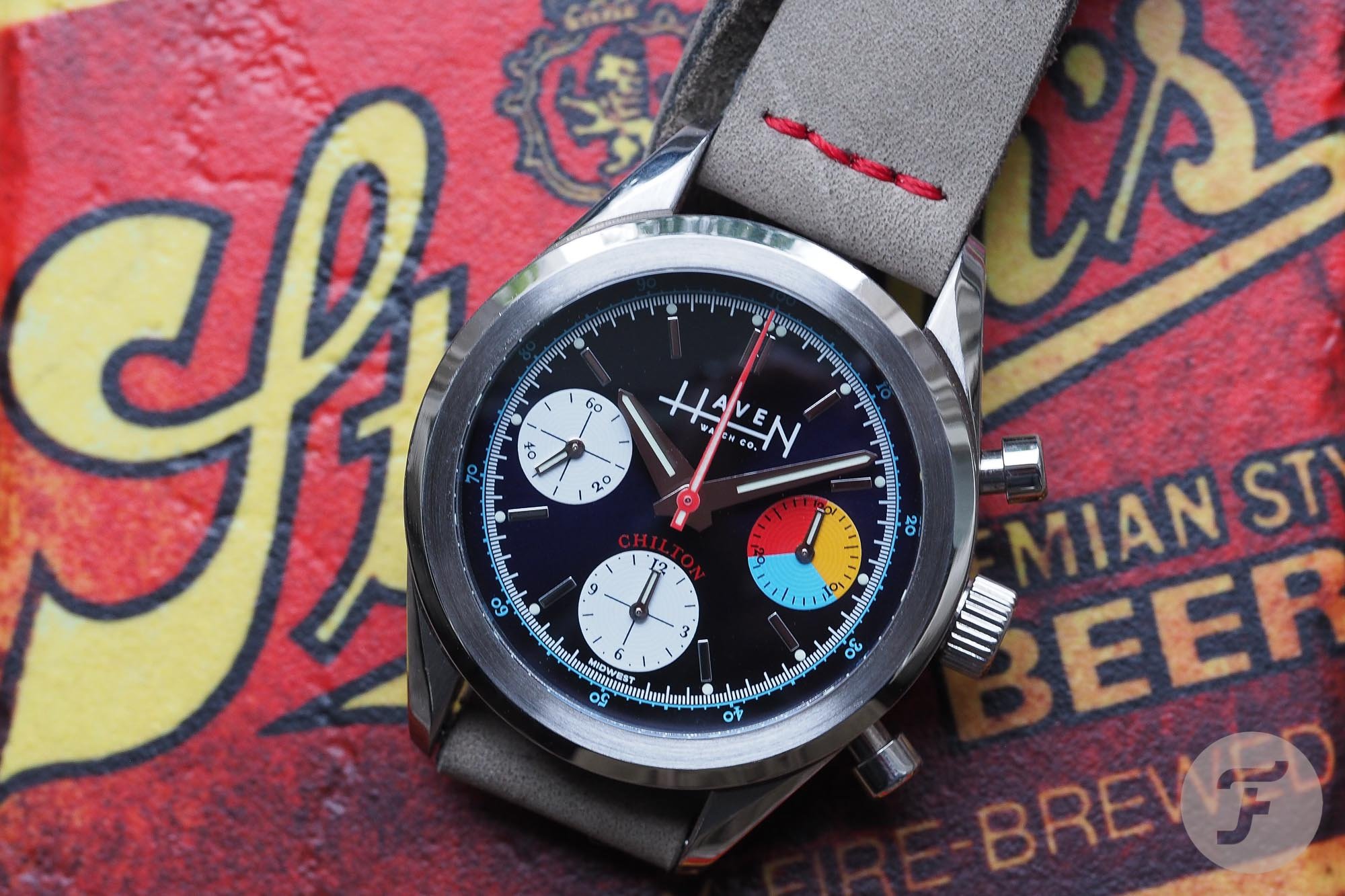 One thing that concerned Weston was that vintage chronographs had become so expensive that it would end up putting off would be collectors.  And while all of us would agree that there are still some bargains to be had (his original Tissot is likely still a decent deal), there's a lot of beat up and deceiving junk out there.  Often, the juice just isn't worth the squeeze – especially after you take your new "treasure" to your watchmaker for the first time.  Speaking of watchmakers, it's Donovan Paradise (Weston's friend and watchmaker – and yes, that must be the best name for a watchmaker I've heard), who ultimately assembles the Haven Chilton and ensures that everything is running correctly and can handle the rated 30 meters of water resistance.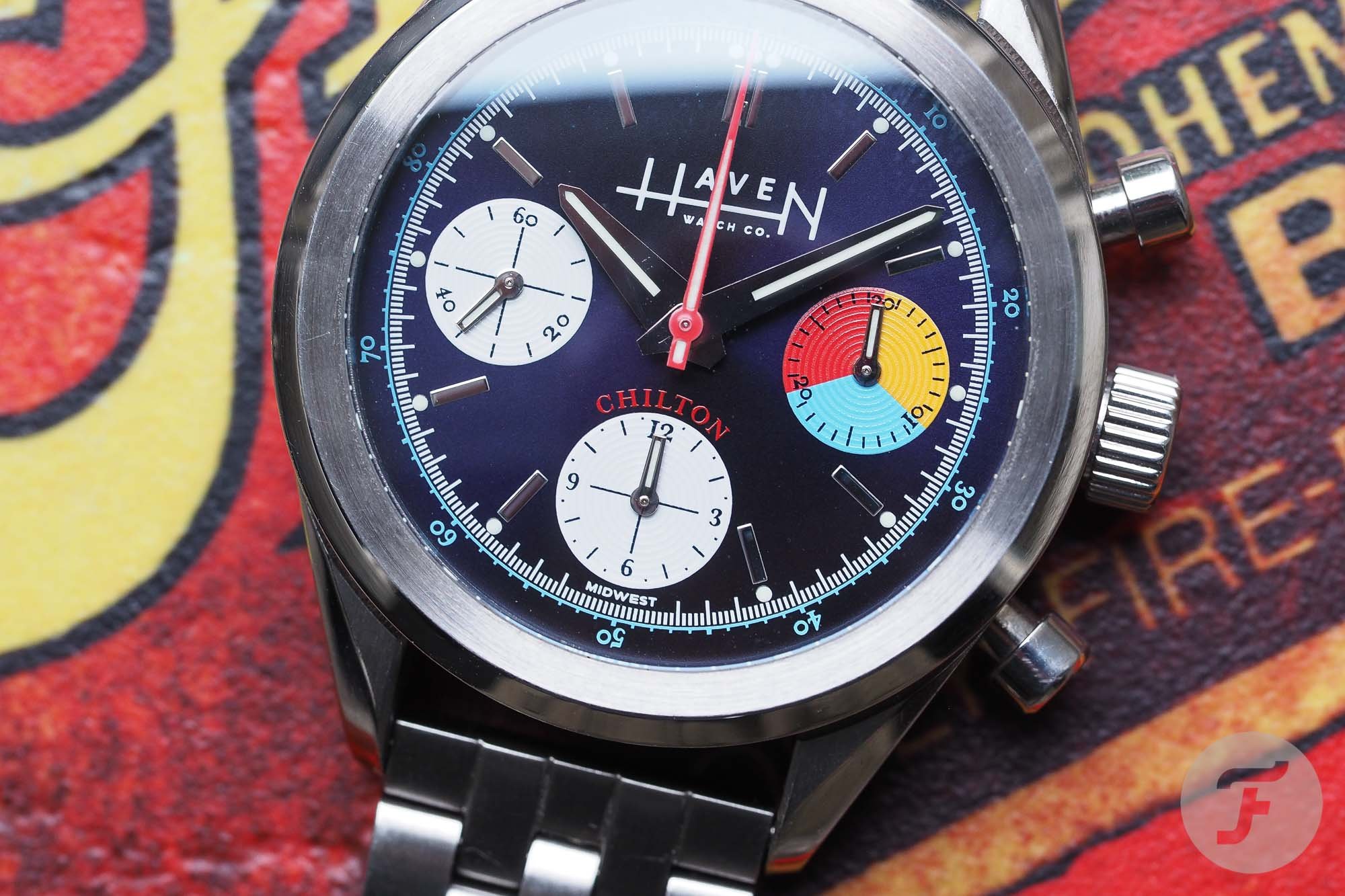 The Haven Chilton has Vintage Looks – and Modern Touches
So what is the Haven Chilton chronograph?  Essentially, it's a watch that brings together a lot of what Weston seems to like about vintage chronographs.  He apparently some ideas in his head and worked with a designer friend to create two models: one in blue and one in white.  Their subdials differ in color and the blue features a decimal scale on the dial's circumference while the white contains a tachymeter.  I had the blue piece for several weeks and whether you're looking at it for the first time or after wearing it for days, there are definite design elements that remind one of several vintage chronographs.  The rightmost subdial, which counts up to 30 minutes, is divided into three equal, colorful slices.  Yachting chronographs come to mind.  All subregisters, by the way, are ridged like your favorite Singer dials, but they contain interesting numerals within where the first number is demonstrably larger than the second.  And while the central hands on the Chilton are pointed at their tips, the oversizing along with the lume stripe immediately brought to mind my Universal Geneve Compax.  Ah, I can't forget to mention that the watch is signed "Midwest" below 6:00, which is a nice touch.  For modern touches, those who moan loudly about fake patina should rejoice as there's nothing but modern SuperLuminova here.  Plus, the thick steel bezel shakes things up a bit as it really doesn't bring any particular vintage piece to mind.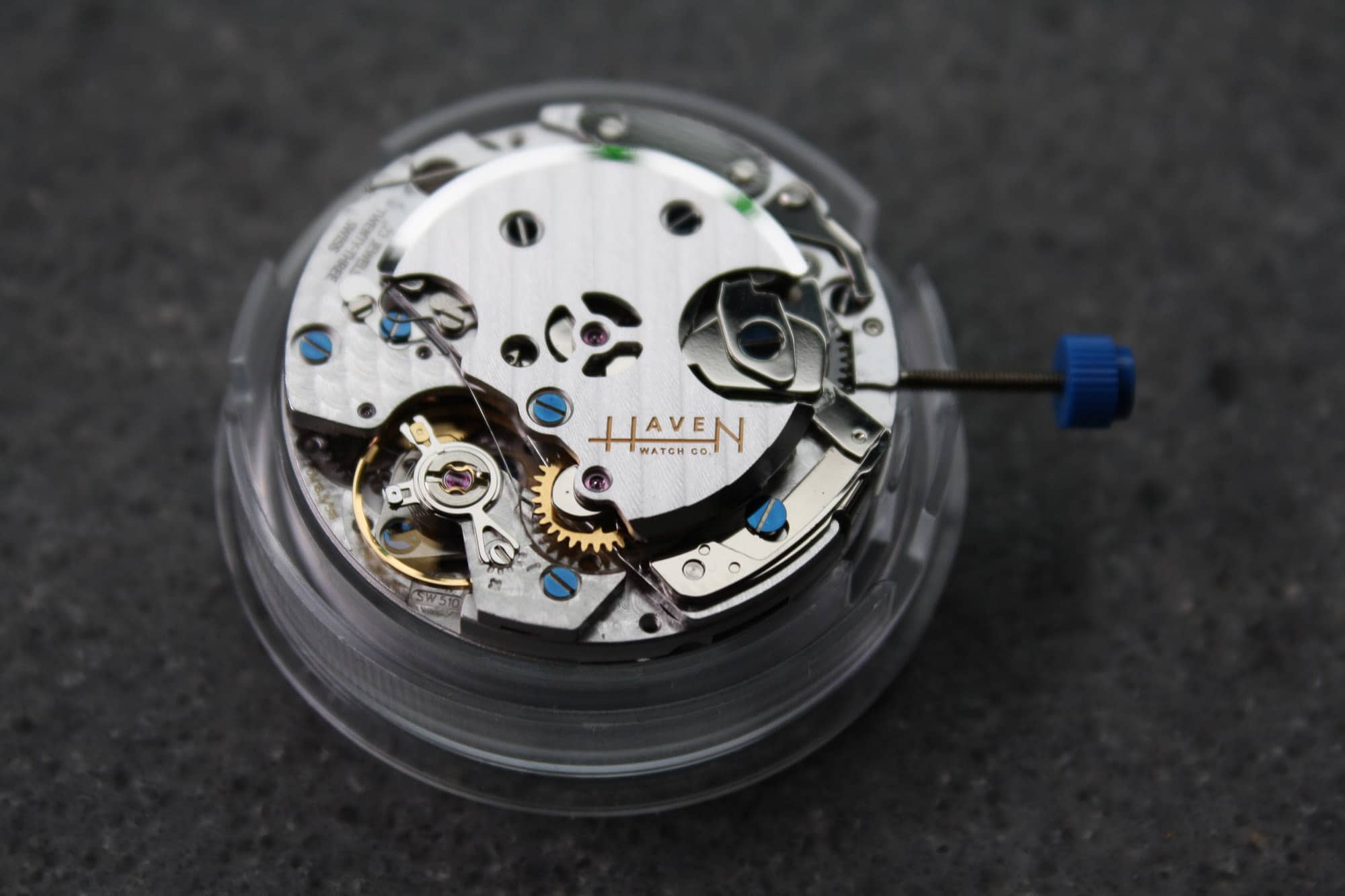 Something Different Inside – A Manual Wind Movement
Inside the Haven Chilton is something quite different.  Weston and the team looked at several options for the manual movement, but they kept coming back to the Sellita SW510.  The only issue is that the SW510 was only an automatic at the time.  So, Sellita received an email and the Haven team was delighted to hear that a manual wind option was on the way.  We took a look at a 2-register version in the new Vertex MP45, but Haven wanted a 3-register variant.  As you can see, their wish was granted with the SW510M.  It's a 12-hour chronograph with a 58-hour power reserve that hacks and features running seconds at 9:00.  I obviously had the chance to wind the watch and work the chronograph and it's a smooth operator.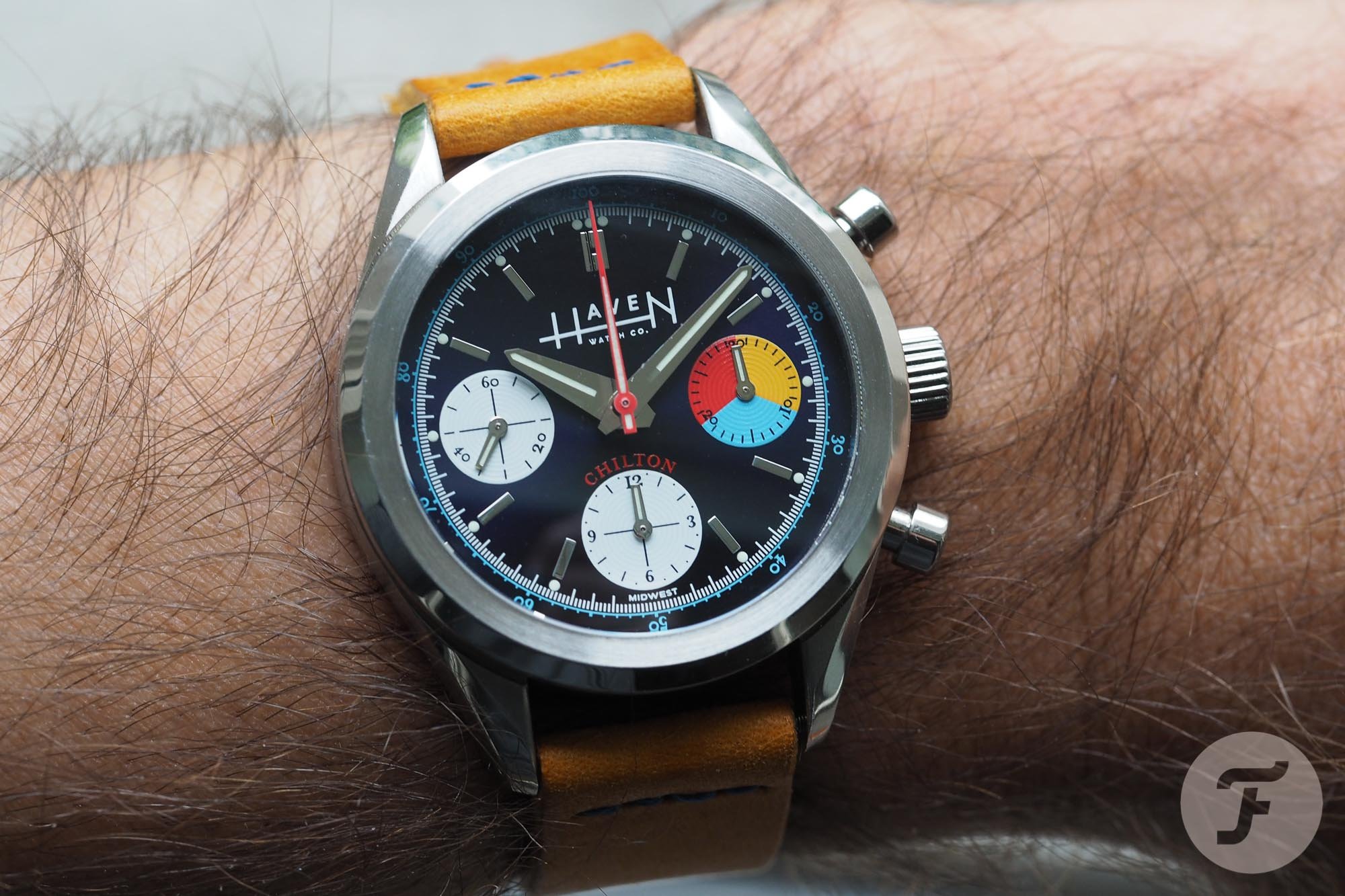 Sizing to Please Vintage Lovers
The 316L, 37.5mm diameter (47mm lug to lug) stainless case on the Haven Chilton is well finished with huge chamfers and convenient thru-hole drilled 18mm lugs.  It contains alternating matte and polished surfaces that look good.  The company makes no attempt to hide the fact that the cases, dials, and hands come from Asia.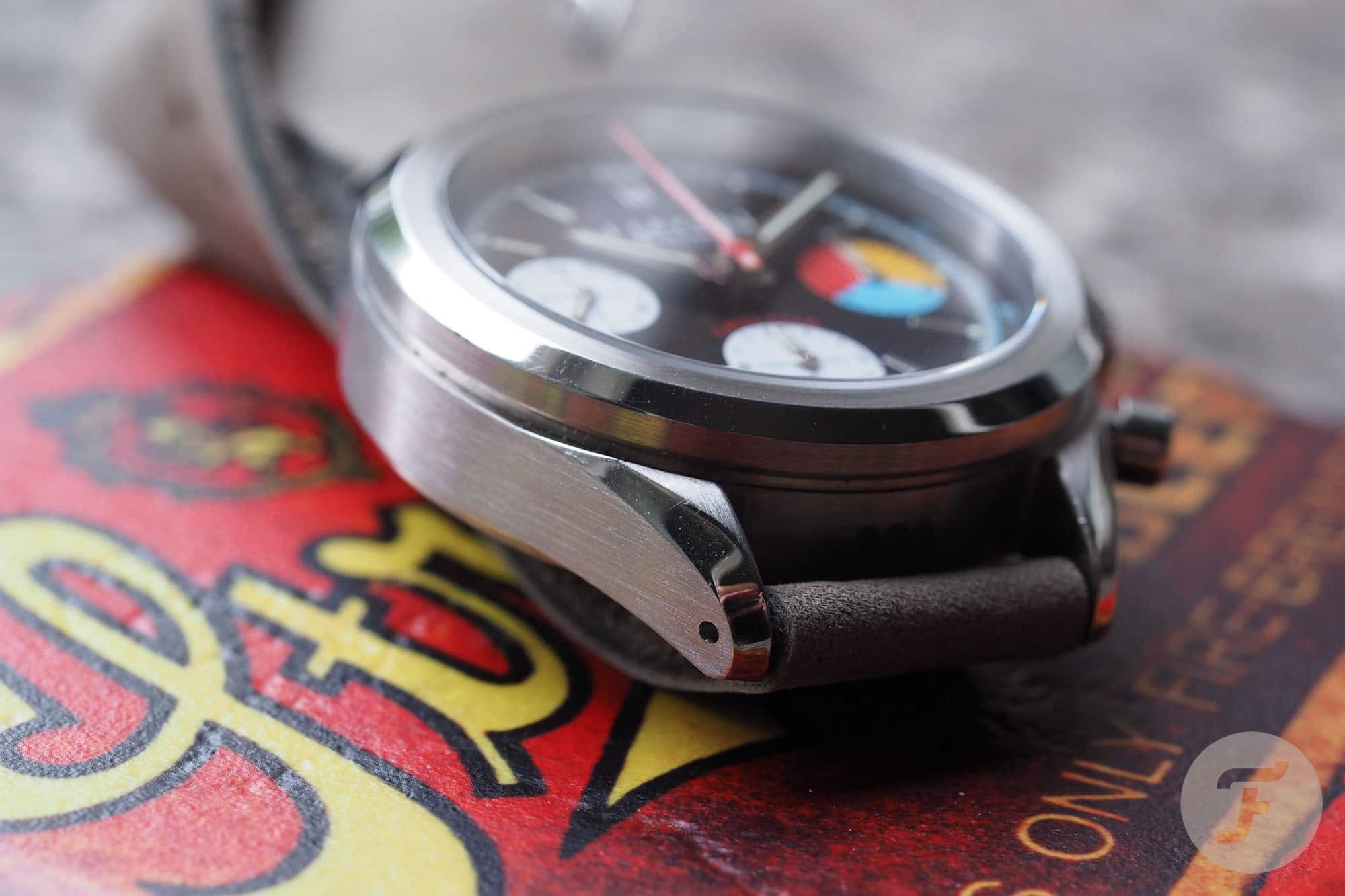 We all know the good (and bad) that can come from Asia and the Haven Chilton definitely scores on the positive side.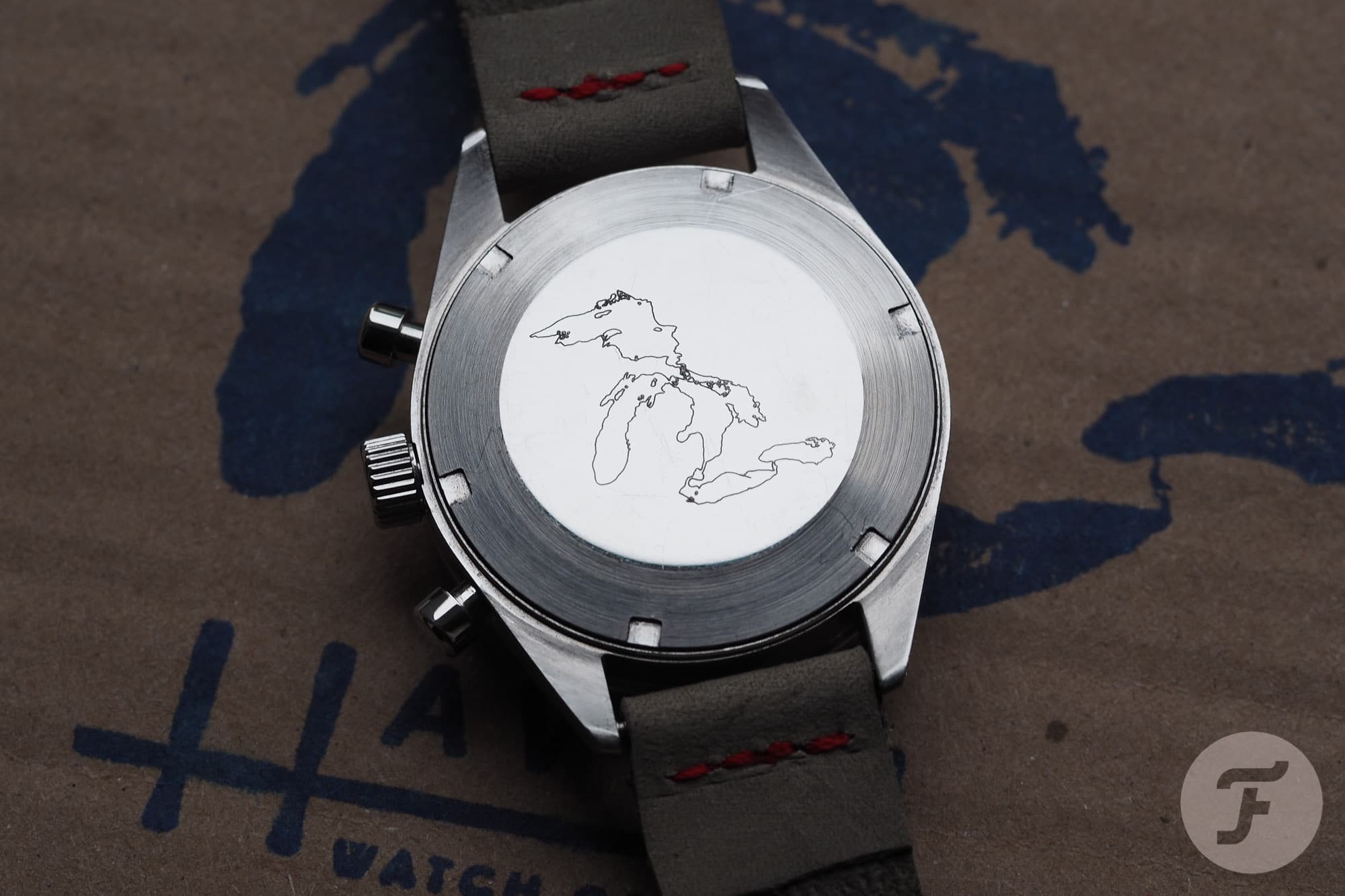 Flipping the Haven Chilton over onto its double anti-reflective sapphire crystal reveals an engraved view of the Great Lakes.  Interestingly, the case back will be titanium to help keep weight to a minimum.  The reference (1031) and serial numbers will be engraved between the lugs.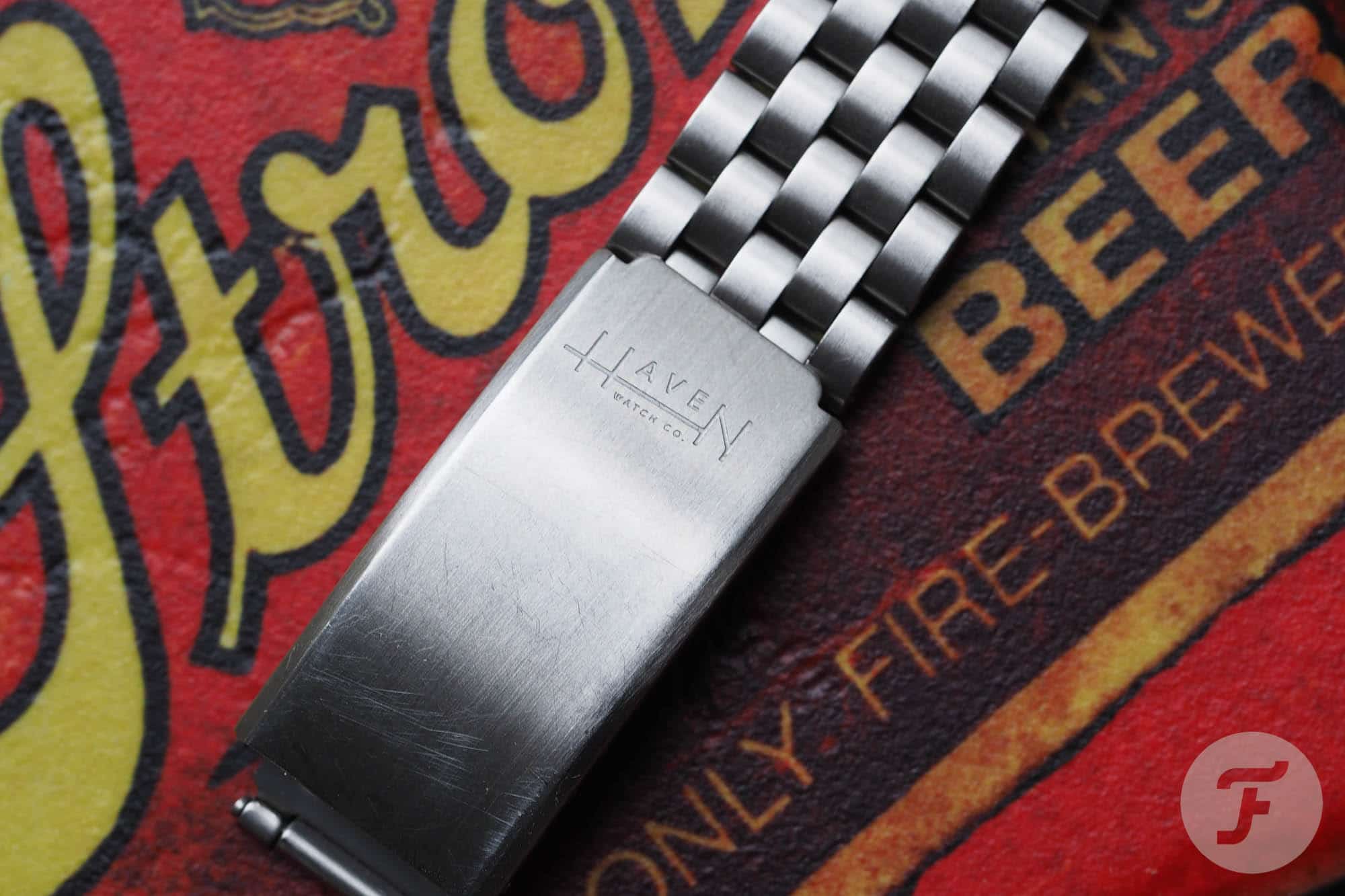 Regarding the straps and bracelet, the Haven Chilton comes on a steel bracelet with fine links that can be removed via screws.  It has a simple, signed and stamped clasp that's not so different from an old Rolex or Omega bracelet.  I found the bracelet to be very well made, not another "me too" design, and it did not grab the forest of hair that has taken over my wrist.  I'm still not sold on the straight end links, but maybe that's just me and it definitely helps avoid a pitfall of many small-brand watches: crappy looking endlinks.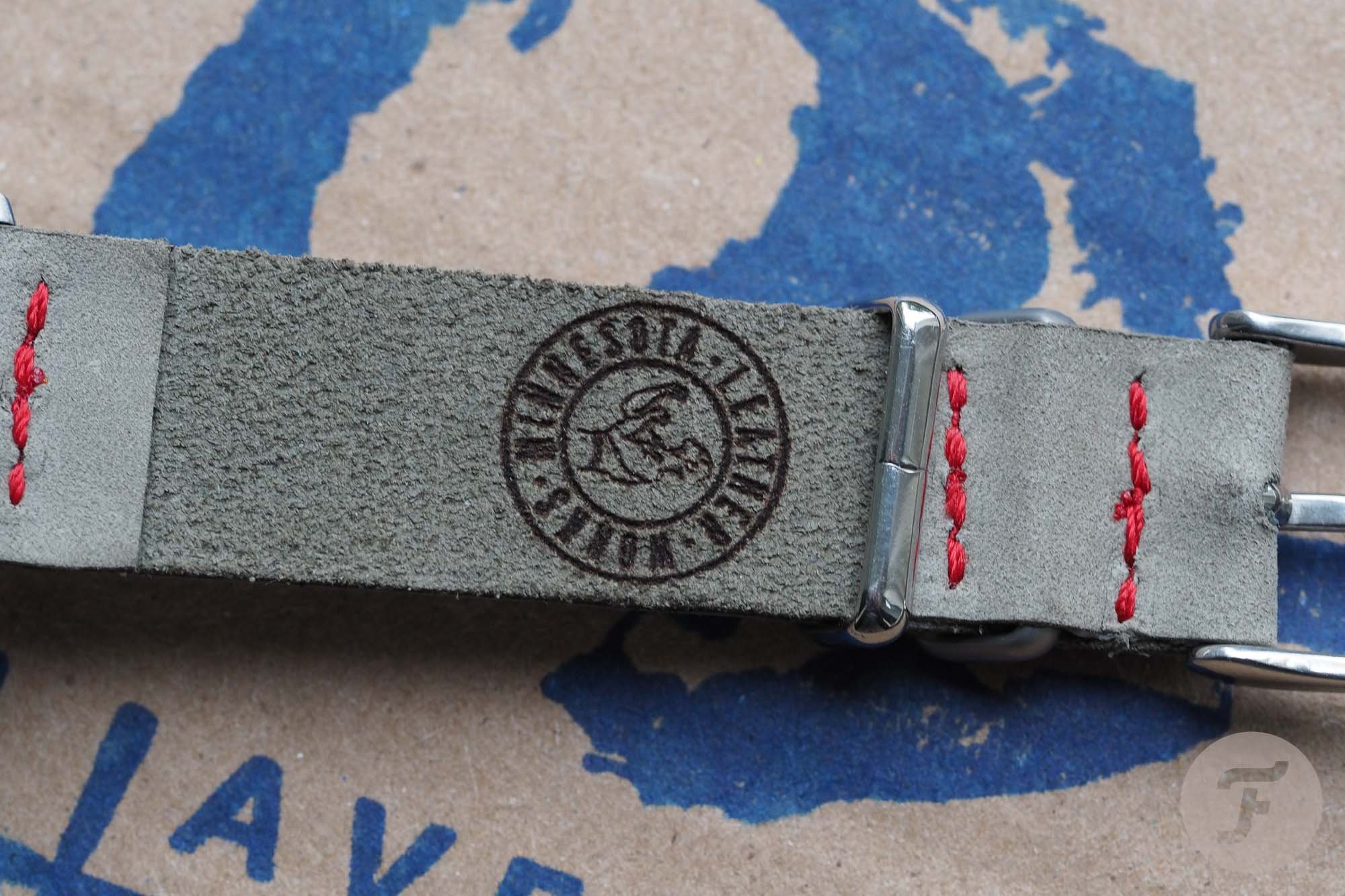 I had three different Minnesota-made leather straps (blue, grey and ochre) for test and all were really nice and soft.  Buyers will get to choose one and additional straps can be purchased.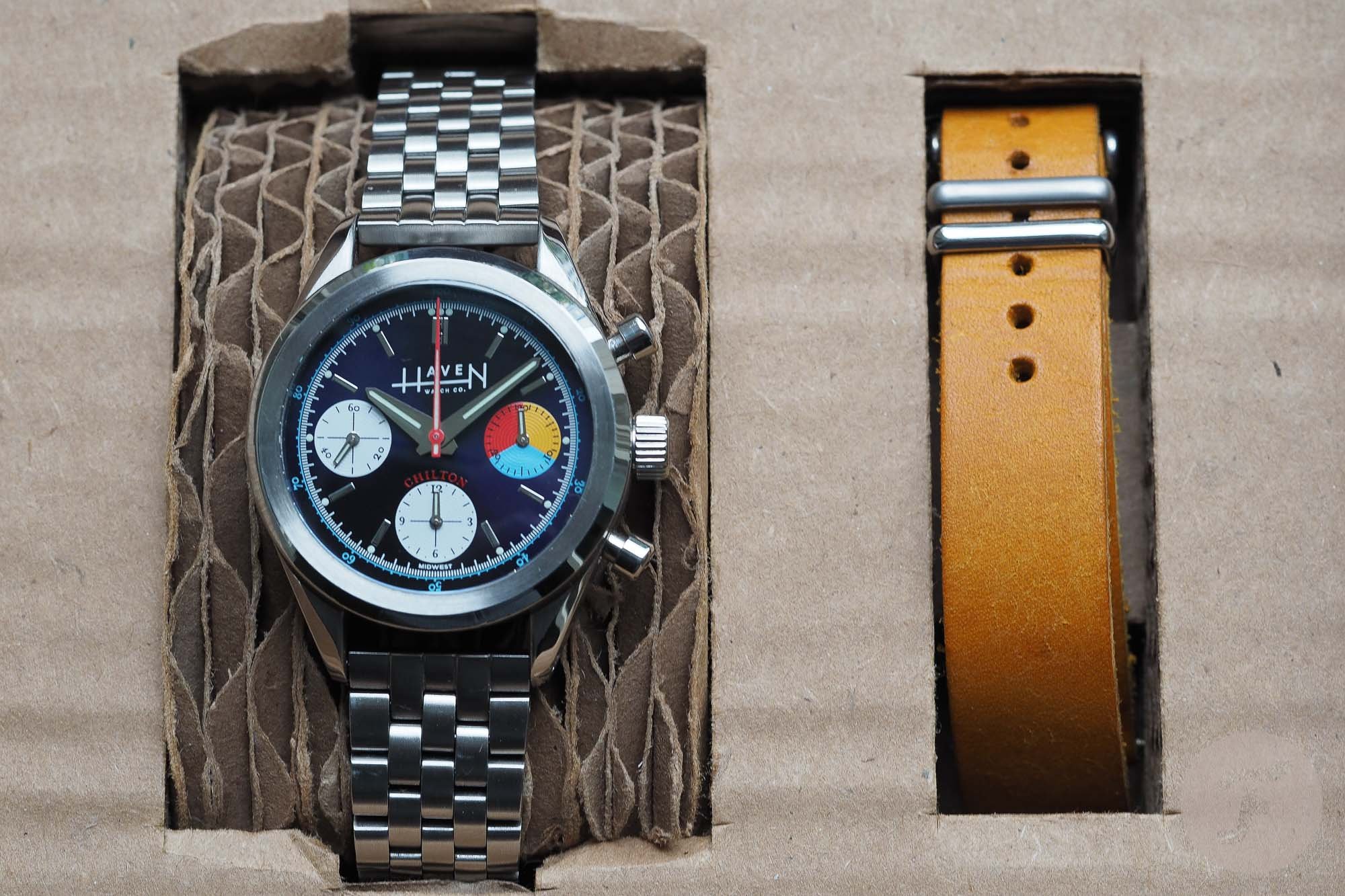 As for other details, Weston was pretty clear that they find boxes wasteful, so they went with recycled cardboard for the design and a local maker.  Some people might take issue with this – especially when we discuss pricing for the Haven Chilton – but I find most boxes useless or, worse, badly made.  With this one, if it pisses you off, you can put it in the recycling bin and just go about wearing your watch.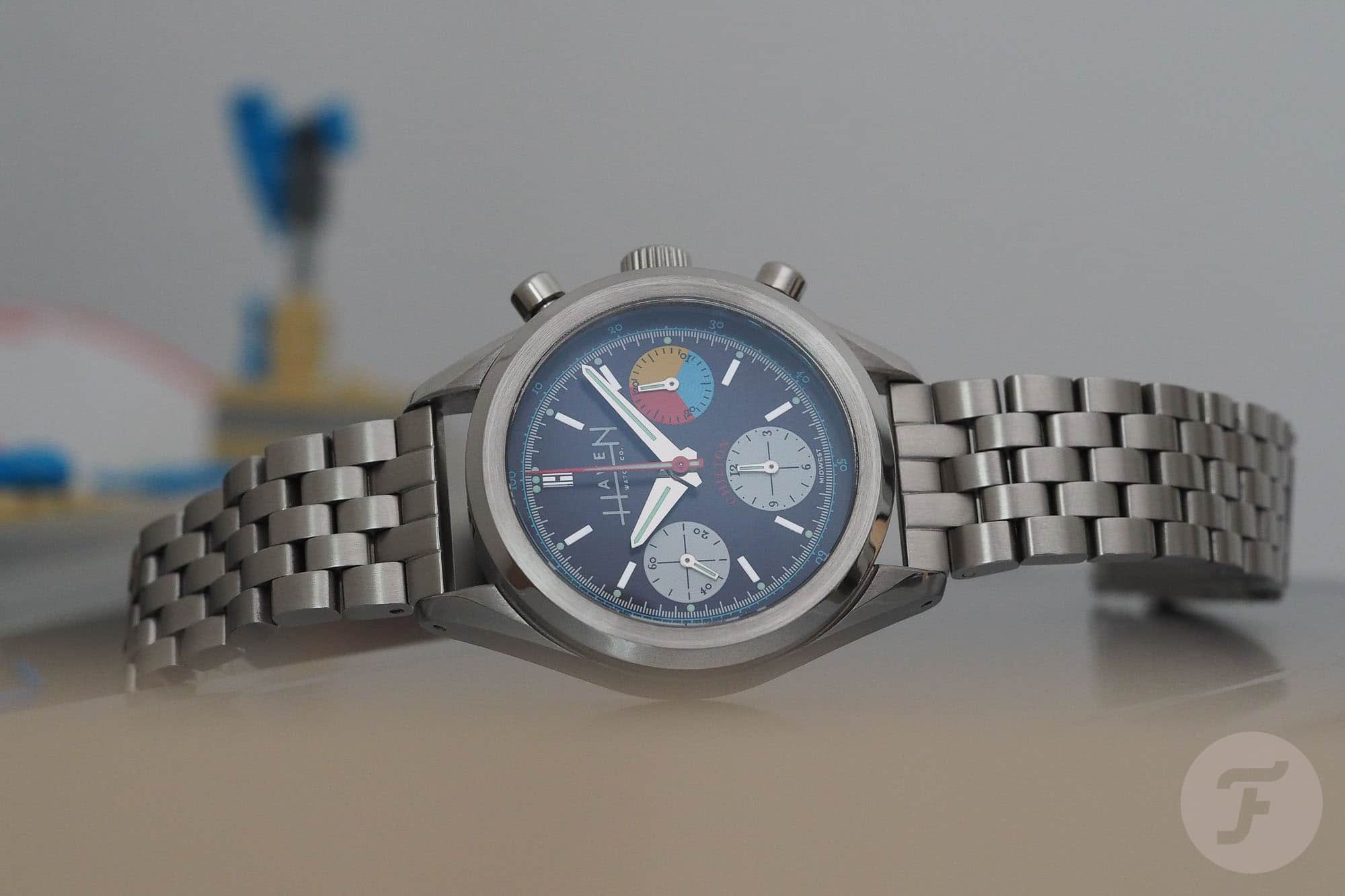 Final Thoughts and Pricing
So, what do I actually think about the Haven Chilton?  I like it and I really like it on the wrist.  There's no denying that this watch fits within a really sweet spot in terms of size; it really does channel that vintage feel.  As for quibbles, I have a few.  I do find the bezel a tad thick, the main hands a bit big, and I'd like to see a crown with a more of a domed cap versus the flat one currently in play.  I could argue that the branding on the dial is also a bit large, but that's really going to come down to taste.  Those things came to me when I first saw the watch, but my complaints disappear to some degree when the watch is on the wrist.  So don't misunderstand me, there are good bones here.  The brand does offer a 2-year warranty as well, so they're standing behind their product.  I also like that it's Weston's direct email on the site.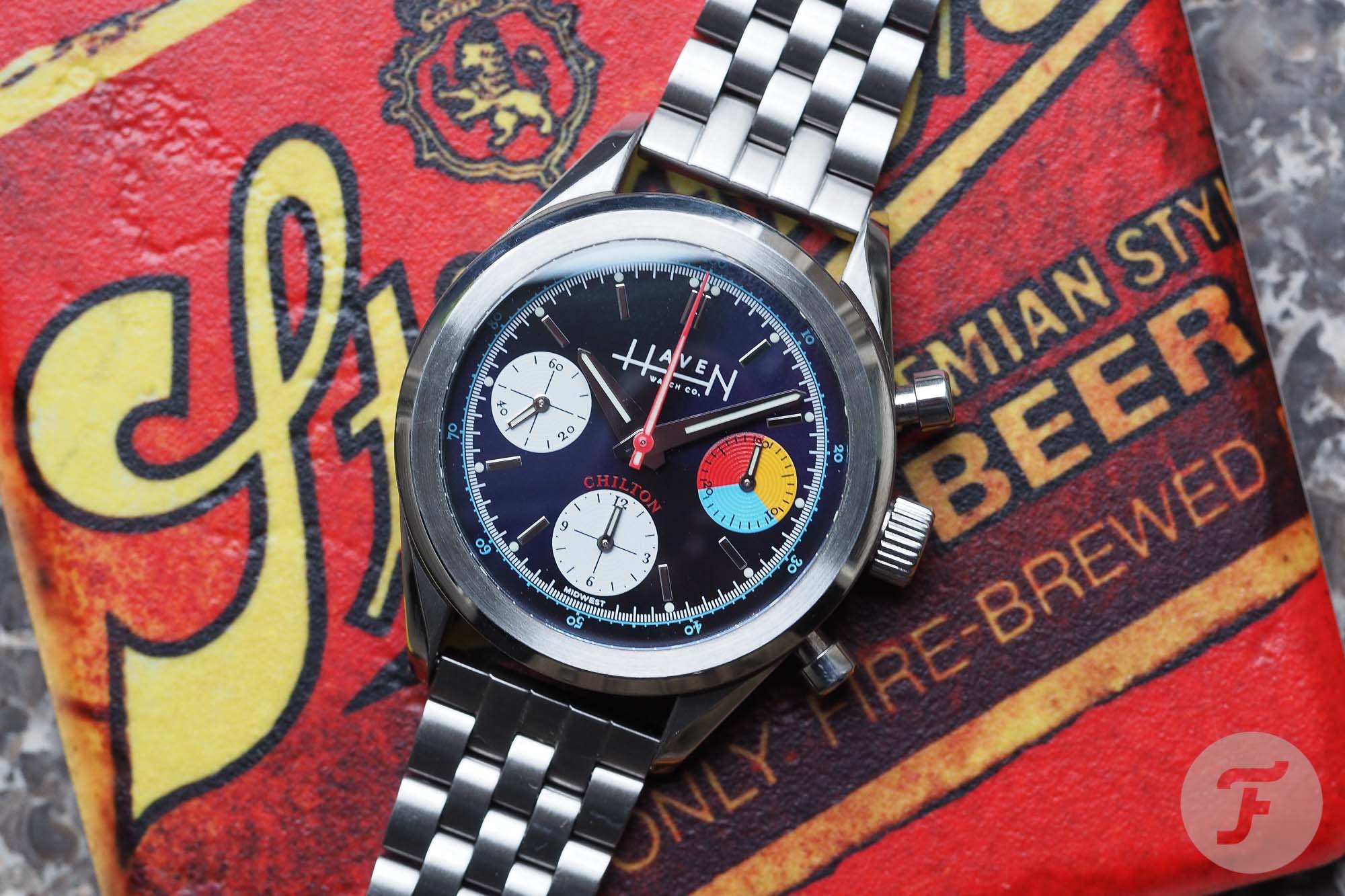 On the whole, I like the Haven Chilton and I really like that someone made a watch that they're personally proud of.  I also have to admit that I like when I see something cool watch wise from my home country because, believe me, there's a lot I don't like.  At $1,799, the Chilton is not inexpensive (it is assembled and tested in the USA – not Asia) and will battle against some serious heavyweights in the actual vintage or vintage inspired categories.  If the watch design and the journey resonate, though, I think prospective owners would find themselves more than happy.
For more information on the Haven Chilton see our gallery below and head to the official Haven Watches site.  Watches will be available in August, 2019.
Watch specifications
Dial
Blue or White with Applied Indices
Case Material
316L Stainless Steel
Case Dimensions
37.5mm Diameter, 47mm Lug to Lug, 13.75mm Thickness, 18mm Lug Width
Crystal
Sapphire with Double Anti-Reflective Coating
Case Back
Titanium Screw-Down
Movement
Sellita SW510M, manual winding chronograph, hacking, 58 hour power reserve
Water Resistance
30 Meters
Strap
Stainless Steel Bracelet and Choice of Grey, Blue, or Ochre Leather Straps with Stainless Pin Buckle
Functions
Time (HH:MM:SS), Chronograph with Running Seconds, 30-Minute Counter, and 12-Hour Counter, Decimal Track (Blue Dial) and Tachymeter (White Dial)
Special Note(s)
Available August, 2019