The Laurel Returns For 2023: Introducing The Seiko Presage Craftsmanship Series Limited Edition SPB359J1
A homage to Seiko's very first wristwatch from 1913, celebrating 110 years of watchmaking for the brand
In 1913, Kintaro Hattori, the founder of Seiko, presented his first wristwatch under the name Laurel. It very much looked like a pocket watch fitted with lugs to accommodate a strap, and the crown was shifted to three o'clock to make it easier to operate. Now, just short of 110 years later, the Seiko introduces the Presage SPB359J, a homage to that very first Japanese wristwatch. And it definitely looks like the original from back then, but there have also been some significant changes.
When you're a brand like Seiko, you have a nearly infinite number of watches to choose from when making a re-edition. However, it's not so common for a brand to make a re-edition of its first wristwatch ever. There have indeed been hints of the Laurel branding before, such as the Seiko Laurel Alpinist from 1959. The dial design of the 1913 Laurel has also been used before to inspire the dial of the 2016 SPB041J1 (later SPB059 with Presage branding on the dial). But never has the brand introduced a watch that's so close to the original Laurel. Let's take a look at what Seiko has done here.
The 2023 Seiko SPB359J1
As I stated above, the 1913 Laurel very much looked like a pocket watch with lugs. And that's exactly what I thought when I saw this re-edition in person. It still has a completely circular case with lugs that look like they were more of an afterthought than anything. The prominent onion-shaped crown is still there, and the pearly white enamel dial with Breguet numerals also makes its return. Together with the spade hands, it all looks familiar as most pocket watches from yesteryear used nearly the same layout. But there are some significant differences to the original Laurel.
The 1913 version measured about 30mm in diameter. The SPB359J1 that is presented today is a bit bigger at 37.5mm wide and 12.6mm thick. And although the dial looks very familiar behind the AR-coated boxed sapphire crystal, its layout is actually quite different from the original Laurel. Because instead of the sub-dial indicating the seconds, there's now a central seconds hand and a pointer date at six o'clock. Another addition is the power-reserve indicator at nine o'clock. All of that is due to the 6R27 automatic movement that Seiko put in the SPB359J1. The 6R27 caliber has a power reserve of 45 hours and is resistant to magnetic fields. It's accurate to an advertised +25/-15 seconds a day. The movement is hidden behind a closed and screwed case back.
This movement was also used in the 2016 Laurel-inspired SPB041J1, which celebrated the introduction of the Presage line in Europe. But apart from layout, color, and Breguet numerals, the dial of that watch looked significantly busier with its prominent power-reserve indicator, bolder hands, and complex seconds track. The 2023 Laurel's dial seems much more minimal in comparison with its almost-invisible power-reserve indicator, slimmer hands, and simpler markings.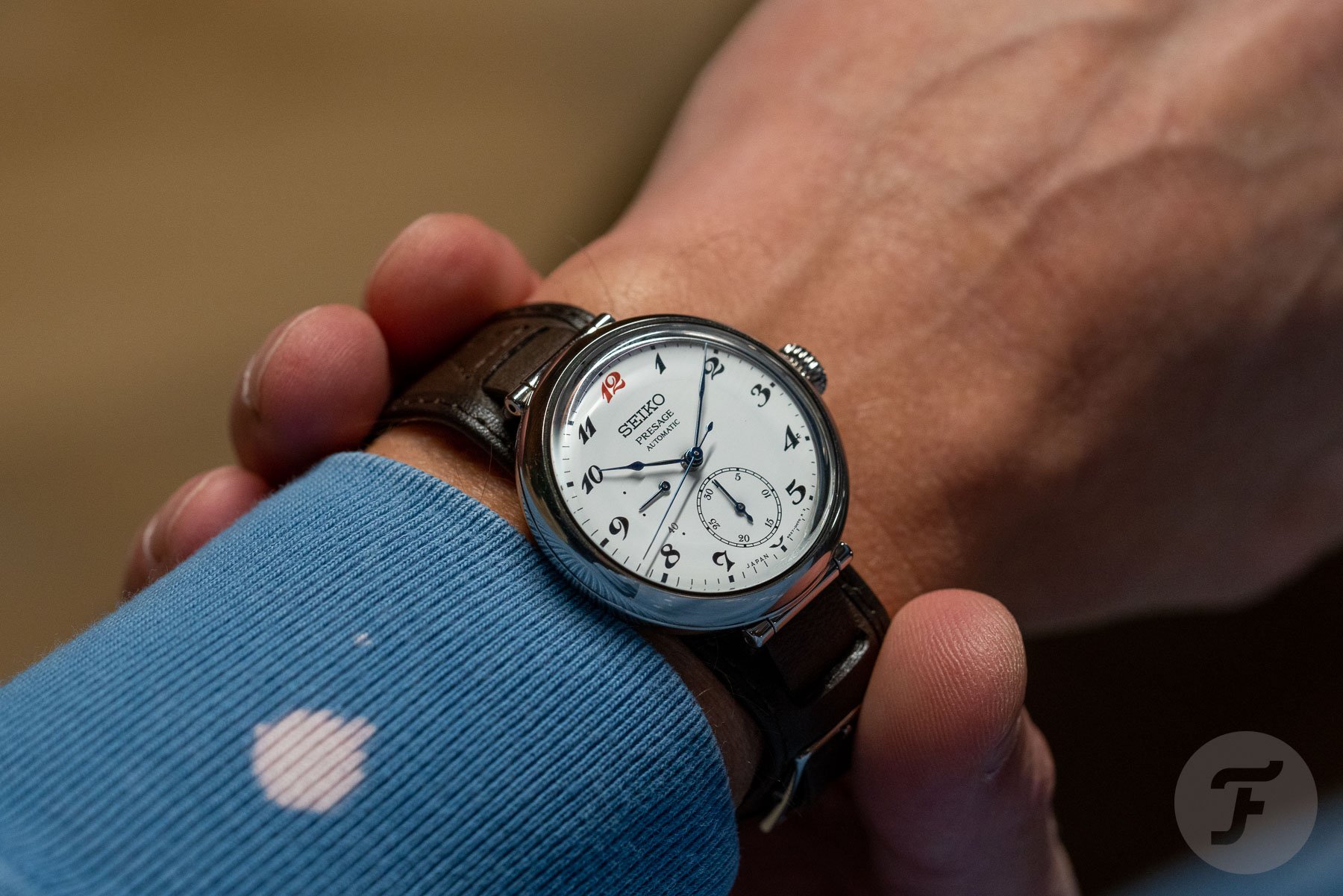 Still as elegant as before, but different
I really like how Seiko has dared to bring back the original design of the 1913 Laurel. The red numerals at 12 o'clock and the Bund-like deerskin strap are great details that have been preserved. And that glossy and stepped enamel dial really takes you back a hundred years. I can only imagine how fragile the watch felt on the wrist back then, but the SPB359J1 actually feels very sturdy. It's almost like wearing a field watch. That's why it's also nice that such a vintage-inspired piece is water-resistant to 50 meters.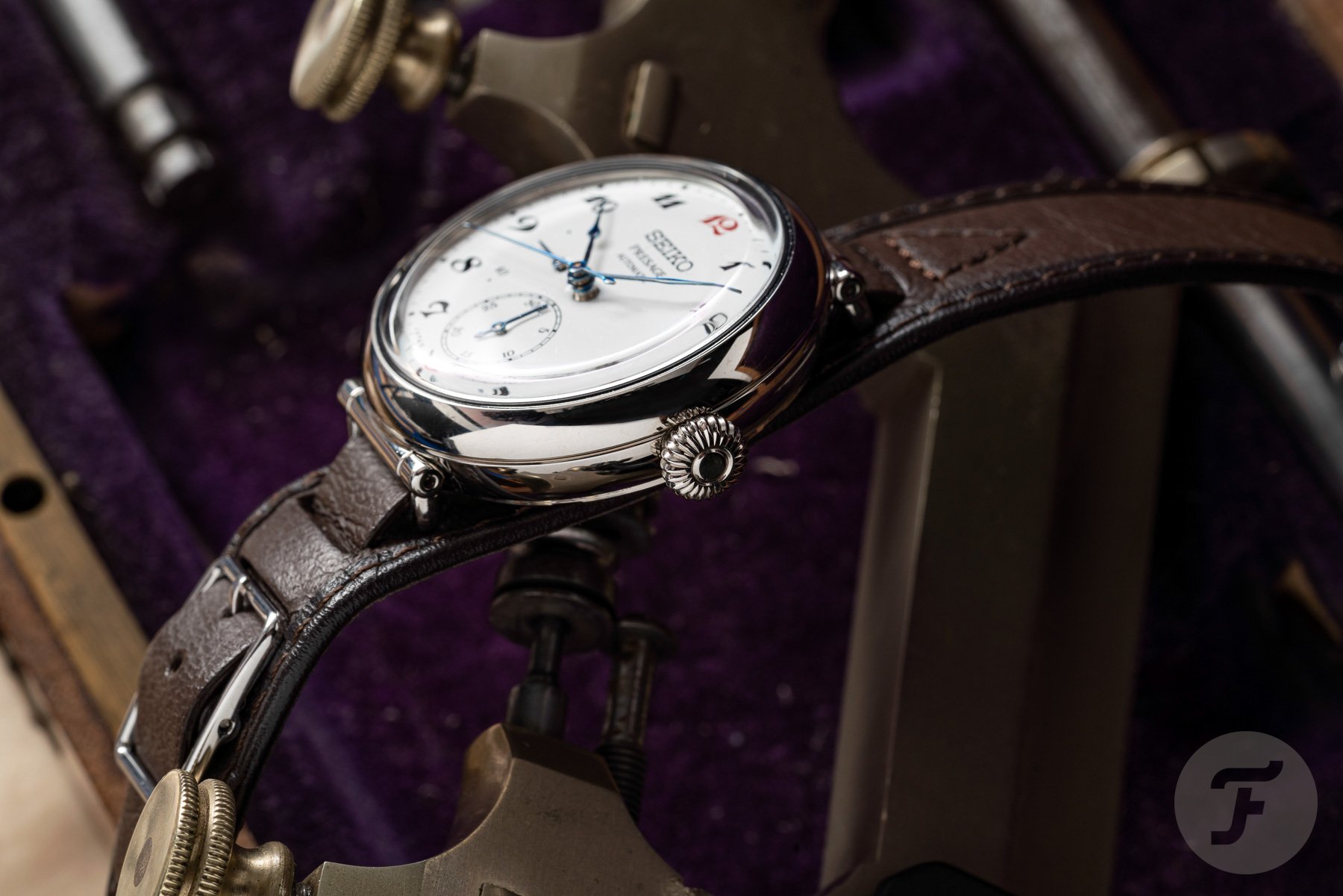 What I don't really get, though, are the changes in the layout of the dial. Maybe I'm too much of a purist, but I really don't need the pointer date at six o'clock. And who needs a power-reserve indicator on an automatic watch? I'd much rather have the original dial layout with just two central hands and small seconds dial at six. Oh, and how cool would it be to just have the Laurel name at 12 o'clock instead of the Seiko Presage branding? That probably couldn't happen for legal reasons, but just imagine…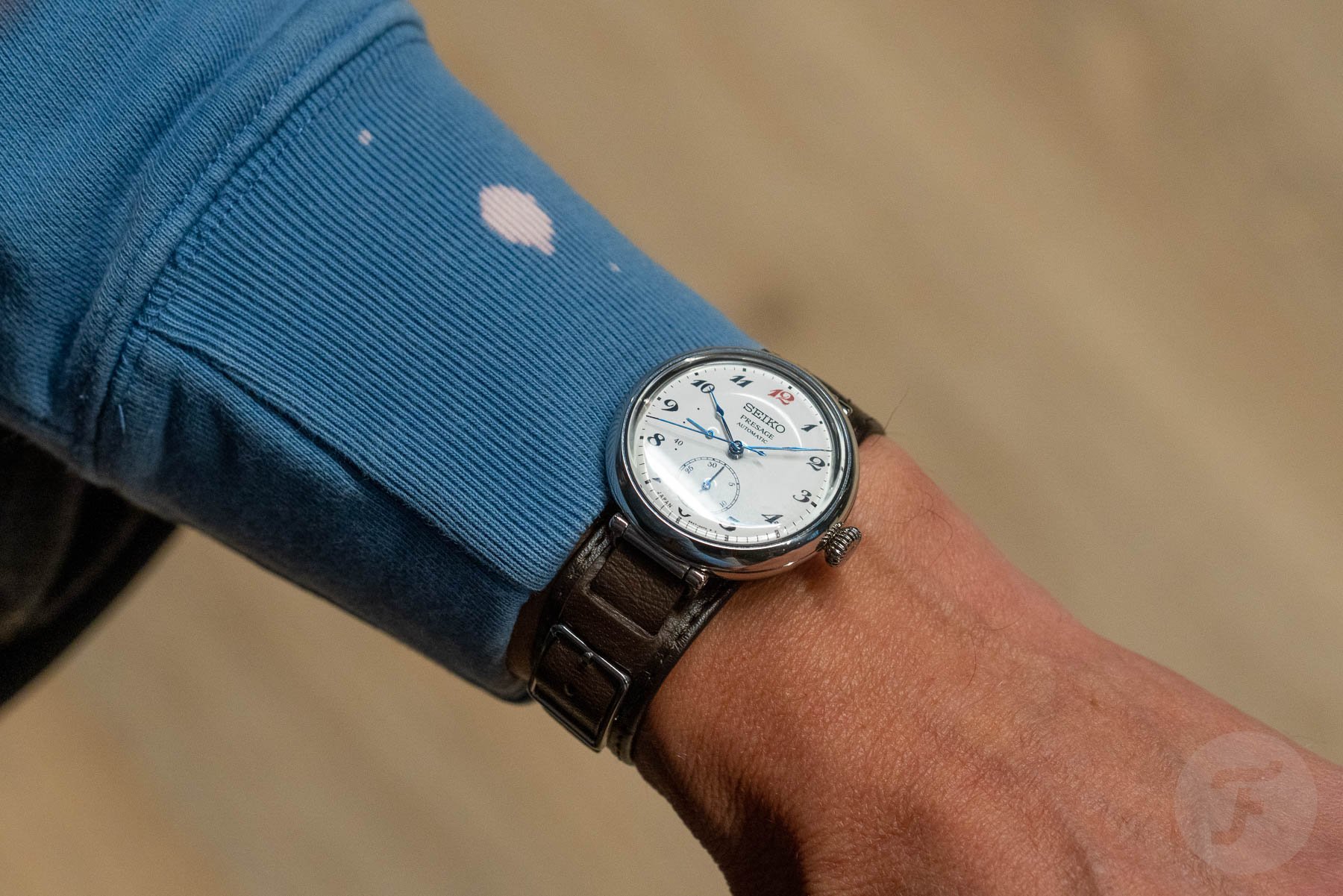 Available as of January 2023
However, I must say that the overall elegance of the 1913 design is still there. I also think it's a bold move for Seiko to bring back a design that's so close to one that's 110 years old. Seeing this new edition shows just how well the design still works over a century later.
The Seiko Presage Craftsmanship Series Limited Edition SPB359J1 will be available from January 2023. It will be priced at €1,900 and limited to 2,500 pieces. For more information, please visit the Seiko website. Let us know what you think of this new Laurel in the comments!
Update: Seiko already introduced a re-edition of the Laurel in the year 2000. The SCVM001 from the historical collection was 32mm wide with fixed 13mm lugs.