Hands-On Seiko Presage SPB041J1 Review
Inspired By The First Seiko Laurel Watch From 1913
Presage
This year, Seiko introduces the Presage collection to a wider audience. The collection already existed in some markets, but not in Europe for example. Let's have a look at one of their novelties, the Seiko Presage SPB041J1.
60 Years Ago
The first wristwatch of Seiko was their Laurel timepiece, in 1913. A few decades later, in 1956, Seiko introduced their first self-winding watch. Exactly 60 years ago. To commemorate, Seiko introduced the Presage Chronograph with enamel dial. Limited to only 1000 pieces. We wrote about this watch earlier this year (here). Another Presage watch that Seiko released this year, is the Seiko Presage SPB041J. A dress watch with date and power reserve, all under 1000 Euro. For some however, this is still an astonishing amount of money for a Seiko watch. That is what we get to hear often, but to others it is an accomplishment that Seiko is able to sell such a quality product under 1000 Euro. The truth? Read on.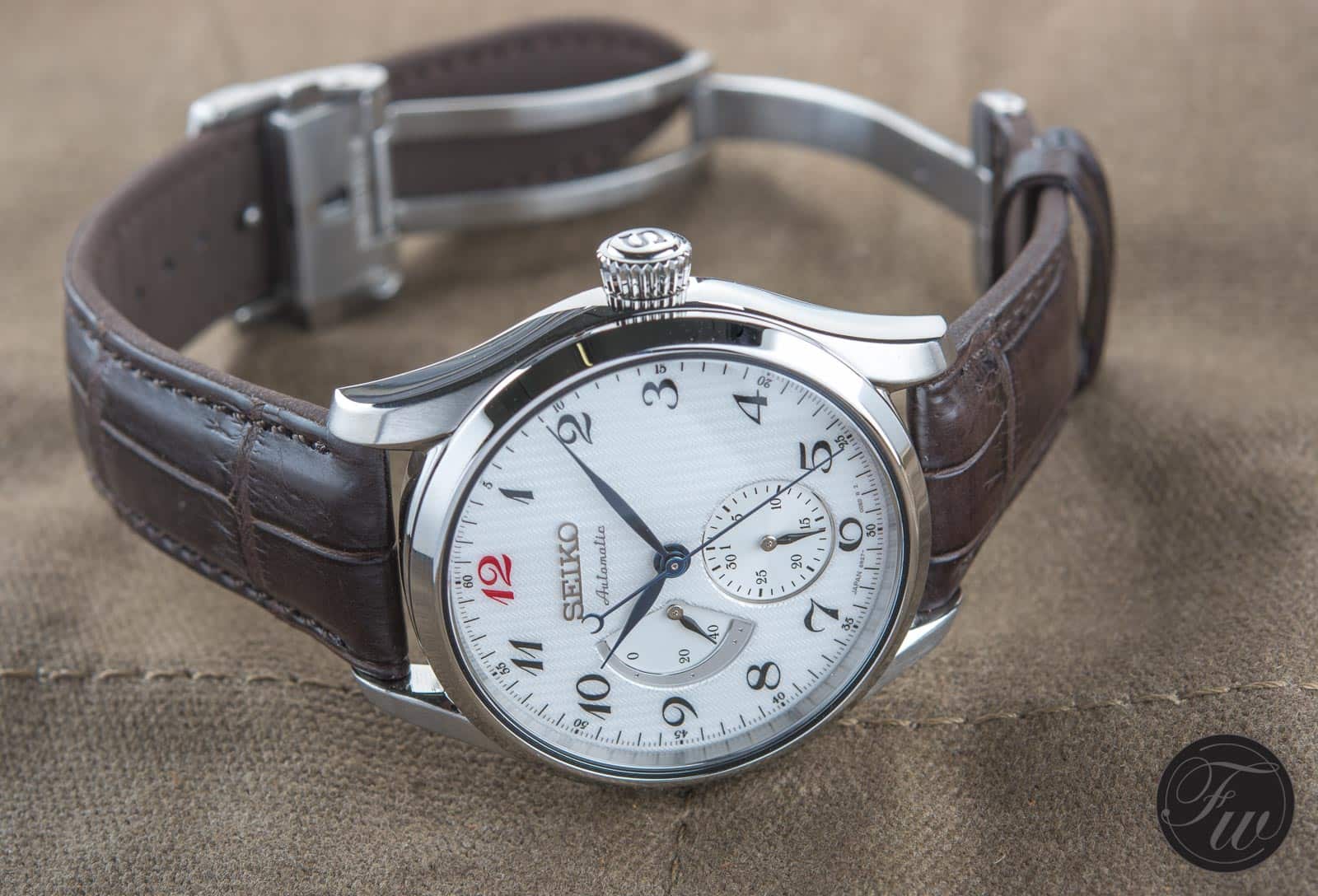 Seiko Presage SPB041J1
I have been buying Seiko watches myself since Michael Stockton is on board of Fratello Watches and fed us with his (vintage) Seiko articles ever since. Ever since the first purchase of a Seiko watch, I am convinced by the quality of these watches. Whether it is a Seiko SKX007, the new SRP777 Turtle, a Marinemaster 300 or even a Grand Seiko, these are all quality watches and offer a great deal of quality in their own price range. Comparing a Seiko SKX007 to a Marinemaster 300 makes little sense, as does comparing a Seiko 5 model to a Grand Seiko. What these watches have in common, is the pride and craftsmanship in each of them, on their own level.
My trip to Japan last year made it very clear to me, that Seiko is serious business. I still come across people from other (Swiss and German) watch brands who turn their nose up for anything Seiko on the dial. That is, with all due respect, plain dumb. It might not always be your taste when it comes to aesthetics, but there is little you can criticize about the quality.
Presage SPB041J
That said, let's have a look at the new Seiko Presage SPB041J1. €895,- is a price that will also buy you some of the Swatch Group brands for example (see this list for some ideas), something micro brand perhaps and almost a Sinn 104. It is a popular price category, for the entry-level mechanical watches as well as some quartz models. The Seiko Presage SPB041J is, at least on paper, a great competitor in this price range. We received a piece from Seiko Netherlands to have a closer look.
Dial and Hands
We also received a couple of JDM (Japan Domestic Models) of the Presage, which we will look at later on. But this model for the world wide market seems a bit more 'rich' regarding the dial and use of color. The white dial has this little motif in it, that gives the watch a nice touch. The Arabic numerals, hands and sub dial are clearly inspired – or even more than that – from the original Seiko Laurel from 1913. The typography, the red 12 and shape of the hands look very similar. However, you can debate whether the average consumer of such a watch realizes this or even knows about the Seiko Laurel. Well, at least now you do.
Power Reserve and Date
On the left side of the center pinion, an aperture is there to indicate the power reserve of the watch. The automatic movement (more later) has 45 hours of power reserve. Where the original Seiko Laurel wristwatch had a sub seconds dial at 6 o'clock, this new Seiko Presage SBP041J1 uses that sub dial for the date. A small hand points it out for you. Kind of awkward is the fact that '1' is at the top instead of '31', which makes '15' positioned a bit to the right of the other side of the circle. However, I've noticed a couple of other watches who also have this lay-out, but more common is to see the '31' at the top.
Case and Crown
Although you could consider this Seiko Presage to be a dress watch, the case is actually quite bulky. The stainless steel case has a 41.5mm diameter and measures 13.1mm in height. Not an exceptionally large watch, but not a small watch either. Some might prefer a dress watch to be a bit thinner at least. The case has an overall polished finish, whereas the top of the lugs have a fine satin finish. The crystal is slightly domed and both the bezel and caseback are relatively 'thick' as well. This makes the watch a bit thick or even bulky, which makes the otherwise classic designed piece a bit sportier.
If you look closely at the crown, you will notice that the shape of it is very similar to that of the 1913 Seiko Laurel watch that is pictured above. The crown is signed with a large S.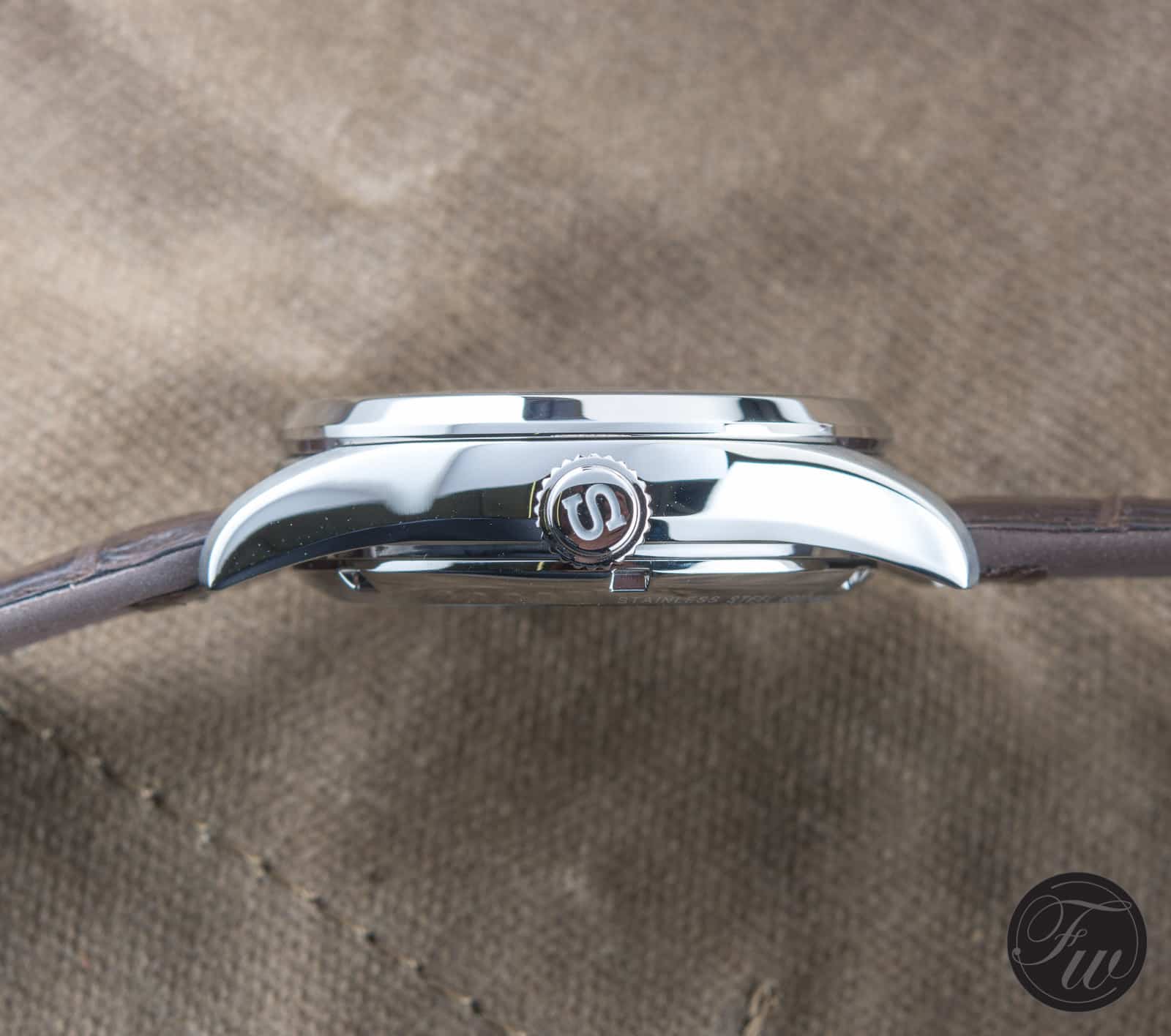 Caliber 6R27 Movement
Through a sapphire crystal in the caseback, you can admire the Seiko caliber 6R27 movement in this Presage SPB041J1. It is a workhorse movement with a nice stripe finish and 'gold' engraving in the rotor. It has 45 hours of power reserve, 29 jewels and ticks at 28,800 vibrations per hour. Even though I am always picky on movements visible through sapphire casebacks, I also believe that in this price range, people will appreciate a mechanical movement they can admire whenever they want. It is not as refined as their Grand Seiko movements of course, but certainly can hold up to some of its Swiss competitors, especially in the same price range.
Strap and buckle
The Seiko Presage SPB041J1 (J stands for made in Japan by the way) comes on a brown alligator strap and a folding buckle. The strap is quite comfortable and soft, where I've seen much stiffer straps (even from brands at least 10x as expensive) that took ages to finally wear decently. The strap is very long though, and I have relatively big wrists. I hope that Seiko also offers shorts straps for these watches. When closing the buckle, you are inclined to push on the part that says 'Seiko' until you hear a firm click. But you will notice that the click doesn't come if you push there. You actually have to push on the leather, just about where the release buttons are located, as that's where the little pin fits the hole in the clasp. Just a tip.
On the Wrist and Some Thoughts
Although I might seem to be a bit critical some times in this review, I do like this watch. A lot. Not sure if it fits me personally, as the only dress watches I own are vintage ones (so much smaller and thinner) and I usually wear chronographs or even diving watches. However, with a nice dress shirt or long sleeves, I could see myself wearing the Seiko Presage SPB041J during certain occasions.
The finish of the watch is everything you should be expecting from a watch in this price range. Good finish, interesting dial, great design and quality strap. Sure, other brands offer this as well in this sub 1000 Euro category, but I dare to say that I would easily put this Presage SPB041J1 next to a Swiss made watch that will cost 50% more and you won't convince me of better quality. Seiko watches have the habit of being a lot of value for the money, even when talking about a 2000 Euro Marinemaster or 4000 Euro Grand Seiko.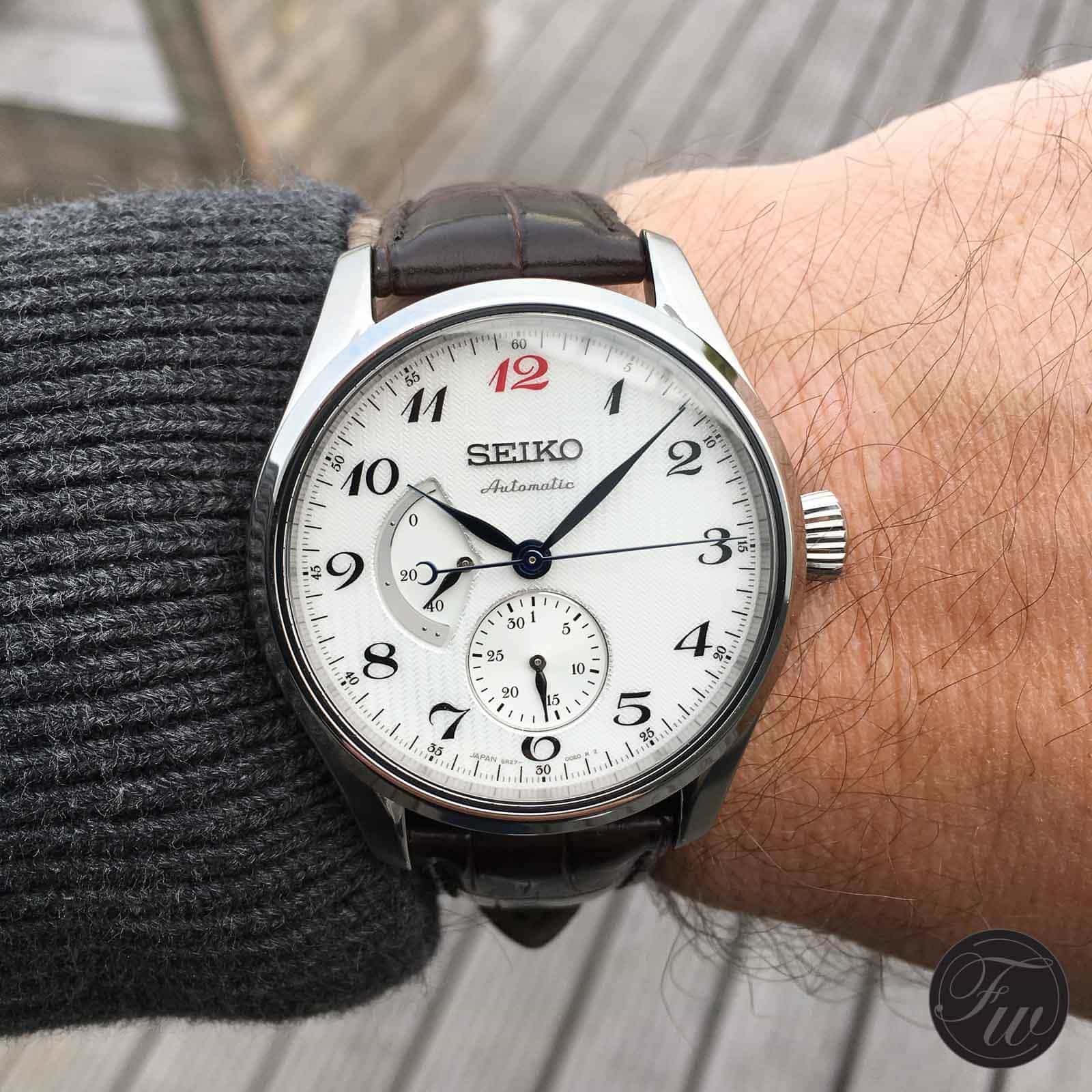 For Who Is This Watch?
The question that always rises, is for who is this Seiko Presage SPB041J1? A list price of €895,- is, at least here in Europe, considered to be quite a bit of money for a Seiko watch. People tend to look at brands like Certina, Tissot or Longines for this kind of money. Perhaps not intentional, as I believe it is also lack of awareness for Seiko watches in this price range. However, once you can get yourself over the idea of buying something Made in Japan instead of Swiss (or German) Made when it comes to mechanical watches, it is quite easy to get convinced of the quality this watch has to offer.
I believe that if you are self-confident enough as a watch enthusiast, and looking for a mechanical watch under 1000 Euro that is simply a good watch and perhaps even a talking-piece, the Seiko Presage SPB041J1 I have here in front of me is a great choice.
More information via the Seiko Presage website.
*Update:
Like some of you, we noted that the edges around the sub dials are slightly damaged. With the naked eye, we can't see this, only with the macro shots we took or with a loupe. The matter is currently under investigation with Seiko.