The MB&F Legacy Machine Perpetual EVO Has Landed!
An MB&F classic takes the next step in its evolution...
Max Büsser is at it again. Announcing the LM Perpetual EVO, the famous inventor extraordinaire has taken the next step with the Legacy Machine family's evolution. However, this time, there's a bit of a "twist", and it's more than just a simple upgrade…
Most of us are already aware of the award-winning Legacy Machine Perpetual. Well, meet its long-lost sibling. The eagle-eyed readers among us may notice the new suffix "EVO". According to MB&F, it represents a lot more than just a new name — it identifies a significant evolution of the MB&F story.
The brand wants YOU to become the navigator…
For the past 15 years, MB&F has invited its fans and collectors to follow the brand in its horological explorations through the Legacy Machines — through science fiction sagas, dreams of supercars, and encounters with jellyfish. With the LM Perpetual EVO, MB&F is switching things up and turning the tables. The brand wants YOU to become the navigator of this new adventure.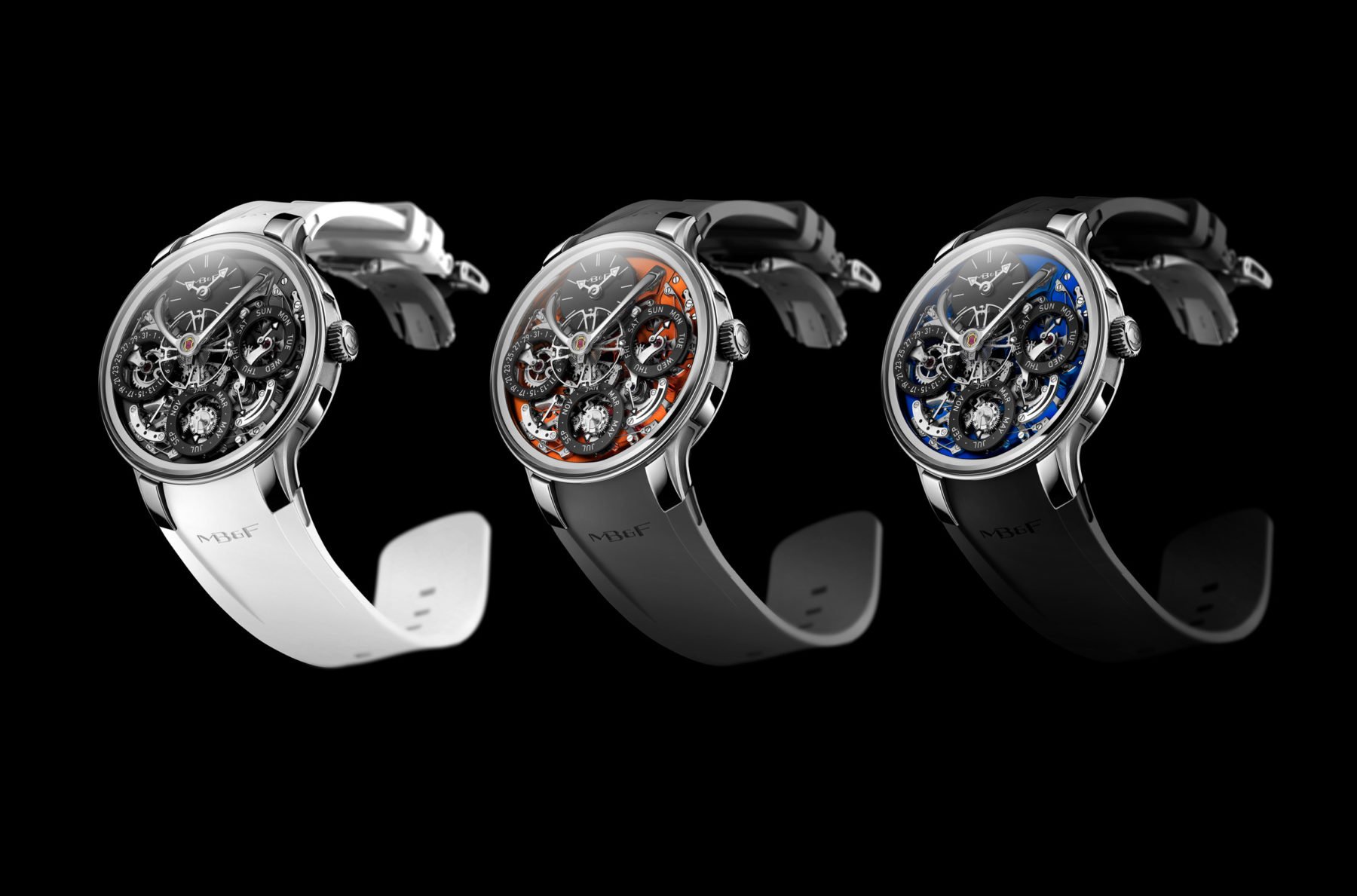 Perpetual evolution
There are some notable tweaks from the previous perpetual calendar. For those of you that thought that Stephen McDonnell's creation was close to perfection, fear not. The general aesthetic remains, but what we have here is a darker, more brooding alternative. But, as we've come to expect, it is just as attractive as its forerunner.
MB&F is known for making very photogenic watches —  the design team is kind and thoughtful like that. First of all, the case has been redesigned to sit lower on the wrist, reducing the overall height. It's made from high-performance zirconium and combines a pair of subtle, double-sprung pushers, along with a sporty, integrated rubber strap.
…the splashes of color are a nice touch…
The rubber strap is a real departure for the brand, which has traditionally eschewed the sporty type of rubber straps, as seen here on the LM Perpetual EVO. Personally, I think they look great, and the splashes of color are a nice touch too. I could see the white strap fitting very nicely indeed upon my own wrist. If anyone wants to make that a reality and gift me the white-strapped version, hit me up!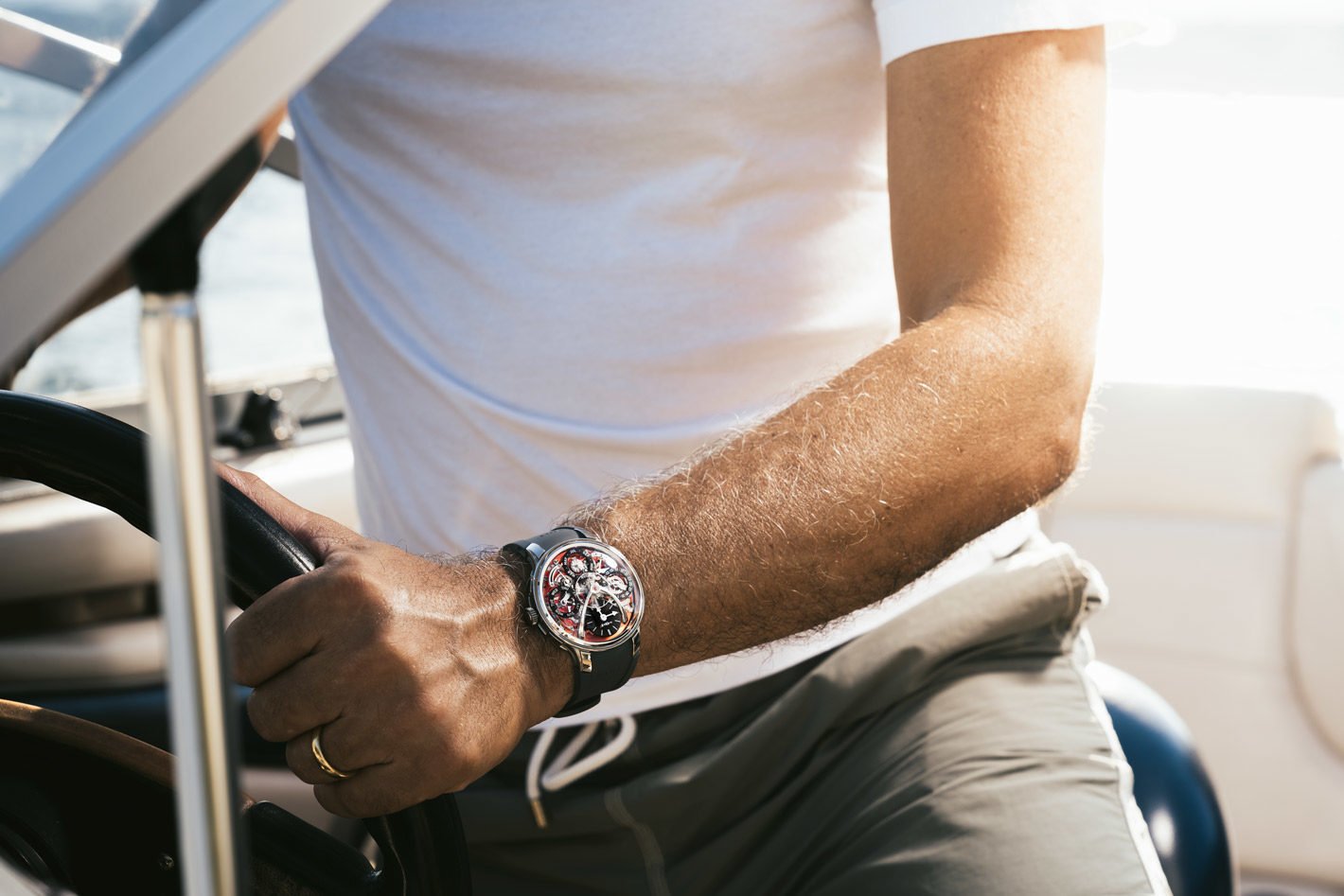 Classicism makes way for modernism
Overall, this amounts to what looks like a very slick and modern wearing experience. While MB&F's previous Legacy Machines have always maintained an air of classicism in their design (see our coverage here), the LM Perpetual EVO pulls no punches in portraying itself as a very modern timepiece. Gone are the Roman numerals on the dial. Replacing them are simple line markers. Both the dial and the subdials have also been given the "dark-mode" treatment, and it drastically enhances the appeal (to my eyes, at least). Even the font has subtly changed to lend a more modern vibe.
MB&F describes the LM Perpetual EVO as its "most robust timepiece yet". To help back-up this claim, the perpetual calendar movement is housed in a specially developed "FlexRing" shock-absorbing system, protecting it from the potential knocks and bangs that an active lifestyle might naturally incur. To further push its modern lifestyle image, and for the first time in any creation from MB&F, the LM Perpetual EVO is water-resistant to 80 meters thanks to a rather fetching screw-down crown.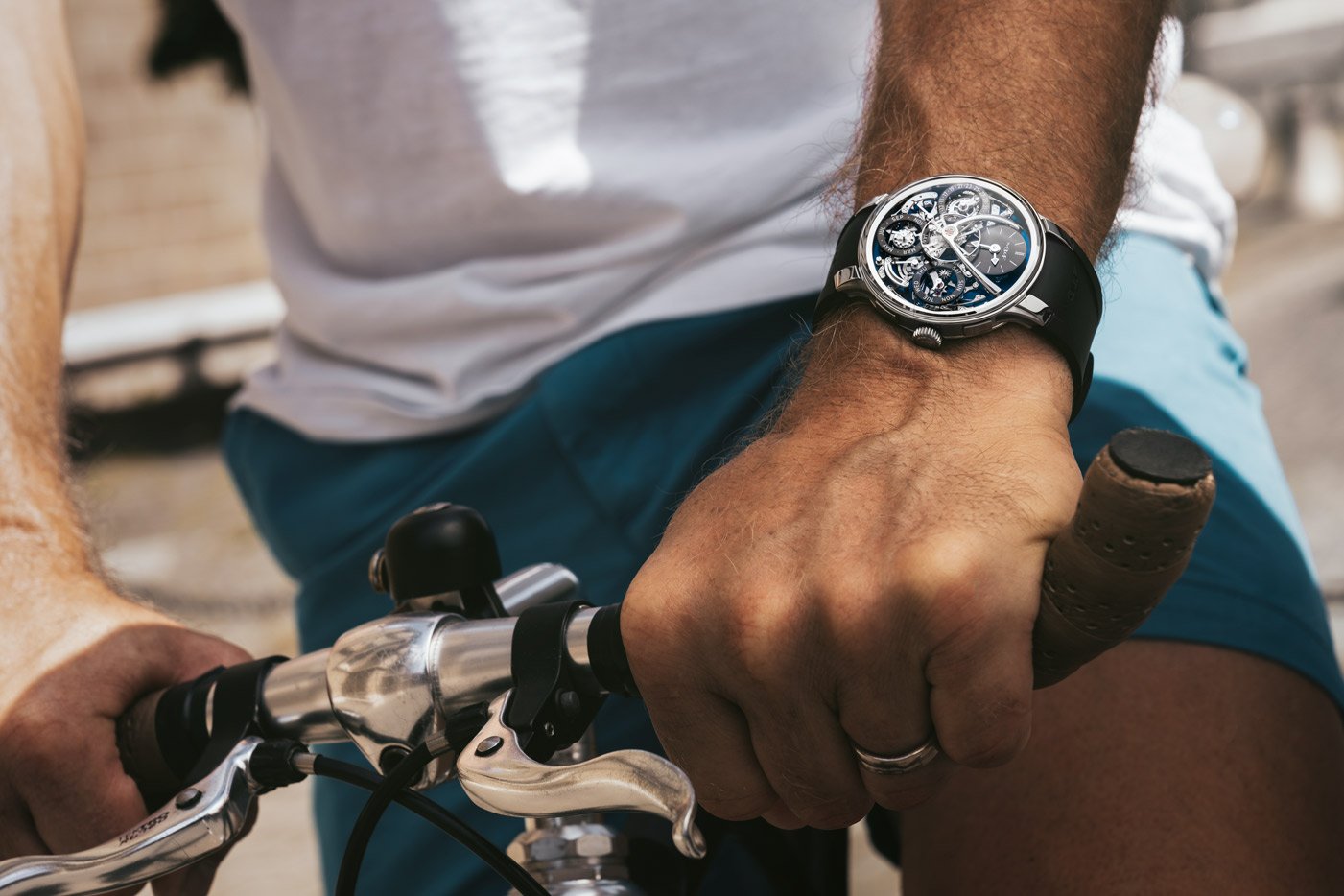 A watch for a perpetual life
In design, in technique, and in spirit, the LM Perpetual EVO marks an evolution at MB&F. This is not just a watch for sports or a watch for the outdoors; it is a watch for life. When I think of a perpetual calendar watch, I think of a dress watch designed for occasional wear. MB&F wants to break this thought pattern and does so almost effortlessly while maintaining its intrinsic style and DNA.
…the LM Perpetual EVO oozes cool.
The LM Perpetual EVO is a strictly limited edition release. Each of the colors is limited to just 15 pieces of each — referencing the brand's 15th-anniversary celebrations. The retail price is CHF 152,000+VAT (USD 167,000/EUR 142,000+taxes). If you're interested, then don't hang about. As with most of MB&F's work, these are almost certainly destined to sell out very quickly, snapped up by the brand's fervent and loyal collectors. I can see why though — the LM Perpetual EVO oozes cool. Learn more about MB&F here.