The Méraud Antigua Chronograph — Combining An All-New Watch With A New Old Stock Landeron 248 Movement
And launching today in a limited run of 200 pieces
What can you do these days to stand out from all the other vintage-inspired watch brands out there? Well, first of all, you can develop a watch with a design that's 100% spot on. Then you can fit it with an actual vintage movement instead of one of the movements that everybody else uses. That's easier said than done, of course, but it's exactly what Stijn Busschaert from the Belgian coast has done for the Méraud Antigua Chronograph that he's introducing today. The watch is a maritime racing chronograph with a great summer vibe and a Landeron 248 movement, both taken straight from the '60s.
Watch collector and enthusiast Stijn Busschaert started the Méraud brand in 2018 when he launched his Bonaire dive watch on Kickstarter. The Bonaire was mainly inspired by the first designs of the Blancpain Bathyscaphe. In my opinion, it looked great, and it had a Swiss STP1-11 movement, applied indices, and a sapphire bezel insert to mimic the old Bakelite ones. It was a great package that could be had for only €635 for the early birds. I remember it was very popular among enthusiasts. I also looked at the Bonaire as my very first dive watch. But for a few years, it has been awfully quiet around the brand, so I'm very happy that I can tell you everything about the all-new — or rather, semi-new — Méraud Antigua.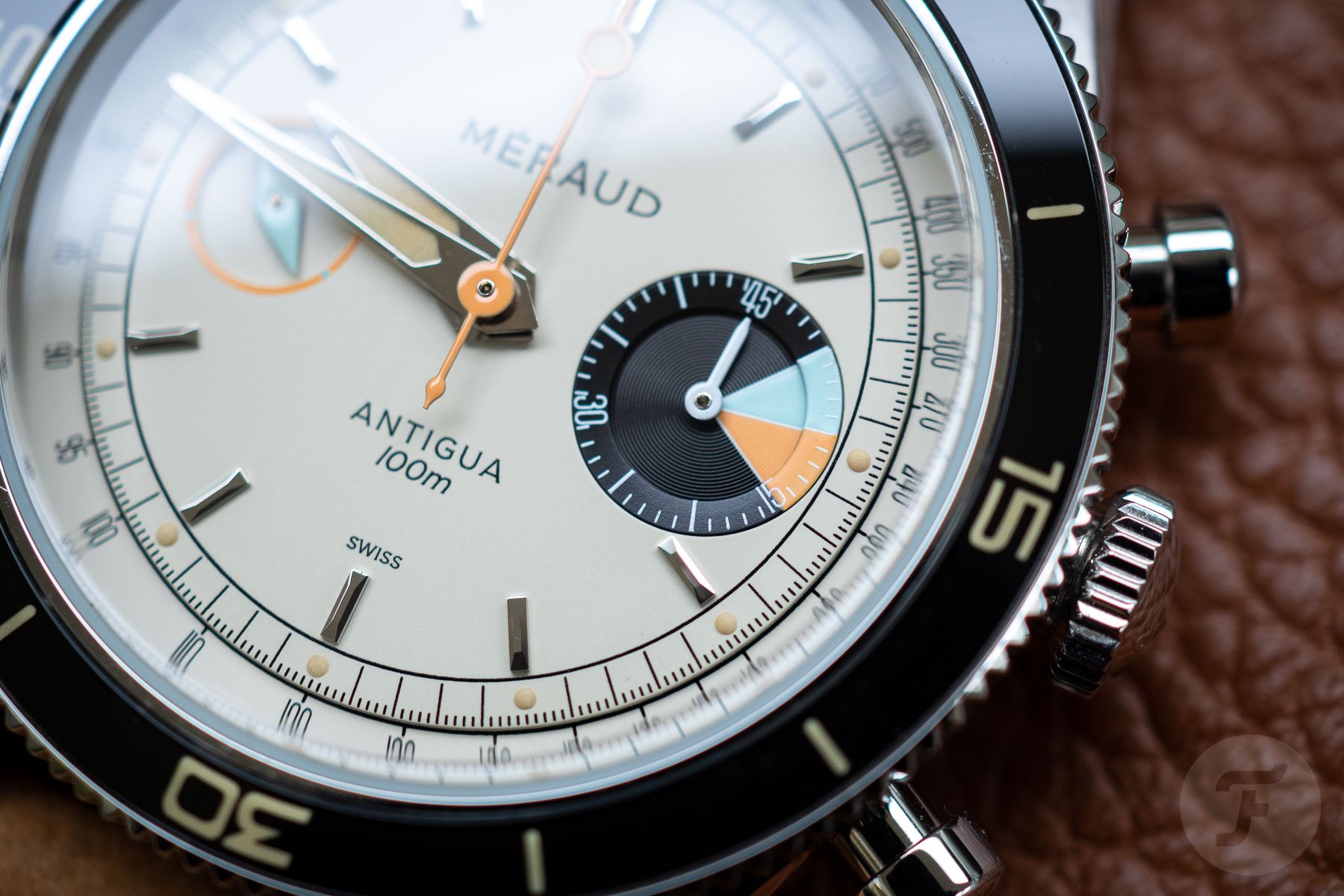 Worth the wait
At one point, the only thing that Méraud was still selling was Tropic-style straps. People liked them because they were a tad shorter than the ones other shops were selling. Every once in a while, there would also be an update saying that the brand's founder was working on a new project, so last year, I decided to send Stijn a message and ask how things were going. And that's when he told me he was getting ready to launch his second watch. He came over to the Fratello office and brought the black/cream prototypes of the Antigua with him. One after another, we all quickly fell in love with what Stijn had thoughtfully created. Let me break down to you why exactly.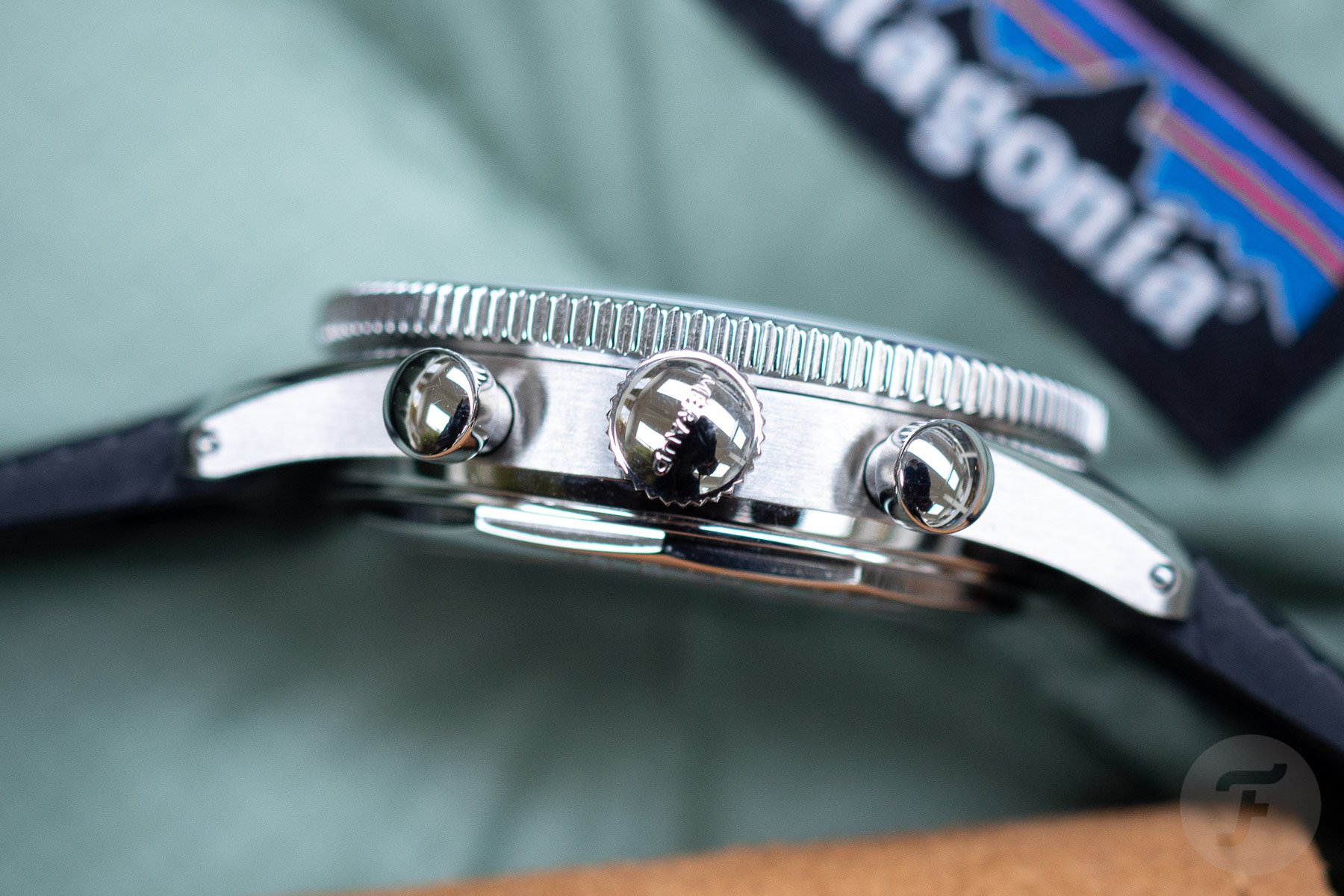 First of all, let's go over the case design. You can clearly recognize that it descended from the Bonaire's. The elegantly brushed lugs with polished chamfers are still there, as are the practical and toolish lug holes. The case measures 39mm in diameter, 48.6mm from lug to lug, and including the box-sapphire crystal, it's 13.5mm thick. That's 1mm thicker than the case of the Bonaire, but it actually looks and feels slimmer because of a leaner mid-case design. It really seems like Stijn has learned valuable lessons from his first release and has tried to work them all into the Antigua's design. The 40mm bezel also still looks a lot like the one on the Bonaire. But he got rid of the domed design for the sapphire insert because it made the insert more prone to bump into something and break.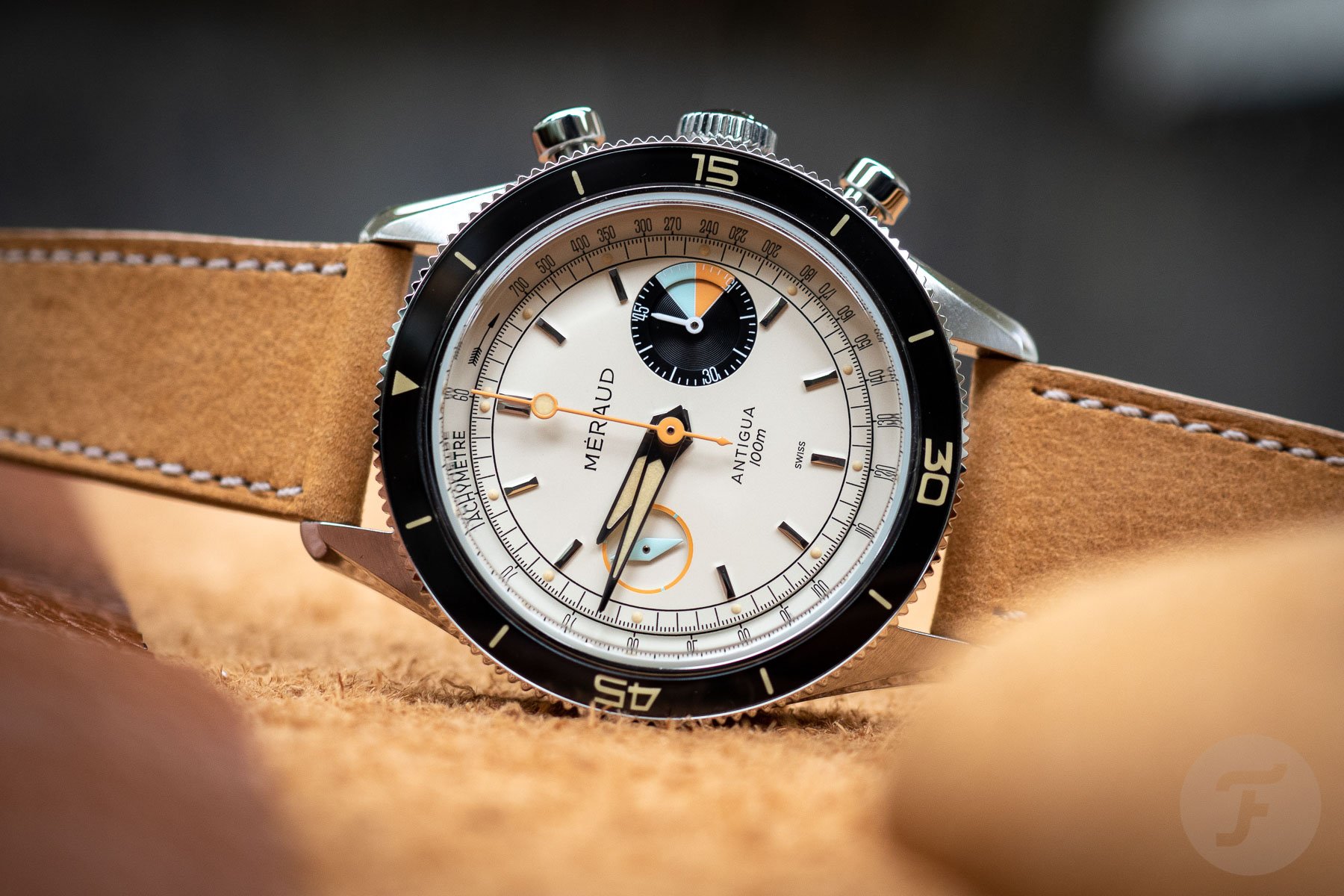 Caribbean vibes
The black bezel insert contains the same old-radium-colored Super-LumiNova that we find on both dial executions. Yes, it tries to mimic the discoloration of the tritium dials from years past, but it certainly doesn't overdo it. Besides, it blends in so well with the rest of the Antigua's (dial) design. By the way, that design and the model's name have been derived from the Antigua Classic Yacht Regatta, which takes place in the Caribbean each year. The pastel orange and blue accents on both versions of the Antigua really ooze that summer-breeze feeling you associate with a day at a Caribbean beach. The watch is also water resistant to 100 meters, so you can actually bring this one with you on your next regatta.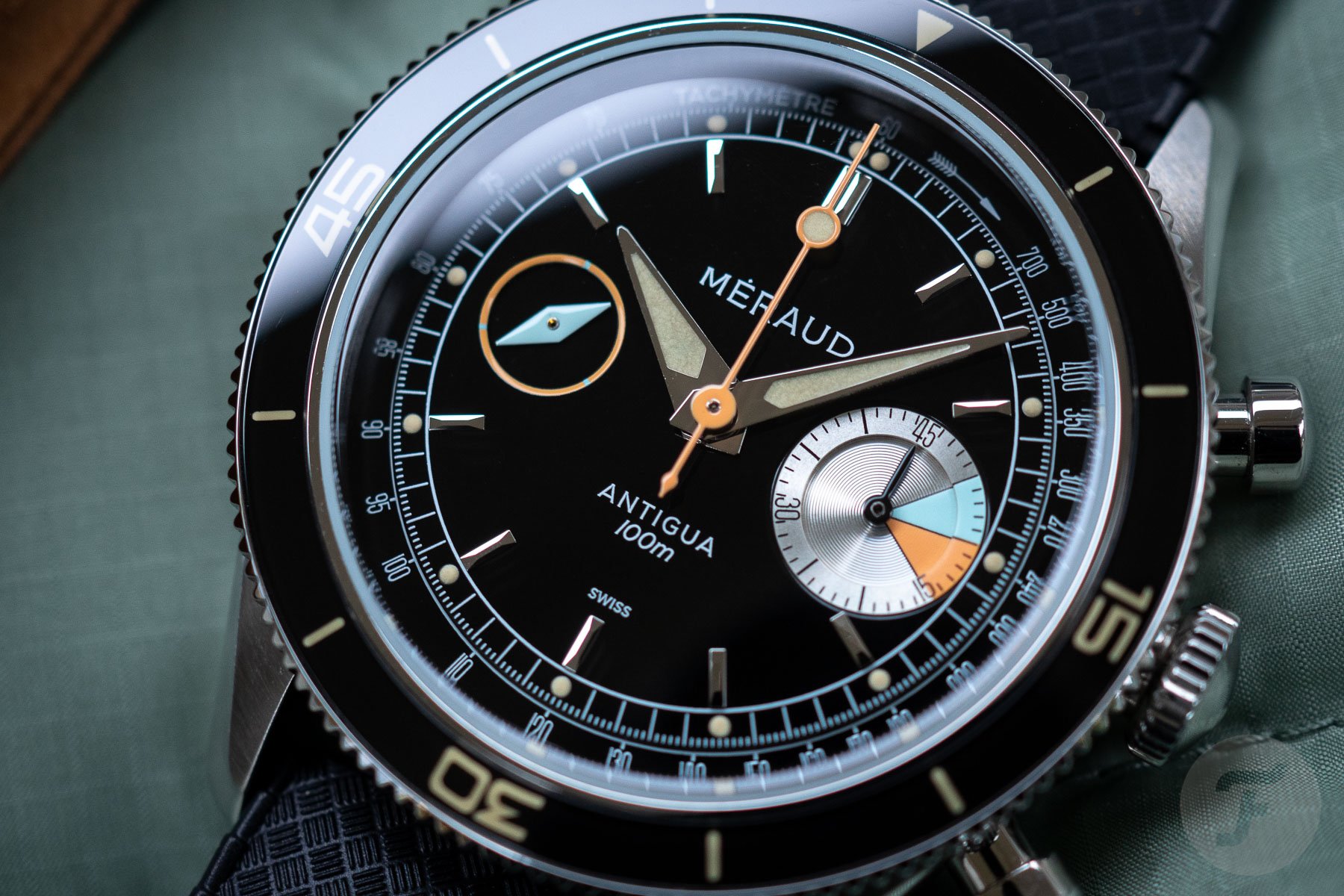 You can choose between either a glossy black or a matte cream dial. Both versions share the same layout of a maritime racing chronograph with compass-style sub-seconds at 9 o'clock and a 45-minute recorder at 3 o'clock. The Antigua has a sandwich dial, which creates a great sense of depth, both at the sub-dials and at the edge of the minute track. And because the tachymeter scale on the outer ring is also right underneath the curve of the sapphire crystal, it seems to be even further away from you than it actually is. Together with the small but refined applied indices, the dial is very entertaining to look at. And although you can clearly see the resemblance with many other chronographs from the '60s, the Antigua still has its own identity with those orange and blue accents.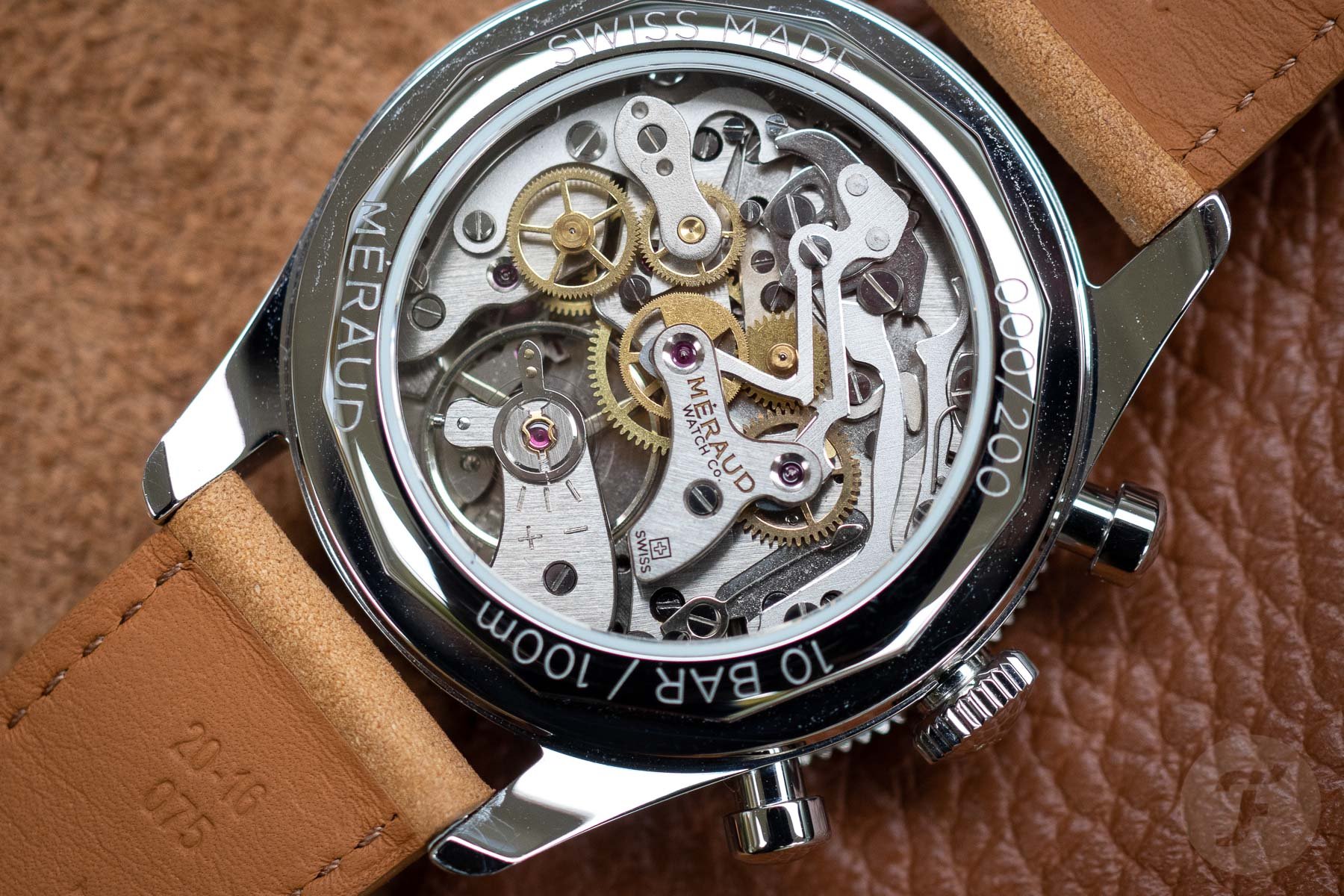 NOS Landeron 248 movement
The Landeron movement, on the other hand, is taken straight out of one of those earlier chronographs. Well, figuratively speaking, because Stijn assured us that the movements he sourced are new old stock and that they have been completely revamped. He even made sure that the Méraud brand name is proudly engraved on one of the bridges. The hand-wound Landeron 248 was originally produced from 1937 until 1970 and was used in watches from brands like Heuer-Leonidas, Nivada Grenchen, and Wittnauer. It's a cam-actuated chronograph, which means that the pushers feel a bit more clicky than those on a column-wheel chronograph movement. It has a power reserve of 41 hours and runs at 18,000vph.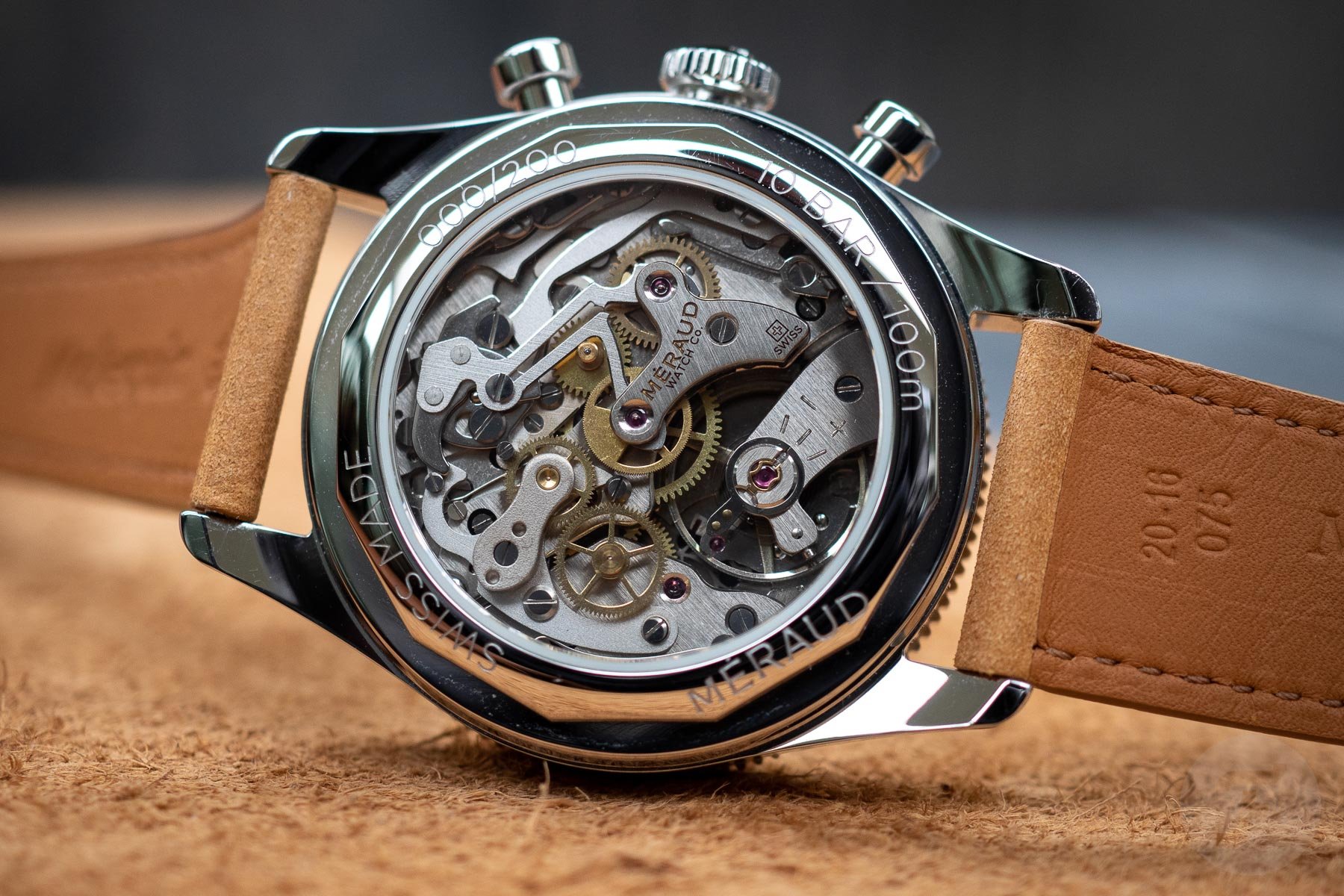 You use the pusher at 2 o'clock to start the chronograph and the one at 4 o'clock to stop and reset it. It feels great to interact with such a tactile movement. And what's even better is that you can see exactly what happens through the sapphire window on the case back. Operating it might not feel as refined as my Speedmaster's brand-new Co-Axial 3861 column-wheel movement, but it works. And I'm sure it's also easier and probably cheaper to service when the time comes. On top of that, I feel the use of a vintage NOS movement fits so well with the concept of a vintage-inspired chronograph, especially because a chronograph offers you the opportunity to interact with it.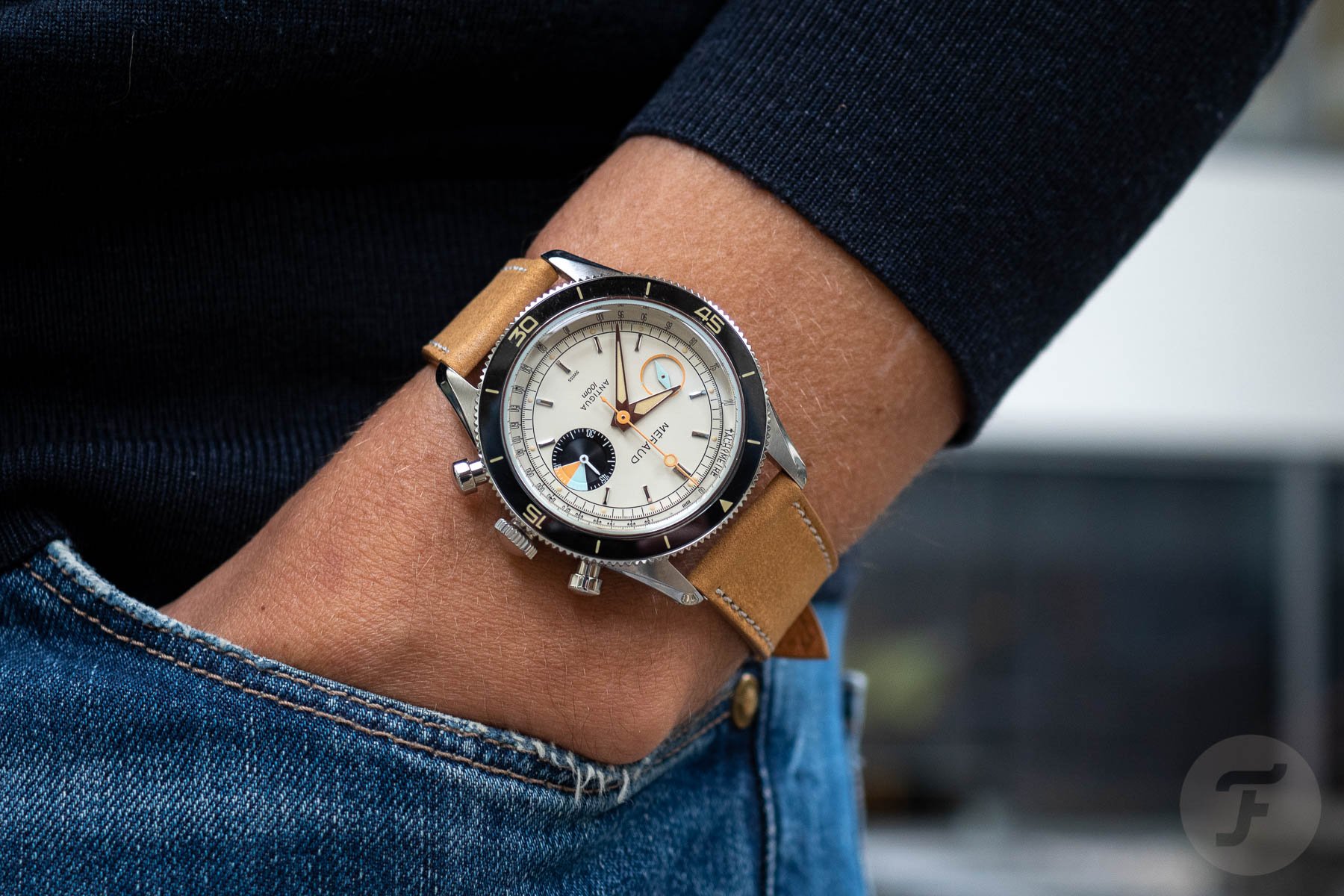 The Antigua on the wrist
Wearing the Antigua on the wrist instantly put me in a summery mood. This was especially true for my favorite of the two, the matte cream-colored version. The 39mm case wears very nicely on my 17cm (6.7″) wrist, and the polished chamfers on the lugs make them look a little shorter than they actually are. The bezel action is very clicky and very sturdy, making the Antigua feel like a well-built machine. All in all, I feel that Stijn has created another very appealing package here. And when you look at what you get, he's able to offer it, yet again, at quite an affordable price point.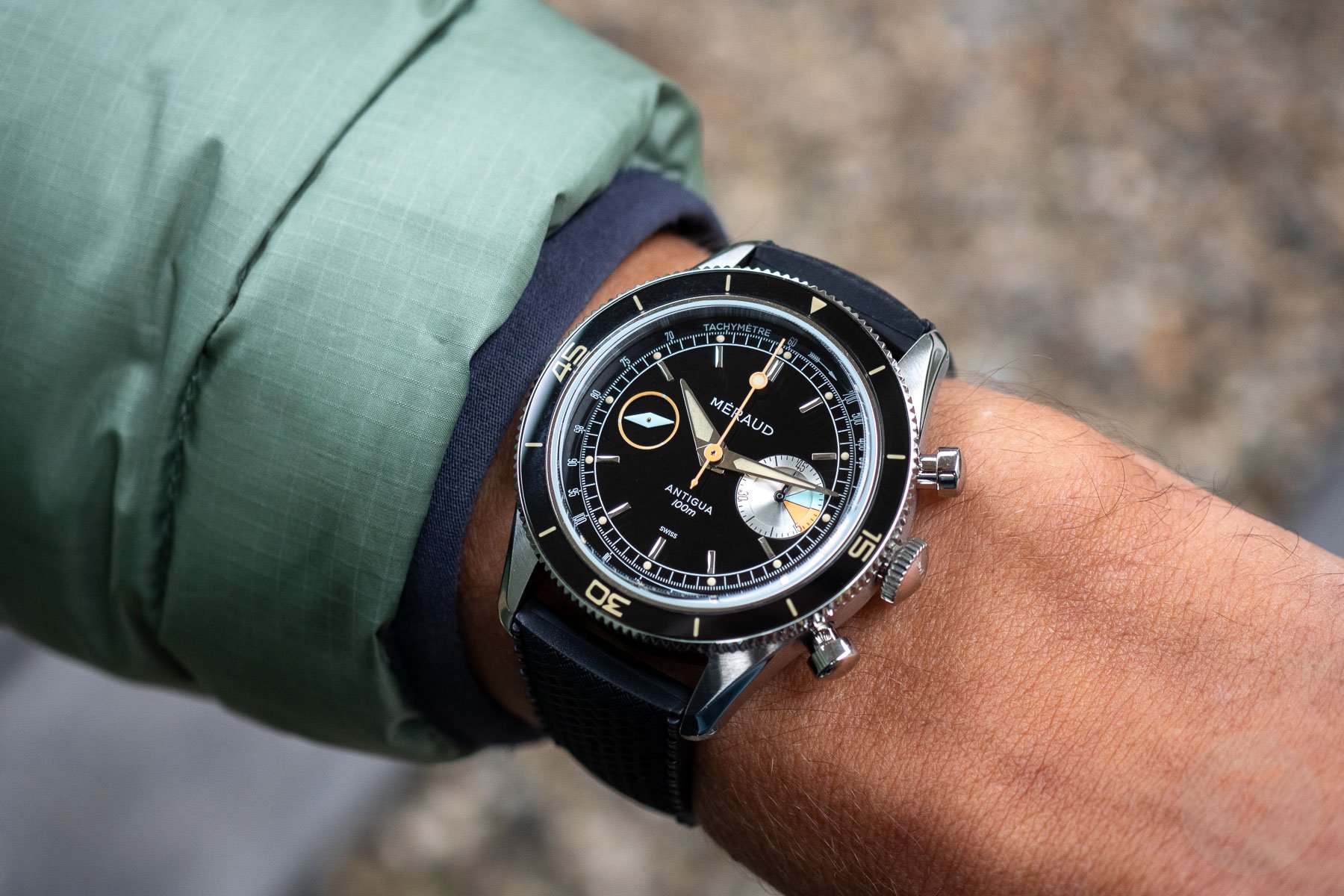 I'm really sorry if I'm painting you an overly pretty picture of the Méraud Antigua for its introduction. I guess I just can't hide my excitement. Then again, it's not often that a brand comes out with a great-looking watch with a legit NOS movement, right? And of course, you can argue about whether you like its looks or not. In the end, that's a very subjective matter. But I feel you can't argue about the fact that Stijn has put a lot of attention into the details and it shows in the end product.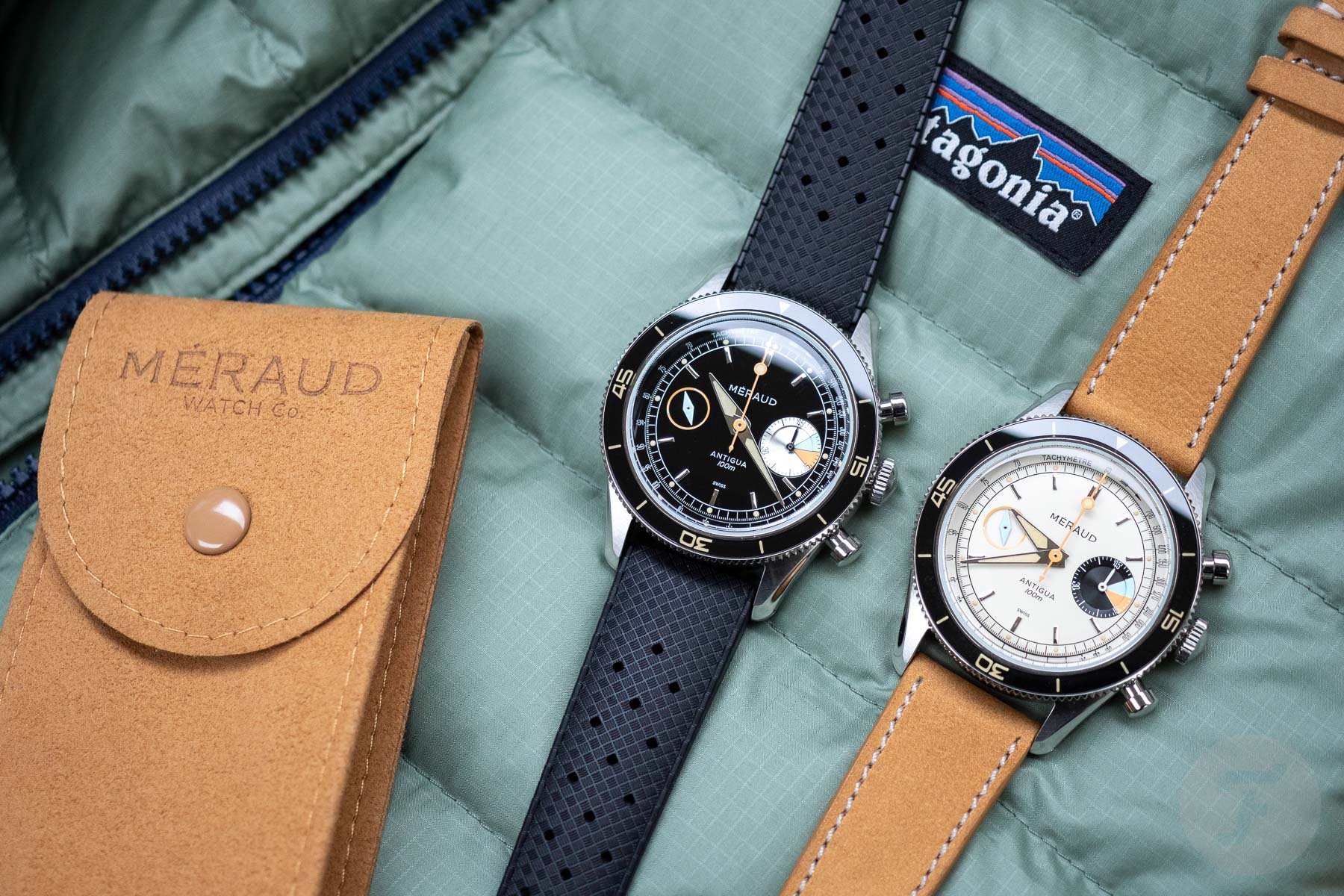 Launching today at 16:00 CET
The Méraud Antigua will launch today, Tuesday, February 7th at 16:00 CET for €1,750 excluding VAT. It'll be sold through the official Méraud website only. Delivery is planned for September this year. The one downside of using older movements, though, is that stock is limited, of course. In the case of the Antigua, only 200 pieces will be available — 100 in black and 100 in cream. So if you're just as excited as I am, make sure to be quick.
The watches come on a nubuck leather strap from one of Belgium's top strap makers, Molequin. In addition, you also get one of Méraud's Tropic-style straps to accentuate the Antigua's nautical character. A riveted stainless steel bracelet, like the one from the Bonaire, will also be available for €125 excluding VAT.
What do you think of the Méraud Antigua, and which version is your favorite? Let us know in the comments below.
You can also find and follow me on Instagram: @fliptheparrot