The Most Collectible Watch Brands By Country — Chrono24 Watch Collection Report Insights
According to data from 1.3 million users
Chrono24, the largest worldwide marketplace for luxury watches, launched a Watch Collection tool back in 2017. It allows you to keep track of your collection and gives you an indication of the current market value of your watches. Thus far, over 1.3 million watch enthusiasts have added their watches to the Watch Collection tool, resulting in a total of 3.7 million watches with a value of €46.6 billion. But wait, there's more.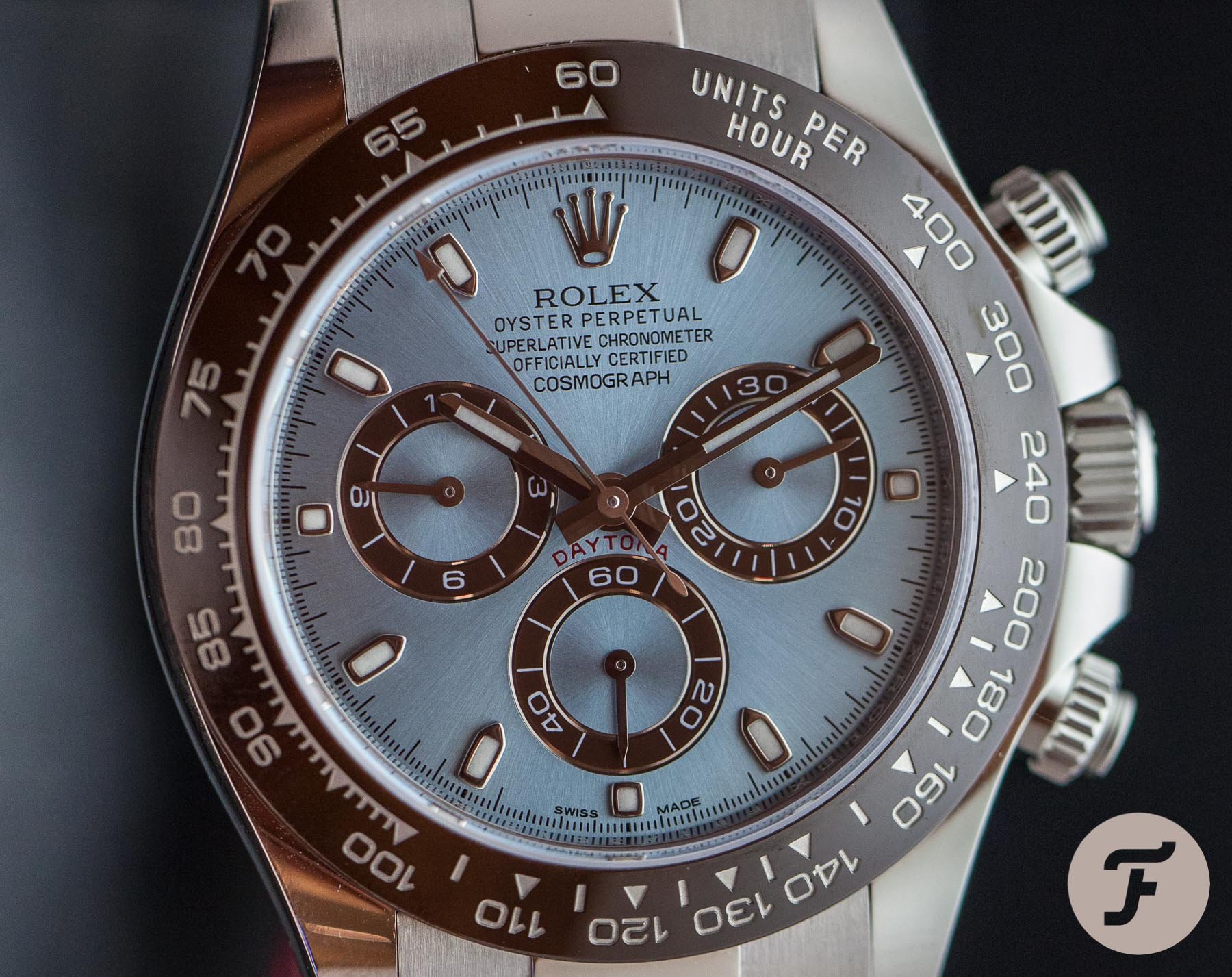 Watch Collection tool — for investors or collectors?
In the last few years, we've seen a huge demand for Rolex, Patek Philippe, Audemars Piguet, and so on, to a point that it became less fun collecting watches from those brands. Not for everyone, of course, especially those who already had their "trophy" watches before they reached that status. According to Chrono24's Watch Collection tool data, users of this tool saw an increase of 31% from the purchase date to the present day. It also shows that there was a decline in demand in 2022. We all know that and witnessed the declining prices on certain watches, but Chrono24's Watch Collection tool can put a number on it. Apparently, users on Chrono24 saw a 5.3% decrease in the value of their watches compared to the previous year. But still, in the end, it's an average of 31% in growth.
In the table below, you can find the average number of watches in watch collections by country, the growth/decline of value, and the median collection value.  You can see that Malaysians have the most watches on average in their watch collection and that those in Hong Kong have the most expensive collections.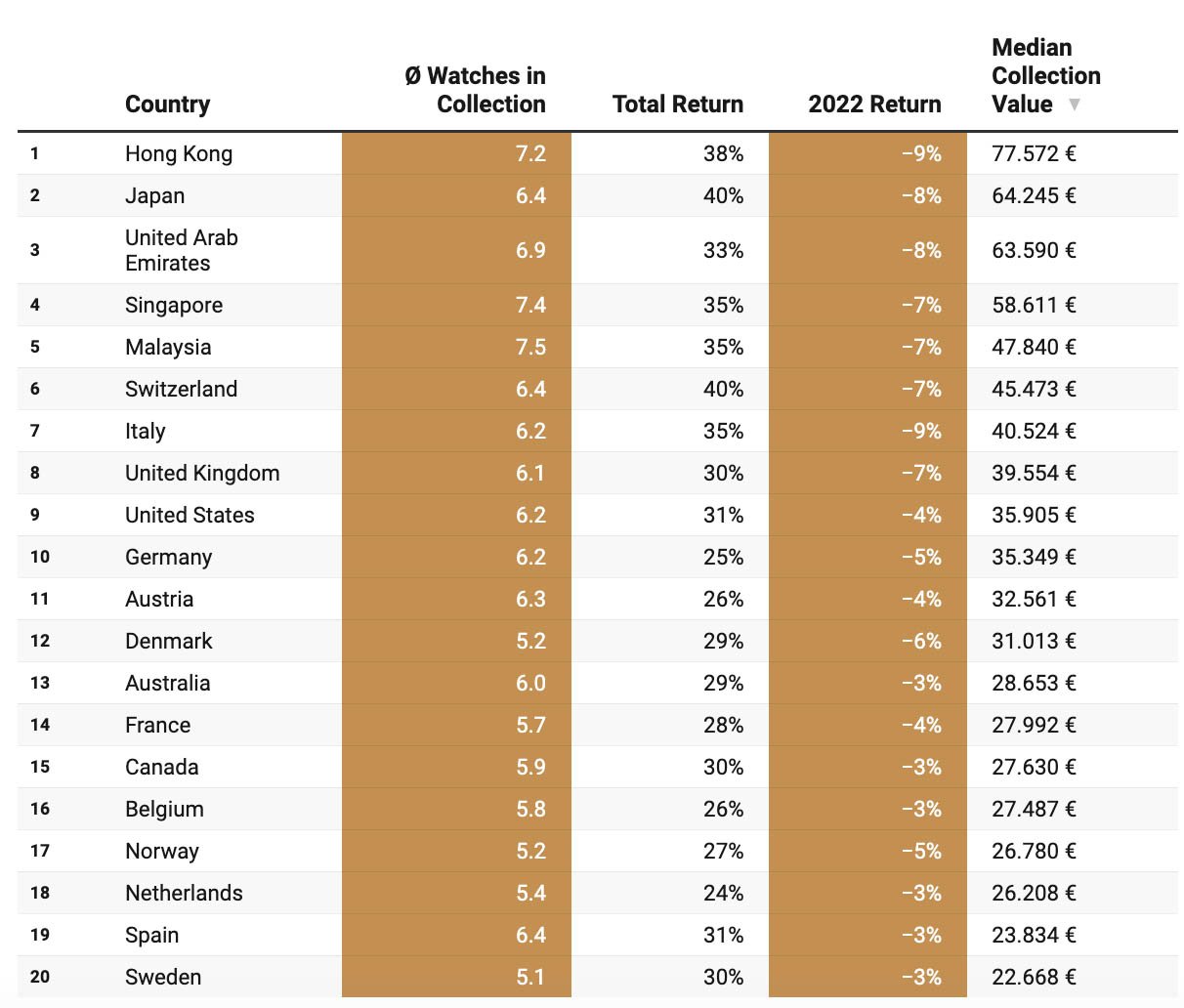 You can look up any country and see some numbers for that specific place. For example, looking up my own home country (the Netherlands), users of the Watch Collection tool have 5.4 watches on average and saw a 24% increase since the date of purchase and a -3% return in 2022.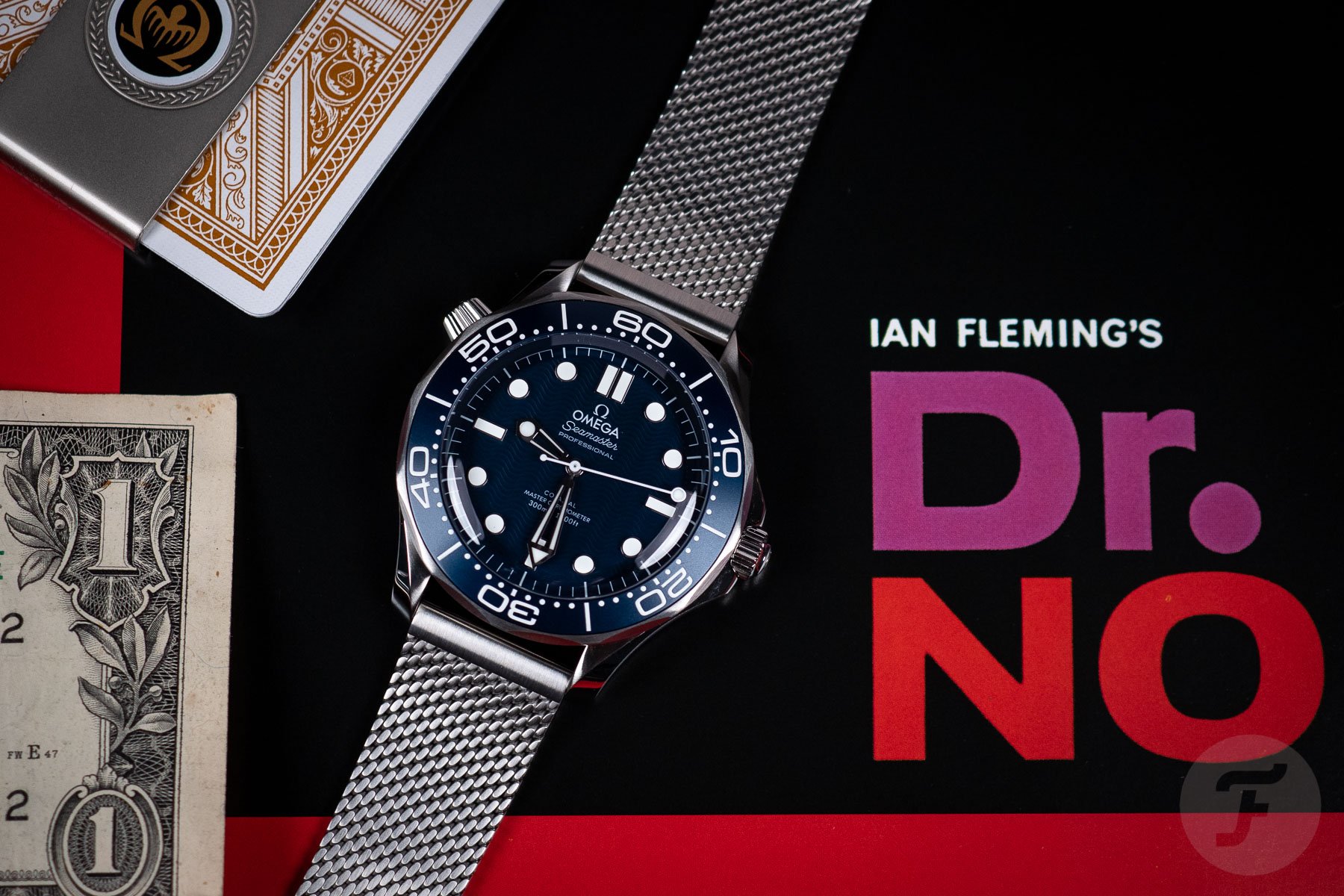 Brand share of watches per country
The data below is even more interesting to me since it shows what kind of brands people have in their watch collections. Chrono24 pre-selected Rolex, Omega, Tudor, Seiko, Patek Philippe, Breitling, TAG Heuer, Audemars Piguet, IWC, Vacheron Constantin, Cartier, and Grand Seiko. As you can see below, for users of the Watch Collection tool in the USA, Rolex takes the first position with no less than 33.9%. It's no surprise that Rolex takes an incredibly high position in collections. Omega takes a second spot in the listed countries, where it performs especially strongly in Scandinavia.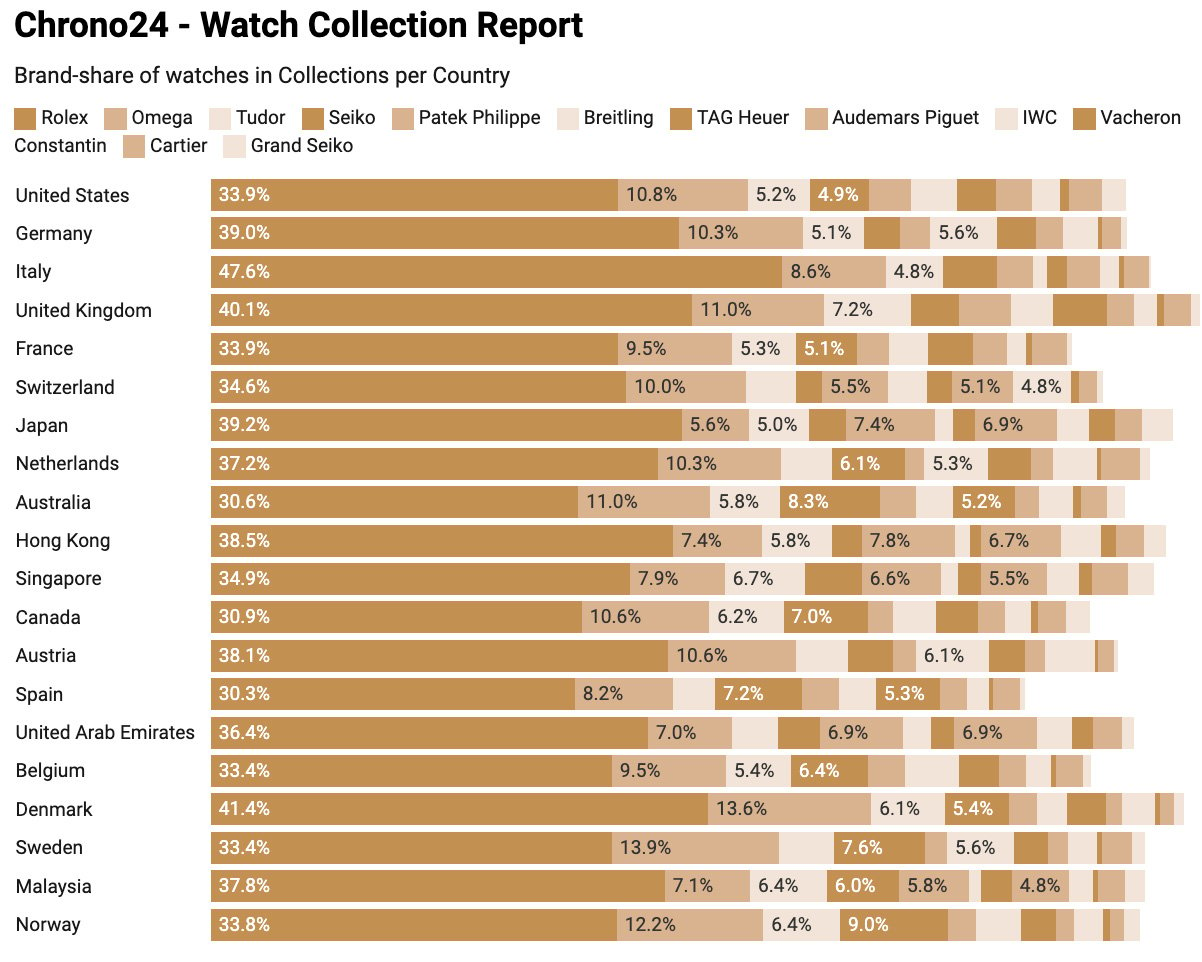 You can see that Breitling performs incredibly well in Germany and the Netherlands. And what about Patek Philippe with a whopping 7.8% in Hong Kong?
As I said in the introduction of this article, the total value of all watch collections tracked within Chrono24 is more than €46.6 billion. LuxeConsult, a consultancy firm for the watch industry, led by Oliver R. Müller, indicates that €46.6 billion makes up approximately 7% of the estimated €700 billion value of all watches in global circulation.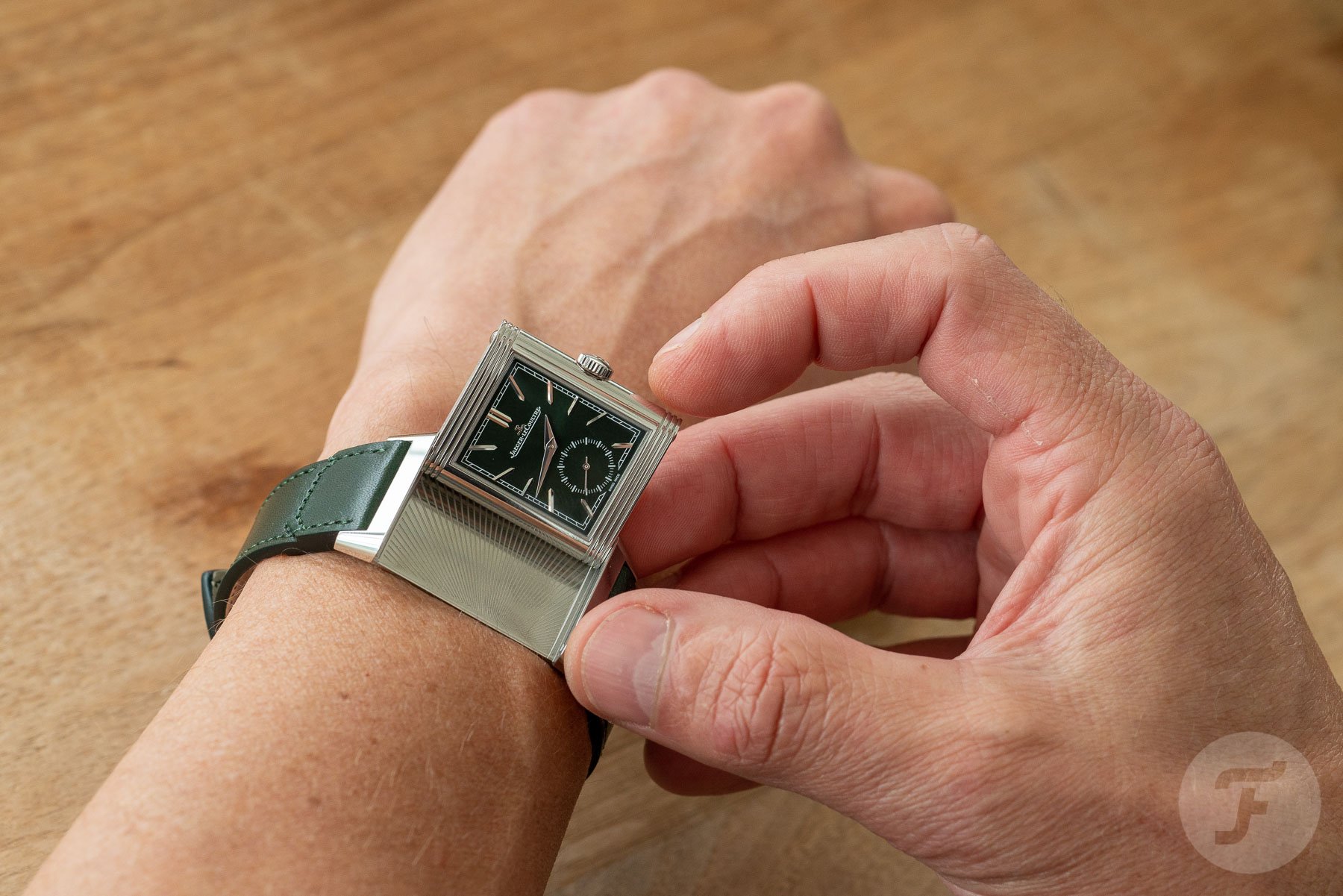 Buy with your heart
I strongly advocate buying what you like and not looking too much at the resale value. As I joked a while ago in the comments, if the resale value is of importance to you, it means you can't afford to own the watch. That might sound harsh, but I genuinely think you should focus on owning the things (watches) you love, all within your budget, of course. You should enjoy a (luxury) watch because that's what it was developed and made for, not as some investment object. On the other hand, it's the market that determines the price and demand. It does bring a feeling of satisfaction to know you did well in buying a certain watch. It's a double-edged sword in the world of collecting watches. However, knowing that a watch increased tremendously in value never increased my pleasure in wearing it. It perhaps even had the opposite effect.
Is resale value of importance to you when you buy a watch? Do you benefit from the crazy demand for certain "trophy watches" by focusing on those that are not? Let us know in the comments.
*All data comes from Chrono24, which used an anonymized metadata set to develop the charts above.