The New Mido Baroncelli, Mido Multifort Patrimony And Mido Ocean Star Watches
Quick preview of the 2021 Mido novelties
We scheduled a one-on-one meeting with Mido CEO Franz Linder to take a look at the fresh additions to the favorite Mido product lines. Would you choose the classy Mido Baroncelli, the vintage-inspired chronograph Mido Multifort Patrimony, the unusual khaki version of the Mido Ocean Star Tribute, or the Ocean Star 200C, the first-ever Mido watch with a green dial and ceramic bezel?
Taking advantage of the Swatch Group's R&D resources and the Powermatic 80 movement, Mido offers quite novel, precise, and reliable mechanical watches at an attractive price. With an average price of around €1,000 Mido positions itself between Tissot and Longines within the Swatch Group. The other two sell many more watches than Mido, whose primary market operations are in Latin America and Asia. "Japan shows a lot of potentials," says Franz Linder.
Taking Mido seriously
Judging purely on the media attention, for European customers, Mido is still a slightly undiscovered brand. Yet Mido has a rich history and a lot of future potentials. Proof? The Mido Commander Big-Date shows some out-of-the-box thinking at a circa €1,000 price. I dare say that last year's Decompression Timer 1961 limited edition put Mido on the wish list of many collectors that might have been indifferent to Mido in the past. What does Mido have in store for us in 2021?
Mido Ocean Star 200C
"It's our first green dial," says Franz Linder proudly as he shows me the new Ocen Star 200C. Meanwhile, I am trying not to show too much excitement while watching the intro film. Green is one of my favorite colors, but I never actually considered buying a green dial. Never. I assume I considered it unnecessarily extravagant. The "earthy" green tone of the new Mido Ocen Star 200C though doesn't seem overly shiny. It is very interesting, featuring a decent rippled texture in which I can't unsee a hockey stick pattern. As a big ice-hockey fan, I'm in.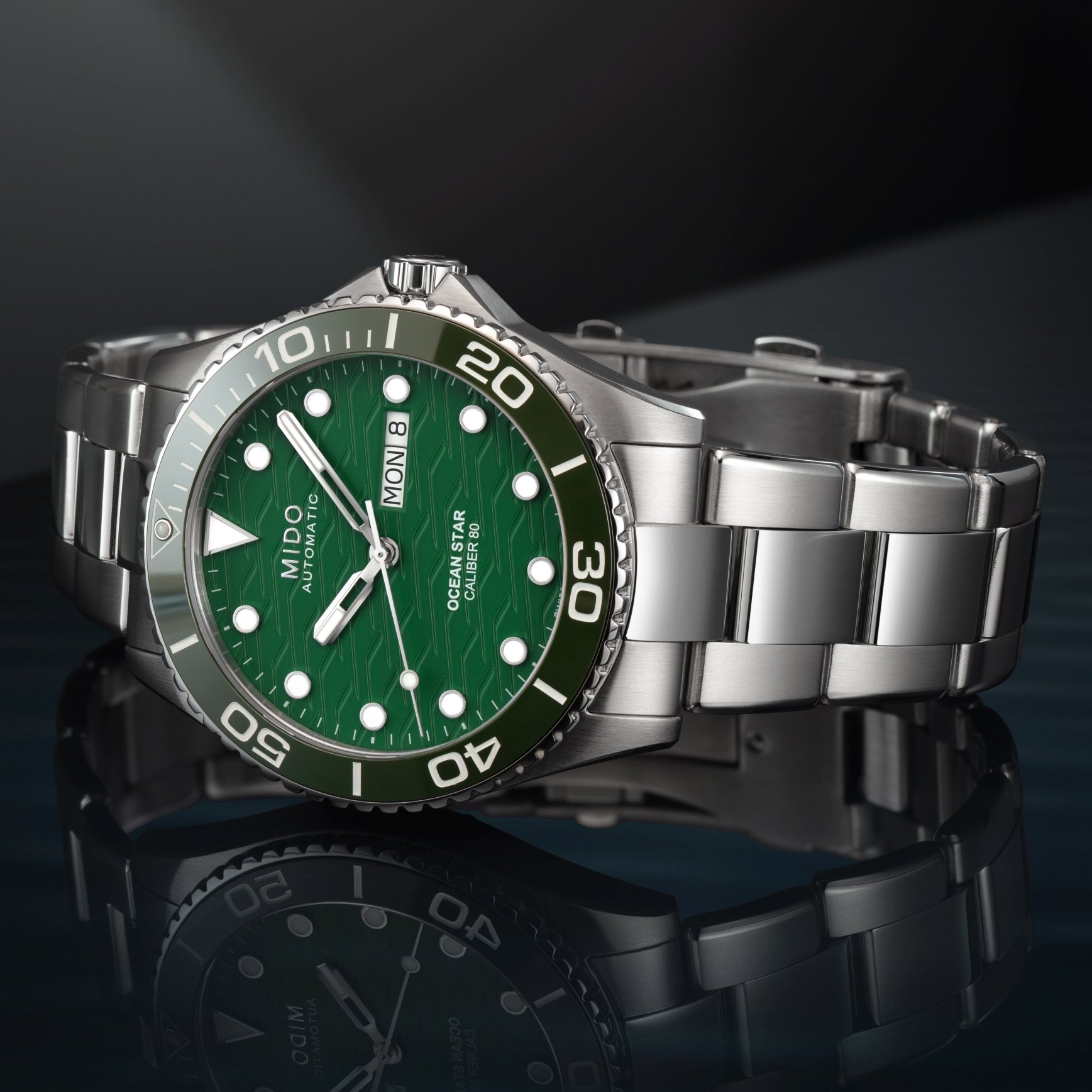 Clever minds have already deciphered that the mysterious 200C letter code stands for the ceramic bezel. A feature that takes this watch to the next level. It's in a brighter green shade, almost looks like satin, and fits the dial perfectly. It is not a bad deal to have a ceramic bezel and the still-novel Caliber 80 automatic movement in a divers' watch with a price tag slightly under €1,000. The Ocean Star 200C is also available with a blue or grey dial, each with a matching ceramic bezel. Well, I think we need to see in the flesh soon. What do you think?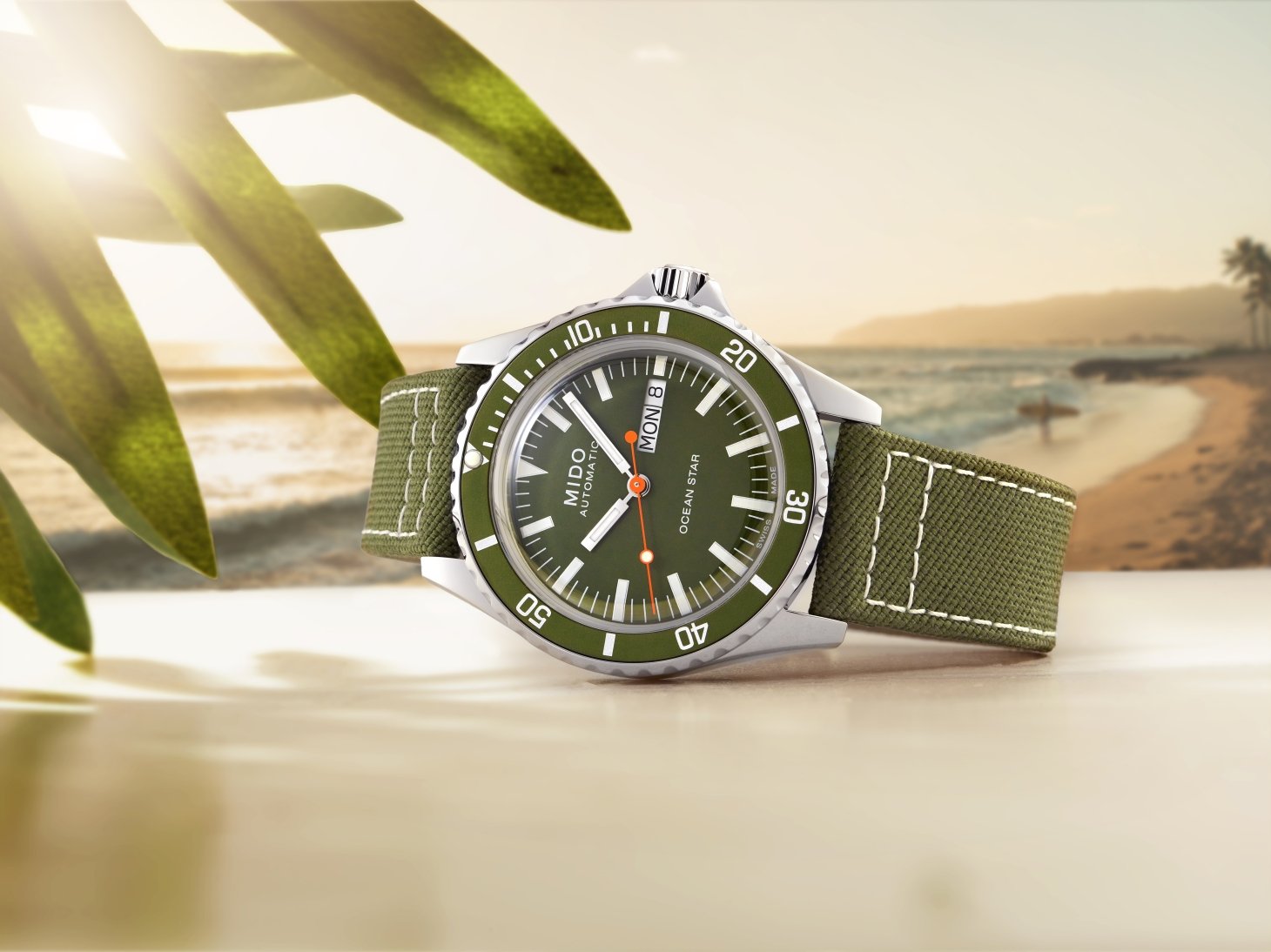 Mido Ocean Star Tribute Khaki
If the ceramic bezel doesn't excite you, we have another addition to the popular Ocean Star line to look at. With an aluminum bezel insert and 2mm less in diameter in comparison to the 200C, the Ocean Star Tribute has more of a vintage feel. While the ranges so far were purely classy, the 2021 trio adds quite a modern twist. The cherry on top of the cake is the khaki on the younger and sportier fabric strap in a matching tone. Softer hearts can also opt for a rose-gold PVD case and a bezel in a pleasantly desaturated blue shade.
Mido Baroncelli Signature
"Our number one collection comes with a new addition that grew from 38mm to 39mm," says Mido CEO Franz Linder while turning the almost artistically carved Baroncelli Signature around. The case seems a little too round and soft to me, but I have no doubts that Mido knows its customers. Mostly young people who don't necessarily have unlimited budgets.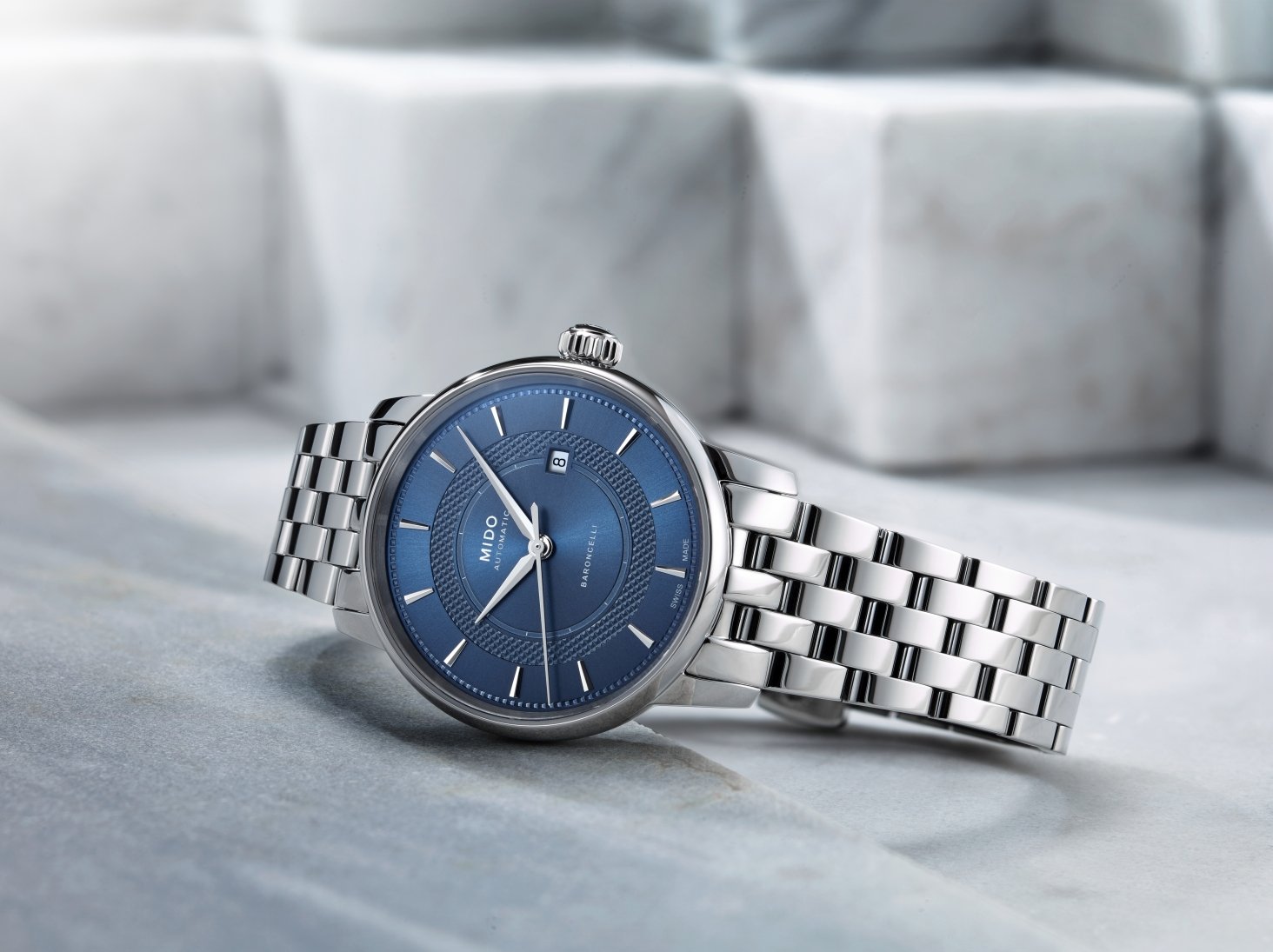 Female customers are important, representing roughly 40% of all sales. "But there are still countries such a Mexico, where Mido holds 'Macho' status and most of the sales are men's watches," adds Franz Linder during our discussion about the portfolio split that offers around 100 models for women and 200 models for men.
That would help explain why the new Barnocelli Signature also comes in a 30mm diameter clone. The Clou de Paris decoration ring lies between the indexes and deeply to the center of the allocated minute track. The noble texture looks elegant and helps to seamlessly integrate the date window into the dial. The aristocratic hands don't need lume, as it's not needed in applied indexes. Pure poetry created by the sobriety of mass and material.
The smaller version comes with a Caliber 48 and the bigger one with a Caliber 80, both equipped with Swatch chanted Nivachron balance springs. These springs not only provide a stronger performance than conventional alloys but also better resistance to magnetism. You have 12 models to choose from, ranging from €730 to €1,110.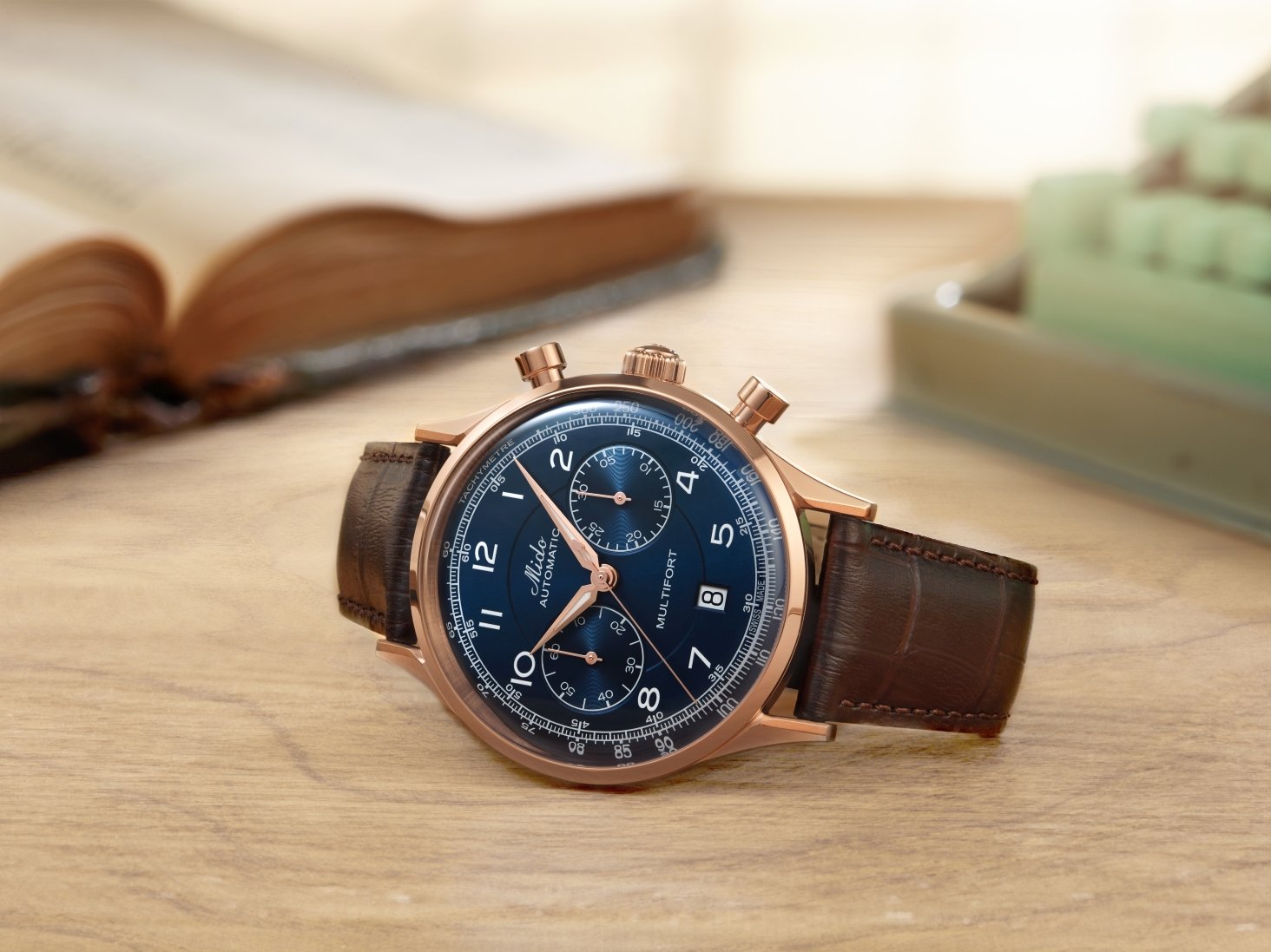 Mido Multifort Patrimony Chronograph
After a decent date three-hander from last year, Mido is also enriching the Multifort Patrimony collection with a new chronograph. Anything branded with an old curvy Mido logo is a promise of an exciting release. It's a tribute to the 1937 legend, just with a much stronger contemporary 42mm diameter. Franz Linder initially presented a flagship model in rose-gold-colored PVD with a deep blue domed dial. Not bad, but my heart skipped a beat when I spotted the steel version with a black dial and red numerals around the minute track. Usually, color variations on the same watch don't do much for me, but here it made a huge difference.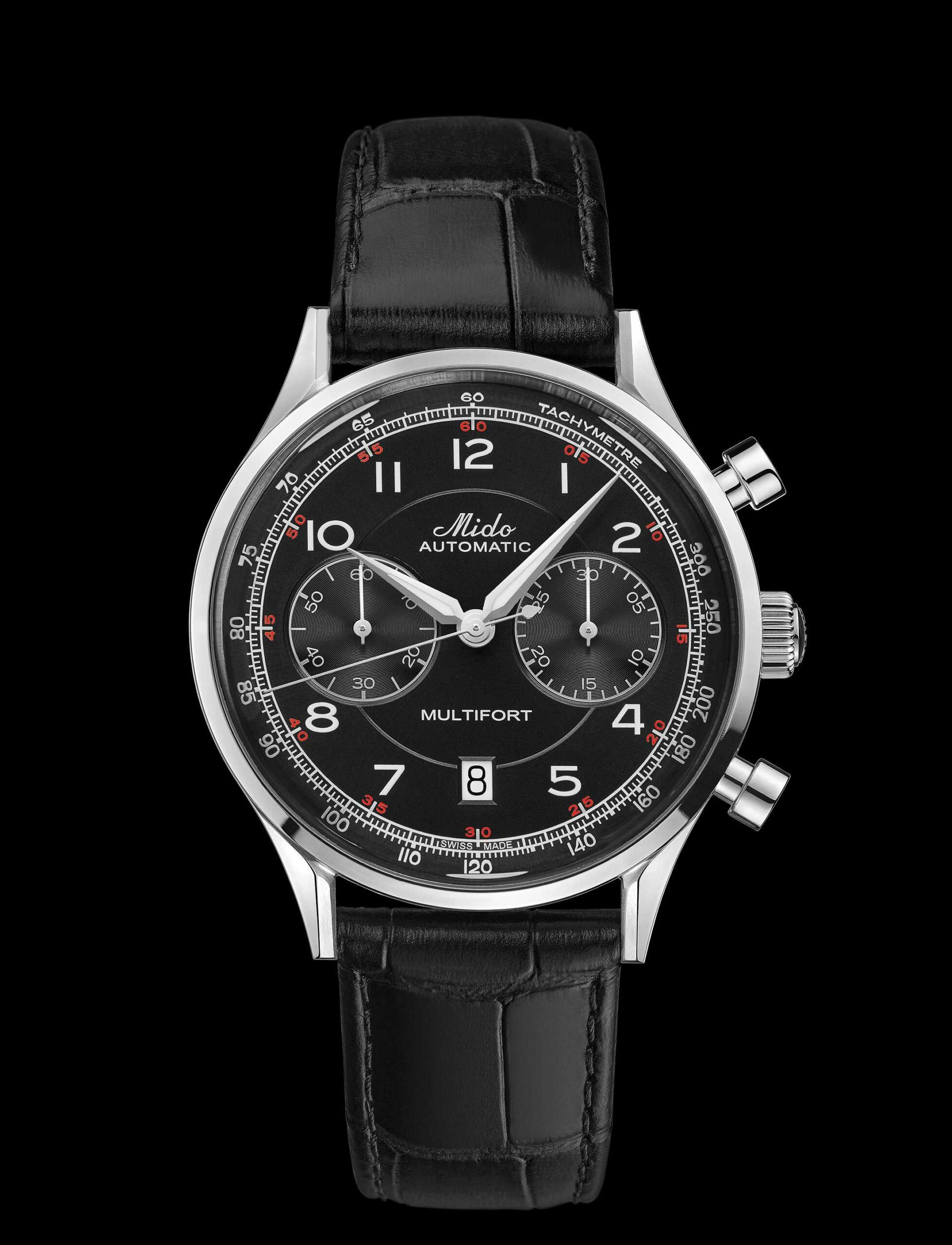 No crown guards, nicely round and quite narrow pushers, and not too much steel mass on the case. I'm glad, otherwise, it would kill the beauty of the dial. The decently integrated date doesn't bother me at all and the perfectly crafted crown is very pleasant on the eyes. Are you team blue sunray-brushed dial in rose-gold or black in steel? Whichever you go for, both are powered by the ETA-based Caliber 60 visible through the exhibition case back. Can be yours for €1,950 or €1,850.
Mido Baroncelli, Mido Multifort Patrimony And Mido Ocean Star Watches