The New Monochrome Bvlgari Octo Finissimo S 103464 Brings Stainless Steel To The Dial
2021 has just begun and we already have a contender for watch of the year...
2020 was a challenging year for everyone involved in the watchmaking industry. The calendar was turned upside down, and expectations turned inside out. No one had any clue of how to successfully navigate a now, almost-entirely digital landscape. However, through a mixture of good timing and exceptional design, Bvlgari came through a difficult 12 months looking stronger than ever. The new monochrome Bvlgari Octo Finissimo S reference 103464 is a continuation of that success and sets up 2021 to be even better than the year before.
As it turned out, LVMH's decision to drop the majority of its brands' releases in January last year couldn't have worked out better. No one knew the sweeping restrictions that would come into play soon after. Even as late as March, we were still holding out hope for Baselworld. Its cancellation and subsequent demise made Bvlgari's early showing all the more impressive by contrast. And what a showing! We covered the new Octo Finissimo models extensively. This year, we will follow up that coverage with more hands-on reviews of the brand's 2021 novelties, but here's a first look at one of the sure-fire hits.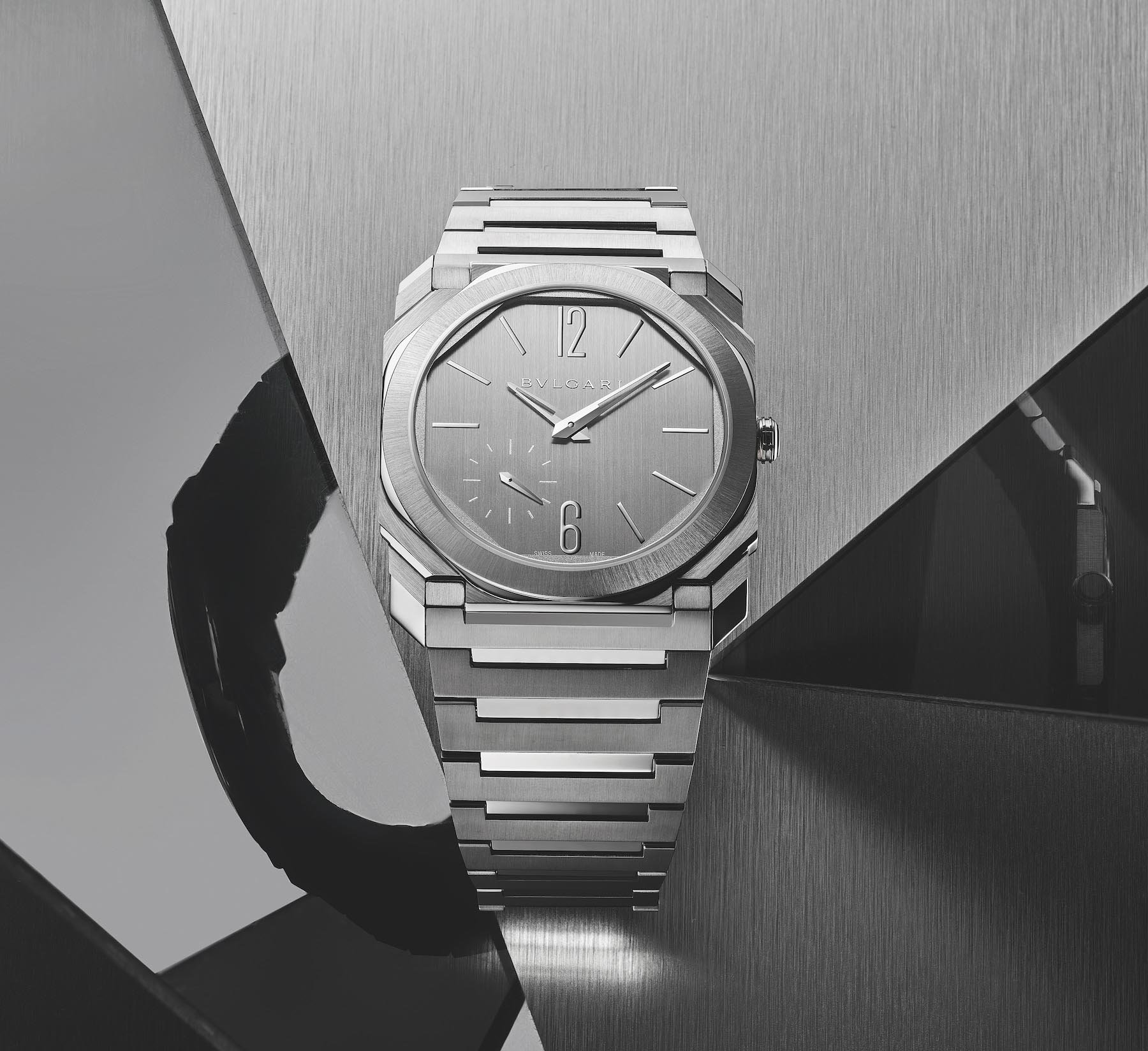 Steel is the real deal
The original Bvlgari Octo Finissimo in titanium has been hard to surpass in terms of icy cool. The blasted titanium case, dial, and bracelet made for an unmatched aesthetic. The steel, ceramic, and rose gold versions that hit the market in 2020 were welcome — as were the new dial colors — but the original still stood alone as the true icon of the collection.
…this automatic watch still very much qualifies as "Finissimo"…
It would seem, however, that Bvlgari had already planned its next step. This new release, which pairs the original monochromatic concept with steel (generally a more popular material than titanium) and the slightly "beefed-up" case that debuted last year (increasing the original's height of 5.15mm to 6.4mm) together for the first time might well have landed Bvlgari with the best of both worlds.
Crisp aesthetic? Check. An all-steel exterior? Check. Water-resistance to 100 meters? Also, check. With a case thickness of just 6.4mm, this automatic watch still very much qualifies as "Finissimo" (Italian for "superfine"). That said, it is less dainty than the very first models. And while the original Octo Finissimo pieces were always lauded for their rigidity, a shade more heft may well be a difference-maker as we saw and commented on with last year's releases.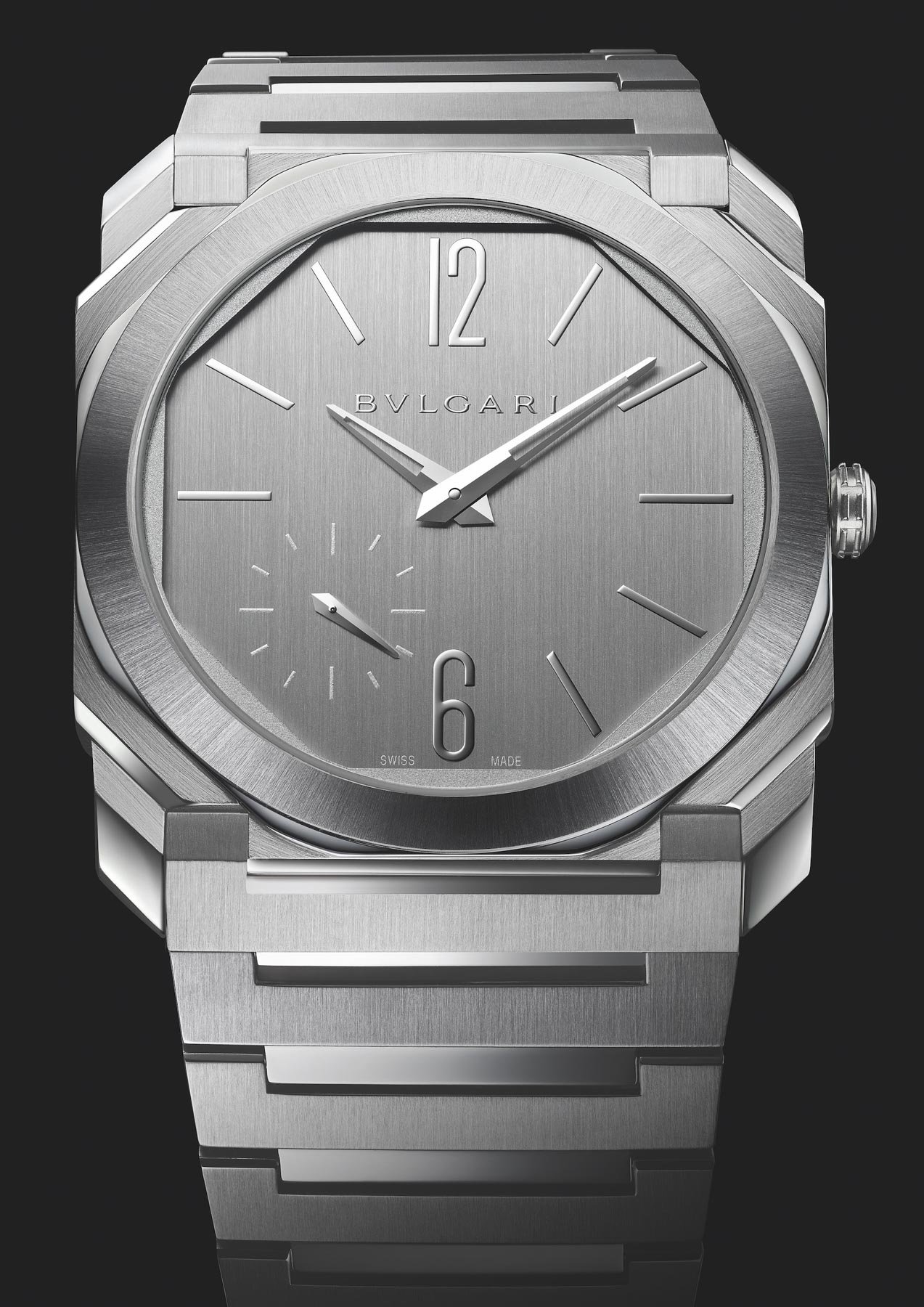 Records aren't everything
The original Octo Finissimo was seriously something. It felt solid and robust on the wrist but boasted a futuristic elegance that no other watch could truly match. However, it would be fair to say that its 5.15mm slimness simply "freaked out" quite a few watch lovers. I must admit, when I first saw it, I literally couldn't believe it (and I mean literally). I was dumbfounded and almost disturbed by how far removed from the norm it was. Thin sounded preferable on paper, but did I need it to be that thin?
I've marveled over the mechanics ever since.
Personally, I loved it (after I took a few days to get used to it). I've marveled over the mechanics ever since. But I'm not blind to the fact that for many people, the aesthetic was just too challenging. In the same way, some (even experienced) watch collectors innately associate weight with value, there were some equally irrational concerns about thickness. I'm guessing Bvlgari wasn't blind to that fact either, and so here we are.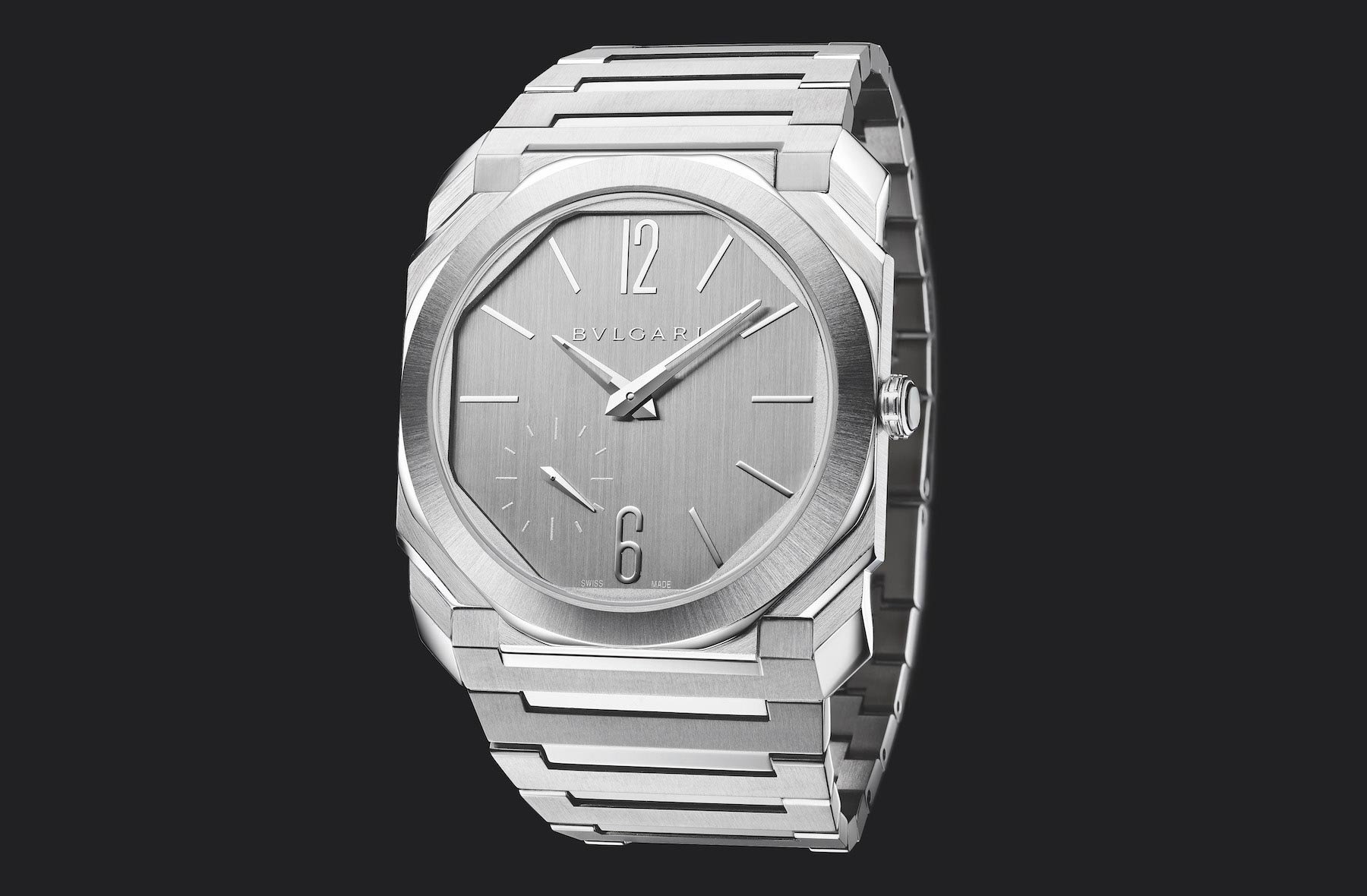 Conclusion
The 2.23mm thick BVL 138 micro-rotor automatic movement remains and while this watch does not break the records the originator did, it does look more than likely to break the bank accounts of many a Bvlgari follower (and probably a truckload of new converts that finally have their Roman wrist rebel).
Kudos to Bvlgari for nailing the Octo Finissimo release pattern in the run-up to reference 103464. The original ultra-fine watch in total titanium was followed by the 6.4mm in steel/ceramic/rose gold with more colorful/contrasting dials, and finally, backed-up by the 6.4mm/100m Finissimo in monochrome steel was a masterful exercise in patience and planning.  I cannot wait to get it on my wrist and am thrilled we get to kick-off 2021 (the year of global recovery, we hope) with such an inspired and optimistic model. It can be yours for just €12,300. Learn more about Bvlgari here.