The New Sinn Boutique in Frankfurt is Open!
Sinn is a brand that we really admire here on Fratello Watches. They make a lot of "no nonsense" watches of the tool variety for purposes ranging from diving to flying to, even, fire rescue. The styles tend to be purposeful in that German way: meaning minimalist and highly functional. We covered the latest releases here, which I think shows a good cross-section of Sinn's styles. However, one of the aspects of Sinn I enjoy most is the brand's approachability. I've mentioned before that I attended Basel as a public visitor prior to joining the Fratello crew and Sinn was one of the few brands that welcomed me into their booth and asked if there were watches I'd like to handle. If you've not been to Basel before, there are a lot of brands that act as if they're guarding the entrance to Studio 54 so it's nice to encounter a real brand that actually remembers who the customer is in the relationship no matter how small a buyer that person may be.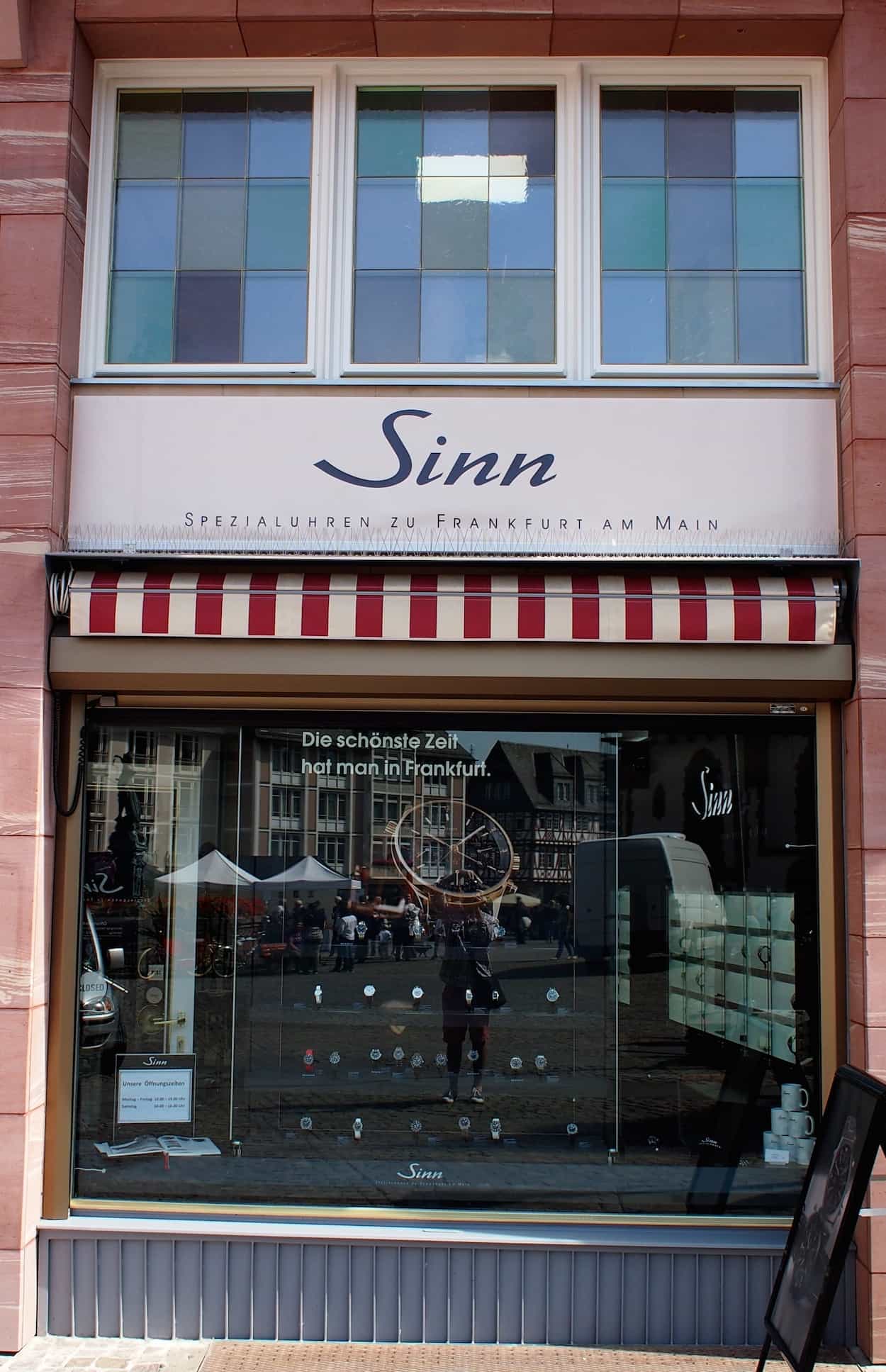 With this customer service aspect in mind, we were pleased to hear about an extension of this with the announcement of a Sinn boutique in downtown Frankfurt am Main. Frankfurt is the home of Sinn, currently headquartered just outside of the city in a residential area, but it is also one of the most highly visited cities in the world due to its airport. The city, on a near daily basis, is filled with hordes of tourists who typically spend 1-2 days in the city and use it as a resting and launch point before moving on to other destinations. Frankfurt was heavily damaged during the Second World War, so what it lacks in absolute history as far as buildings, it partially makes up for with skyscrapers and a rather impressive selection of shopping. As mentioned, Frankfurt sees its fair share of tourists from all over the world but Asian tourists, particularly from China and, to a lesser degree, Japan are highly prevalent. Sinn, from my travels in these two Asian countries, enjoys an impressive reputation, so an easily accessible shop in the city makes sense from that aspect. Of course, this is Sinn's home, so a flagship shop was a long time coming indeed.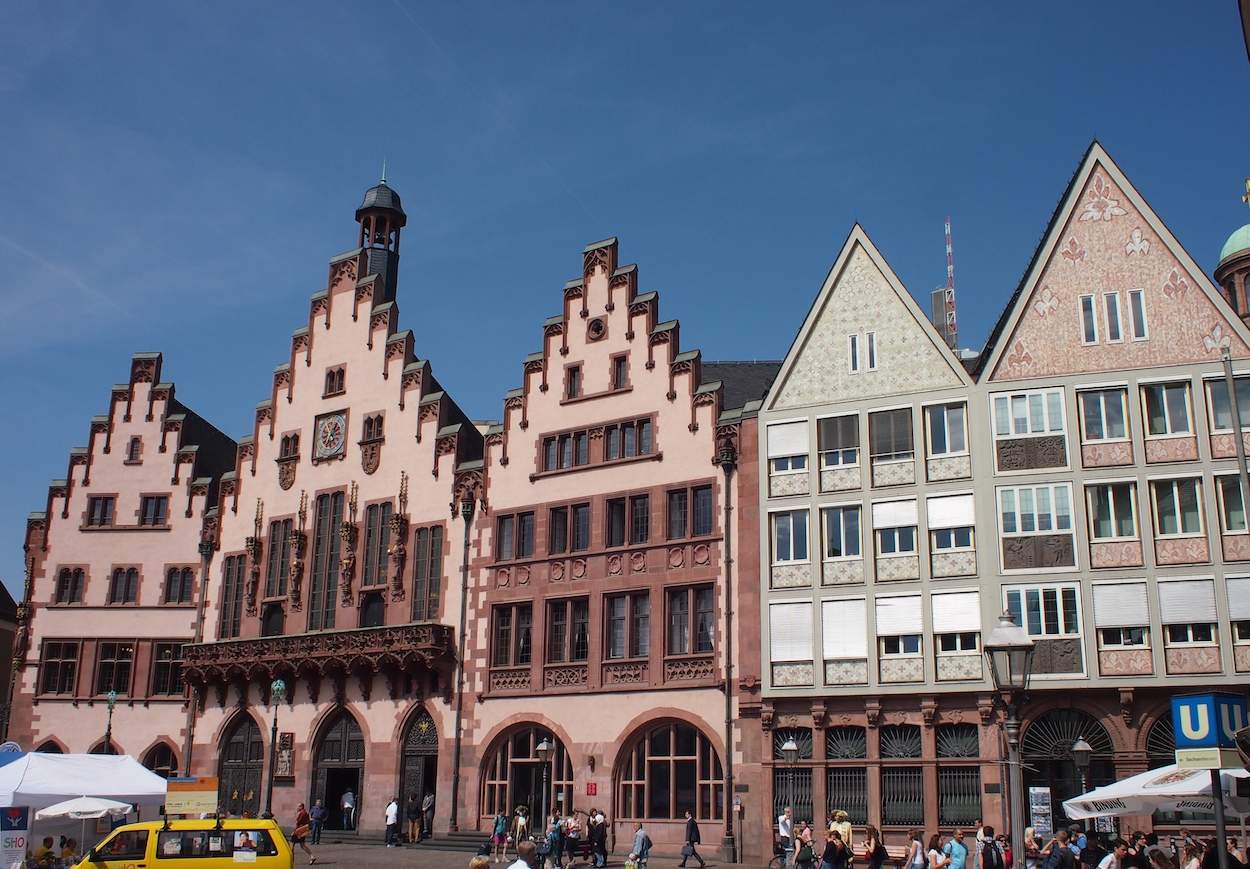 As far as location, Sinn did not choose a side alley for its boutique or some anonymous space within one of Frankfurt's several malls. No, Sinn chose what is likely the most highly trafficked area of the city: the Roemerberg. The Roemerberg is the historic heart of the city, the main square with beautiful buildings and an old style Rathaus (mayoral building). Funnily enough, I think I saw the sign on the window of Sinn's future shop way back in December during the Christmas market and it took more than 6 months for Sinn to open. Why? Well, as Sarah Michel, one of Sinn's several sociable Sales Associates, explained to me, Sinn had to check with inspectors during every step of the store's construction due to the protected, historic nature of the building. In fact, even the staircase is a protected, historic element of the building. Personally, I find that interesting when compared to the multitude of glass, chrome and leather shops that are opening in London, New York, and elsewhere.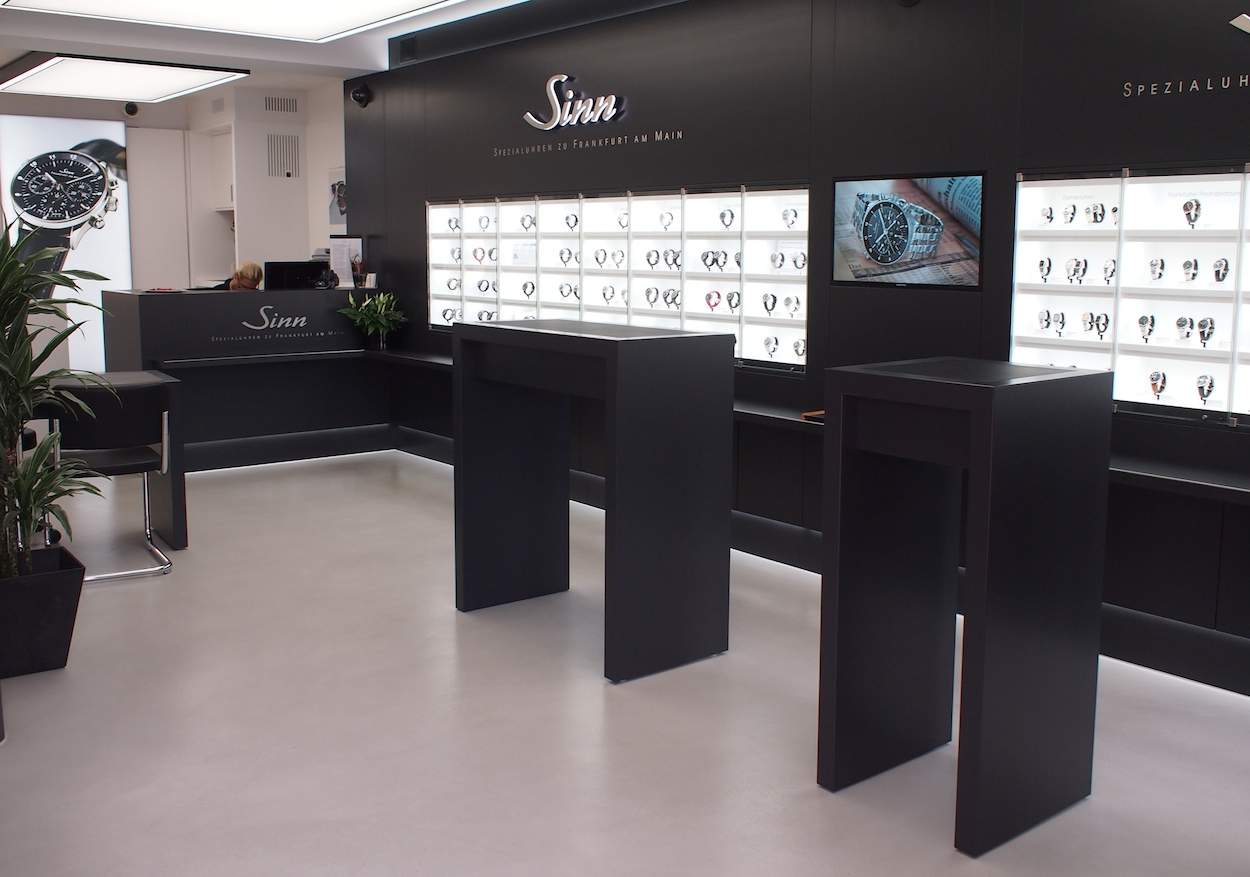 So, let's take a verbal and pictorial tour of the new Sinn boutique, shall we? Upon entering the Sinn boutique, one immediately sees bright glass cases on the right wall that are filled with watches.  The entire collection is here including most of the newest Basel releases.   A flat screen separates the cases and shows some of Sinn's newest and most popular models. The cases are modern and clean in appearance and shoppers can get very close to them; there is no counter keeping you at a distance. Model names and prices are clearly marked which is certainly helpful. Sarah opened some of these glass doors by discreetly sliding a card underneath the display case. This was a nice, slick way of accessing the watches versus the typical hunting for keys that goes on in a jewelry store. Watches can then be viewed on one of several leather-topped high tables or at a desk within the showroom. Elsewhere in the showroom are a wall of catalogues, another video screen and a purchase desk. Behind this desk is a small workbench for simple adjustments to bracelets or straps upon purchase.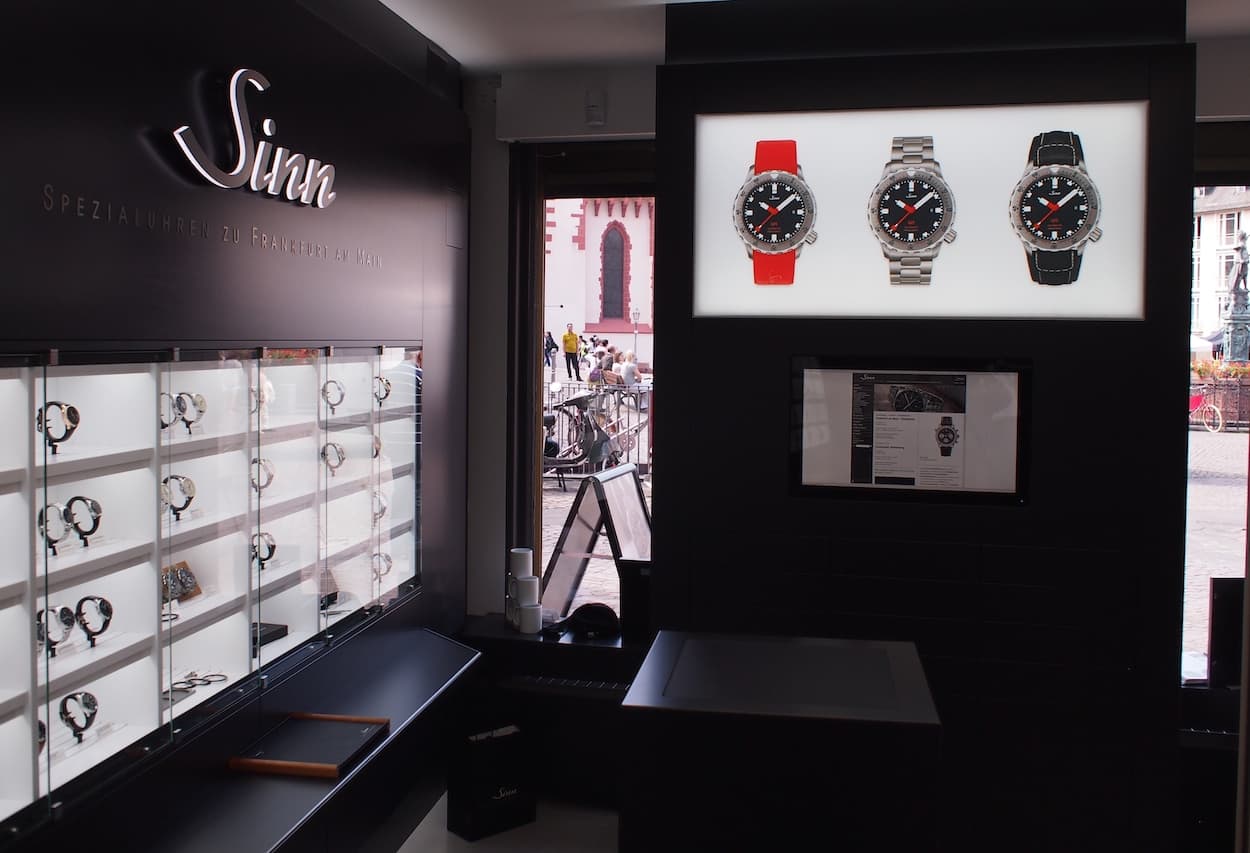 I have to say that Sinn designed an impressive showroom with clean lines that complement the similarly clean lines of its watches. I'm not sure how the store feels when a group of 25 tourists enters the Sinn boutique, but I liked the open approach to viewing the watches and an ability to grab brochures without the need to ask. Again, all of this fits Sinn's reputation for being an open, friendly watchmaker.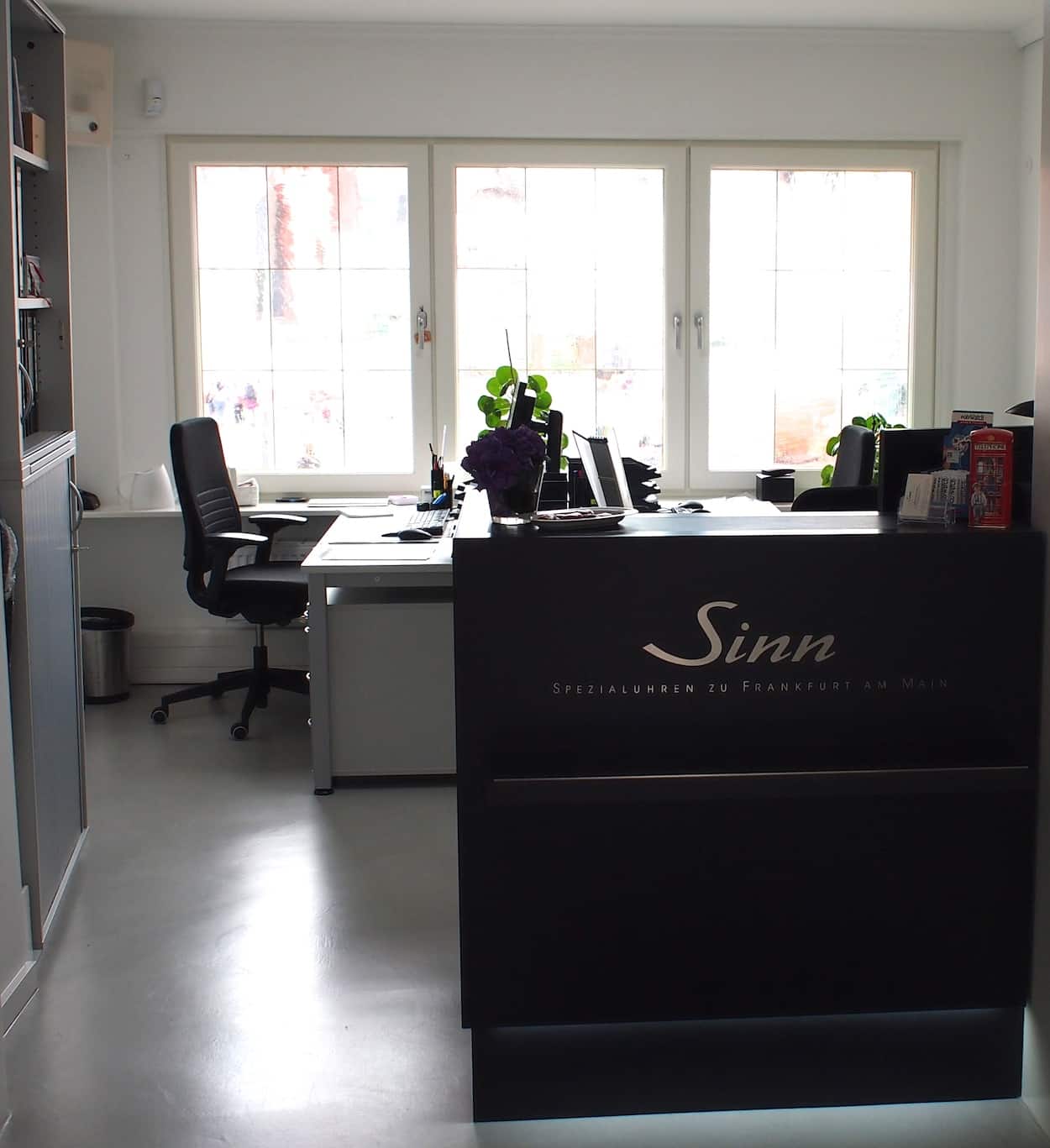 Moving upstairs in the Sinn boutique, we come to the service department. I found a small inside lounge that serves as a waiting area for customers and a really nice outdoor terrace with seating. Customers, who are buying a watch, or those who are waiting for simple service, can relax outside with a glass of wine while they wait.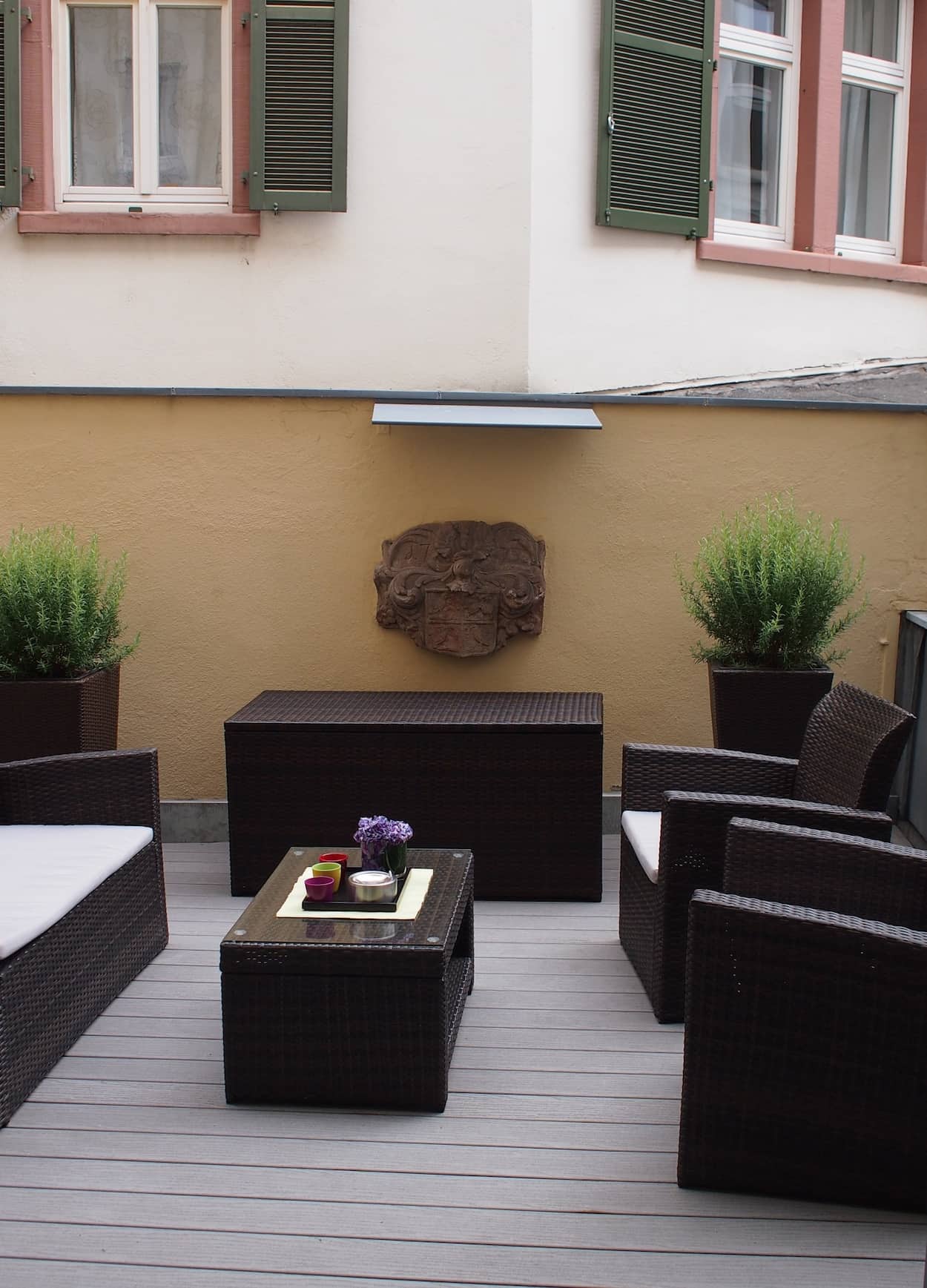 The terrace doesn't afford a view, but it's a rare quiet area in the middle of such a busy area of the city.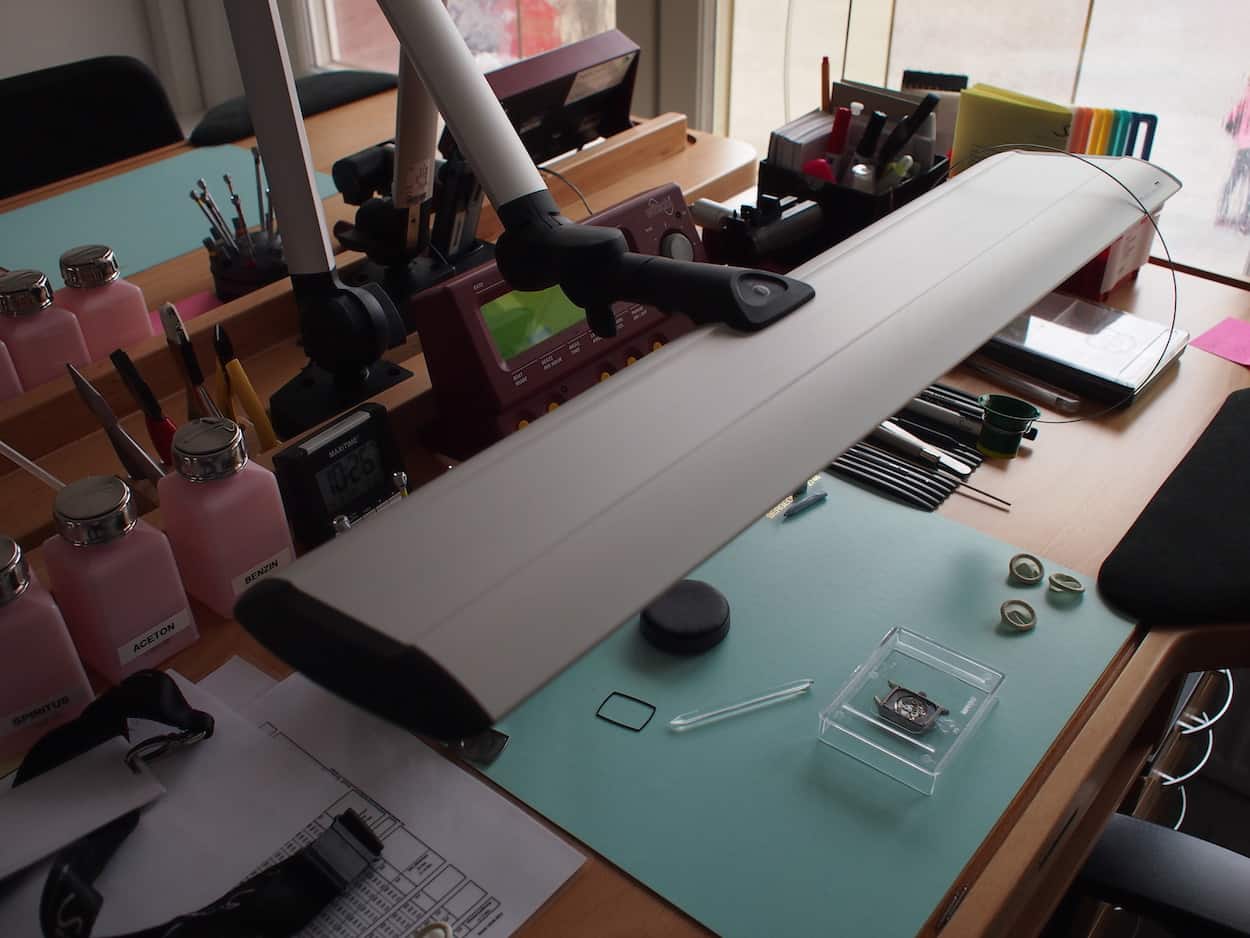 Regarding service, the Sinn boutique will have two fully trained watchmakers on staff that will be able to perform almost all types of repairs. If something cannot be repaired downtown, it will be sent to the Sinn headquarters outside the city for service. This is a nice offering as Sarah explained that people living and working in the city like the convenience of being able to walk to the boutique on their lunch break and drop off a watch versus having to drive to the current headquarters.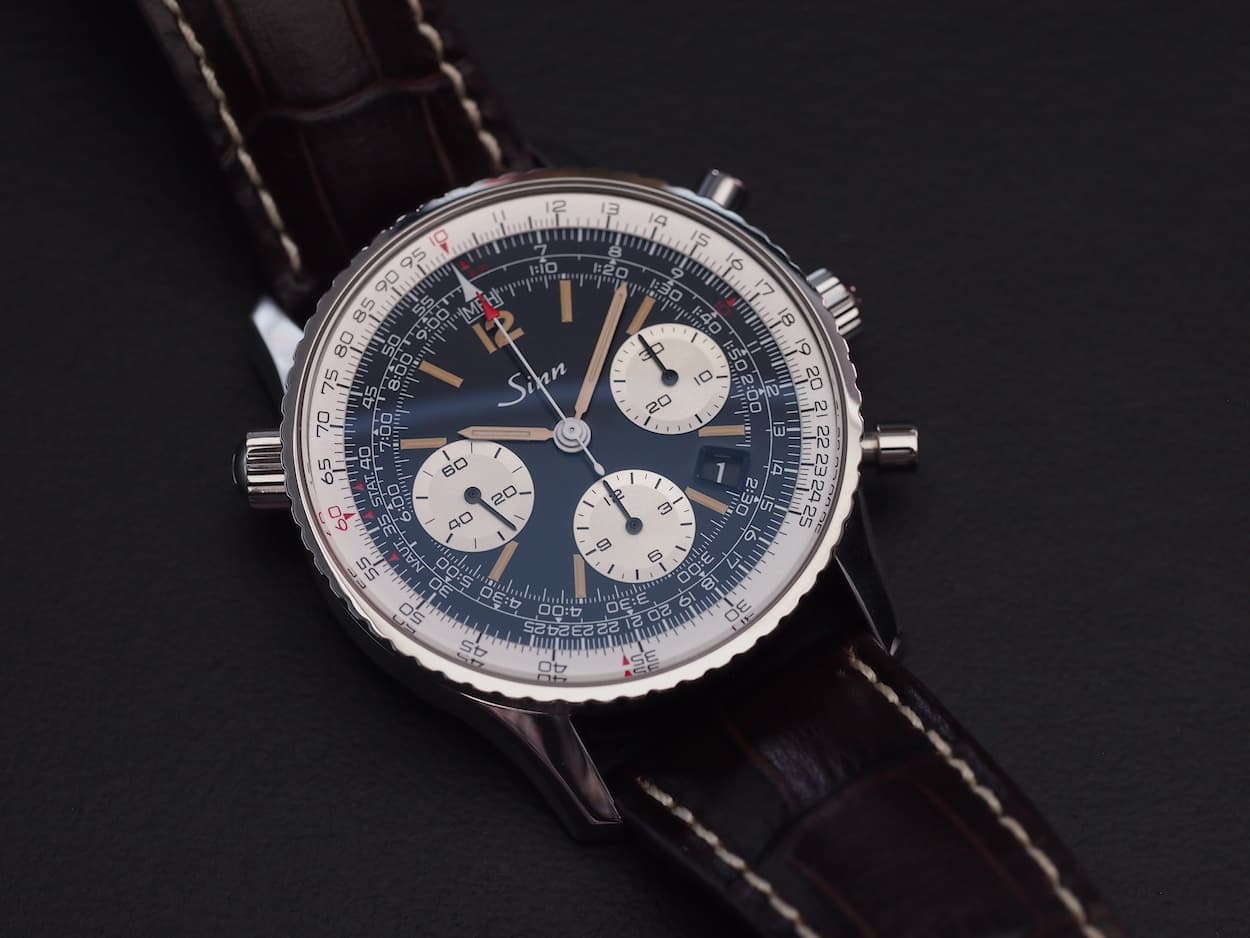 I asked Sarah about business so far and she was pleased to report that it has been busy. They are obviously seeing a lot of tourists, but they've also welcomed groups from the local banking sector who drop by to take a look on their lunch breaks. The banking sector loves the Financial district watches and there is a sense of pride in wearing these on the trading floor.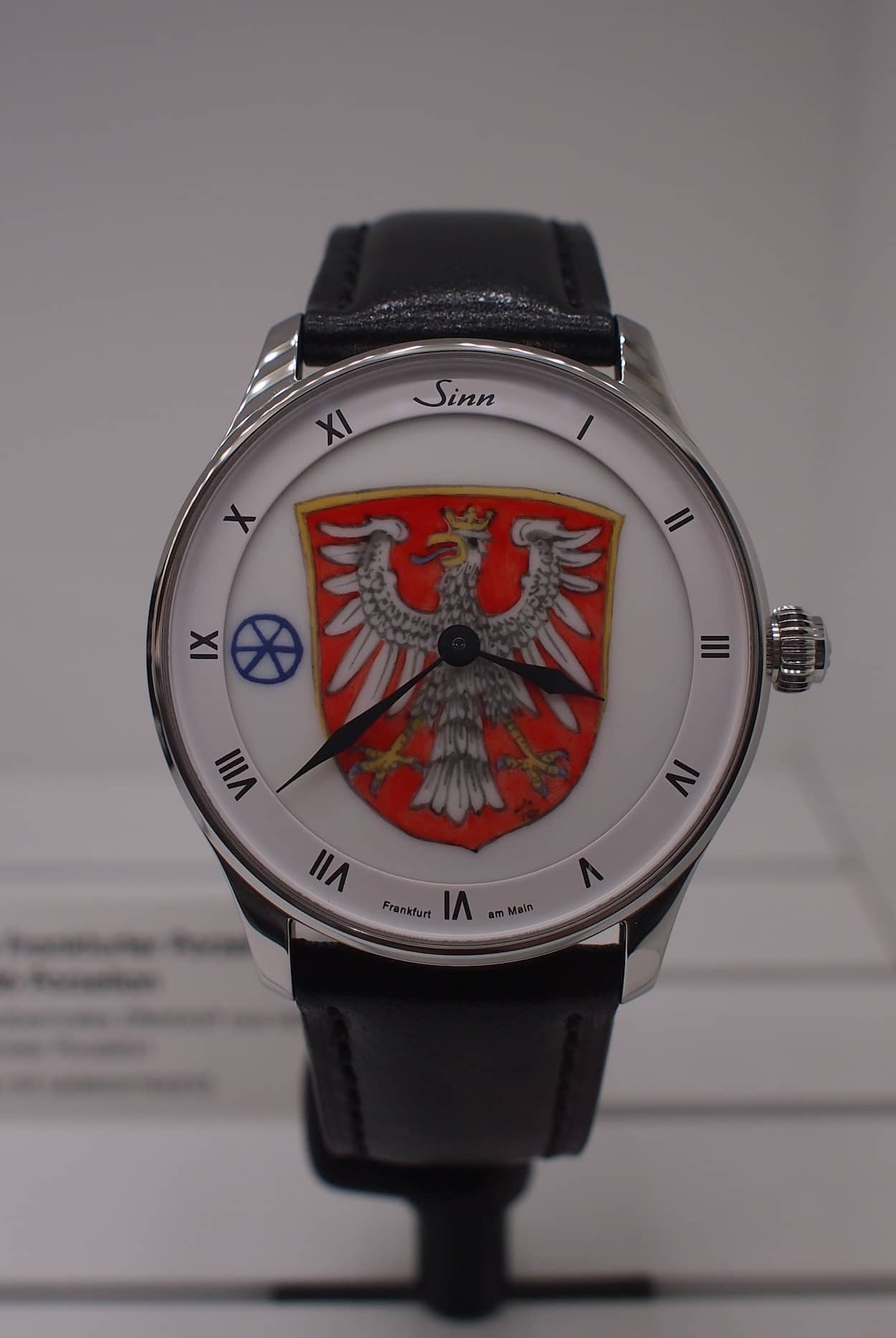 Tourists, interestingly, have shown a special interest in the limited edition ceramic dial watches as they depict traditional Frankfurt scenes. Of course, the limited edition sport watches and new releases have been moving swiftly as well.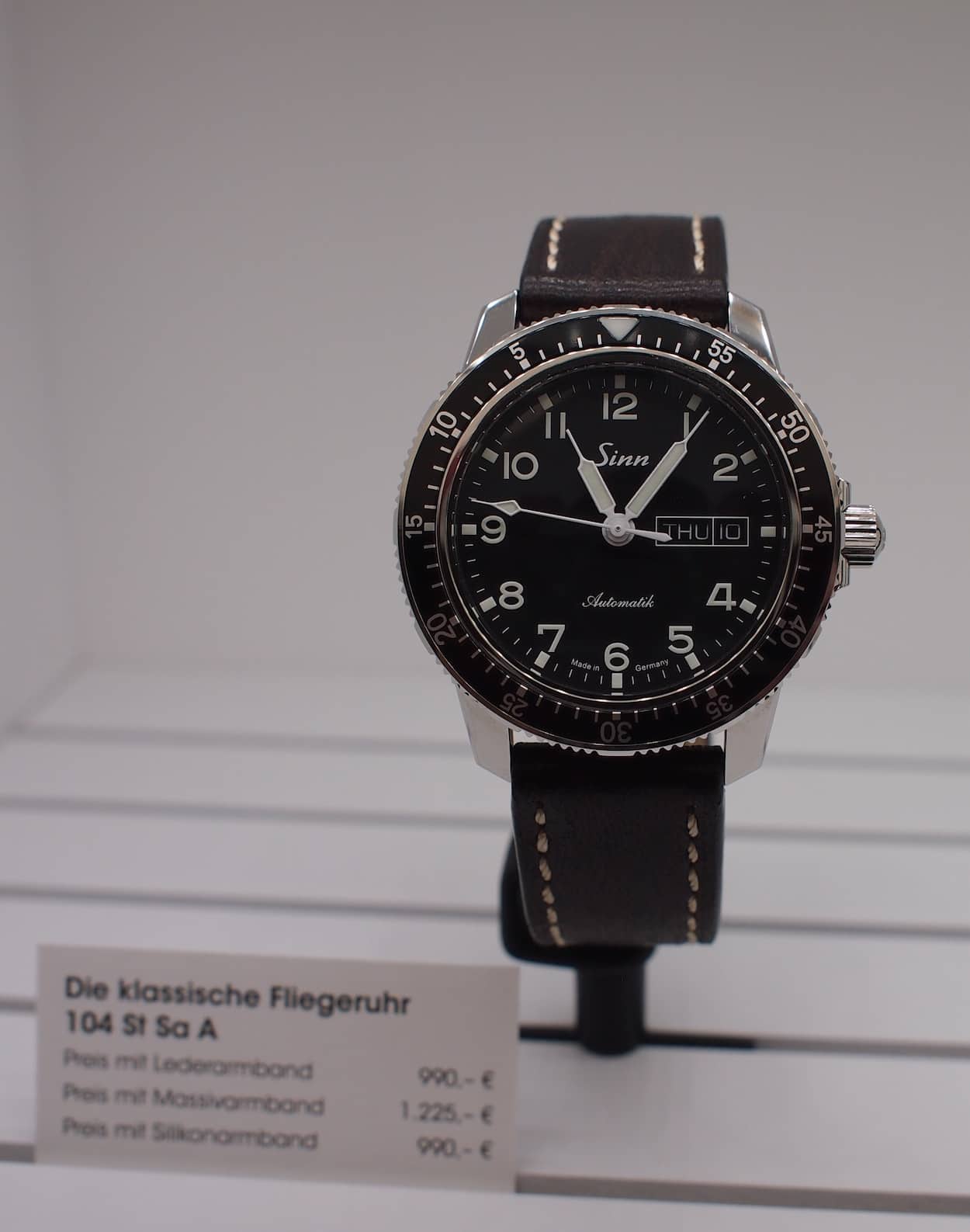 Related to this, the new 104, with Arabic numbers, apparently has a lengthy waiting list. The 240 St literally comes into the shop and sells out almost immediately. So, it's nice to hear that things are going well for the brand.
Finally, I asked Sarah if Sinn would continue to operate a showroom and sales point at their headquarters, Im Fueldchen in Frankfurt, and the answer is yes. If you've never been to Sinn's headquarters, it's an extremely unique experience where one can handle the entire Sinn line with complete freedom. The watches are sitting on tables within small boxes and you are free to try on as many as you like for as long as you like. The brand knows this is a special experience and wants it to continue. However, parking is difficult at the headquarters and with its growing market share, Sinn will look for a new headquarters within the Frankfurt area. Still, visiting the "HQ" is a worthwhile experience that I highly suggest.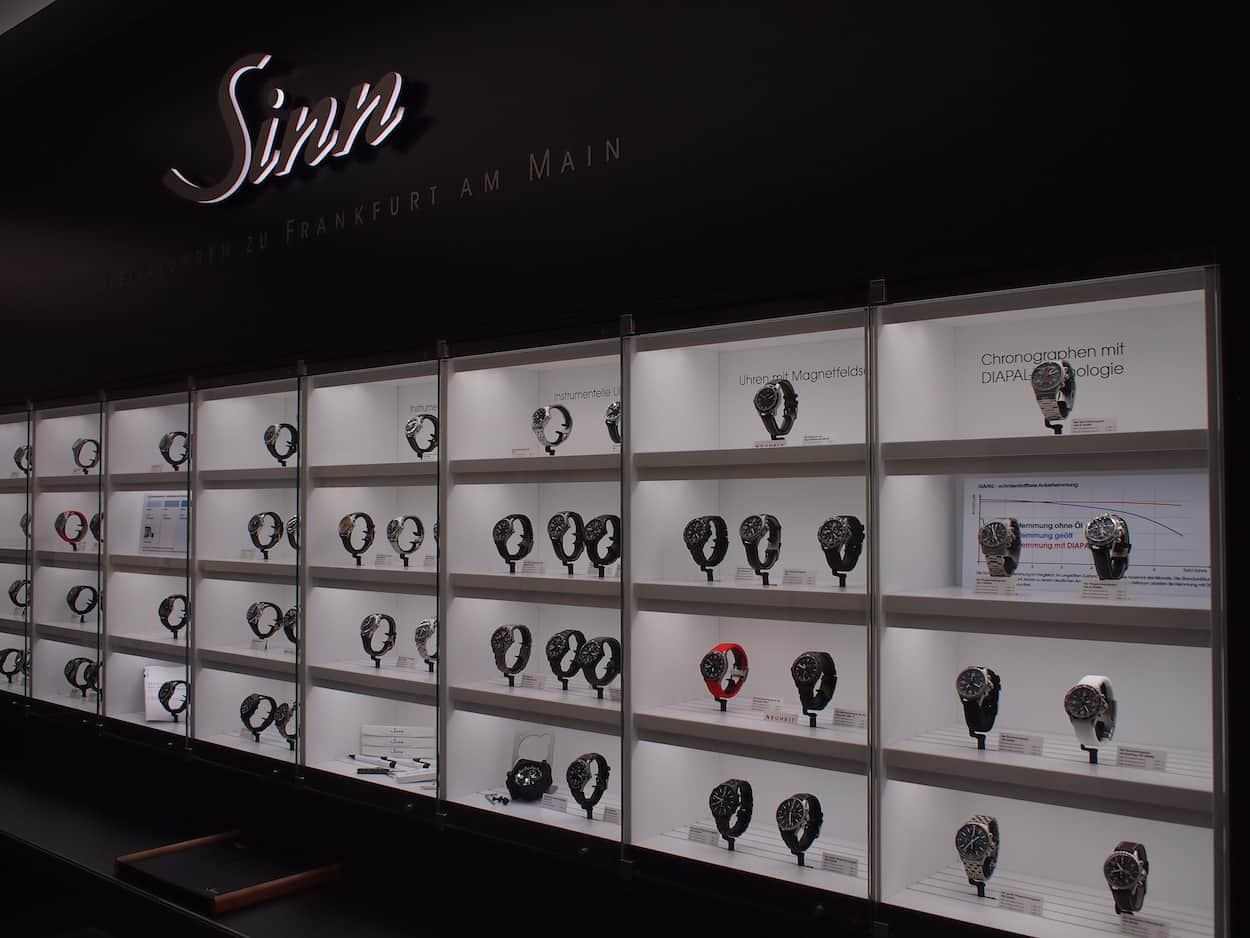 We're happy that Sinn has opened up a great new boutique and, furthermore, we are happy that it's easy to find and has great opening hours. It's not often that one of the smaller independent brands can afford to do something like this, so we'd suggest that if you are traveling and have an interest in Sinn, why not support the location? We are sure that you'll have a memorable experience due to Sinn's great customer service. Plus, you can walk out of the shop and quickly access one of Frankfurt's traditional Applewine cellars for a celebratory drink! For more details, on the opening hours at Sinn's new boutique, please visit here.