Perrelet Evolution: The Turbine 41 Titanium Strikes the Perfect Balance
A new spin on the brands iconic concept
You know, watch trends, like most fashion trends, are in perpetual motion. While the domain of luxury watches saw a slew of oversized timepieces dominate for years, the pendulum has swung back to smaller, more delicate ones. Enter Perrelet's newest release, the Turbine 41 Titanium. Here's why it's making waves.
Remember the days when large watches were the "in" thing? Well, Perrelet's unique Turbine collection played a lead role in that era. With models previously ranging from 44mm to a whopping 48mm, why change a winning formula? Well, it's evident that today's watch lovers veer towards watches catering to smaller wrist sizes. These days, fewer collectors seem to have wrists on par with Arnie or Rambo.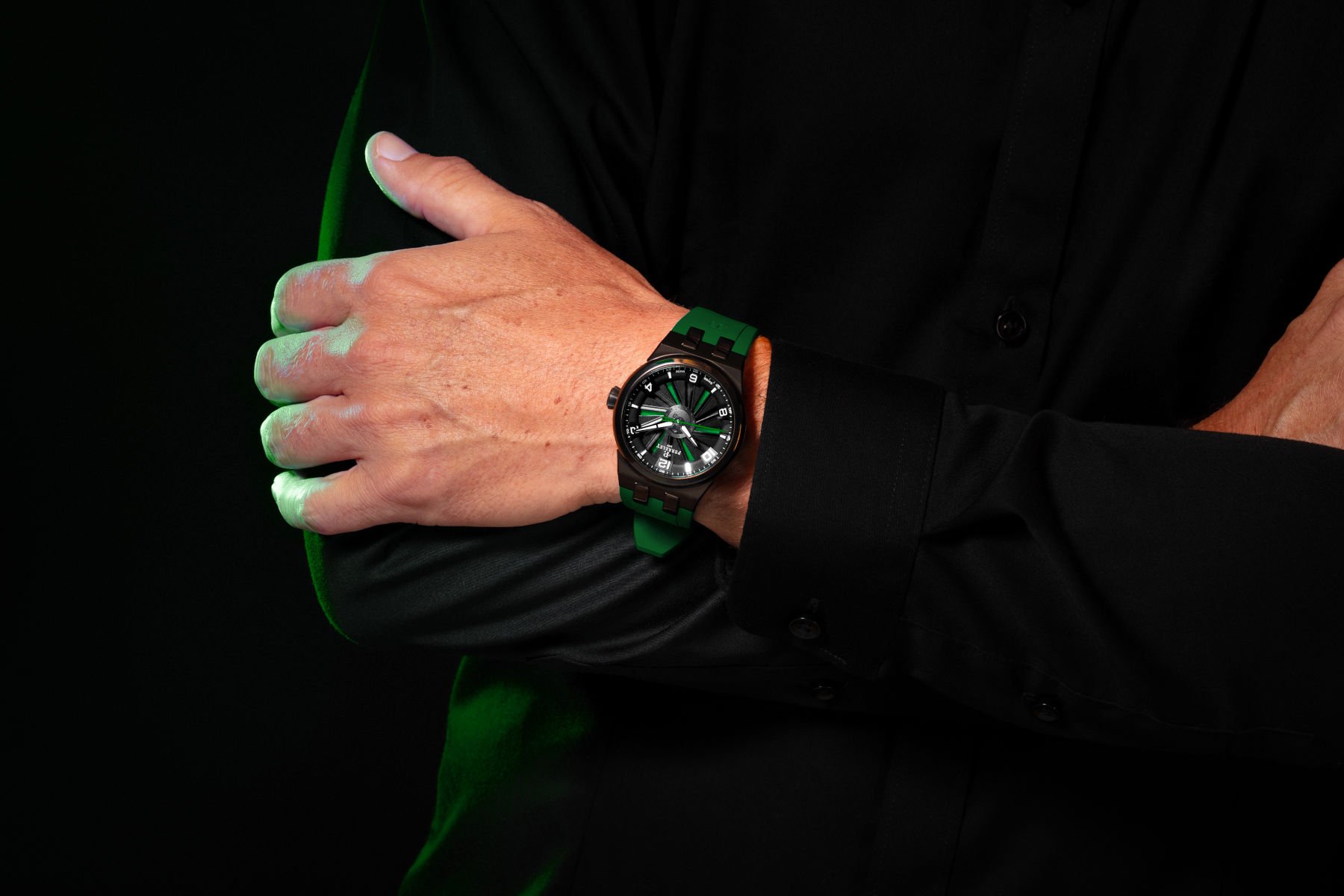 The Perrelet Turbine 41 turns to the winds of time
For some time, Perrelet's fans have called on the brand to release something smaller to cater to modern-day demands. Answering this call, Perrelet shrunk its Turbine down to a contemporary 41mm form. But don't be mistaken; this isn't a simple size adjustment. Rather, it's a total redesign, showcasing the brand's impeccable savoir-faire. Miniaturizing the Turbine's complex architecture? No small feat (pun intended).
What's a Turbine without its signature spinning feature? Finding its muse in aeronautical propulsion systems, this turbine spins with every wrist movement. Picture it: 12 black anodized aluminum blades spinning furiously before finally slowing down to rest. While it's primarily aesthetic, ensuring this hypnotic motion, especially with the size reduction, necessitated rigorous testing and tweaking. Cool, right? I mean, it's certainly not for everyone, but that's the fun of watch collecting. There is something out there for you, no matter your taste.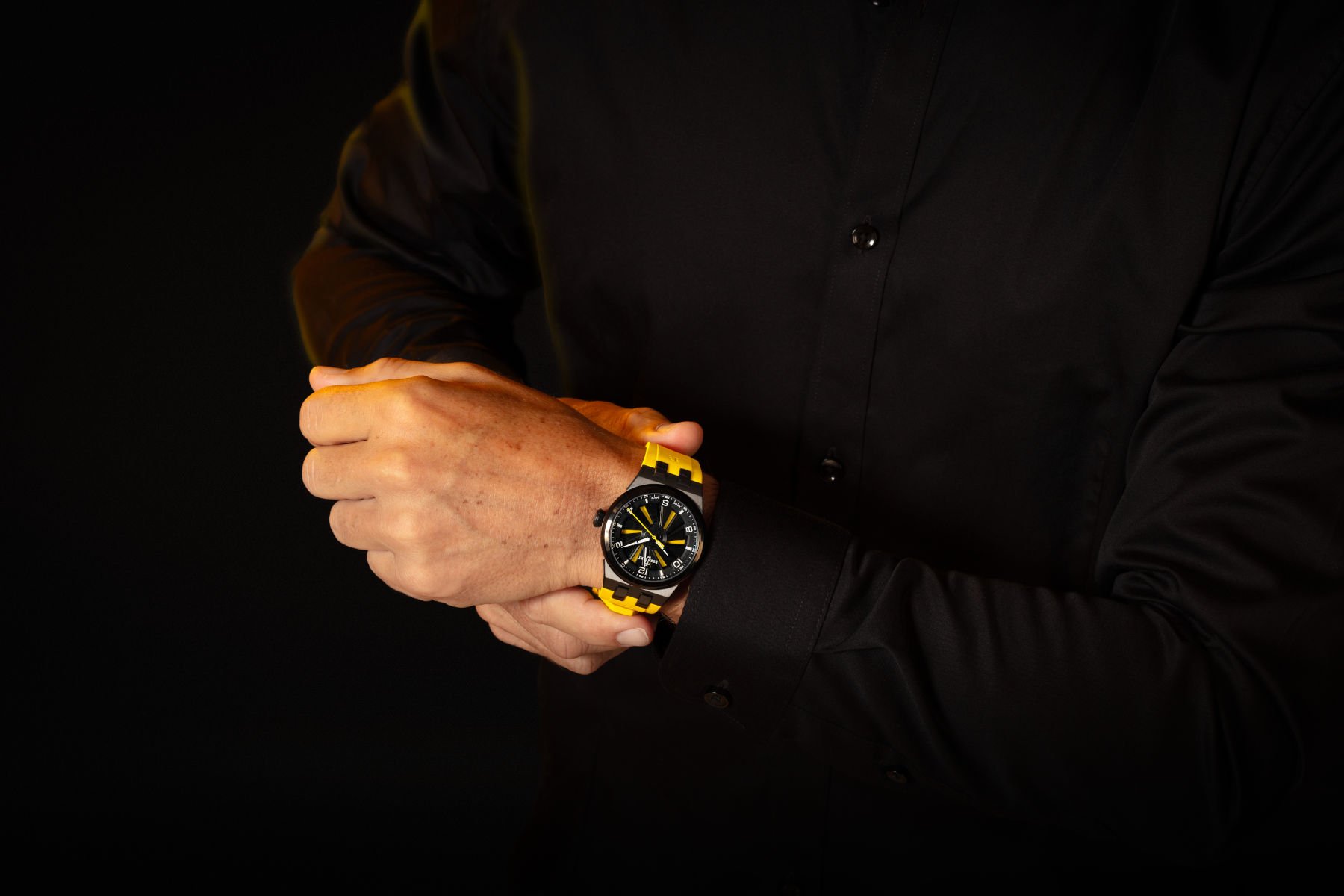 Flaunting in titanium
The Turbine 41 Titanium is not just a single watch; it's an array of ten strikingly colored references. The line has everything from polished/brushed Grade 2 titanium cases with dials in shades of blue, green, red, or black to bolder versions with a black DLC (Diamond Like Carbon) titanium case paired with vibrant rubber straps. Whether you're feeling muted elegance or vibrant chic, Perrelet has you covered.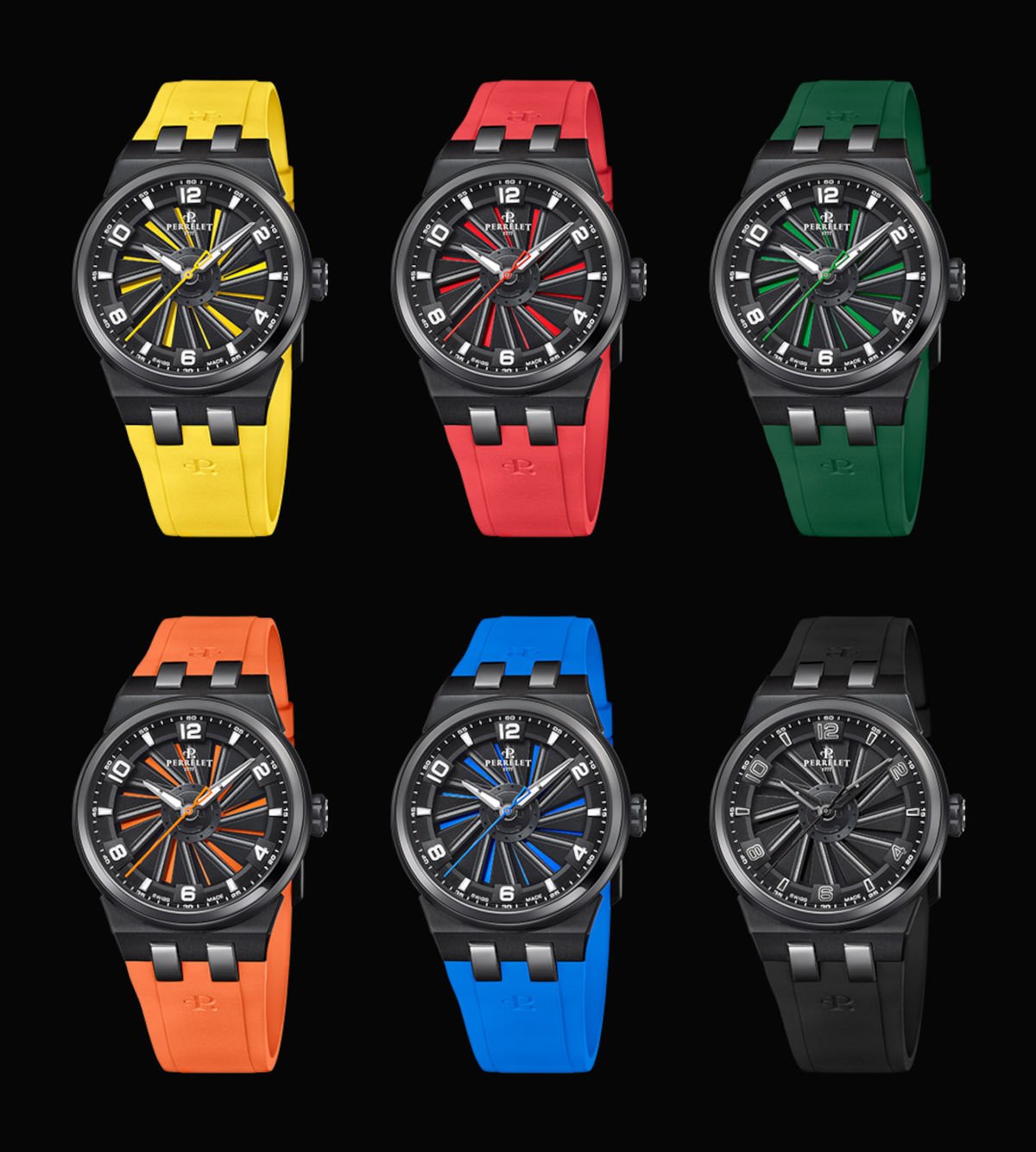 Why titanium? Well, because its lightweight and hyper-resilient nature guarantees a comfortable wearing experience. Over the last decade or so, titanium has seen a real surge in popularity from collectors and brands alike. My preference here is one of the DLC models with the rubber strap. While bracelets are generally great, titanium bracelets can feel slightly off-balance due to their lack of weight. It's a personal preference, though. I wear the majority of my watches on rubber. For me, it's the perfect strap material for all situations.
More than just an EVOlution
Harking back to the Turbine EVO collection from 2019, the design maintains certain recognizable aesthetics. These include vertical flutes, triple lugs, and a beautifully detailed crown. But what caught my eye? The redesigned hour and minute hands. Bathed in luminescent material and segmented by a black profile, they ensure you can read the time, even in a dimly lit wine cellar or during a moonlit stroll. You know, whatever takes your fancy.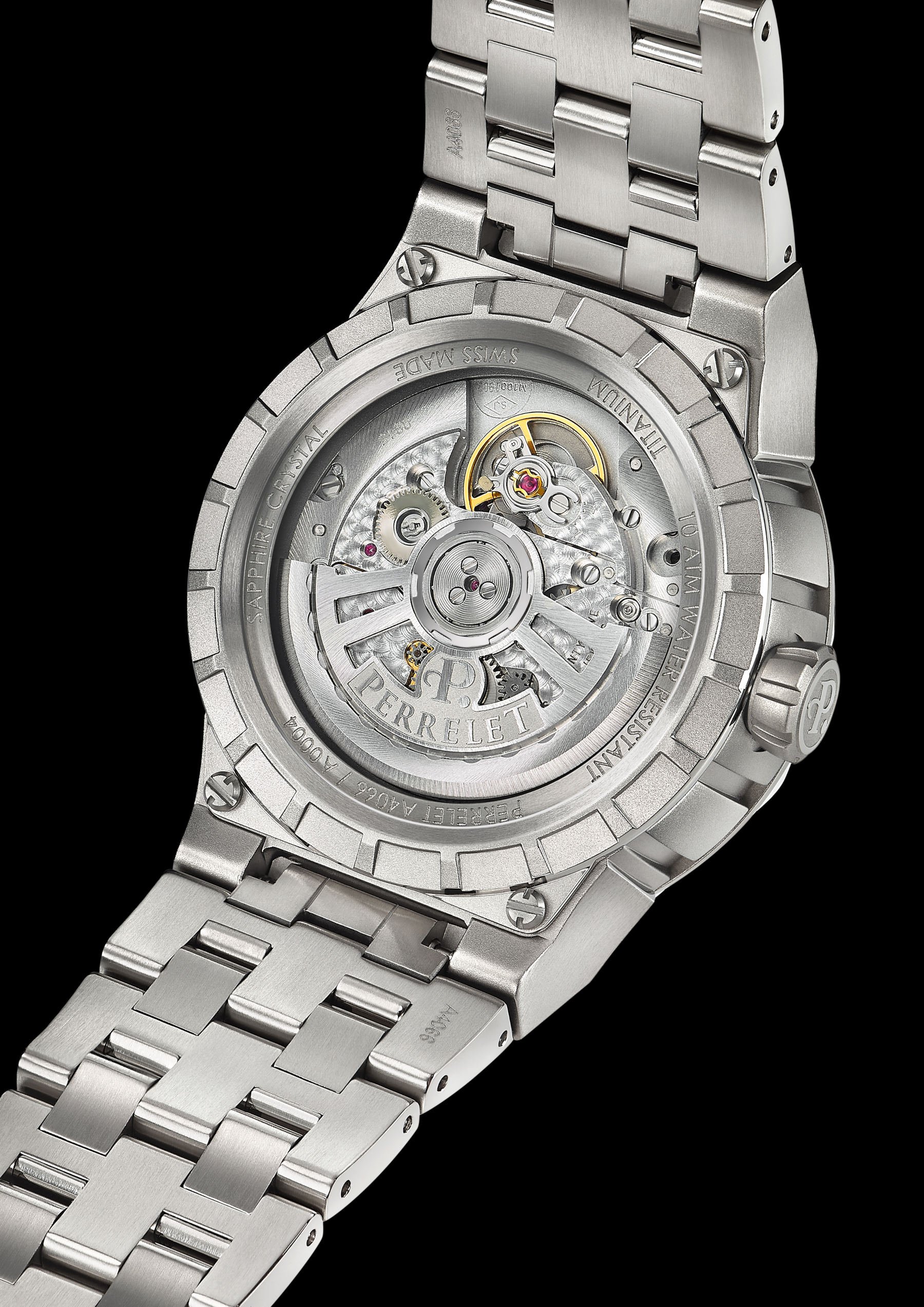 What about the engine?
Under the hood (or should I say "case back"?) lies the self-winding P-331-MH caliber. This movement is an "in-group" caliber made by Soprod with specific modifications from Perrelet. Of course, Soprod is owned by the Festina Group, which also owns Perrelet.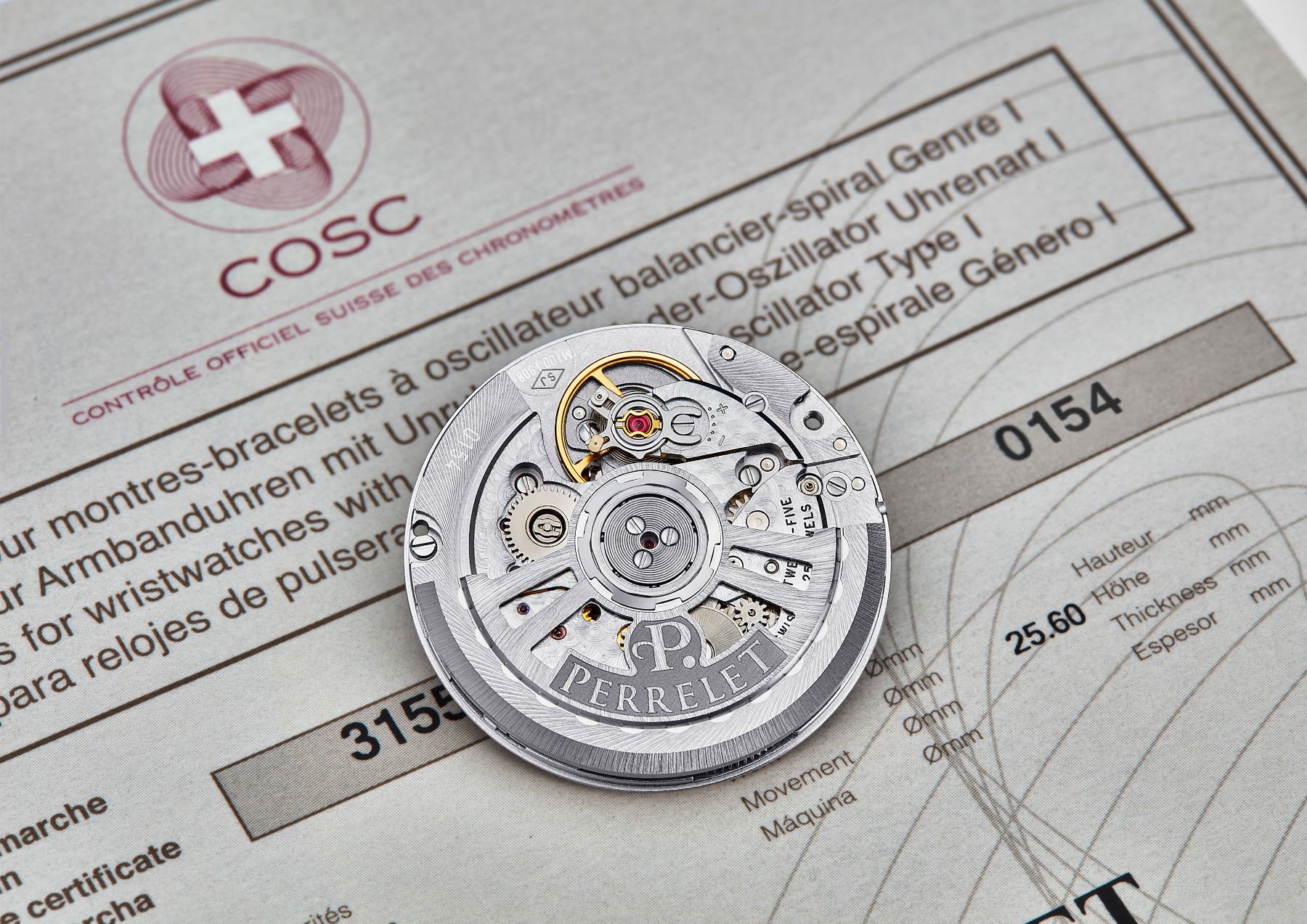 This movement beats at 28,800vph and is validated by dual certifications from both COSC and Chronofiable. It features both of the brand's patented Double Rotor and Turbine technologies. These pay tribute to founder Abraham-Louis Perrelet, who developed the precursor of the first self-winding movement. For all you fitness fanatics out there, he is also credited with creating the first pedometer in 1780.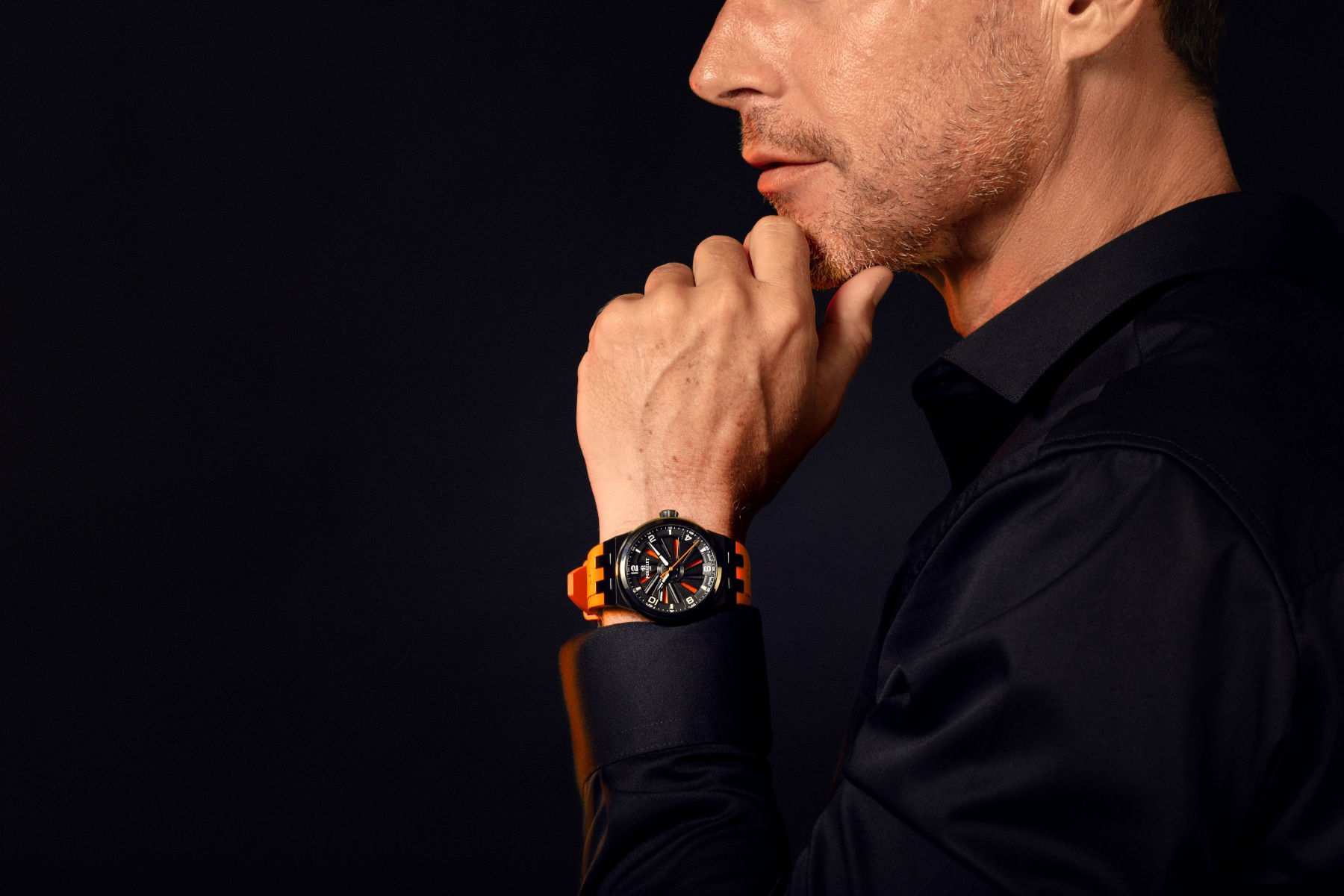 Final thoughts on the Perrelet Turbine 41 Titanium
Come September/October 2023, these marvels will be up for grabs in-store and online from authorized retailers worldwide. This isn't just a new watch; it's a fusion of Perrelet's creativity, expertise, and responsiveness to current trends — a perfect blend of form, function, and finesse. What are your thoughts on the new Turbine 41 Titanium? Are you considering making it the newest addition to your collection, or are you still on the fence? Drop your thoughts in the comments below! You can find out more information on the official Perrelet website.