Hands-On With The Argon Spaceone — Successfully Kickstarted And Getting Ready For Liftoff In December
You still have until June 10th to get your order in, but all the limited editions are already gone
During our last day in Geneva for Watches and Wonders, a few members of the Fratello crew and I went to the Beau-Rivage. That's where a group of young watch brands had set up camp to show what they had to offer. Brands like Furlan Marri, Baltic, Vulcain, and Nivada Grenchen were there. You might know that those last two brands were brought back to life by Guillaume Laidet. Well, he was also there with one of his most recent projects, Argon Watches. The first watch from the brand, the Argon Spaceone, launched last Thursday on Kickstarter and got funded within minutes. Over the weekend, the counter went up to almost €700,000! Let's see what the fuss is all about.
When you see the Argon Spaceone for the first time, it's immediately clear that you're dealing with a different kind of watch. As the name already suggests, it looks more like a spaceship than a watch. And while Argon means "lazy" or "inactive" in Greek, it actually looks like this watch can fly off of your wrist at any given moment. Let's take a closer look before this prototype has to leave our office again.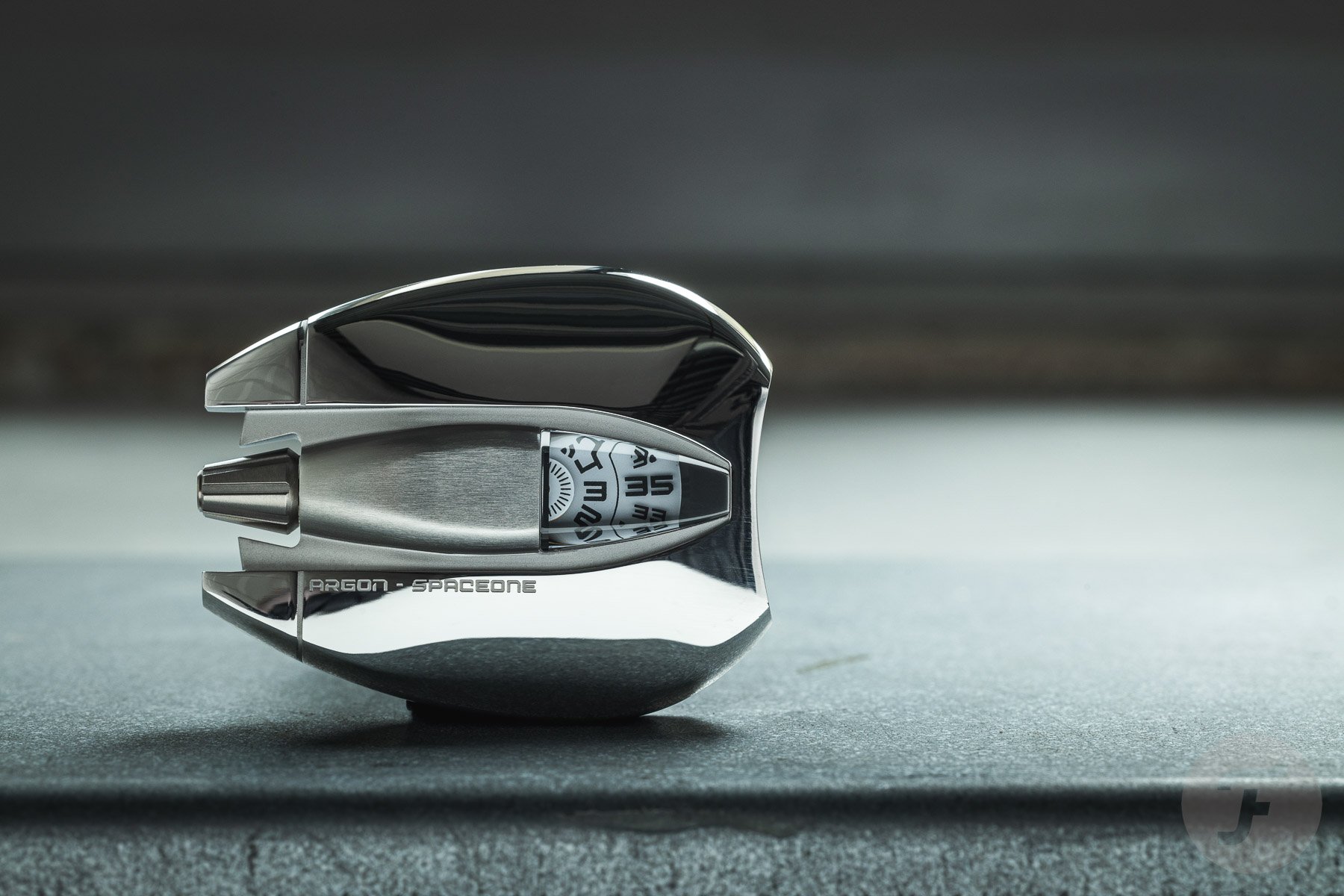 At almost 52mm wide, it wears great
And let me dive right into how this thing feels on the wrist because that's probably something many of you are curious about. Well, often, when we want to give a reader an idea of how a watch wears, we go over the case measurements first. I could do that here for the Spaceone as well. Unfortunately, that probably won't help you very much since the case is so different than most of the watches you've handled before. At least that was the case for me. Most watches are longer than they are wide. Well, not the Spaceone. At almost 52mm across, it's much wider than its 42mm length. Still, I feel it sits very well on my 17cm (6.7″) wrist.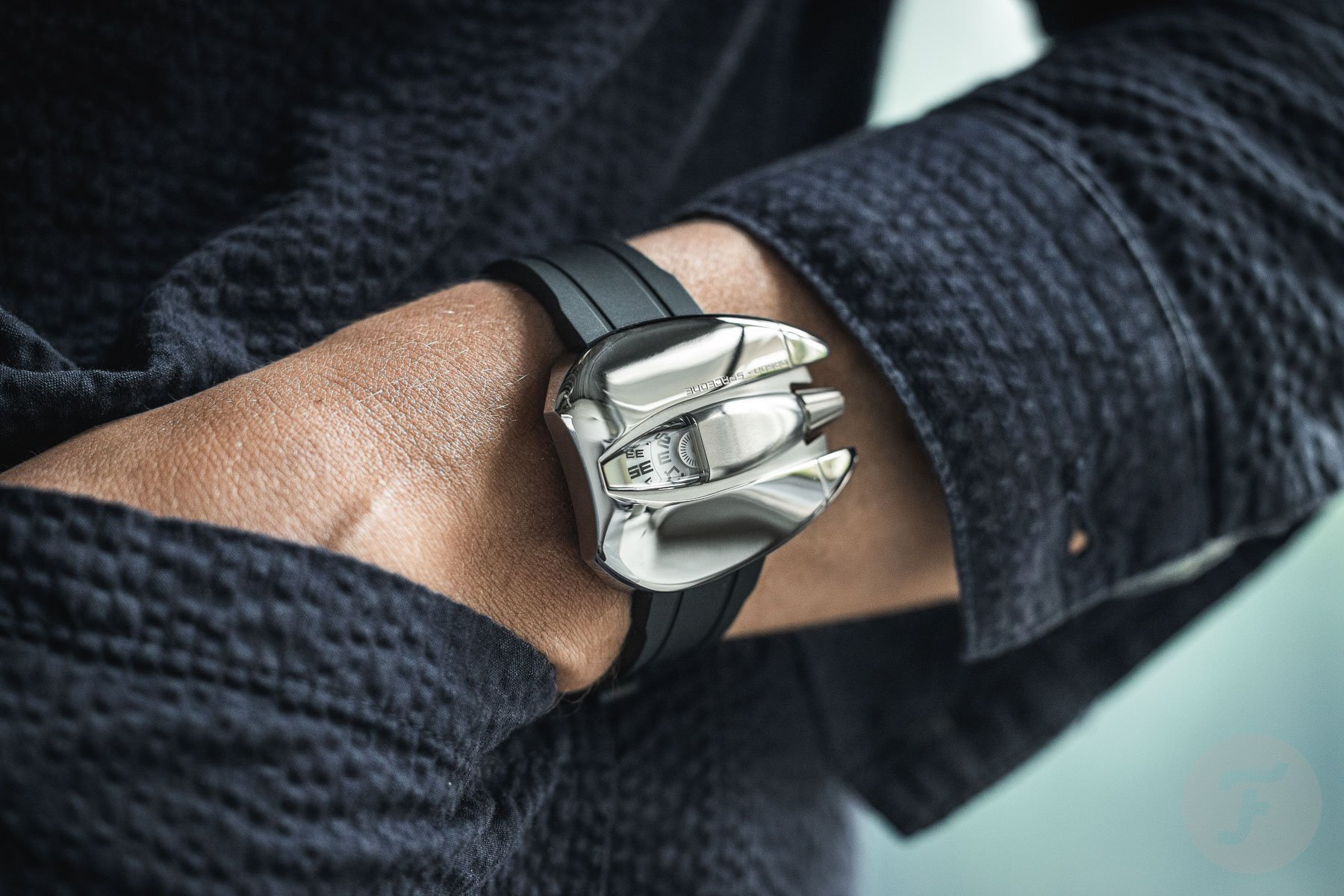 The strap comes out straight from under the Spaceone's case, so the "lug-to-lug" measurement is relatively short. And at its thickest point, it's 12.6mm from top to bottom, but it also slopes down heavily on the left side to a sheer 5mm thick. So in that sense, it really doesn't feel as big as its measurements might make you think. And especially when you're wearing the watch under a cuff, you can't see that longer left side. Consequently, it almost feels like you're wearing an Omega Speedmaster Professional, a watch that suits many different wrist sizes and shapes. And I feel the same is true about the Spaceone with its aerodynamic case shape.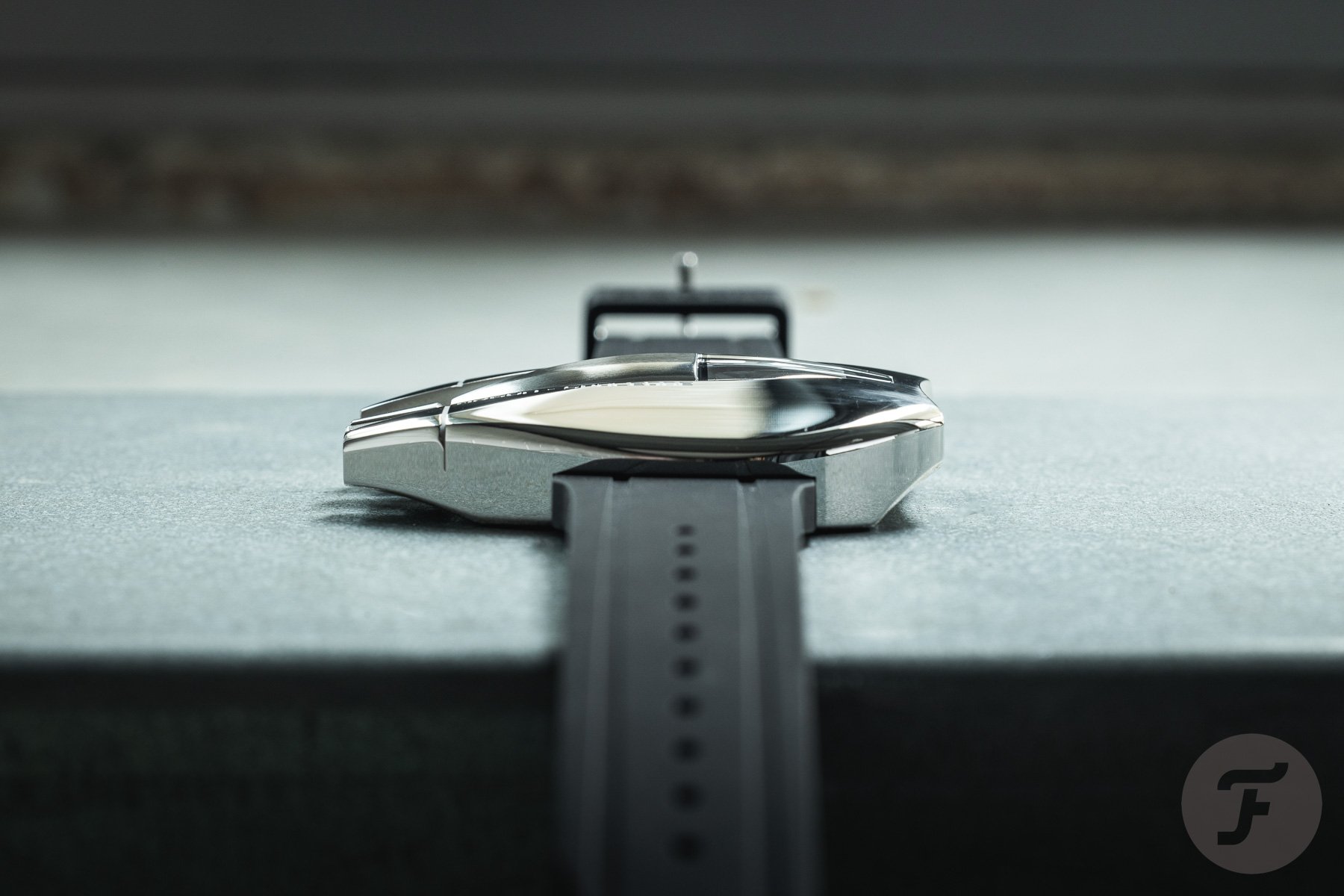 Available (or not) in stainless steel, titanium, and carbon
For the current Kickstarter campaign, the Spaceone is offered either in brushed or polished stainless steel, brushed blue or gray titanium, and black carbon. I say "offered", but both the gray titanium and the black carbon versions were limited to 100 pieces each, and they have already sold out. The brushed and polished stainless steel versions and the blue titanium one will be available until the 10th of June. That's when the Kickstarter campaign ends, and none of the current versions will ever become available again after that.
Some say the spaceship-like case looks a lot like De Bethune's Dream Watch 5 or that it would fit right into MB&F's collection of Horological Machines. And indeed, the Spaceone's design is definitely in the same boat as those watches. But it's also in a very different category when it comes to price. The titanium and carbon versions are/were available for €1,900 (excluding VAT), while the stainless steel versions are on offer for €1,500 (excluding VAT) each. That makes the Spaceone a lot more affordable than the watches from those other two brands, which are often tens of thousands of euros and up.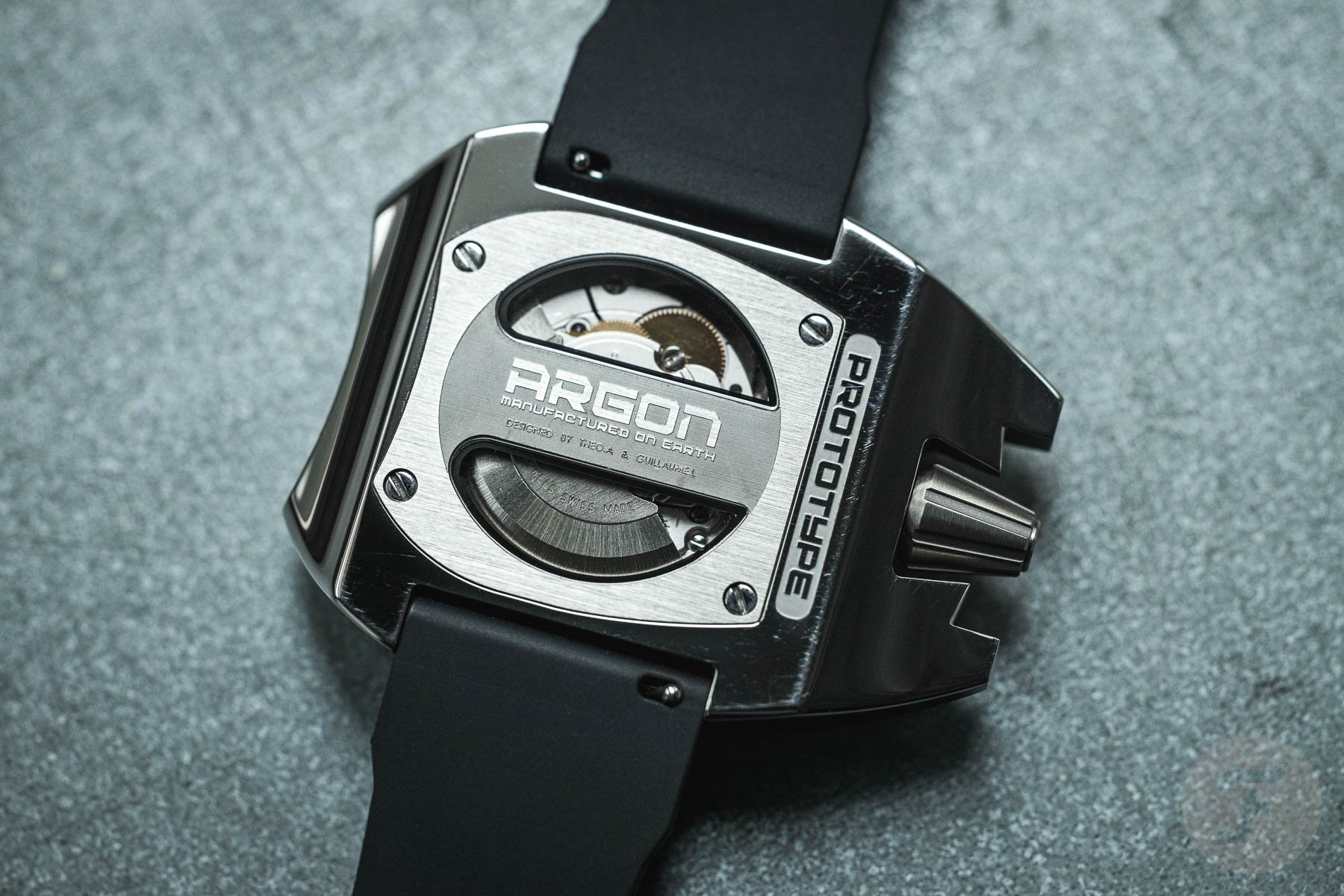 The nifty proprietary jumping-hour module
Part of why it costs a lot less is because of the movement inside the Argon Spaceone. It's a Swiss-made automatic movement from Soprod, which runs at 28,000vph and holds a power reserve of 38 hours. That's nothing too special, but what is quite special is the jumping-hour module that Argon put on top of it. It was developed by the French watchmaker Theo Auffret, who, together with Guillaume Laidet, is a co-founder of Argon Watches. The module consists of nine parts that have also been manufactured in Switzerland. When you look at the watch, only the seconds and minute discs will be turning except for when the hour changes. When that happens, the hour disk jumps directly to the next hour. It's very convenient because the hour is always right in the middle, making it very easy to read.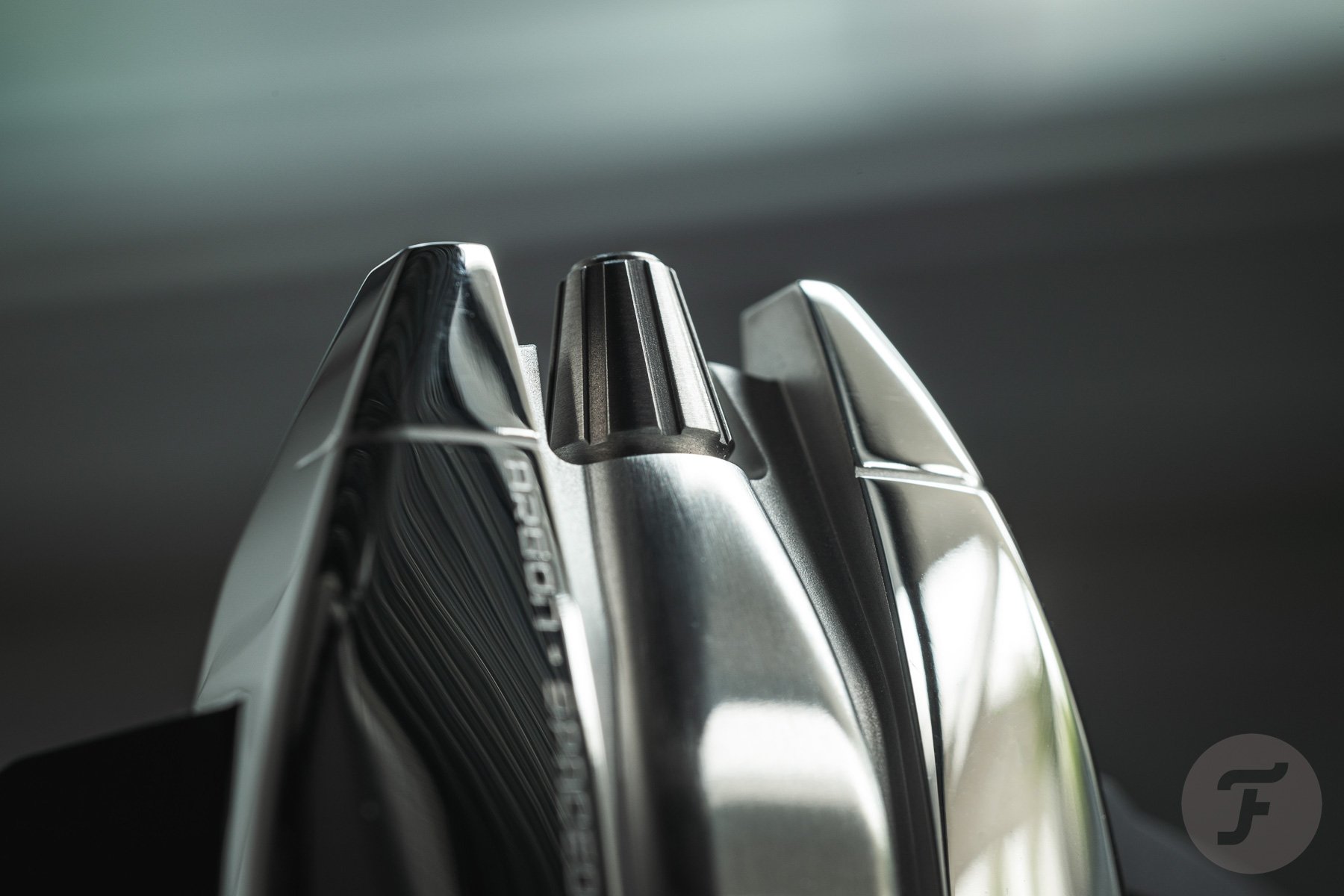 You operate the movement through the push-pull crown at 9 o'clock. It almost looks like a jet engine, and even though it's on the "wrong" side of the case for me, it's still very easy to use. And while setting the time, it's also fun to see those hours jumping by in the spaceship's sapphire cockpit. By the way, that cockpit and case probably won't survive an actual trip into space. However, it's good to know that the Spaceone is water resistant to 30 meters.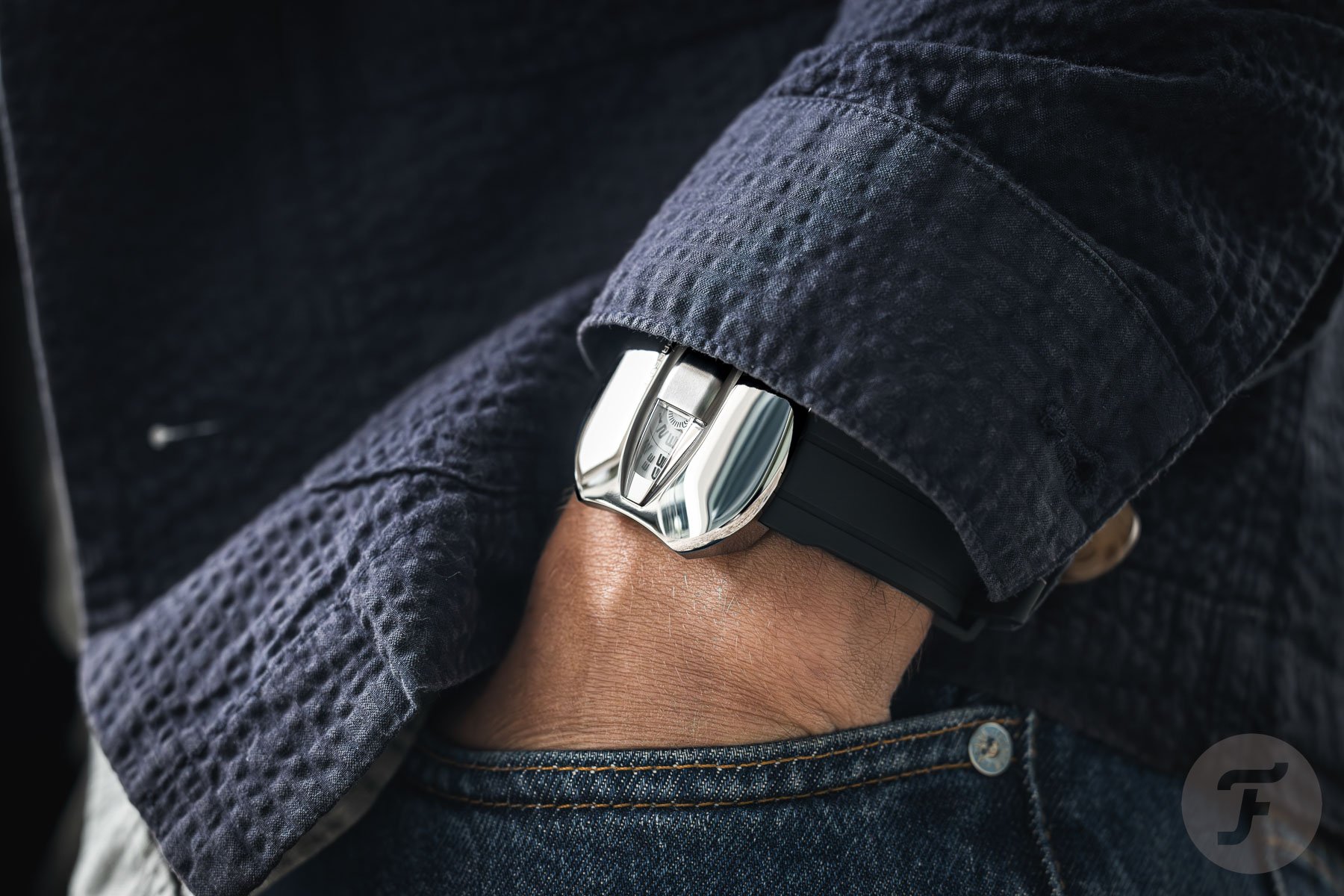 An understandable success
I think my favorite version of the Argon Spaceone is the brushed titanium one. That material really suits this kind of watch, and the brushed surface feels a lot less naked than the polished stainless steel version we had in the office for review. The mirror polish and its reflections look great as well, but I'd be afraid of all the scratches it will inevitably attract over time. So if I had to choose now from the versions that are still available, I'd go for the brushed stainless steel one. Every Spaceone comes with two rubber straps, with one in black and one in orange. But it's good to know that any 22mm strap will fit the watch.
Although the Argon Spaceone might look like watches from much more expensive brands, I still think that it's a very original watch for the price. So I can totally see why the Kickstarter campaign was such a big success from the get-go. And now that I've had it on my wrist for a little longer, I can also say with confidence that all those backers will become very happy owners when the watches are eventually delivered in December of this year.
For more information on the Argon Spaceone, please visit the official Kickstarter page.
What do you think of the Argon Spaceone? Will you become one of the 350+ backers, or are you not into these unconventional designs? Let us know in the comments below.
You can also find and follow me on Instagram: @fliptheparrot
Updated: Water resistance of the Spaceone is 30m, not 50m as mentioned earlier. And work still needs to be done on the lume for the production model, so this is not yet confirmed.
Watch specifications
Case Material
Stainless steel, titanium, or carbon
Case Dimensions
51.67mm wide, 42mm long, 12.6mm thick
Crystal
Display case back with sapphire windows
Movement
Soprod P024 with proprietary jumping-hour module, automatic winding, 28,800vph frequency, 38-hour power reserve
Strap
FKM rubber straps (22mm, black and orange)
Functions
Jumping hours, minutes, and seconds
Price
€1,500 (ex. VAT) for stainless steel versions / €1,900 (ex. VAT) for titanium and carbon versions