The Stoic Watches Debut – The Art of Phoning It In
We receive a fair amount of email over here at Fratello HQ, which is folksy code for saying that our team receives a lot of messages in our inboxes. Some of these emails are direct communication from readers like you, but more often than not, they're promotional emails from brands either announcing a new model or brands asking if we are interested in covering their newest piece. Believe me, we receive these emails from the big names and we receive them from the smallest. We also get a lot of flow from brands that are debuting things that look a little more comfortable on the rotating display cabinet at your local Shell station. This latter category is a genre of watches we don't cover because, a) it's not overly interesting or horologically significant and b) you wouldn't view it unless you desired to read a drubbing on an object akin to a helpless kitten. But – last week, something hit our mailbox that I, and some of my teammates, simply couldn't ignore. Laced with a full dose of hyperbole and fluff, I laid my eyes upon the debut salvo from Stoic Watches. And I must say that my eyes still hurt. So, today, I'll share my thoughts on this trio of lazy questionability, but I'll also spend a moment on the art of making a good cheap watch – something that most of us take for granted.
Critics of online or printed watch magazines often state that we writers rarely "tell it like it is". Translated, this opinion typically means that readers feel we are far too generous with our positive comments about watches that are ho-hum, overpriced, or a mix of the two. We could start a discussion about how we're biased due to advertising dollars or even the more practical response that ripping into a watch's or watch brand's lack of taste might give a publication a certain reputation and, therefore, limit its ability to access other brands. Those are fair points to surface, but the easiest thing to explain (and we have before) is that it's much better for us to choose styles of watches we like and, ergo, enjoy writing about. So no, as much as I may live in Germany, schadenfreude isn't my reason for being here. Regarding the topic at hand, it wasn't easy for me to decide whether to take aim at Stoic Watches, but we felt it had to be done.  Now, on the surface, when I tell you that Stoic Watches brought out a diver, a pilot's watch and a chronograph (oh my!) – three of my favorite watch styles, it sounds harmless enough.  So, why am I so turned off?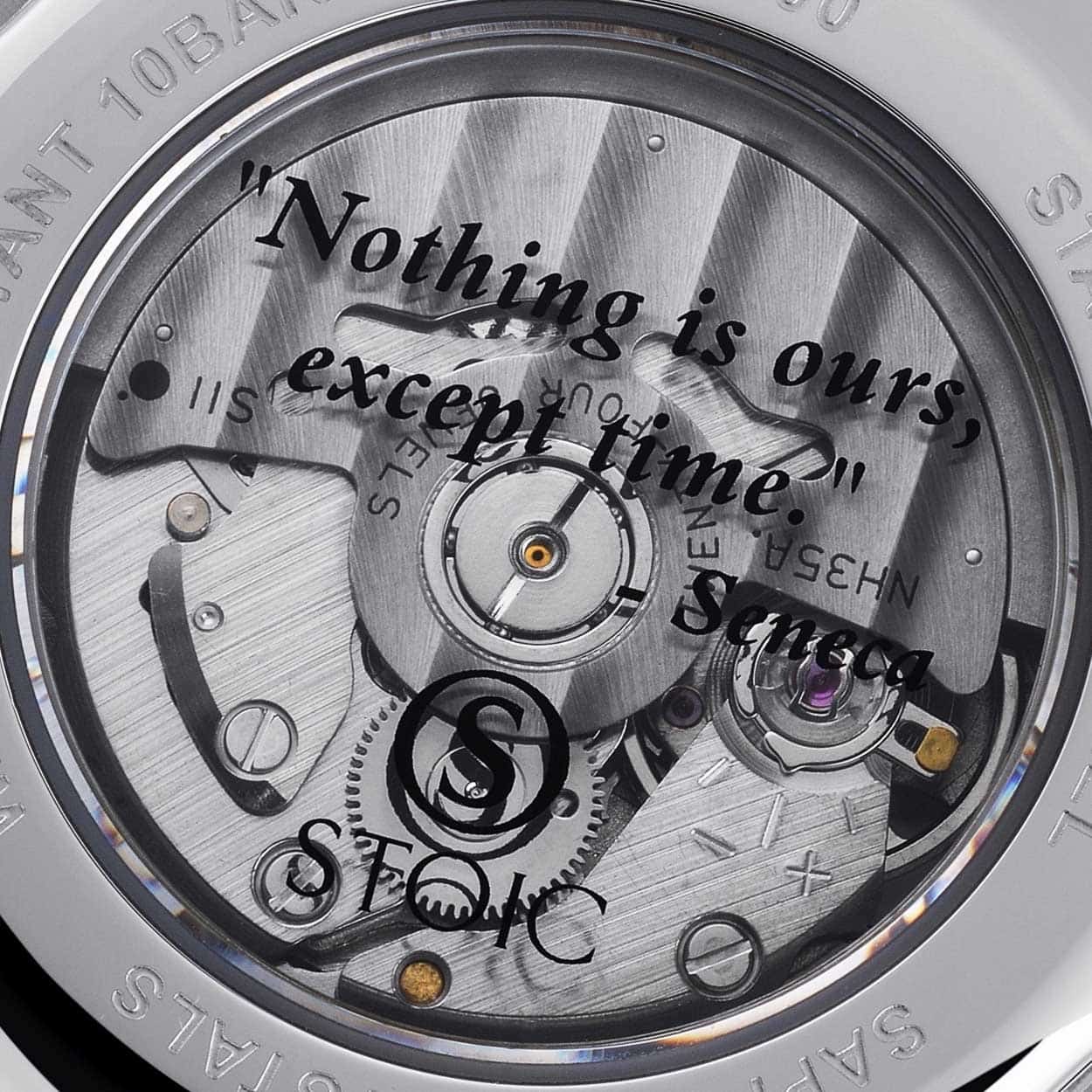 Let's start with the PR.  Look, press release materials for watches – any luxury-based good for that matter – are filled with all sorts of trite feel-good messages meant to make one aspire to own the watch in focus. Most are barf inducing, but the Stoic Watches release takes the cake. Here we go, and this is just the start – you can head to their site to read the rest:
"Stoicism, a way of thinking, a philosophical view founded in Greece 300 BC. The principle? Individual happiness based on temperance and detachment achieved through reason.
"Everything is opinion. And opinion depends on you ", Marcus Aurelius'.
A philosophy that resonates powerfully in our time. It is that which feeds our time. In our society, wise is the person who can say at what stage and at what age we reach maturity. Age dynamics have changed, and there is a transformation of the stages of life that everyone can observe.
Our social markers have changed. That which traditionally separated youth from adulthood no longer applies. The diploma, the first job or moving in with someone: these traditional rites of passage are no longer performing that role. On the other hand, state of mind, curiosity, the quest for meaning, the desire for experiences and contribution, are present. Moreover, this presence can be found across all generations.
An inspiration that becomes today the name of a watch brand."
Quoting Marcus Aurelius (and inking a quote from a Roman Stoic philosopher on the case backs I might add)– that's pretty deep, right? We could be talking about the next big thing here – but sadly we're not.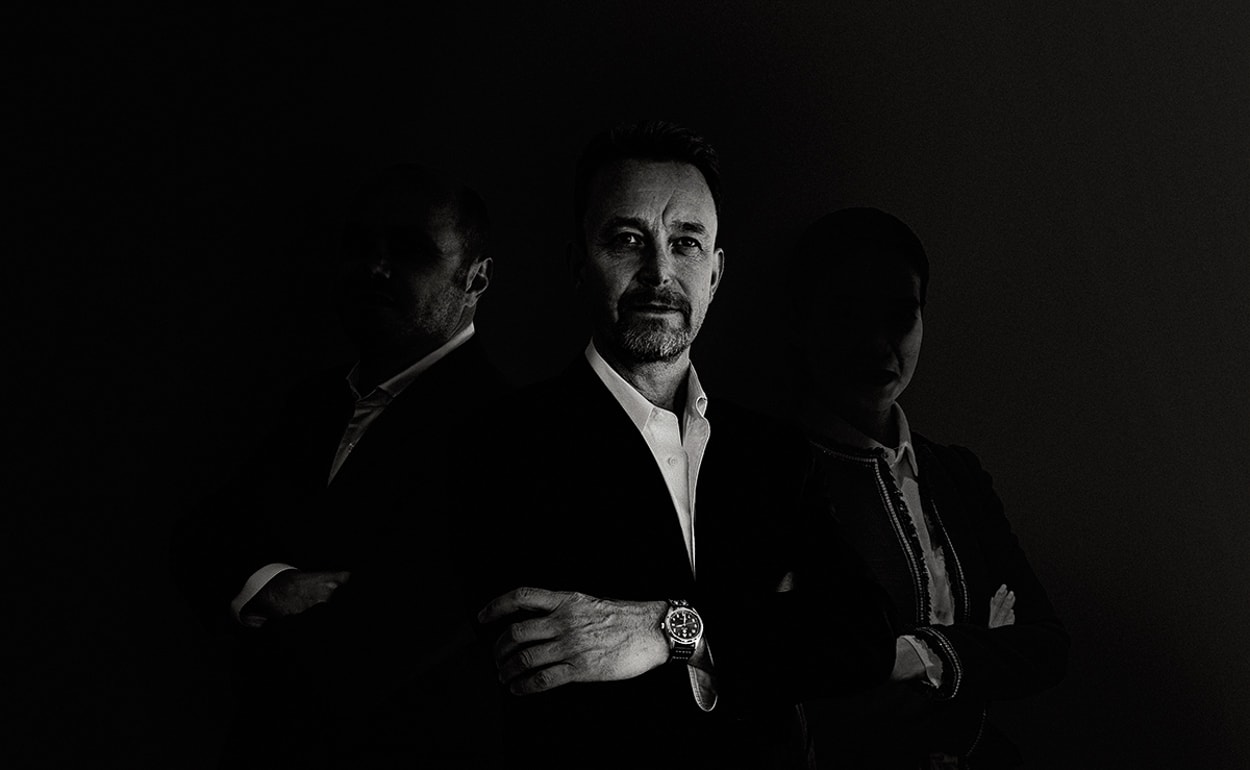 We're then told that the watches are "thought through and developed in a rational, practical and robust manor", are of "timeless design", are for "everyday heroes", that each of the three watches "offers what best defines its category", and for the drum roll – one of the brand's founders is "a renowned watchmaker". That renowned watchmaker, we come to find out is none other than one Peter Speake-Marin. Hot damn, stop speak(e)ing, shut up and take my money! Hold that thought, though…
Cue the sad trombone because we finally get to see the trio of offerings from Stoic Watches and an overwhelming sense of ennui ensues. Behind door #1 is a blatant copy of an IWC Mark series – The Pilots Watch – complete with a Seiko NH35 movement for – here it comes – $390. Huh? Just for reference, you can grab an NH35 in an Invicta diver on Amazon for $83 at time of writing.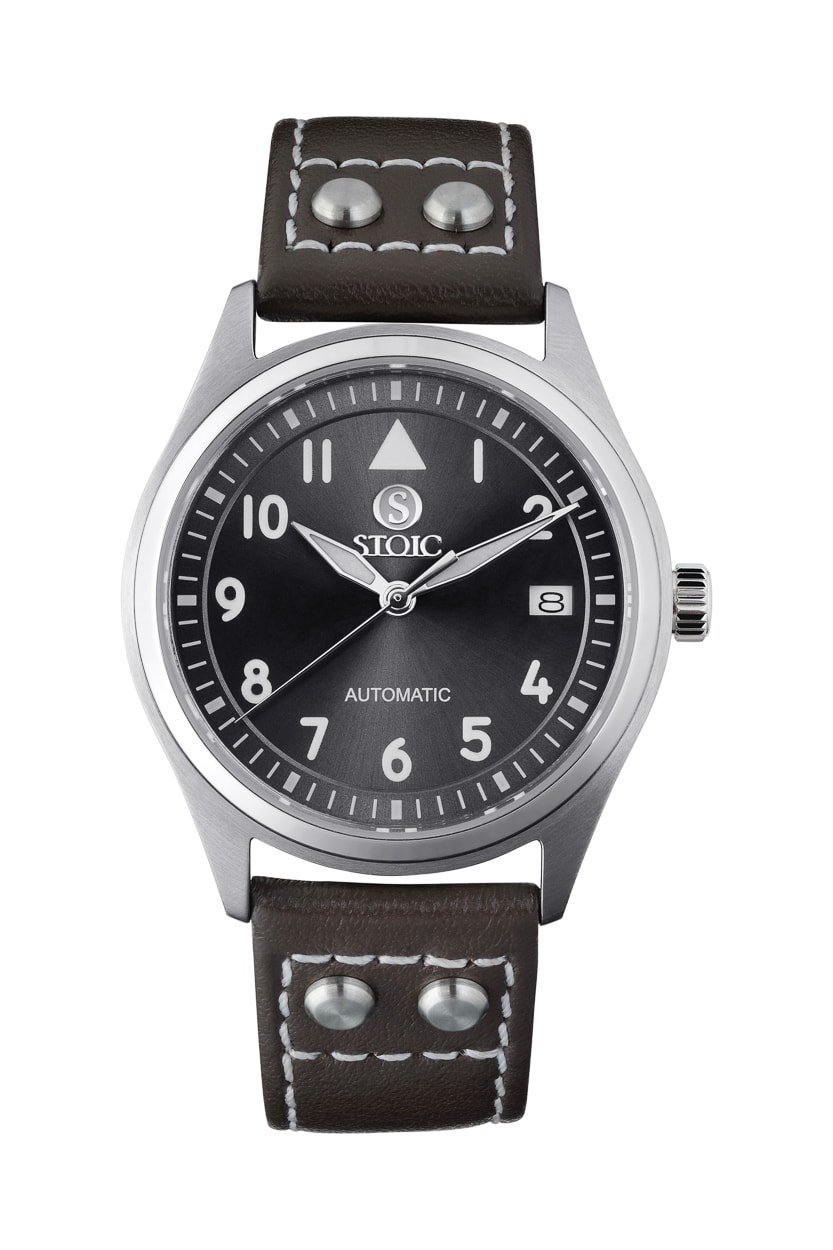 The second offering from Stoic Watches exposes a quartz-driven vintage Daytona copy for $290 (shipping is free, so there's that) called The Chronograph. With a big old ham fisted encircled "S" below the 12:00, this piece looks as if it would be more at home next to the Emporio Armani watches at your local department store (top tip: wait for the Columbus Day sales and bring your coupons). It's an homage watch at best that shows zero creativity.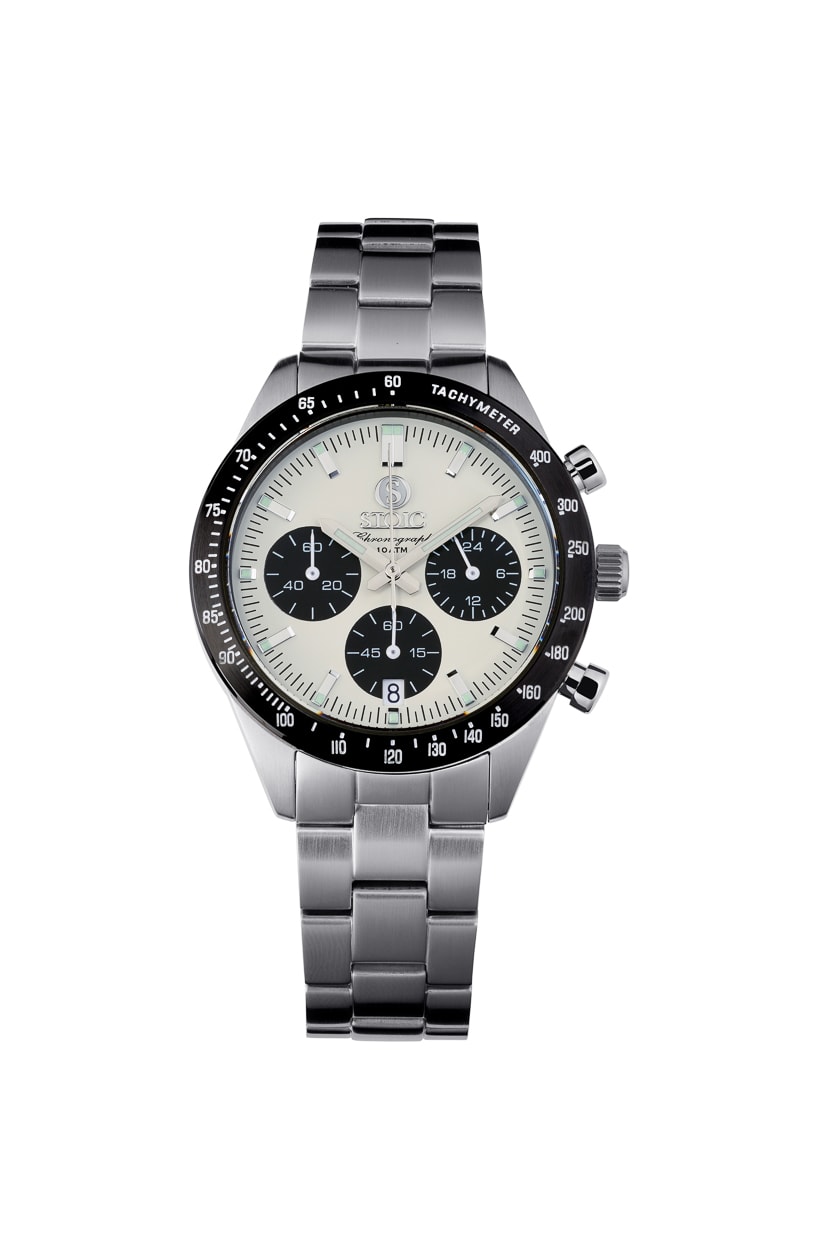 And finally, in a real head scratcher, we get the NH35-powered diver named The Sports Watch. This watch is notable for a few things. First, it's the only non-homage piece, yet it has elements of everything. There's some Rolex/Tudor in the case shape and bezel, there's some AP Royal Oak in the dial and I even see some Seiko in the hands – that part is fitting because we are again treated to the NH35 movement. Lest I forget, these Asian movements receive Geneva striping, which is fine because I too like sushi paired with fondue. Oh, and while Stoic was at it, they made the watch bi-color because that's kind of an in thing right now. The price for this hot mess of a Nanjing Road special is only $490.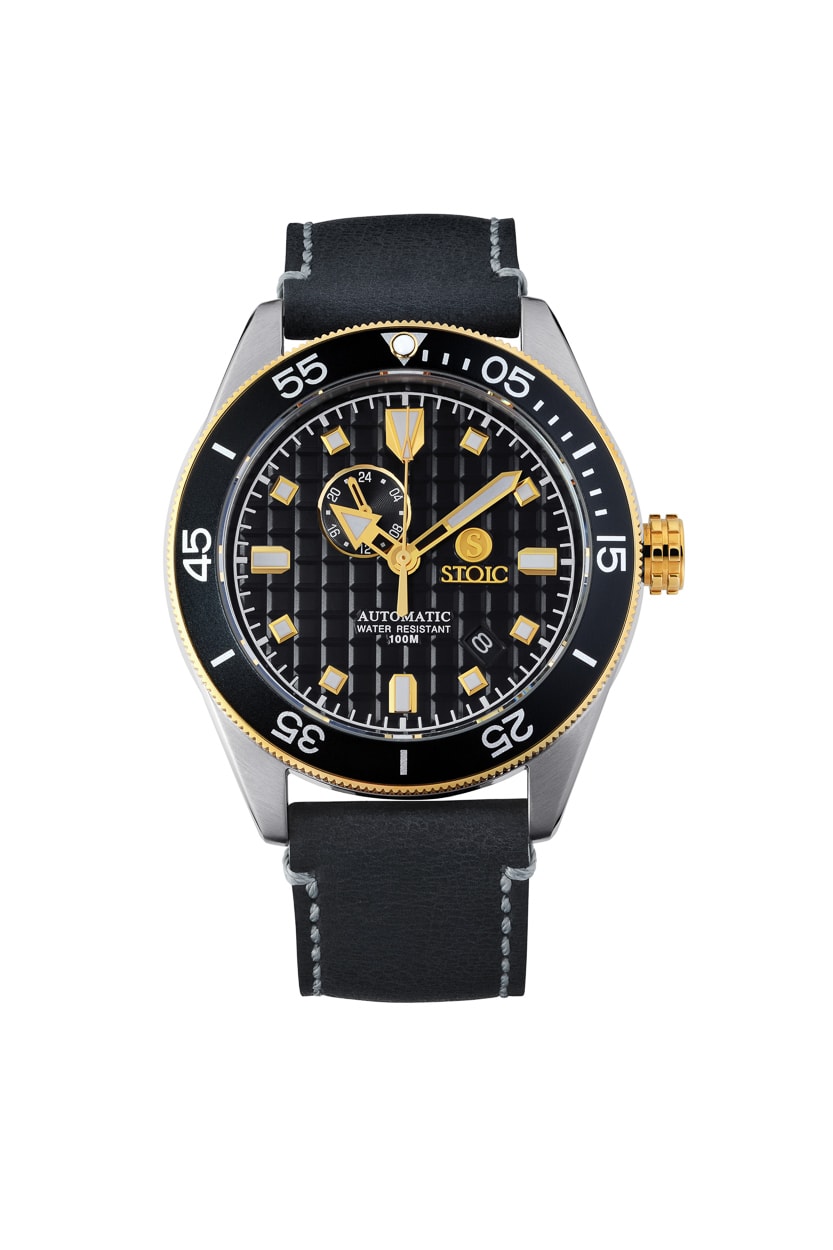 Coming back to Mr. Speake-Marin and Stoic Watches, I am astounded that he would put his name behind such a pile of phoned in watches. Yes, I get it that people need to earn a living, but surely a person such as this who was involved in some fairly serious haute horlogerie could come up with some more inspiring watches for the price. To badly cite renowned British film critic Mark Kermode, it appears that Mr. Speake-Marin has "shown up for the paycheck." It's sad stuff, but using a known name to back a lame product is certainly not a foreign concept. I've simply not seen it so blatantly done in the watch industry and at this lower price level.  This is prime hunting ground where either a new buyer or an ill-informed consumer could be talked into buying something that is clearly not great value for the money.
What also irks me is that Speake-Marin and his co-founders from Paris and Hong Kong wasted an opportunity with Stoic Watches to do something significant.  It's difficult to design and make a worthwhile inexpensive watch, but this brand chose the easy parts catalog approach out of Asia. Who does it well? Seiko is the easy answer when one thinks about "bang for the buck" in the sub $500 range, but others are able to pull it off such as Certina, Hamilton (I think one should be deemed as certifiable if choosing a Stoic "The Pilot's Watch" over the Hamilton 38mm Mechanical), and even Swatch to a large degree. And then there are the micro brands who get it right – Baltic comes to mind – and the plethora of others who are at least giving it the old college try in what comes off as a genuine attempt to offer as many high-end features at a low price of entry. No, instead, Stoic Watches threw very inexpensive movements into some equally uninspired designs, heaped loads of second-rate marketing speak onto its website, and added a name to the mix.
Let's see what becomes of Stoic Watches and if they ultimately choose to introduce watches with movements and designs befitting the price tag or if they continue down the road of anonymity. More importantly, our own Gerard, who delights in visiting the more experimental brands, was heavily dismayed to read of Mr. Speake-Marin's involvement in Stoic. This disappointment was a lot like seeing a child's face on Christmas morning who received a pair of socks instead of the newest Transformer. Try again Stoic and next time, focus on the watches and lose the fluff.
More information on the watches, click here for the official Stoic World website.