The Titoni Master Series 94388 Uses Blue And Green Together For A Fresh, Modern Aesthetic
Another reason why you need to try before you buy.
Blue and green. To some people, the combination is a serious no-no. Not to this writer, however. Nor to the Seattle Seahawks, whose team nickname I recently hijacked and applied to the NOMOS Glashütte Tangete Update. With that moniker taken, I need a new one for this surprisingly engaging Chronometer-certified Titoni Master Series 94388 Power Reserve model I had the pleasure of spending time with last week. Why? Because I think it deserves it.
Titoni is a brand I've grown to respect over the past year very much more than I did in the past. In fact, until I started getting the watches in my hands and on my wrist regularly, I had the brand pegged all wrong. It goes to show that even though I've been working with watches for 20 years, judging these things via their digital presence (or even through the glass of a cabinet) is an insufficient exercise. If you're really considering which watch to buy, you need to get the contenders on your wrist. Heck, it's even worth trying watches you're not sure you'll like at all, or even ones you actively don't. Basically, if you love watches, spending time with any and all of the ones you can in the metal is a worthwhile thing to do. Thank goodness, therefore, we still have brick and mortar retailers.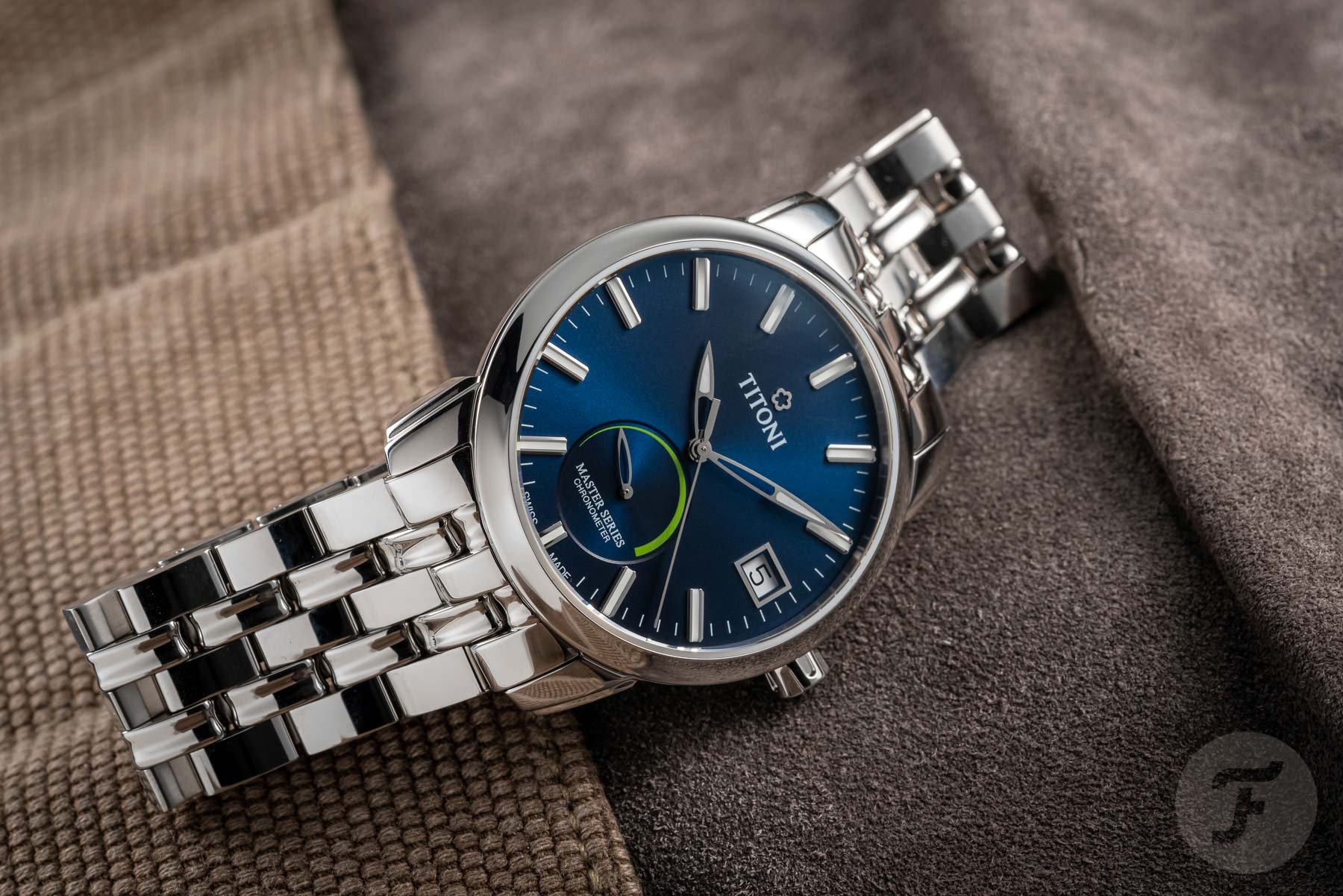 A misunderstood brand
My first physical encounter with Titoni was in Prague about three years ago. I was visiting a retailer there to scope out its suitability for NOMOS Glashütte. What I found was an interesting (entirely foreign) setup tailored toward coach loads of Asian tourists. It was a funny thing I'd never experienced before. I'd heard tales of these coach tours having close ties to retailers all over the world and providing them with enormous amounts of business thanks to the tourists' keenness to take advantage of VAT breaks upon their return home.
…by far the most impressive (and unexpected) presence was Titoni.
Berry's jewelers in York, England, told me of one such incident. A small store was bursting at the seams with tourists loading their bags with Patek Philippe watches (whatever was in stock — literally whatever), and all but clearing out a Tissot display in the window. As such, I was perhaps better prepared for this Czech store that was stuffed to the rafters with a selection of brands that would have seemed unusual to the western eye but was immensely (and I do mean immensely) popular in Asia.
There were plenty of brands I'd seen before (namely the usual offenders like Longines and Hamilton), but by far the most impressive (and unexpected) presence was Titoni. I marveled at the number of models in stock and the interest of the bustling consumers as they flocked to the display.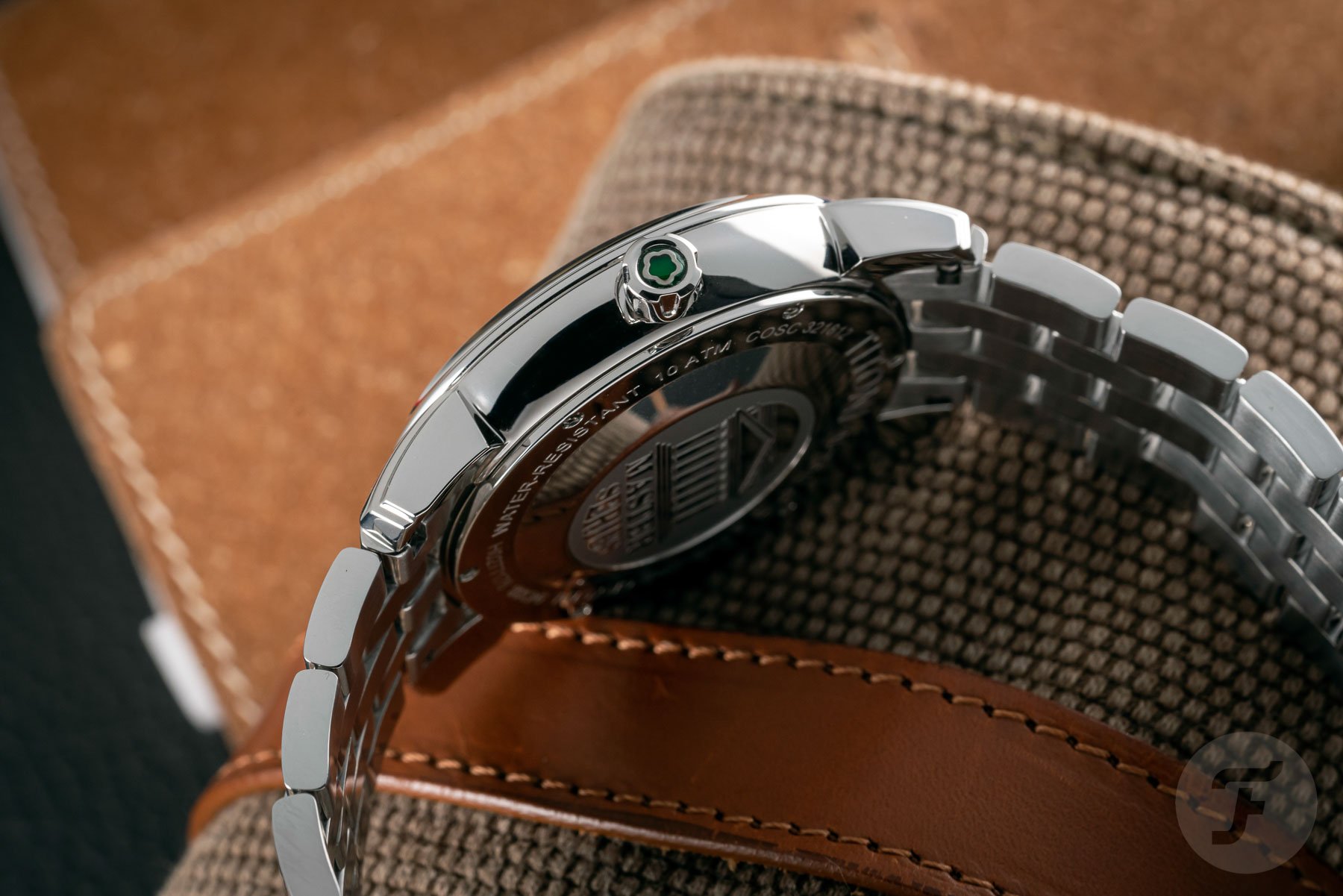 Further exploration
My curiosity was piqued. I went home and explored Titoni and found a surprisingly long-lived, generationally successful Swiss brand that had, before many others, seen the potential of Far East trade. So much so, in fact, the brand grew on foreign soil, watered by healthy investment in the overseas market, while its reputation at home, if not suffered, simply ceased to be the priority.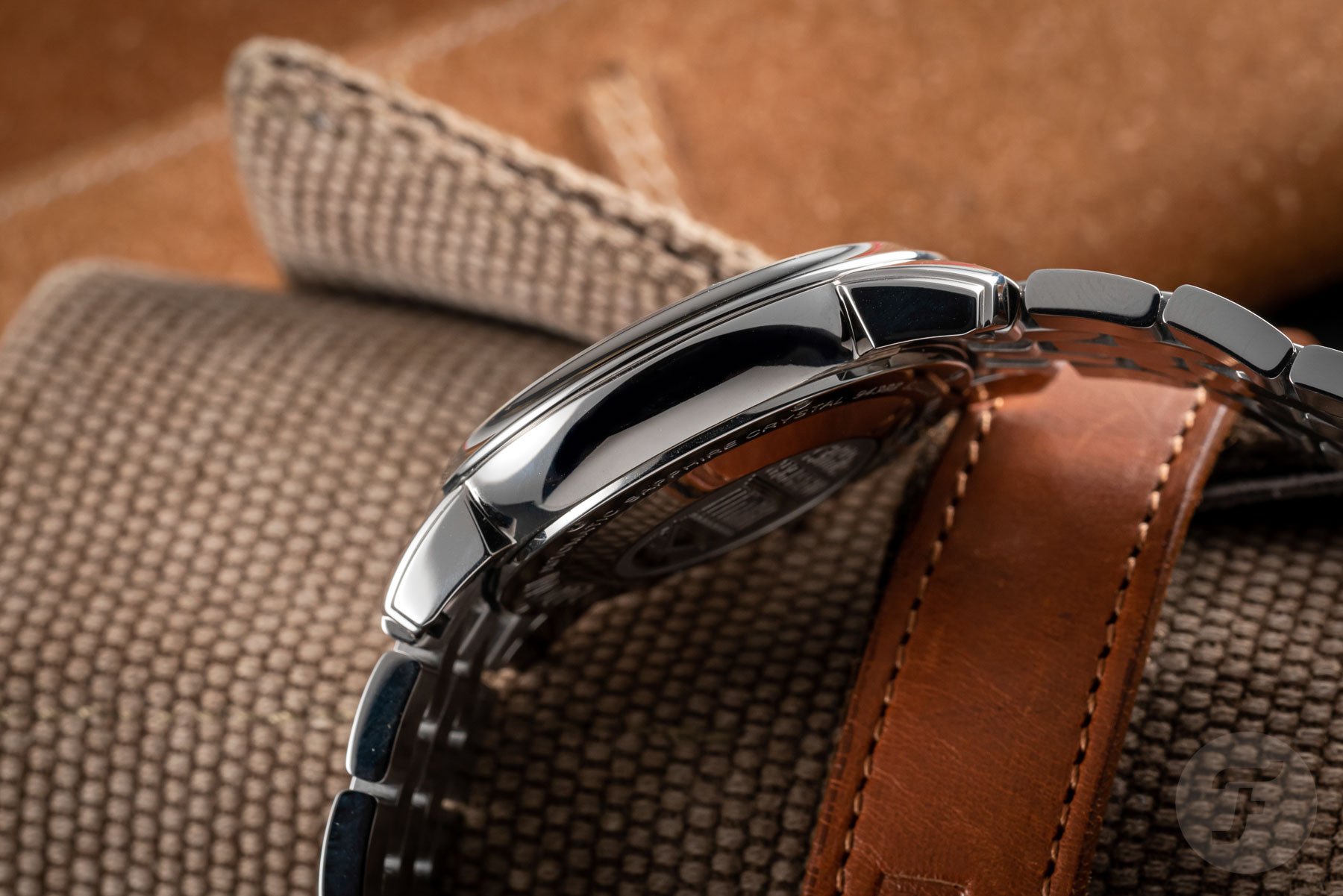 In recent years, Titoni has made the move to become more visible to a home audience. Hence, Fratello was finally able to get some hands-on experience with models that had hitherto flown under our radar. What we saw impressed us. The thing that leaped out of the box right away was the build quality. The addition of in-house movements to some models (although not this one) certainly helped to sweeten the deal (and left many of us scratching our heads as to how such a top-to-bottom value proposition had escaped our focused attention for so long).
What we saw impressed us.
In my opinion, there are some models in the collection that clearly exist for the Asian market, but an increasing number of new products align with what I think the western watch community finds interesting. The previously reviewed Seascoper is still my favorite, but this Titoni Master 94388 Power Reserve won me over once I got it on the wrist.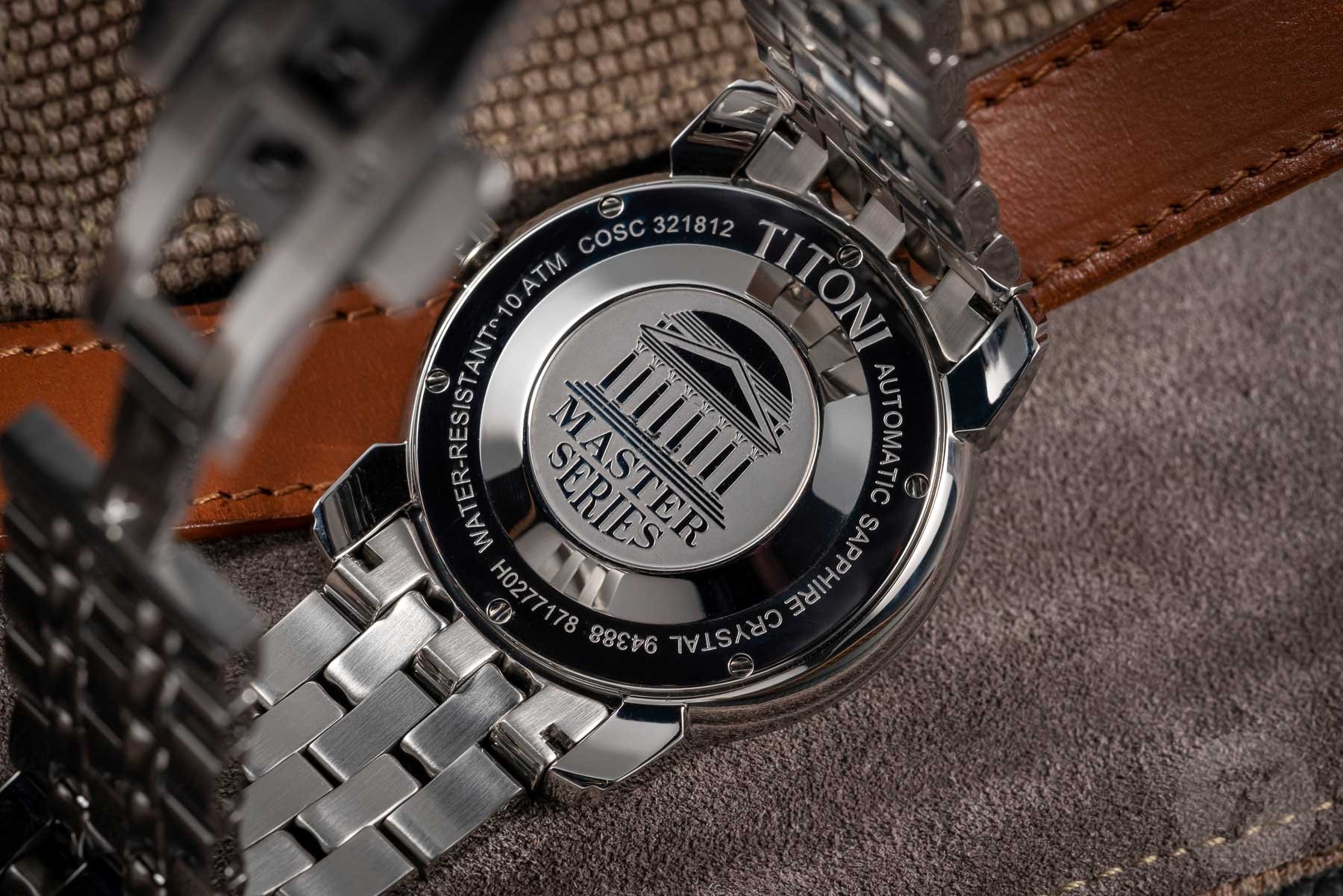 In the metal, it's a whole different ball game
One of the things Fratello is known for is our photography. Our camera wizard Bert has the ability to capture the character of watches with his lens. In fact, the things he has uncovered that would have hitherto gone unseen leave us in no doubt of the reason why some brands don't get the second look they deserve. Here, he's really managed to show this model in its best light. Nothing compares to the wearing experience, but I can say this for sure: had I seen these images first, I might have moved a bit quicker to get one on my wrist.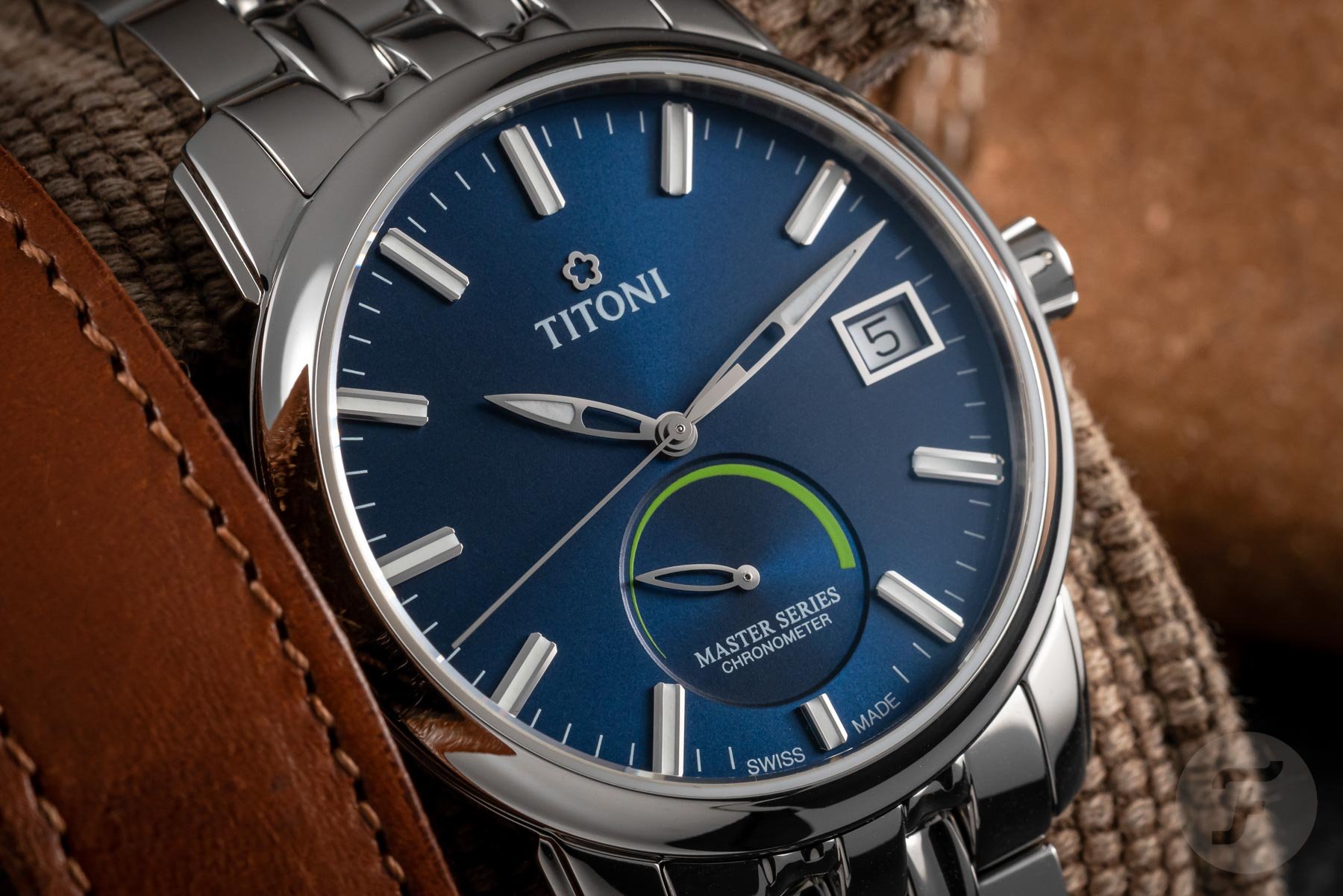 It's not that general brand product photography is bad, it's just (by necessity) a little too sterile in places. Soldier shots are a must, but nothing beats lifestyle imagery for communicating the way the dial really looks in natural light. Colors that can seem a bit flat on highly staged photos suddenly pop and combine in a way that you might not have thought possible.
…I came away extremely impressed.
On paper or the screen, this is not a watch that interests me. On the wrist, however, I came away extremely impressed. I love the use of blue and green (and therefore dub this model the "Cortez" in honor of the late, great defensive Hall of Famer for the Seattle Seahawks, Cortez Kennedy) but appreciate that will be an immediate turn-off for some.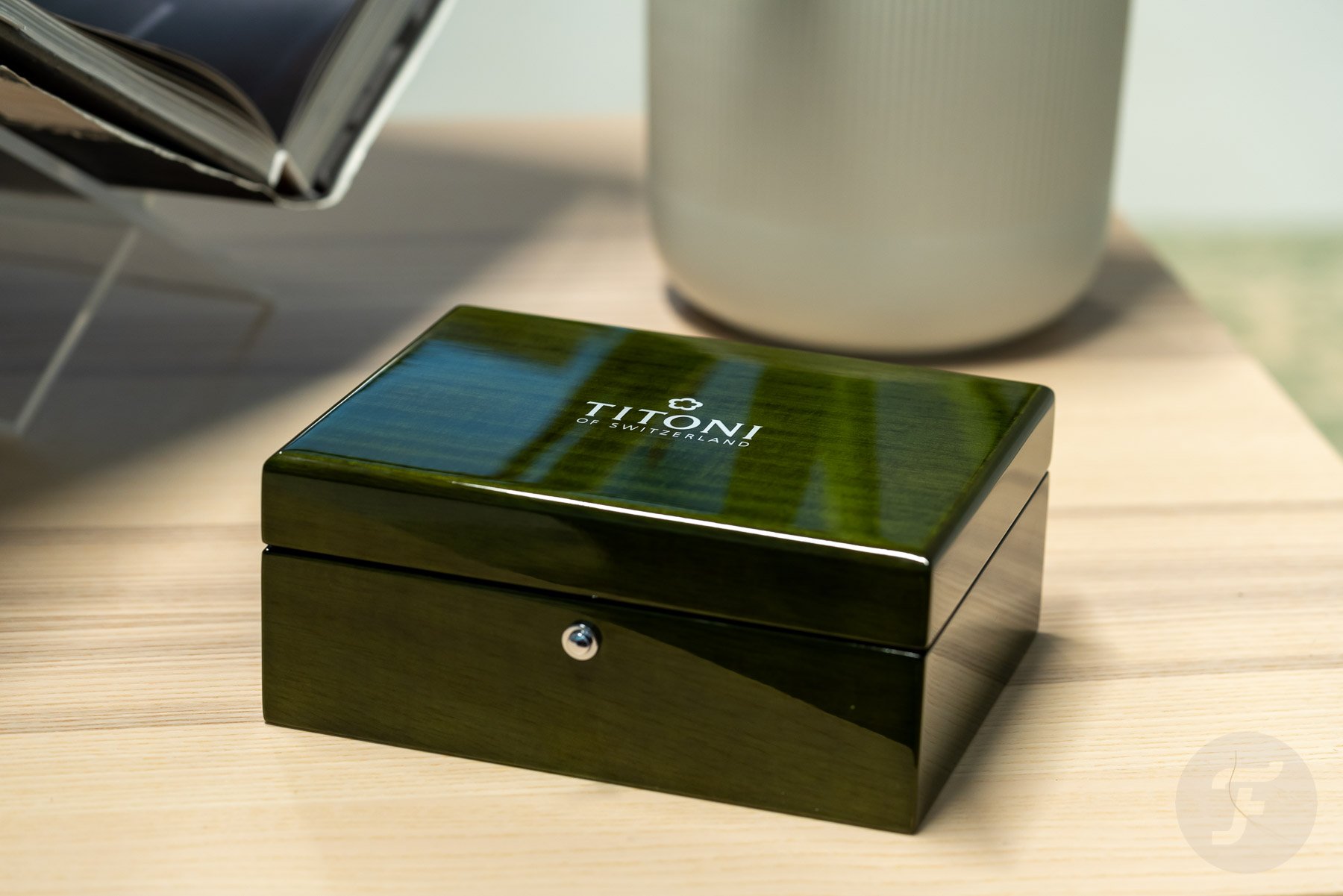 Quality, quality, quality
What I love more than the colorway, however, is the manufacturing precision. This isn't necessarily a slim watch, but it is elegant, and its well-applied surface finishes bolster its refined appearance. I don't think I could call this a "dress" watch by any stretch, but I think it is an excellent option for business attire.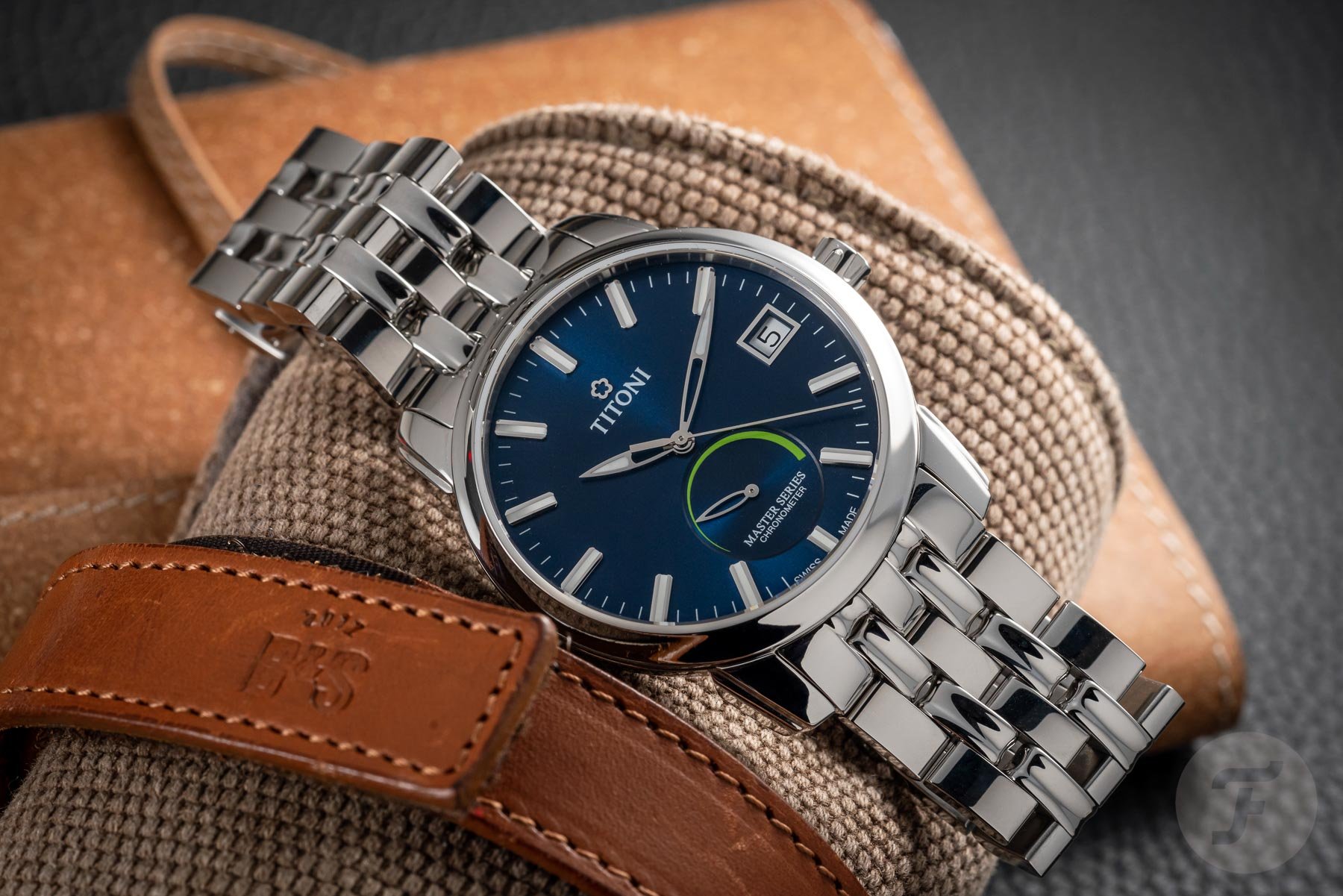 I think it might also tickle my fancy more on a leather strap. Some of you will disagree with me here and think the bracelet is an essential component of the design, but I always struggle with hefty bracelets on anything other than a pure sports watch. That's just my opinion, but having both a brown and black strap with quick-release spring bars seems to me that the way to get the most out of this model as a daily piece of office workwear.
Ultimately, this watch, with its 41mm diameter and 48.5 lug-to-lug is a versatile, finely made timepiece that, thanks to its 100m of water resistance and the 4Hz operating speed of the automatic Sellita SW470 chronometer caliber is more than up to the task of being your daily companion. And that prominent power reserve indicator in green doesn't just tell you that this Master Series watch is chronometer-certified, but it also indicates a healthy run-time of 41 hours on a full wind. The retail price? €1,790. To learn more about this model and Titoni in general, please visit the brand's official website here.