The Top 5 Microbrand Watches Under €1,000 In 2023
The sweet spot for many of us 
While microbrands offer tremendous value for €500 or less, things become more interesting if we stretch the budget to €1,000. The microbrand sweet spot seems to be between €500 and €1,000 for most brands I know of. In this price range, we get better movements and finishing, more originality, and even a few surprises. I could honestly build this list around just one brand, but that would be too easy. Instead, we're going to take a look at models from various brands that belong to different genres. We'll examine everyday watches, GMTs, divers, and anything I've gotten my hands on in the past two years that offers a little something extra. Making this kind of list is also a good exercise for me. It forces me to wonder what I would not only recommend but also add to my collection in this price range. The answer? All of them.
Last week, I wrote a list of my top five microbrand watches under €500. It was somehow possible to pick one model in each major category — diver, GMT, field, pilot, and chronograph. While I was not able to do so here, we're still going to look at a broad range of watches, from a diver and a GMT to three everyday watches that each have a different kind of flair. As is customary, I am only writing about watches I've handled in the metal and photographed myself. There are, however, many other options out there that I recommend you look into. I suggest looking at Daan's list and Thomas's picks of models under €1,000 from a wider pool of brands.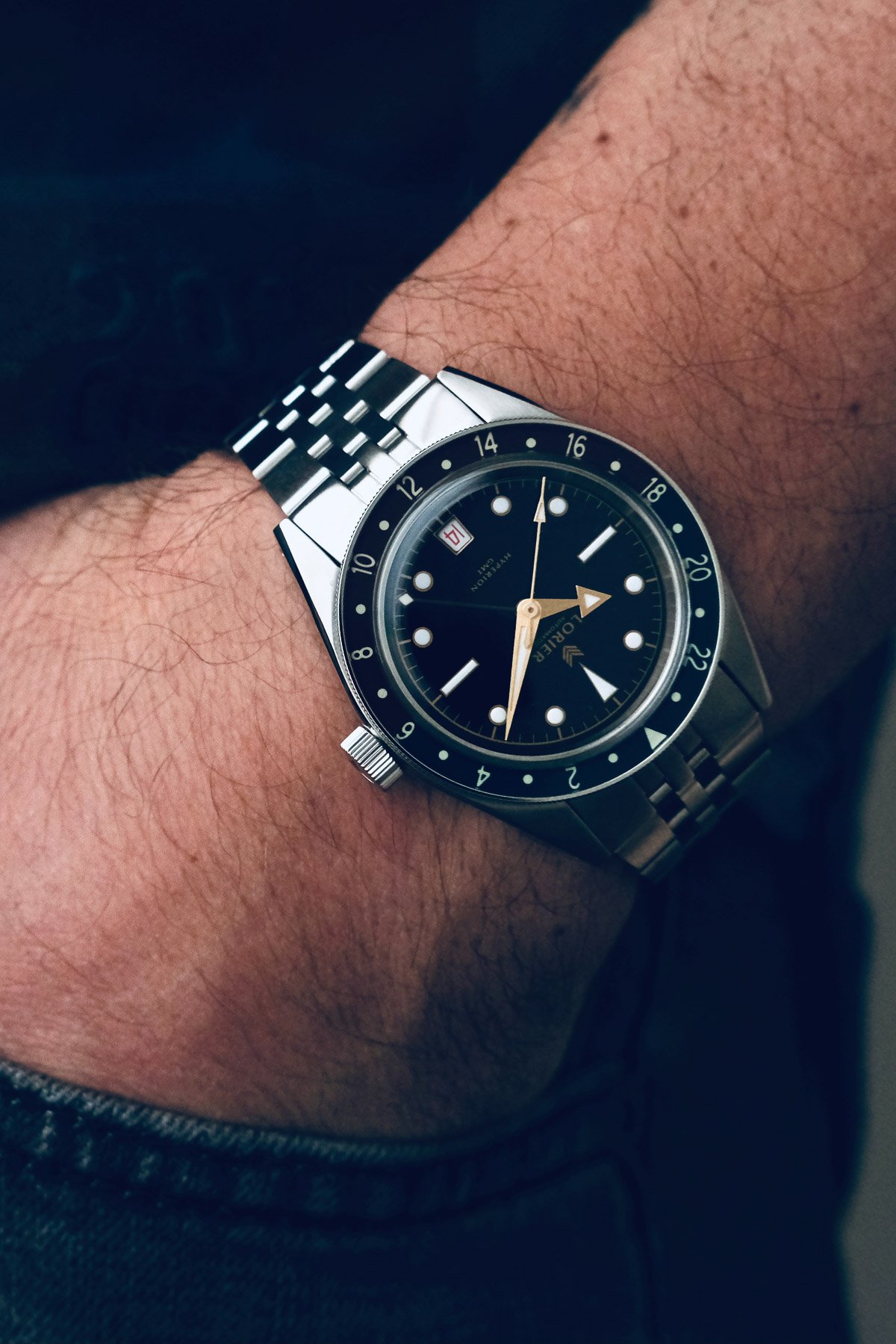 Lorier Hyperion Series II
I would be hard-pressed to skip over Lorier when looking at great watches for less than a grand. I started my previous list with the Neptune Series IV, and I must start this one with the Hyperion Series II. As long as you have a thing for vintage, you should be interested in this GMT. The Hyperion comes in a black/gilt-tone version and a white "Skyward" limited edition. They have the same specs but different color schemes, and here, we are taking a look at the model in black. It's as vintage-looking as it can be, and Lorier once again dialed in the 1960s GMT vibe just right. The watch has Hesalite for the crystal and a Bakelite-looking bezel insert, gilt-tone accents over here and over there, a slender case design, and a five-link bracelet. 
What makes any Lorier watch superbly vintage are its dimensions. The Hyperion comes in at 39mm wide, 10.7mm thick, 46mm long, and 20mm between the lugs. The bracelet tapers to 16mm at the modestly-sized clasp, the design of which reinforces the yesteryear aesthetic. This watch is powered by the Soprod C125 caliber, a "caller" GMT that beats at 4Hz. This new version is endowed with the redesigned hallmark handset which, paired with a discreet GMT hand, brings harmony to the dial. The bidirectional 24-click bezel has a smooth action, and the oversized crown is easy to operate. Lastly, the Hyperion is capable of diving to 100 meters — just enough for James Bond, you, and me. 
The Hyperion Series II is currently sold out, but it retails for US$799 (approximately €745). I do encourage you to sign up for Lorier's newsletter to get notified when the next batch arrives.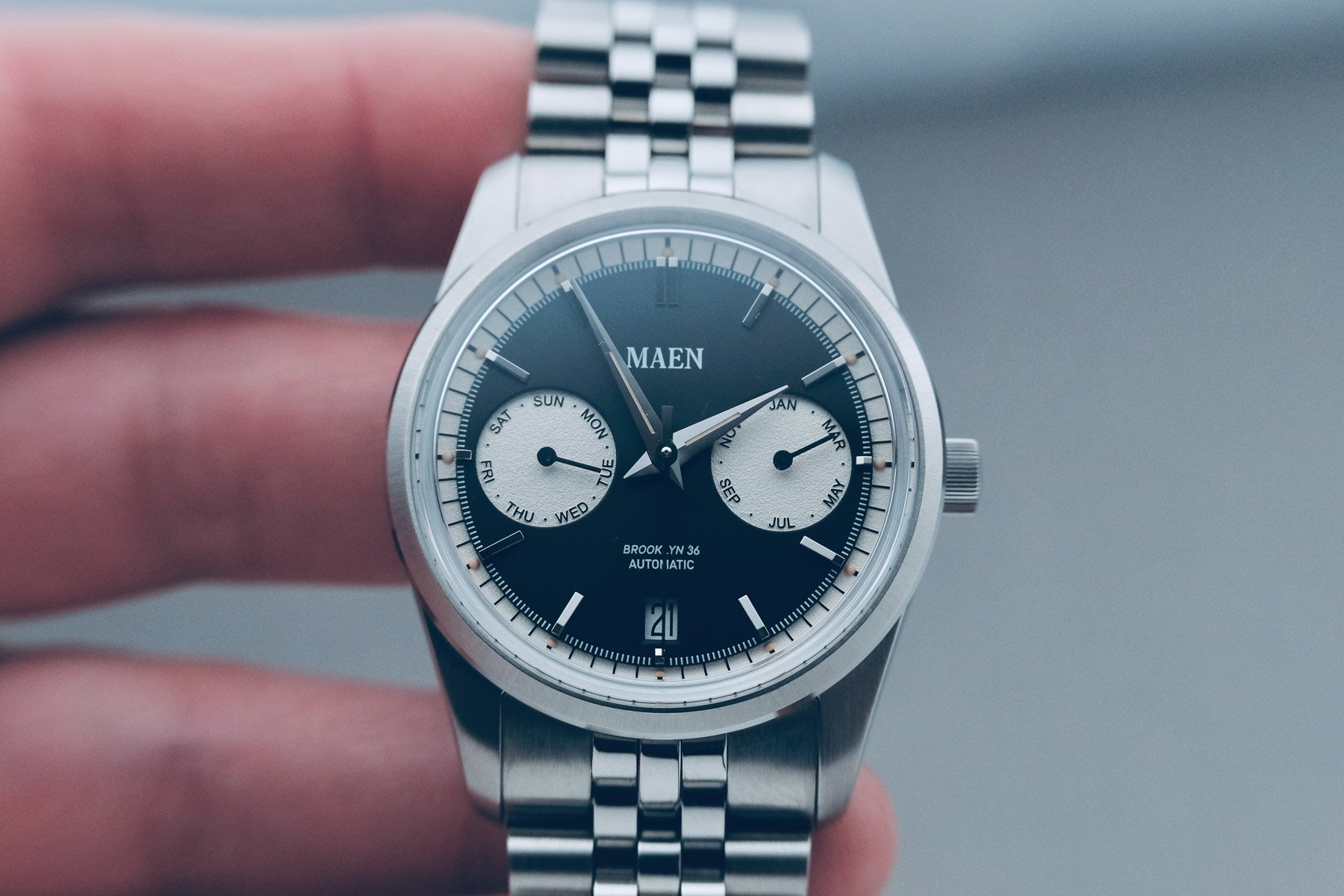 Maen Brooklyn 36 Triple Calendar
Many years ago, before my life became engulfed in horology, I had a Skagen triple calendar. I found it helpful to know the date, day of the week, and month at a glance. It helped me stay organized, and it also made me feel kind of cool in a nerdy way. But the Skagen was not, by any stretch of the imagination, a watch that visually resonated with me. So the news of Maen releasing a mechanical triple calendar warmed up my little French heart. I love Maen. The brand has a knack for releasing watches that we didn't know we would like. The Brooklyn 36 is such a watch, and I had the pleasure of taking one for a ride. Like a Lorier, the Brooklyn 36 hits the vintage sweet spot in its own way. 
It is a wearable timepiece, measuring 36mm wide, 46mm long, 12.60mm thick, and 20mm between the lugs. It is powered by the Miyota 9122 that comes with a little twist: one has to push a button on the right side of the case to change the month. Underneath a box-shaped, domed sapphire crystal appears a balanced, vintage-cool dial with multiple layers. There is one layer for the recessed chapter ring (yes, this is a pie-pan dial), one for the main central portion, and another for the two sub-dials. The dial also showcases a playful alternation of radially brushed surfaces and areas displaying a sandy, matte texture.
The Brooklyn 36 Triple Calendar is currently on pre-order for a price of US$755 (approximately €679) with a shipping date estimated for late July/mid-August.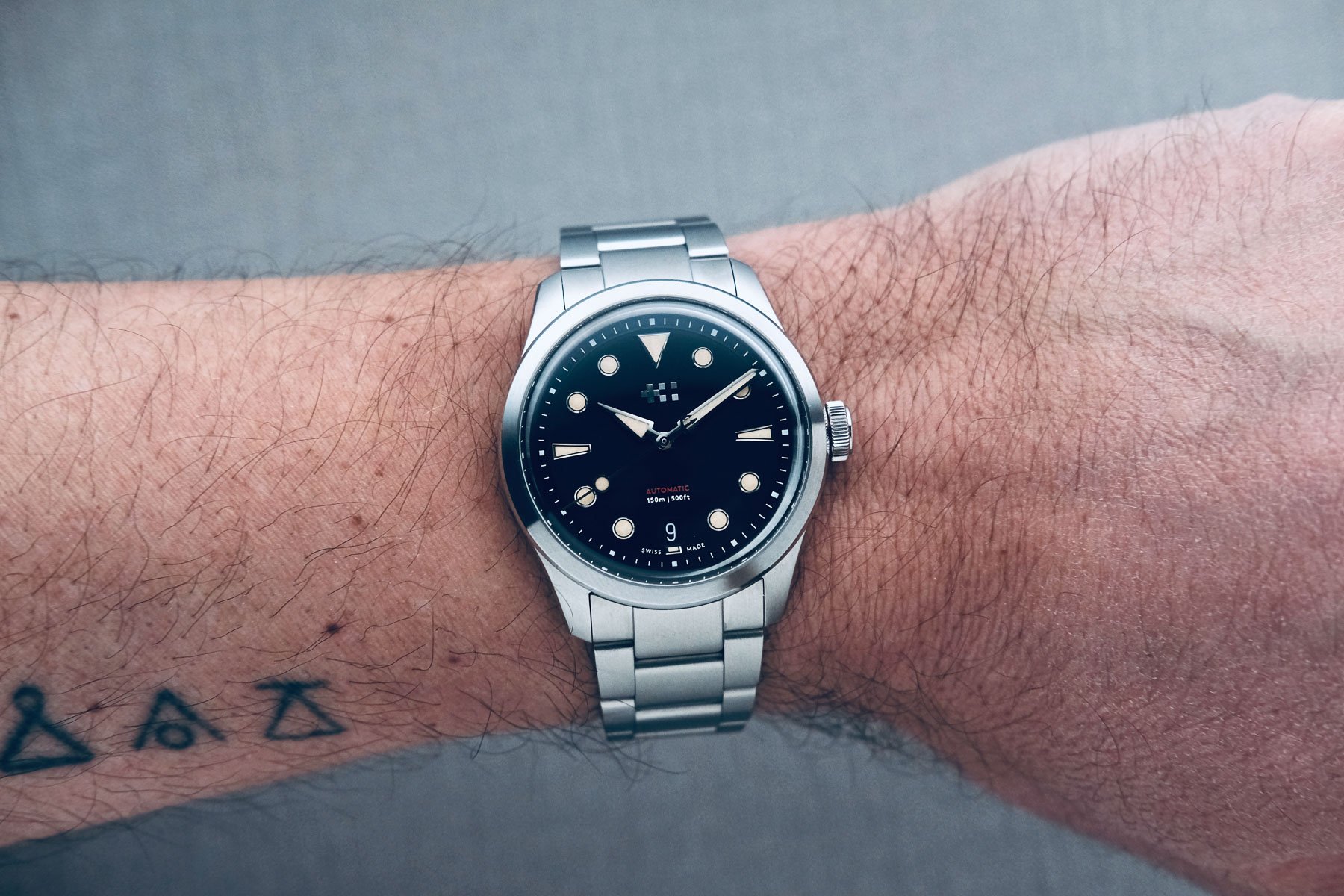 Christopher Ward C65 Dune Automatic
It might feel redundant to write about Christopher Ward again. But hey, we do so because the brand makes good watches for a good price. Christopher Ward has made several options for everyday watches, and the Dune makes things a little more fun. I reviewed the entire collection in February, and this is what you should know: it's inspired by a French dune, hence the sand-yellow-colored lume on the markers and hands. If you like this color, then you might like the C65 Dune Auto. To me, this model sits in between the "everyday watch" and "field watch" categories. If you wear it at the office, you'll look like an adventurous person. If you wear it hiking, you'll look like an adventurous person with a flair for elegant horology. 
The Dune Automatic has a case diameter of 38mm, a length of 43.6mm, a thickness of 11.7mm, and a lug spacing of 20mm. Paired with the brand's trademarked Lightcatcher case, it's comfortable to wear and has fantastic proportions. The finish is consistent with any Christopher Ward model, meaning a delicate alternation of high-polished and satin-brushed surfaces. Additionally, the C65 Dune Auto features a double-sapphire construction and a 150m water resistance rating. It is powered by a Sellita S200-1 caliber that beats at 4Hz. Now, I did cheat a little bit when it comes to the price here — €950 is how much you'll pay for the Dune on a strap. On the bracelet, which I recommend getting, the watch will set you back €1,165. 
Some color variants of the C65 Dune Automatic are currently available, while others are on pre-order. I recommend checking out the Christopher Ward website for more information.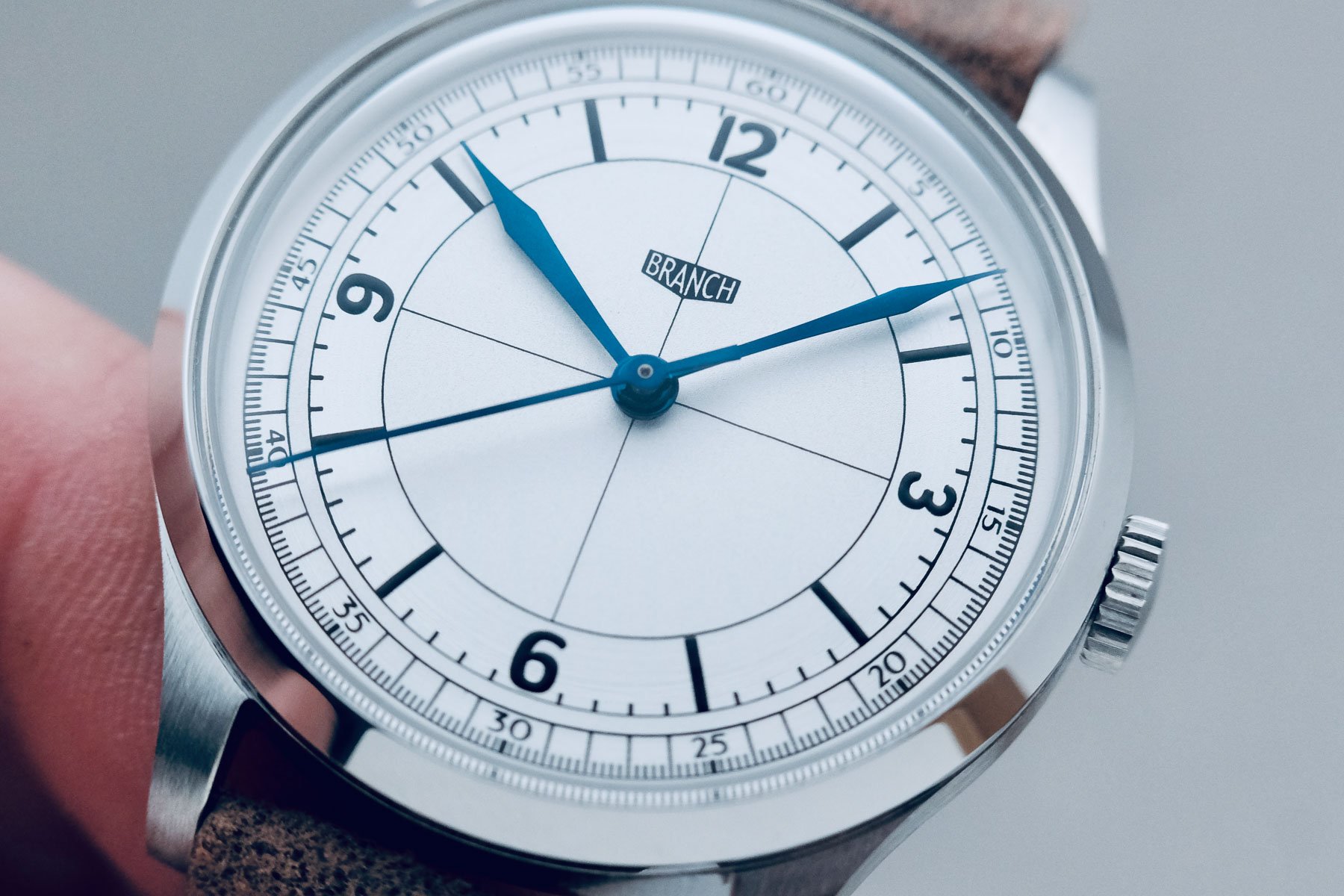 Branch Sector
If you're with me on this, we can categorize the Maen and Christopher Ward as being everyday watches. Each comes with a different personality, however, and here, I suggest yet another type of daily wearer — the Sector Branch. It's the most vintage of the three, both in terms of dimensions and looks. As its name indicates, it has a sector dial that appears to be a distant cousin of an old Longines reference. To be honest, this is perfectly fine in my book (but what does your book say about this?). The Branch Sector is small and well made, and it combines certain characteristics that make it feel and operate like a vintage timepiece. These include a manually wound caliber that makes old-school "clicks" when winding, a domed acrylic crystal, and blued hands. 
The case of the Sector measures 37mm wide, 44mm long, 10.5mm thick, and 19mm between the lugs. Looking at it from the side, one-third of the watch's thickness seems to come from the crystal — a very vintage look indeed. The case, therefore, appears to be thin, and the predominance of brushed surfaces accentuates this impression. The caliber inside is the Sellita SW210-1, which beats at 4Hz. The old look is further accentuated by the flame-blued hands that look like a cross between leaf- and lozenge-style hands. Being a sector dial, the lume is absent here, which aids in a clean, high-contrast look. I've become smitten with the circular brushing on the dial and the silky-smooth brushed case side. 
The Branch Sector is hand-assembled by the brand owner and goes in and out of stock regularly. It sells for CA$1,049.99 (approximately €729). I suggest checking out the Branch website for more information.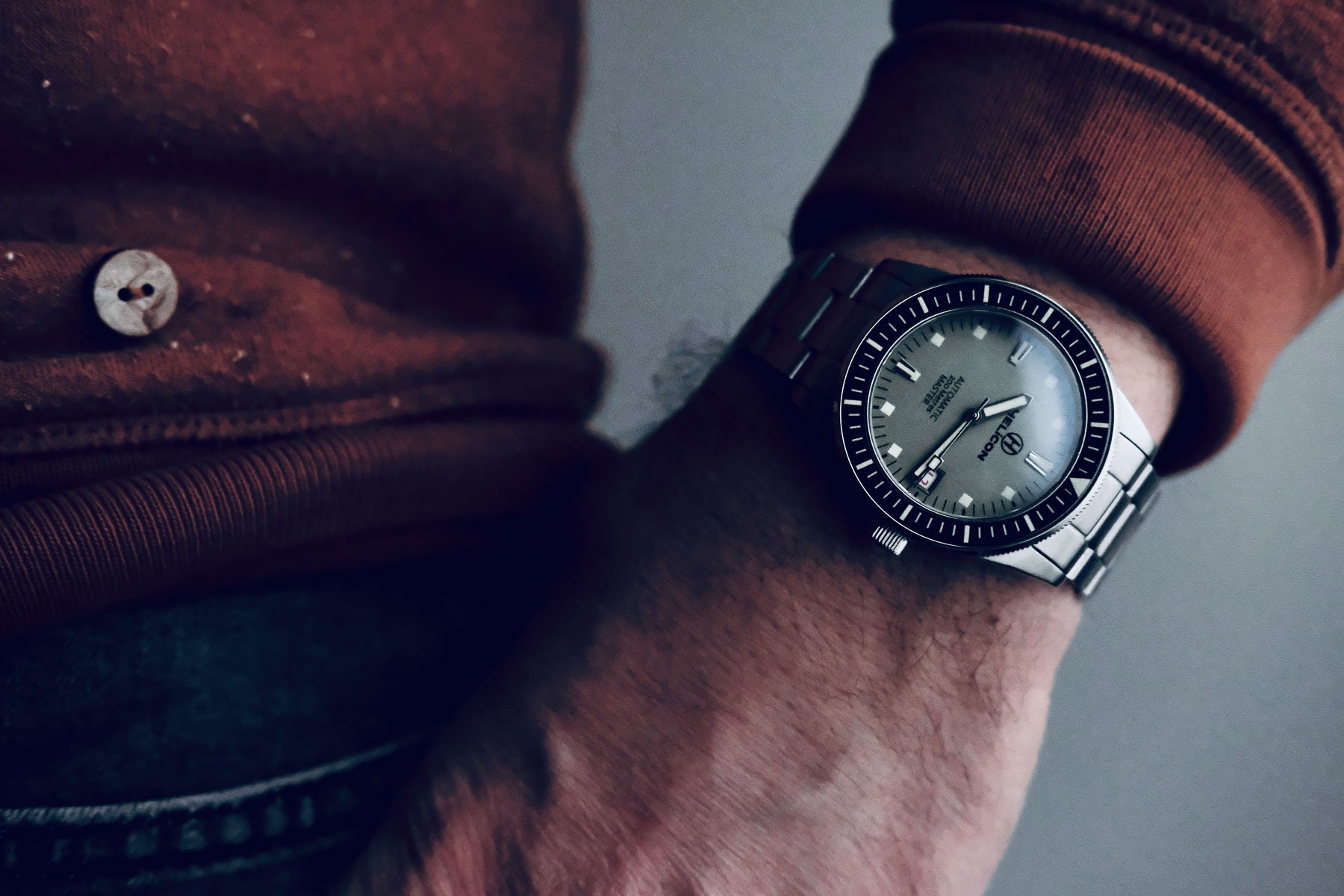 Helicon 62 Master
Last but not least, let's take a look at a diver. I often read that dive watches are the most popular genre among watch enthusiasts. Whether or not this is true, there is no shortage of options in the catalogs from microbrands. I do like a good story and a good watch, and that's what led me to get my hands on the Helicon 62 Master. The legend goes as follows: the brand founders, veterans of the industry, were in the basement of some defunct Swiss watchmaker's warehouse. Like Indiana Jones searching for the Holy Grail, they came upon a prototype from 1962 that was never commercialized. This prototype inspired the design of the 62 Master (the clue is in the name), which definitely looks vintage but is built with modern tech. 
It does have reasonable vintage proportions that would make it wearable for many of you — a case diameter of 38.5mm, a length of 48mm, a thickness of 13.9mm, and a lug spacing of 20mm. It is powered by a Seiko NH35 movement that beats at 3Hz, and it features generous applications of Super-LumiNova C3 and a 200m water resistance rating. The stars of the show are the dial layout, texture, and color. It has legible pencil-style hour and minute hands, rectangular and triangular hour markers, and a small date aperture. The sample I got my hands on is called Lichen, named after the slow-growing plant found on rocks and trees. The 62 Master also comes in Iridium (orange) and Granite (dark gray) color variants. 
All three colors are available for £566.67 excluding British VAT (approximately €646) and can be purchased directly from the Helicon website.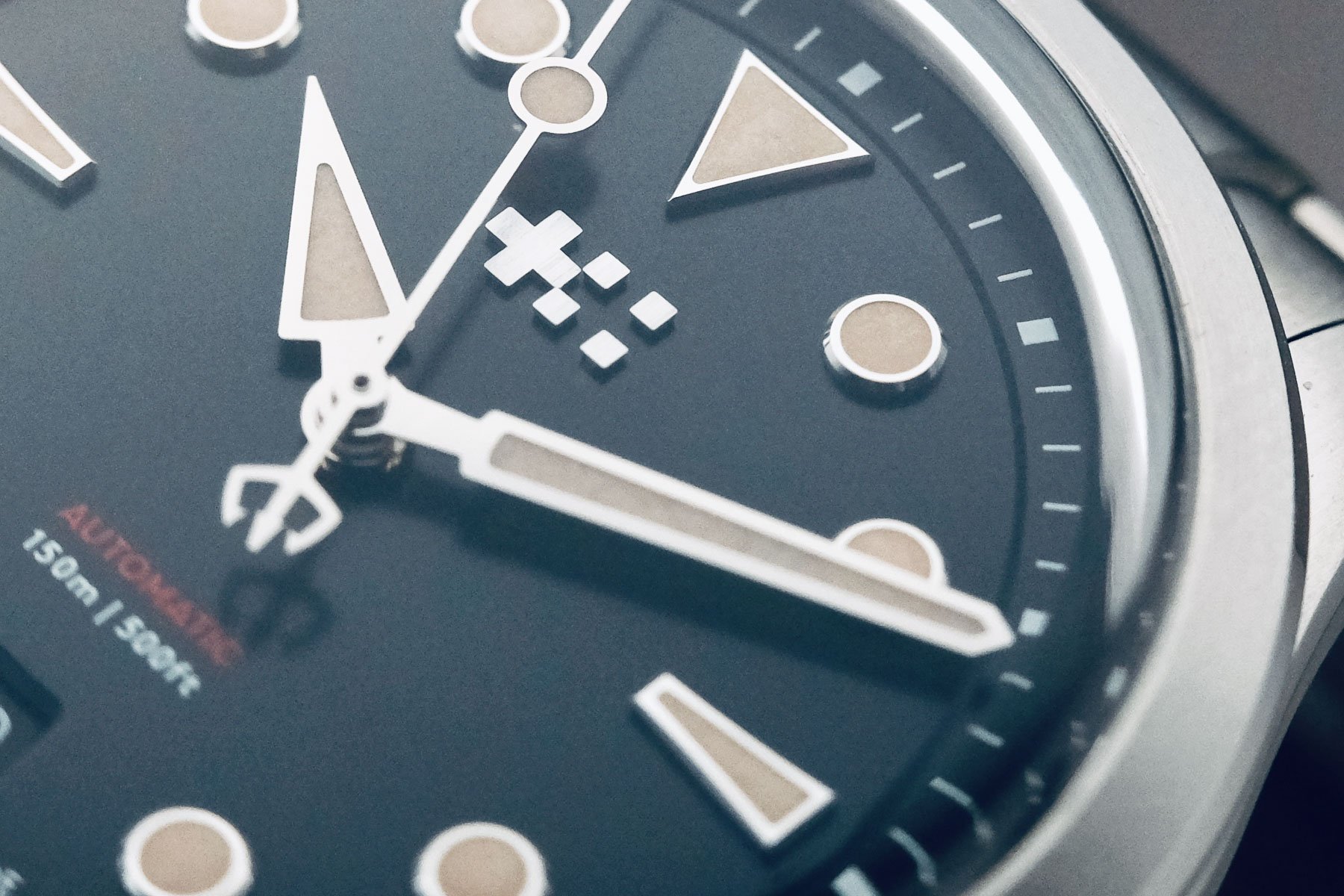 Final thoughts
As you've noticed, I have not shared the full spec sheet for each model. I didn't because it would make this article too long. Instead, I opted to highlight the core specs that I thought you should know about. Furthermore, I highlighted the design or technical characteristics that most vehemently grabbed my attention. Each watch listed, in my opinion, does something well and a little different.
I did not list other models under the €1,000 mark because I haven't seen them in the metal. So I would be grateful if you could share your top five microbrand watches within this price range in the comments below. I'd be curious to see which ones you would want to add to your collection.