Fratello Favorites: The Top 5 Microbrand Watches Under €500
One watch from five different categories under the magic €500 mark 
Creating a top-five list for anything is daunting because what we choose to put on the list is somewhat subjective. But I like a good challenge. And with the perpetual expansion of the microbrand market, things can quickly become confusing. Too many brands, too many options — and a lot of good watches and an equal amount of terrible ones. Therefore, to create this list of the five best microbrand watches under €500, I had to self-impose two rules. First, as always, I only write about watches I've experienced in the metal. Second, I was looking for watches that balance value (specs-to-price ratio) and originality in design. And to make matters more fun, I picked one watch from five different categories. 
Some of the brands mentioned in this list have been covered by Fratello before. For example, Thomas wrote a fabulous article about three Lorier watches,  and Dave has reviewed some piece from RZE. Consequently, I might repeat some of the information they've shared. However, when thinking about my top five picks from microbrands, I would be hard-pressed to exclude Lorier and RZE, for example. Therefore, for each watch listed here, I will explain why I feel they are worthy of your consideration. Whether it's the price, specifications, or design, they each come with something a little special that caught my attention and might catch yours as well. 
To be clear, all prices are listed in each brand's default currency. Prices in euros vary every day based on exchange rates and do not include shipping/import taxes.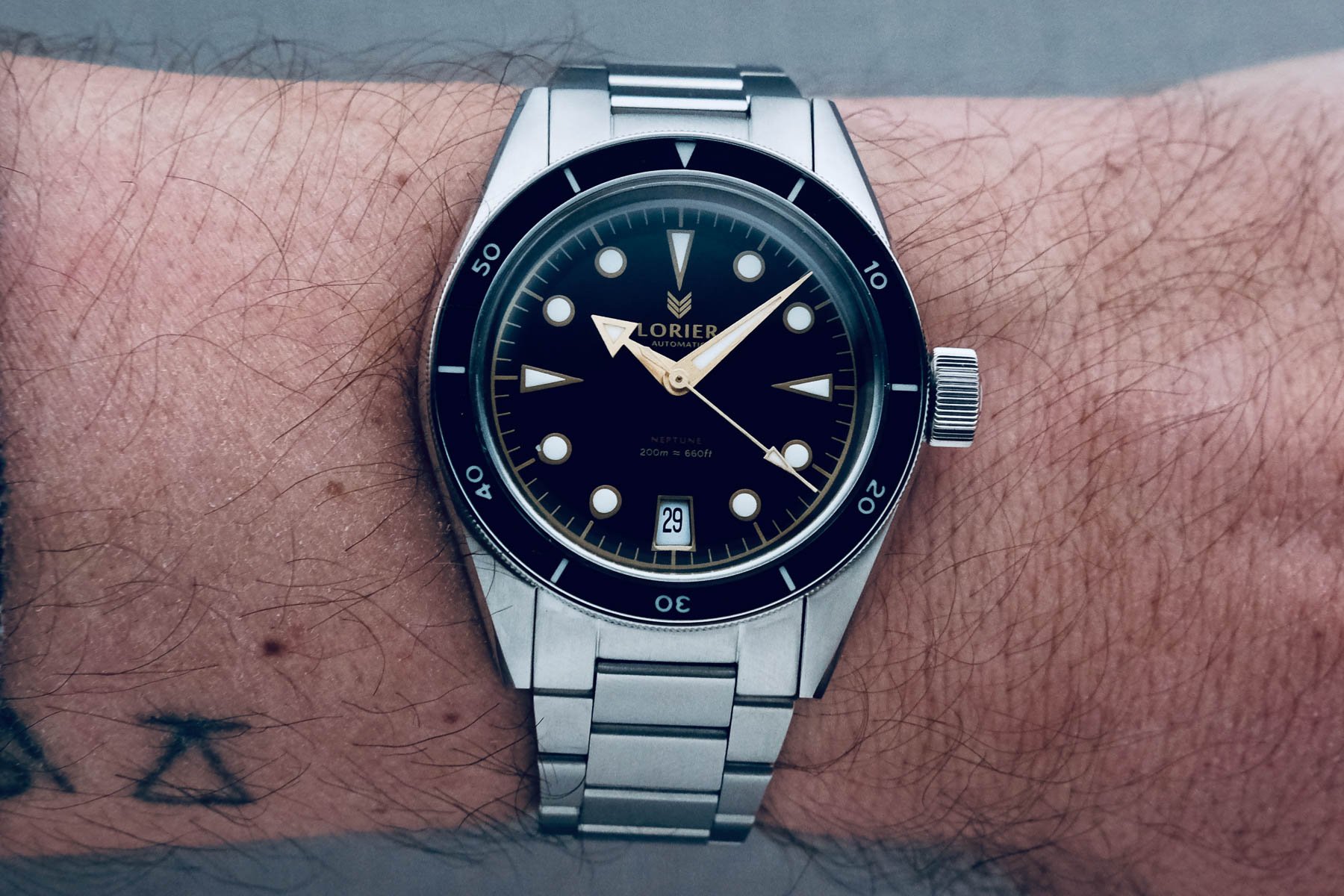 The diver: Lorier Neptune Series IV
Lorier is one of the first micro/independent brands I kind of had a crush on. I immediately fell for the watches' strong vintage vibes, affordable prices, and reasonable proportions. I also appreciate the attention to detail that brand founders Lauren and Lorenzo put into writing their blog posts. Each one explains which iconic and historical models inspired them to design a new collection. The Neptune, Lorier's first model, is a tribute to the early Rolex Submariner ref. 6538 (the cool one worn by Sean Connery as James Bond on a fabric strap), the Blancpain Bathyscaphe ref. MC4, and the Omega Seamaster 300 ref. CK14755. In late 2022, Lorier announced the fourth iteration of the Neptune. It is a more refined, more thoughtfully designed diver that is as capable as it is charming. 
To be so deserving of praise, the Neptune Series IV must be doing a few things right. First, there are the dimensions — 39mm wide, 46mm long, 12.7mm thick, and 20mm between the lugs. The case has a gentle profile, and the lugs were shortened, making it sit better on the wrist than in previous versions. The dramatic domed acrylic crystal combined with the gilt-tone hands and accents on the dial are what make the Neptune such a vibrant vintage-looking piece. It is also a capable watch and an actual diver with 200m water resistance and a screw-down crown and case back. It is powered by the Miyota 90S5 and retails for US$499 (approximately €450). The Neptune Series IV is currently on pre-order, but Lorier is known for restocking regularly.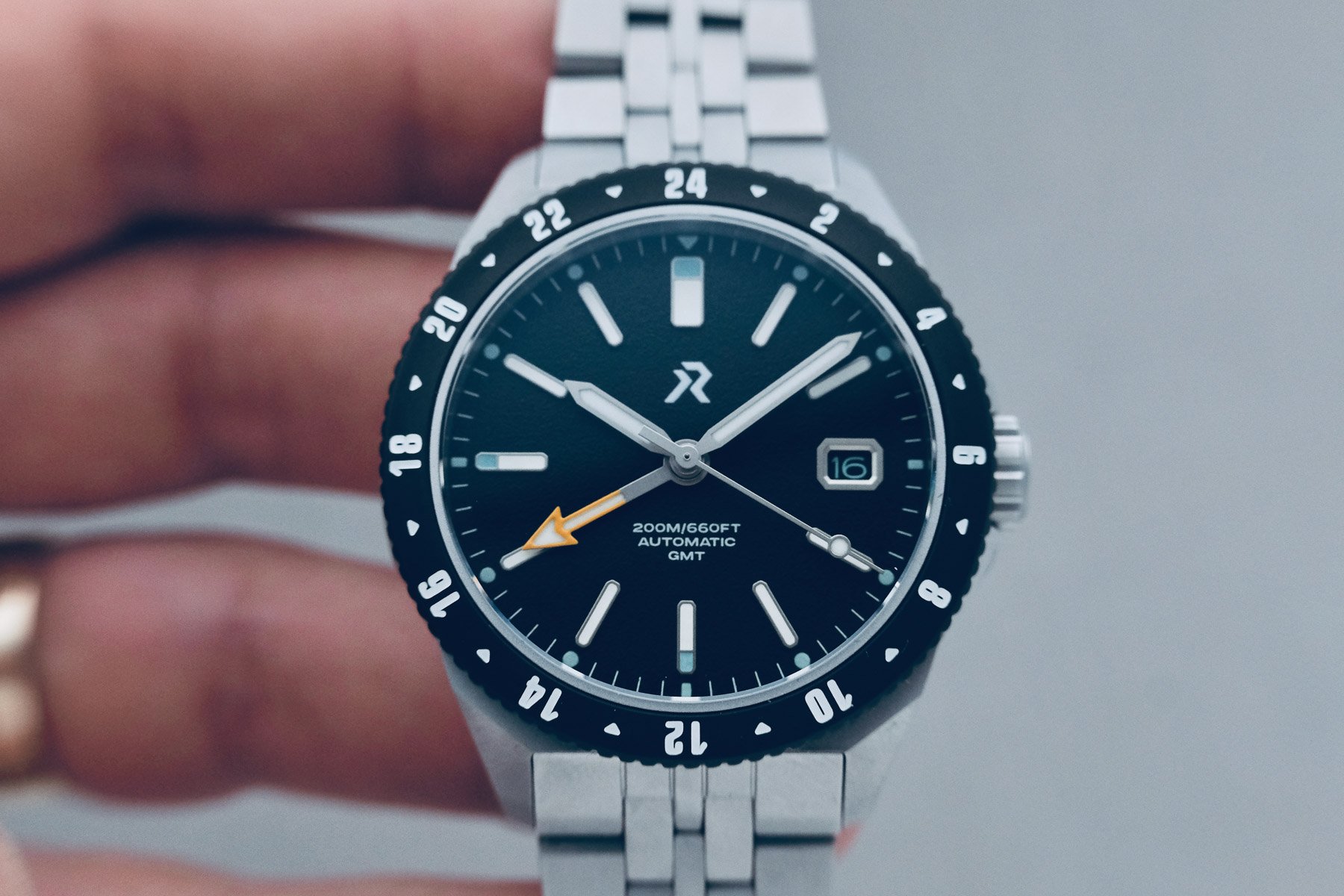 The GMT: RZE Ascentus
RZE is known for making well-priced and solid titanium watches. I've been following the brand since its debut Kickstarter campaign for the Resolute, and I think the people behind it are doing a great job at expanding the brand's collections. They also know when to jump on opportunities to do something different. They didn't hesitate to get their hands on the Seiko NH34 GMT movement when it was announced last year and were quick to adapt the RZA DNA to it, resulting in a lightweight, robust, and capable GMT watch. In good RZE fashion, the Ascentus GMT looks and feels like a tool watch, and sometimes that's all I need. 
Dimensions-wise, it measures 40mm wide, 46mm long, 13mm thick, and 20mm between the lugs. The sandblasted Grade 2 titanium case is coated with UltraHex, the brand's proprietary hardening compound. The legible dial has a matte finish, applied hour markers, and a large handset. Furthermore, its lume comes in two varieties — BGW9 and C3 — and is plentiful. As you know, the caliber inside is the NH34 "caller" GMT, and this function is hard to miss given the large yellow GMT hand. The crystal is of the sapphire variety, and the Ascentus also has a 200m water resistance rating. It retails for between US$449 and US$598 (approximately €402 to €535) depending on whether you choose a strap, bracelet, or a combo of the two. So technically, the Ascentus GMT does fit in the sub-€500 category!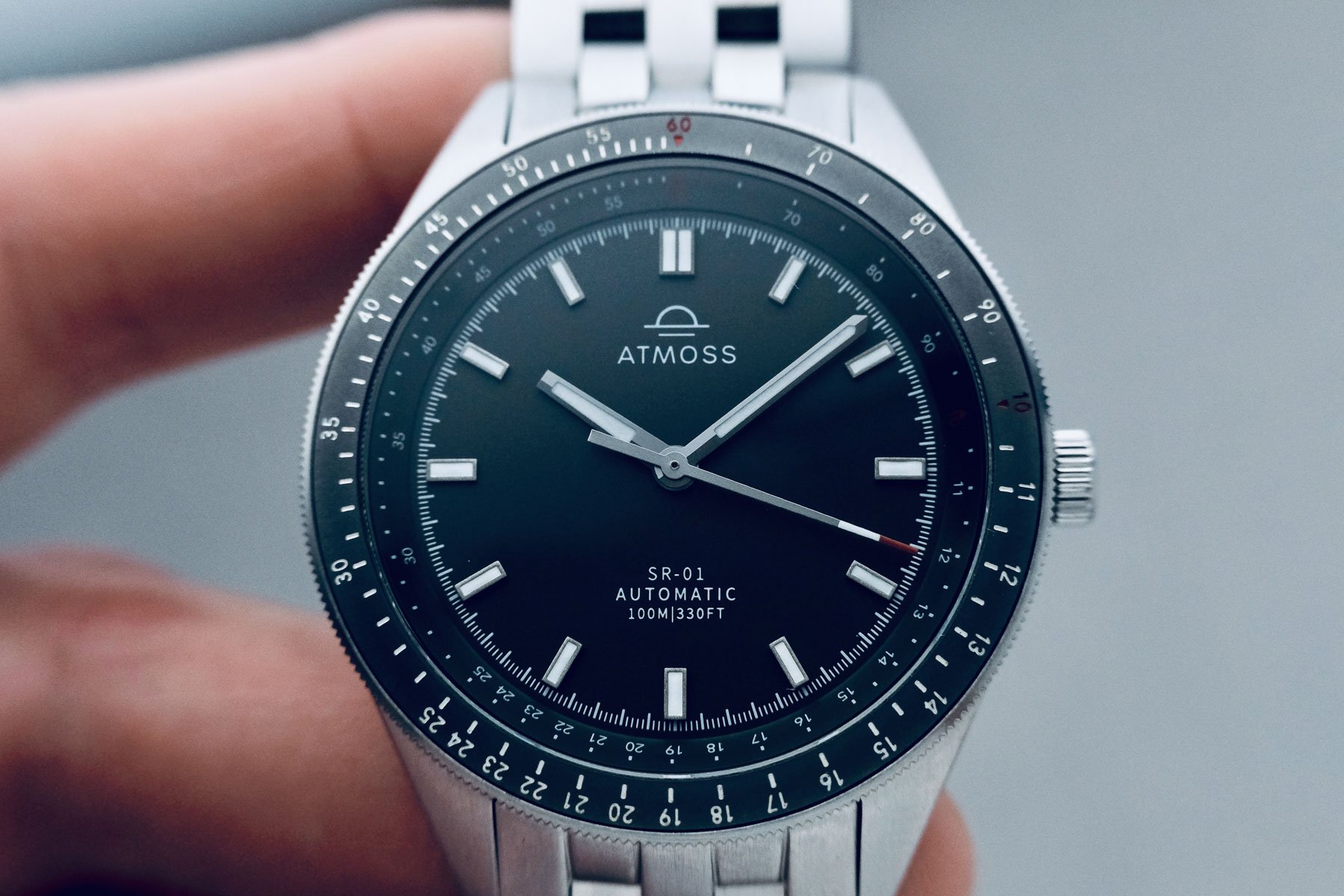 The pilot's watch: Atmoss SR-01
You have most likely never heard of Atmoss. That's all right; this brand is new in the game. Although I'm not a pilot and would hate to find myself in a cockpit, I kind of fell for the SR-01. It's thoughtfully designed, and it has enough of what's important and none of what isn't. It's just like a good movie. It was designed by a pilot who is also a designer, something that makes sense when looking at the case design and dial layout. Overall, it's clean and legible. I guess that's all you really need from a pilot's watch. The SR-01 comes in three color variants (black, gray, and white), and each comes with an engineer-style bracelet and FKM rubber strap. Although its dimensions might not indicate it at first, it's a slender timepiece that is comfortable to wear. 
The case measures 41mm wide, 48.5mm long, 10.5mm thick, and 20mm between the lugs. Yes, it's thin, and the smooth case profile accentuates its wearability. The dial is composed of small applied markers and elongated hands, making it easy to read the time. Above the dial lives a slightly domed piece of sapphire crystal, and underneath it beats the premium Miyota 9039 caliber. The SR-01 has a 100m water resistance rating as well as a screw-down crown and case back. Being a pilot's watch, it is equipped with a friction-fit slide-rule bezel engraved on a brushed stainless steel insert. At the time of publishing, the SR-01 is on pre-order by way of a Kickstarter campaign and is available for between AU$495 and AU$575 (approximately €300 to €350).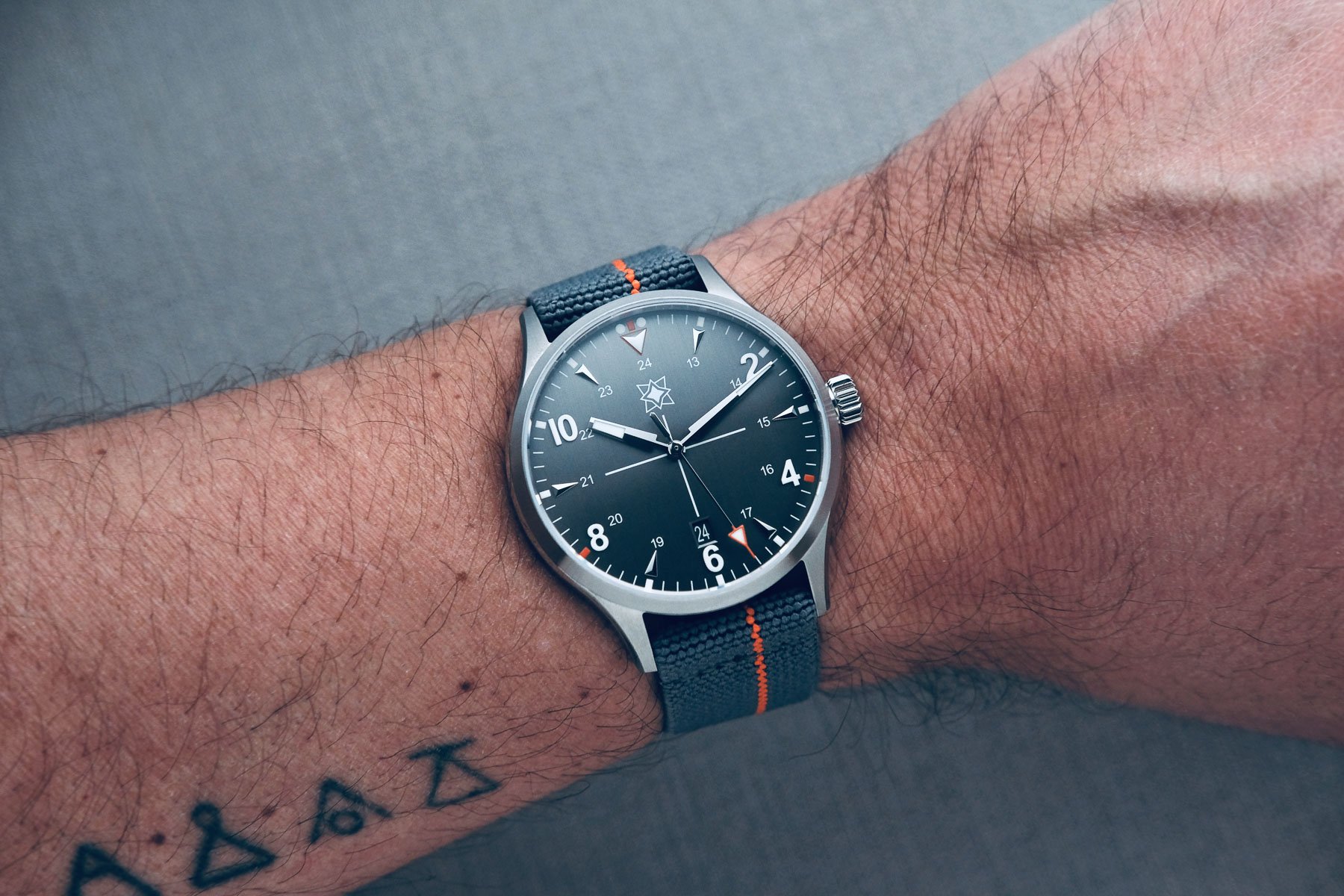 The field watch: Second Hour Sattelberg
If you are about to embark on a perilous exploration of the Amazon rainforest, you need a good field watch — something that is legible, robust, and has character because, well, why not? Although a field watch is not the first type of watch I'd grab in the morning, I do like the Sattelberg a lot. It looks like nothing I've seen before, it is thin, and it comes with the right specs. I particularly like the 3D-printed Arabic numerals and their juxtaposition to high-polished triangular markers. In a way, it doesn't make sense. But in an unexpected way, it does. It certainly is legible and unique, staying within the theme of this list. 
The Sattelberg has the right dimensions for your adventures, coming in at 40mm wide, 47mm long, 10mm thick, and 20mm between the lugs. It comes with a leather strap as well as a super stretchy nylon strap that matches the colors on the dial. That dial displays a vertical brushing, which absorbs the light. Combined with a flat piece of sapphire with an antireflective coating, the spectacle is crystal clear (pun intended). The case of the Sattelberg is hardened to 1,200 Vickers, has a 100m water resistance rating, and houses the Miyota 9015 movement. There's actually much more to say about it, but the current pre-order price is AU$690 or AU$710 (approximately €417 and €429) depending on the dial variant. As with the Atmoss SR-01, the Second Hour Sattelberg will ship from Australia.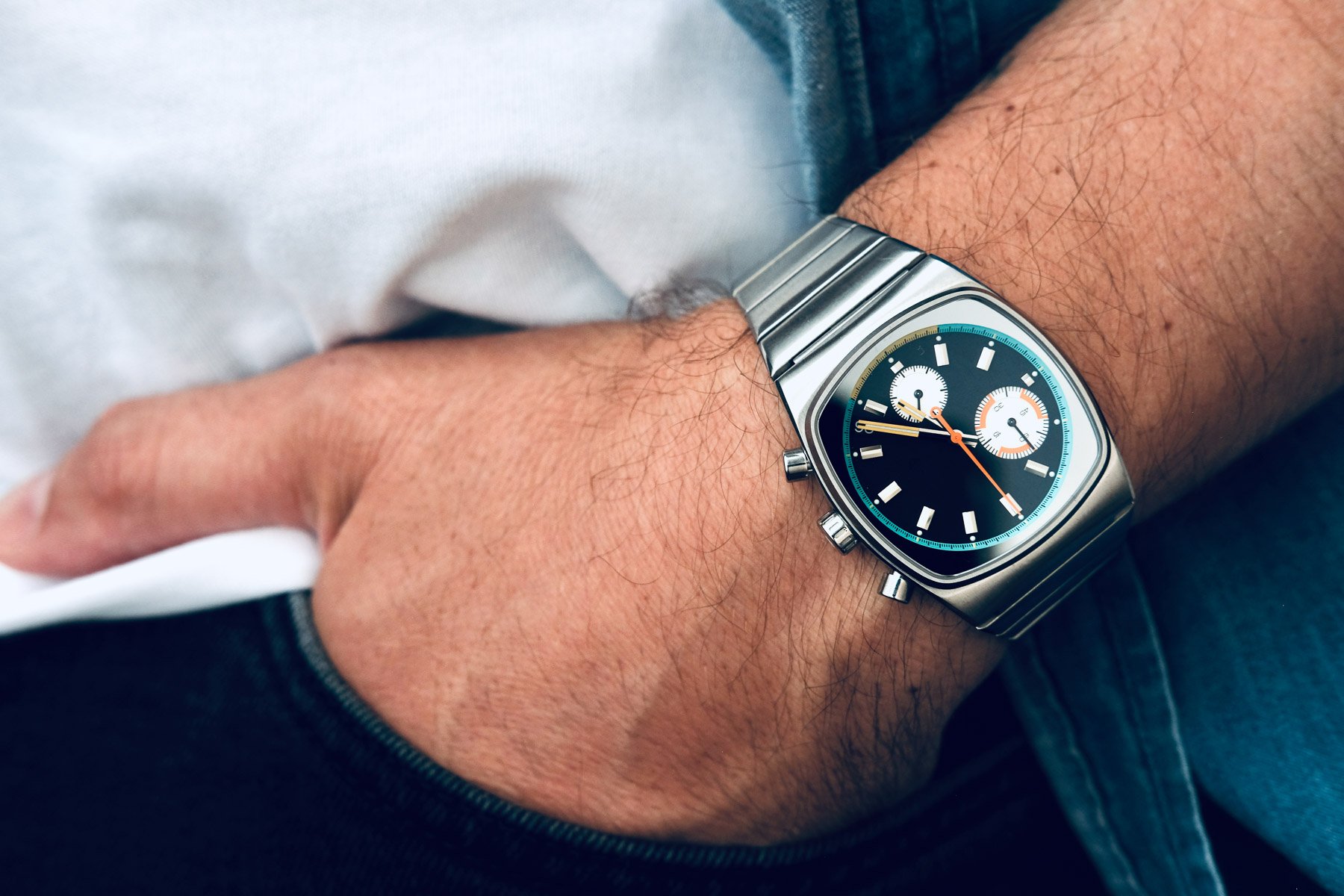 The chronograph: Brew Metric Retro Dial
Last but not least, you may be looking for a chronograph. And if you have an addiction to coffee like I do, then I'd suggest the Brew Metric Retro Dial. A bit like the Lorier Neptune, the Brew Metric bursts with vintage vibes. From the old-TV-shaped case with its mirror dial frame to the I-don't-know-what-to-call-it bracelet, it's a lot of vintage goodness packed into just one timepiece! It's so much, in fact, that I thought I was back in the '70s when I first saw this watch in the metal. And as a true vintage-inspired watch, the Brew Metric comes with vintage dimensions but modern technology inside. Isn't that the perfect pairing, akin to a good wine to a good meal? 
Dimensions-wise, the Brew Metric has a case 36mm wide, 41.5mm long, and 10.75mm thick, and it comes with a 19.85mm lug opening. The last and odd dimension is due to the integrated bracelet design. This bracelet, by the way, tapers a lot. The Brew Metric is powered by the Seiko VK68 meca-quartz caliber that has a date, a running seconds sub-register at 6 o'clock, and a 60-minute totalizer at 9 o'clock. That's the modern part, and the dimensions are the vintage one. To handle your day-to-day life, the Brew Metric Retro Dial comes with a sapphire crystal and a 50m water resistance rating. It retails for US$450 (approximately €401). 
Final thoughts
Do you have €500 or less to burn? Are you looking for your next good-quality timepiece that won't totally break the bank? If yes, then I'm glad we spent some time together today. The five watches listed above are my picks, based on my own experience, of what's best for under €500. Of course, what I consider to be the best is highly personal and subjective. As mentioned in the intro, I tried to find a middle ground between value (specs-to-price ratio) and originality in design. Naturally, however, I don't know about all watches out there, so please chime in and tell me your top picks under €500 in the comments!