The Tourbillon: Enigma Of The Watch World
Just the other day, I've been contacted by Nigel Brown of the HumansInvent website. HumansInvent did a very nice feature on tourbillons and discusses the use or benefit of this complication. HumansInvent performed a bit of research and asked several subject matter experts whether a tourbillon is actually useful for a timepiece or whether it is just to show-off the skills of a (master) watchmaker.
Personally, I love the tourbillon complication in a mechanical watch, especially ever since I got a free-of-charge class on tourbillons by Bernhard Lederer (BLU) during one of the BaselWorld shows. On the other hand, I firmly believe that the main reason for the use of a tourbillon is to demonstrate the watchmaking skills of manufacturers. I rather see other complications that I find more interesting, such as a moon phase or minute repeater. This probably also has to do with the fact that we've seen so many of them. Especially the last two – three years, we've been flooded with watches featuring a tourbillon. Even diver's watches came equipped with this complication.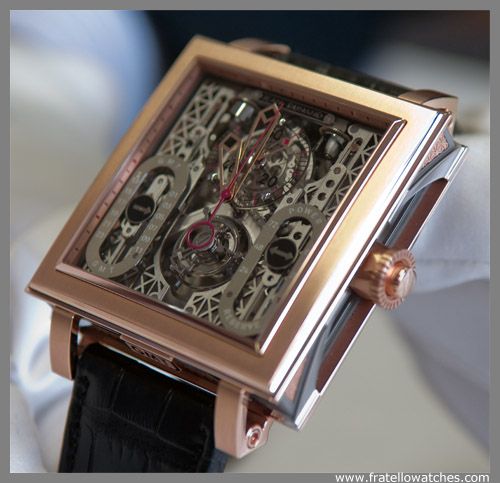 One of my all-time favorite timepieces also happens to feature a tourbillon. The Palace by Jean Dunand. Last year in BaselWorld, I made sure I visited Jean Dunand (Thierry Oulevay) to have a peek at this mechanical wonder once more. However, my enthusiasm for this watch is mainly fed by the concept of this timepiece, the design and the level of craftsmanship and finish.
Anyway, tourbillons are a joy to look at and to admire, but do they solve the problem with regards to gravity in wrist watches as it did for pocket watches? HumansInvest investigates…  Click here to read their report.