The Watch Gerald Genta Had Nothing To Do With: The Vacheron Constantin Overseas (Chronograph)
A lot of times, Vacheron Constantin's Overseas watches are mentioned in the same sentence as Audemars Piguet's Royal Oak, Patek Philippe's Nautilus and the IWC Ingenieur SL watches. It was actually believed by a former CEO of Vacheron Constantin, that Gérald Genta was involved in the design of the '222', predecessor of the Overseas, as he stated in an interview with The Purists. We now know, that it was Jorg Hysek who influenced the design of the '222' time piece that evolved to the current Overseas line of watches.
I guess it is a compliment for both designers, Hysek and Genta, that people are confused about who designed what. The Overseas models are just as iconic as the Royal Oak and Nautilus designs. Where the Royal Oak has the more or less 'hard core' appearance and the Nautilus the sophisticated, the Overseas could be placed somewhere in between. The IWC Ingenieur SL is long gone and has been replaced by a new line-up of Ingenieur watches who still have Genta's DNA but I don't consider them in the same league as the Royal Oak, Nautilus and Overseas anymore. A good watch though, and happy to own one (a discontinued 2008 Ingenieur ref.3227-01).
Reading a story on the PuristSPro from a guy named WHL about owning an Overseas watch for a decade, inspired me to do a search on an Overseas model I could see myself wearing. Looking around on Chrono24, I found this great looking Overseas Chronograph over at Tempo Inverso, a London based company.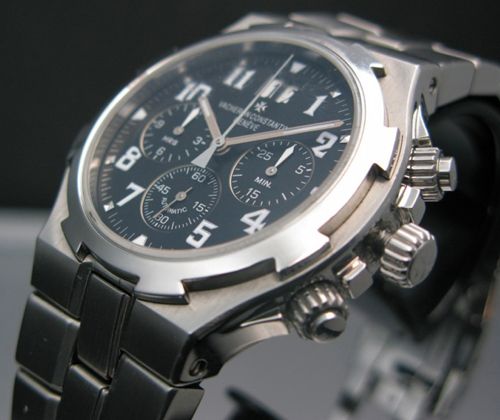 A 40mm Overseas Chronograph dated 2004 (the 42mm model was introduced in the same year), approximately 2000 are made of this model in stainless steel. Water resistant to 150 meters, but I wonder who will take this watch for a swim anyway… The automatic chronograph movement bears the Vacheron Constantin "caliber 1137" label but is based on F.Piguet's caliber 1185. This is the same movement used for the older Royal Oak Chronograph watches (before AP started using caliber 3126), Omega's caliber 330x movements and Blancpain's Monaco 2000 Flyback.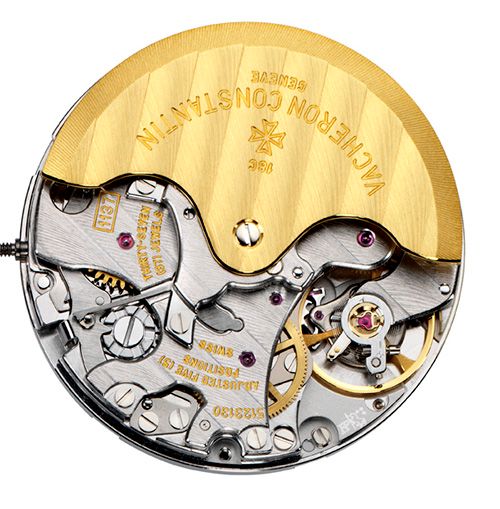 This watch comes with box and papers and Tempo Inverso is asking 7000 Euro for it. For a watch with a high-end quality finish on case, bracelet and movement as this, this price seems very realistic to me. If you are in the market for this watch and answered the famous question "black dial or white dial" with "black", have a look at the Tempo Inverso website or do another query for similar models on Chrono24.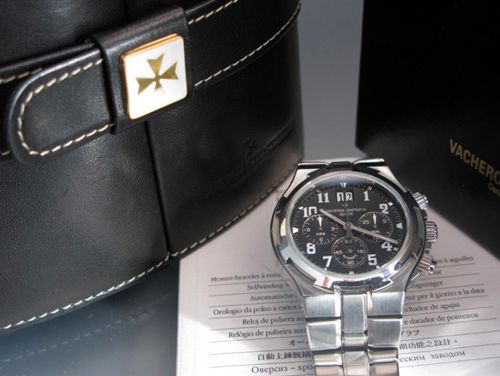 Pictures courtesy of the seller.