This Week in Watches – April 28, 2019
Plenty to Hunt for After Easter
Hey, hey, hey, it's This Week in Watches for April 28, 2019.
For many out there, you're coming off of school holidays surrounding last week's Easter Weekend.  That meant egg hunts, chocolate (I used to like those Cadbury Eggs – one of them was enough for me), candy, environmentally unfriendly green plastic grass to line those Easter baskets, and food.  If forced to rank the big holidays in terms of food, I'd put Easter dead last.  No matter where in the world I've been, it's always full of things like ham, smoked fish, and other things that make me feel pretty damn unhealthy.  Anyhow, one thing I do like about Easter are the colors.  Pastels rock!  But getting back to the matter at hand, let's see if we have any lovely new "eggs" for This Week in Watches.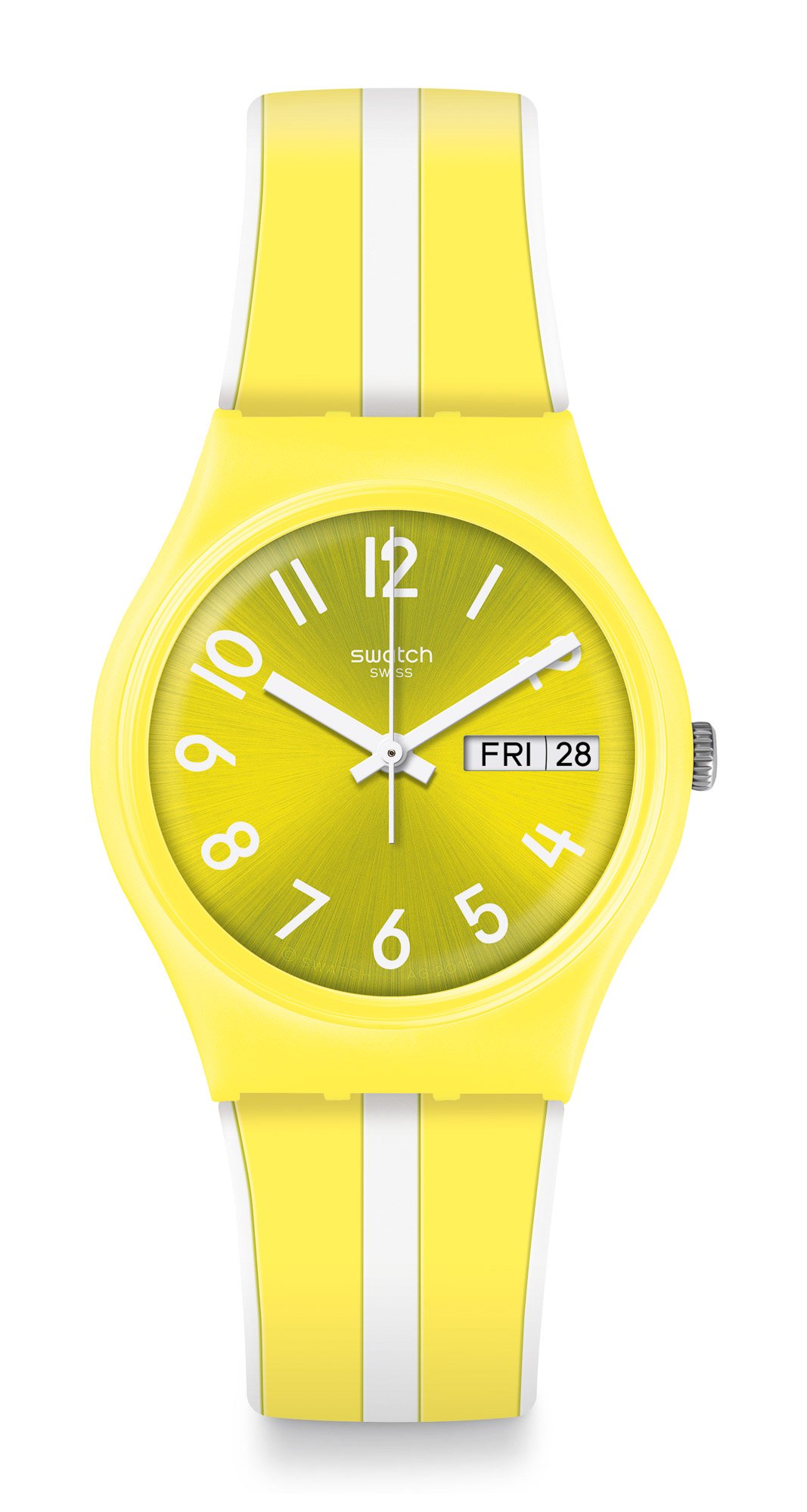 The Swatch Group Celebrates Summer 
I've mentioned it before within This Week in Watches that we receive a lot of mail from brands here at Fratello.  Some of it is interesting, while some isn't.  Generally, the type of seasonal celebration email I received the other day from the Swatch Group wouldn't qualify as newsworthy, but I decided to click on the wetransfer link anyhow – and I'm glad I did! The email was all about colorful watches for the Summer and it delivered.  There were examples from every brand within the Group that met the definition, but I decided to show you just a few.  First, there is a bright yellow Swatch called the Limoncello in the normal 34mm, 60 Euro configuration.  There's nothing tremendously special or different about this Swatch versus any other, but it takes me back to my high school days when I collected Swatches and, at times, opted for these brightly hued models.  They're fun, ridiculously sturdy (no matter what us watch geeks tell you, you can easily wear a Swatch in a pool or to your snorkeling adventure without fear), and cheap!  When you step back and look at how much creativity lies within each and every Swatch, it's pretty astounding and explains why they're still so popular 35+ years on…I just tend to think that these bright one's exhibit that difference best.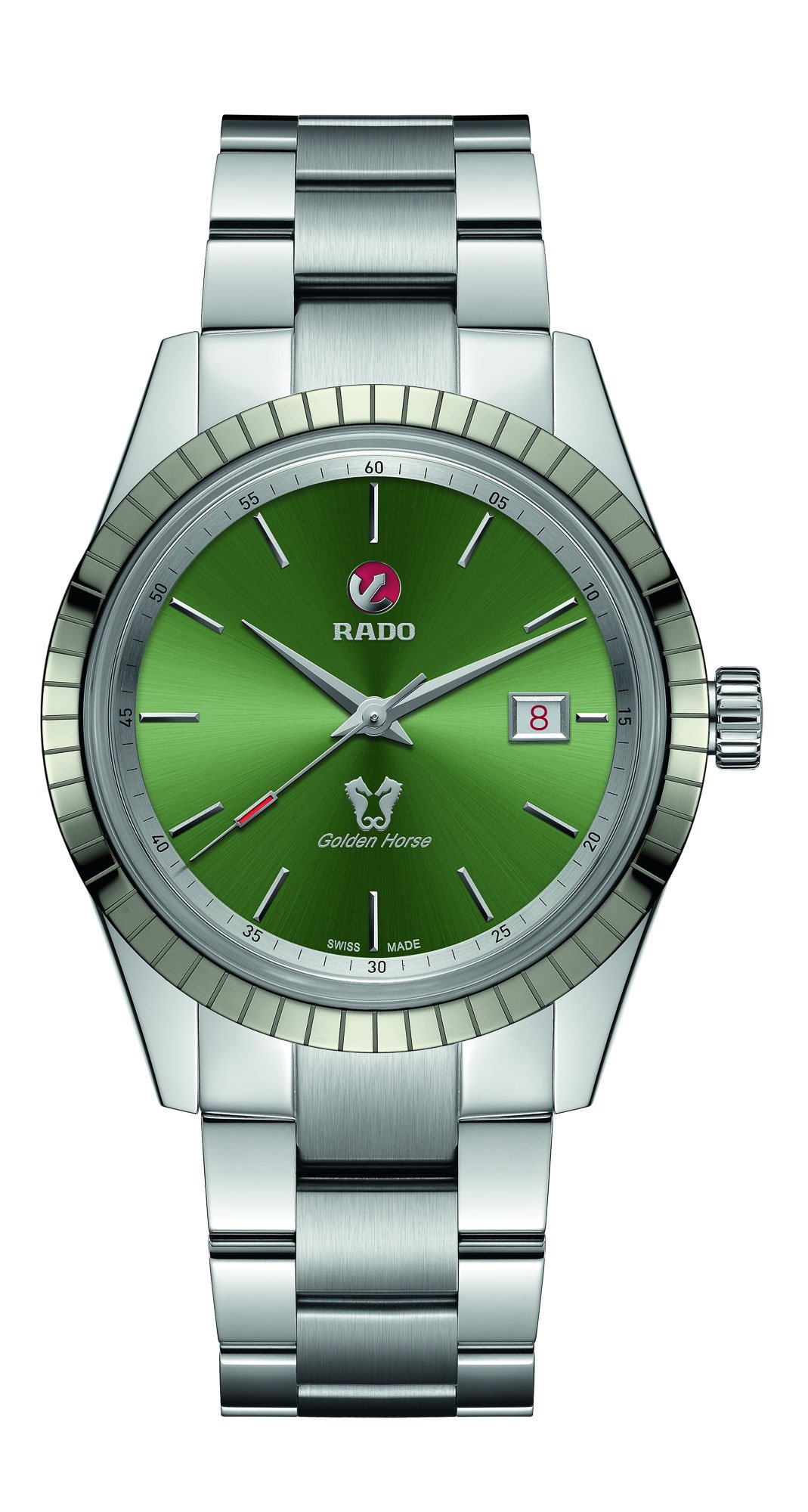 Rado Golden Horse – Who Knew?
Most interestingly, though, I sifted though the pictures and came upon a couple new Rado pieces under the Golden Horse moniker.  We've never covered a vintage Golden Horse here on Fratello, but during our coverage of other models, I kept coming across this once popular line on eBay searches and the like.  The Golden Horse was a dressy model from Rado, but it featured the same robust "Super Sealed" case with seahorses on its back like the Captain Cook diver.  Inside, the same Schild automatics were employed.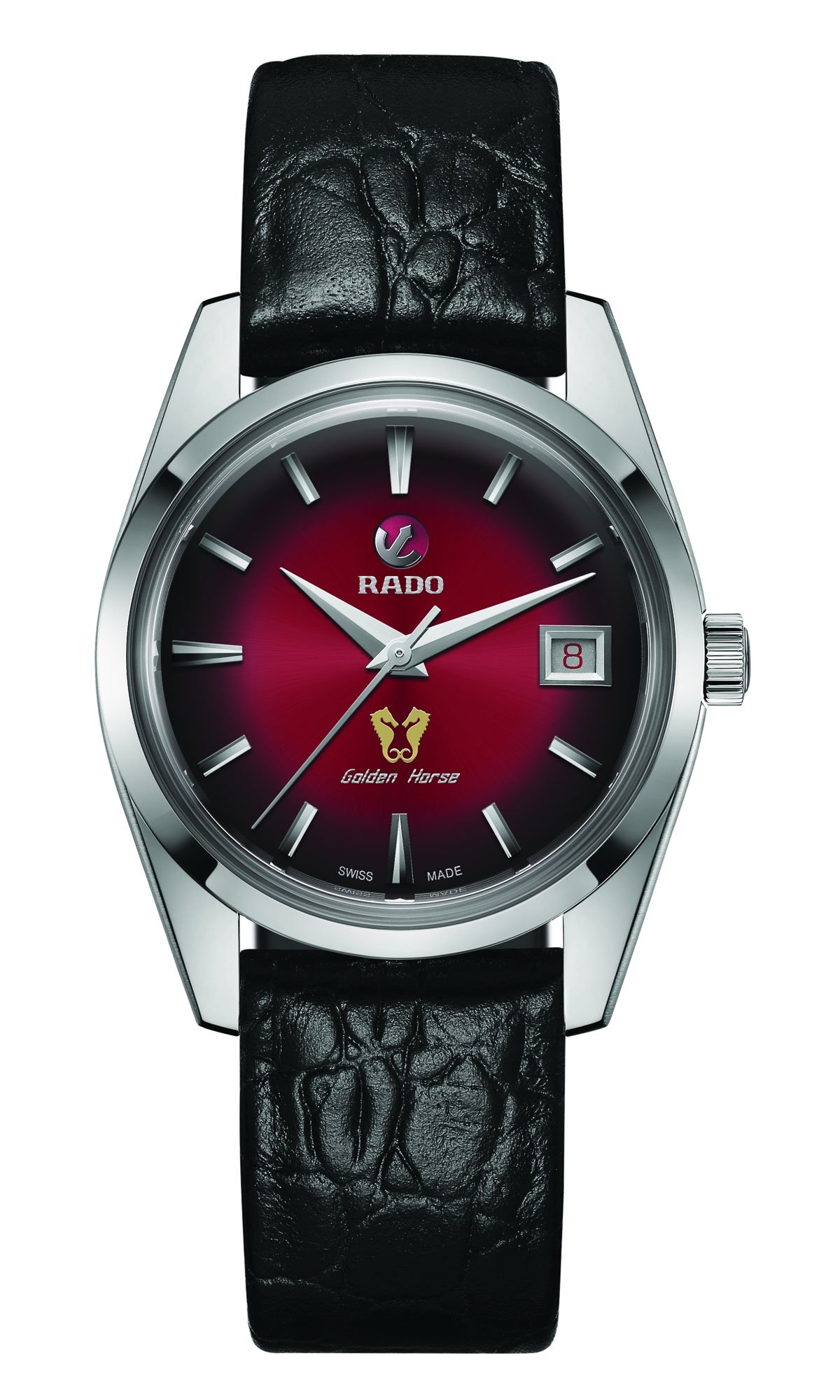 I know nothing about these new Golden Horse models as there's truly nothing on the Rado site (it's one page within the Swatch Group that could use more timely updates in my opinion).  I don't know the size, price, whether an automatic will be inside or quartz, but I like what I see from these PR pics.  There's the brightly colored piece with ridged bezel and the black to maroon gradient dial edition – really nice.  We'll report back with more once we get additional information.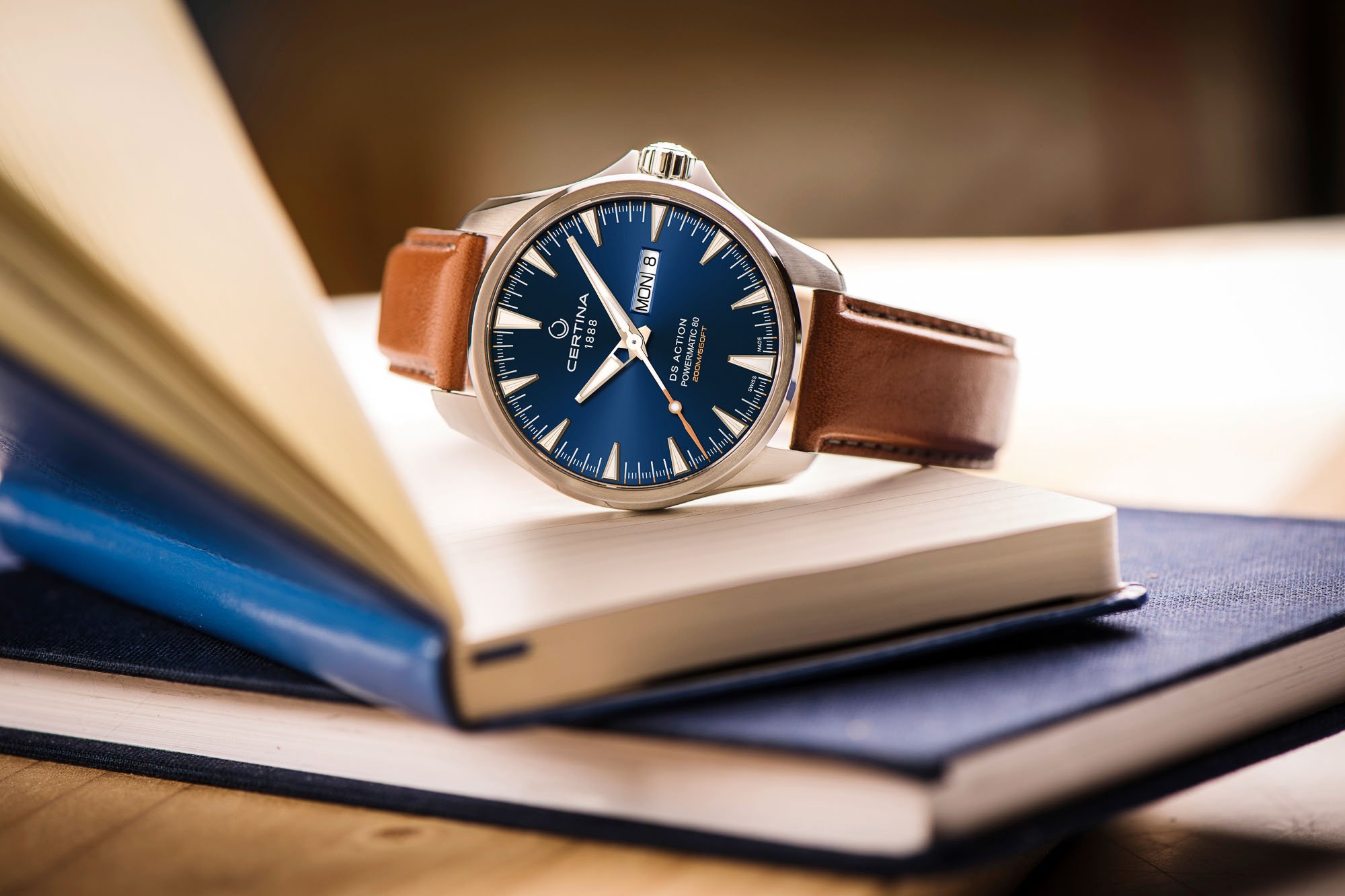 Certina DS Action Day Date
Certina brought us news of a pretty cool "field watch" piece called the DS Action Day Date that's marketed to handle all of life's adventures.  In a 41mm stainless case, the watch is available on a steel bracelet (695 Euros) or leather strap (665 Euros) with a black, silver or blue dial.  With 200M of water resistance, a sapphire crystal, and screw-down crown, it's fully featured.  Inside, we get the Powermatic 80 automatic with 80 hours of power reserve.  Not bad, not bad at all.  Head here for more.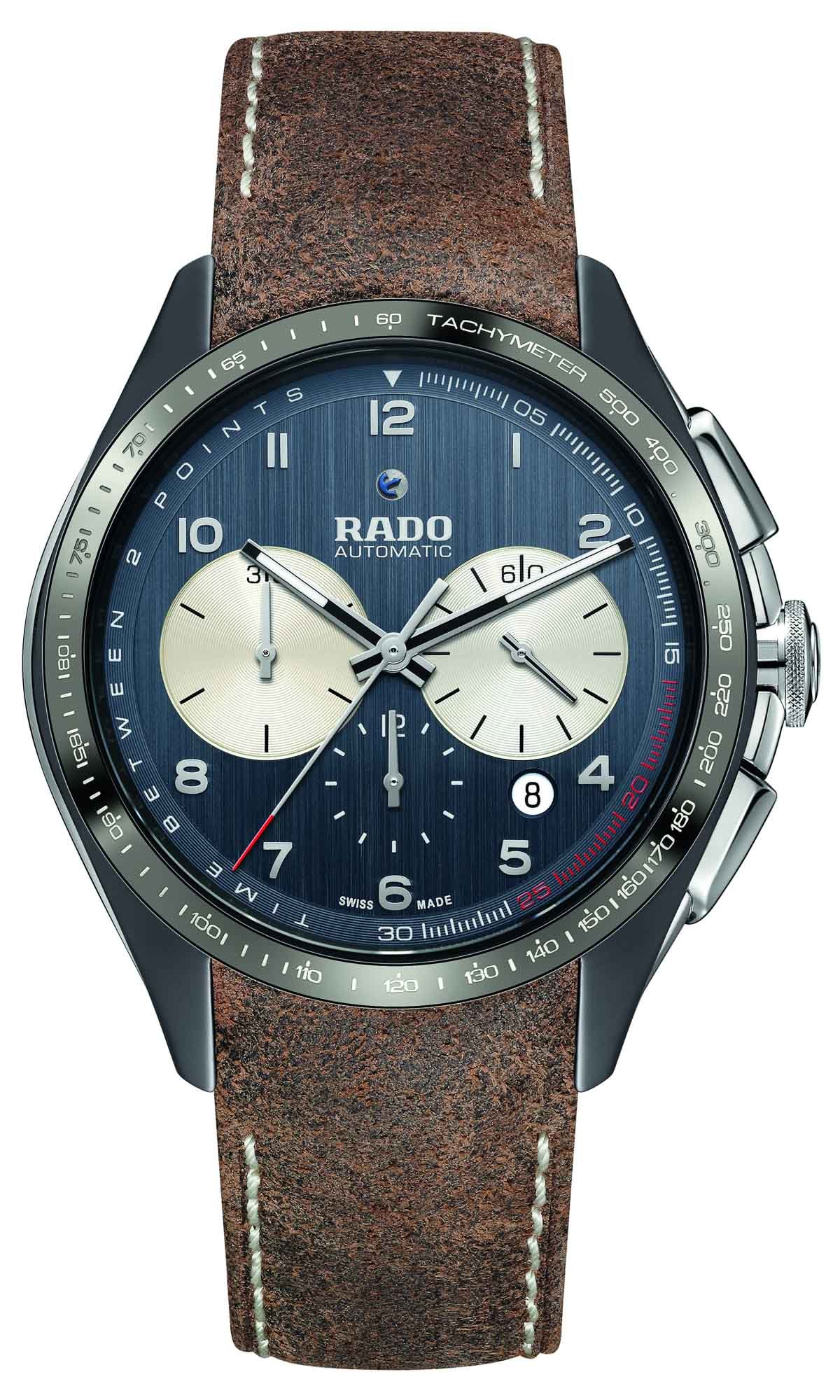 Rado x Porsche Tennis Grand Prix
In celebration of its "official match timer" position within the Porsche Tennis Grand Prix tournament, Rado has debuted a few new Hyperchrome Chronographs.  There are three different watches, all featuring a 45mm monobloc case in Plasma Hightech Ceramic and an ETA 2894-2 automatic chronograph movement.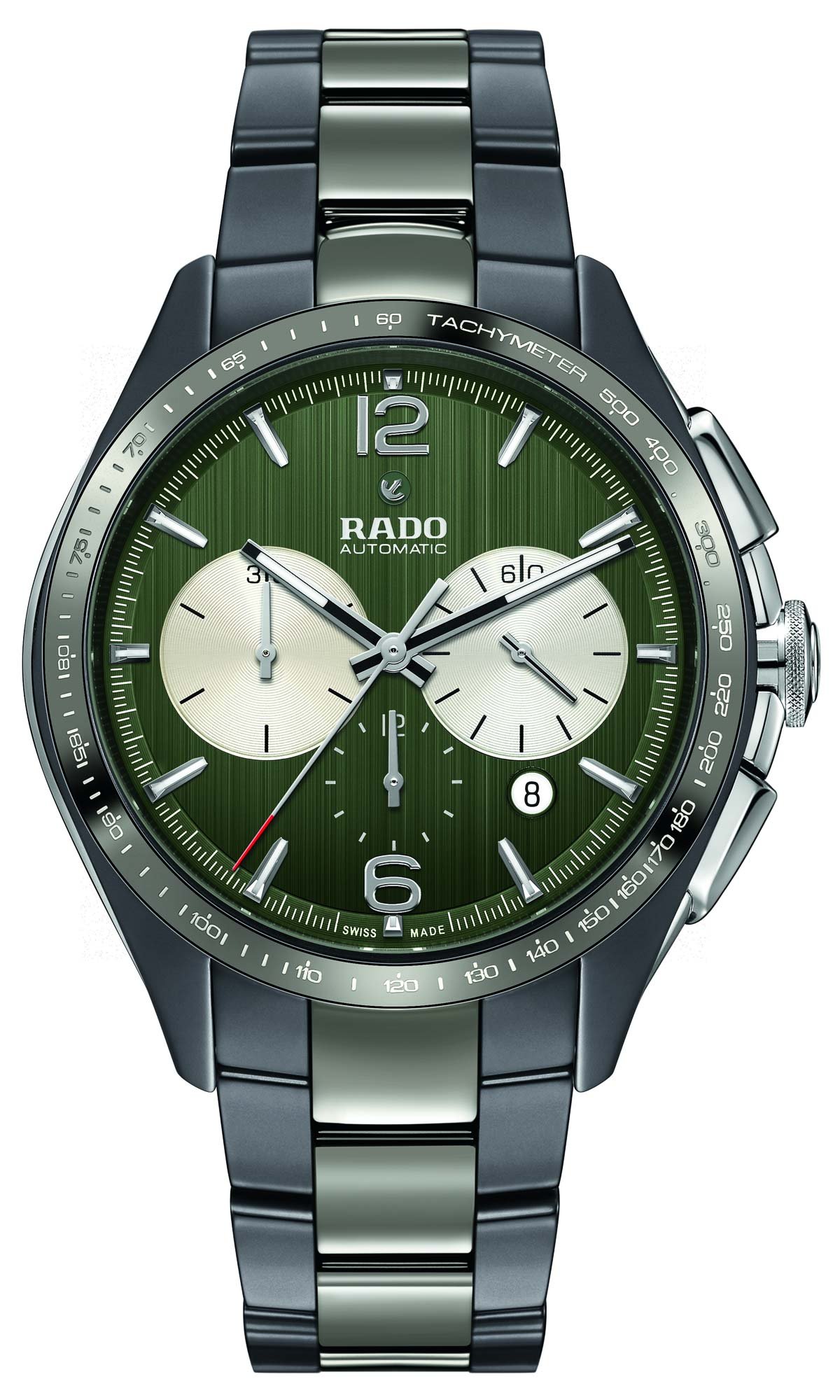 Both the blue and brown versions will come on leather while the green dialed edition comes on a ceramic bracelet.  Each will be limited to 999 pieces and pricing ranges from 4,450 Euros (strap) to 4,750 Euros (bracelet).  These aren't small, but they offer a nice clean look – especially those on the leather.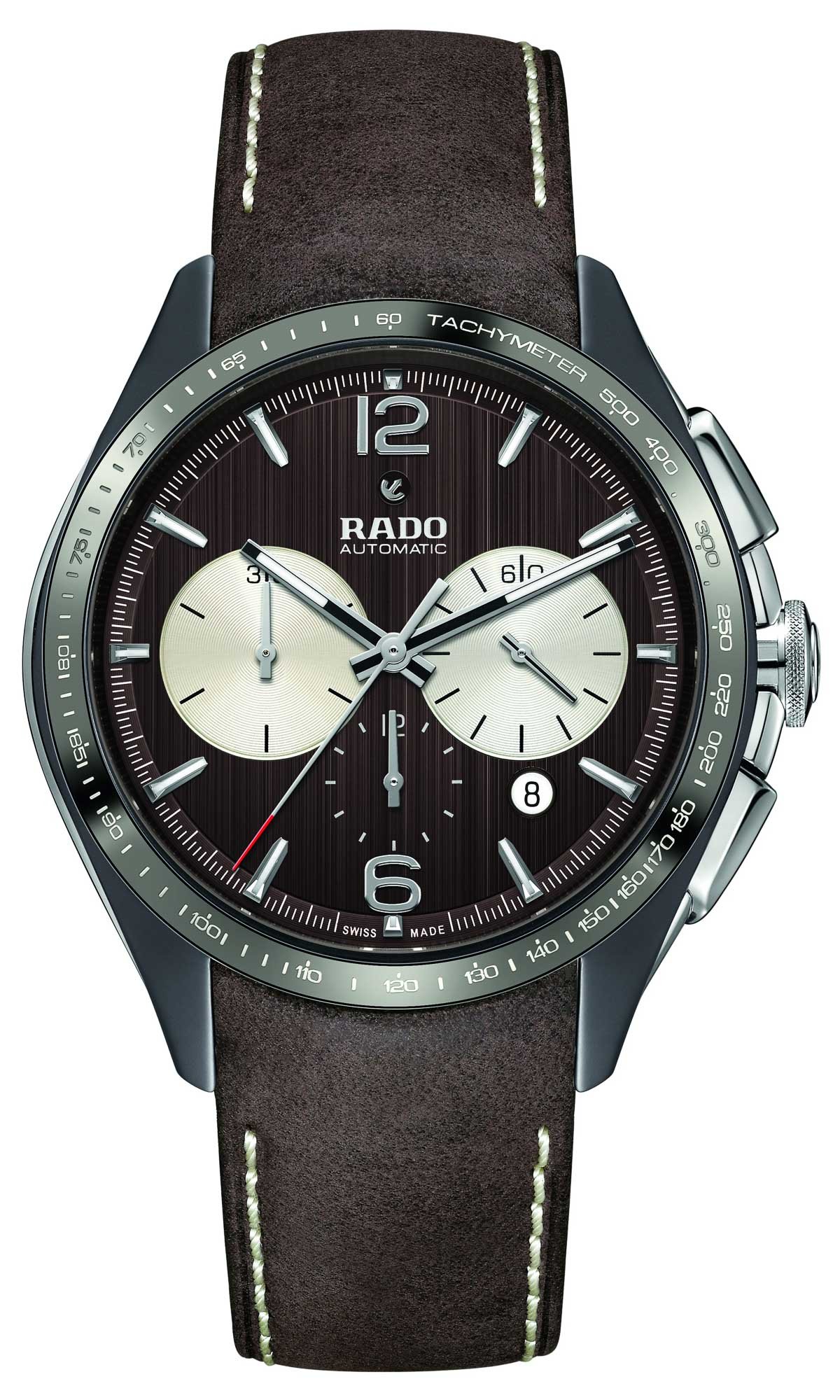 If you're one for advanced materials but can't splurge up to the Omega level, then Rado may be for you as this clearly costs a lot less than, say, a ceramic Speedmaster.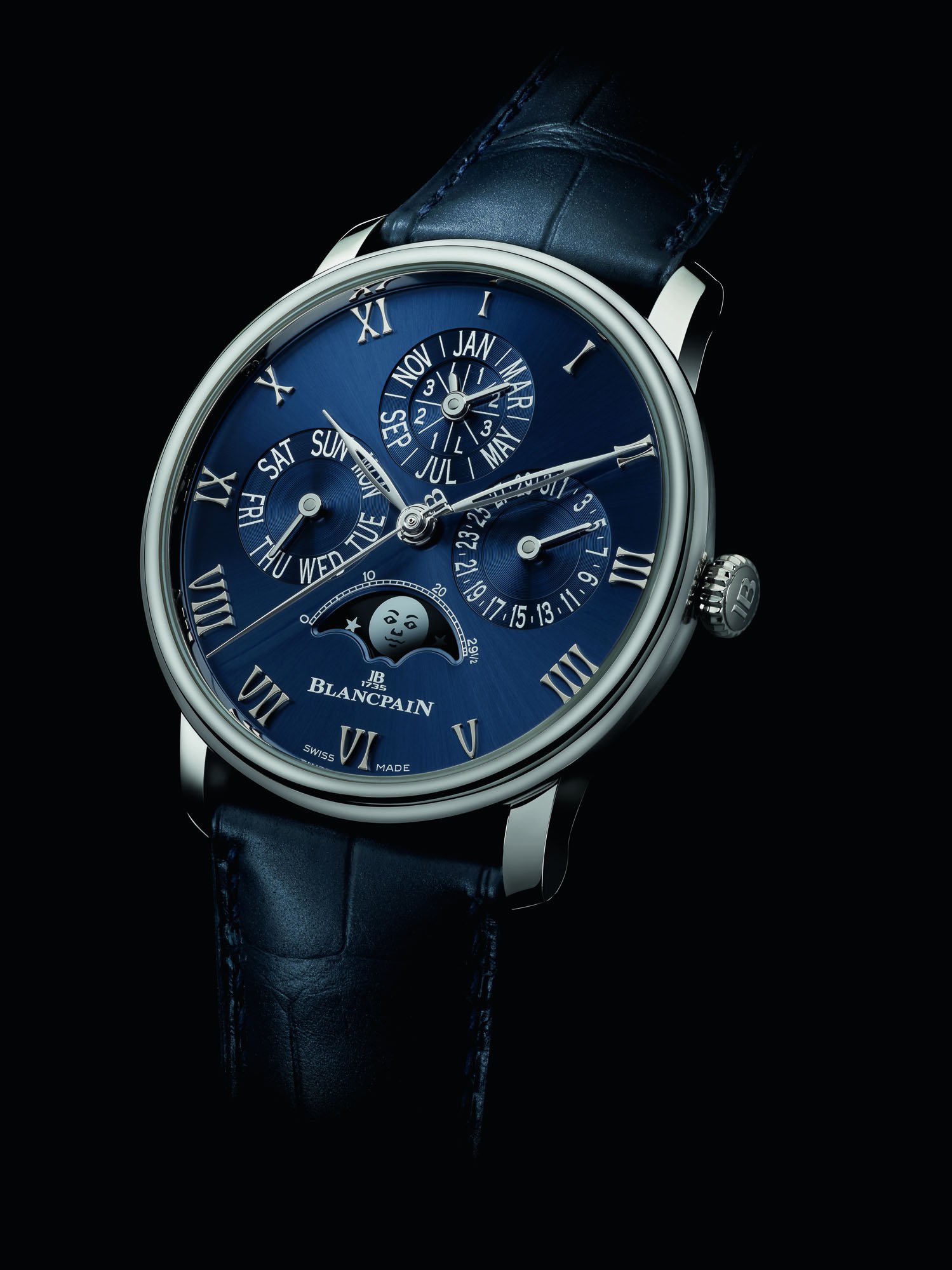 The Blancpain Villeret Quantième Perpétuel
We've been fairly reasonable on this edition of This Week in Watches, but all that changes with the Blancpain Villeret Quantième Perpétuel – a limited edition of 88 pieces to be sold exclusively at the brand's boutiques for 61,360 Euros.  In platinum with a blue dial (seemingly THE color a limited dress watch must come in these days) and at an attractive diameter of 40mm, this automatic-powered (cal. 5954) piece comes with some serious complications.  If a perpetual calendar, moon phase, and leap year indicator are what you're looking for, you'd be wise to take a look at the newest Blancpain.  A cool little tidbit is that the push button correctors, that normally populate the case sides, are found under the lugs.  Hey, for over 60K, no one likes unsightly correctors!  It's well-known that these types of watches aren't in my proverbial break basket, but I'm beginning to appreciate them more and more.  I suppose that those who shop these types of watches often own many and they look at these much like I look at a $5,000 and below acquisition.  So, I'd be interested to hear what they have to say about this Blancpain, but in my eyes, it's quite attractive.  I like the colors in use, the size, and the symmetry.  Head here for more info.
Lange & Söhne Concorso d'Eleganza Villa d'Este
Lange has been affiliated with the Concorso held on Lake Como, Italy for several years now and they always produce a special watch for the "best in show" winner and this week, it makes our header.  This watch features the Coat of Arms from the family owning the Villa on its hinged case back.  In white gold, the Lange 1 Time Zone "Como Edition" is only given to the winner, which is a pretty cool prize indeed (honestly, how many trophies do you need?).  Lange produces a "regular" version of this watch without the hinged case back in white gold, pink gold and platinum.  It features the brand's in-house manually wound cal. L031.1 and contains a day/night indicator for both time zones.  I know that none of the folks who show their cars at various global shows need a watch, but if I were in the position, I think I'd be heading to Italy with my best set of wheels for a chance at this lovely piece.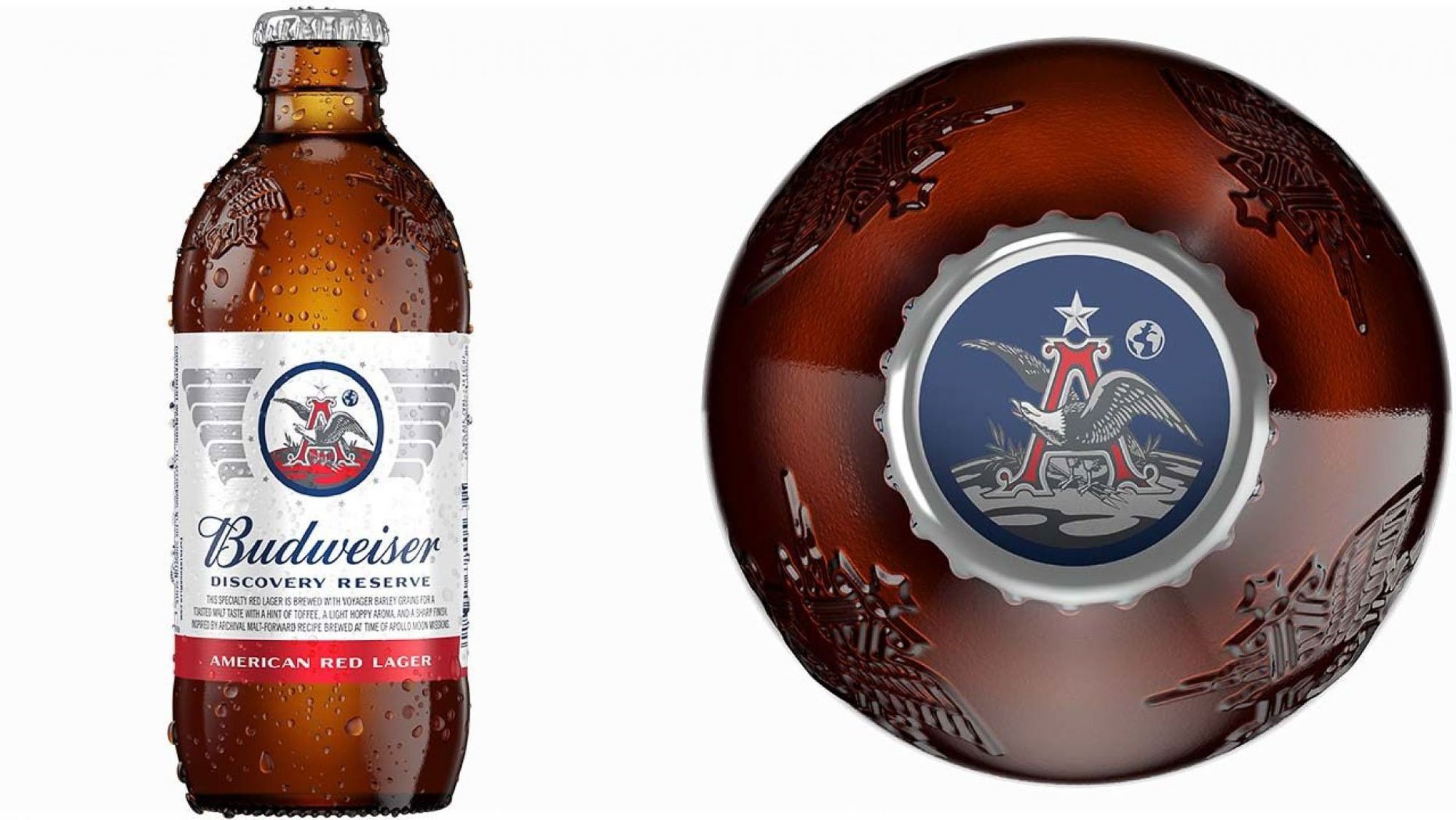 This Bud's for You Buzz
Ah, the nonsense portion of This Week in Watches.  Budweiser, a name that really gets my European colleagues going when they yammer on about how bad American beer is and how superior (read: boring) German beer tends to be.  And then there's the whole on and on commentary about how the name steals from a brewery in the Czech Republic.  Get over it!  Now, wherever the complainers live, folks do have a point about Budweiser being a bit watery, but that's kind of the point.  I'm a massive IPA nut, but that's not exactly the brew I desire when finishing some yard work in the heat or if I don't want to get a case of the stumbles after just a pint.  But, we're not here to talk about regular Bud or my consumption habits.  We're here to talk about the brand's newest limited time only brew, Discovery Reserve American Red Lager, and it's coming your way this Summer right on time for the 50th Anniversary of the Moon Landing.  The packaging will contain some cool things such as 11 stars to signify the Apollo 11 mission and the the recipe is apparently a historic one from the archives from roughly 50 years ago.  Finally, the reddish color of the beer (and the planet on the label) refers to Mars, which is the next target for a landing.  I will be trying some of these when I make my way back to the US of A for a visit later in the year.  If my Fratello team mates are nice to me, they just might get a bottle in return.  Check out that bottle cap!  Oh, and for every case sold, $1 will be donated to Folds of Honor, an organization that assists with scholarships to family of former military members who have fallen or were disabled during duty.
And folks, for all you do, that's This Week in Watches for you – enjoy the rest of your weekend!