The New To The Hour Enigma Case Is A Rugged Travel Companion
When fancy leather rolls just can't hack it...
Recently on Fratello, we have covered some truly delightful leather watch rolls. I've even been tempted to invest. And that's in spite of having more than enough storage for a collection I hope soon to scythe in half having been inspired by Thor's article from Collector's Week. However, there is one thing of which I do not have enough. I need more rugged carry cases capable of enduring the rough and tumble life I like to live at the weekends. Thankfully, To The Hour (which is, quite remarkably, based in my hometown of Glossop, Derbyshire) is stepping up to the task.
The back of my car is a mess. It supposedly seats two passengers, but both seats are folded down and the backrest that divides the boot from the rest of the car is flattened to provide me with maximum storage space. Every inch is taken up with dry bags full of paddle gear, hiking boots, fell shoes, Co2 pistols, bows, axes, knives, towels, and camera equipment. Honestly, it looks like I'm either gearing up for a Zombie apocalypse or about to commit some heinous crime in the woods. I guarantee that while neither is true, should the former manifest, give me a call…
Something tougher is needed.
I like to take several watches with me when I head off into the middle of nowhere for an adventure. My Laventure Sous-Marine always comes with me. You'll often find the Laco Squad Amazonas stashed away somewhere. It's a nailed-on certainty that all my Mudmasters will make the trip because I like testing them against one another in different environments. As such, the issue of how to pack them safely frequently comes to the fore. Leather watch rolls are no good to anyone here. Something tougher is needed.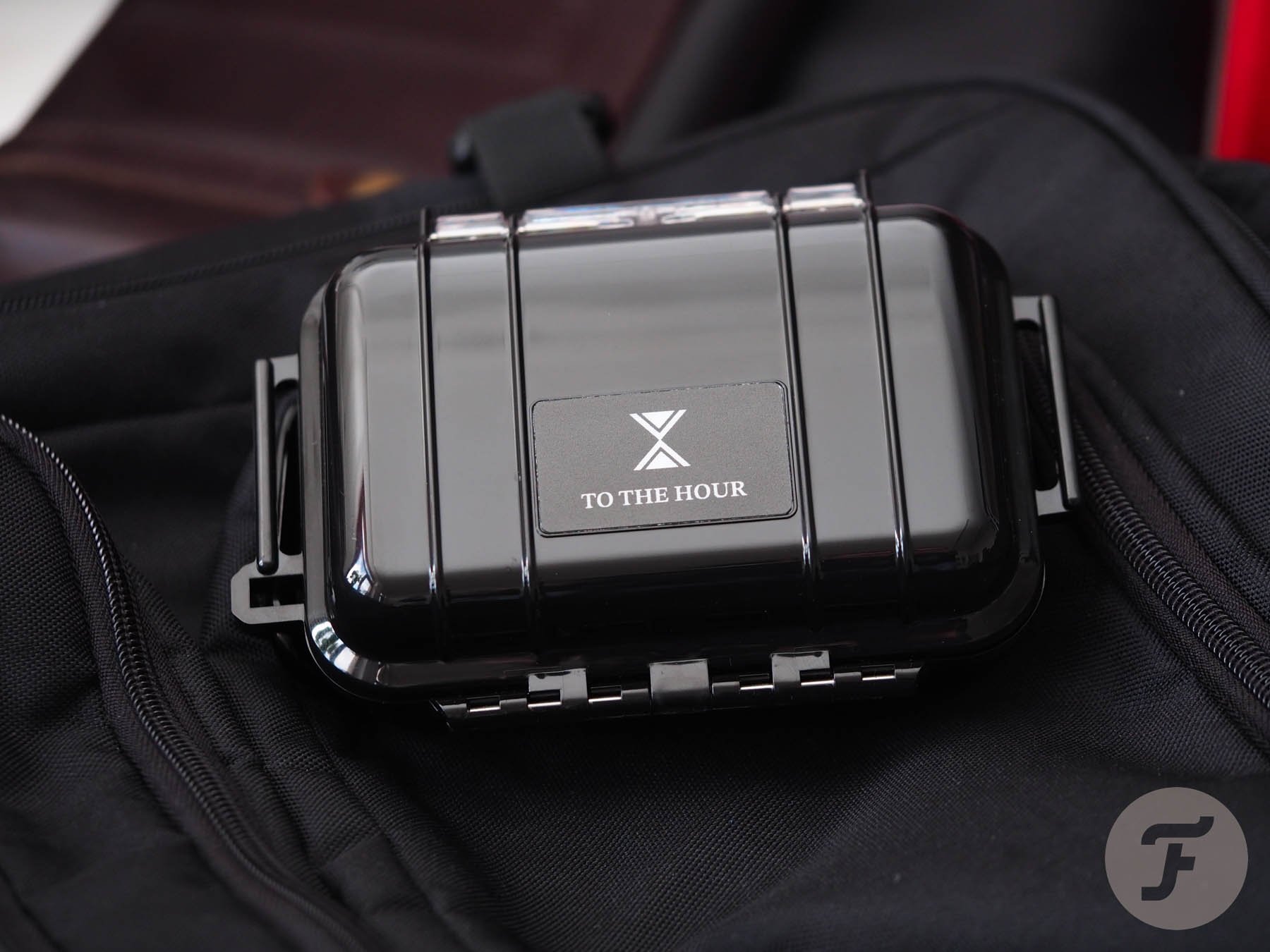 To The Hour, right on time
When I found out that To The Hour, a relatively new brand name of an experienced watch and gear case foam manufacturer, was based about 500m away from my mum's house, my jaw came as close to literally hitting the floor as it ever had. What are the chances? Watchmaking is a small industry, and I come from a pretty small town. The proximity was baffling. Reaching out to arrange a meeting was a no-brainer.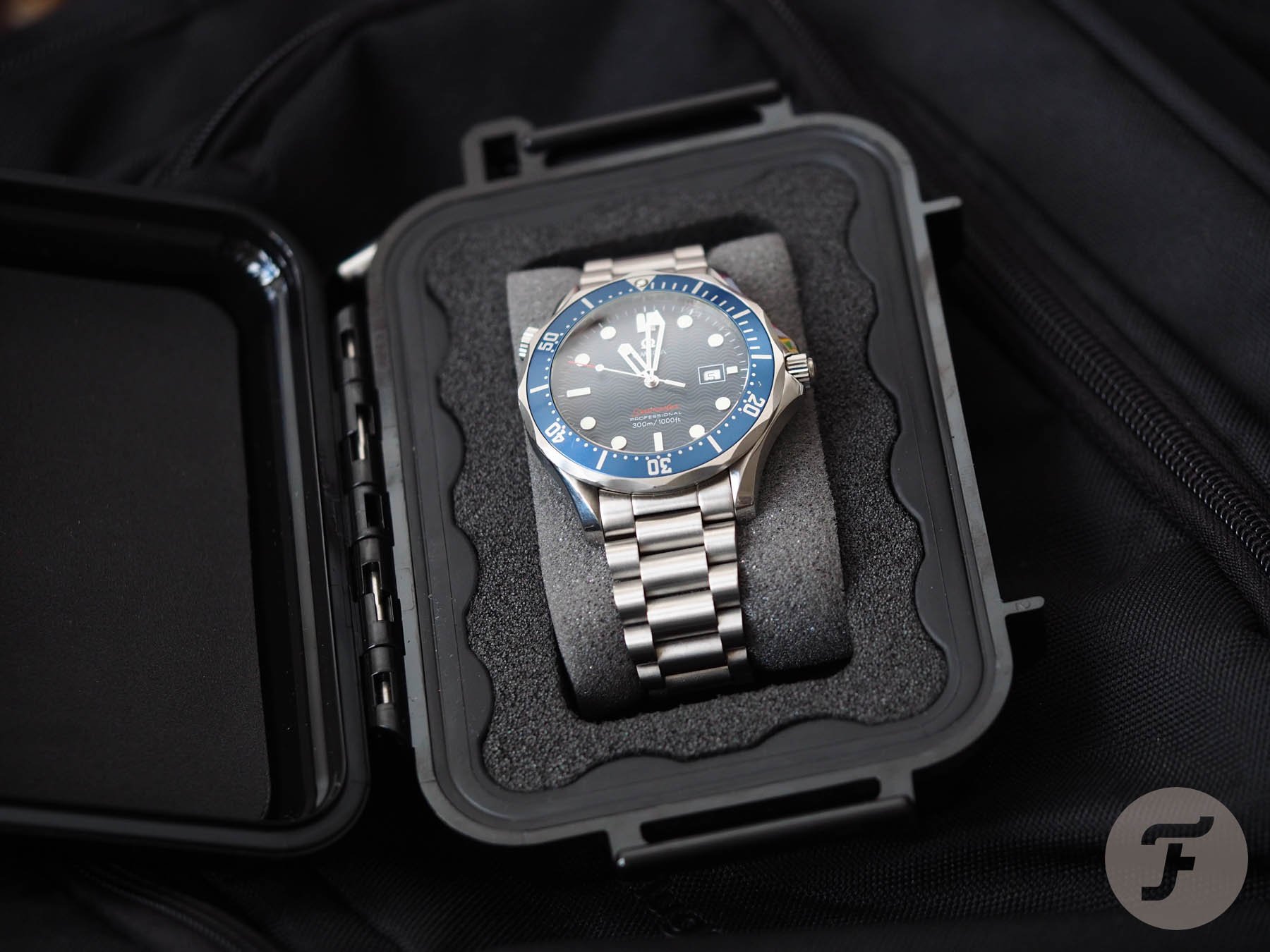 I headed down to the facility to check out the new products and give some feedback on the developments being made in-house with new foam formats for future releases. With me, I took home two of the brand's cases. I picked up the truly impressive "Vault", which can be configured to accept either 18 or 21 watches (I took the 21-watch model as I don't care for the spaces for straps and tools afforded by the 18-watch version), and the case reviewed here today, the one-watch "Enigma" case.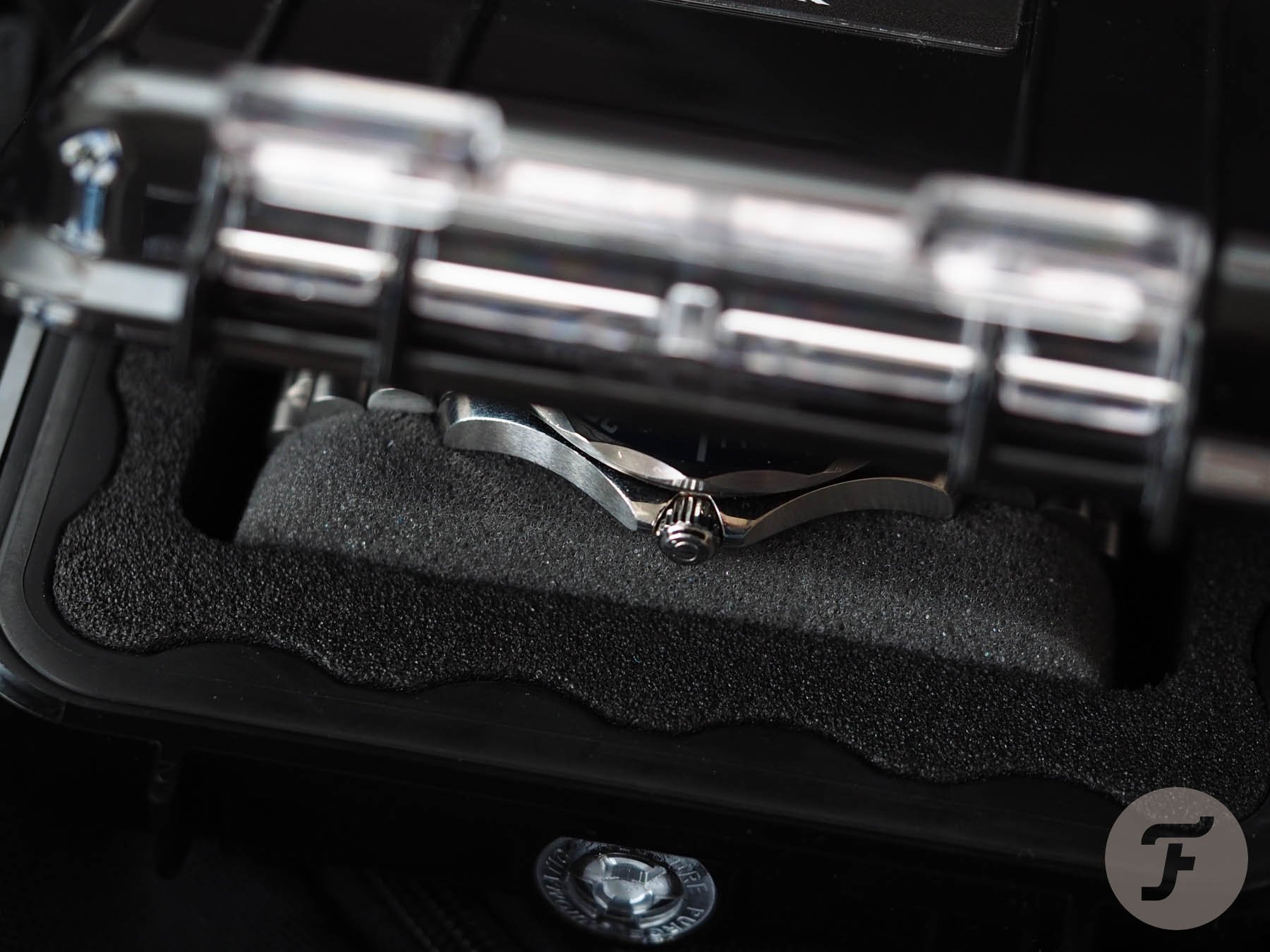 Is one watch too few?
That's a good question. I think the "standard" watch roll is (and feel free to disagree with me in the comments, here) a three-watch roll, although I'm seeing more and more two-watch rolls than ever before right now. As such, I'm personally kind of conditioned to imagine that traveling with three or at least two watches is the bare minimum. But one other important point, which is glaringly obvious but sometimes overlooked by my brain and therefore possibly yours as well, is that a two-watch roll implies a three-watch cohort, and a three-watch roll suggests you have four watches with you (the two/three in the roll and the one on your wrist).
…two would be more than sufficient for a single expedition into the wild.
After that realization, I found myself thinking that four watches was a bit excessive for a week away unless I was undertaking four extremely different tasks during that week and was particularly fastidious about my watch choices. Otherwise, three was probably plenty for a trip, and two would be more than sufficient for a single expedition into the wild.
A reliable reference point
You might find yourself asking, "Why on earth would you need to change watch mid-adventure?" Now, while I am sure there are reasons for you perhaps wanting to do that, I actually came down with the opinion that the second watch I would take with me into the wild — and the kind of watch I would store in this hard-shelled, practically indestructible (and water-resistant) Enigma case — would be effectively a back-up and act as my version of a "marine chronometer". What I mean by that is, a solid, reliable watch (almost certainly quartz), that would serve as a reference point if any damage befell the watch on my wrist or, if, during timing operations, I did something stupid and changed the actual time and needed to check it against a placebo.
If I somehow manage to destroy that hulking horological howitzer, I have a serviceable backup safe in my bag.
As you'll see from these pictures, I chose to make my Omega Seamaster 300M the "Enigma watch". This is a watch more than capable of withstanding harsh environments. It is battery-powered (and recently tested to ensure plenty of juice remains). It is water-resistant to 300 meters, has a luminous dial and hand-set as well as a date function. Plus, it's lightweight and generally tough as nails.
On my wrist as my primary watch, I would wear the latest G-Shock Mudmaster as reviewed in this video. If I somehow manage to destroy that hulking horological howitzer, I have a serviceable backup safe in my bag. And thanks to the Enigma case, it is truly safe.
The functions of a simple case
One of the nicest value-adds this case has is the carabiner clip in the corner. With this, you can attach the case to a fixed point within your bag, or even on the outside. I prefer to keep attachments like this on the inside. I don't like the way they bounce around if they're clipped on the exterior of a pack. The excess movement irritates me. In some cases, on particularly treacherous ridges, it could even be dangerous. If the carabiner isn't your thing, however, it is very easily removable.
As you would expect for a Peli case, it is (IP67) water- and dust-resistant.
As you've probably identified, this is a Peli case. It is made by Peli and then To The Hour adds its decal and custom foam insert. It starts life as a Peli™ 1010 Micro Case. As you would expect for a Peli case, it is (IP67) water- and dust-resistant. On the front, near the translucent fold-over clip, there is a small, translucent valve. On it, the words "automatic pressure purge" can be seen. That's an awesome touch that makes me feel like I'm in the docking bay of the USS Enterprise.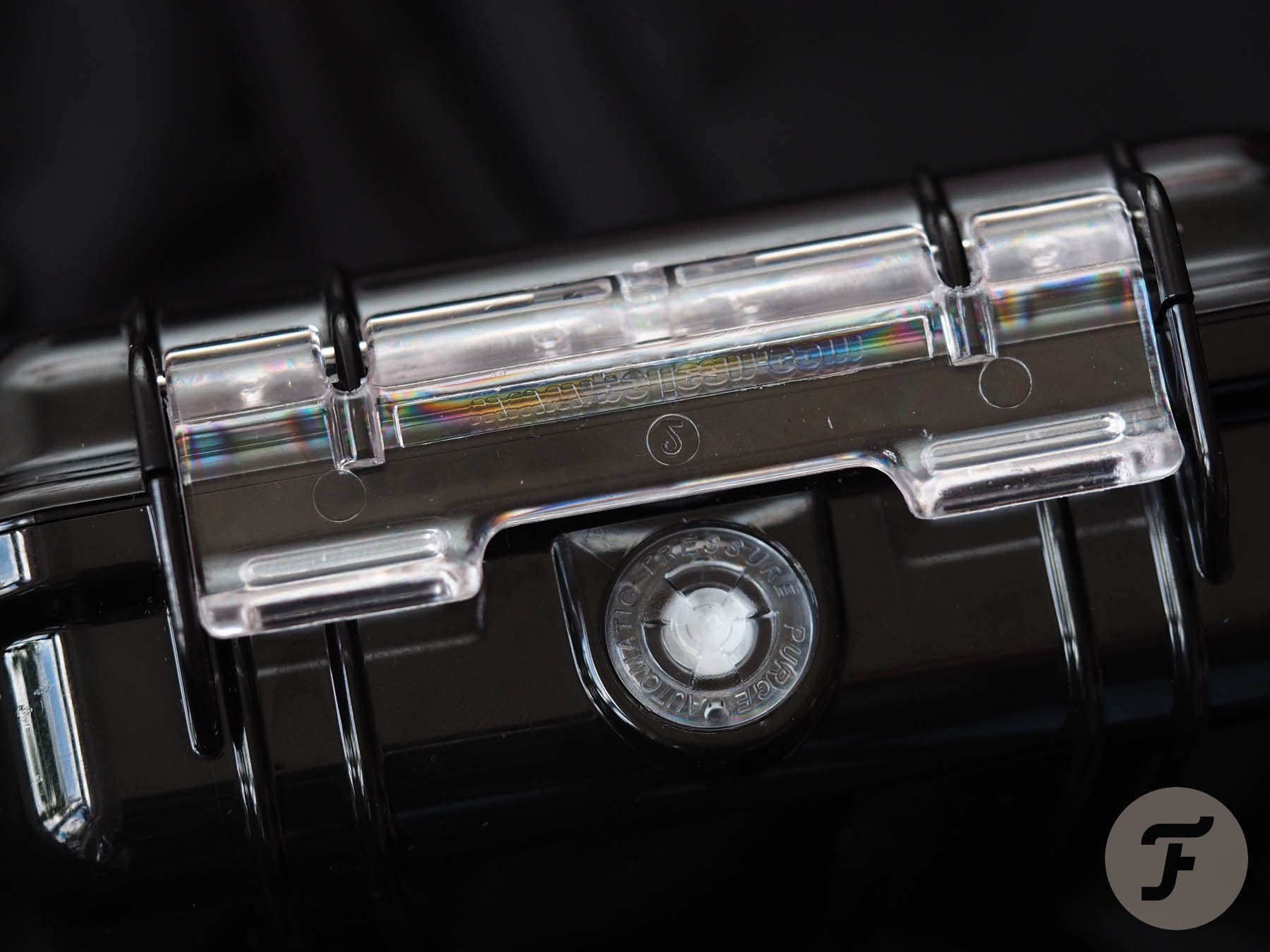 On the clip itself, you will see some text that appears upside-down and in reverse, molded into the plastic. When you flip the clip up, you will see this says, "www.pelican.com". If you want to learn more about the cases themselves, what they are built to withstand, and exactly how they are made, that's a good website to check out.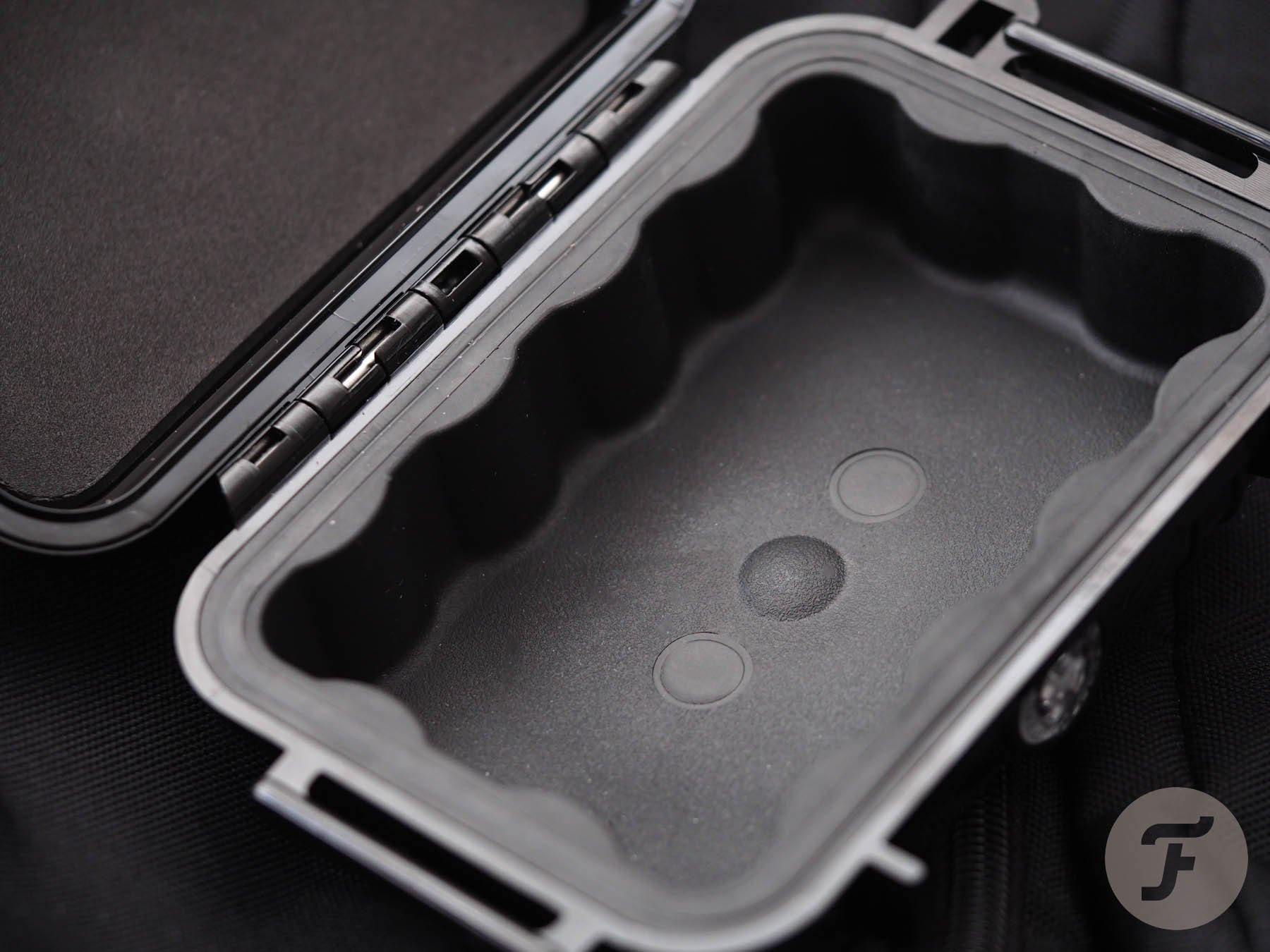 You can just tell…
When you open the Enigma, its toughness should be immediately apparent. The edge of the case is lined with an impact-absorbing rubber with a wavy inner edge where it meets the foam. The high-density foam lining of the case hugs the rubber surround tightly, encircling an ovular wedge made of much softer foam, around which your watch can be buckled. The foam block for the watch in the Enigma case is much softer than any other foam you'll encounter in the To The Hour range. The advantage here is that it is more pliable and can accept a wider range of watches than the tougher, high-density foam the other cases exclusively employ.
I decided to chuck it out of my window…
The inside of the "lid" is also lined with dense foam. This puts sufficient pressure on the watch crystal when the case is closed. If you close the case and shake it, you'll feel no movement on the inside. The clasp is secure and holds fast during impact. After taking photographs of the case, I decided to chuck it out my window to see how it handled a three-story drop. The case survived, it didn't pop open, but I did leave a god-awful scratch on the polished plastic as a result of the impact.
However, pleasingly, my Seamaster survived. Its time-keeping was unaffected, but given it is a quartz watch, that's perhaps not so surprising. Thankfully, the case didn't open. I had vivid visions of the case popping open and the watch being ejected. I have nothing against the car park outside my office, but I'd prefer my Seamaster not to meet it at speed.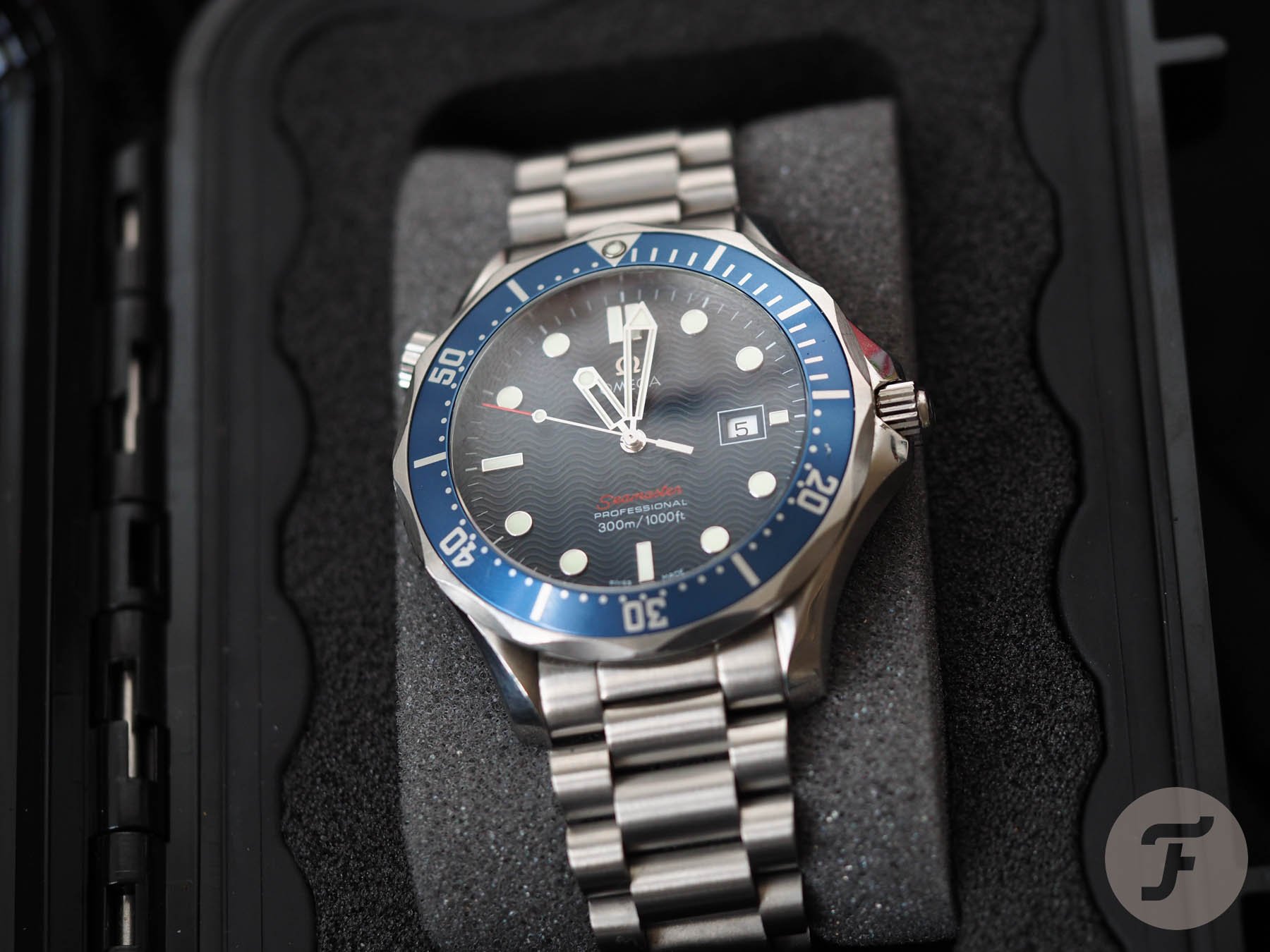 Don't throw luxury watches out the window
Okay, so that was a bit of an extreme test to put the Enigma through. It is highly unlikely you will accidentally throw your watch case out the window. It is even less unlikely that you will do that deliberately. I would advise against it. My heart was in my mouth for those few seconds while the case was in the air. Still, at least I know now that it does what it's supposed to. And considering the Enigma retails at just €51.99, I think that's pretty impressive.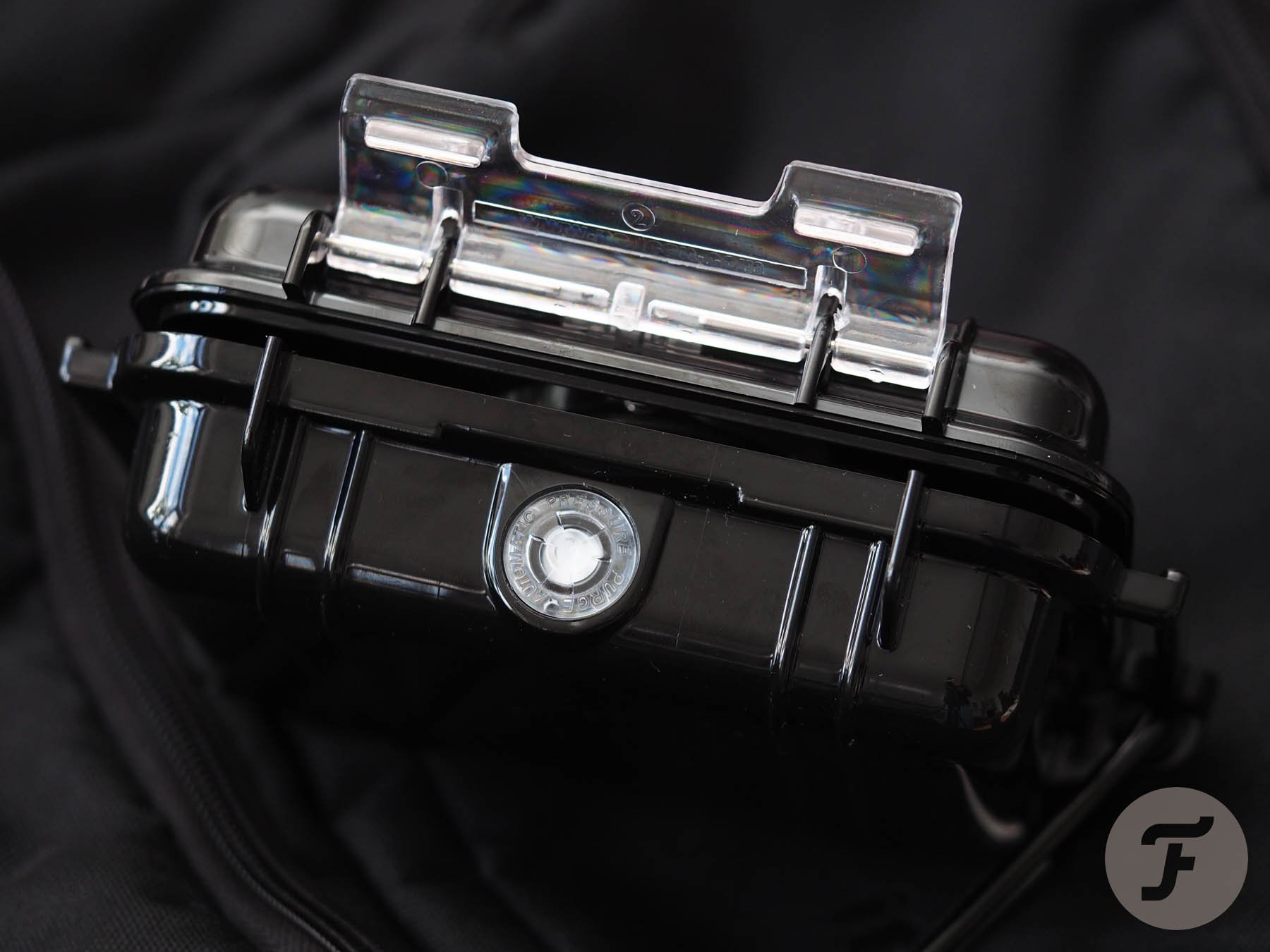 Don't sleep on the shipping costs, however. Thanks to Brexit, shipping from the UK got a lot more expensive. To The Hour ships worldwide, but it's worth placing a larger order if you're outside of the UK. For example, the cost of shipping a single Enigma case to me in Germany would be €19.99. Each additional item, however, costs just a few euros more. And that's true even if that additional is one of the massive Vault cases (the shipping for a Vault and an Enigma shipped together would cost €23.99).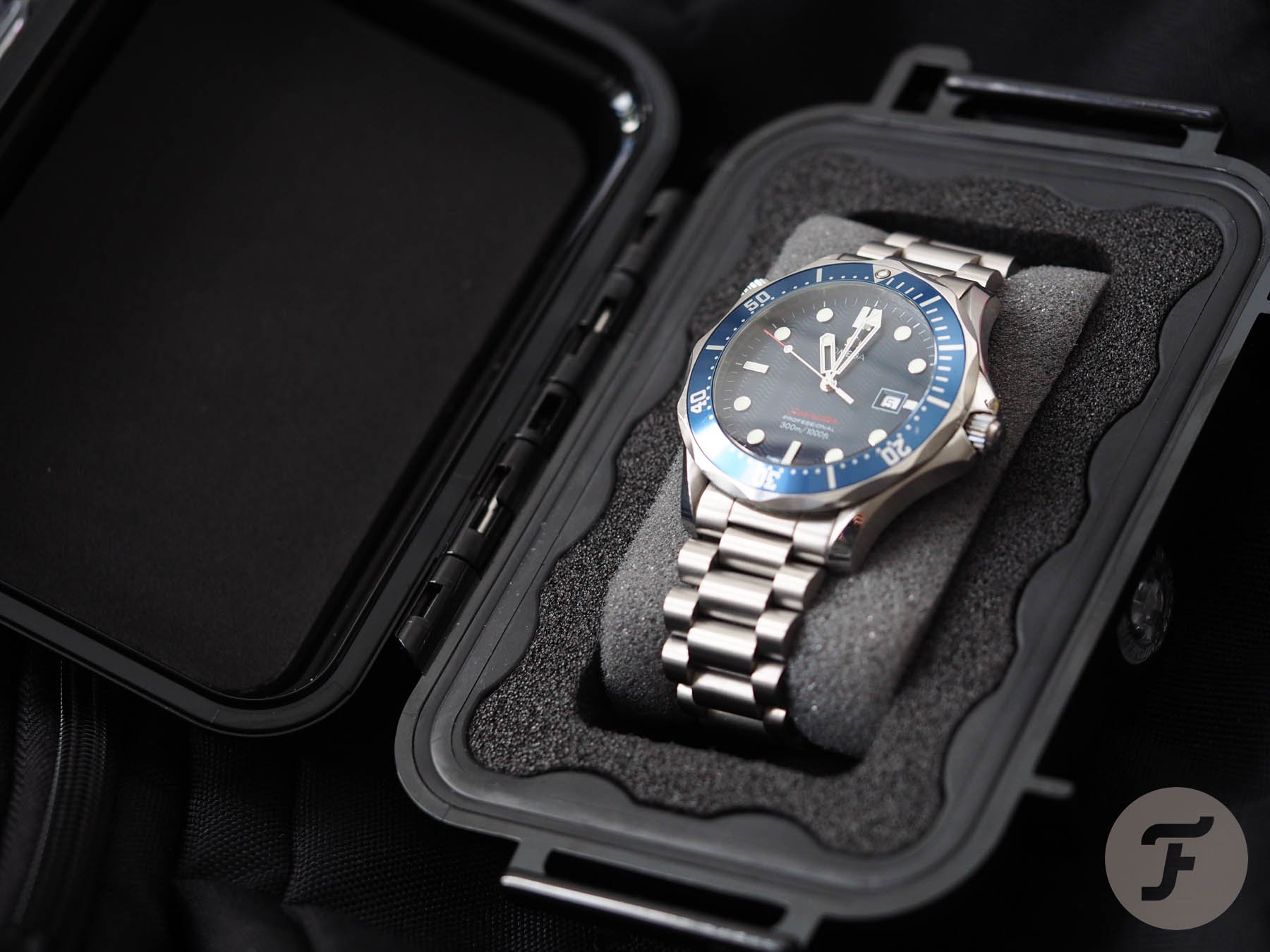 If you decide the shipping is not something to be afraid of, bear the following in mind: the case has a useable depth of approximately 38mm, which means it may not be suitable for larger watches. Remember that Mudmaster I said would be my primary watch on the wrist when heading out into the wild? No chance. The 41mm Seamaster (11.9mm thick) was perfect, however. The case weighs just 0.2kg and has external measurements of 138 × 103 × 54mm. Learn more about To The Hour and its products here.