Torre Straps — How My Search For The Ultimate Vintage Watch Strap Came To An End
Because nothing suits my 1940s–1950s vintage watches like pigskin!
There is something distinctive about the leather straps of yore. Something which we do not see in today's modern offerings. Although the quality of modern leather straps is undeniable, sometimes a watch calls for a period-correct counterpart with the signature features of the era. Strap thickness, taper, rounded ends, box-stitching, and hot-pressed lines on the keepers. Matteo Torre spent many years studying vintage watch ads and catalogs from the 1930s, 1940s, and 1950s.
Thanks to this deep dive, Matteo Torre developed his own style that is based on precise reproductions of the era. It may sound unoriginal, but the results confirm quite the opposite. In today's oversaturated market, Torre Straps shine with their singular and exquisite style.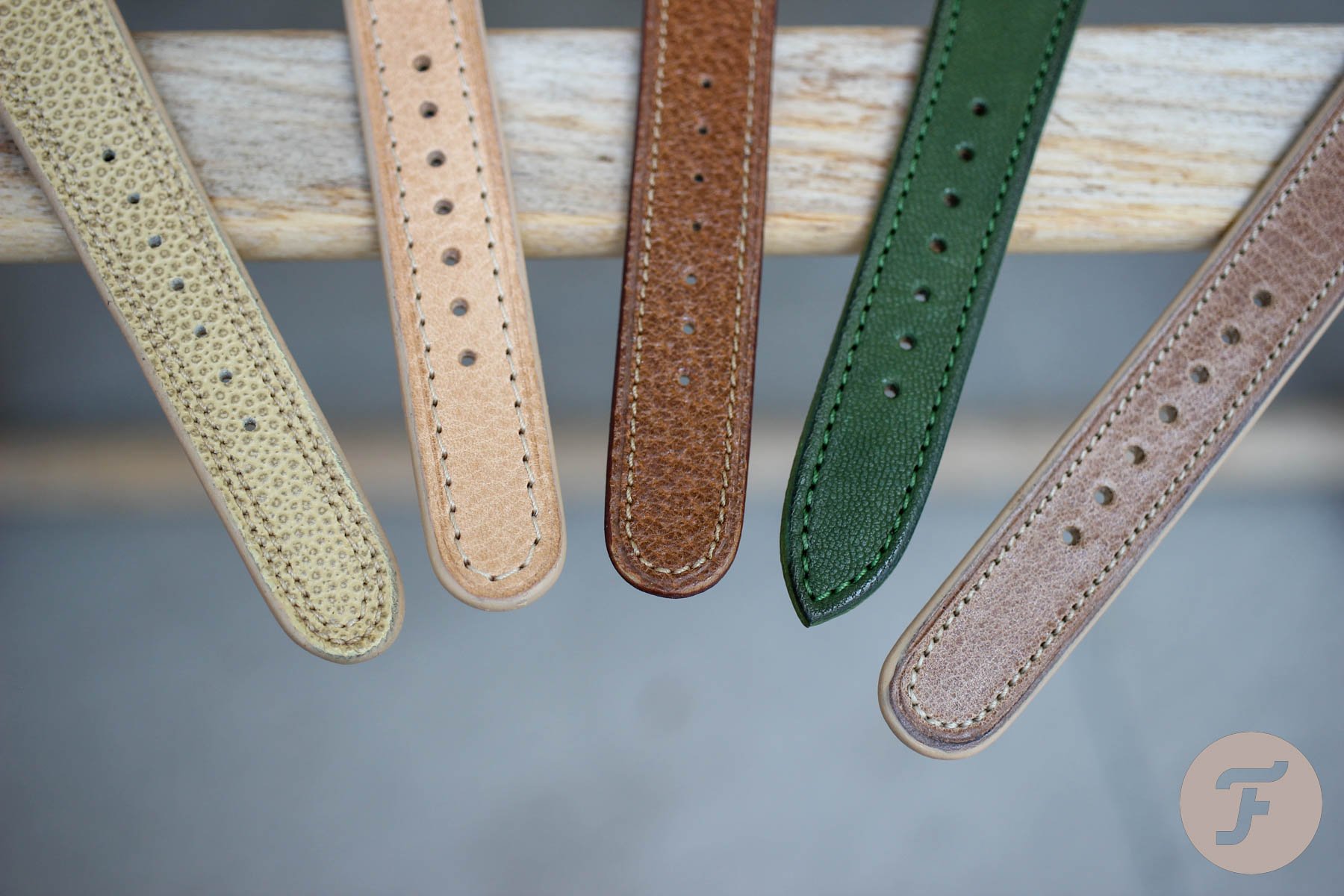 Haven't you heard about Torre Straps?
It's almost criminal that I didn't know about Torre Straps until only a few months ago. I can't stop wondering how it's even possible, as Matteo is quite active on Instagram. Anyway, that changed when I saw a post showing a nicely styled full set Angelus Chronodato on its original pigskin strap and two other very close reproductions. Balazs and I are both great admirers of vintage Angelus, and I was instantly hooked.
My search for the ideal vintage watch strap
Since the day I bought my first watch, I have always experimented with new straps. Not in terms of crazy new designs or materials, but rather I was on the hunt for a decent strap that would fit my 50 to 70-year-old watches. There were a few brands like Colareb or GLC Straps I used to come back to, but every few months I tried a new strap manufacturer. Sometimes it was better, sometimes it was worse than expected. Bottom line is, I was never completely satisfied. The problem was, I didn't know exactly what I was searching for. I just felt I hadn't found it yet.
Disclaimer
In this article, I focus on straps for vintage watches, not modern watches. Including vintage chronographs, we are speaking of a watch diameter (often significantly) below 39mm or 40mm. Many modern strap manufacturers make leather straps that are 3mm thick, and it often looks a bit off on a vintage watch. A strap is important, but a strap that is not quite right can be a dealbreaker to me. It has to have character, but it always needs to be in harmony with the watch. A nice-looking strap with terrible wrist comfort can also kill the joy of wearing the watch. If they are too tough, it's a complete no-go for me. When it comes to these smaller vintage watches, thick and heavy buckles can also be a bit of a nightmare…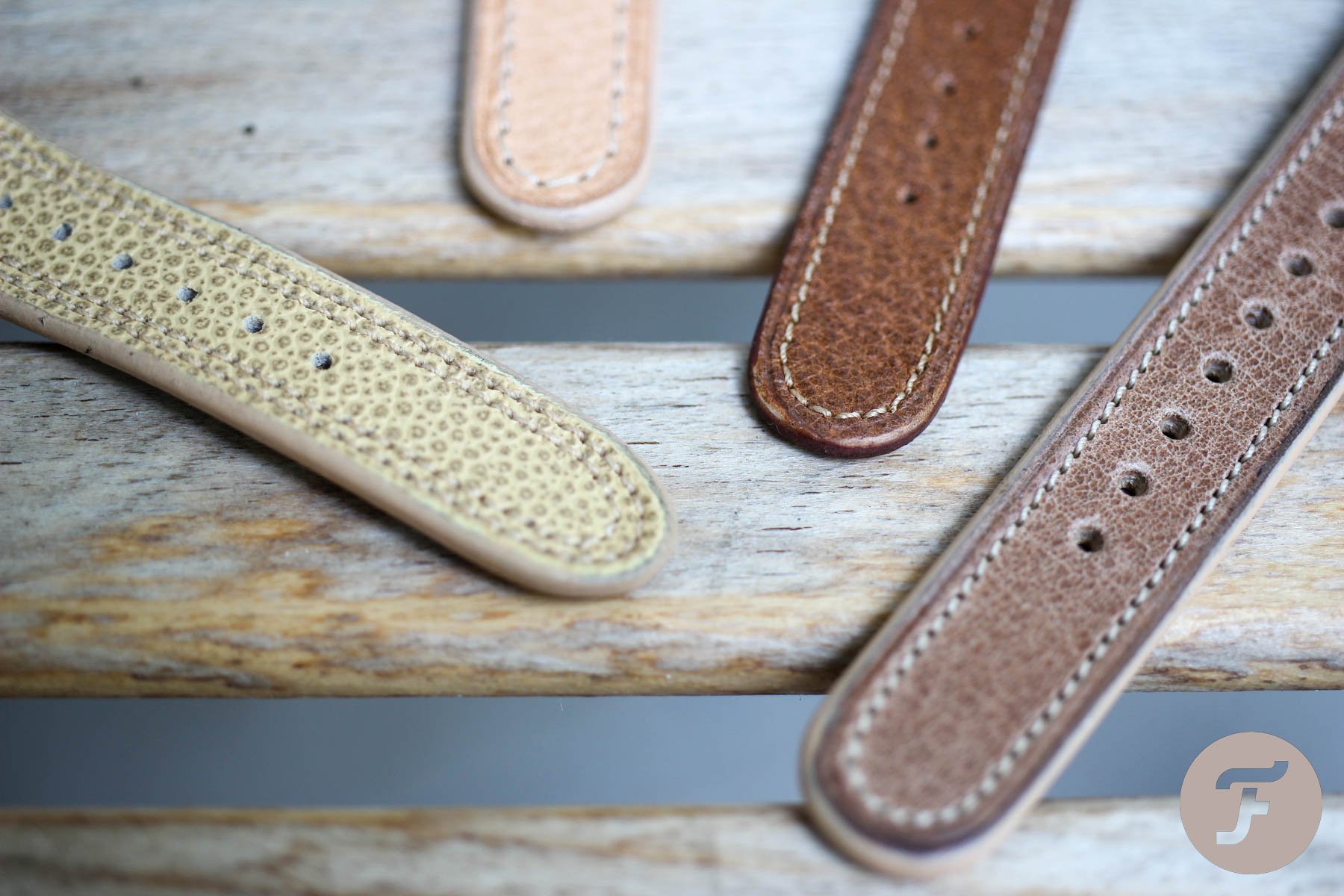 Torre Straps are different
Matteo knows everything you want in your vintage watch strap down to the smallest detail. And when I say everything, I mean everything. "I had a lot of nos straps examples in my hands that I studied and destroyed in order to understand the construction technique. This is why my style is based on the strap of the era, without a shadow of a doubt," Matteo explains.
A hot-pressed line is typical and a very important characteristic of the era.
Matteo says a true vintage strap is flat and very thin, with thicknesses from 1.5 to 2 mm maximum. I couldn't agree more. Both the round end and small box-stitching are also fundamental characteristics. "Of course, living in Italy, I'm lucky, cause here we have the best leather in the entire world," says Matteo proudly. All his straps come with one floating and one fixed keeper and both featuring the signature hot-pressed lines. A hot-pressed line is typical and a very important characteristic of the era. It appears along both sides of the Torre straps.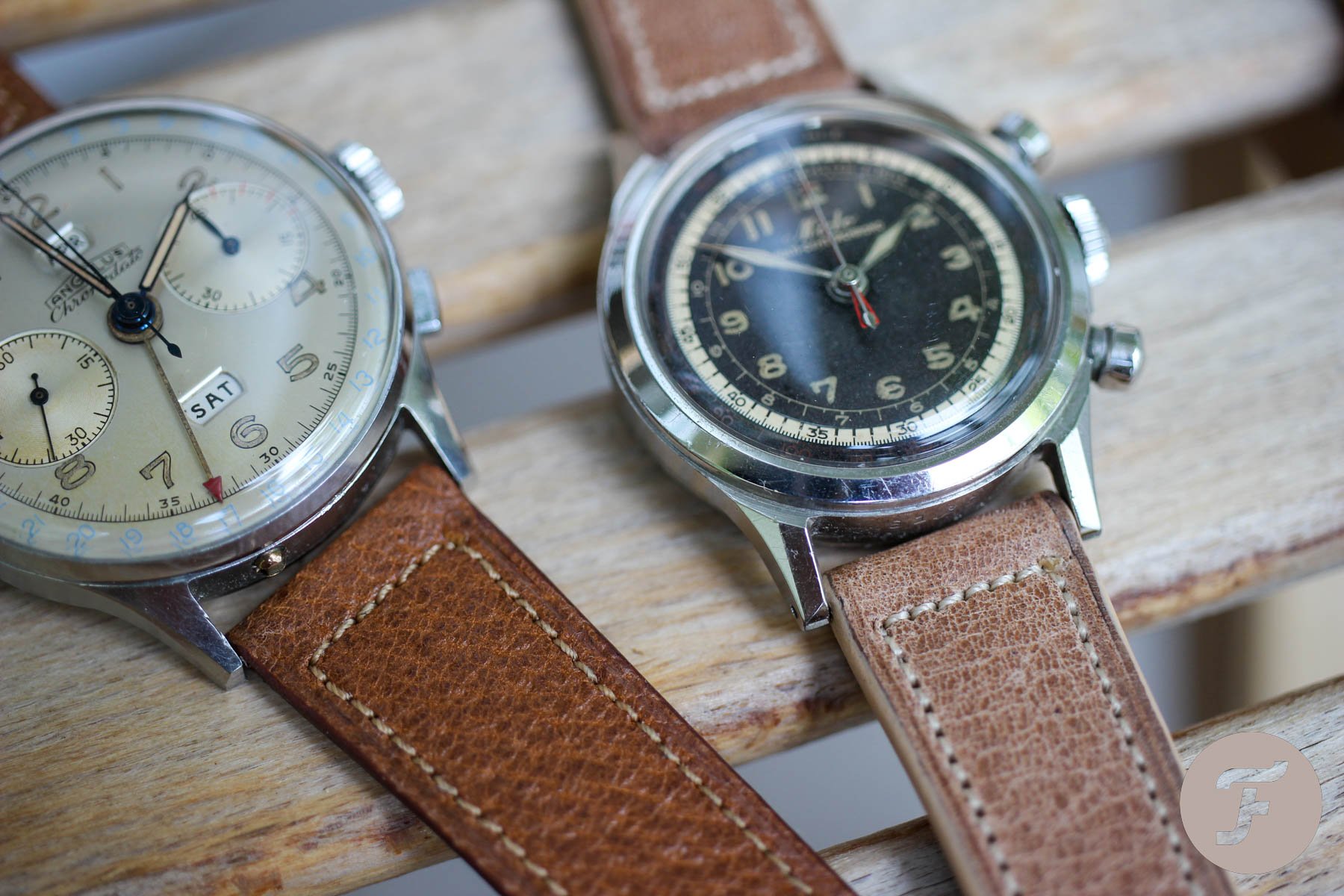 Angelus Chronodato Hazelnut Pigskin strap
By a cosmic distance, the best strap I have ever bought for a vintage watch. My hero strap! The pigskin has quite a rough grainy structure, but it looks very cultivated once pressed. The so-called "box" stitching copies straps from the 1940s. If you look at the macro shot, you can study in detail the fine color and size of the thread. The round tip looks natural, but novel at the same time. I was afraid about the stitching in such a narrow arc, but as you can see for yourself, the stitches remain in a perfectly straight line.
Between the stitches and both sides of the strap, there are the hot-pressed lines. They sit perfectly in the middle and are neither shallow nor deep. The style is so accurate, that you may just be able to spot it in the right light, or with a keen eye. If I asked you if you saw any lines, you would probably be puzzled until you took a closer look. These lines play an important role, but they are almost invisible at a glance. The small perforations lead our attention down to the buckle, which is clearly modern and slightly more oval than the usually sharper older designs. What I really love is the thinness of the strap and the lack of additional detailing in the edges that add undesired mass and thickness to the strap.
Honest and modest Matteo Torre
I wanted to feature some bombastic characteristics, but Matteo gave a simple answer. "Nothing special to add about the pigskin since it's very economic and common leather. We can say that during the 1940s and 1950s pigskin was highly used because it was economic and very strong. It provided high durability." Well, no fanfare from Matteo, but I'd say this strap is a big deal indeed. It wears light and comfortable. As seen in the pictures, it also matches a bigger chronograph perfectly. The summer-clay-road-like structure of the leather has the irreplaceable spirit of the time period. With all the previously described details, this is a true modern reinterpretation of a classic vintage strap.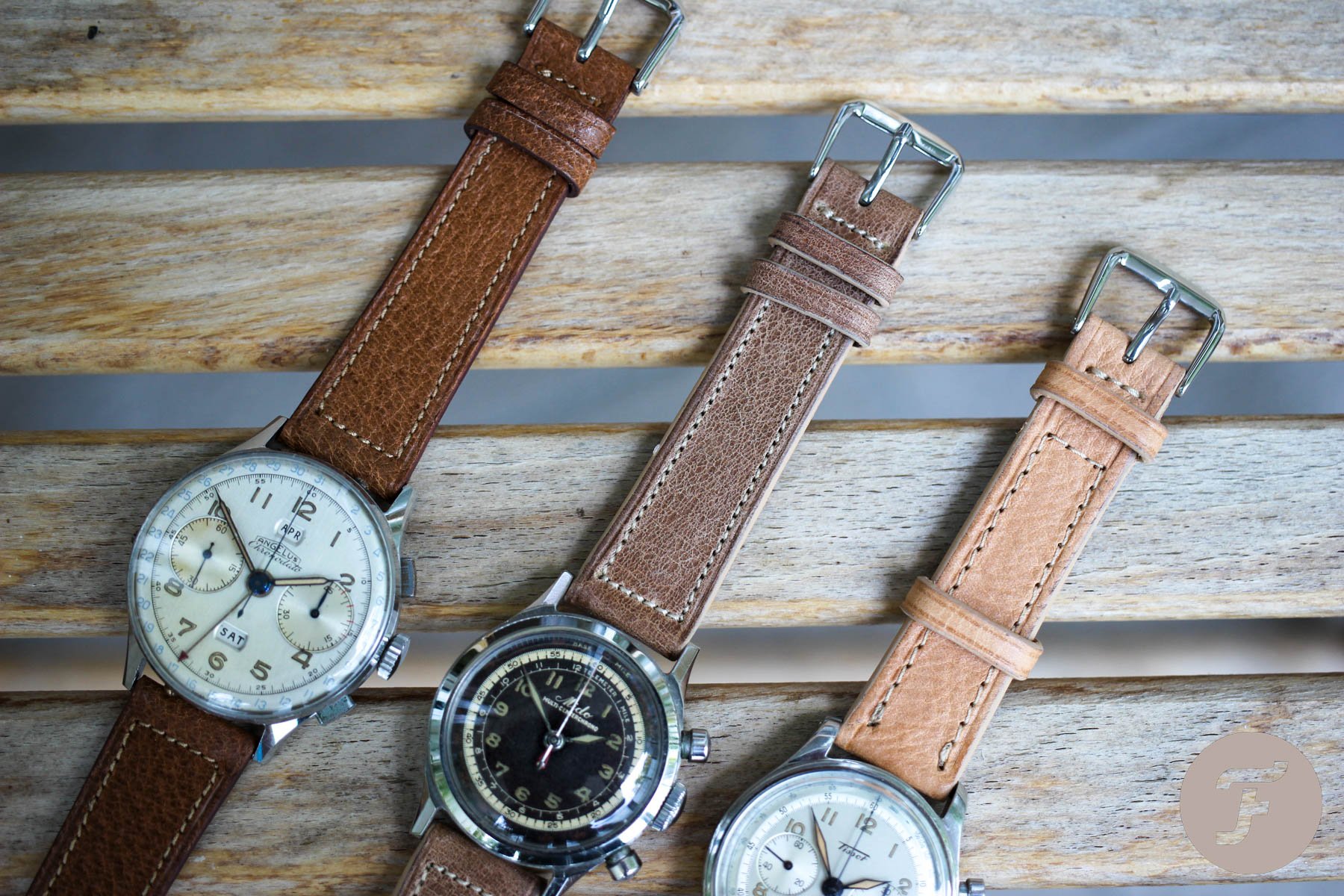 Waxed and aged calfskin for the Mido Multi-Centerchrono
I took a few other straps to show you the variety of Matteo's production. And to show you how a minor detail can make a major difference. This one is very similar to the previous one with micro box stitching and hot-pressed lines. It's just made of different leather and comes with an expressive edge detailing. My personal preference would be to not have the creamy edge, but a lot of customers ask for it, as the edge detailing displays the level of craftsmanship. However, the good news is that Matteo can make both versions.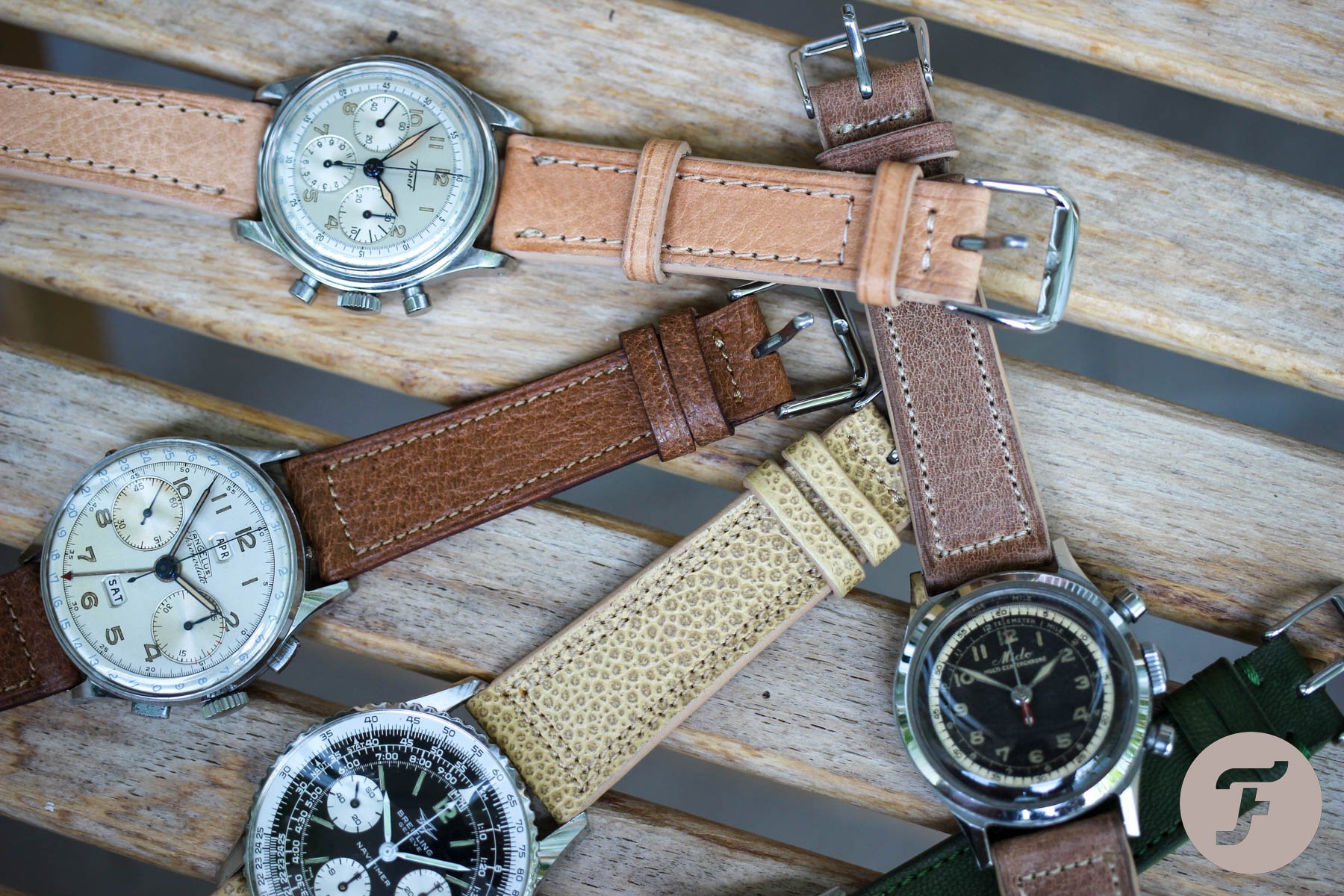 Natural Calfskin Torre Straps for Tissot 6216-4
The current patina (or lack thereof) on this strap is only that which was reached in the leather creation process. I took this one and decided to pair it with my Tissot 6216-4 as it also came to me in almost pristine condition. I am really curious to see how the leather ages over the years. In style it is comparable to the previous two straps, it just has longer "recessed" stitches also typical for the forties. Notice that the box stitching is open on the lug-end.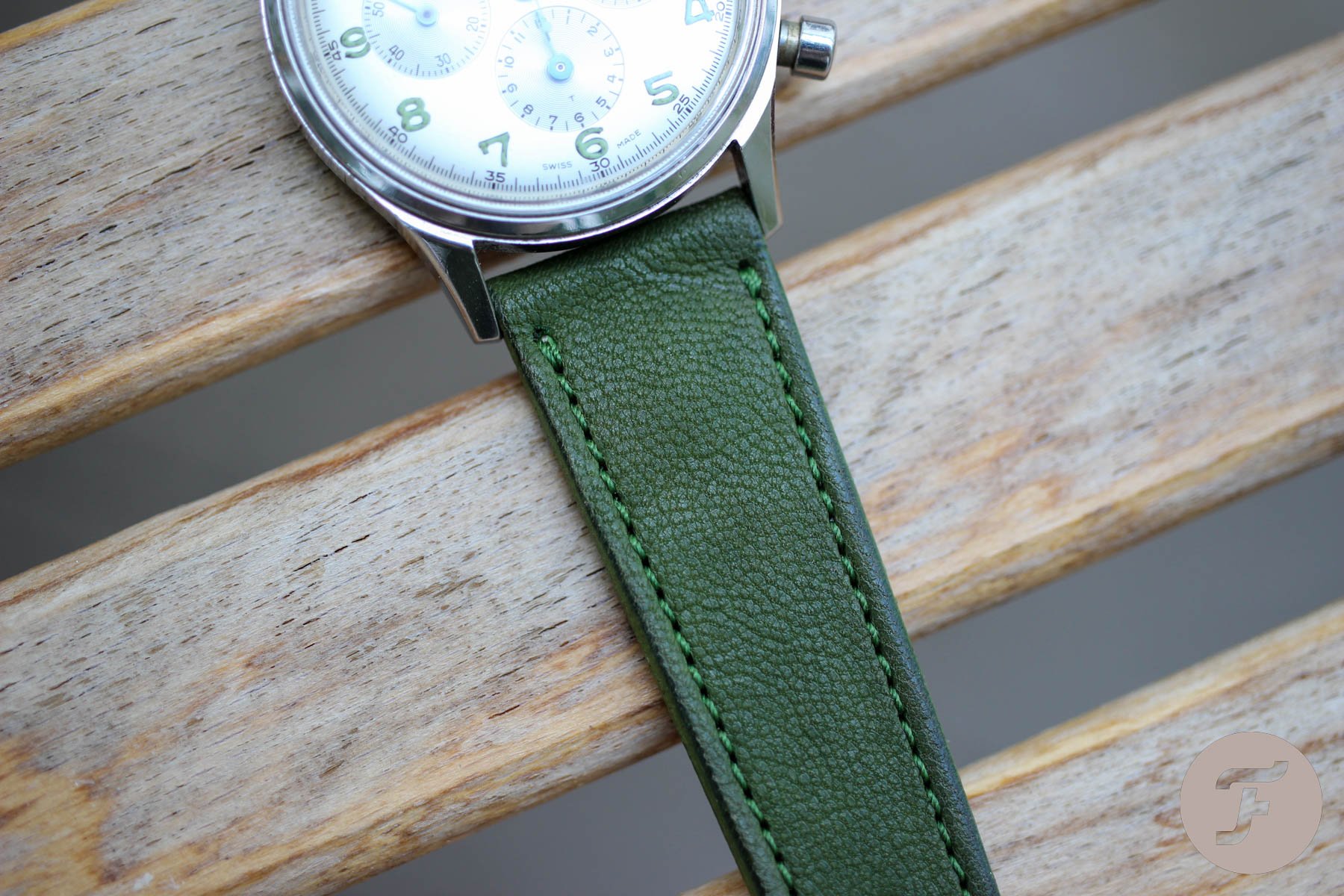 Green goatskin for the Gallet "Snow White" EP 40-68
I have always loved the color green, so this strap was an instant crush. In comparison to other straps from today's selection, there is not much to talk about. A simple and perfectly flat strap in the most classic of designs. Why does it look so fabulous then? Because of the quality and color of both the leather and the thread. It makes for a divine fit to the beautifully simple Gallet with a "Snow White" dial and magical lime-green lume. It's the only strap from the quintet that comes with a sharp end more typical for the 1960s.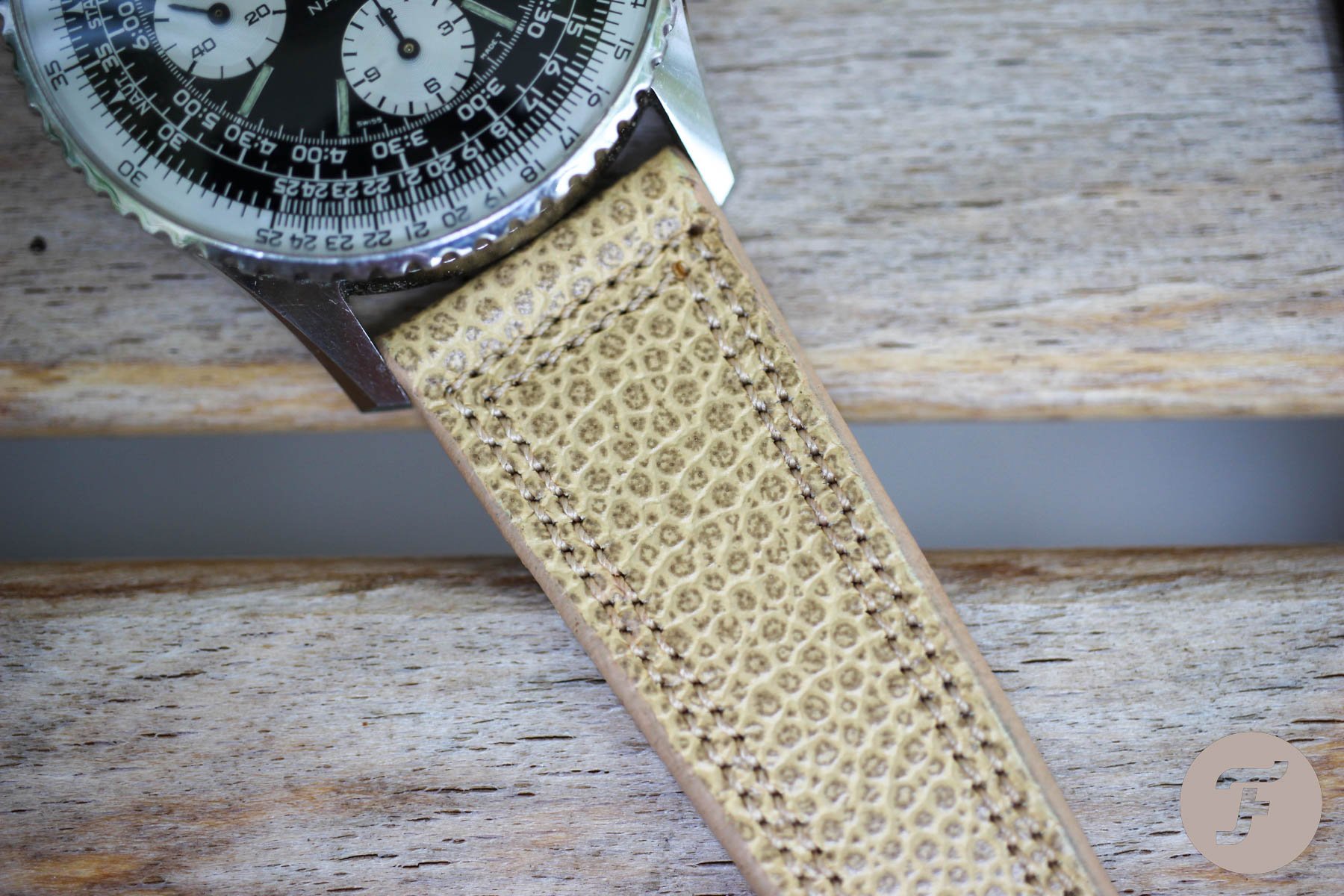 Hammered "beads of rice" calfskin for the Breitling Navitimer ref. 809
When it comes to this final strap, I put myself entirely in Matteo's hands. If it was up to me, I  probably never would have gone for this one. I knew I wanted a bright strap for my Navitimer, but I was almost forcefully led to this one. I encourage you to allow yourself to be lead too from time to time, as it's a great way of exploring new horizons. "Double box stitching was typical for the 1940s and 1950," Mateo explains. The leather structure combined with the double stitching seemed a bit extravagant to me, but I decided to shut up and see.
Interestingly enough, the strap is far softer than it seems, despite the double stitching. Also, the structure is milder than it appears. It's my wife's favorite from the entire pack and I have to say it's growing on me too. It looks premium and makes the Navitimer 806 look quite unusual. Definitely not a strap you see every day.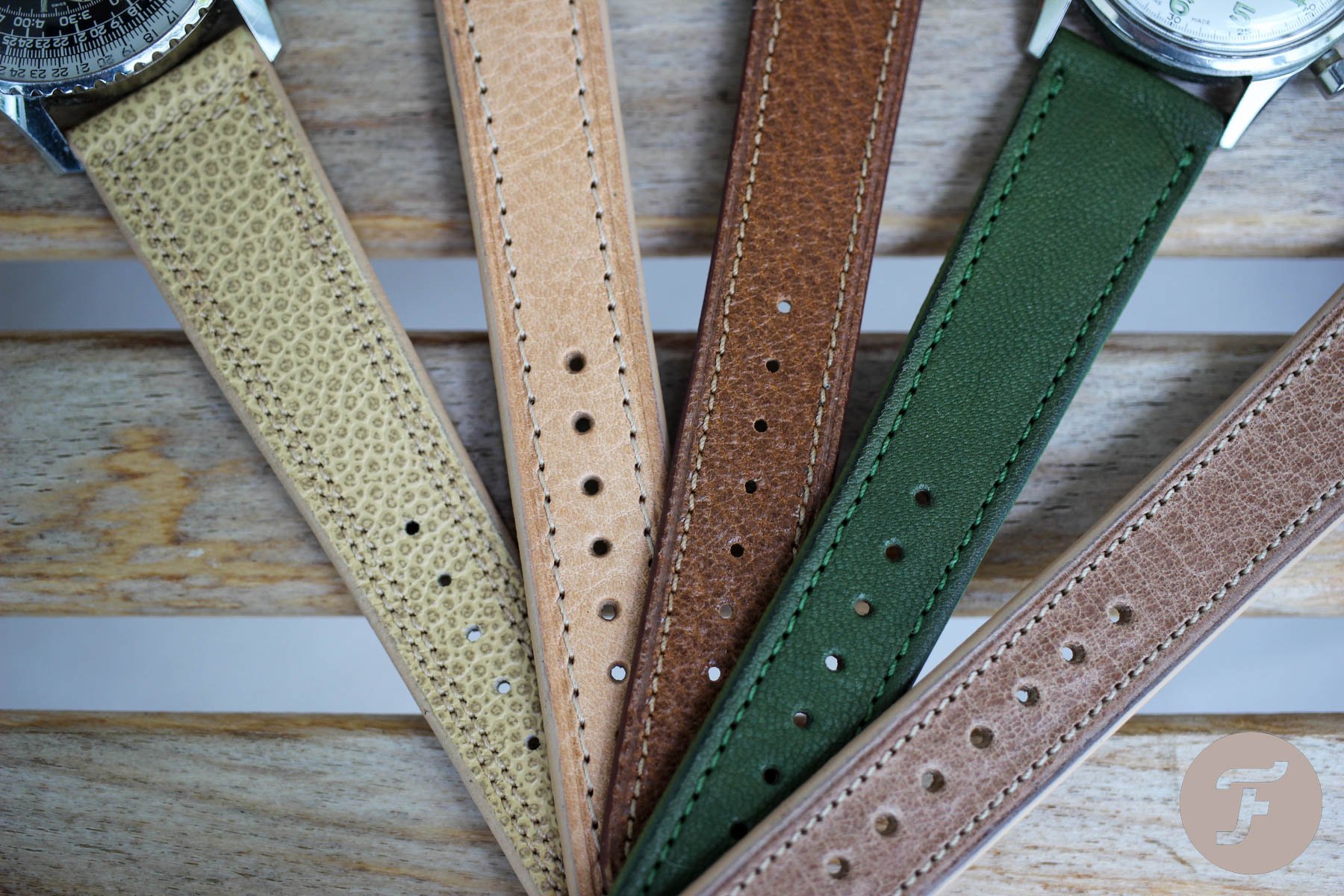 Final thoughts
While my watch bucket list grows slowly, I think my search for the best straps for my vintage watches has come to an end. Matteo Torre and his straps, especially the pigskin straps, come as close as possible to my ideal vintage watch strap. I decided to buy all five from today's lineup. The prices of Torre straps range between €80 and €160, depending on the leather, work, and style. The straps featured today are all in the €80–€85 range. If you have a specific idea, you can reach Matteo on Instagram. I am afraid I will be ordering more than just a couple of Torre straps in months to come!