Your Monday-Morning Dose Of Caffeine — The Tudor Pelagos FXD "Alinghi Red Bull Racing Edition" Watches
With two carbon divers that also look good trackside, is Tudor's future in Formula 1?
We took these photos the day after the Greenland Grand Prix, where Fratello Racing – Daelmans Dutch Stroopwafels Team took home some well-deserved points in the fight for the championship. Monday-morning testing is always tough, just like the first day of a workweek in a regular office, I presume. But it was also nice that we could test two Tudor Pelagos FXD "Alinghi Red Bull Racing Edition" watches while we put the car through its paces. It made us think of Tudor sponsoring a Formula 1 team. Rolex sponsors the whole F1 circus already, so why wouldn't Tudor be interested in backing a participating team? How about the Red Bull Team, for instance, since Tudor and the energy drink company already work together on the water?
America's Cup is often described as the Formula 1 of sailing, and earlier this year, Tudor presented two special versions of its modern dive watch for Alinghi Red Bull Racing. That's the two-time America's Cup-winning sailing team that is planning to win it a third time with their AC75 boat. That boat is blisteringly fast, so the comparison with a Formula 1 car is not misplaced. Both are at the pinnacle of what is technically possible, and both use lightweight materials like carbon. That's why both the three-hand and chronograph versions of the Pelagos FXD for Alinghi Red Bull Racing utilize a carbon case. When we received the two watches at Fratello HQ, it got us wondering if the ambitious brand might be considering entering Formula 1.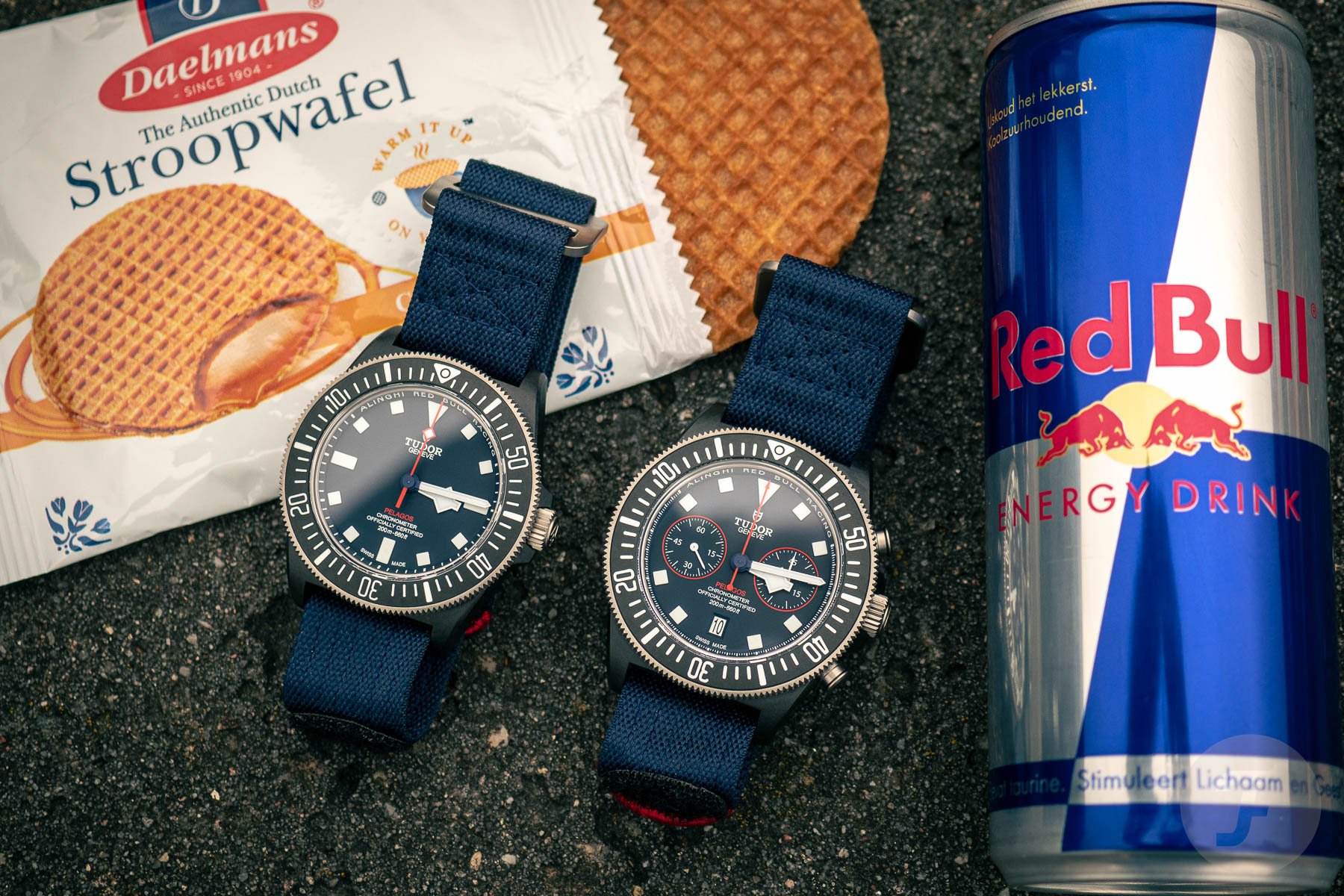 Two Tudor Pelagos FXD "Alinghi Red Bull Racing Edition" watches to talk about over a Red Bull
Tudor's mother brand Rolex is the Global Partner and Official Timepiece of Formula 1. Why not have the young, dynamic "daughter" do something with an F1 team, the best F1 team at the moment? And that is, of course, Fratello Racing – Daelmans Dutch Stroopwafels Team. I'm kidding; no, it isn't. It's Oracle Red Bull Racing. Yes, that team has been with TAG Heuer since 2016, and yes, they have a contract through 2024. But come 2025, following Max Verstappen's fourth world championship, things could be very different indeed.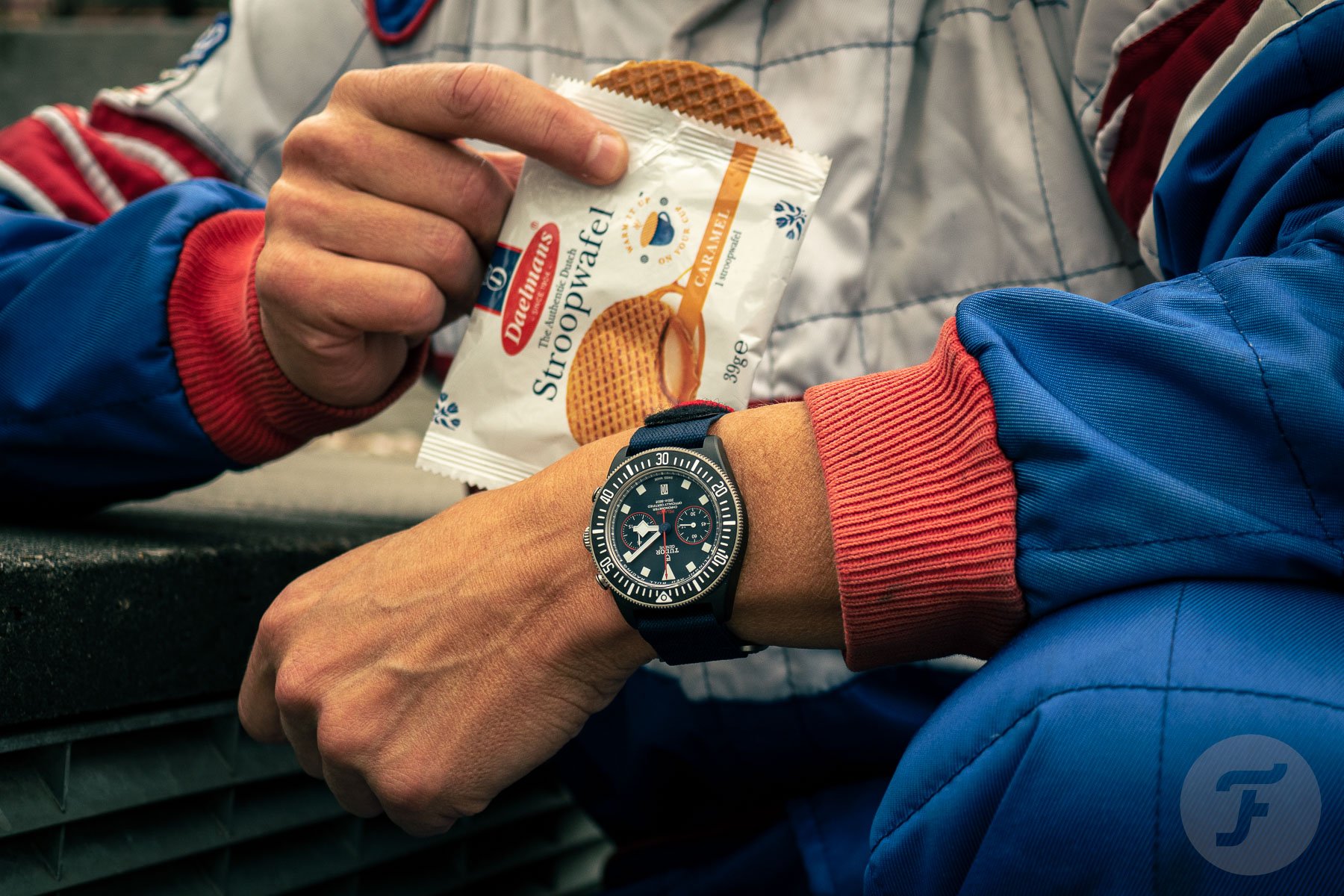 It's no secret that Verstappen likes Rolex watches, but the event sponsor wouldn't also sponsor a team. However, since a Tudor watch is the closest thing to a Rolex and, by 2025, Tudor's star will have risen even higher than it already has, the Dutch world champion might be happy to promote the Shield that protects the Crown. He will even be allowed to wear his Daytona in public again. I mean, the future four-time champ is certainly a strong-willed guy. If he wants something, he gets it — he's a lot like Rolex in that sense. Just listen to the way he communicates with his team over the radio during a race. He's calling the shots, not the guys on the pit wall. Do you remember how Lewis Hamilton got Hugo Boss out of Mercedes and Tommy Hilfiger in? Anything Lewis can do, Max can do too. So if he wants (a) Tudor, he gets (a) Tudor.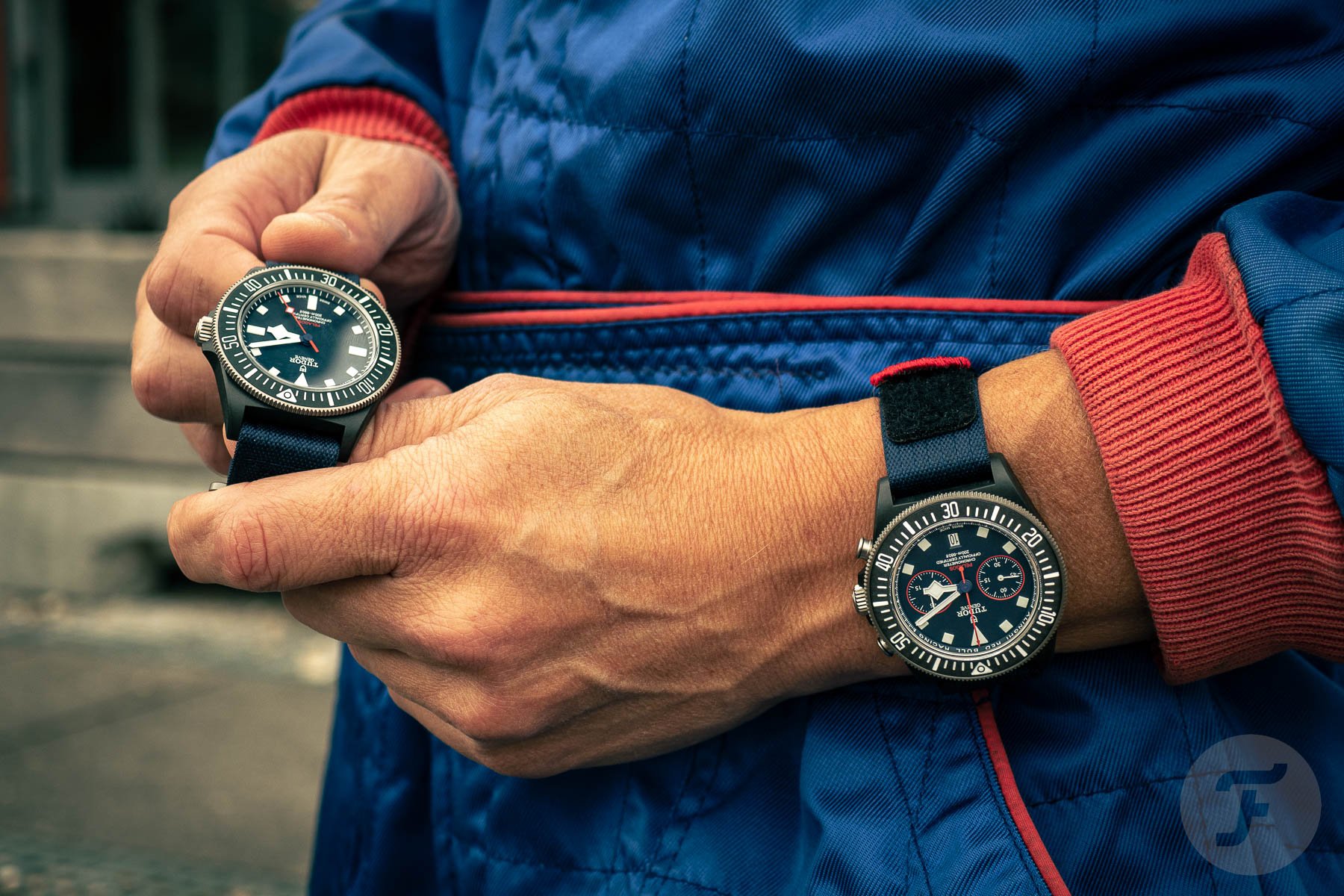 Test-driving the Pelagos FXD Chrono and Pelagos FXD "Alinghi Red Bull Racing Editions"
With that in mind, I not only put on a pair of racing overalls but also the recently launched Pelagos FXD models in carbon fiber and titanium. First on my wrist was the 43mm Pelagos FXD Chrono "Alinghi Red Bull Racing Edition" (M25807KN-0001). The chronograph is, of course, the racing driver's watch of choice. And I don't think I need to remind you of some of the most famous chronographs out there, named after circuits, races, and what have you. Plus, the FXD Chrono is a watch that is not just within reach of rich Formula 1 drivers. With its price of €5,180, it can also make its way to the wrists of the fans (although it may indeed take a while to get that kind of money together).
The Tudor Pelagos FXD Chrono in carbon and titanium is the perfect foundation for a race car watch. It's relatively light, and with a strap made of Nomex, a flame-resistant meta-aramid fiber that's a common piece of racing equipment, it can be worn during a race. When it comes to the design, the sailing version shows a black/blue/red color scheme under the flat sapphire crystal. There's also a matte blue dial with red accents on the chronograph counters. The livery of the watch matches the Red Bull team colors perfectly. For the road/track-going version, the design needs to be changed a bit, but that shouldn't be a problem. There's no need to change the 200m-water-resistant case or the automatic, COSC-certified MT5813 chronograph movement inside. Tudor should swap the 120-click bezel for a fixed one and give it a tachymeter scale, though.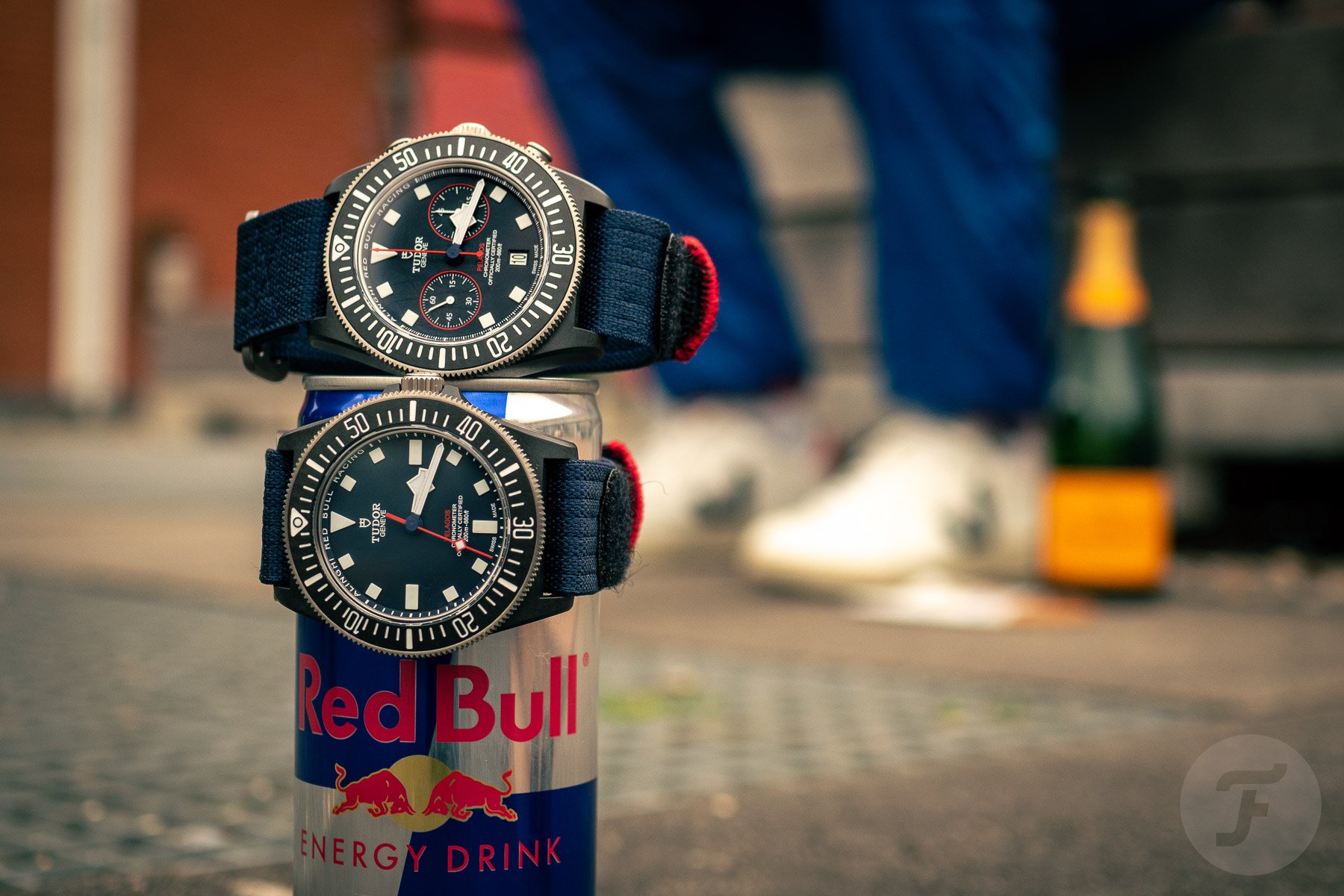 Three hands and a compass bezel
There's also a non-chronograph. The new Tudor Pelagos FXD "Alinghi Red Bull Racing Edition" (M25707KN-0001) in its 42mm case with fixed lugs is, more or less, the toned-down version of the Chrono. It has fewer hands, for instance. But you still get the same color scheme, bezel, and water resistance to 200 meters. The non-chrono Pelagos FXD "Alinghi Red Bull Racing Edition" has a price of €3,720, and that price is within reach for even more F1 fans. Just like the Chrono, the three-hander just needs little modifications. The biggest challenge is coming up with a bezel that fits the watch. What about a compass bezel?
Anyway, if Max Verstappen doesn't want to partner with Tudor after all, the brand may want to become a title sponsor of the Fratello Racing – Daelmans Dutch Stroopwafels Team. After all, our deal with Daelmans is nearing its end — we've almost finished the box of stroopwafels we have in the office. Kidding aside, do you think Tudor should partner up with a Formula 1 team? And if so, which one? Let us know in the comments.