Two For Tuesday: Panerai Luminor Vs. Radiomir
Two big guns face off in a wrist domineering shootout
It's Two For Tuesday time where we take a look at two watches that commonly cause hand-wringing at decision time. This week, you'll need to muster some serious arm strength to lift those hands because we're going BIG with the Panerai Luminor and Radiomir.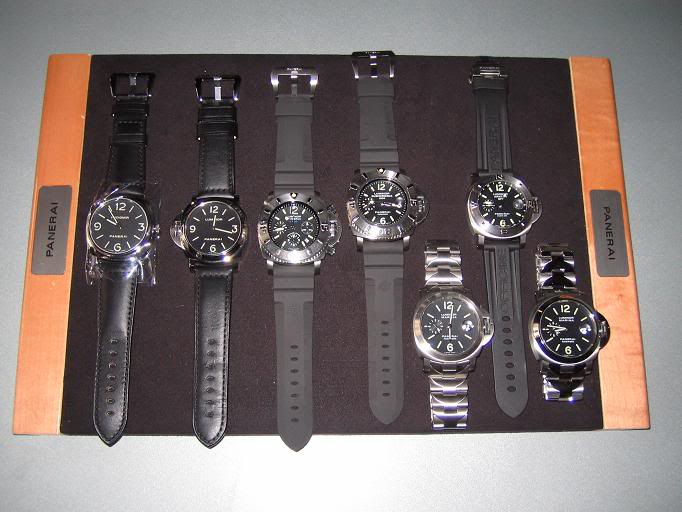 The Legend of Panerai
I know that I've mentioned this before, but the early 2000s hysteria caused by Panerai was a completely unique mania. There had been nothing like it up until that point in the watch world and there's been nothing since. Sure, the Royal Oak, Nautilus, and your steel sports Rolex du jour are impossible to find, but these are very specific cases. Nigh on 20 years ago, just about everything from Panerai was unobtanium. The brand was hot, different, and even a bit enigmatic. The model range was tighter than a drum and everything looked good under the bright boutique lights. And leading the way for the brand were two model lines — the Luminor and the Radiomir.
We'll discuss both collections (and we'll keep it to the time only watches), but before you protest and tell me that the Panerai Radiomir doesn't belong in a staredown with the Luminor, let me preemptively retort. Yes, the Luminor contains the lever lock over its crown that has become the Panerai calling card. But did you know that the Radiomir is actually the more historical model? I'd say that adds a bit of intrigue to the argument. I think it's also important to note that twenty years ago, both of these models — in two and three hand forms — were equally missing from showcases.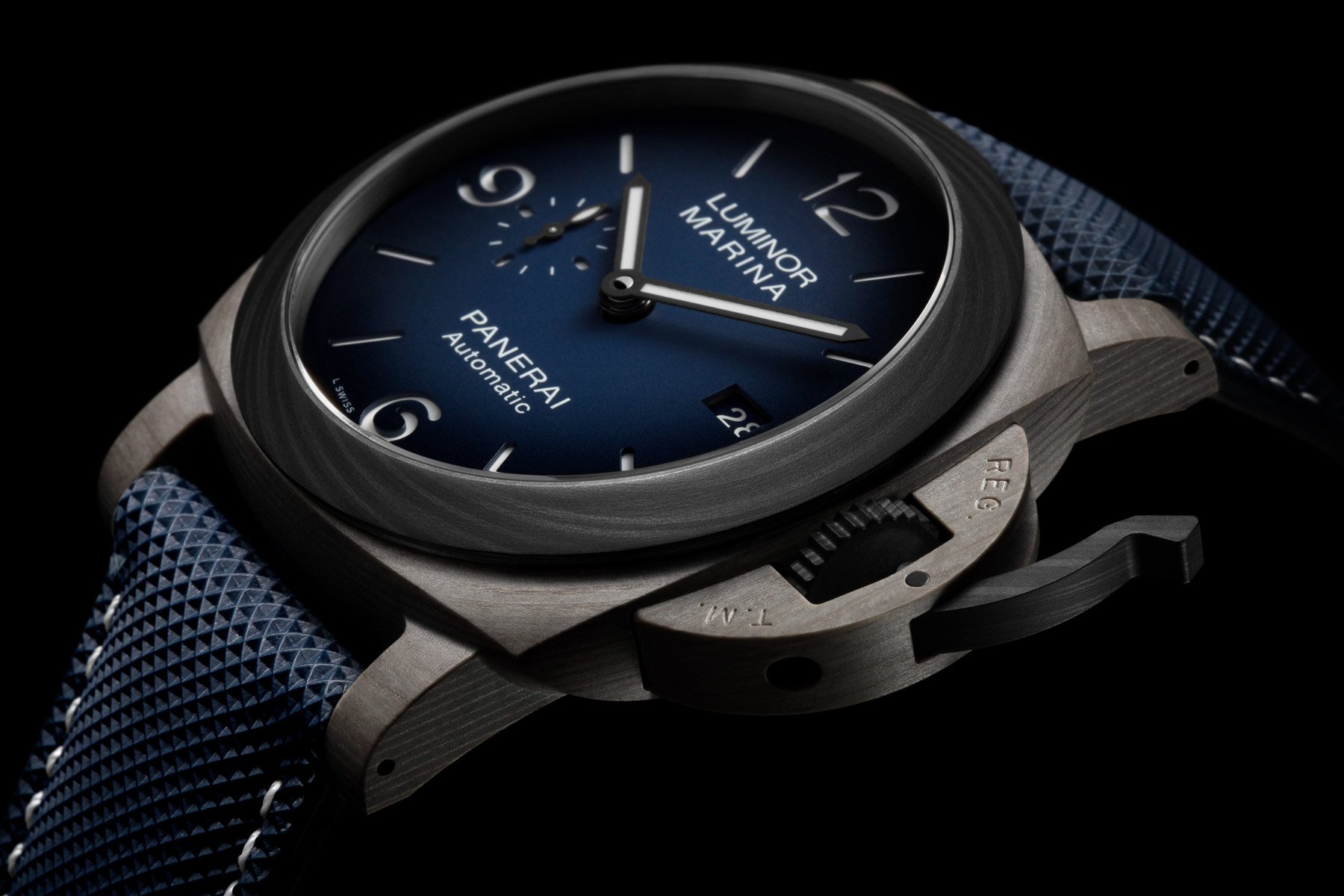 Panerai Today
The saying goes something like, "the candle that burns twice as bright, burns half as long," and perhaps Panerai had a bit of that going on a decade into the new millennium. The limited editions began to pile up with alarming similarity and the "tree stump-wristed" seemed sated. Injuriously, Panerai also began reissuing some limited edition models as serial pieces and that pissed off a lot of collectors. At that time, it honestly felt as if things were spiraling towards a catastrophic departure from the industry. But in this crazy year called 2020, I'm now of the opinion that Panerai has successfully made it through those awkward teenage years and now offers some truly compelling watches. And what's more is that they're available and available in a wide range of prices and sizes.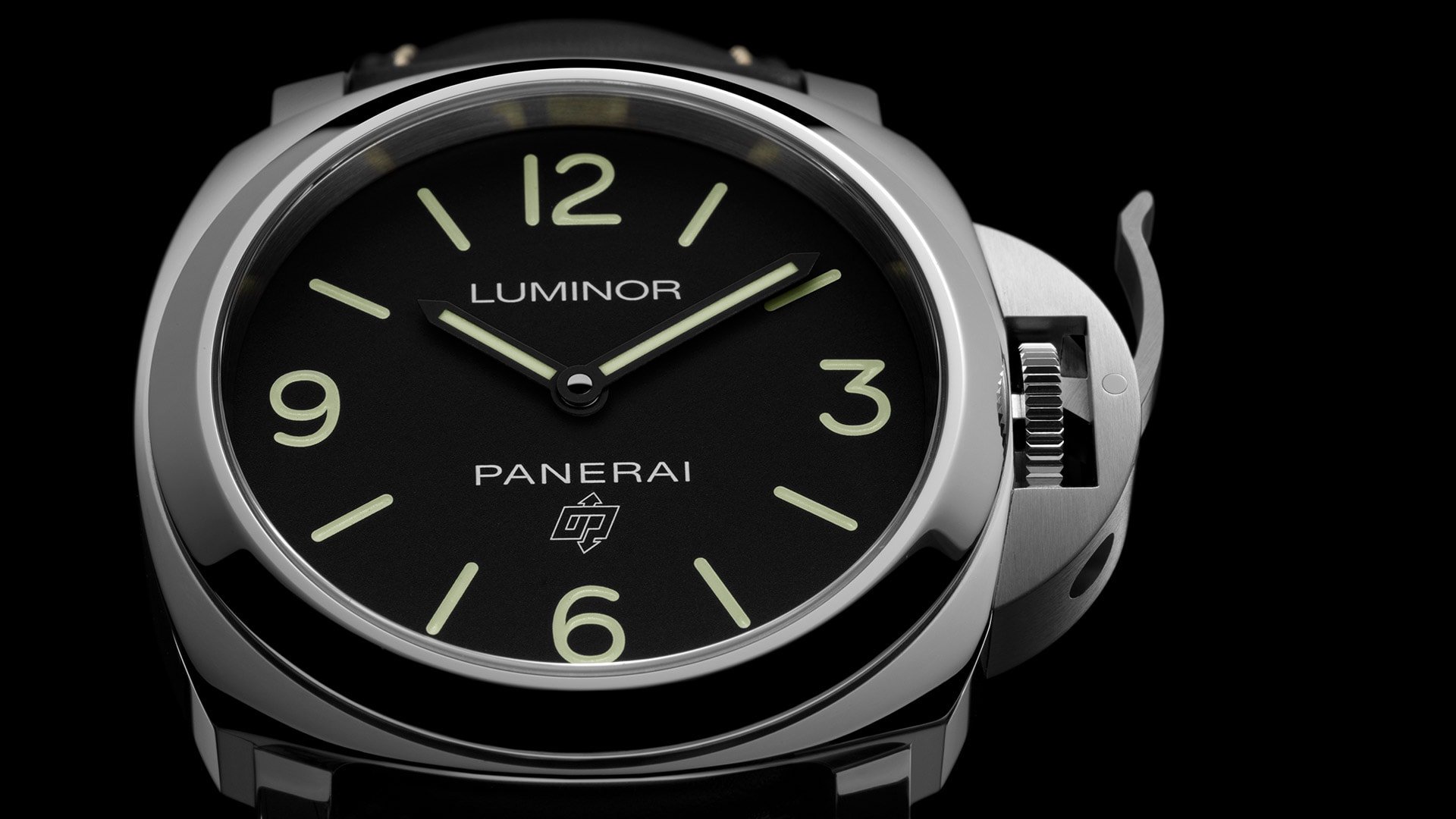 The Panerai Luminor
The Panerai Luminor and its famous crown first debuted all the way back in 1950. As we mentioned, it actually replaced the Radiomir. That's probably a surprise to most who think that this funky crown was where Panerai got its start, but it's simply not the case. What is fact is that it was the Luminor that most certainly led the brand back into prominence during the late 1990's. He-men like Stallone and Schwarzenegger began wearing these 44mm goliaths and they quickly became all the rage. And what started as a rather small offering of watches has now ballooned into a catalog of — I was surprised — 82 watches!
Seriously, if you want a Panerai Luminor, you're spoiled for choice. With diameters of 40, 42, 44, and 47mm, even those who weren't cast extras in "Over the Top" can participate. I know this because I still own an older 40mm Luminor. Panerai also offers the Luminor with a wide variety of automatic and hand-winding movements. They even make chronographs, regatta timers, GMTs, and watches with power reserve indicators. And for case materials, the smorgasbord continues with steel, titanium, gold, and all sorts of carbon-based (non-life) forms. Case styles also vary with the standard case and the curvier 1950. And as you can imagine, pricing also ranges from €4,800 to over €140,000 for some wild limited tourbillon models.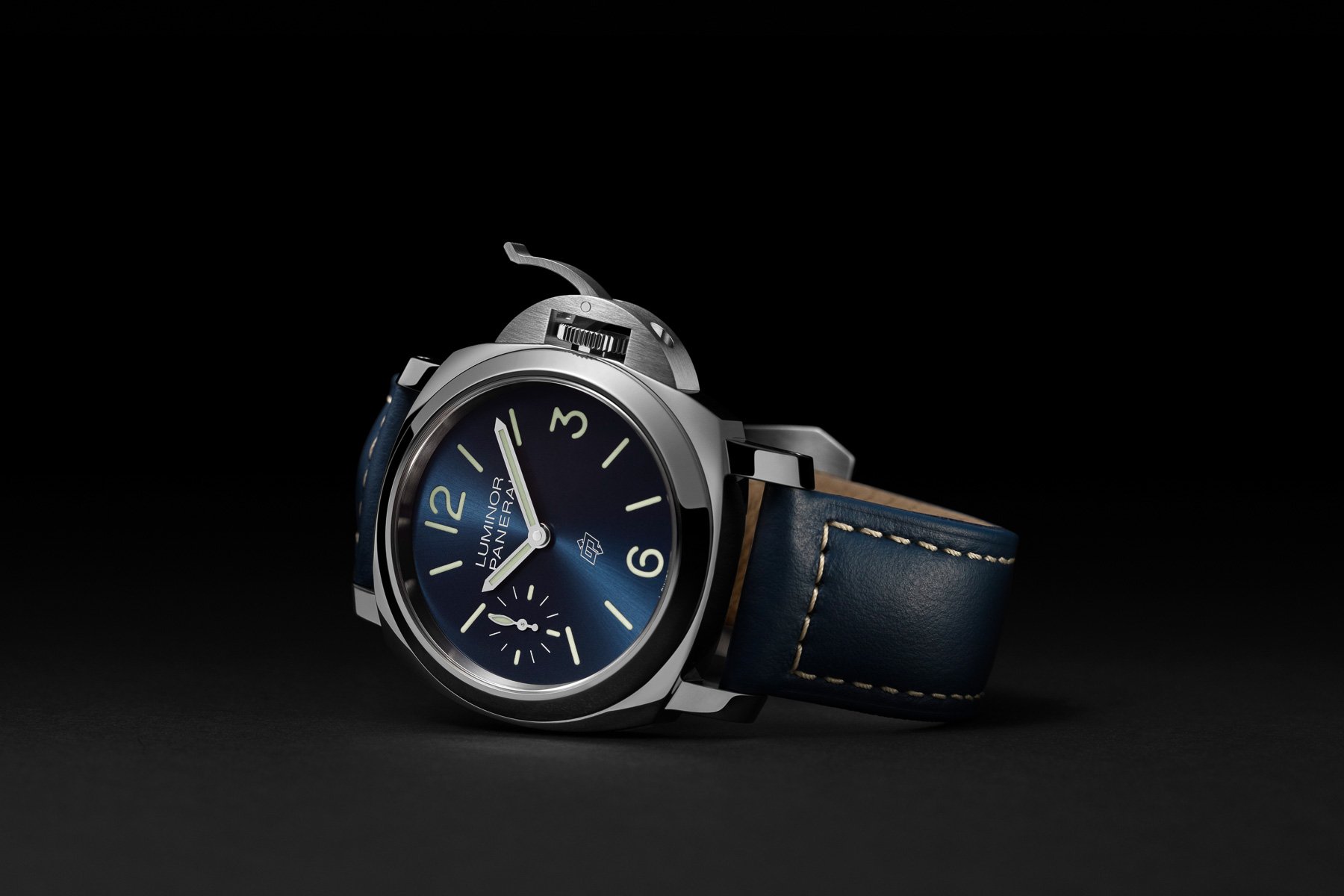 Start Simple
But if we're sitting down over some Bistecca all Fiorentina and a nice Chianti talking Luminor, I'm going to recommend the simpler models. Starting with the most basic Base Logo models — whether in the Luminor or Luminor Marina families (the Marina adds the seconds hand at 9 o'clock) form — I think these best capture the Panerai design language. With 100 meters of water resistance, a hand-winding movement, and the traditional "OP" logo at 6 'clock, these watches look great. They ooze simplicity but make a strong statement. From there, you can just keep playing with variations on the theme while showing restraint.
Panerai has some of the best blue dials in the business and the new Blu Mare logo PAM01085 exemplifies this. And at €5,200, it's one of the more approachable pieces in the lineup. After that, I'd start looking into the more retro-inspired pieces that add some "fauxtina". Here again, Panerai does this well, having been early converts to the throwback game. A personal favorite in this genre has always been the PAM00372 with its acrylic crystal, manual movement, and swoopy 1950 case. I'd own one of these in a heartbeat, but I just can't seem to get that 47mm case to work on my wrist.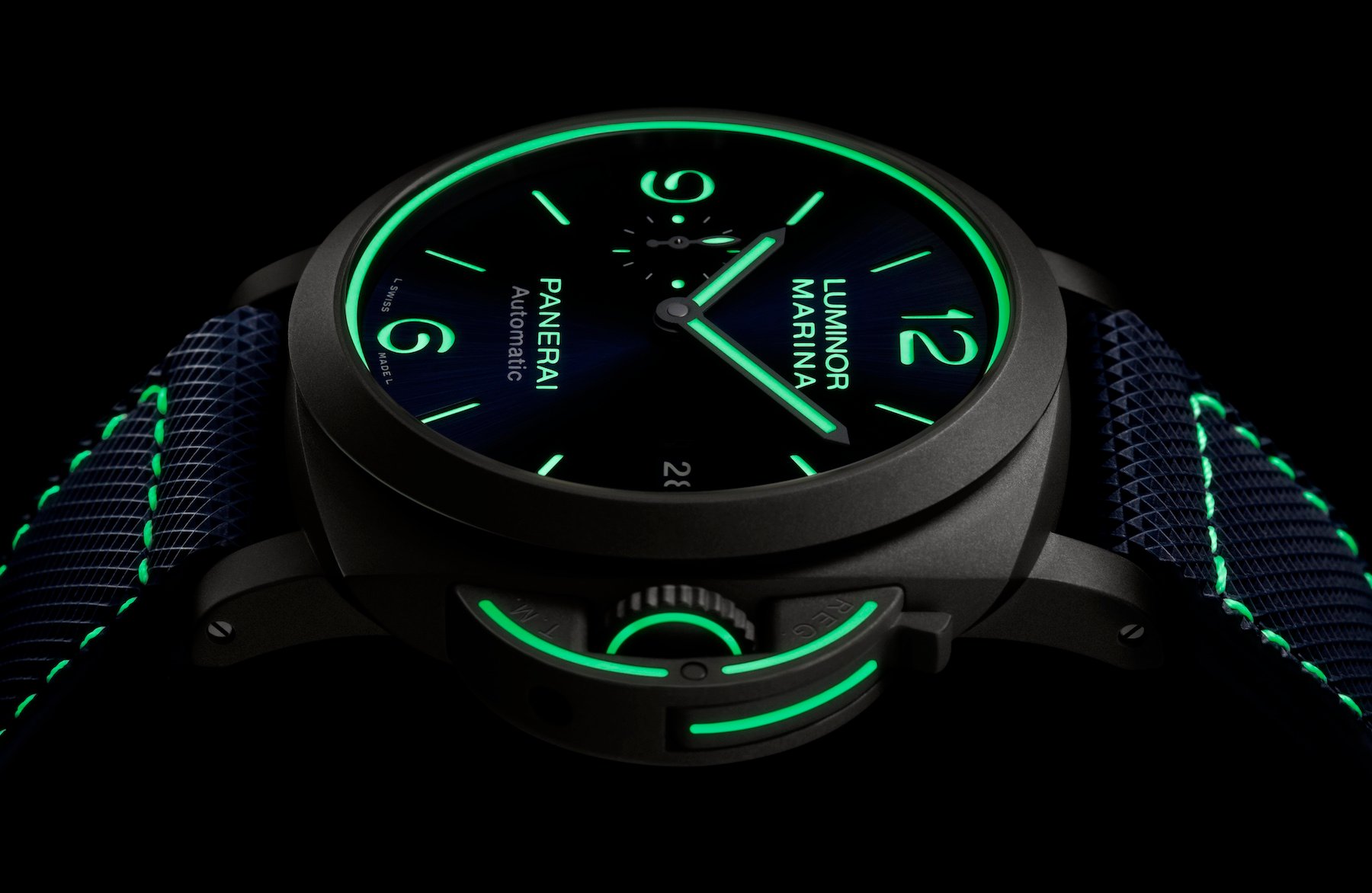 Advanced Materials
For those looking to make more of a splash, the new 44mm Goldtech Panerai Luminor Marina PAM01112 looks tremendous. At €22,200 it's definitely in another realm, but I think this case works with fancier materials. Speaking of which, we detailed all the new composite-cased models in a standalone article earlier this year. At €16,000 and above, these 300 meter watches come in titanium, Carbotech, and Fibratech (that's a lot of techs).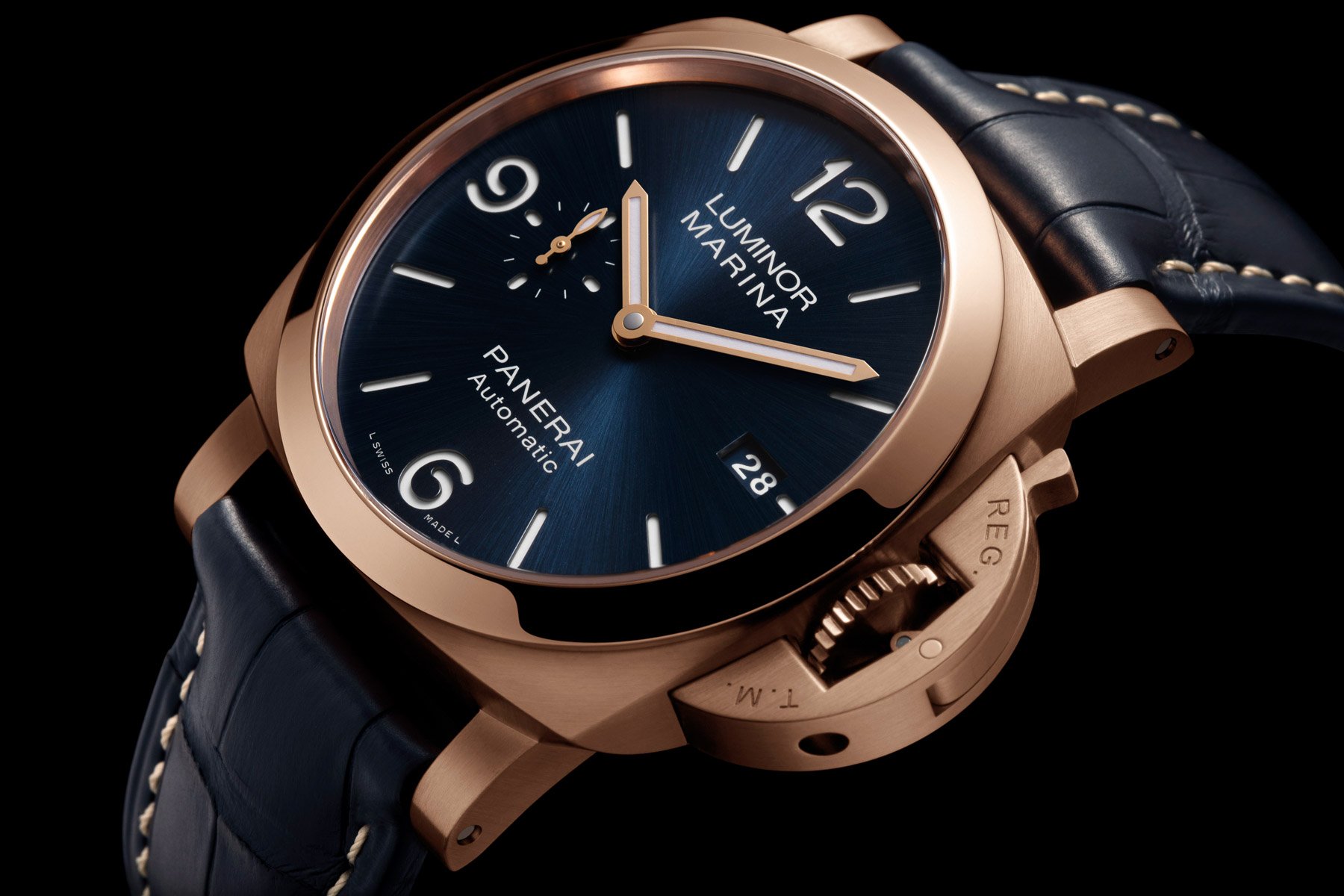 But when it comes down to it, a nice Base Logo Luminor or Luminor Marina with black dial deserves the most consideration. They're classic watches that have outgrown trendiness and have stood the test of time. And for most people who either think of Panerai or want one, this is the iconic look that springs into mind. But as an everyday watch? Well, it might be tough to wear this everywhere. And that's where our next contestant enters the ring.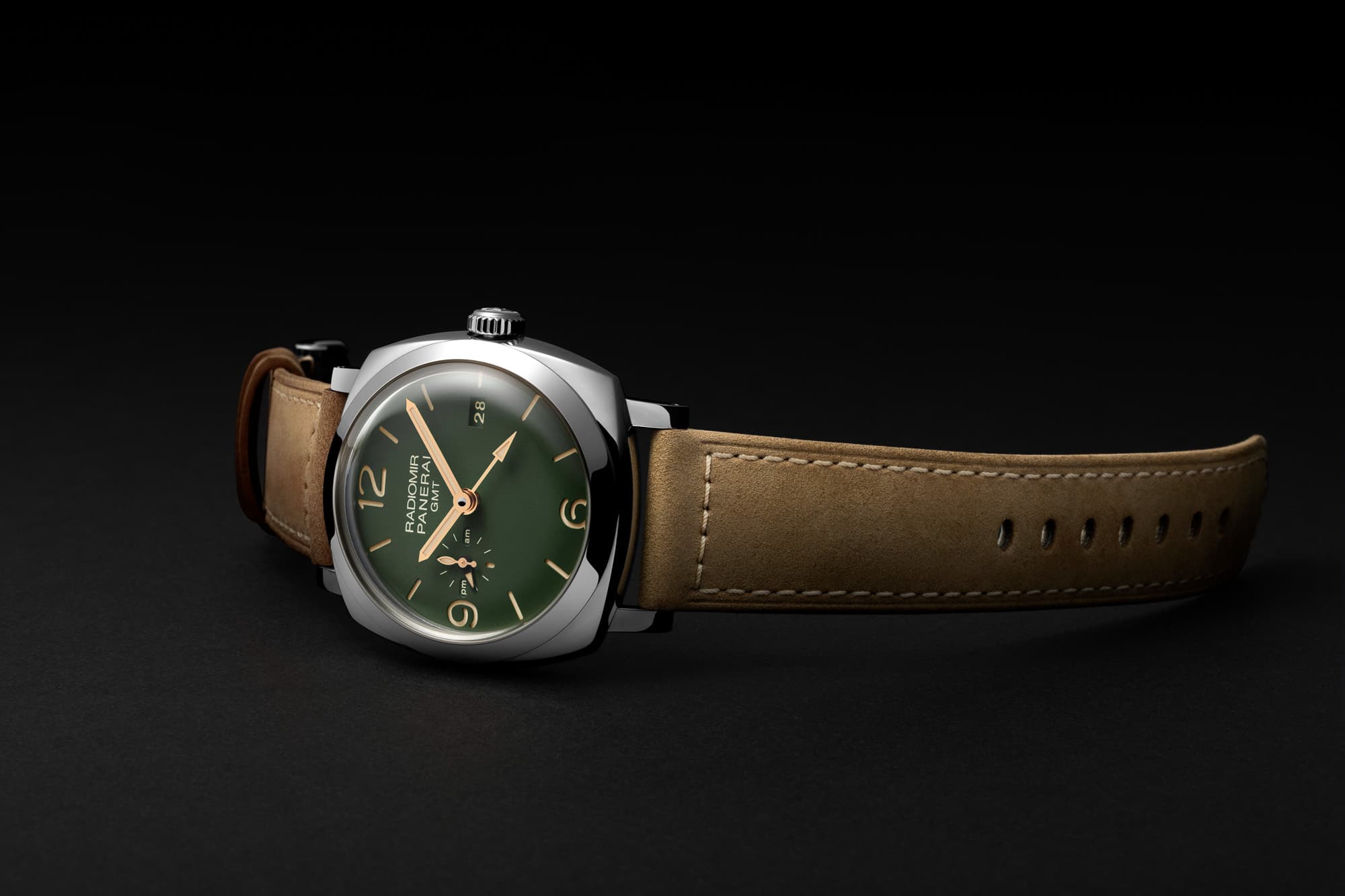 The Panerai Radiomir
It was way back in 1936 that the Panerai Radiomir made its debut. Rolex actually built these watches for the Italian Navy during World War II. This often brings up some interesting conversation, but we'll leave that to the keyboard warriors. Thankfully, the fact is that the Radiomir is a great looking watch. With its cushion case and — in many versions — onion crown, it's definitely the dressier Panerai when compared to the Luminor.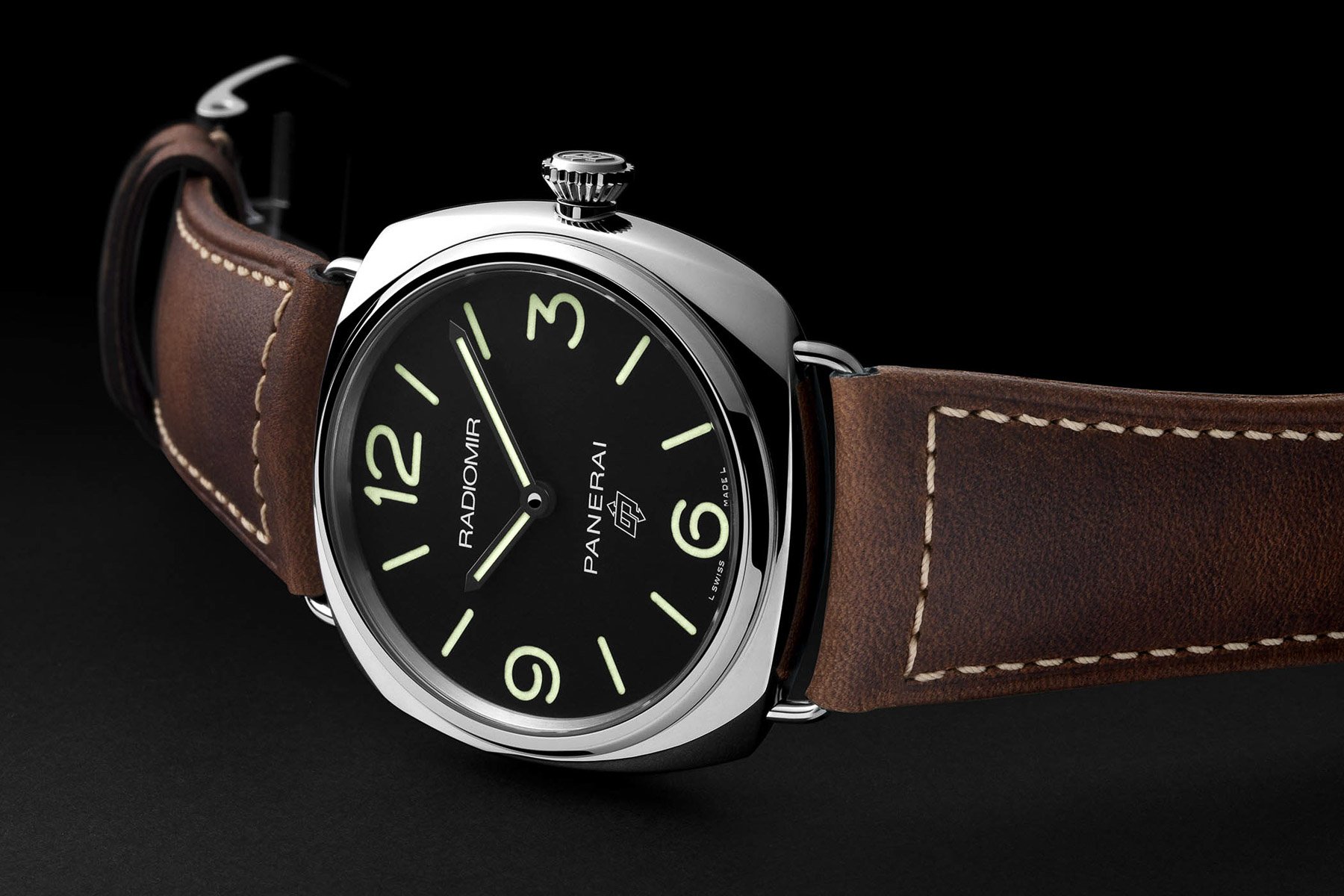 Like the Luminor, the Panerai Radiomir also gets a couple of case styles. The original version with wire lugs remains a mainstay of the collection. Several years ago, though, a 1940 case came along with thicker lugs. It's a nice design that looks a bit like a Luminor without the large crown lock. The nice thing about the 1940 series is that they start at 42mm. The wire lug case starts at 45mm, but with many at a saucer-like 47mm.
I count a less imposing 29 models in the Panerai Radiomir range and that translates to slightly less optionality in case materials. However, steel, carbon, titanium, and Goldtech are on offer. Panerai also offers its suite of in-house manual and automatic movements in the Radiomir range along with dial colors such as black, brown, blue, and green. Pricing is also interesting with a range from €4,200 up to €20,900. My catalog perusing shows a lack of complication models with power reserve models and GMTs as the lone holdouts.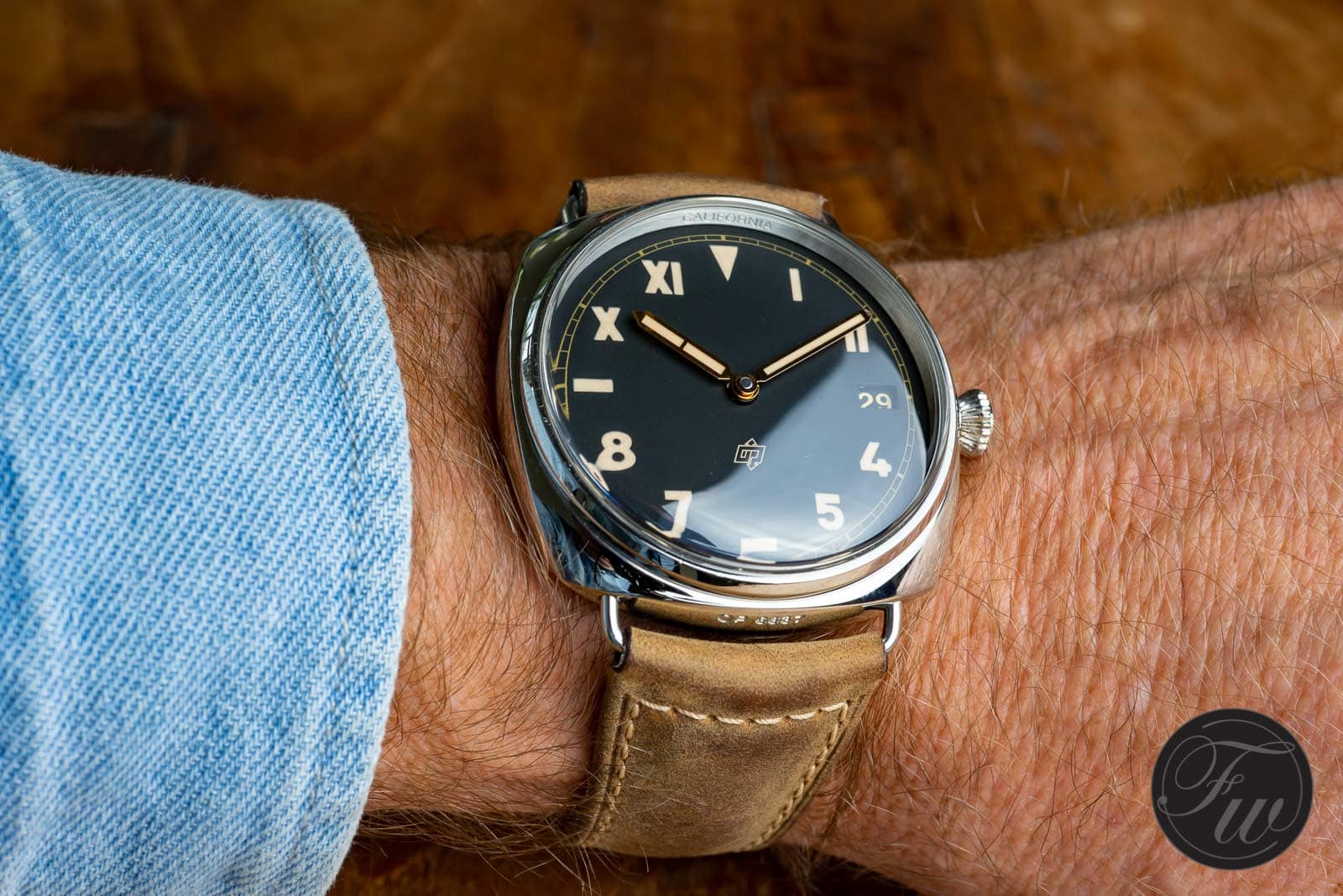 More versatile
What I really like about the Radiomir line overall is that they're also unmistakably Panerai, but even simpler and subtler than the Luminor. The cases are clean, the dials are straightforward, and, depending on the model they can be worn for all occasions (see above on a discontinued model). You'll still need a larger wrist to wear one during business hours, but I've seen a lot of folks make this work with a black strap.
Despite its more delicate looks, the Panerai Radiomir is also suitable for everyday sporting adventures. With a screw-down crown, threaded case back, and 100 meters of water resistance, it can even work as your "only watch" during travel. And while I wouldn't pair the wire lug versions with rubber, the 1940 case looks great on the sportier strap option.
Within the catalog, I'd clearly start at the 42mm end with the 1940 case and then look at the 47mm Base Logo for the wire lug case. What's nice here is that Panerai attempts to please all parties by offering a blue dialed 42mm version in both manual (PAM01144) and automatic (PAM00933). I'd always go the DIY route because I like the interaction. Plus, it saves a whopping €2,000. With the wire lug models, the black-dialed Base Logo editions can be had with (PAM00754) or sans (PAM00753) seconds hand at 9 o'clock. If you want the absolute core Radiomir experience, these are really your best bet.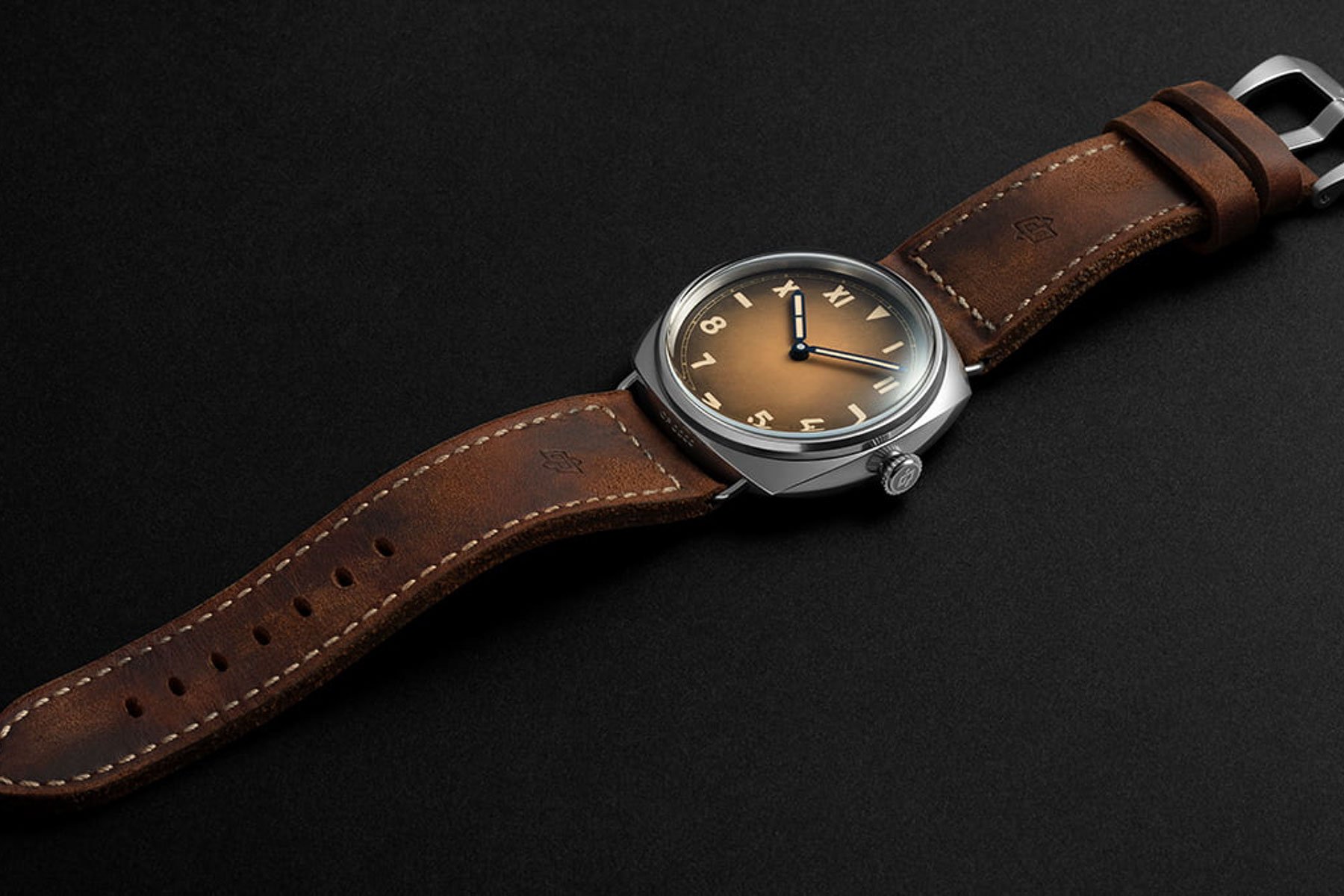 Funky cold patina
When it comes to the Radiomir, I think Panerai does an amazing job reissuing some of its past designs using this case. I love the fauxtina and even the aged-looking dials. Some may cringe at this, but these watches are just so much fun to view and wear. I happen to own a so-called 47mm Panerai PAM00249 California Dial 1936 limited edition and I still think it's an amazing looking watch. And even though I'm not overjoyed that there are two very similar models (PAM00424 and PAM00931) that are now part of the current collection, I guess it's good to give others a chance to wear such a cool dial. In addition, there's also the historic S.L.C. dial (PAM00425) that offers the same type of historical back catalog approach. The bottom line with these models is that Panerai has been at the reissue game far longer than most and they do it right. Are these the most versatile Radiomirs? No way, but they're badass.
Which Panerai is your Panerai?
Twenty years later, Panerai is still out there making larger watches. Yes, we now have choices below 45mm in both the Radiomir and the Luminor, but they're still not small. I'd imagine that some of you would choose none of the above, but I'm not going to give you that choice (so humor me with a vote and vent your spleen in the comments below).
For me, it would be a tough decision. I've always liked the Base Logo Luminor and I think I'd head in that direction. If you were choosing, however, which of these heavyweights would make it to your wrist?
Panerai Luminor Vs. Radiomir