Why we didn't feature U-Boat before
If you are not from The Netherlands, Belgium or Luxembourg, you can skip this small introduction for sure. However, if you want to know why we didn't feature more U-Boat in the past, keep on reading.
Earlier this year, I was on a short trip to London and U-Boat UK invited me over to meet with them. I have to be honest with you and say that U-Boat wasn't exactly on my radar for a long time. The reason for this is that they were marketed in The Netherlands (where we are based) in a terrible manner approximately 10 years ago. However, I decided to go to see the people at U-Boat in London and to my surprise they acknowledged the fact these early days weren't the best for U-Boat in some countries (like The Netherlands). However, since then, they've come from far and U-Boat seems to sell extremely well in the United Kingdom (and in other countries as well). Time for us to leave the past behind and see what U-Boat is all about.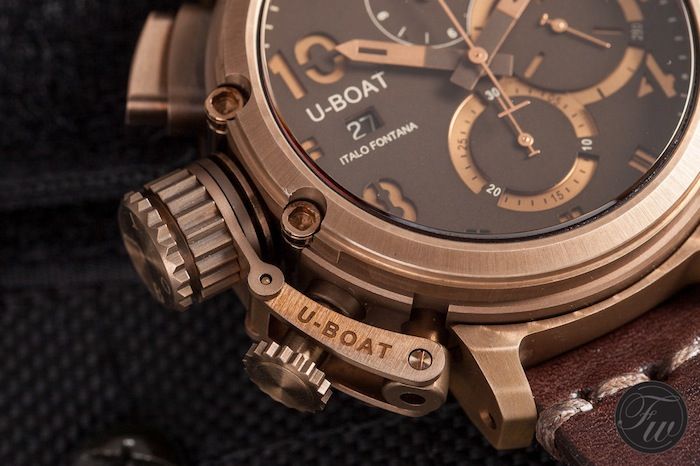 When the nice people at U-Boat showed me parts of their collection, I noticed that these watches still reflect the design that they started out with, but the level of finish and especially the level of detail improved in many ways. Fact is that you either love these watches or you hate 'em. Nevertheless, little can be discussed about the craftsmanship with regards to the finish of these watches and the high number of details.
Background on U-Boat
In 1942, an Italian designer and crafter of precision instruments by the name of Ilvo Fontana was asked by the Italian Navy to join the tender for a new officer's and diver's watch for them. Ilvo Fontana decided to give this company the name U-Boat and submitted his designs. Due to circumstances it wasn't possible to materialize these watches and the designs disappeared into a drawer. Until approximately 58 years later, in 2000, Ilvo Fontana's grandson Italo found these designs and inspired him to finish what his grandfather started. Create a diver's watch with high quality standards and guarantee maximum visibility and reliability in any light and weather condition.
Where the U-42 collection grabs back to the original designs of Italo Fontana's grandfather, the Chimera collection is a modern interpretation of it. The crown-system that is one of their signatures is clearly present on this watch and extends the 46mm diameter of the case to a whopping 60mm. Let's zoom in on this bronze piece from U-Boat.
Chimera Bronze Limited Edition Ref 6945
First thing I noticed when unwrapping this watch from the box it came in, is the weight and the size. The watch weighs approximately 185 grams which isn't something you won't notice when wearing. Of course, the most visible feature of this Chimera is the bronze case. The bronze case will eventually get this patina that will be unique to each timepiece. Limited to 300 pieces only, I am wondering what the difference will be between them in a few years (or decades) from now when these watches start to age. I am not sure, but I can imagine that the level of patina on a bronze case also depends on the geographical location of the owner (weather circumstances) and of course the type of abuse it will get.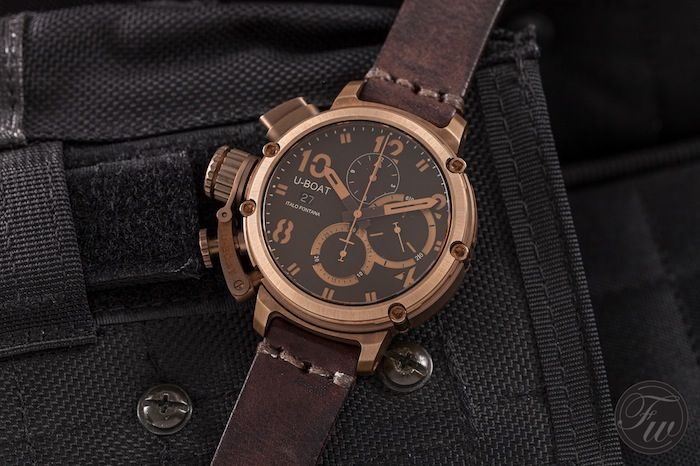 As you can see on the picture above, the bezel and case back are attached to the mid-case using 5 screws and bolts in external bronze tubes. The dial of the watch has layers and this adds quite some depth to it. The lower dial is matt bronze and the upper dial has this tobacco color which gives the watch a bit of a vintage look & feel. It works really well with the bronze in any case. Laser cut minute and hour hands with a hand brushed finish on the surface makes this watch picture perfect. Although very practical, the date aperture wouldn't have been necessary in my book.
The photo below gives a better view on the external tube-system to keep the watch together and the shield that says it is a limited edition (including the number). It also shows the finish on the bezel, tubes, mid-case and lugs. The satin brush finish seems to be in different directions per part of the watch, showing the level of detail U-Boat puts into these watches.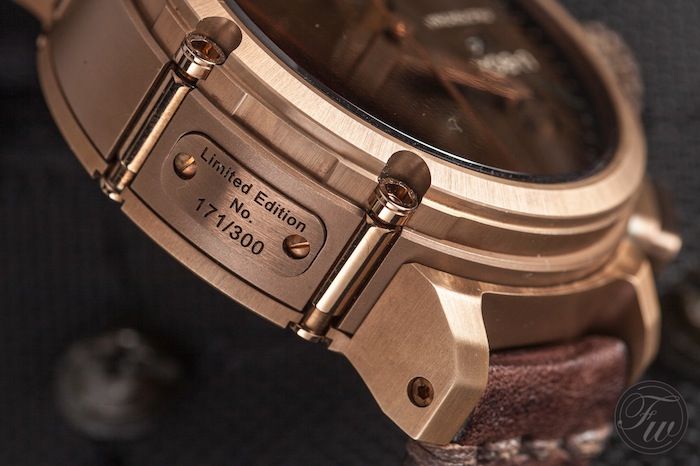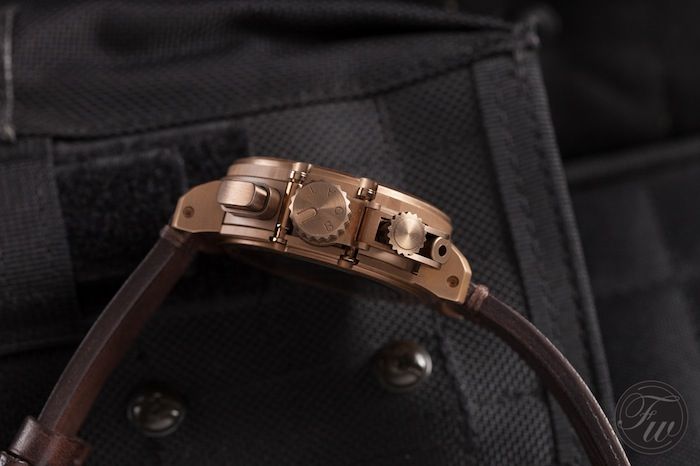 Another aspect of the watch I need to mention here is the strap. Although it might look a bit small and thin for this watch (as you can see above, the watch is THICK. Approx 18mm). The calf strap has been worked on according to a technique from the 1800s which gives it that vintage distressed look and feel. Although we currently see more straps with this type of finish and the typical coarse stitching, this must have been the softest and most comfortable strap I've worn in quite some time. Of course, the watch comes with a matching buckle in bronze.
If we turn the watch, you will immediately get another taste of the level of detail U-Boat likes to put into their watches. Before I head over to some details on the mechanical chronograph movement of this Chimera Bronze Limited Edition reference 6945, I want you to have a look at the case back. The perlage finish on the caseback is just wonderfully executed. The case back has been engraved with all the necessary wording by U-Boat, although I am not sure why you want to have the case diameter on there. Perhaps it's the first thing other people will ask you. Anyway, it didn't bother me as well.
The crystal on the back has a bit of a 'smoke' effect. It matches the bronze color of the case perfectly and still gives you enough 'view' at the movement.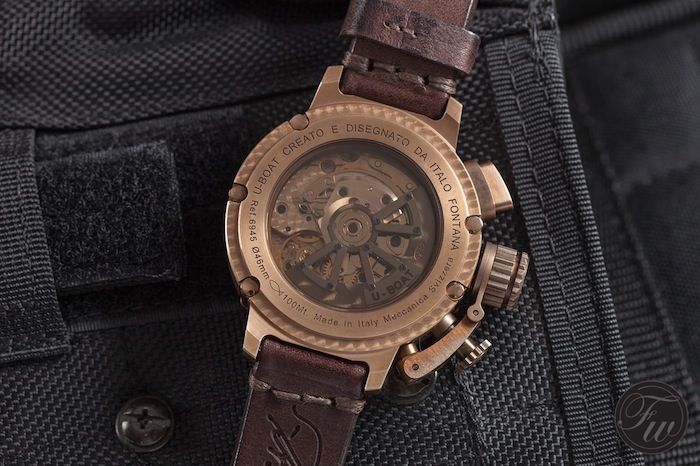 As you've probably guessed already by looking at the lay-out of the dial, U-Boat uses a ETA/Valjoux 7750 based movement. The rotor however, has been made out of silver and has blued screws in place for the attachment of the mass weight. The rhodium plated movement has been decorated nicely. The ETA/Valjoux is considered to be a workhorse so I'm pretty confident it will keep on ticking for generations to come. The version that U-Boat uses though is a beautiful workhorse, as we've seen lesser (optically) finished versions of this movement in watches of brands that are being positioned a bit higher by a lot of watch enthusiasts.
The official list price of the U-51 Chimera Bronze reference 6945 is 6900 Euro.
To sum things up: I would be the last one to deny that U-Boat has a bit of a troublesome history here in The Netherlands and that this kept popping up in my head a few times when handling this U-Boat. However, I need to be honest here and have to admit that there is only little to criticize in terms of quality and finish of this watch. The only thing I need to get used to is the price level of these watches, as they are far away from these first quartz pieces they did in the early 2000s. I neglected this brand for 10 years (and some of you probably as well) so now I need to re-evaluate my former opinion a bit (quite a lot).
If you primarily look at what you will be getting for this money, the price seems more than realistic to me. The use of bronze is very cool and the layered dial and bronze colored hands are a perfect match to it. I know that Italians and design go hand-in-hand, but I was still happily surprised! Besides design, the U-51 Chimera Bronze watch is a quality timepiece without a single doubt in my mind.
More information can be found here.

Robert-Jan Broer, born in 1977, watch collector and author on watches for over a decade. Founder of Fratello Watches in 2004.

Latest posts by Robert-Jan Broer (see all)