Up Close And Personal With The Minimalist Kurono Tokyo Grand Urushi Aoyama Edition
A Japanese take on "less is more"
It's no secret that I have a soft spot for the intensely Japanese watches of Kurono Tokyo. But this year, I had a master plan that involved a rectangular Swiss piece. It did not involve diving deeper into the fascinating world of Japanese independent watchmaking. Then the Kurono Tokyo Grand Urushi Aoyama Edition got to me.
To quote the title of a TED Talk, "You don't actually know what your future self wants." And that's one of the widely unknown reasons that your New Year's resolutions often fail. For me, it means that I have bought new watches this year, none of which are rectangular or a dressy Cartier. But it does involve my first non-indexed dial, and it's a real conversation starter.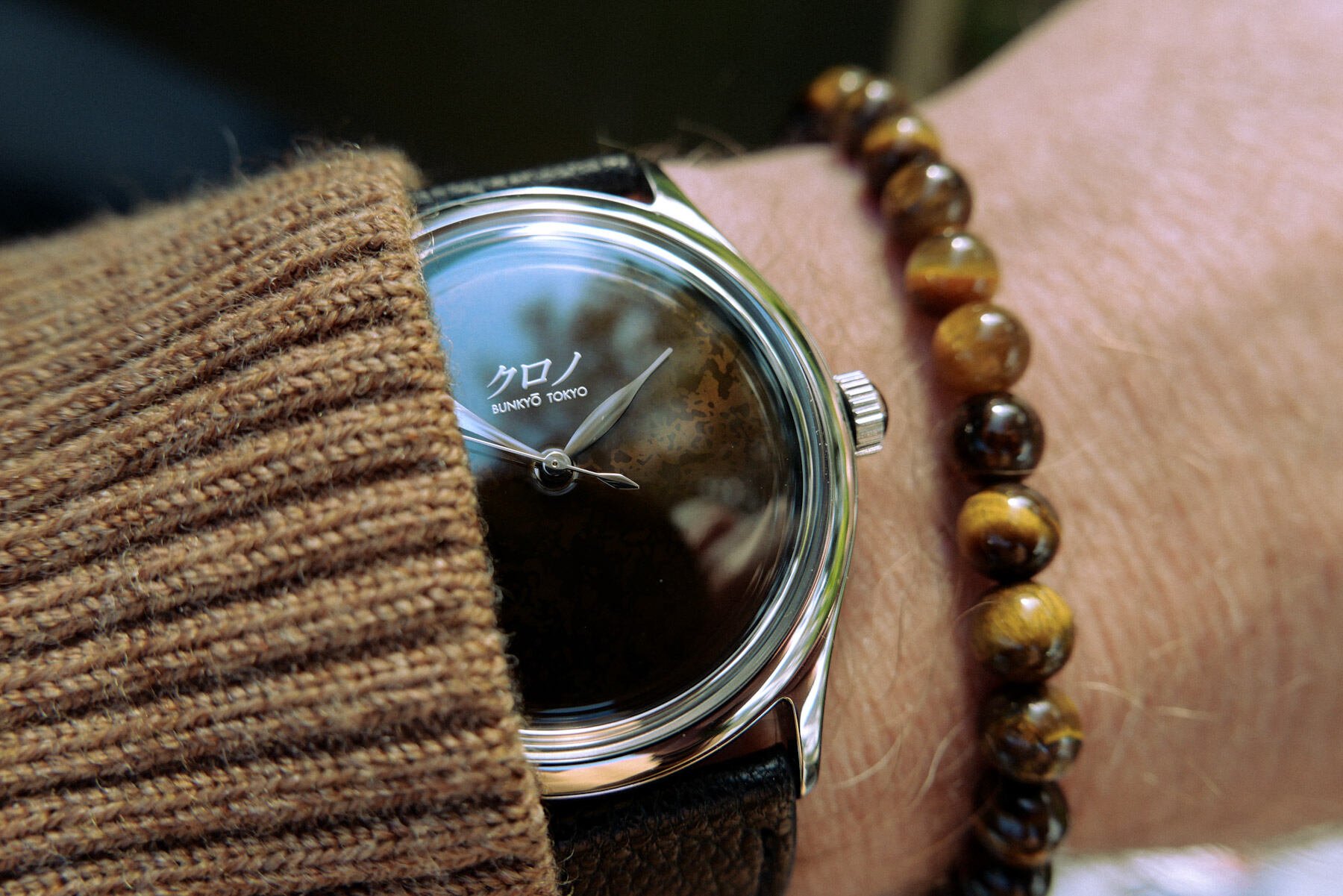 Kurono Tokyo
Reaching far outside Japan, the Art Deco creations of Hajime Asaoka with their polished details have started to reach pretty high prices at auction. His pieces are rare, but they made their auction debut this year at Phillips. The event saw a Project T Tourbillon from 2014 pull in a hammer price of almost HK$1.9 million (about €236K), four times its lowest estimate. And Asaoka-san's design principles are also visible in the more affordable Kurono Tokyo range. I bought the 38mm khaki-green Calendrier "Type I" last year and am still enamored by its quirky charms. Kurono's output is small, and like a few other brands, you will have to observe narrow ordering windows. But once you do, the typical Japanese attention to detail and very personal customer service are phenomenal. And yes, they have the potential to make you a regular.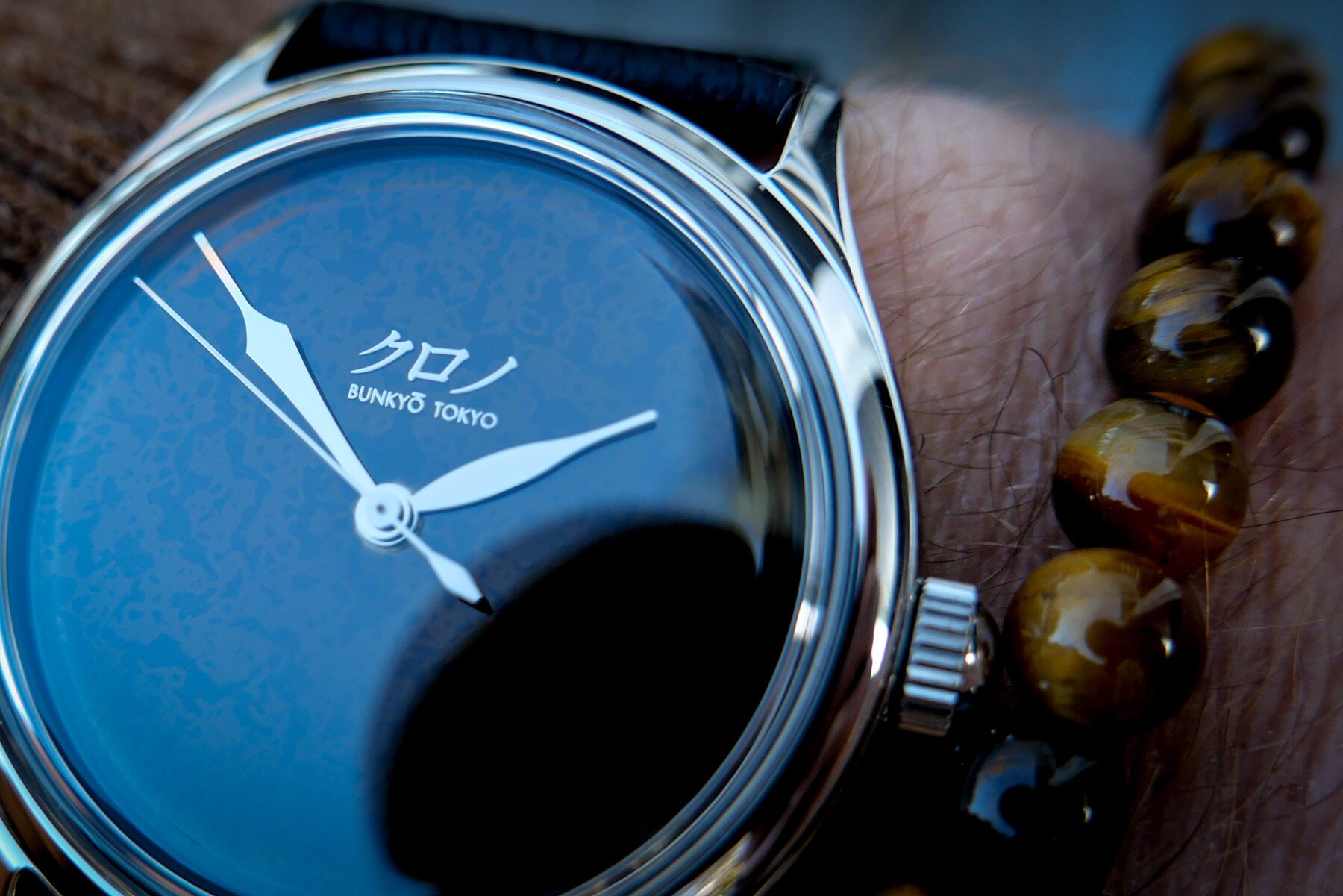 The case of the Grand Urushi Aoyama
This pun is intended, with the rounded case being a clean-cut frame for the dial art within while defining the term "Goldilocks" for me. Hajime Asaoka designed the 37mm case, a Kurono trademark, to work with cuffs. Sure, I enjoy larger watches in the summer, but a sleek 9.5mm thickness with such soft corners is paramount to autumn- and winter-fit comfort. That said, even with its small size, it works with a tee as the attention-grabbing dial wants to be seen.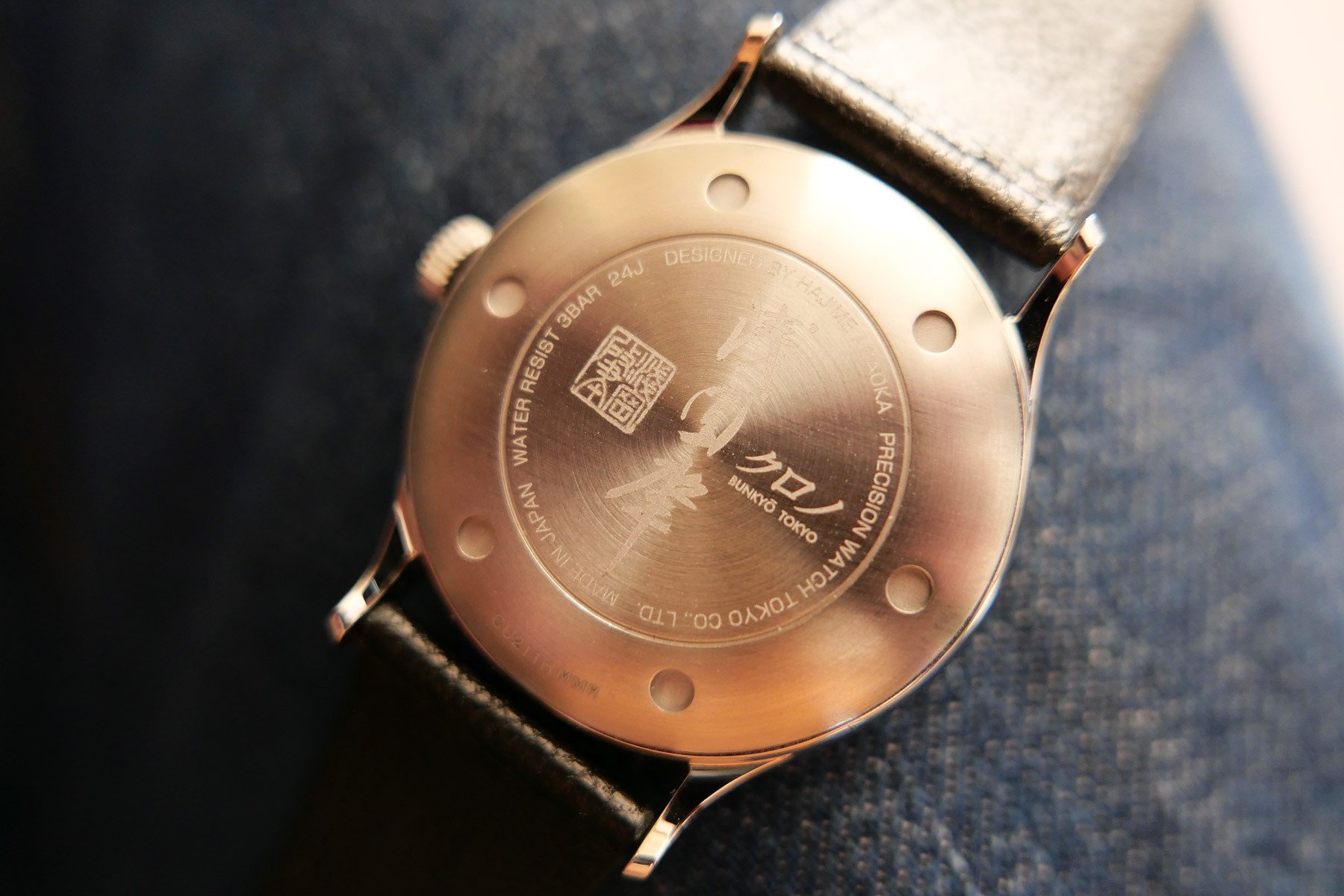 But what is urushi? Simply put, it's the Japanese word for "lacquer." To manufacture these traditional dials, the natural sap from the Japanese Rhus vernicifera tree is harvested, refined, then applied and polished by hand. Urushi dials have the highest rejection rate among all Kurono creations since the surface has to be pristine. The urushi dials require up to two months to dry and prep. If a single mistake is made during painting or it retains a speck of dust, it amplifies imperfections during the drying process and will be discarded.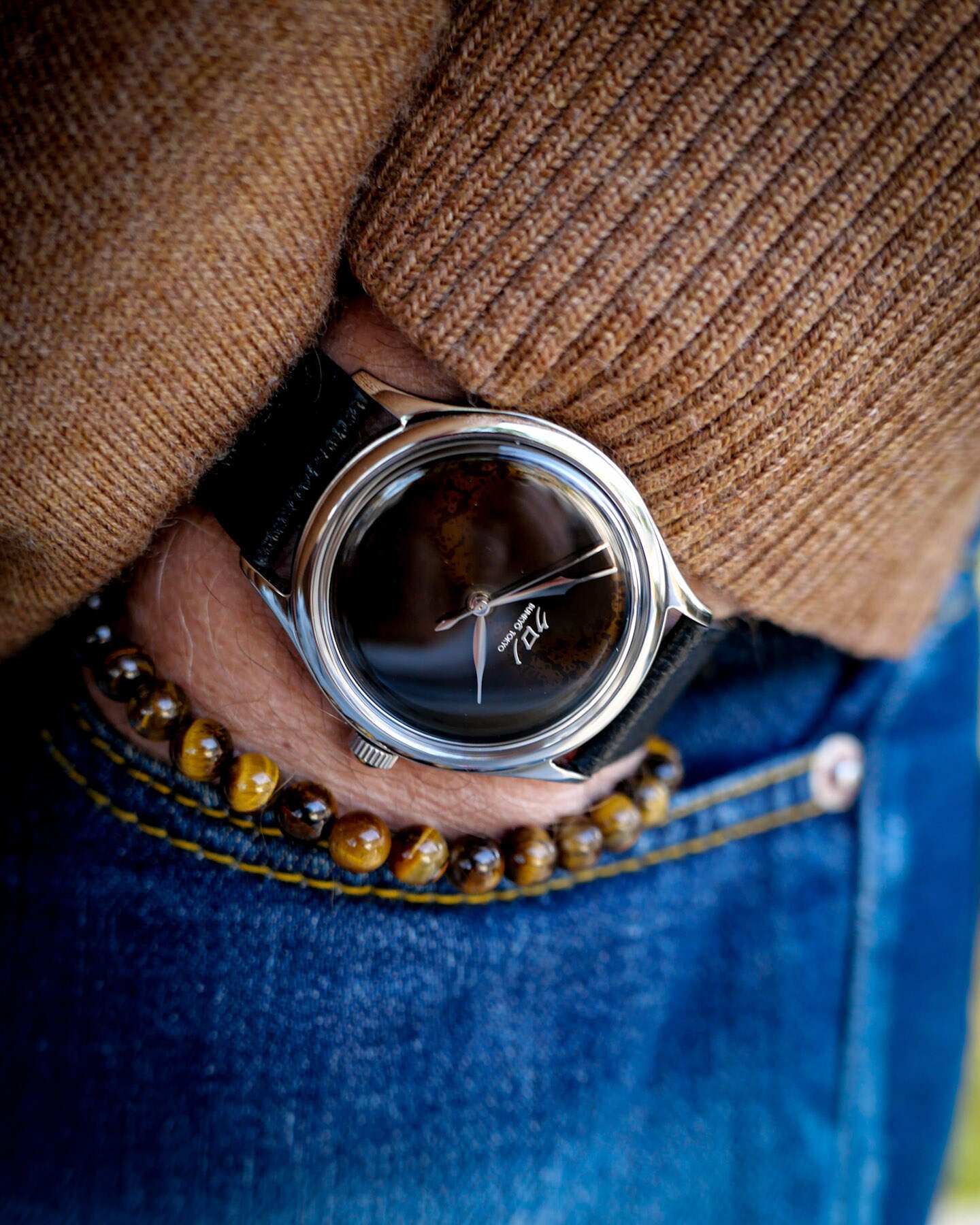 On the wrist
The true-to-size 37mm case has a quiet presence with strong legibility despite the ever-present distraction of the chameleonic mocha dial. And, as one of the three Aoyama Editions, this dark brown version is one of only 188 produced. With its smooth style and spare dial, it leans on the dressy side and comes on a soft, textured calf strap. I might choose to emphasize the warm dial tone with a coffee-colored strap at some point, but the soft black option is an astute choice.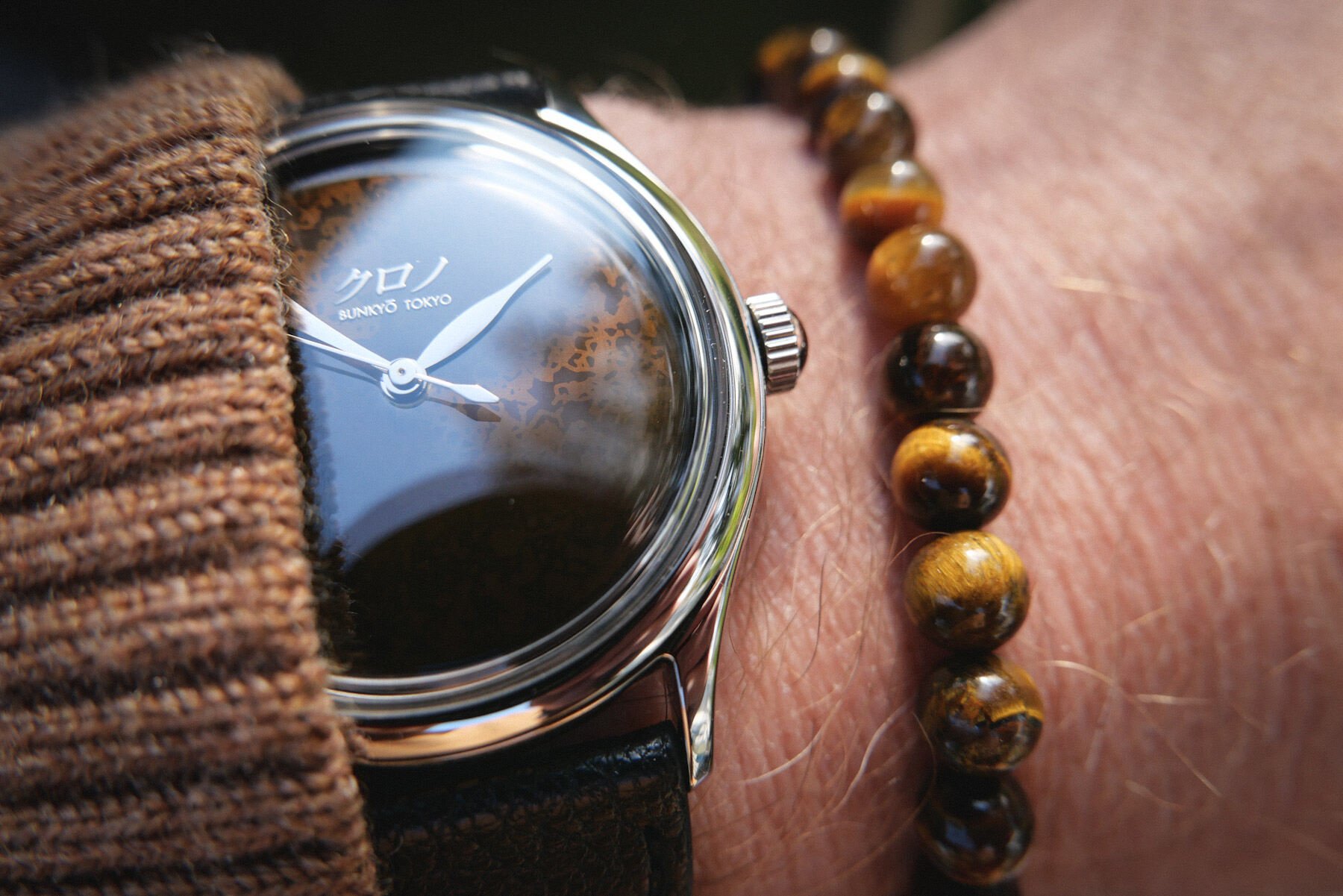 Sure, some people still lament that Kurono uses Miyota movements, but the 90S5 is a top-grade choice, allowing this watch to be a fully Japanese piece. ETA movements are great, but just as I bought my Italian Bianchi road bike from Italy to get a Campagnolo gear set instead of a Japanese Shimano, it's about congruency. Over the last week, this one has been running at about +4 seconds a day, which is superb. I am only mentioning this as it might come up, but from my experience, Miyota quality equals that of both Sellita and ETA in many watches. Plus, Kurono's watchmakers are keen regulators, and it shows.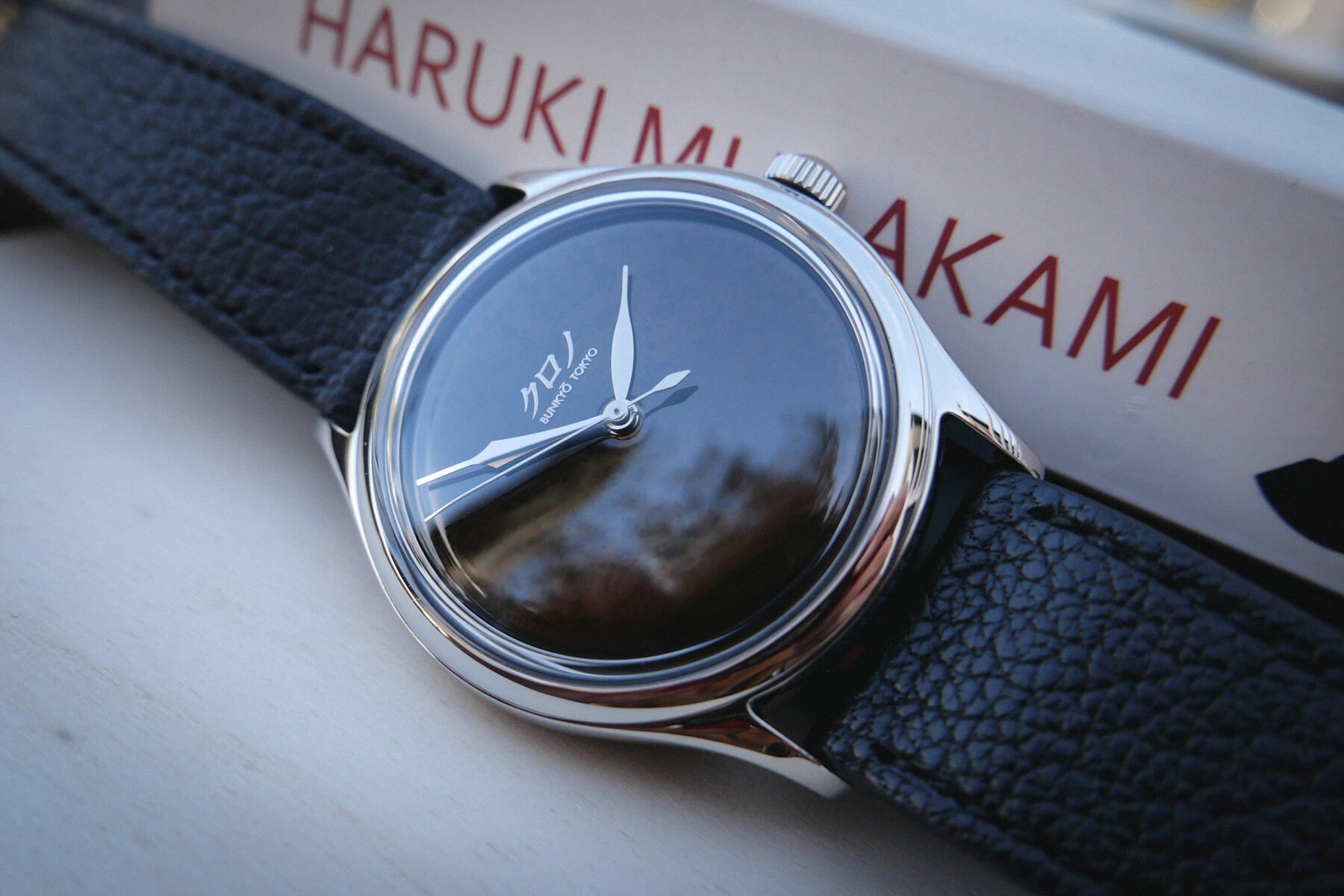 A versatile dress piece or a studied contrast?
The Grand Urushi Aoyama edition reminds me of why I love Japanese literature, particularly Haruki Murakami. The prose, just like Hajime Asaoka's design, is about simplicity and perfection in the smallest details. Murakami-san can make the meticulous preparation of a simple meal with three clean and fresh ingredients sound like perfection. Similarly, Hajime Asaoka's design doesn't need big cases packed with detail to make you understand that there is a long thought process behind each watch. In this deep, glossy dial, a subtle organic pattern shows through but only in a certain light, while the simple katakana logo and text seem perfectly in tune with the particular Art Deco shape of the hands. Is the Grand Urushi Aoyama a dress watch? Well, Asaoka-san emphasizes comfort under a cuff when he designs. But when dressing it down, the glossy contrast works its magic with a warm autumn vibe.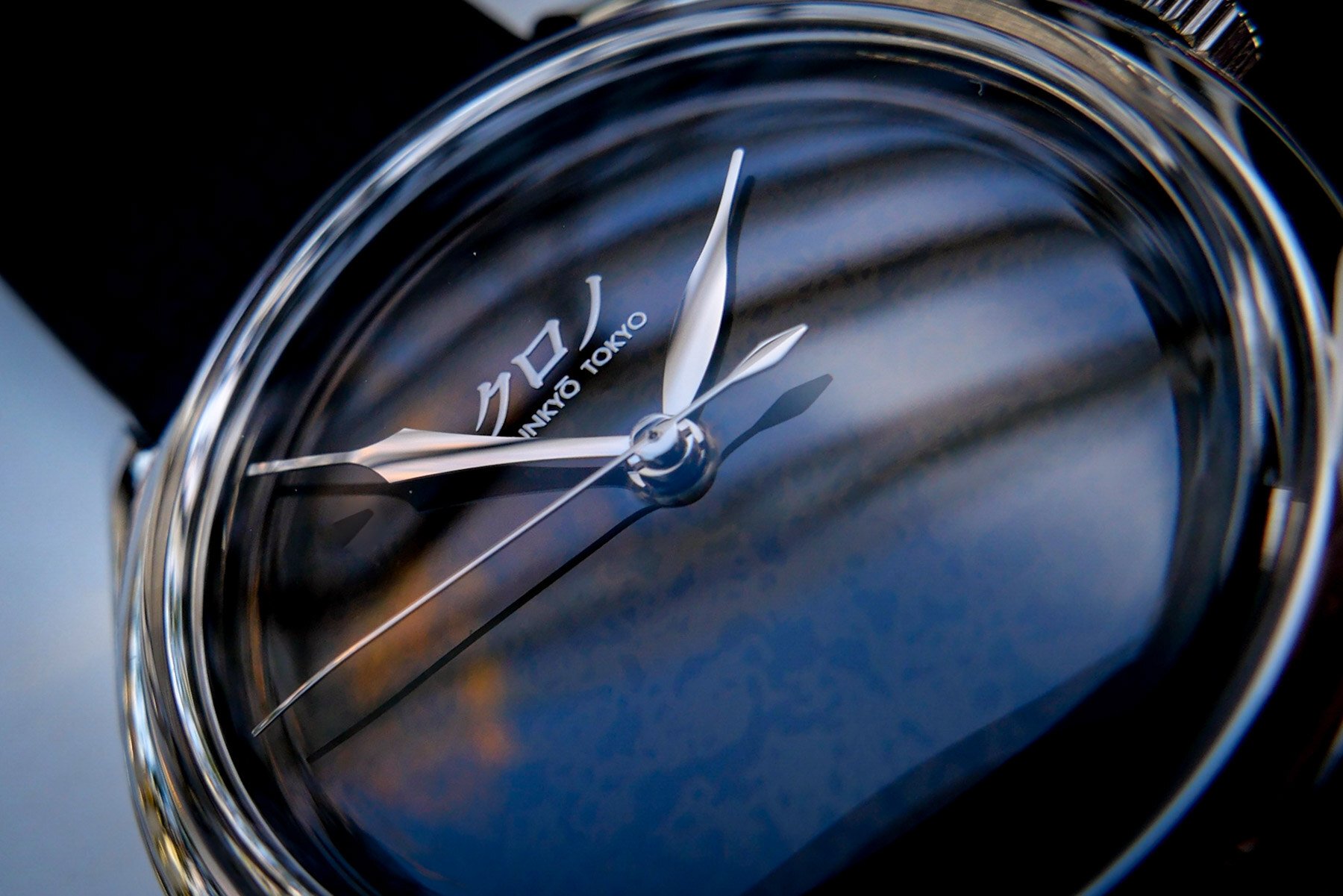 The three-week conclusion
When you buy a new car, a point comes when know when you've made the right choice. After the honeymoon period, if you glance back after parking, it's love. I'll still have a second glance when I put this watch away for the night. The slim, perfect 37mm case has much to do with that. It is a soft wrist presence, and the chameleonic orange-brown flash in the sunlight only makes me love its vibe more. When paired with a dark overshirt or suit jacket, its dapper looks never fail to draw comments. Do I need to know the exact minute of the hour? No. I can gauge it closely enough, and the zen of the dial is addictive. It gives the urushi the space to shine, literally. So, if you are traveling to Tokyo, there are still a few of this one-off series at the Kurono Salon in Aoyama.
What about you, Fratelli? Are you still worried about sub-39mm watches? Or is it the Grand Urushi Aoyama edition's nonexistent indices that raise questions for you? This being my first minimalist-dial watch, I find myself at peace with life whether it's 10:24 or 10:26, and I haven't missed a train yet. But do let me know your thoughts in the comments below.
Watch specifications
Model
Grand Urushi Aoyama
Dial
Glossy brown urushi (lacquer)
Case Material
Stainless steel
Case Dimensions
37mm (diameter) × 9.5mm (thickness with crystal)
Case Back
Solid stainless steel, screw-in
Movement
Miyota 90S5 — automatic and hand winding, 28,800vph frequency, 42-hour power reserve, 24 jewels
Strap
Black calf leathet (20mm width) with pin buckle
Functions
Time only (hours, minutes, central seconds)
Price
¥358,500 (excluding tax)
Special Note(s)
Limited to 188 pieces. Available for order and pickup exclusively at the Kurono salon in Aoyama, Tokyo.