You Asked Us: Vacheron Constantin vs A. Lange & Söhne Chronograph
Clash of Titans. This week one of our readers asked us why a pre-owned Vacheron Constantin Les Historiques is so much lower in price than an A. Lange & Söhne 1815 chronograph.
This question puzzled us slightly as well. After a short investigation, we learned that the current versions of the two mentioned chronographs have more or less the same price tag, around € 50k. While, indeed, prices of pre-owned ones are quite a bit apart.
You Asked Us: Vacheron Constantin vs A. Lange & Söhne Chronograph
Hi, Why is the Vacheron Constantin Les Historique (on the used market) so much more affordable than the Lange 1815 chronograph? Is it Lange's level of finish? Or market forces at play? Thank you.
I want to point out that, however aesthetically and function-wise probably similar, these two watches, in fact, are quite different. The Vacheron Constantin Les Historiques chronograph houses either a VC caliber 1141 or 1142, depending on its age. Both beautiful chronograph movements, however in principle based on Lemania's caliber 2310. A caliber from which the illustrious Omega 321 caliber, for instance, was derived as well.
Vacheron Constantin caliber 1141 / 1142
Both, the 1141 and 1142, have the same functions. Hours, minutes, small seconds, chronograph seconds and chronograph minutes. The caliber 1141 operates with a frequency of 18,000 bph while the 1142 uses 21,600 bph. Both movements have 21 jewels and offer a power reserve, when fully wound, of 48 hours. While the caliber 1141 wasn't entirely produced in-house at Vacheron Constantin, the caliber 1142 meanwhile is. The caliber 1142 is made of 164 parts, including the 21 jewels, and bears the Geneva Hallmark. A beautiful video on the movement can be found here on YouTube.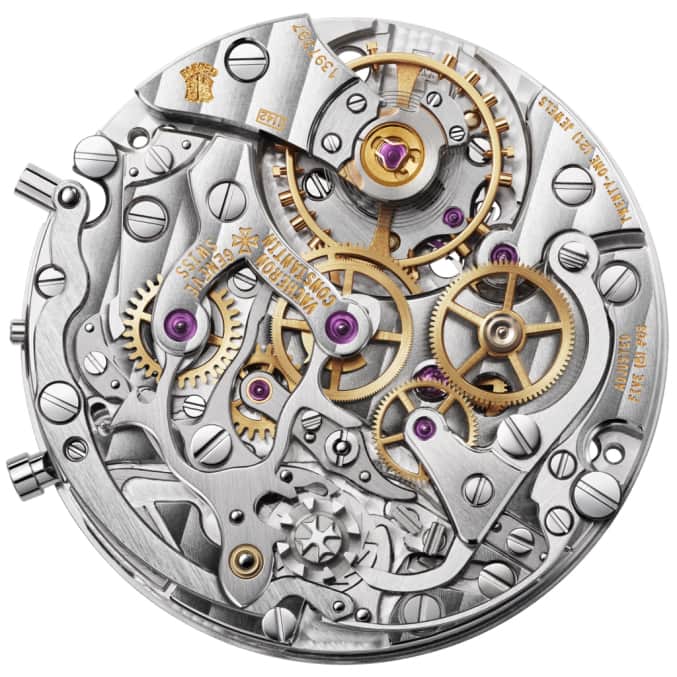 A. Lange & Söhne caliber 951.5
The A. Lange & Söhne 1815 chronograph houses Lange's caliber 951.5. It has the same functions as above mentioned Vacheron Constantin calibers, plus a flyback function for the chronograph. Quite special is that the chronograph minute counter is jumping from minute to minute, instead of regular dragging. Column wheel chronograph operation as well, and running at 18,000 bph. So there seem to be quite some similarities to the Vacheron caliber.
The major difference is in the construction and complexity of the Lange caliber though. Build from a dazzling 306 parts, including 34 jewels, the Lange caliber belongs to a different league. The 60 hours power reserve indicate this as well. And one can't argue about the hand finish of the Lange movement, being of higher standards than the Vacheron caliber. Further insights into the Lange 951.5 caliber can be found here on Lange's website.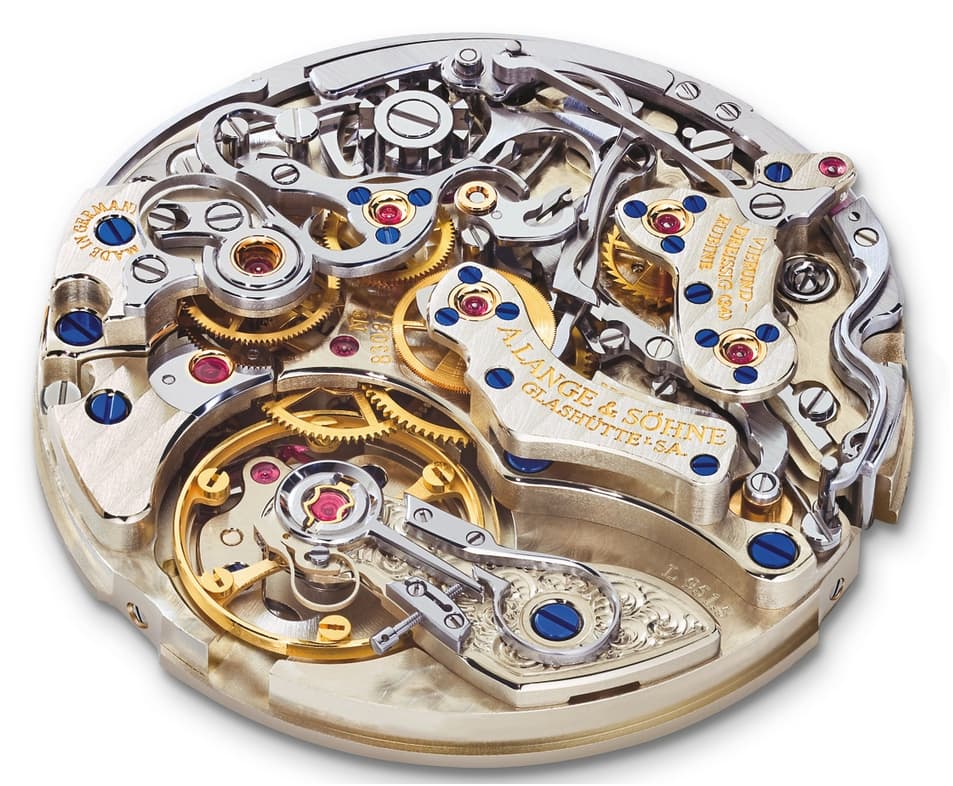 The similarities
Both watches are made of gold. The functions being more or less equal, and for the rest, the watches as such are not very different as well. The diameter of the Vacheron Constantin Les Historiques Chronograph is 38.5mm while the A. Lange & Söhne 1815 Chronograph measures 39.5mm. The thickness is with respectively 10.9 and 11mm almost equal. Robert-Jan's review of the Lange's 1815 Chronograph can be found here by the way.
Why the difference in price?
Does this difference in movements make up for the difference in price for these watches on the pre-owned market then?
Yes and no. What puzzles me more is that the current models of both watches have more or less equal manufacturers recommended retail prices. I mean, while being so different movement wise, how can they be equally expensive? A look into history learns us that, for instance in 2003, comparable watches of these brands had very different price tags. A Lange chronograph then was around € 30k while a Vacheron Chronograph could be bought new for € 16k. To be honest, that difference seems much more reasonable to me.
Conclusion
Which should imply that the current new-price for the Vacheron Constantin Les Historique Corne de Vache (€ 56,500 MRRP) is extremely high. Not that the price for a pre-owned Vacheron Constantin Les Historiques is extremely low. In both cases (new and pre-owned) compared to the A. Lange & Söhne 1815 Chronograph (€ 49,000 MRRP) that is.
Do you want an answer to your watch related question? Drop us a line.