Hands-On With The Vaer Atlas A3 Automatic — A Perfect Everyday Watch
US-assembled and ready for anything
Recently, I have been obsessed with a specific type of watch. It's not quite a dive watch, it's not exactly a field watch, and it definitely isn't a dress watch. However, it's a watch that has the best of all of those genres. I call it the "everyday" watch. This is not a new category or something I claim to have come up with. Far from it. It's more of a feeling of where a watch that doesn't seem to belong to one of the three basic genres can fit. The Vaer Atlas A3 is a perfect example of an everyday watch. In fact, it's designed to be just that. It's a watch that makes just as much sense for a day at the office as it does for a weekend of hiking and camping out in the woods.
Sure, this is all well and good on paper. But I wanted to know if the Vaer Atlas A3 would live up to my expectations as a supremely wearable, go-anywhere, do-anything, never-out-of-place watch. Recently, I have been wearing my Hamilton Khaki Field Automatic. And of course, due to its dial layout, lack of a screw-down crown, and name, one could correctly argue that this is much more of a field watch. However, in my collection, the Khaki Field is as close as it gets to a perfect everyday watch. So, going into this experiment with a favorite already didn't do the bright-orange-dialed Vaer any favors. But as it turns out, the Atlas A3 never needed any favors to come out on top anyway. But just how close is this watch to perfection?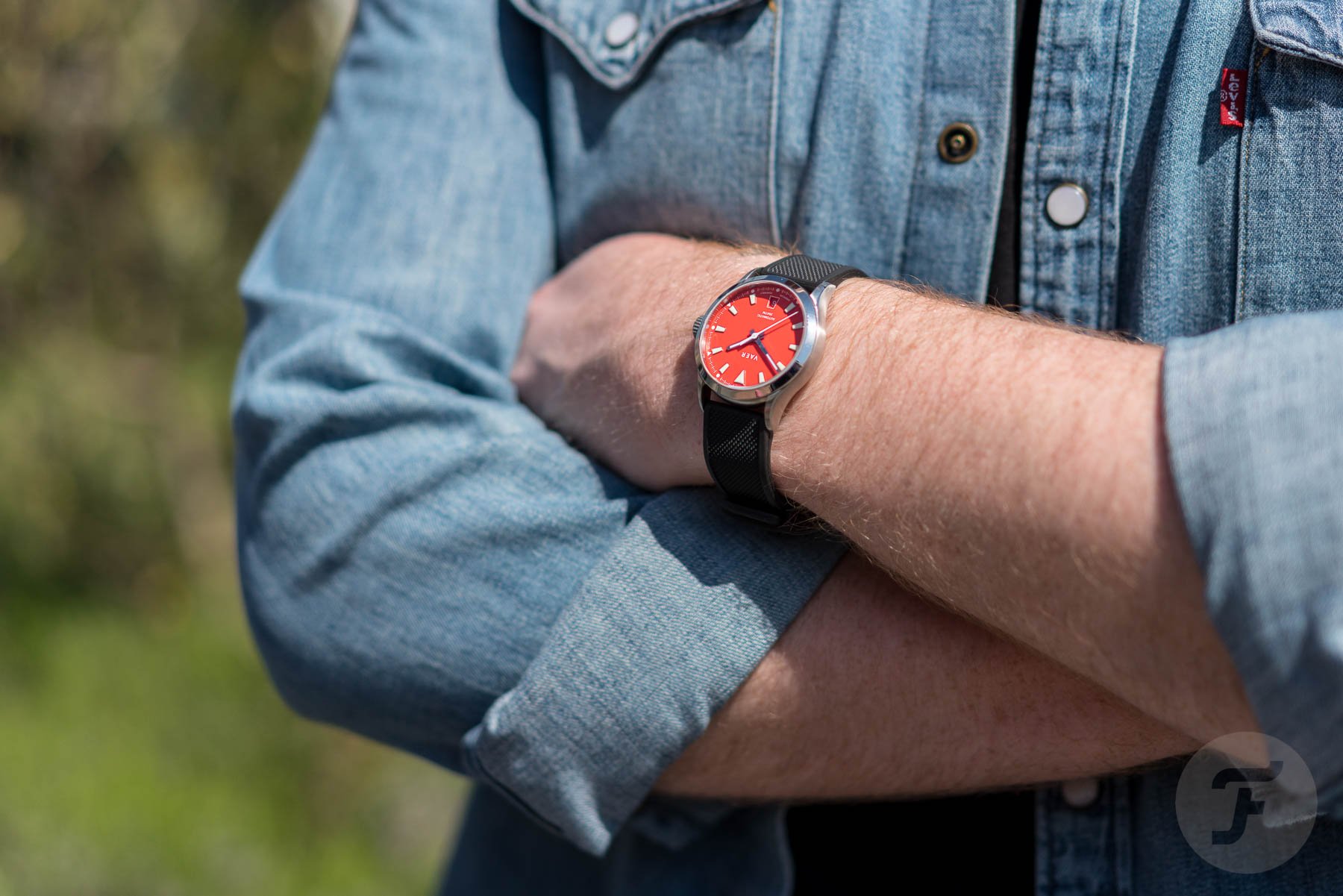 The Vaer Atlas A3
Before I tell you all about the Vaer Atlas A3 — what I like about it, what I don't like about it, and where I think it could improve — let me reveal the final key factor that makes a great everyday watch. I'm talking about the price. Of course, this will be relative to your financial situation. But to me personally, a Speedmaster doesn't make for a great everyday watch because losing or damaging it would represent a great loss. The sweet spot, I find, is right up to about €500-700. When a watch costs more than that, I will be far more aware of its presence on my wrist while doing things that could potentially compromise it. In that sense, the Vaer Atlas A3 comes in at a perfect price point of $599, which is approximately €549. But what else contributes to it being a great daily wearer?
Well, the first thing that comes to mind is the fact that it has a decent level of water resistance (100m, to be precise) and a screw-down crown. This means that it will be capable of handling your everyday (and not so everyday) water-related activities. It's no dive watch, so there's no need for 200m of water resistance. Less than 100m, however, would have been an immediate disqualification. The next point is the watch's overall size, shape, and presence on the wrist. The Vaer Atlas A3 comes in at 36mm. It is delivered with two strap/bracelet options and equipped with 20mm quick-release spring bars. We had a lovely black rubber strap, as well as the Jubilee-style bracelet. Both options made for comfortable wear, but I gravitated towards the rubber. And though I felt like the watch verged on being too small, on my seven-inch wrist, it worked perfectly.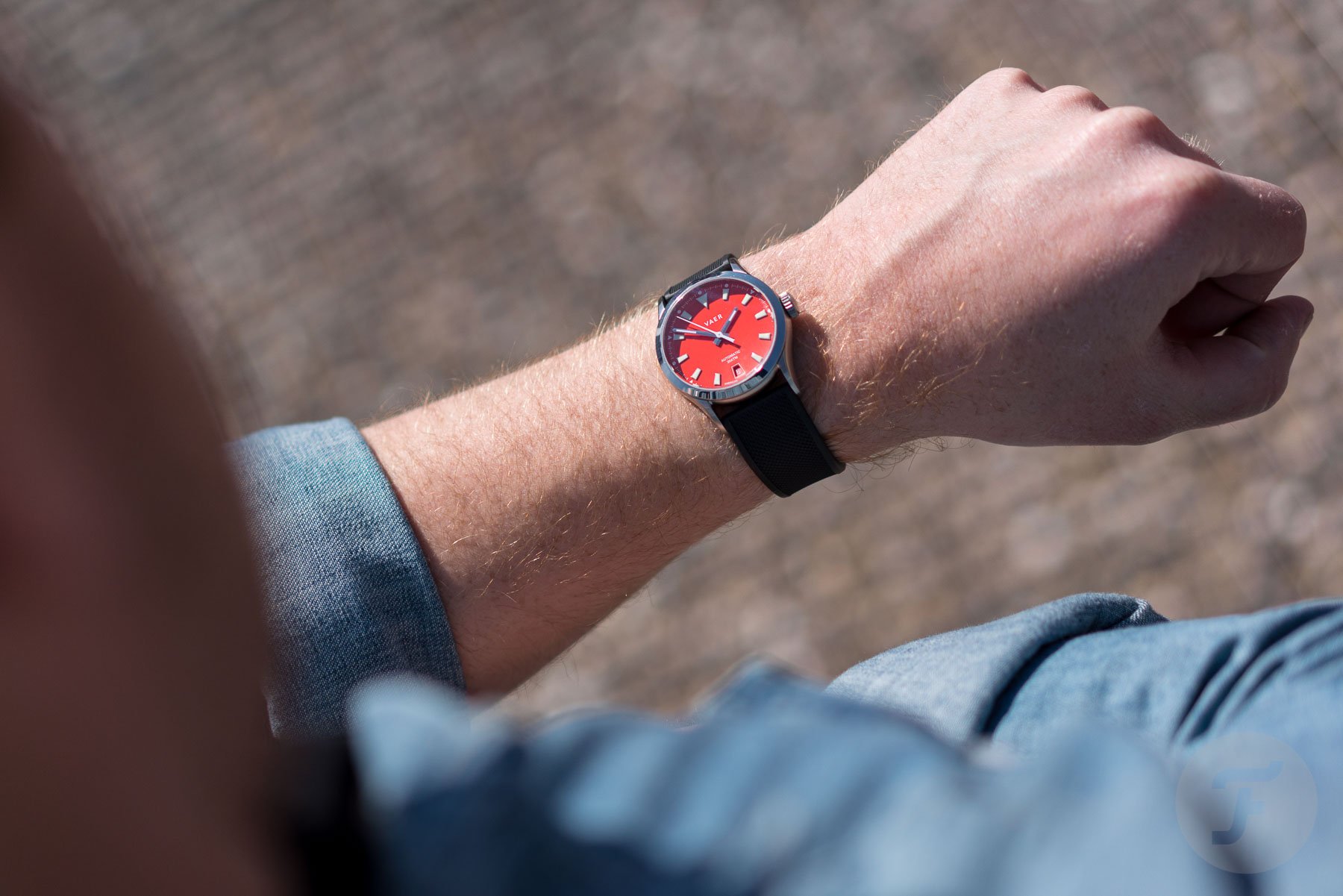 Final thoughts
As you can see, the Vaer Atlas A3 ticks all of the boxes for a perfect everyday watch. Perhaps my only nit to pick would be that the 36mm size does feel like it's teetering on the edge of being too small for me. But maybe that's just my brain taking some time to adjust down from my 38mm Hamilton. Other than that, the dial on the Vaer is an eye-catcher. Under its sapphire crystal, the bright orange expanse hosts a number of C1 Swiss SuperLume-filled markers. A fantastic handset with a crisp white seconds hand and a beautifully executed 6-o'clock date window with a color-matched date wheel bring it all together. Inside, a perfectly serviceable Miyota 9039 with a signed rotor keeps the watch running on time. The watch is tough, versatile, and proudly designed and assembled in the USA.
My time with the Vaer Atlas A3 was short but sweet. And it certainly sparked my curiosity about the brand's other offerings. These include a wide range of affordable and well-designed dive and field watches. And though it's also available with a darker navy-blue dial, the star of the show for me is the recently released Atlas A3 in bright orange. If you want to find out more about this watch, as well as the brand's entire range, head over to the Vaer website.
As always, please let me know your thoughts on the Vaer Atlas A3 in the comments down below.
Follow me on Instagram @ncgwatches
Watch specifications
Dial
Red-orange with Super-LumiNova C1
Case Material
Stainless steel
Case Dimensions
36mm × 43mm × 11.6mm
Crystal
Single-domed sapphire
Case Back
Sapphire exhibition
Movement
Japanese Miyota 9039 automatic
Strap
Leather, rubber, or steel bracelet (Jubilee and Oyster styles)
Special Note(s)
Assembled in the US