Watch Box Stories: Adrien's Fantastic Bvlgari, Ulysse Nardin, Parmigiani, And Vicenterra Watches
Sharing the stories behind the watches you love
I don't know about you, but I really enjoy reading through the watch box stories from your fellow readers about their collections (or parts of them, at least). Last week, we featured Wesley's impressive collection (click here), and today, Adrien will share a part of his. Adrien collects watches with his wife, who has been a watch collector longer than he has. It's always great to see that women enjoy this hobby as well!
After we share all the stories, we will raffle off a Peli case and a few other accessories among the contributors. So far, I've seen some very interesting contributions, and I am excited to share them here on Fratello in the coming days and weeks. Without further ado, here's the story from Adrien and his wife about what's in their watch box.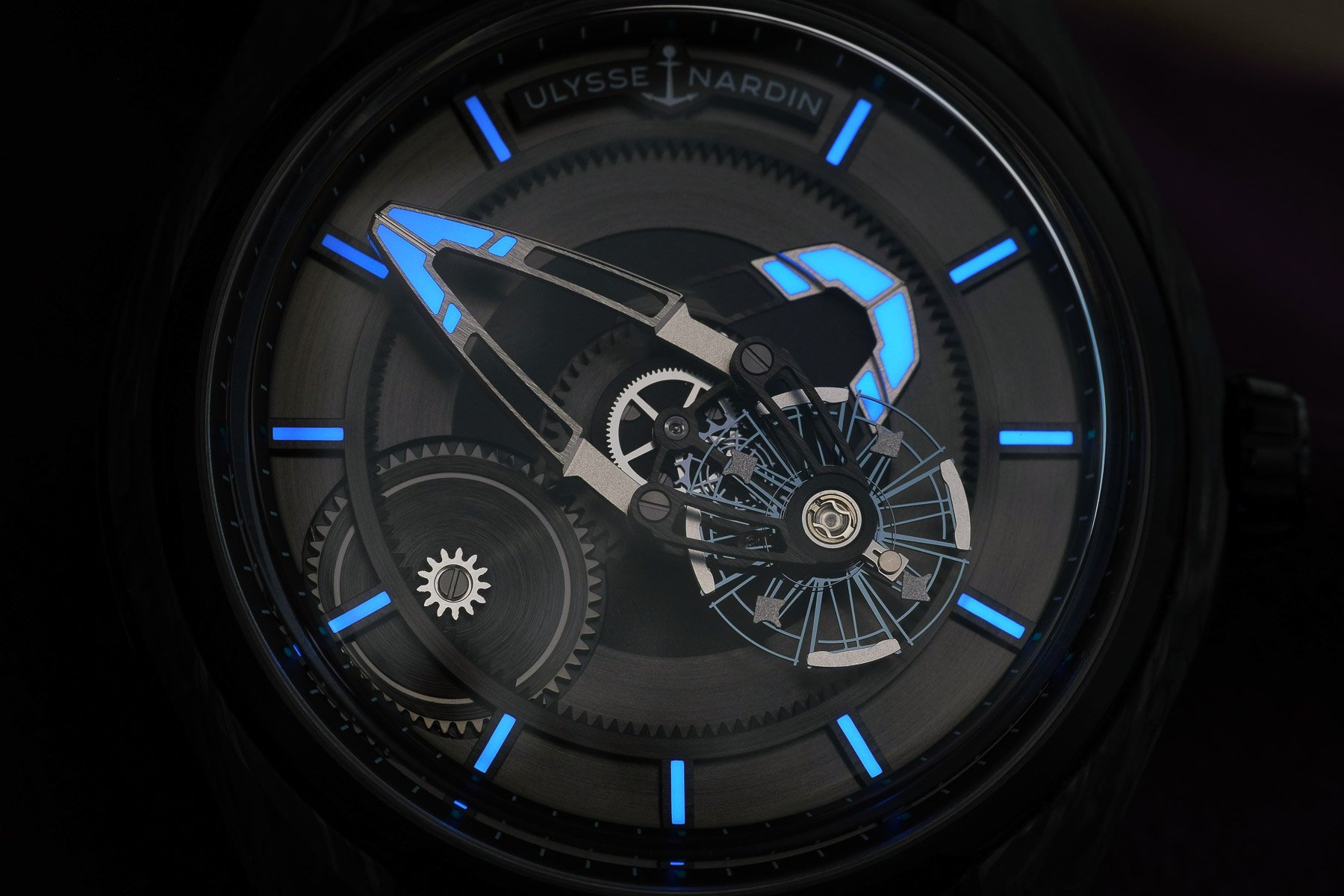 A reader's collection — Adrien
My wife and I have shared the same passion for watches for ten years now (a little longer for her). We have several storage spaces for our watches. Personally, I like to organize my collection by type of watch. I have transport boxes, a glass watch box with a drawer, a box with storage drawers for accessories, and a lot of watch rolls.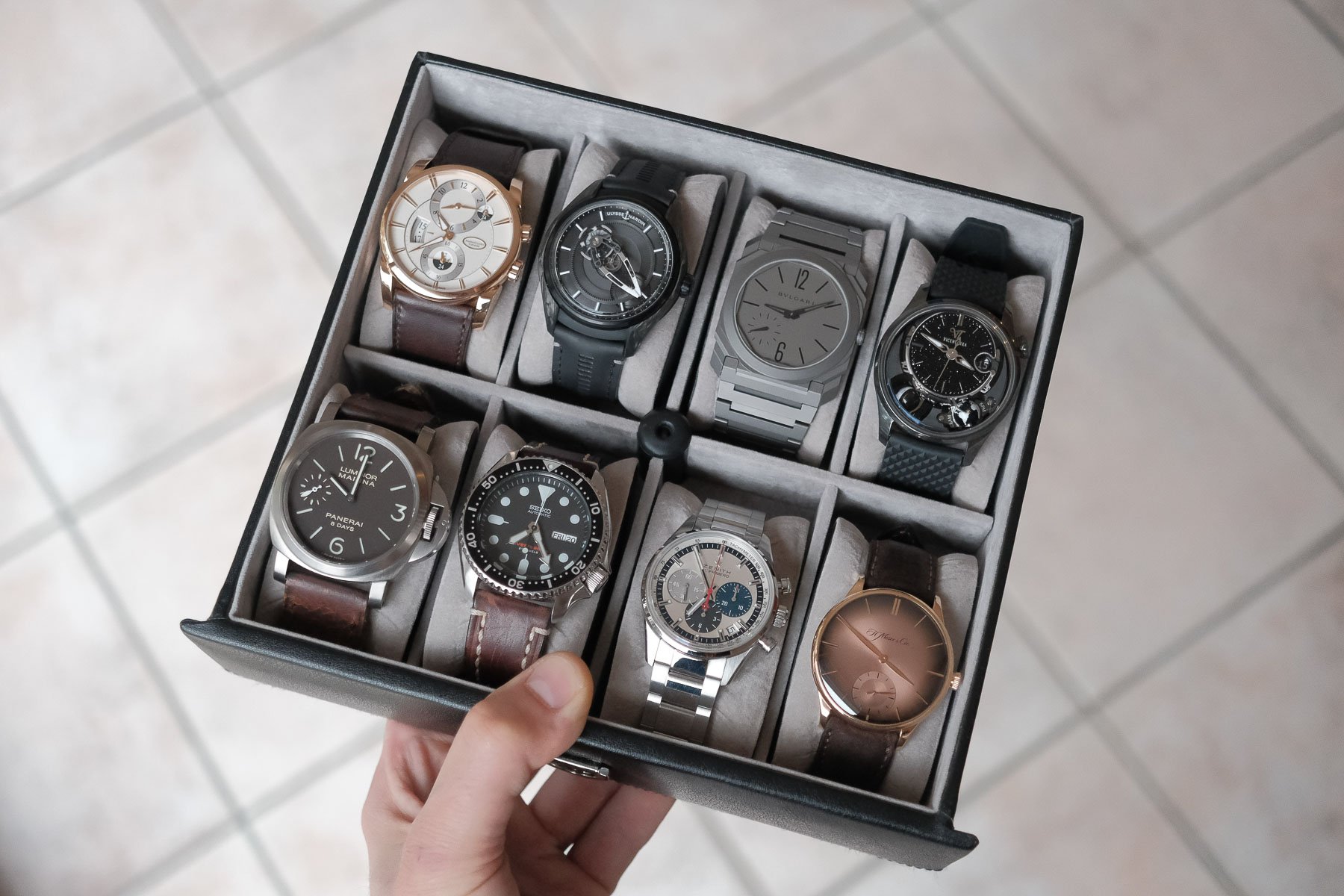 Here is a photo of my box where I keep my most recent watches. I imagined it in two parts. The four watches in the bottom row are what I consider the "classic" ones. I call them that because they have the proportions and design you would expect from each type of watch. There is a tool watch, two sports watches (a diver and a chronograph), and a dress watch.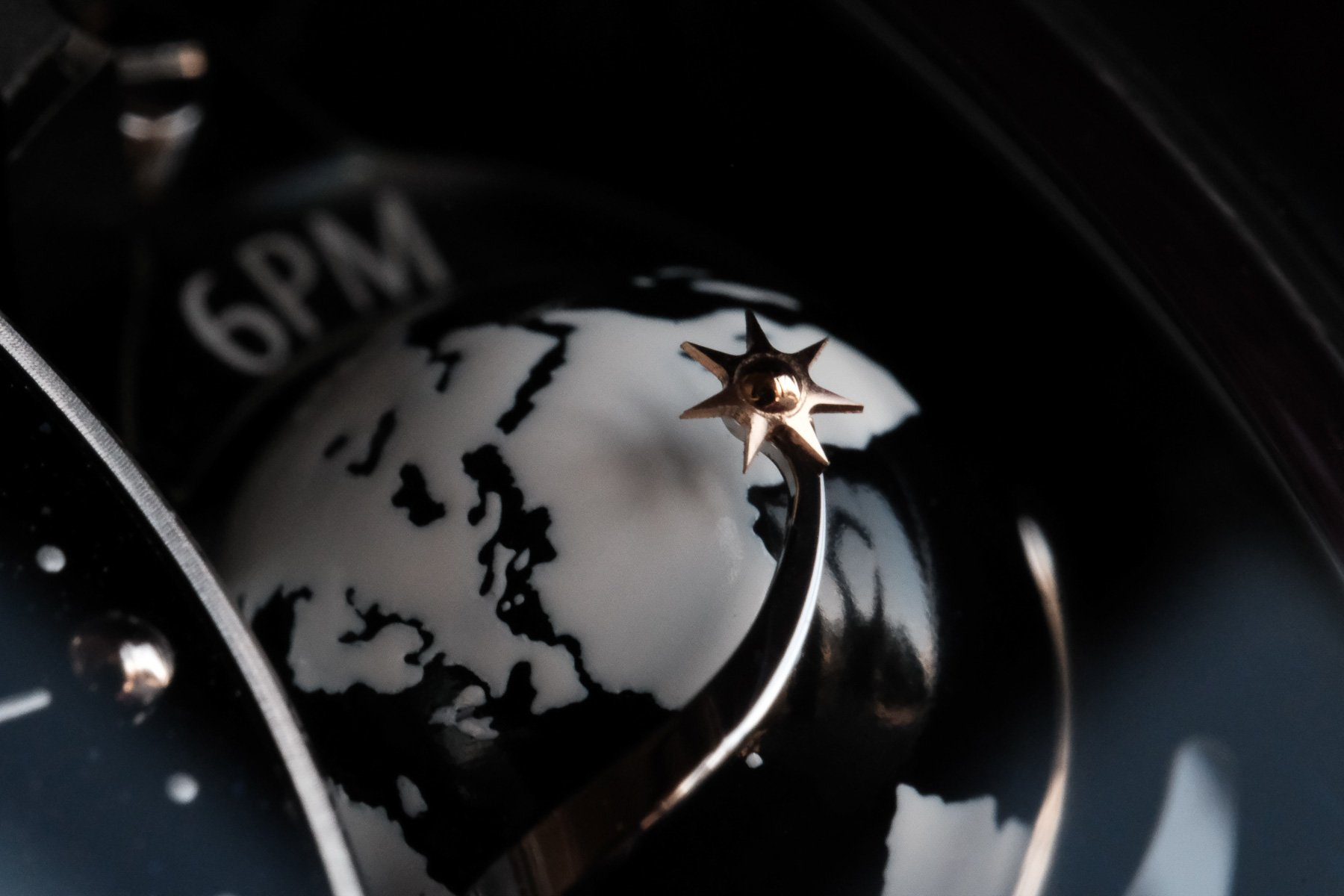 On the top row of this watch box are my "fantastic" ones. They respond to the first four while breaking the codes.
The four classics are a Panerai PAM 564, Seiko SKX007, Zenith Chronomaster, and Moser Venturer. But it is the four "fantastic" ones that I would like to dwell on now.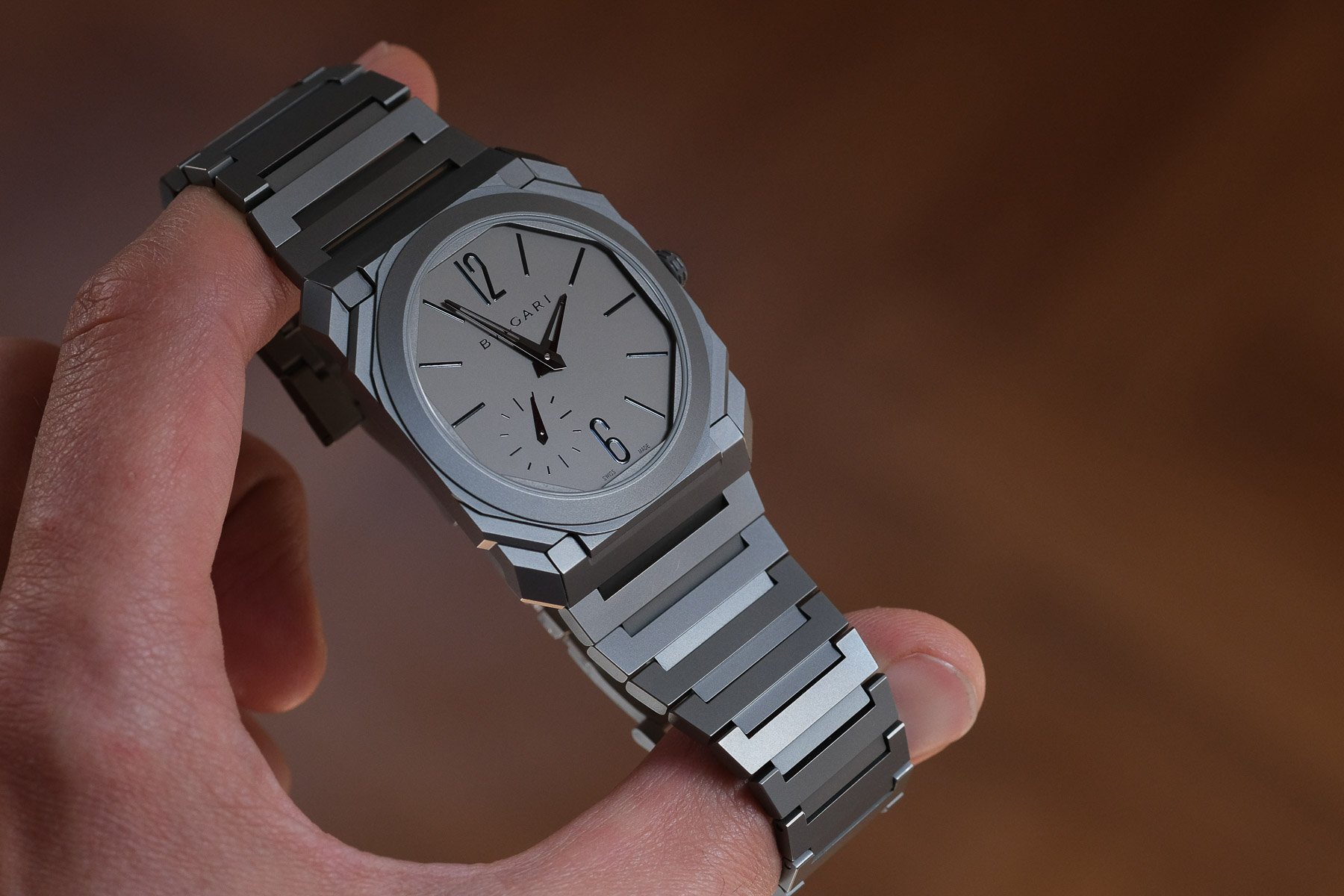 Bvlgari Octo Finissimo in titanium — a sport-chic watch without concession
The acquisition of this model is what gave me the idea to double my four classic watches. I was never drawn to this Octo… that is until my wife and I once asked to try it on. When we came out of the shop where we tested it, there was a moment of silence. Then I looked at my wife and said, "I want one," to which she replied, "Me too." A few weeks later, the Octo joined my box after a few very stressful days (during the worst COVID period, shipping was a bit disrupted…).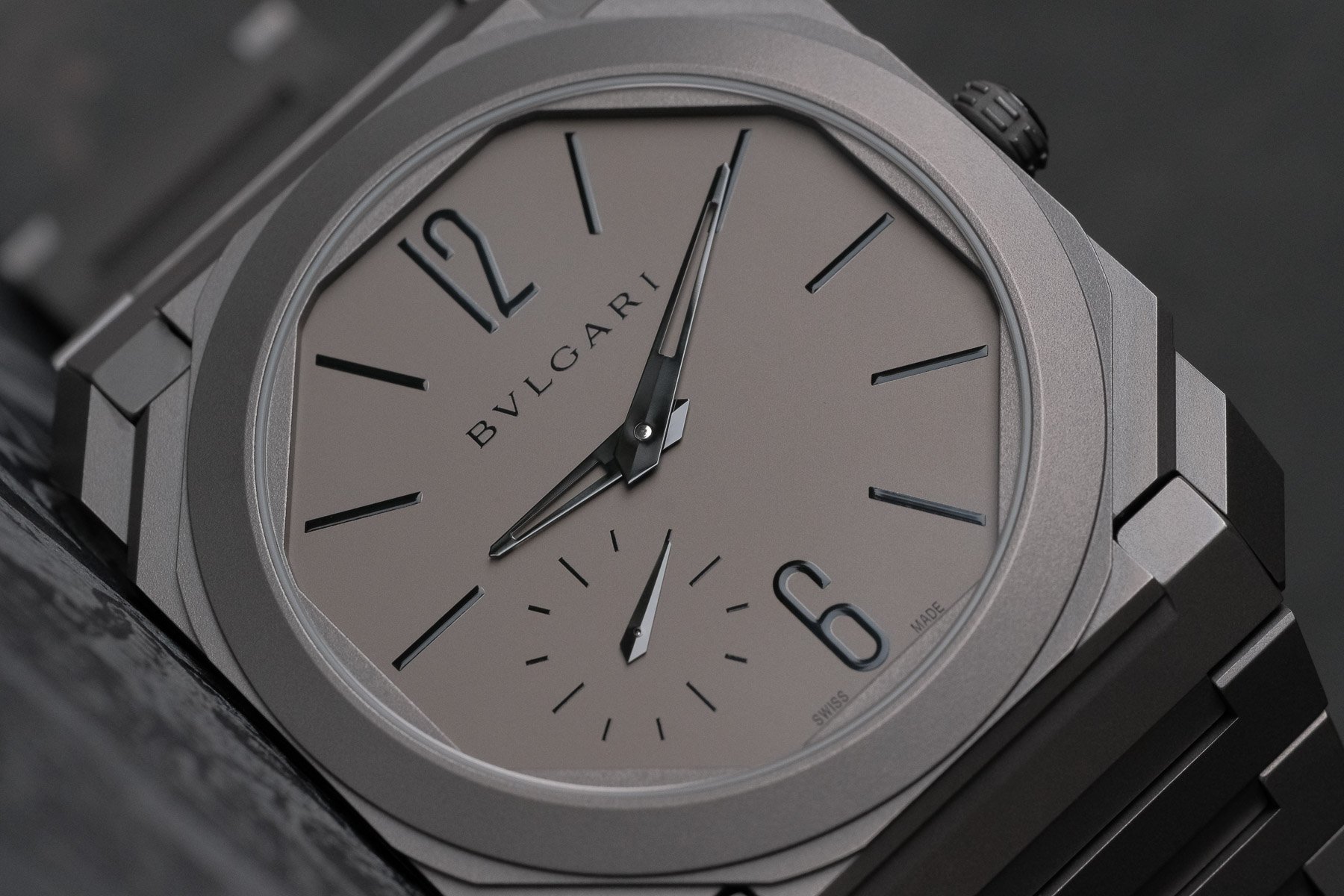 To fully enjoy the concept, I chose the titanium version. This is the lightest and thinnest of the three-hand Octo Finissimo models, a 5.15mm box stacking geometric shapes on a dozen levels. For me, it is the most extreme example of a sport-chic watch.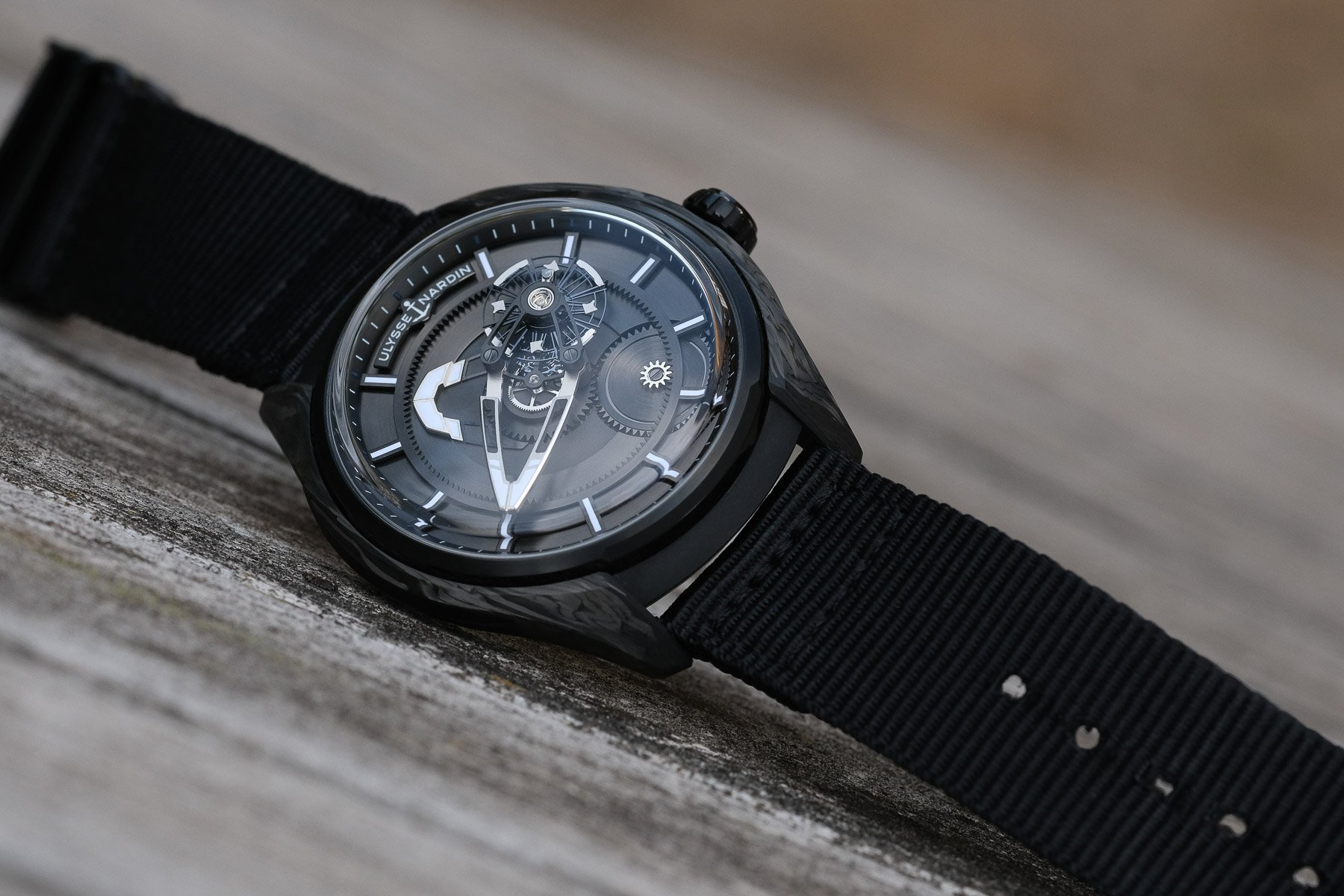 Ulysse Nardin Freak X — a flying carousel in a sports watch
My appreciation for watchmaking springs from, above all, personal encounters. In the case of the Freak X, it's all about my dealer. He is truly passionate about Ulysse Nardin, and when I met him, he knew how to open my eyes to the horological interest of this model. This is surely the watch that caused the most hesitation before I bought it. With no real equivalent on the market, it was not easy to gauge. But I visited his shop so often, maybe to try this Freak X all over again, or maybe because I was just happy to discuss the latest watchmaking innovations and this model in particular with him for hours.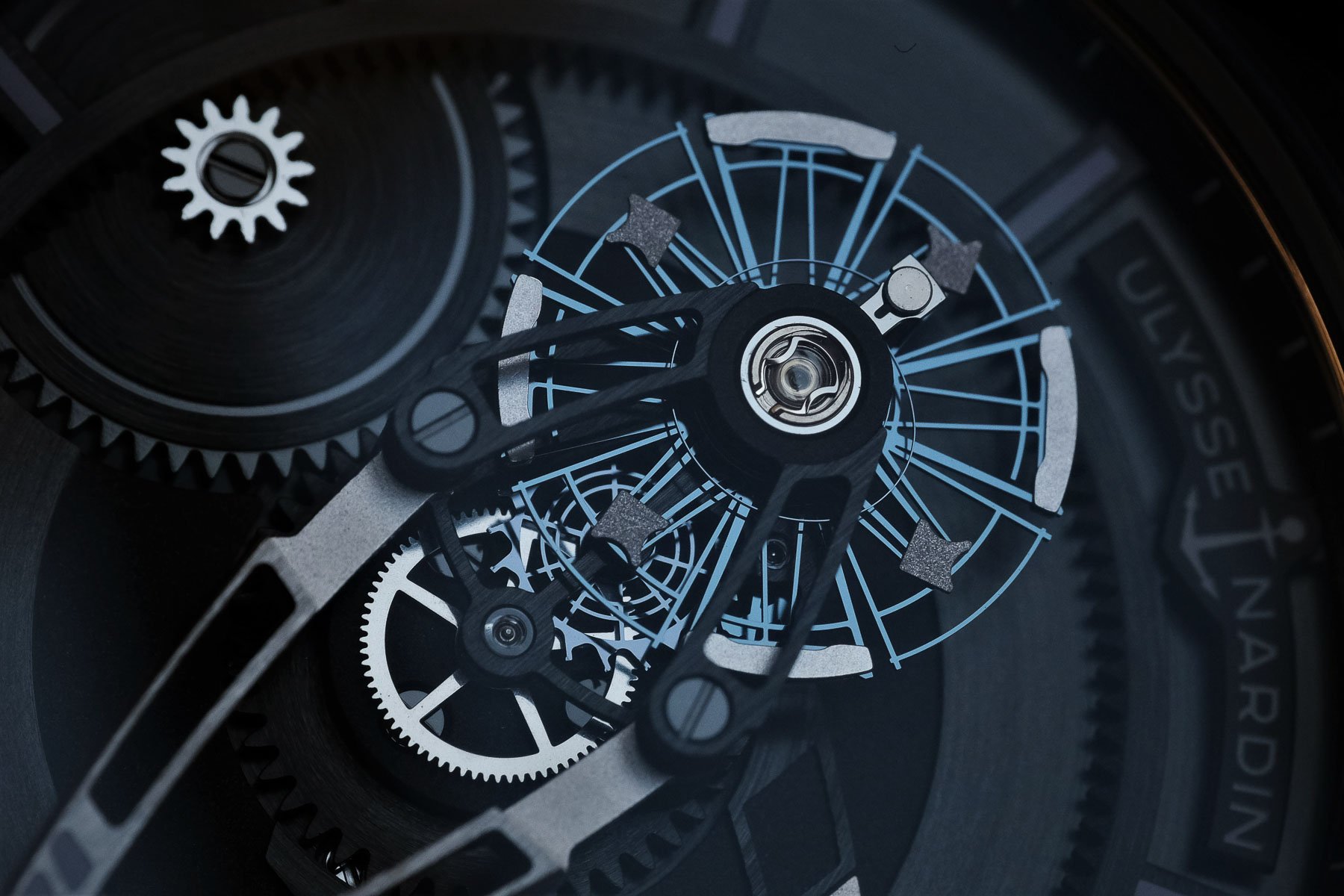 I finally couldn't resist this Freak X. With its ultra-light carbonium case, it has become one of the watches I wear most often. Above all, this unexpected meeting gave birth to a sincere friendship. And I always have in the back of my mind the good time spent together when I put this watch on my wrist.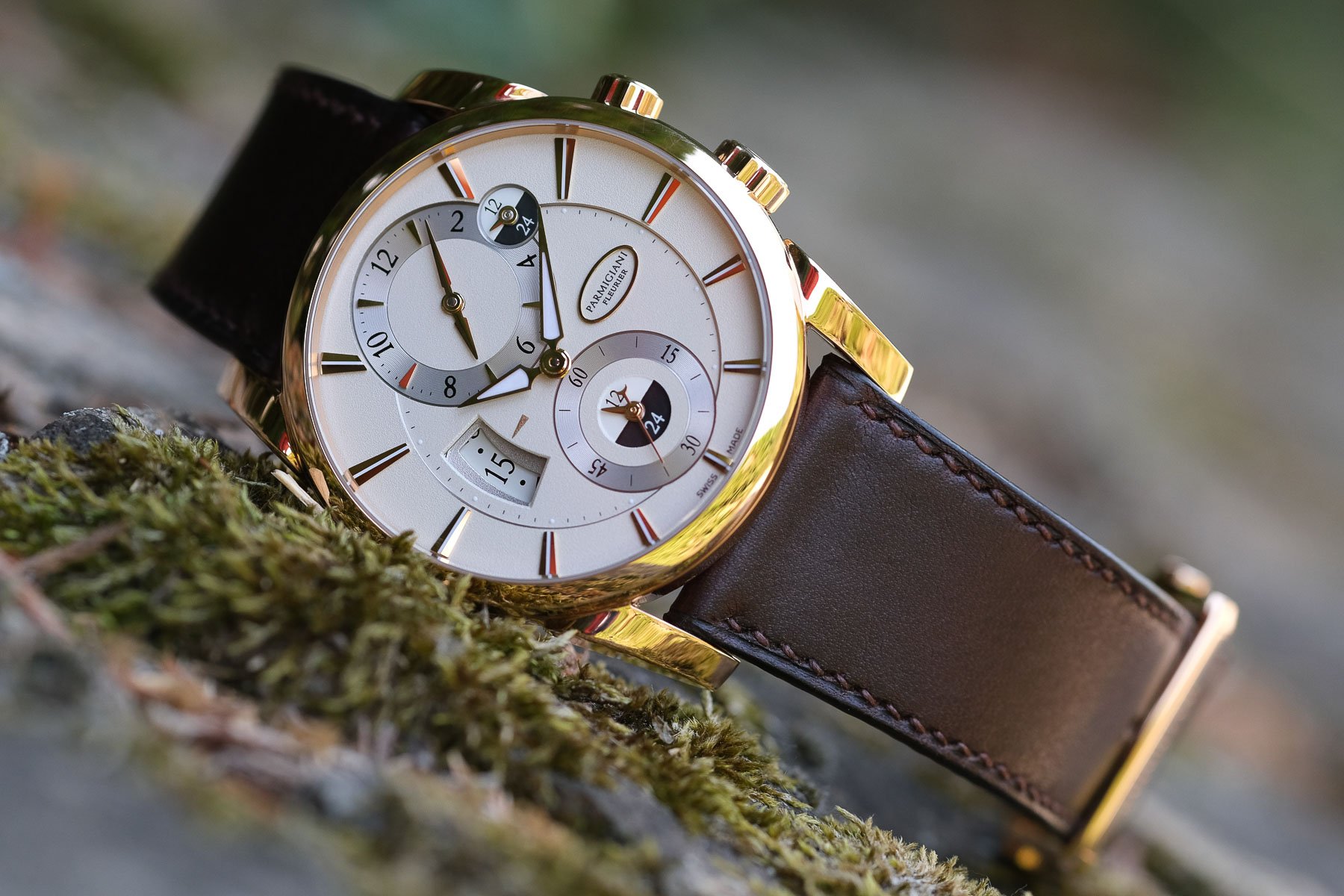 Parmigiani Fleurier Tonda Hémisphères — a pink gold tool watch
It was the ambivalence of this model that seduced me. We expect a gold watch with a hand-grained dial to be elegant and discreet. But with this impressive diameter and the GMT complication, for me, the Tonda Hémisphères is a perfect travel watch.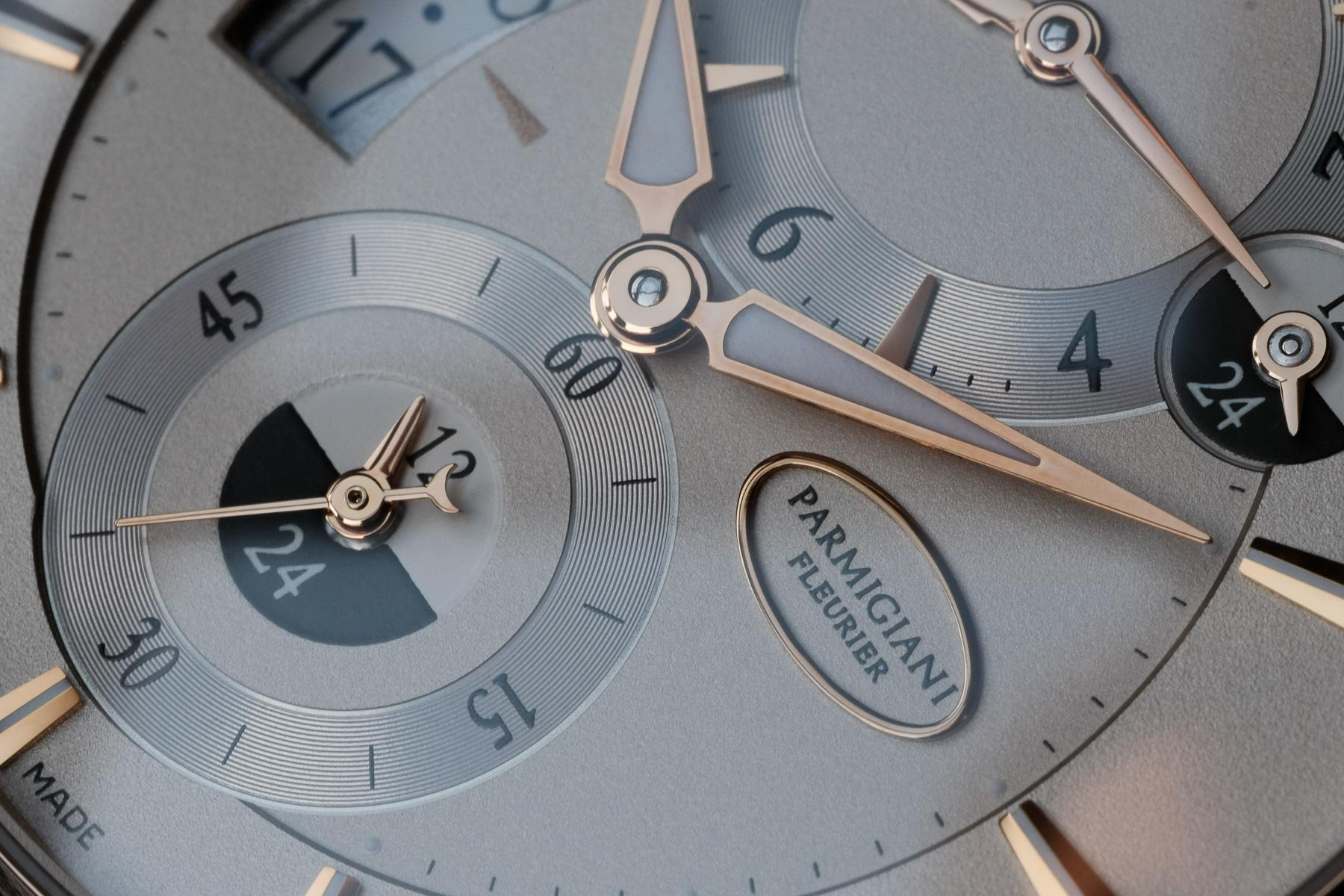 The Tonda and Kalpa cases are known to be comfortable, but contrary to what one might think, the weight of the gold and the 42mm size even accentuate the comfort once the watch is well strapped to the wrist. I was already a great lover of Parmigiani design, and I finally fell for this incredible watch and its exceptional manual finishing.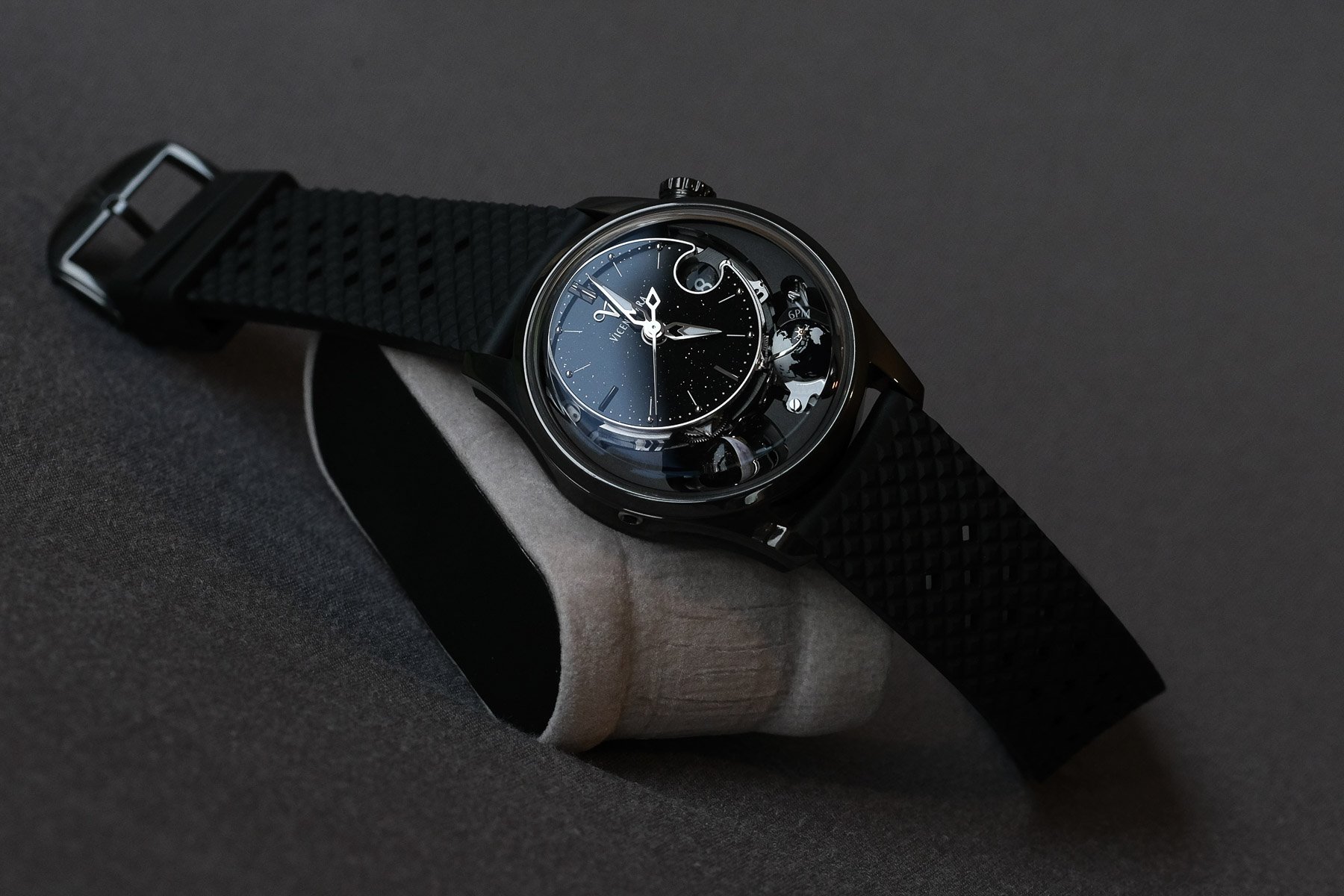 Vicenterra AstroLUNA — a dress watch
Or should I say a "poetic watch"? Here again, the story is linked to an encounter, this time with the one who created this watch, Vincent Plomb. I met him for the first time through a watch forum and then in real life. Vincent was kind enough to keep me updated throughout the creation process of his AstroLUNA. And then, he had the good idea to design a model in the configuration I dreamed of — a black/anthracite DLC titanium case, a black aventurine dial, and a black galvanized movement.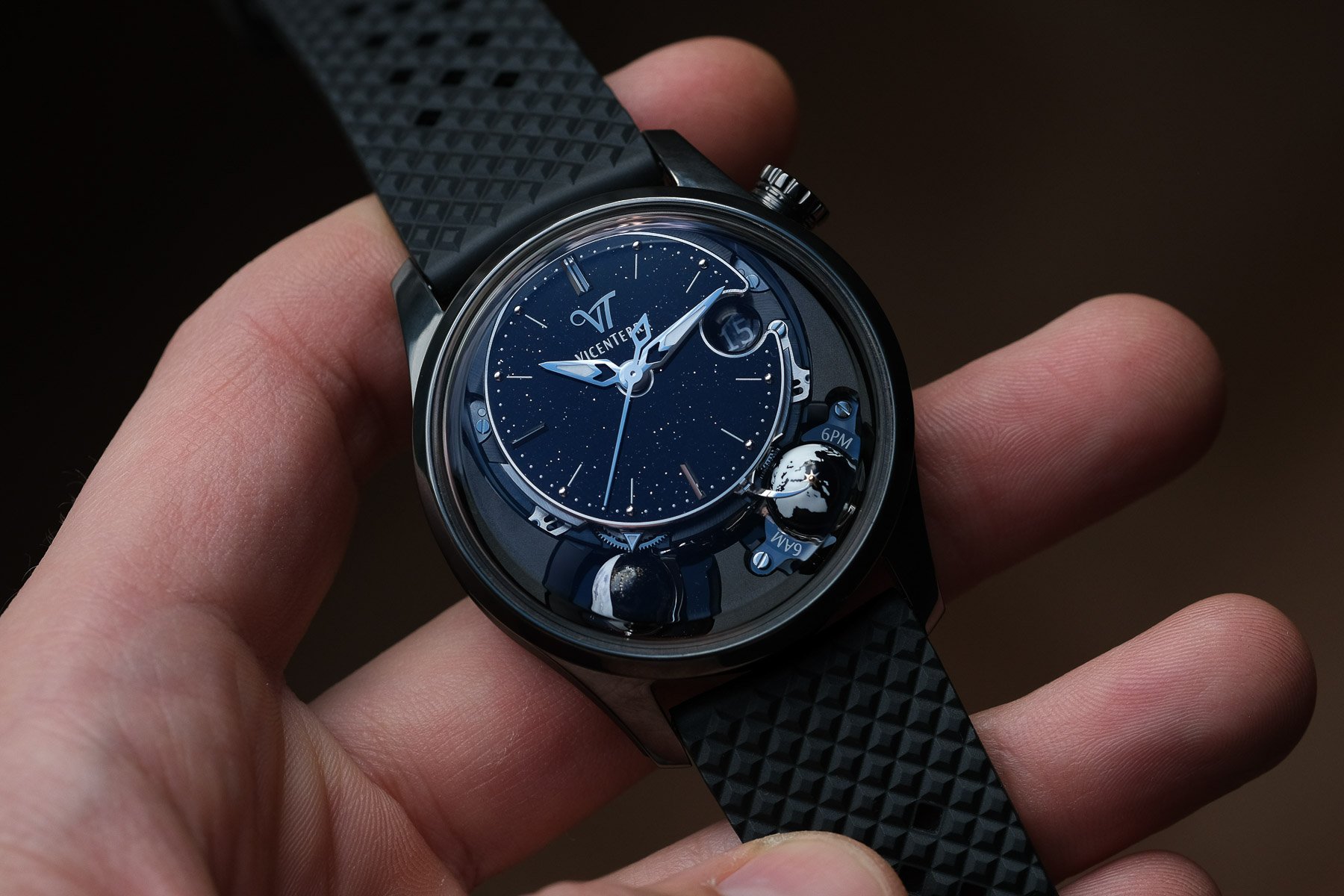 This AstroLUNA is powered by a Vaucher movement. On the paper, this caliber, along with the time, displays the date, the moon phase, and a second time zone. But as everything is poetry at Vicenterra, the GMT module is used to turn a hand-painted globe, above which hovers an 18K gold sun, indicating the place on the globe where the Sun is at its zenith.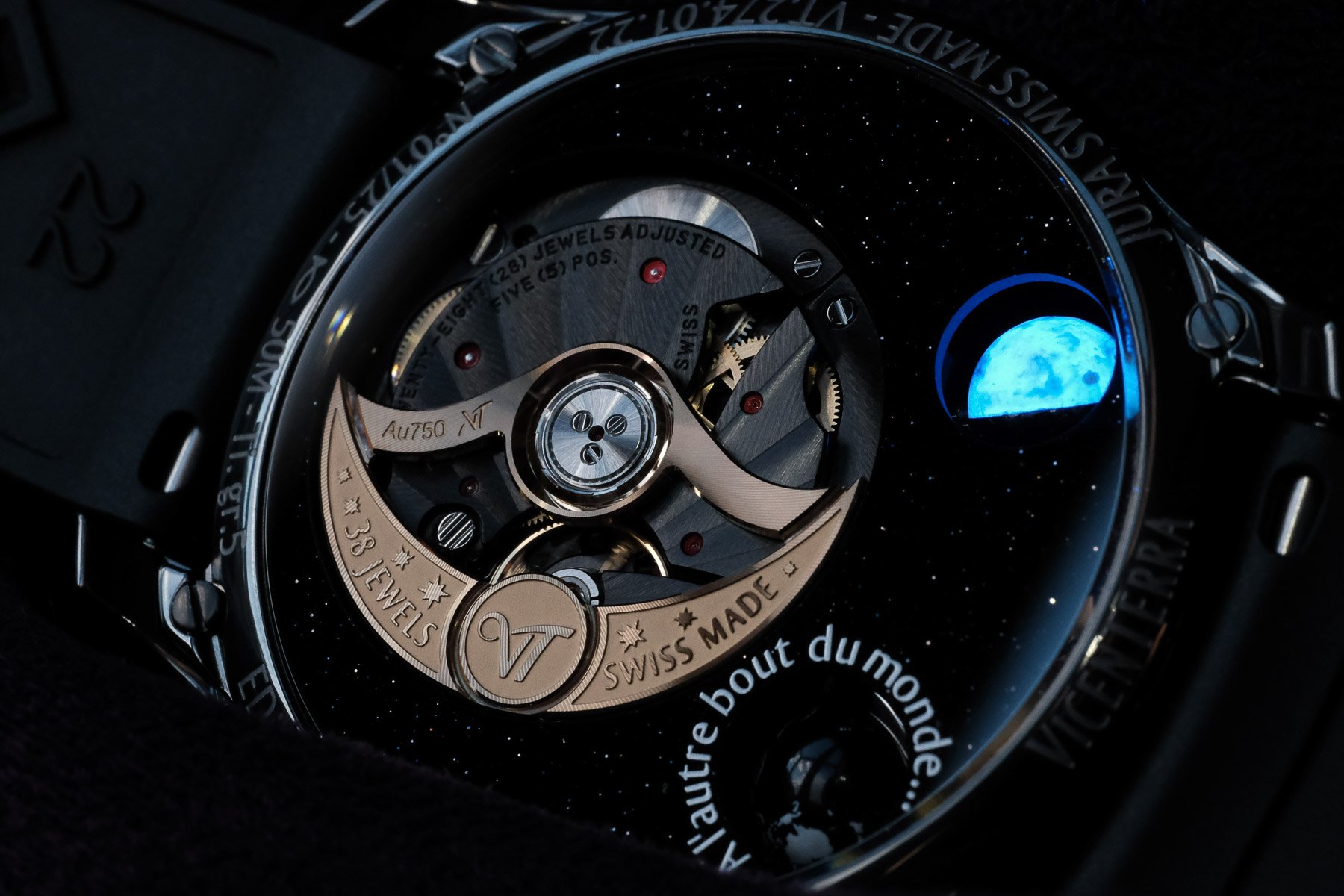 The moonphase module turns a lunar globe. The hidden side is painted black with gold glitter, and the visible side is painted in Super-LumiNova, revealing the lunar craters. Vincent Plomb, my friend, let me tell you that this is the most atypical and poetic watch that I have had the opportunity to hold in my hands.
We hope you enjoyed this story from Adrien. Tune in this Sunday for another installment of Watch Box Stories!