Watch Dating Profiles: Nordic Countries — Straum, JS Watches, And Nordgreen Want Your Warmth
Good to love good things when all goes according to thy heart's desire
The Nordic countries — Sweden, Norway, Denmark, etc. — are best known for stunning landscapes and clean, minimal design. "Scandinavian Mid-Century Modern" is a whole vibe of furniture that enthusiasts and craftspeople alike are still preserving and recreating. Then there's Ikea, inexpensive Swedish furniture that resembles LEGO in construction (but not in fun). Oh, and LEGO is Danish. But these northern countries also design and produce watches. Nordic watches from the likes of Straum, JS Watch Co., and Nordgreen range from the past to the future of design. Which one would you wear to trek amongst the fjords and volcanoes of Europe's northernmost lands?
Whether looking to the future of watch design or the past, notable brands from the Nordic countries exhibit similar clean lines and attention to detail. There's a no-nonsense approach that still incorporates fun and elegance into the finished product. Notably, Nordic watch companies are insular in that they aren't trying to compete with or emulate anything from lower latitudes. This may be a property of the terrain, climate, and/or culture. But it's something to appreciate, as we watch enthusiasts benefit from the unique things coming out of the North.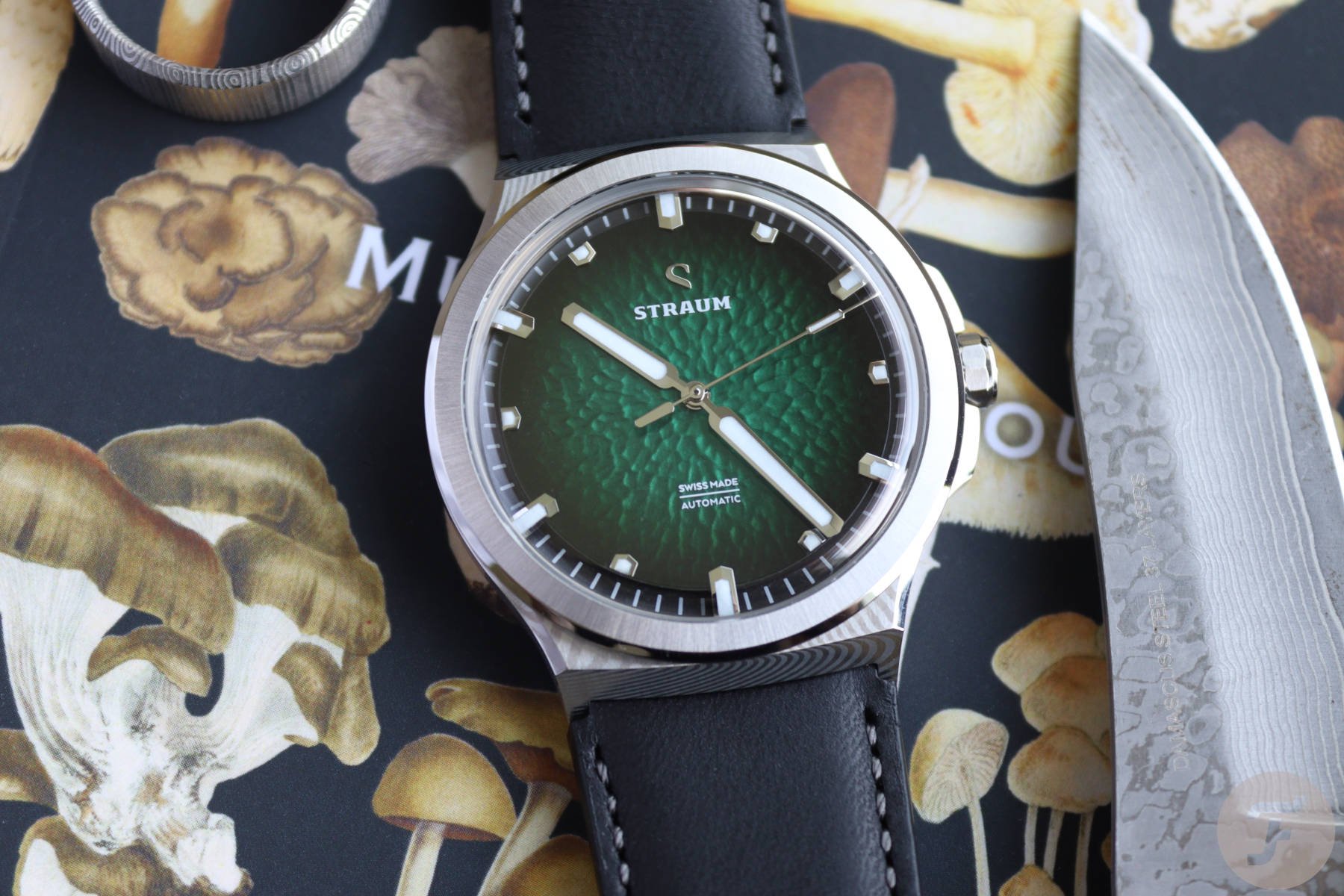 Norway: Straum Opphav Damascus
Norway is one of the most beautiful places I've ever visited. Fjords, waterfalls, and ancient stone walls everywhere — I felt like I was in a dream. The local tinned fish was excellent, and the imported vegetables pale and overpriced. The mjød was sweet, heady, and caused visions of sailing churning seas with a horned helmet and braids in my beard. It wasn't until after I was back in the hustle and bustle of California that I learned that Norway has some stunning watches as well that match the beauty of the natural scenery. No wonder, considering Straum names natural formations in Norway as major inspirations for its striking colors and dial design.
If Straum sounds familiar to you, it should. It's been getting a lot of love recently at Fratello. Rob did a hands-on review of the Opphav in April of this year, and Dave reviewed the recently released Damascus steel versions last month. The Opphav design is the only model style Straum produces so far, and that's just fine. Each run of dial color or case material is severely limited. This, in effect, focuses the brand's design to a laser point yet ensures constant variation as new editions come out. You're not going to see a bunch of people with an Opphav on their wrist on Instagram or in the wild, and that's kind of the point.
The limited nature of the models is offset by very reasonable prices. Each Damascus model is €1,050. That price includes the watch, of course, a full-grain leather strap of choice, and also a leather one-watch travel case. With an Elaboré-grade Sellita SW200-1 ticking away inside and 100 meters of water resistance, Straum delivers a watch like no other at a price lower than many similarly specced watches that look like every other.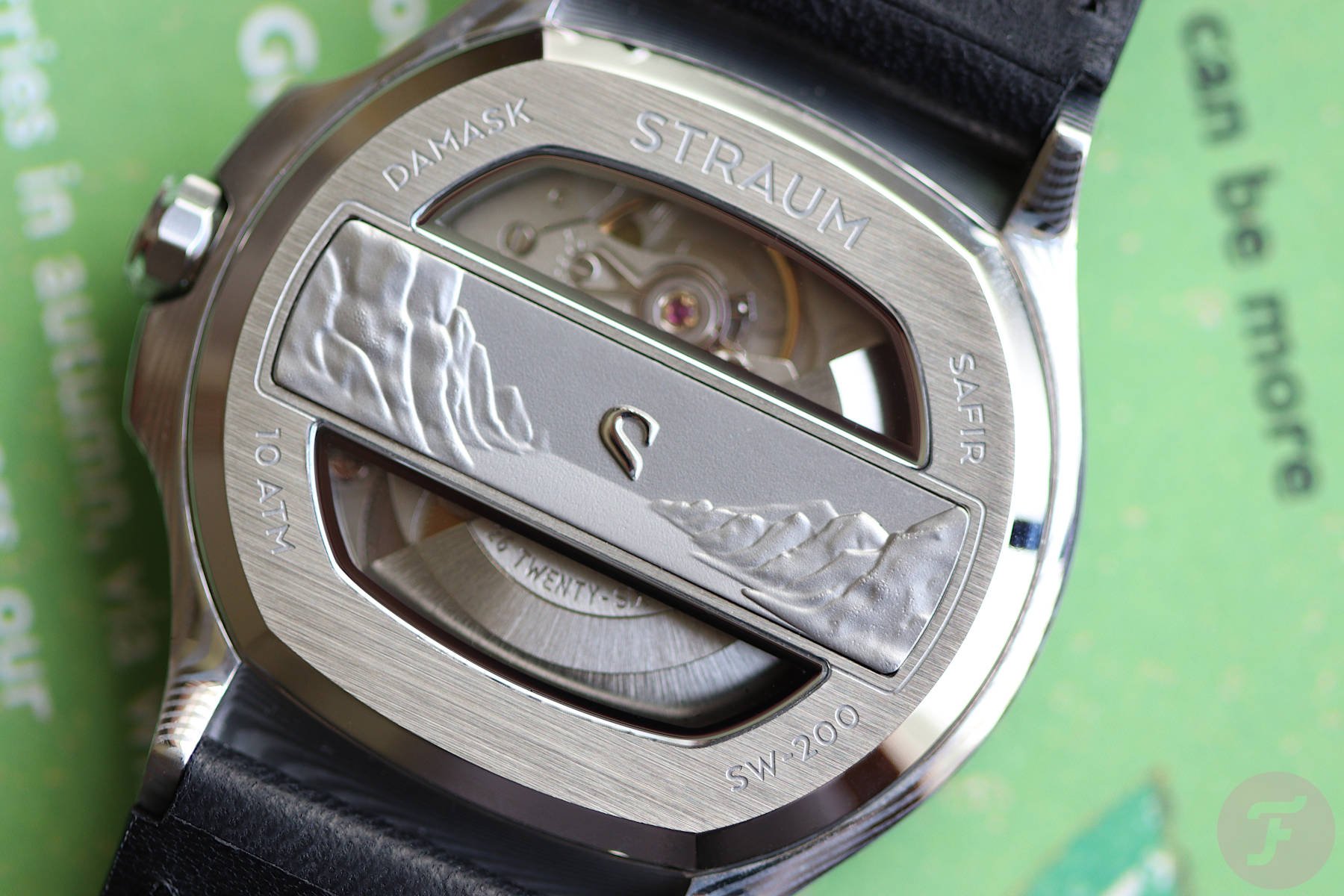 For the Viking in all of us
The Straum Opphav Damascus fills a niche. There's a blocky, wide-shouldered, and integrated strap that many other brands have become popular for. But a nice leather strap? No integrated bracelet here. The sculpted and vividly colored dials evoke, at least for me, dials from watches out of the East that cost many times more. The split engraved/see-through case back is all Straum though, as is the Damascus steel in this recent release.
At 41mm in diameter, the Opphav is meant to stand out on a wrist, as it should. The relatively short lug-to-lug of 46.6mm still lends accessibility to the slender-wristed. That's good news for me, as I'm now re-reconsidering getting one myself. And the height is only 11.1 mm. I appreciate a blocky look that isn't blocky enough to chip paint off of door frames.
The Straum Opphav is for the Viking in all of us. The watch is cool and stoic, even in bright blue or green. It's blocky and masculine as much as it's fun. It's versatile and a worthy GADA (Go Anywhere, Do Anything) contender, minus the lack of date function. The wide 22mm straps can easily be switched to your strap of preference, with two different sets of spring bar holes for the perfect fit. And at its affordable price, the only non-Viking aspect of the Straum Opphav Damascus is all the plundering you won't have to do to get it. But the limited nature of the models should inspire those interested not to wait for the ax to fall, so to speak. As the Viking-themed Capital One credit card commercials asked years ago, "What's in your wallet?" Only this time, the Vikings are asking, "What's on your wrist?"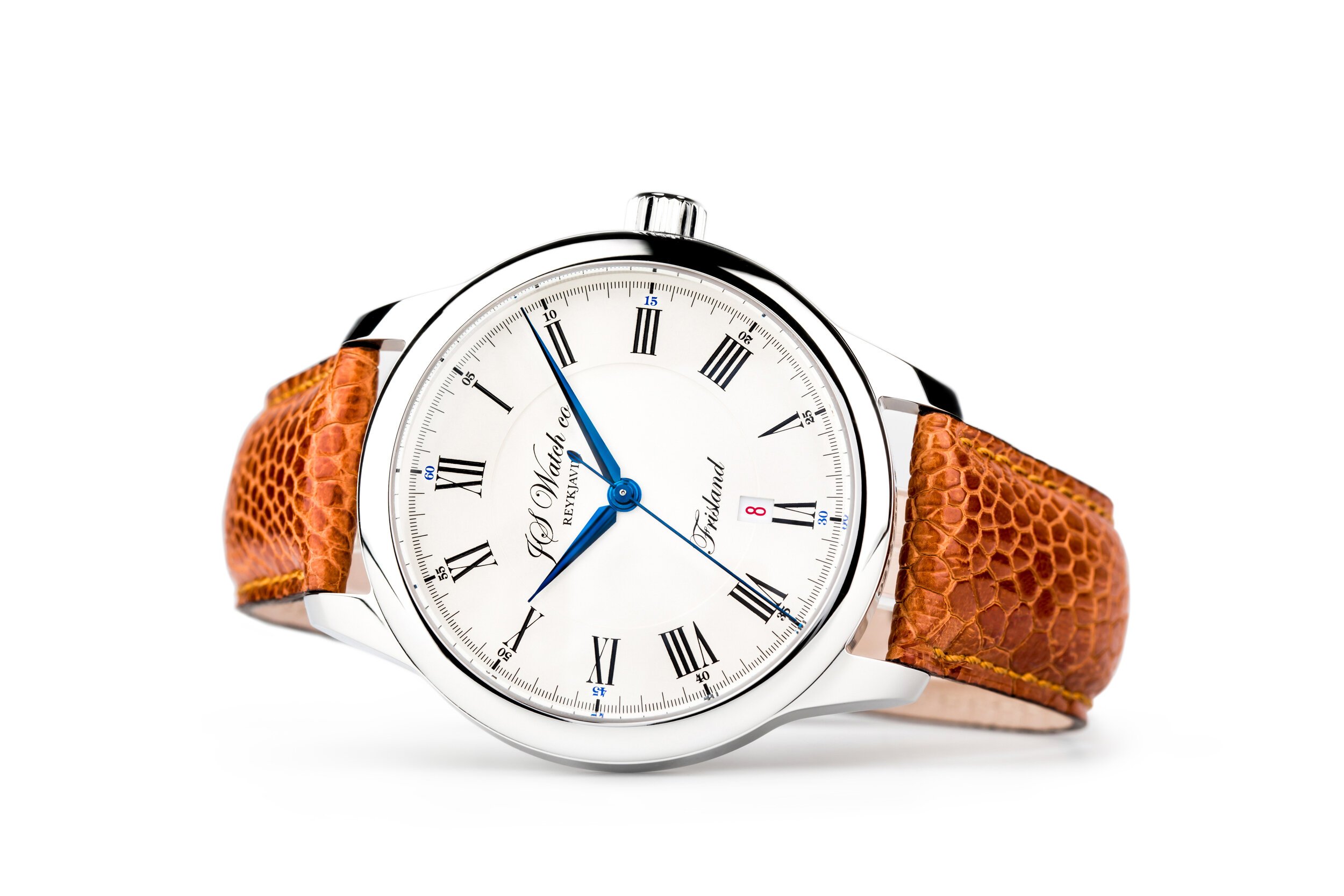 Iceland: JS Watch Co. Frisland Classic
Iceland has watchmakers. Did you know that? It's not all volcanos, hot springs, and trolls. JS Watches is a multi-generational watch brand based in downtown Reykjavik. It operates out of a small shop with a small staff, but its catalog is surprisingly expansive. There's a focus on traditional watch designs, but peppered among the Breguet hands and ivory-colored dials are some serious tool watches and artsy stunners. You'll have to check out the brand's catalog for the full spread, but it's worth it.
The Frisland Classic from JS Watch Co. is an elegant representative of the brand. At 42mm in diameter, it's a larger dress watch. The dial is silver-plated with printed Roman numerals. The blued steel lance hands lend a gothic quality to the watch. But the 50 meters of water resistance from the 316L steel case secures the watch firmly in the modern age. The case is understated and simple. The Frisland Classic is, simply, an elegant watch.
Visible through the see-through case back is a Swiss mystery movement. Judging by the rotor, it looks like a Soprod caliber. JS Watch Co. does not specify the movements it uses, only stating "Swiss Made Mechanical movement 'Execution Top'". Other editorial features on JS Watches have listed both ETA and Soprod as supplying ebauches. But specs for the Frisland Classic follow a standard 38 hours of power reserve and Incabloc shock protection. Also noted is that the movement has been adjusted to five positions and fine-tuned to "Assortment Chronometer", whatever you'd like to make of that.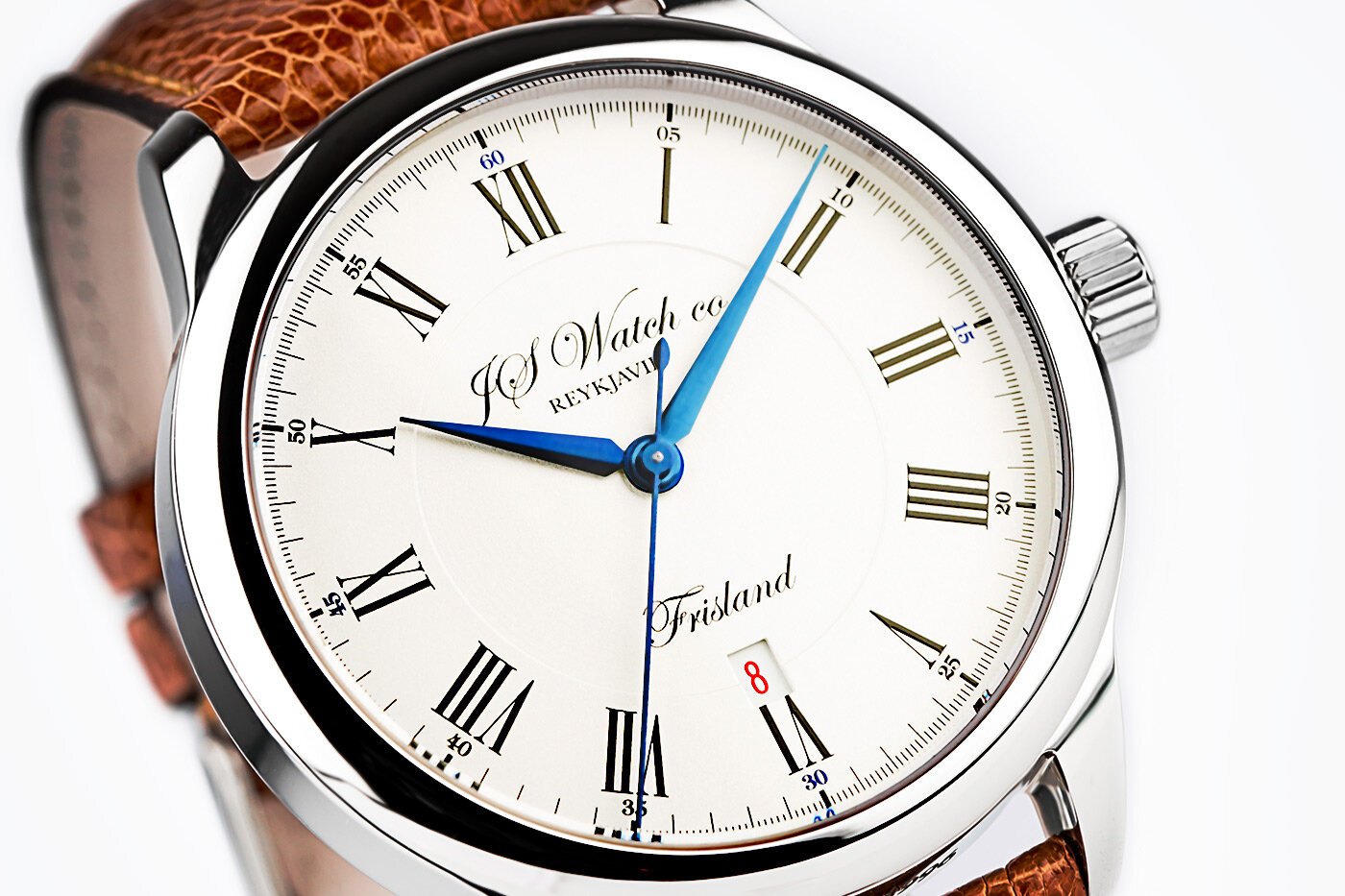 The most famous unknown watch company
JS Watch Co. does not get a lot of bandwidth from the usual watch blogs. It took a dedicated search on my part for "Nordic Watches" to discover the brand for myself, and I'm quite glad I did. But I'm hardly the first. Interestingly, JS Watch Co. has quite the celebrity following. Lining the walls of its little shop are images of pictures of Ben Stiller, Elvis Costello, and 20 other big names with the JS Watch Co. crew. For being one of the only watch companies in Iceland, it seems JS Watch Co. has cornered the market, at least with celebrity tourists. It's refreshing that such reserved, elegant watches have garnered such support from individuals that could certainly afford much more extravagant pieces. At $2,837 for the Frisland Classic, JS Watch Co. certainly isn't paying for this high-profile attention.
…you will look down and smile, knowing that you've got a watch from a small family-run shop on a volcanic island.
But I wouldn't get a Frisland Classic or any other JS Watch Co. watch because of celebrity endorsement. Like these big names, I see JS Watch Co. doing a very good job of making watches. There's no prestige and no extremes, just honest, clean design that harkens to another age. The Frisland Classic is for someone looking for "a watch" and nothing more. It tells the time, it tells the date, and it looks very good doing so on its ostrich leather strap. No one will know what's on your wrist. Only you will look down and smile, knowing that you've got a watch from a small family-run shop on a volcanic island. It may not be from Frisland, the mythical island that showed up on maps in the 1400s, but Iceland is a worthy, almost-as-mythical second.
And if the Frisland Classic is a little too normal for your tastes, or if you expect something darker and broodier from an Icelandic watch company, there's always the Frisland Goð Special Edition, with ornate engraving, Icelandic volcanic ash dial, and "Goð" in blood red on the dial. It doesn't get more metal than that.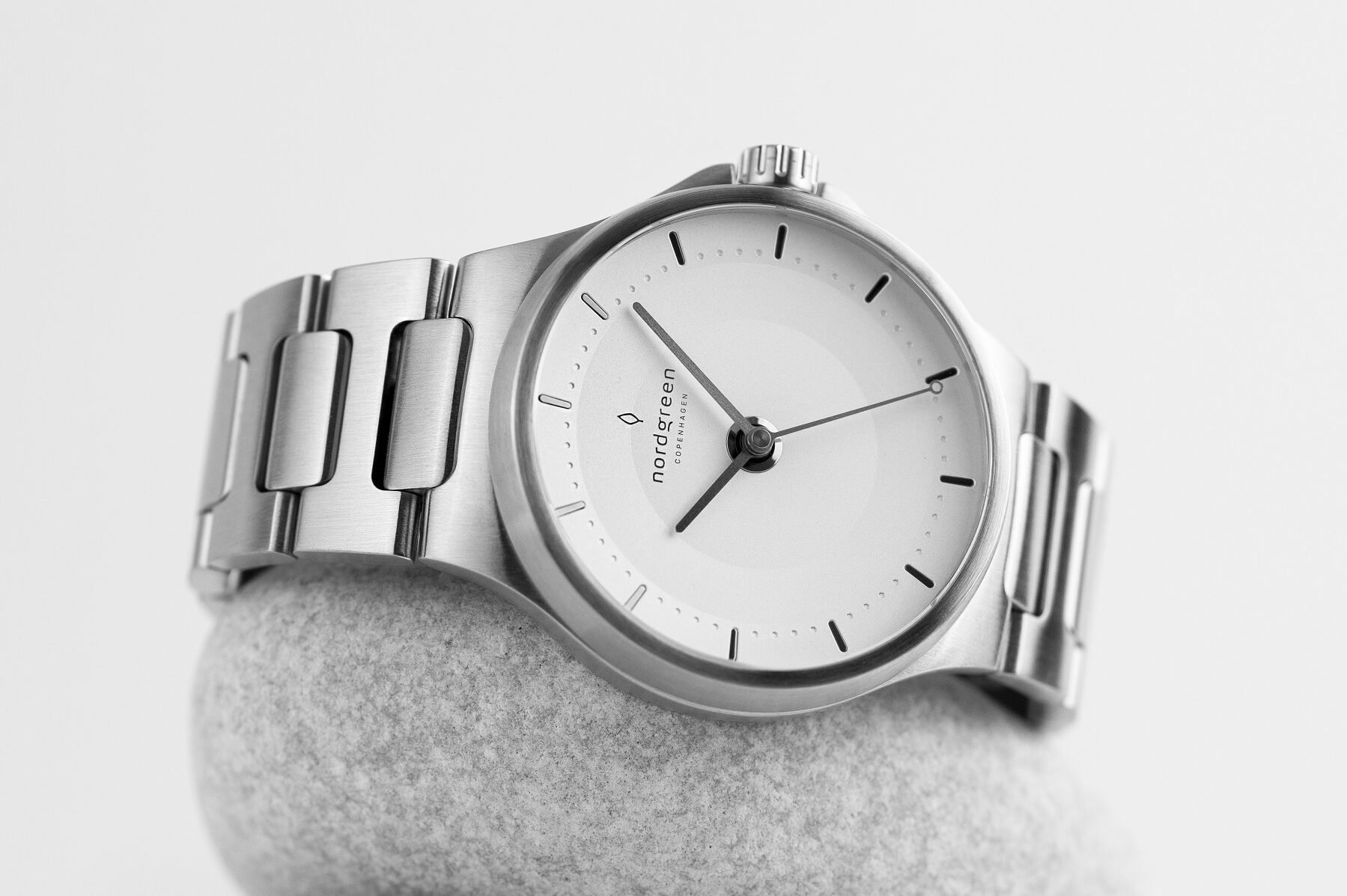 Denmark: Nordgreen Gaurdian
Nordgreen is a young company but ambitious. On the surface, it produces inexpensive fashion watches with a strong Danish design. But the company operates from a foundation of environmentally and humanitarian-oriented principles. Transparency is very important to Nordgreen, and it does an excellent job of disclosing just about everything about how the company operates and the products are made. Additionally, Nordgreen contributes to charitable causes, including providing clean water, education, and cancer treatment to those in need. It's a watch company after my own heart.
The Nordgreen Guardian is the company's flagship model. It embodies the ideals Nordgreen has about design, watches, and corporate responsibility. Nordgreen conducted a comprehensive study analyzing every stage of development for a mechanical watch and sought to create one with the smallest environmental impact. The website cheekily states that the most environmentally friendly course is to not wear a watch, but the second best is to wear the Nordgreen Guardian.
…the watch will last 100 years. With a Miyota caliber 9039 inside, it'll require a number of servicings to last that long.
It's fairly convincing. The watch case and bracelet are constructed from 85% recycled steel. All mining and manufacturing partners were individually screened to pass Nordgreen's stringent requirements regarding safe and sustainable practices. That's transparency the watch industry could use more of. Nordgreen claims the watch will last 100 years. With a Miyota caliber 9039 inside, it'll require a number of servicings to last that long. I think the argument only works on consumers not already knowledgeable about watches because almost any mechanical watch can be kept in working order for 100 years. And as we watch collectors know, owning and wearing a watch for 100 years (may we live that long) may reduce our environmental impacts, but we're not starting and stopping our watch collections with a single watch from Denmark.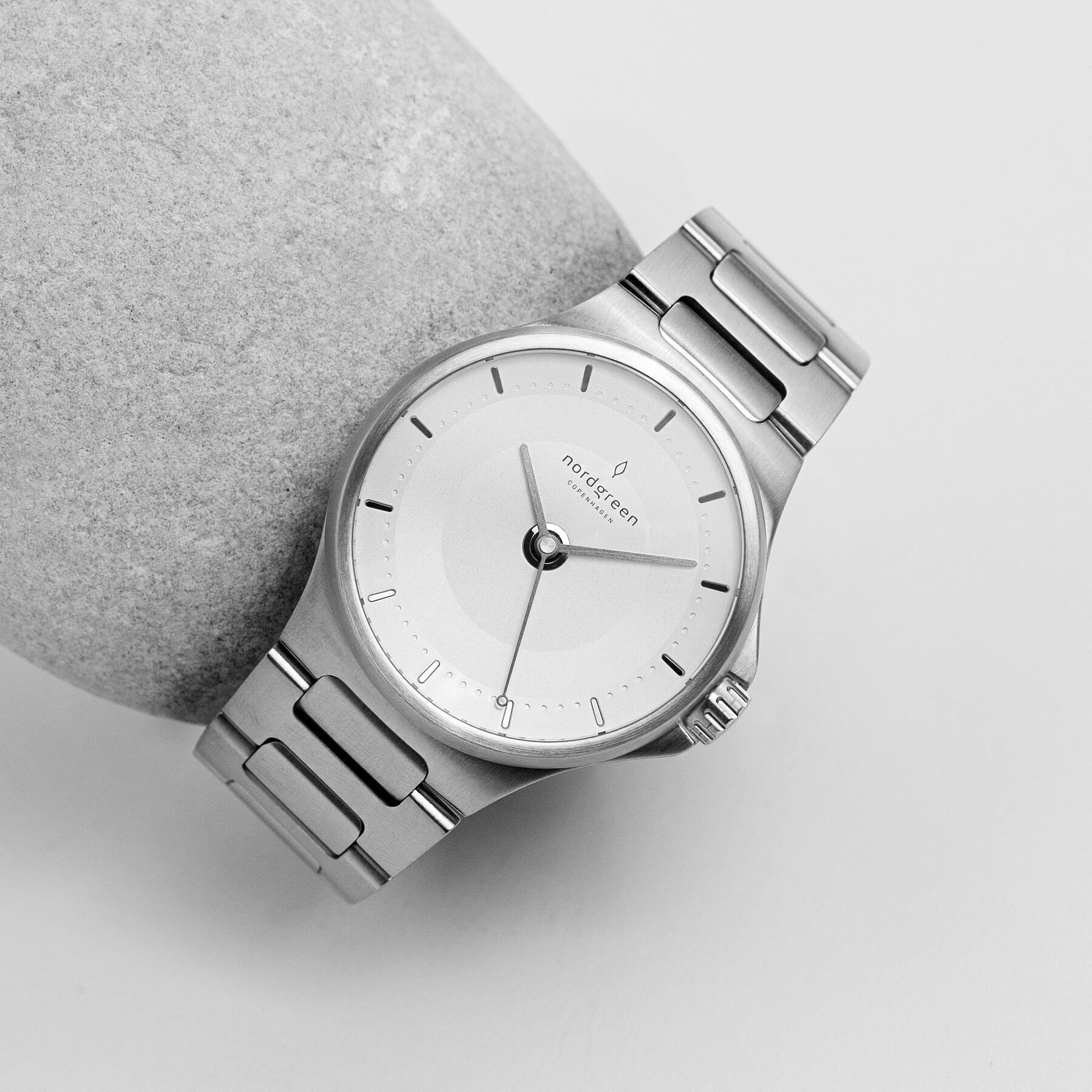 For Nordic Green Guardians
Really, the Guardian is for individuals that highly value Danish Modern Design and are austere minimalists. These qualities naturally go hand in hand. But it takes individuals stronger than me to see this watch and emphatically decide that the Nordgreen Guardian will be the one watch for the rest of their lives and into their children's lives. I think those people exist, and Nordgreen is banking on it. Regardless of whether you can tie yourself to a single watch forever, the clean design is nonetheless fun, elegant, and inviting.
With 100 meters of water resistance, the Guardian certainly could be the GADA for your one-watch collection. It's an excellent conversation piece with its striking design. As has been remarked upon in previous articles regarding sustainability, there's an argument to be made that the conversations that come from environmentally oriented watches have the potential to do a lot more work than any measure saved in the manufacturing of the watches themselves. The Guardian is ambitiously trying to do both.
A certain percentage of sales go towards charitable efforts. The Guardian ships in environmentally friendly packaging. It's designed and manufactured to feasibly last 100 years, albeit with some upkeep. You might try it if it sings to you. It costs €696, and If you end up not liking it as much as you thought and can't wear it for the full 100 years, Nordgreen will purchase the watch back from you. From there, it will either be refurbished or completely recycled. With all of Nordgreen's operations offset to achieve carbon neutrality, it would kind of be like the watch never existed at all. For everything we leave behind in our wakes, it's not a bad thought to know a watch might one day return to nature, as complex a process as that may be.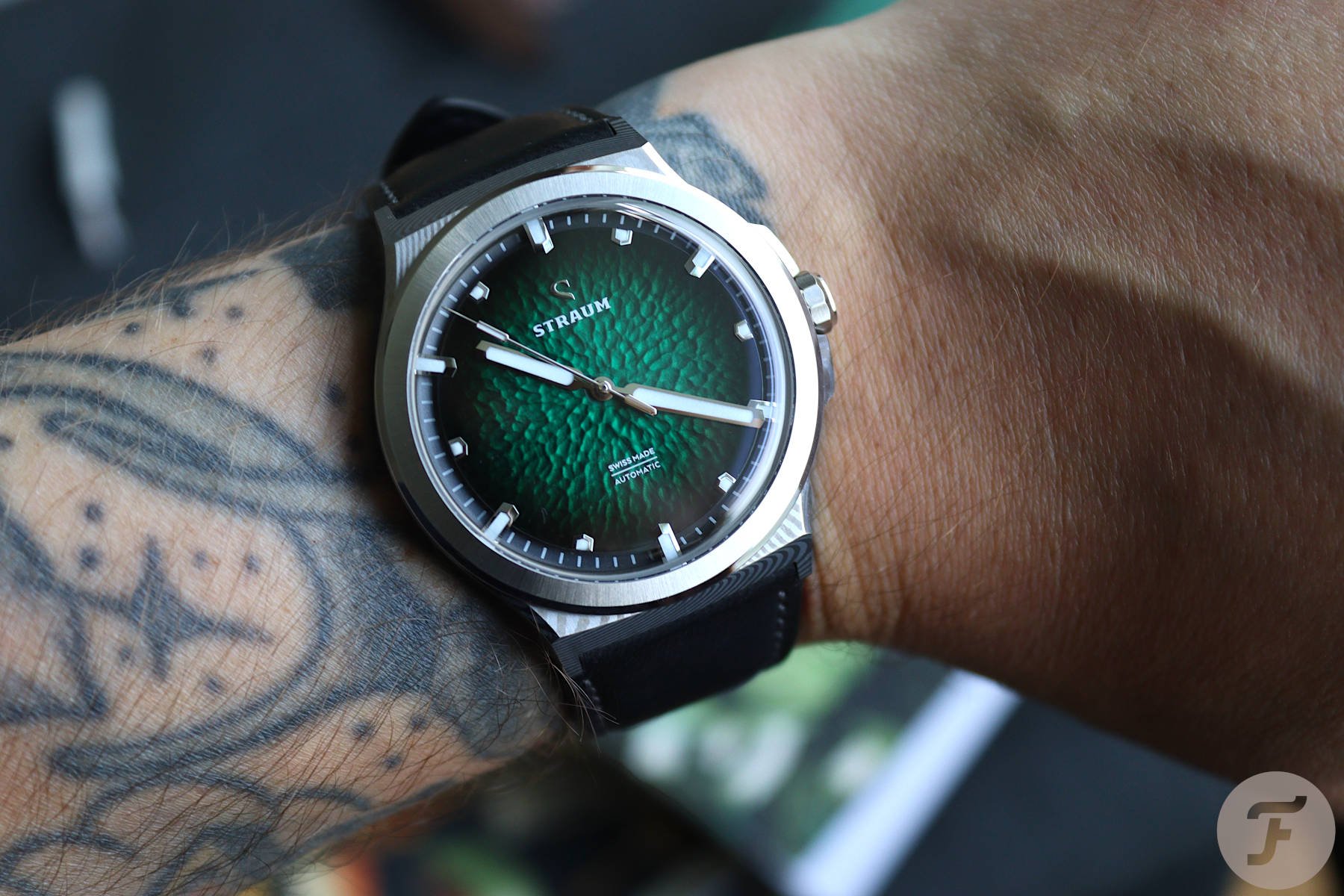 Nordic ways to tell the time
There you have it — three watches, three countries, and three very different approaches to design. I'm honestly surprised that Nordic countries don't have a stronger watchmaking presence. You would think, with the strange qualities natural daylight takes throughout the seasons at the highest latitudes, that telling the time would be imperative for everyone north of 66.56° latitude and nearby. I remember in Norway how important it was that we all got out and soaked up the few hours of winter sun we could get every day. Then it was back to the fire, the food, and the mjød. And for as long as winter nights last, I imagine it would be the perfect setting for cottage-industry clock and watchmaking.
But I'm not snubbing the options available to us. In fact, all three watches I've presented here are ones I could easily see myself buying for myself in the future. Unfortunately, I'm on the road to becoming an austere minimalist myself. So it may just have to be the Nordgreen Guardian.
But what about you? Which of these three do you like and why? What other brands from Northern Europe should we know about? Let us know in the comments. If you want to know more about Straum, JS Watch Co., or Nordgreen, visit their official sites.
You can find more of me on Instagram @watchingthomas.