The Casio G-Shock MR-G MRG-B2000BS-3A "Hana-Basara" Is the Hardest G-Shock Yet!
Celebrating MR-G's 25th anniversary in extraordinary and exuberant samurai style
Due to its use of the hardest kind of titanium as well as COBARION (more on that later), the Casio G-Shock MR-G MRG-B2000BS-3A "Hana-Basara" is the hardest G-Shock yet. This limited edition watch of 400 pieces celebrates the 25th anniversary of Casio's Flagship G-Shock collection. And it does so in a colorway that finds its origin in the Samurai of feudal Japan. The "armor" of the new MR-G is inspired by the boldest, most artistic, and exuberant of samurai, the Basara Busho. By the looks of the watch, that must have been a very colorful bunch.
Maybe it's a good idea to go through all the unfamiliar terms before we take a closer look at this hard and colorful limited edition MR-G. The term "hana-basara" stands for bright and gorgeous (hana), and cool and unconventional (basara).
The Japanese word "basara" stems from the Sanskrit word "vajra" meaning diamond.
The concept of hana-basara is to go your own way, to not follow the crowds, but to wear what you wanna wear, do what you wanna do. And also to think unconventional thoughts, and take pride in doing so. The Japanese word "basara" stems from the Sanskrit word "vajra" meaning diamond. Any convention just shatters on something that is "basara". Well, that's how Casio sees it anyway. The MRG-B2000BS-3A "Hana-Basara" could also be hard to look at if you shy away from a mix of green, brown, red, and gold alloys all in one watch. But if you do, you're definitely not hana-basara anyway.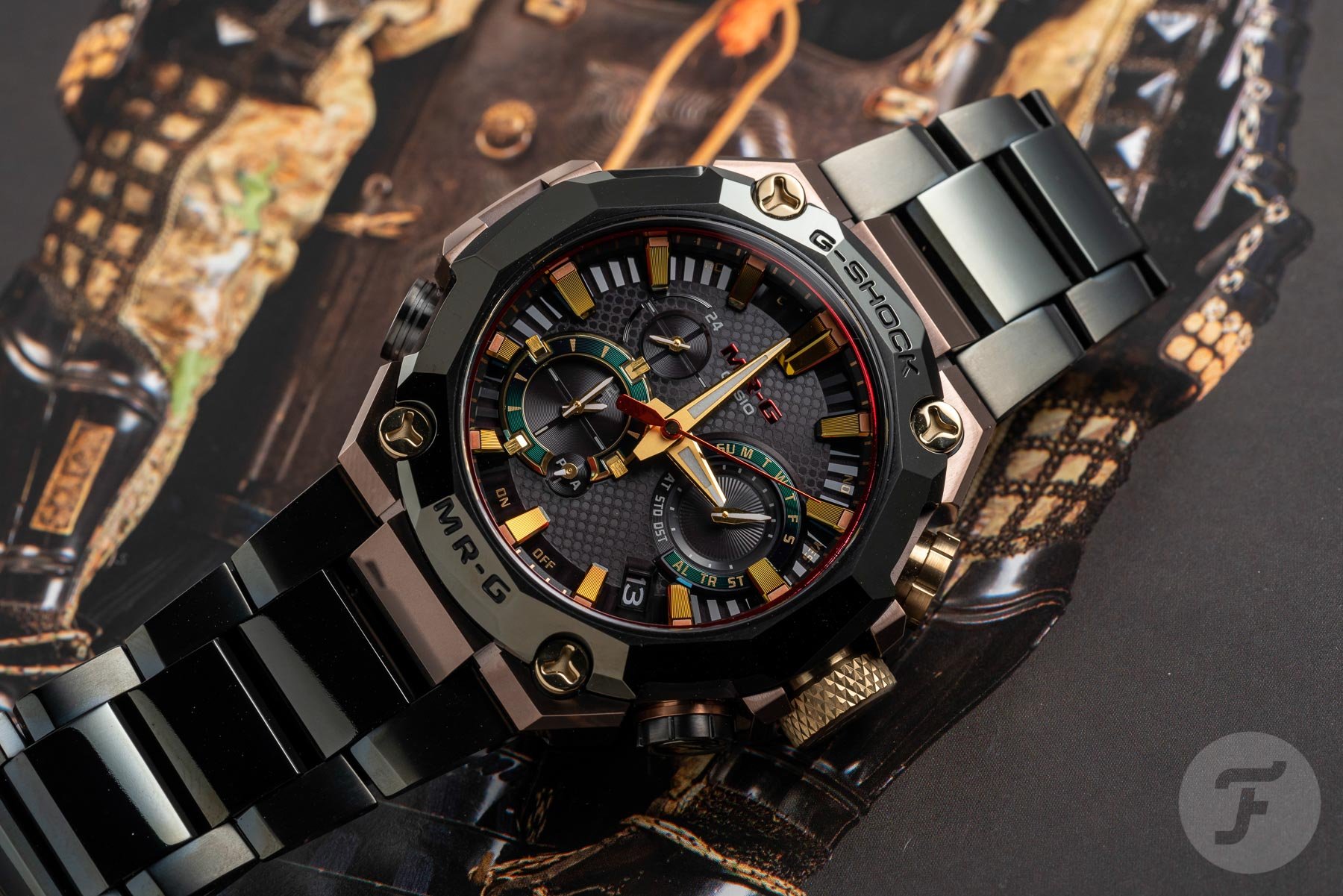 The hardest Casio G-Shock MR-G yet
Besides the idea of hana-basara, there's also the Japanese word "kurogane-iro". Also related to this MR-G. "Kurogane" translates to "black metal" or iron and "iro" which means "color". Kurogone-iro is the green hue of black metal, Casio mimics by using a new dark green DLC on the bezel. That bezel is made from a material called COBARION, an alloy based on cobalt and chromium developed at Tohoku University and Eiwa Co, LTD. COBARION is about 4 times harder than titanium and shines (almost) like platinum.
He fine-tuned a process that took him a life-time …
The high hardness of the COBARIUM is one reason why the green DLC looks so shiny. The other reason is Kazuhito Komatsu. Master gem-cutter Kazuhito Komatsu cut and polished each of the 400 a-symmetrically signature bezels individually by hand. He has spent a lifetime fine-tuning the process that has now become his signature. And needed all his skills and experience to be sure, because of the extreme hardness of COBARION. The shapely result is a metal polished to perfection. The mid-case and bracelet use the hardest known titanium, DAT55, a Japan-made alloy that is three times harder than regular titanium and is also used in golf clubs for instance. Casio also put a new brown AIP (Arc Ion Plating) on it to match the green DLC.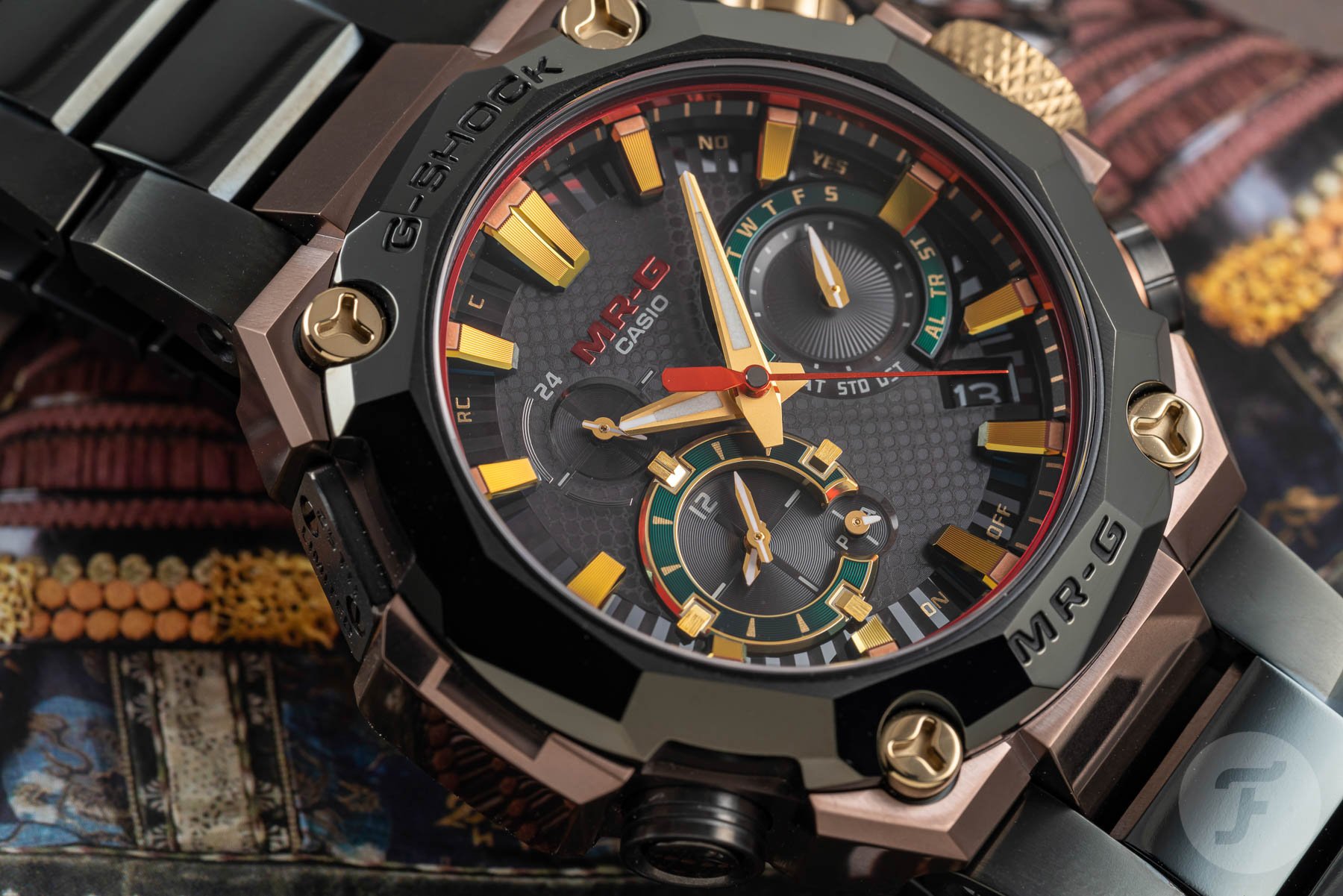 The way of the flashy samurai
The look of the MRG-B2000BS-3A Hana-Basara is inspired by samurai body armor. But not just any armor. Casio commissioned a one-off suit of armor from Suzukine Yuzan. What he made was a shiny and green, brown, gold, and red suit of samurai armor. It also had the shape of the watch's bezel incorporated in the helmet. The look is hana-basara because it refers to Basara Busho samurai commanders who rebelliously broke the rather dreary conventions by dressing up in bold and lavishly colorful body armor. The way of the flashy samurai can now be re-lived by wearing a wrist-sized gem.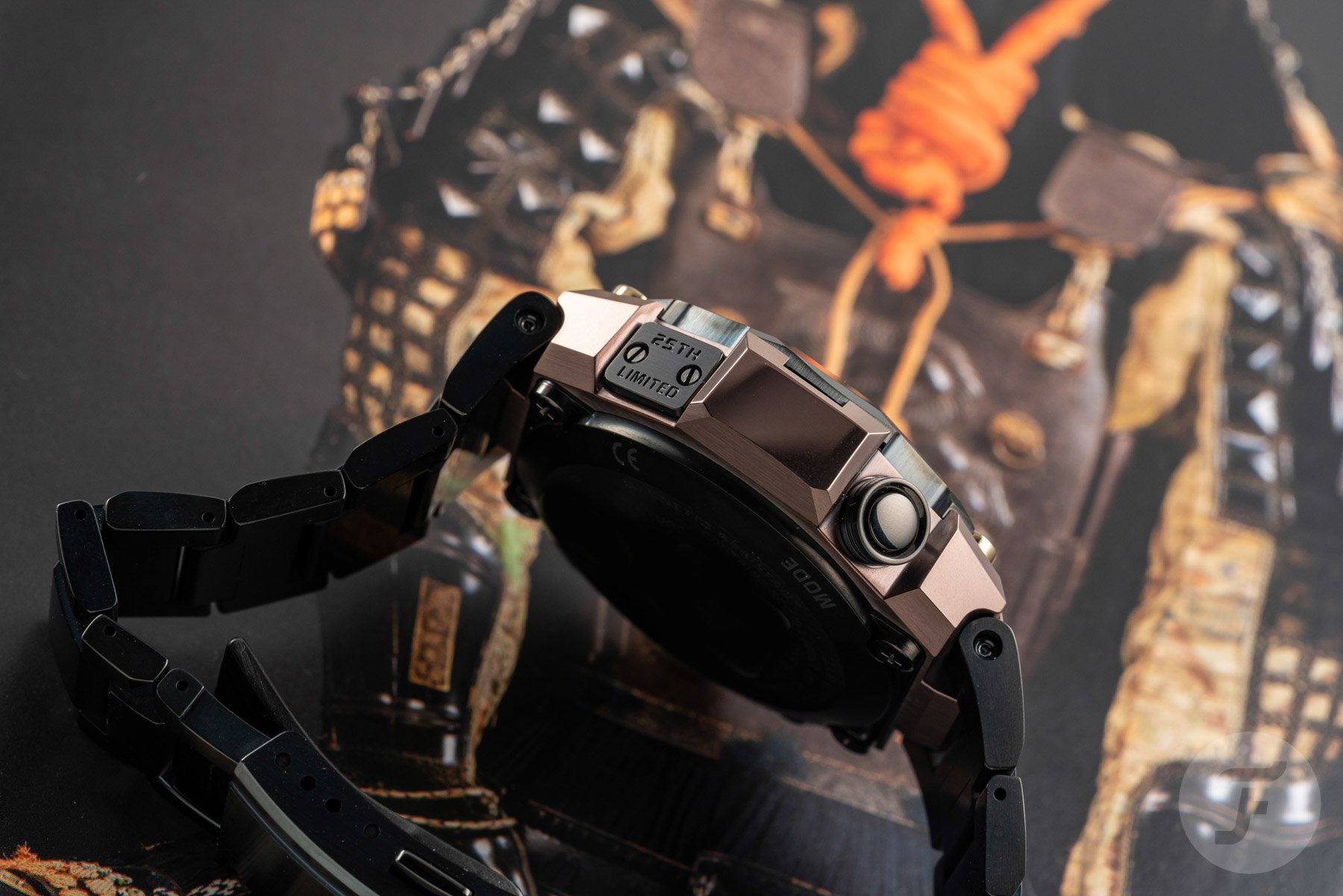 Craftsmanship before taste
Whatever your personal taste may be, the MRG-B2000BS-3A Hana-Basara is an undeniable masterpiece of craftsmanship. Casio began blending ancient Japanese crafts with their watches when they introduced the 20th anniversary MRG-G1000HT Hammer Tone in 2016. That watch had a titanium bezel and bracelet that was decorated with a tsu-i-ki finish hammered in by master Bihou Asano. Later came the MRG-G2000HT with a different kind of hammer technique called kasumi-tsuchine. Even if you don't like the exuberant look, the build quality and level of finishing of these watches are most impressive. And the same applies to the colorful and radiant "Hana-Basara" that shines bright and reflects light like a multi-faceted diamond.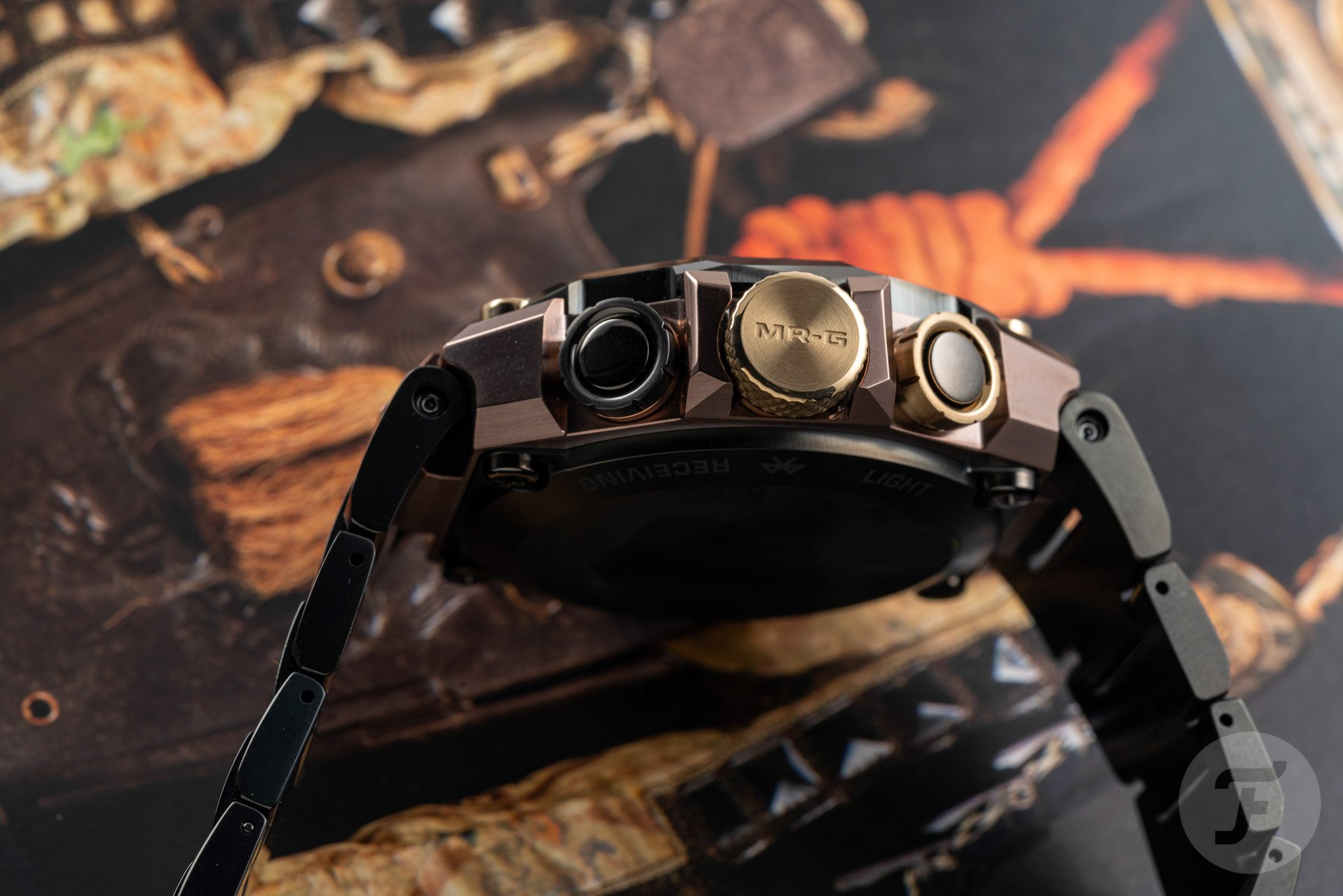 Shiny and all the functional bells and whistles too
Underneath the shiny exterior, the fully analog MRG-B2000BS-3A Hana-Basara has all the bells and whistles you would expect from a top-end G-Shock. So what you get is a Triple G Resist solar-powered quartz movement with Bluetooth, which communicates with the G-Shock app in your iPhone or Android smartphone. I said it before, and I will say it again; it works like a charm.
… the watch won't lose track of time, because of the built-in Multiband6 receiver that can reach out to one of six atomic timekeeping stations …
The technique makes sure the watch automatically syncs the time, and it makes adjusting all the other settings a piece of cake. You don't have to fumble with the watch, you can do everything on the screen of your phone. And if your phone is not around, the watch won't lose track of time, because of the built-in Multiband6 receiver that can reach out to one of six atomic timekeeping stations located around the world. Other features worth mentioning are LED light (Super Illuminator), the auto hand home position correction, and the full auto-calendar to the year 2099.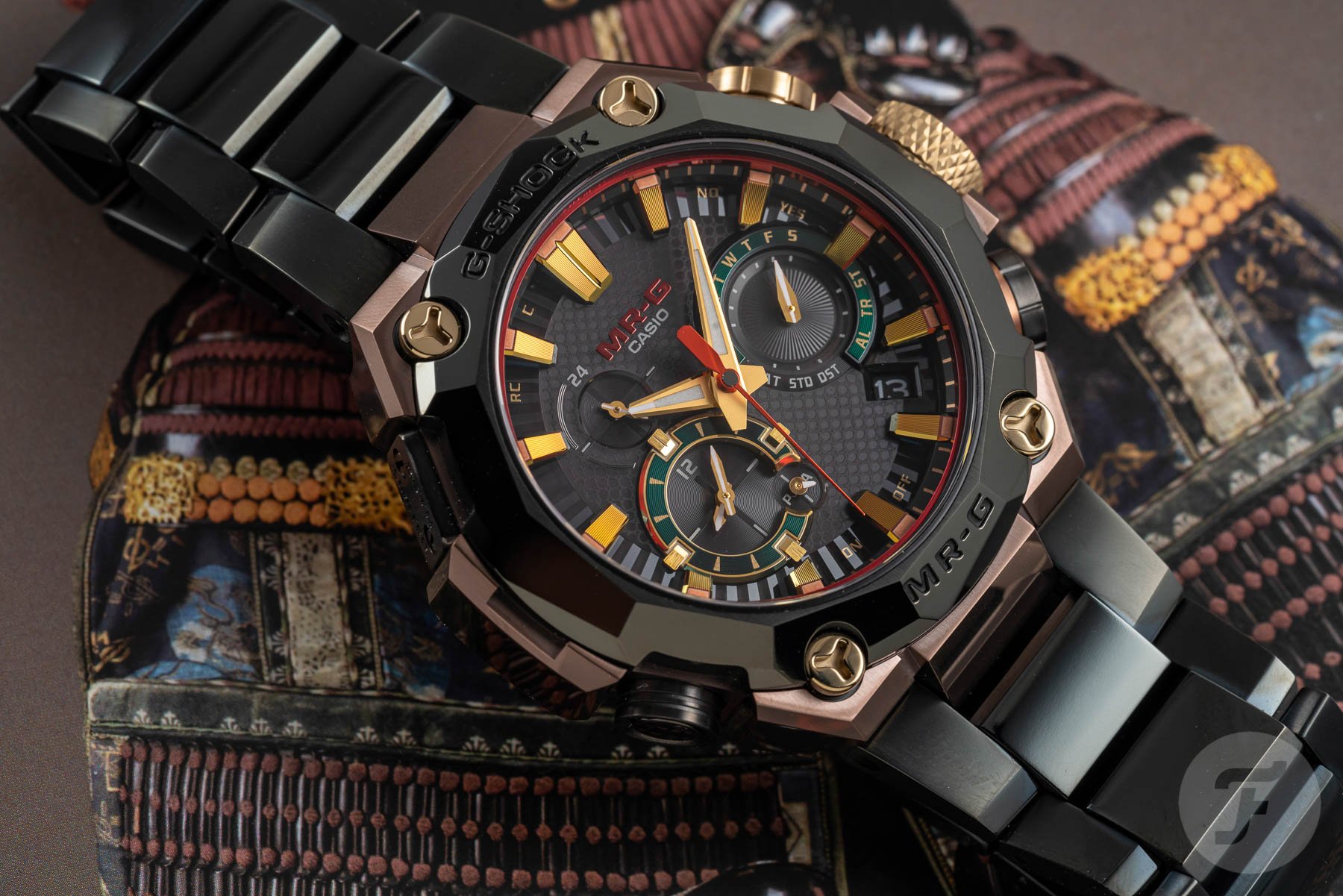 163 grams of technical and artful craftsmanship
The great thing is with a watch like the MRG-B2000BS-3A Hana-Basara is that it is a style statement and a practical tool watch at the same time. And the use of materials and the build quality are top-notch too. What Casio has put into this 49.8 × 16.9 mm, 200 meters water-resistant watch that weighs just 163 grams, is truly impressive. A lot of effort, state-of-the-art digital tech, new materials mixed with ancient craftsmanship, and design ideas that is. The final product is an impressive piece of uniquely Japanese horology. A polarizing watch, for sure, but let's face it, a 25th anniversary MR-G was never going to be bland!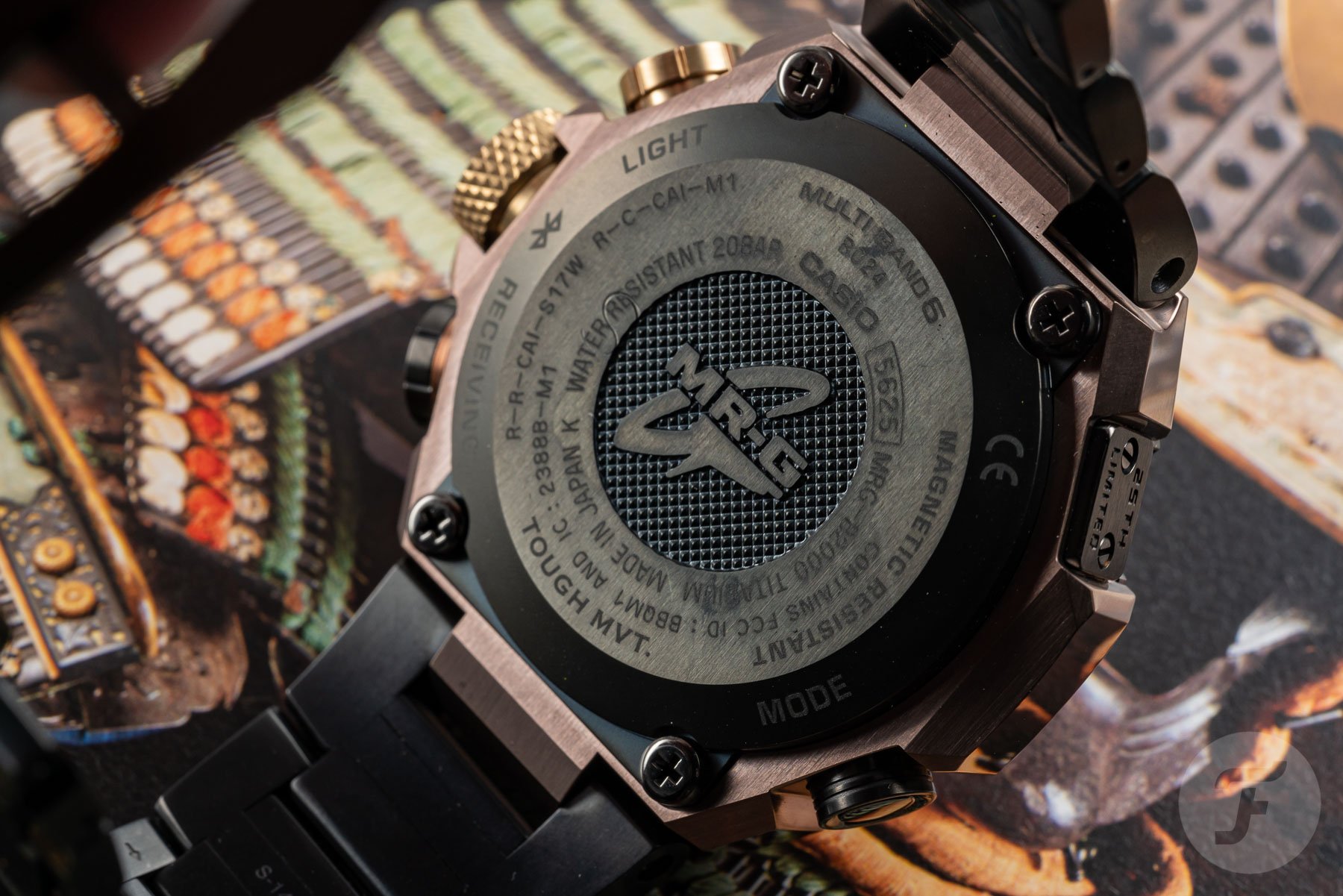 A samurai in a T-shirt
Although the Hana-Basara is not as bright as the MTG-B2000PH2A "Blue Phoenix" we all adored at HQ, it still outshines that rainbow-like creature IMHO. And that's because of the bezel. That bezel is a stunning piece of artful craftsmanship. What is also good is that once you wear the watch, it's not as extravagant as when you hold it in your hand or see it in pictures. Sure, it's still big and also a bit bonkers, but it sure is wearable. Both in a lot of places and with different kinds of clothing styles. This "samurai" will look good in a T-shirt, with a long-sleeved shirt, and in full body armor, but that really goes without saying.
Made in Yamagata
If the overall looks of the Hana-Basara are not convincing you that it's something special, underneath the anti-reflective sapphire glass you can read "25th LIMITED". The engraving at 10 o'clock on the dial reminds you that the MRG-B2000BS-3A Hana-Basara commemorates a quarter-century of MR-G watches. And as you might have noticed, I haven't mentioned the price yet.
… the price is proudly and confidently presented to you by a fearless samurai.
The "Hana-Basara" has a price of €7,400. "That's pretty expensive for a G-Shock" I hear you say, but please remember this MR-G is not a mass-produced standard watch. Very far from it. The €7,400 price tag compares with the other "Made in Yamagata" MR-G limited editions that showcase different kinds of Japanese craftsmanship. In other words, the price is not a sneak attack from behind, instead, the price is proudly and confidently presented to you in the fearless manner of a true samurai.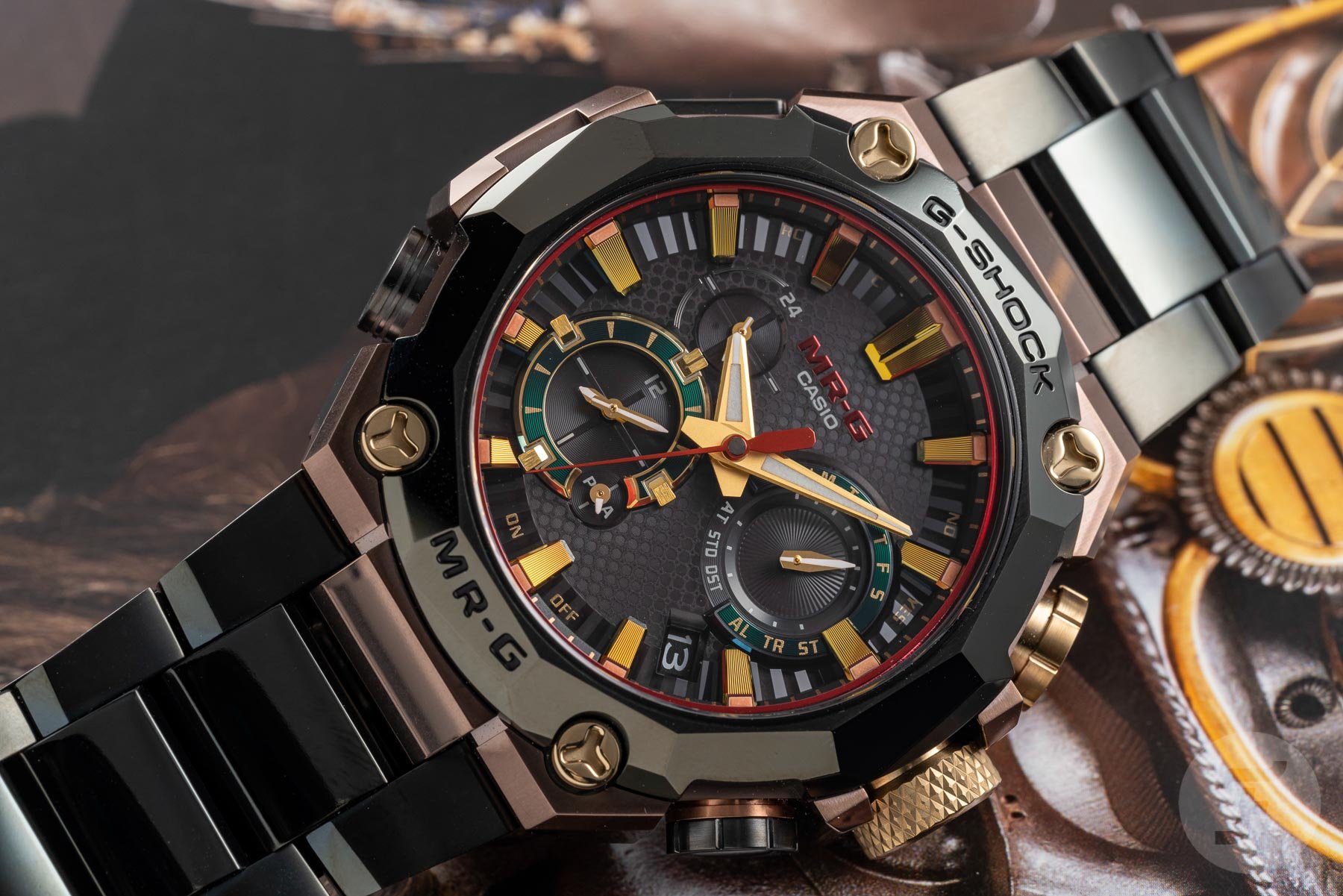 Reaching new levels
So, if you're looking for something completely out there, something truly unconventional, and if you're ready to tap into your self-assertive Basara Busho heart, the MRG-B2000BS-3A Hana-Basara is the watch for you. Jorg wrote in his review of the "Blue Phoenix" that it's "the next level". He was right, but also wrong because he hadn't seen the Hana Basara yet. The Hana Basara reached that particular level with great ease then skipped a few levels, and has now reached completely new heights.
Find out where to track down one of the 400 MRG-B2000BS-3A Hana-Basara samurai watches here.
Please find and follow me at Lex Stolk • Instagram
This is a preferred position post. Learn more.