Watch Strap Review 49 — Geckota Straps by WatchGecko
Strap, accessories and watches all in one place
If you reside in the UK, chances are you already know about WatchGecko. And if you've heard of WatchGecko, you've likely come across Geckota too. WatchGecko is a site dedicated to everything watches. This includes news and videos but, more prominently, accessories under the brand name Geckota.
Although I thoroughly enjoy their YouTube content, the one thing that keeps pulling me back to their site their insane selection of straps. Today, we will take a closer look at some of those from Geckota's massive lineup.
WatchGecko/Geckota
Tim from WatchGecko and I have been talking for quite some time now. Not necessarily about this article but just watches in general. Me doing a piece on their brand has been in the pipeline for a long time also. Finally, in early January, it was time for us to make this happen. So, Tim went to work, and despite Covid, Brexit, and the lovely people at German customs, he managed to get a parcel to me within 24 hours.
As I mentioned above, WatchGecko offers a large variety of straps both from Geckota (their own brand) and other companies. As I wanted to give you an overview of their selection, we will look at five diverse straps from leather to rubber. It is also worth mentioning that under the Geckota brand name, the company sells various inexpensive watches. Today we'll focus on the straps, though.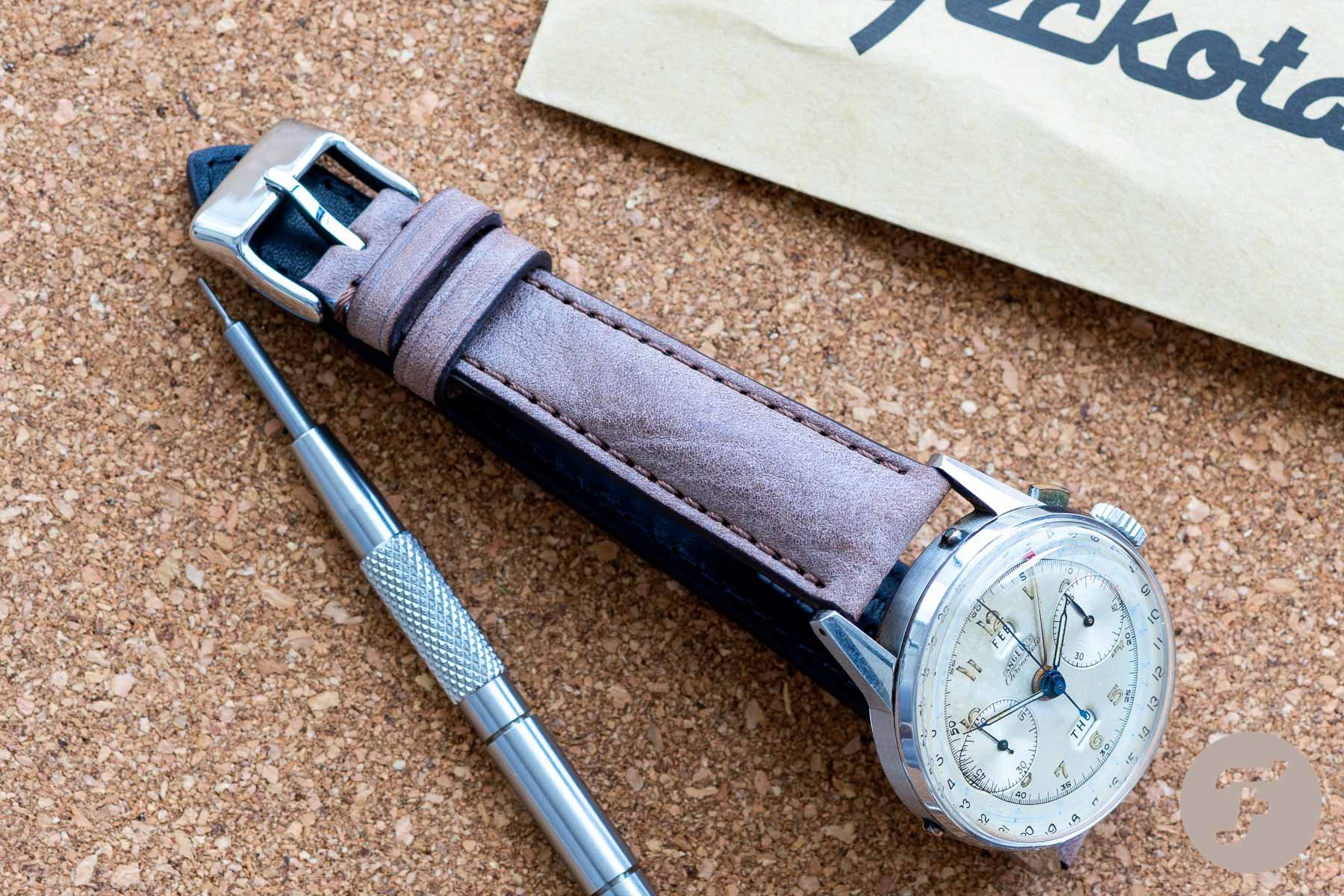 Geckota Vintage Highley Leather Strap
Let's start with the leather straps. I received two of these in the parcel, both different in size, color, and design. The first one is the Geckota Vintage Highley Leather Strap in 20mm. Aside from this measurement, you can order it also in 22mm and seven colors. Mine is the so-called dusty grey, an excellent and versatile option that fits most watches. This is one of the most popular Geckota models, and I can see why. The length is standard (125/75mm); the buckle can be 16 or 18mm. While offering options is key to a successful product, this is not the reason so many love the Highley. It is a combination of the Italian natural leather grain and the padded design. 
Despite the padding, the strap does not feel stiff at all. I put it on my vintage Chronodato and instantly fell in love with the look.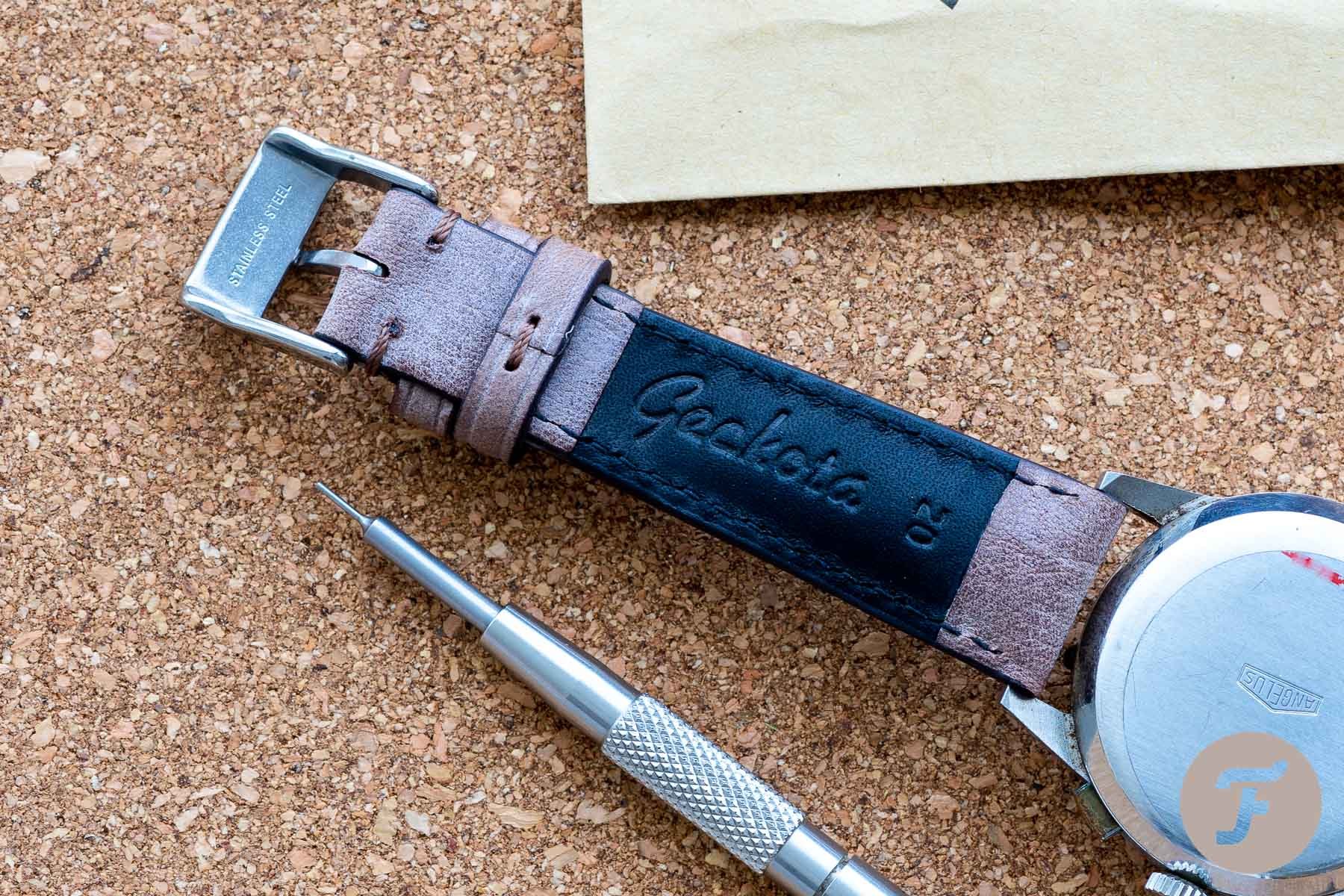 As you can see by the photos, the quality is there, the leather feels soft but sturdy, and the black lining matches the strap. Geckota asks €44.99 for this strap, which is a fair price for what you are getting, in my opinion. Not to mention that thanks to the seven colors, you can find one to suit virtually any watch.

Geckota Besford Premium Leather Strap
While the Highley Leather Strap was a refreshing piece, my favorite of the bunch is this one: the Besford Premium Leather Strap. It is nothing extraordinary really, but a beautiful, handmade vintage style strap. The kind that every watch fan should have in their collection. The strap works well with any watch, be it modern or vintage. I paired it with my Omega Jumbo, and the look was just perfect. My strap came in a chestnut color, which might look brighter on my photos than on the site.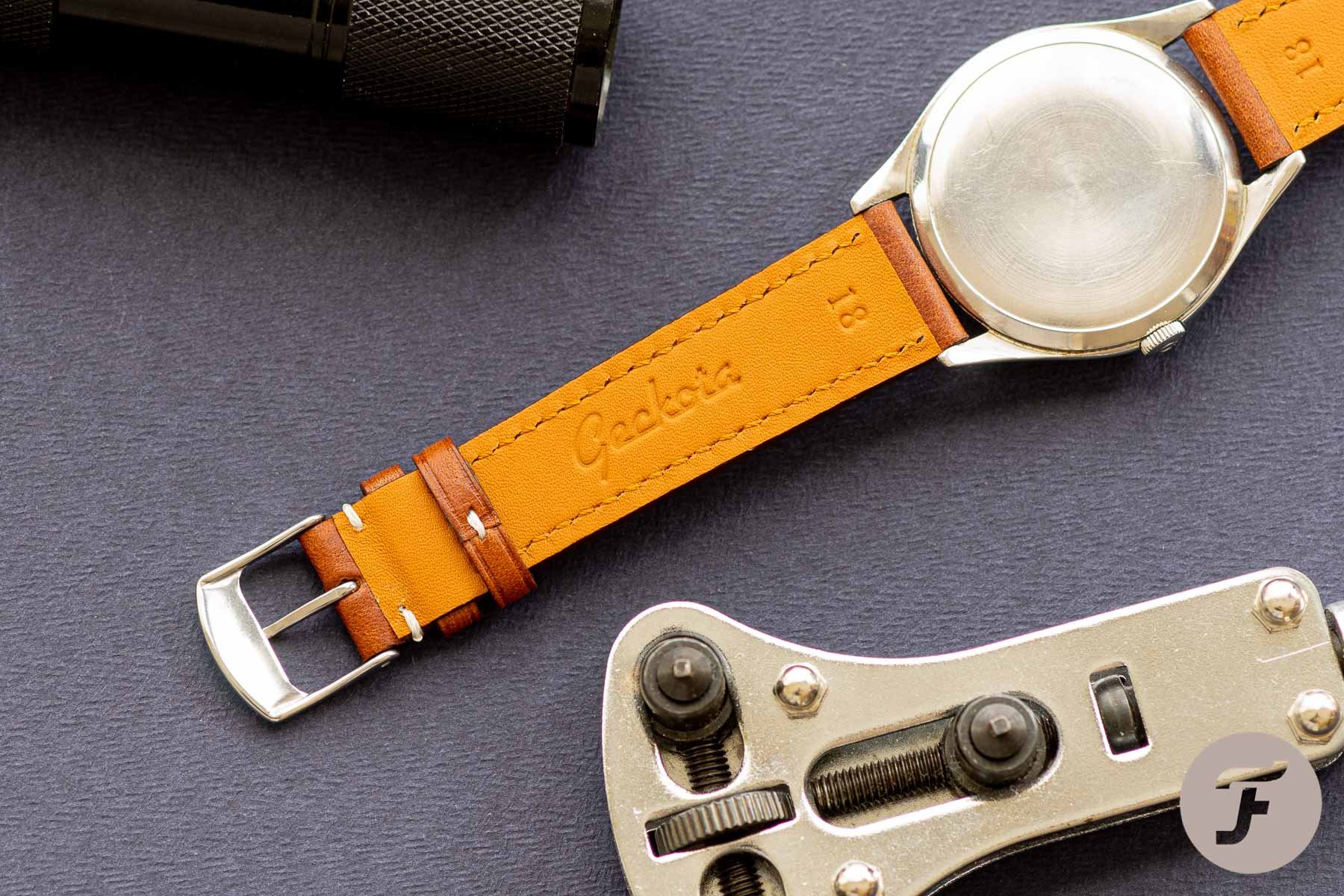 You can get the Besford in six colors, from orange to teal. There's a very subtle tumbled leather pattern on it, side stitching, and double keepers — just like the Highley has. Geckota offers this in 18, 19, and 20mm, but all come with a 16mm buckle making the Besford nicely tapered just how a vintage strap should look like. The leather is soft; you won't need a break-in period. This strap is shorter (115/75mm) and thinner than the Highley, so I'd pair it with vintage pieces, but I'm sure it looks the part on modern watches too. For a price of €53.99, this is still in the affordable category.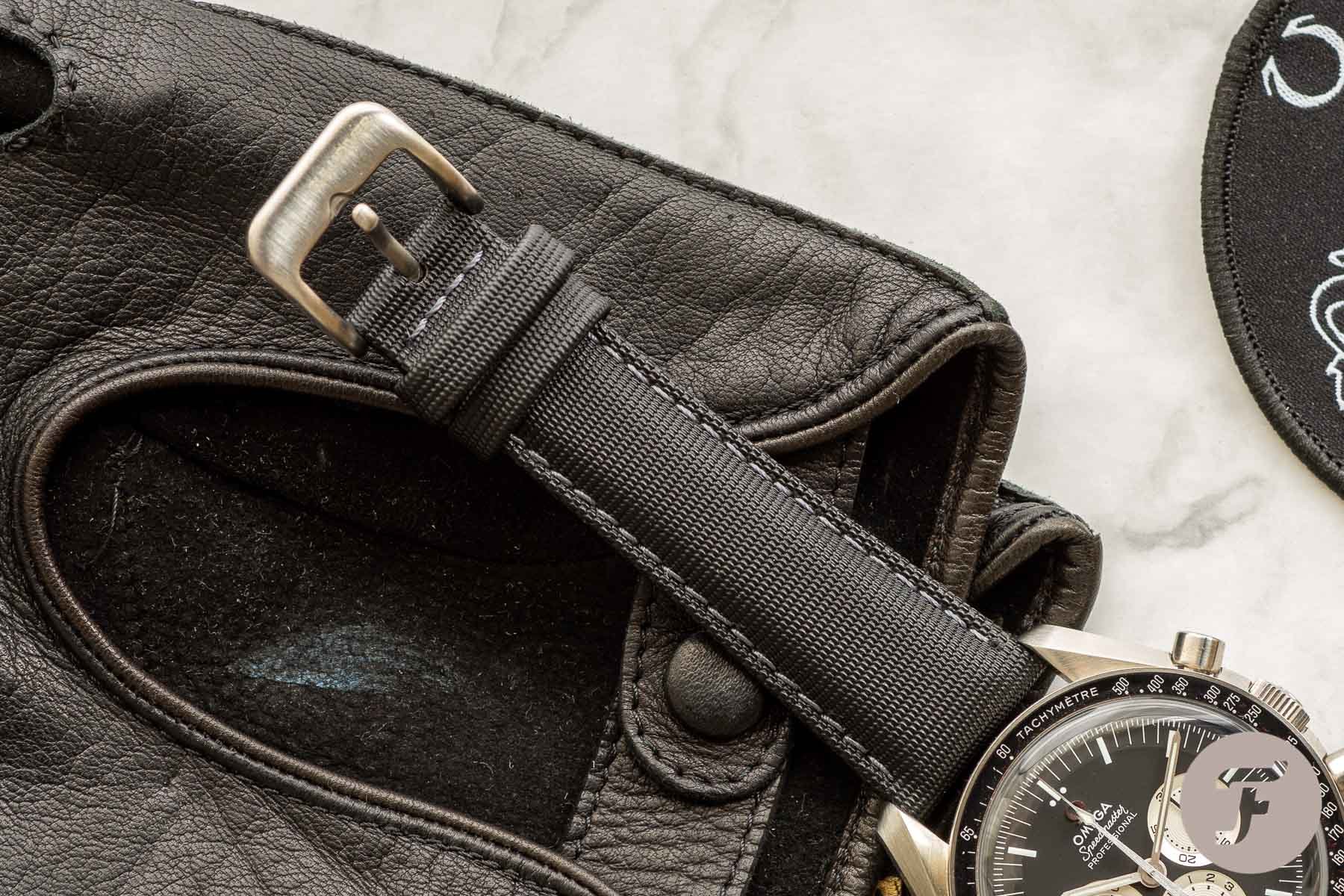 Zuludiver Sailcloth Padded Strap
As the saying goes, "there's a first time for everything." To me, this is true for sailcloth straps. I wanted to put my hands on one for the longest time. Thanks to WatchGecko, I don't have to wait any longer. As the name suggests, the material is sailcloth and as such is offered for divers watches. Yet, I paired it up with my ST1, and it just looks incredible on it. It comes in either 19/20/21/22mm with a regular 125/75mm length. Since we are talking about a padded strap, the thickness varies between 3-4.4mm.
Overall the Zuludiver Sailcloth Strap is a water-resistant and robust option, making it the perfect sports strap.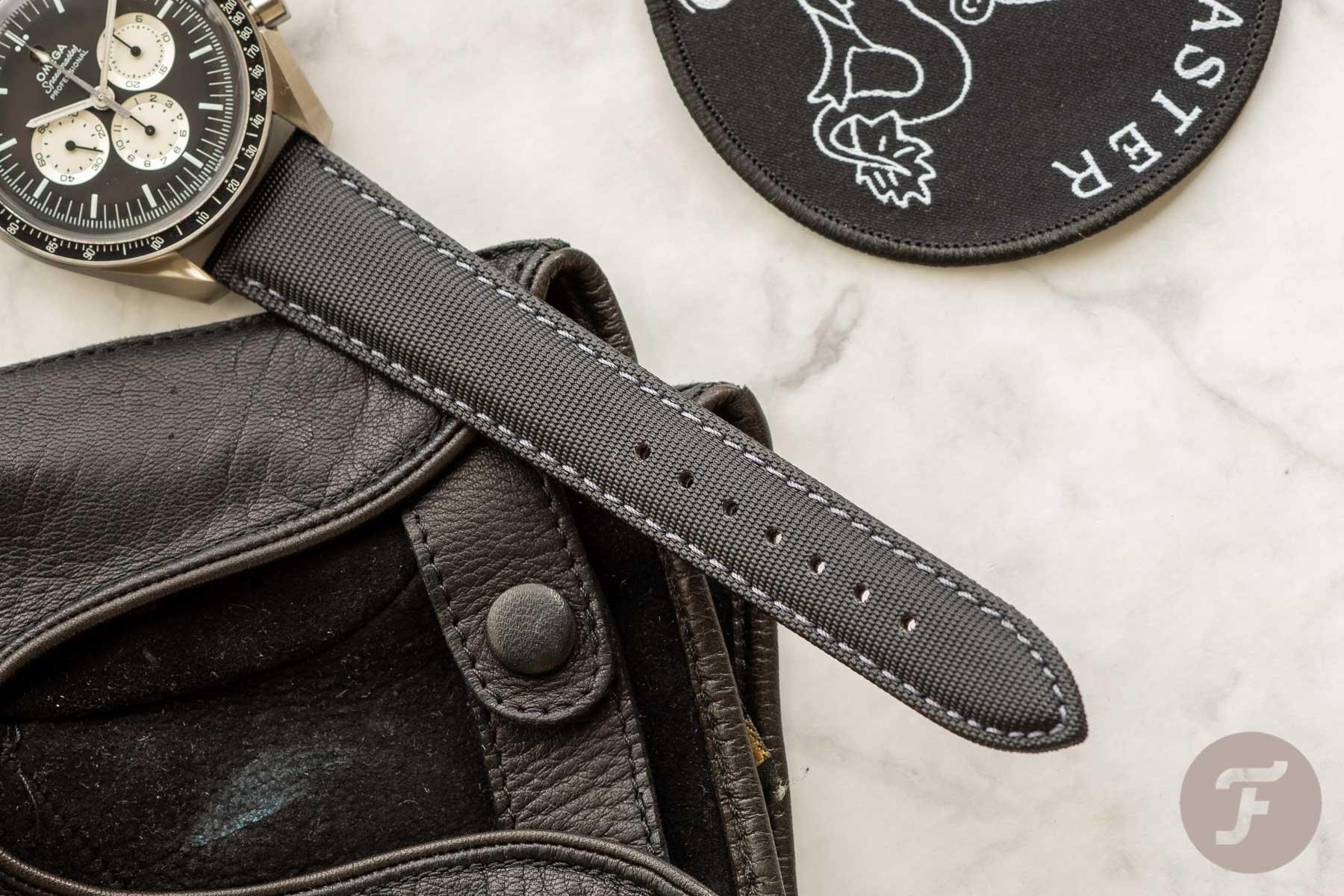 You might need a few days to get used to its stiffness. The strap color is black, but you can choose between grey or beige stitching. Mine is grey and hence the perfect fit for the Speedy. Whereas the smaller sizes have 16mm buckle width, the larger ones (21 and 22mm) come with 18mm. Plus, this model comes with quick-release spring bars —, a nice touch. The strap is tapered, which puts the focus on the watch head. If you fancy one, WatchGecko offers it for €30.99.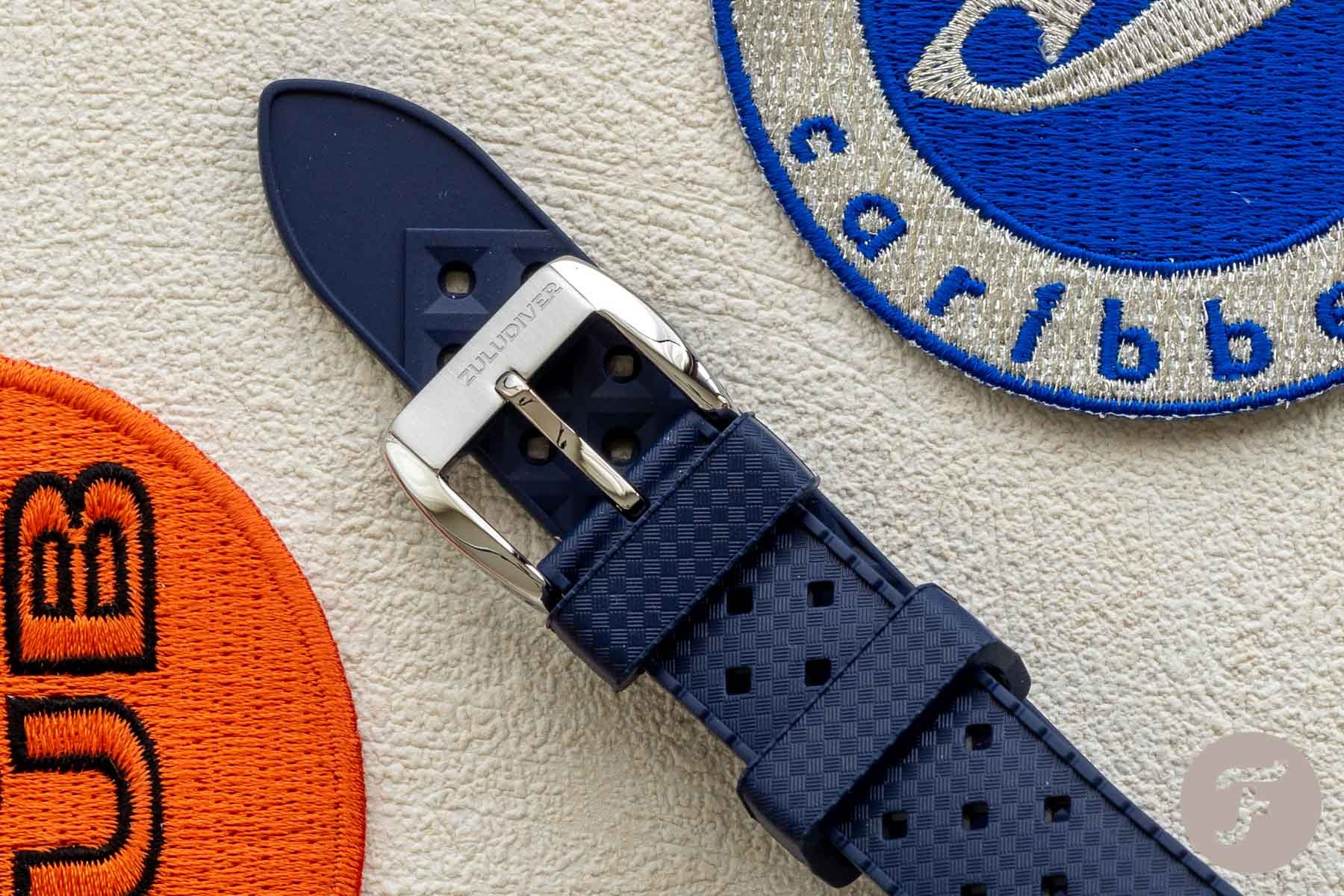 Zuludiver Tropical Style Rubber Strap
Possibly the least versatile out of the bunch is the Zuludiver Tropical Style Rubber Strap. However, in this instance, a lack of versatility is no problem. I mean, a rubber strap does not have to be universal at all. They are mostly paired with sports models, preferably divers.
To offer some versatility, though, the strap comes in three colors: black, blue (like mine), and orange. As far as lug size goes, you can get this one in either 20 or 22mm. Since we are talking about a rubber strap that needs to fit a dive watch, the measurements have to be different. The length is 130/80mm. That's long enough to be worn over a wetsuit but not troublesome when worn on the wrist. Just like the Sailcloth strap, this Zuludiver Rubber strap also comes with built-in quick release spring bars. That's a handy thing if you want to swap between this strap and, let's say, the Sailcloth. Aside from the spring bars, the other similar feature between the two products is the price, which is identical at €30.99.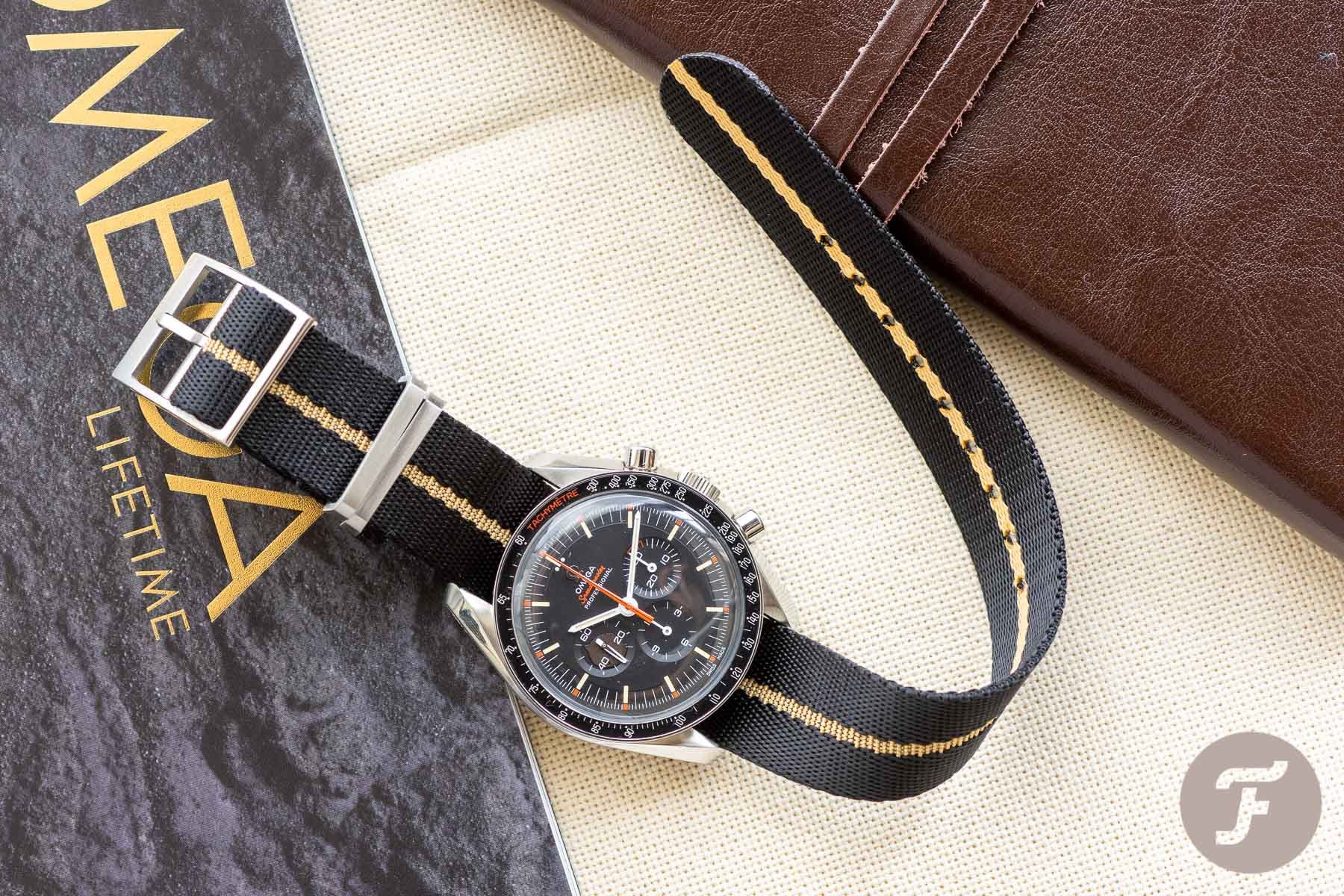 Henwick Single Pass NATO
Lastly, we arrive at a product that most WIS fancy; the NATO strap. The Henwick Single Pass NATO is the cheapest of the bunch at €26.99. You can choose from six colors and two sizes (20 or 22mm). To me, wearing NATO straps come in phases; sometimes, I can't rock anything else. Other times I refrain from lacing them on a watch. What I like about the Henwick is how soft and thick (1,4mm) they are. Gone are the days when NATOs were rough and itchy.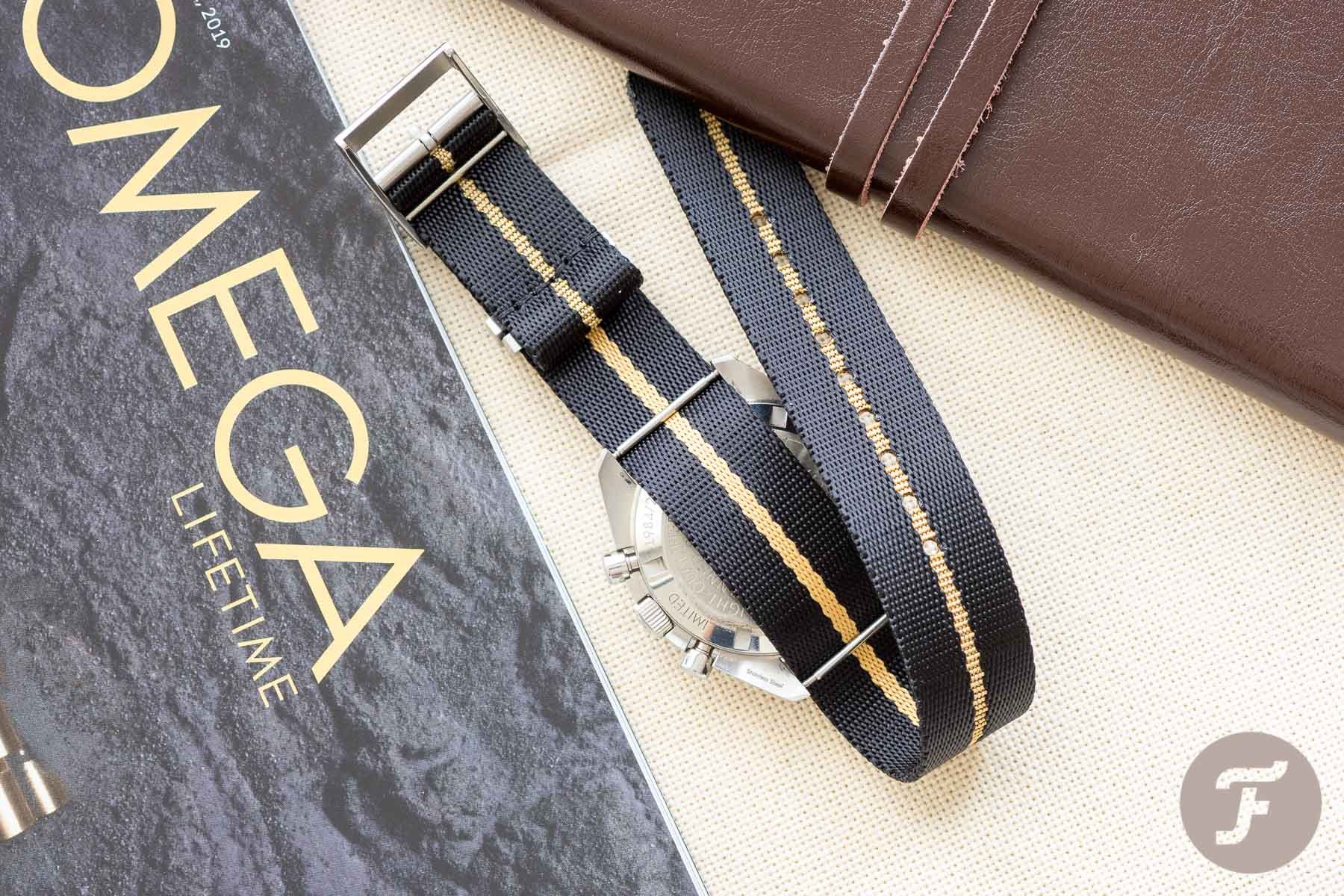 Furthermore, thanks to the single-pass, there is no extra flap that would add thickness to the watch when on the wrist. Apart from the smooth weave, I need to mention the vintage-style buckle and the trapezoid keepers; I love the looks of those. With an overall length of 300mm, which is adjustable thanks to the clever buckle system, the Henwick fits most wrists. I got the black/beige version, which has proven to be the perfect fit for the Ultraman. Summer NATO 2021 sorted.
Conclusion
Every strap from WatchGecko, whether it was Geckota or Zuludiver, came on a steel buckle. The design might not be the same at all times, but the hardware material was. WatchGecko offers free delivery to over 25 countries with a convenient added service. If you order from the EU, they also deliver with duty already paid, so you don't have to worry about that. It's pretty neat if you ask me. Besides that, if you are not happy with your order, you can send it back within 14 days and get a full refund. While the brand is not the typical small strap atelier, you can often find excellent products for a great price. If you would like to check out WatchGecko's selection of Geckota straps, you can do so by clicking here.