Watch Strap Review 51 — Revisiting Delugs From Singapore
We are revisiting the Singaporean brand after 1.5 years.
Let's give it up for one of our old friends and Watch Strap Review alumni, Delugs Straps. If the name sounds familiar, it is no coincidence. This is not the first time we are reviewing products from Delugs Straps. About one and a half years ago, we already took a closer look at one of Singapore's finest watch strap companies.
From time to time, we revisit brands we already introduced to you in the past. It's fun to see where the business has gone since we last spoke. Also, this gives us a chance to check out their latest products. 
Delugs 2.0
A lot has happened with Ken and his company since we last spoke. Their selection expanded significantly. I barely recognized the brand's site when I revisited it after a year or so. The focus is still on straps, however, the collection now includes many different accessories, tools, buckles, etc. Truth be told, the review was supposed to come out earlier. However, due to some logistical issues and Covid, we could not finalize it until now. Seeing the development Ken and his company went through the past year, I was worried that by the time we finish with the piece, the Delugs I know will be gone again. Luckily for us, it's not the case. Ken was gracious enough to send us a few of his new straps and an extraordinary travel case. So, let's see what Delugs Strap has to offer us.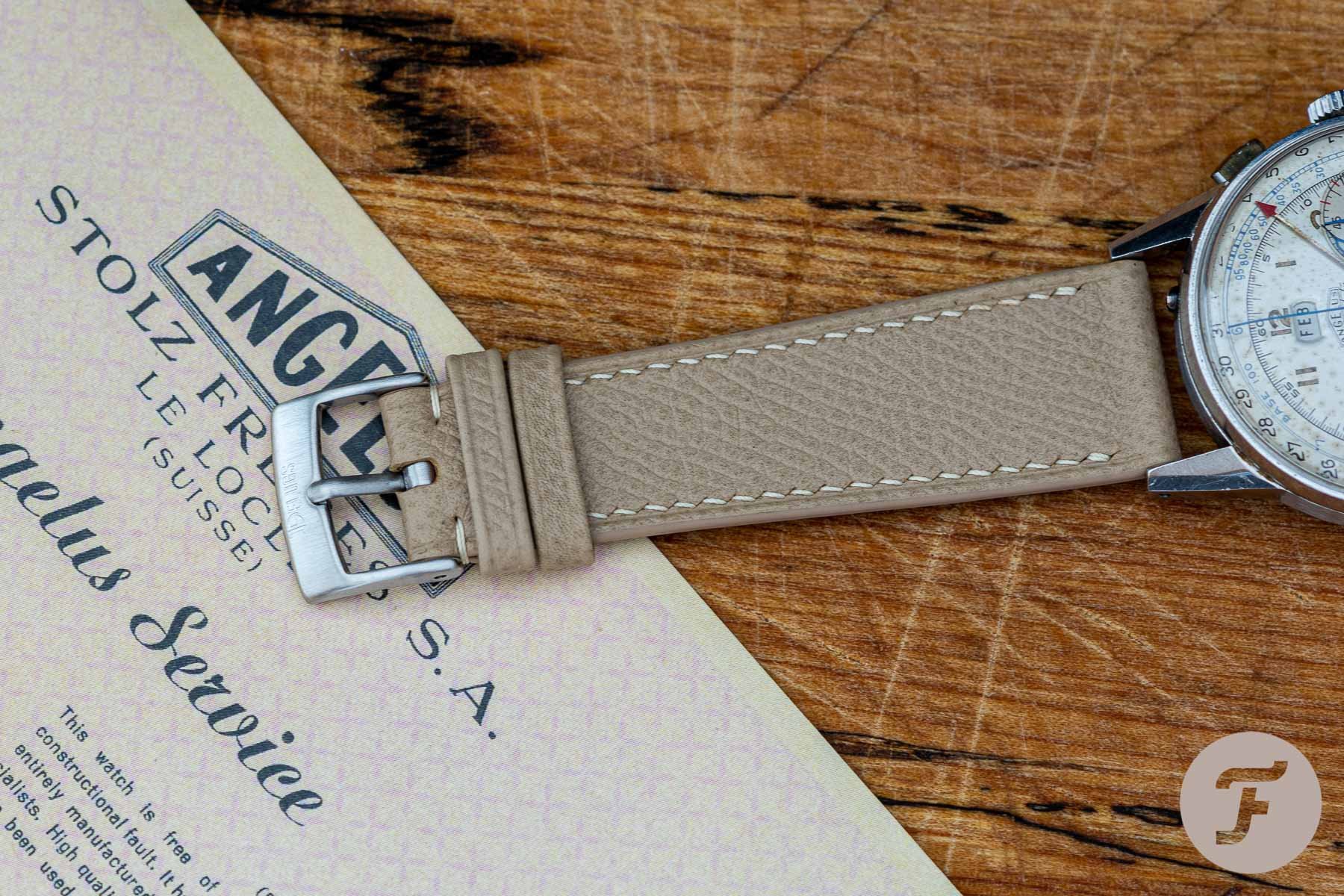 Cream Grey Epsom Slim Strap
The Epsom strap was my favorite Delugs sent me for the previous review. It is such classy leather, and the pattern works well with pretty much every watch. Granted, the cream color might not be the best choice for many timepieces, but fortunately, you can choose from nine colors. And cream is a subtle tone compared the light blue, orange, or sun yellow. The Epsom Slim Strap, as its name suggests, is a soft and flexible product, only 2mm thick. Delugs offers it in a variety of sizes from 18/16 all the way up to 22/18. I received it in size Medium (115/70mm), and I must say it fits me perfectly. This is excellent news considering that my wrist is 19cm. Keep this in mind when you place your order.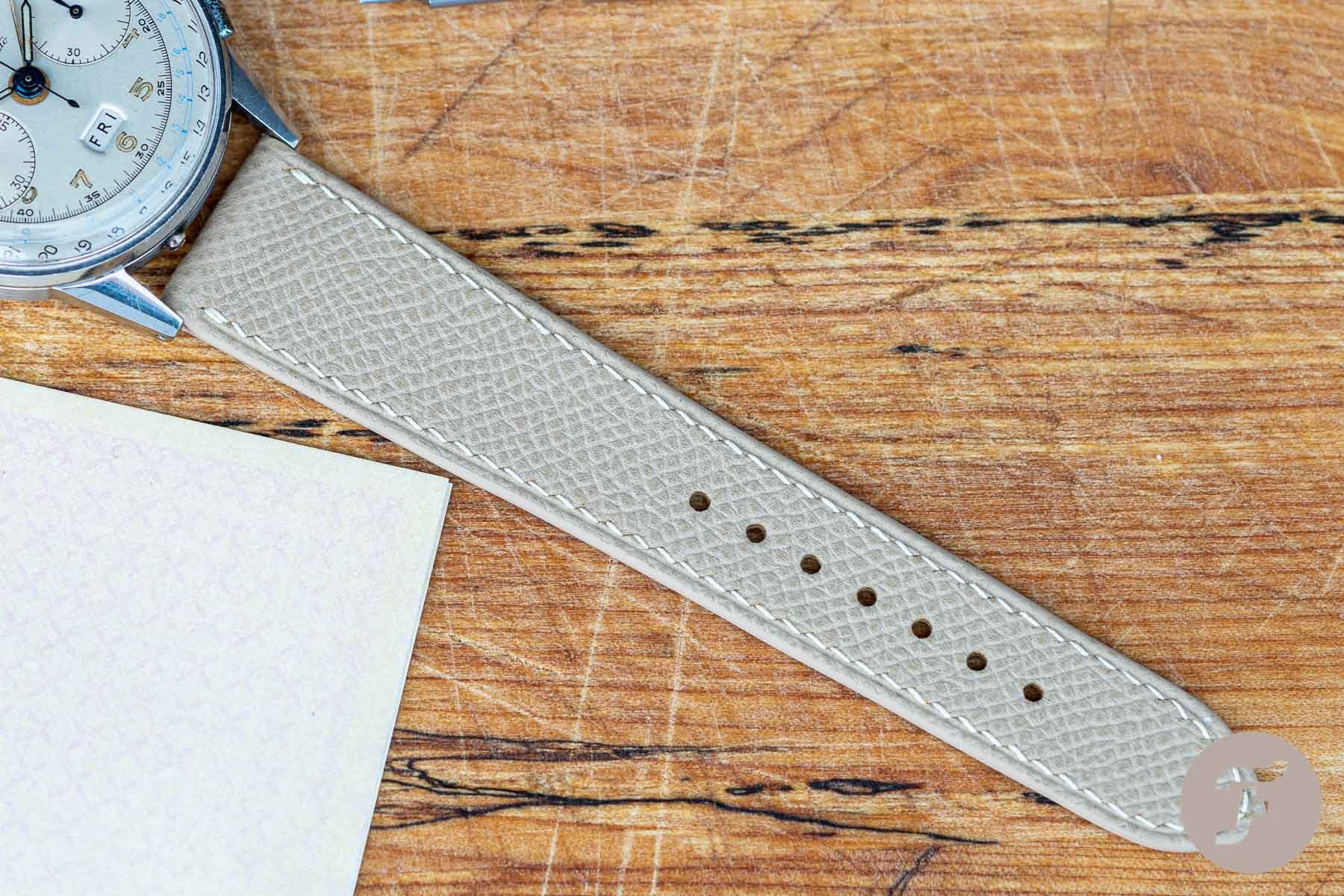 The Epsom has significant tapering, even stitching and color matching painted rounded edges. For the lining, Delugs Strap uses hypoallergenic, water-resistant Zermatt Leather. A practical touch is that both size and length are debossed on the back of the strap. Speaking of practical, the strap comes with a set of quick-release spring bars. I'm not saying that it's a must to have this on straps these days, but it sure is useful.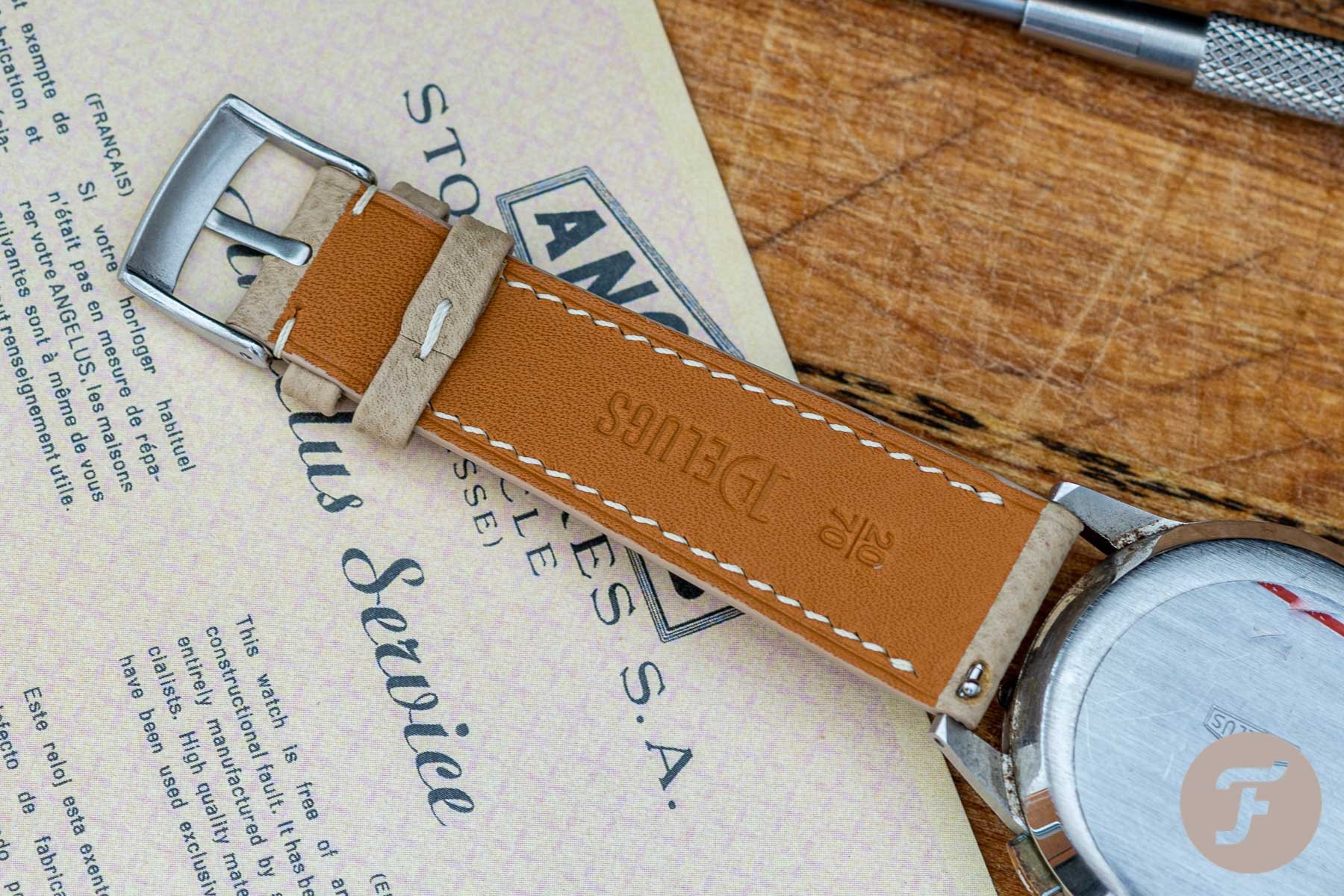 Lastly, we need to talk a bit about Epsom itself. The leather comes from Tanneries Du Puy from France. If the pattern seems familiar, it might be since Hermès uses the same leather for their luxury leather products. For this beautiful strap, Delugs charges you $80. You could do much worse than that. 
Matte Mahogany Brown Alligator Signature Strap
Every serious strap maker should have alligator leather in their lineup. Generally, I'm not too keen on exotic straps unless they are done nicely. Well, this is not an issue with Delugs' beautiful deep brown Mahogany Alligator Signature Strap. Just like above, the strap comes in the same wide range of sizes and lengths. Aside from Medium, you can get a Small (105/65mm) or Large (125/75mm) should you need a different than regular length. As of now, you can choose from 23 colors for your Alligator Signature Strap from Topaz Blue to Matte Cognac and everything in-between. As it is a padded strap, the thickness varies between 4.5mm to 2mm and is slightly stiffer than the Epsom. Though once broken in, the Alligator Signature Strap fits like a glove. At $135 a piece, it won't break the bank either.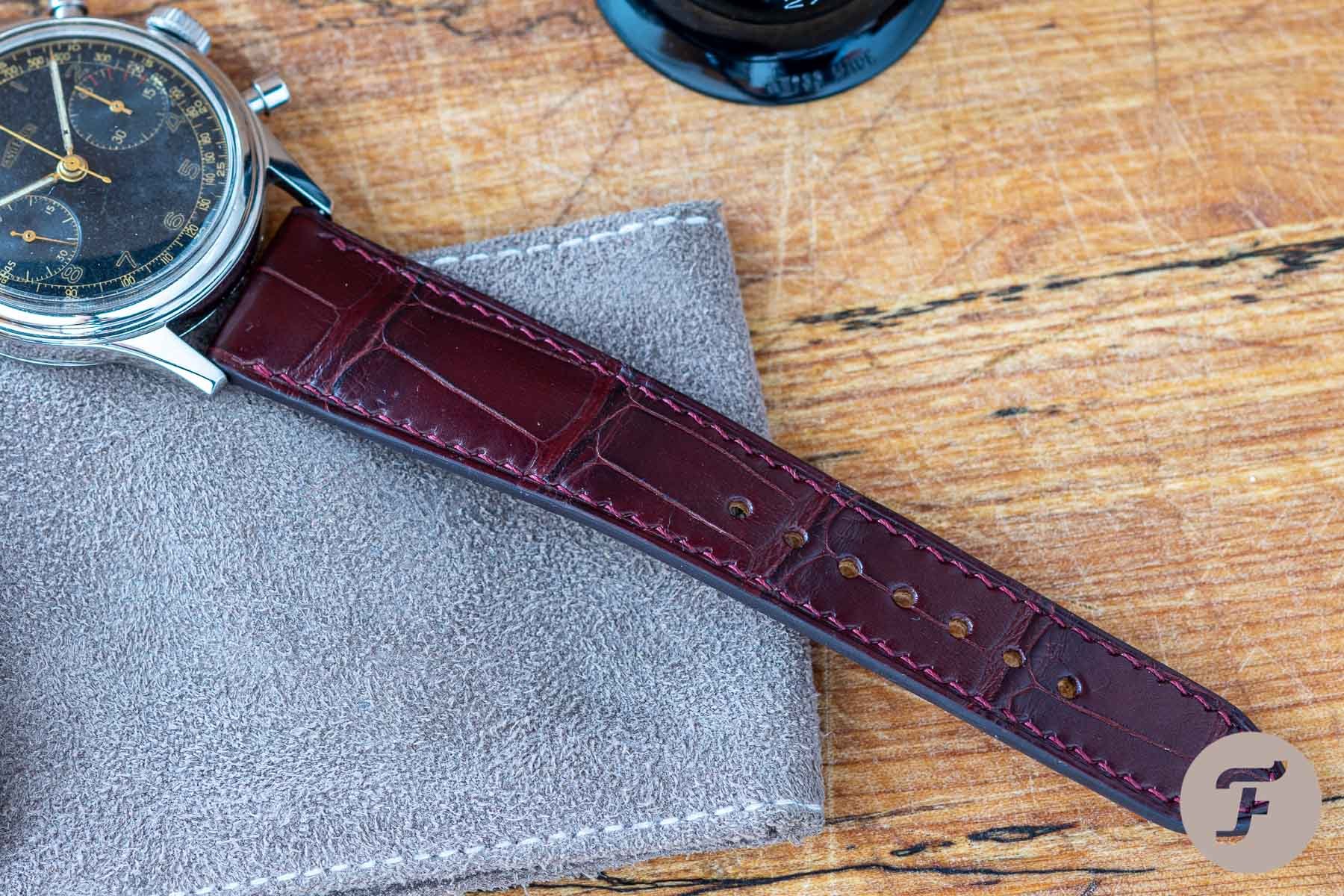 Denim Babele Slim Strap
After a classy product, let's look at something modern and out of the ordinary. I love a textured strap, and so far, every Delugs product was like that. Babele is a vegetable-tanned leather that comes from Italy. If you look at the surface, you'll understand instantly why it is called Denim; it resembles the fabric jeans are made of. Similar to the Epsom, the Delugs Denim Babele Slim Strap is thin and flexible. You already know the sizes and length; I won't bore you with that anymore. Blue works with most watches, but you have the option to choose from five colors. I wore this on my vintage Speedy for a few weeks. The strap is soft as butter, and the look was just perfect. Both the Denim Babele and the Epsom straps resemble vintage straps. You can pair them with taller or slimmer watches equally. Price? Only $80 again.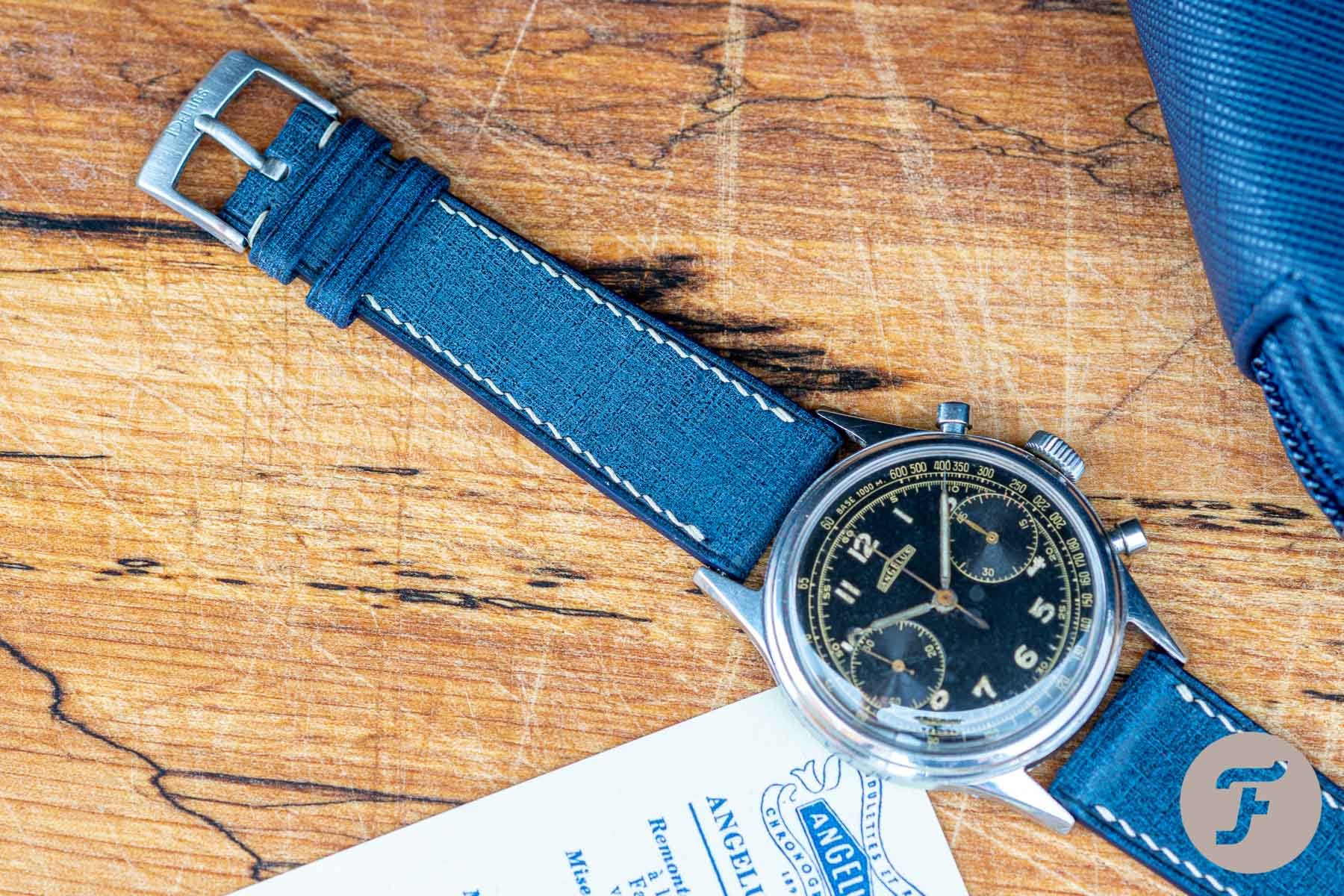 Pastel Blue Nubuck Slim Strap
The last strap we are going to look at is the simplest one. Let me first tell you the similarities between the Epsom and the Babele. All of them come in the exact sizes, length, and thickness, all for $80. Furthermore, every strap is flexible, has painted round edges and the same stitching. Yet, while the first two have patterns, the Pastel Blue Nubuck Slim Strap from Delugs has a smooth surface. Nubuck is not the type of leather that has patterns anyways but a lovely soft texture. While Ken calls this Pastel Blue, some might say it's baby blue, and they would not be far from the truth. But you know what? This color works exceptionally well with smaller, light-dial watches. One could even say that it's the perfect choice for your summer watch.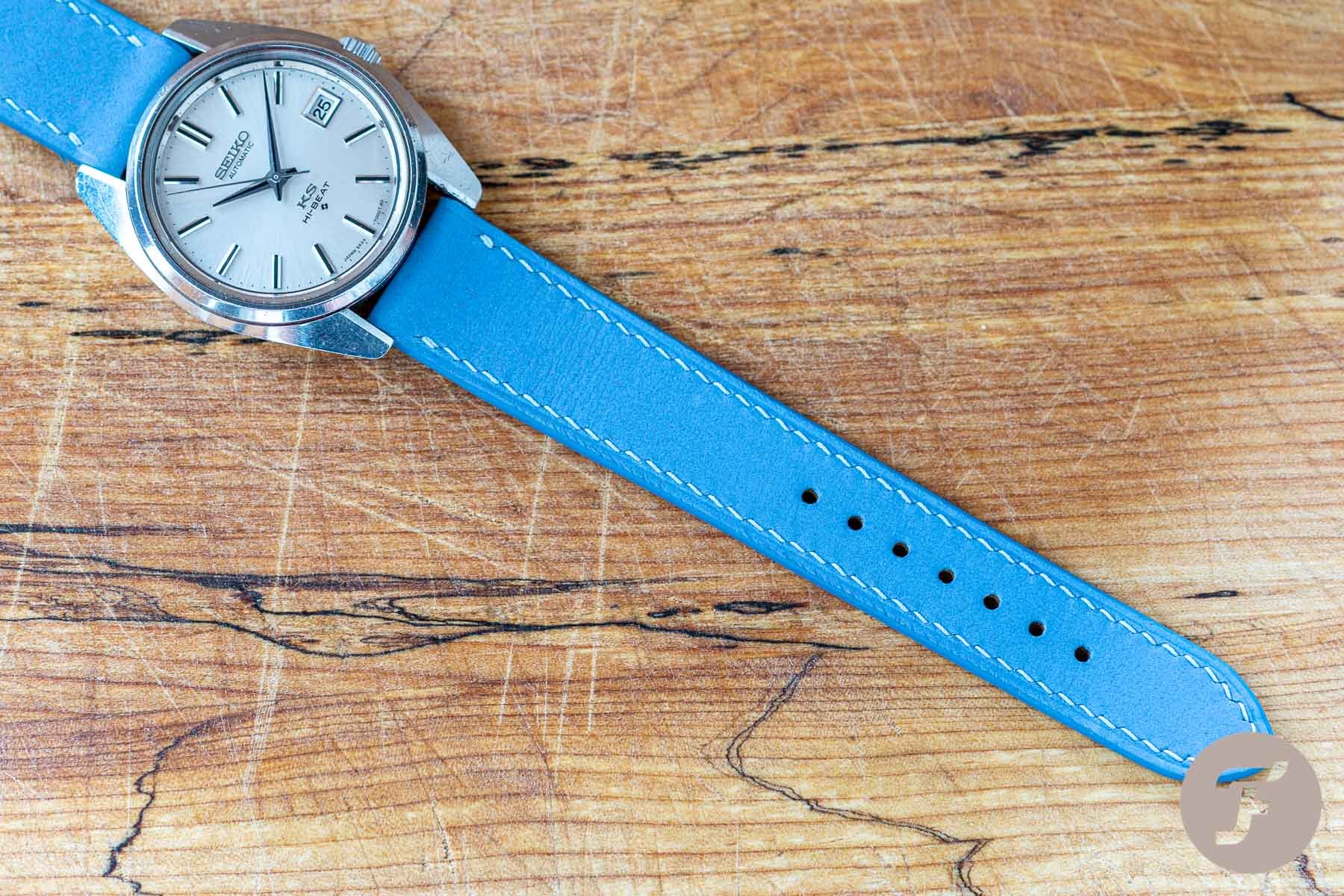 Zip Case Duo
As I told you in the beginning, Delugs does not only offer you leather straps but amazingly well-made accessories too. Their Prism Trio hexagonal travel roll can hold three timepieces. While the Prism Uno, you guessed it, will be the perfect companion for your one watch on the road. The Delugs Valet Tray is something every watch lover needs for their EDC, but my favorite is the Zip Case Duo. No, not because Ken sent that one for us, but due to its usability. The case will accommodate two watches, has a middle pocket in the divider for extra straps, and even a changing tool. If you don't carry straps around, the central pocket is perfect for a small vintage watch or jewelry.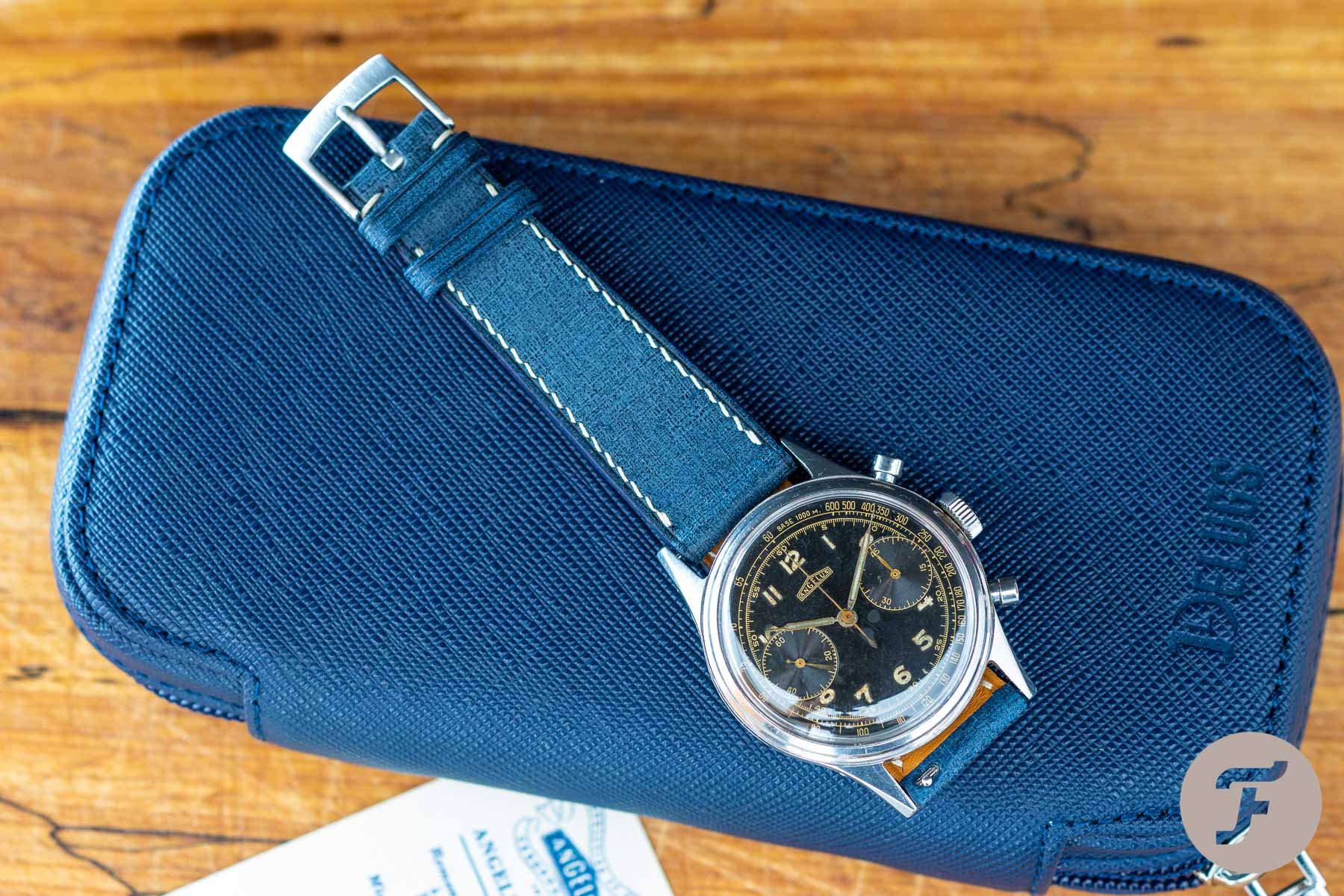 At 17×8.5×4cm, the Delugs Zip Case Duo is not much larger than your glasses case. Currently, you can get it in four colors: Navy/Gray, Navy/Orange, Brown/Cream, and White Brown/Light Brown. The first word signifies the outer leather, while the second is to highlight the inside's color. For the Zip Case Duo, Delugs is charging $225, which might not be the cheapest 2-watch case. Though it is so much more than that, the price reflects the exceptional leather and the Alcantara interior, the tool, and the overall quality. You will not be disappointed with that.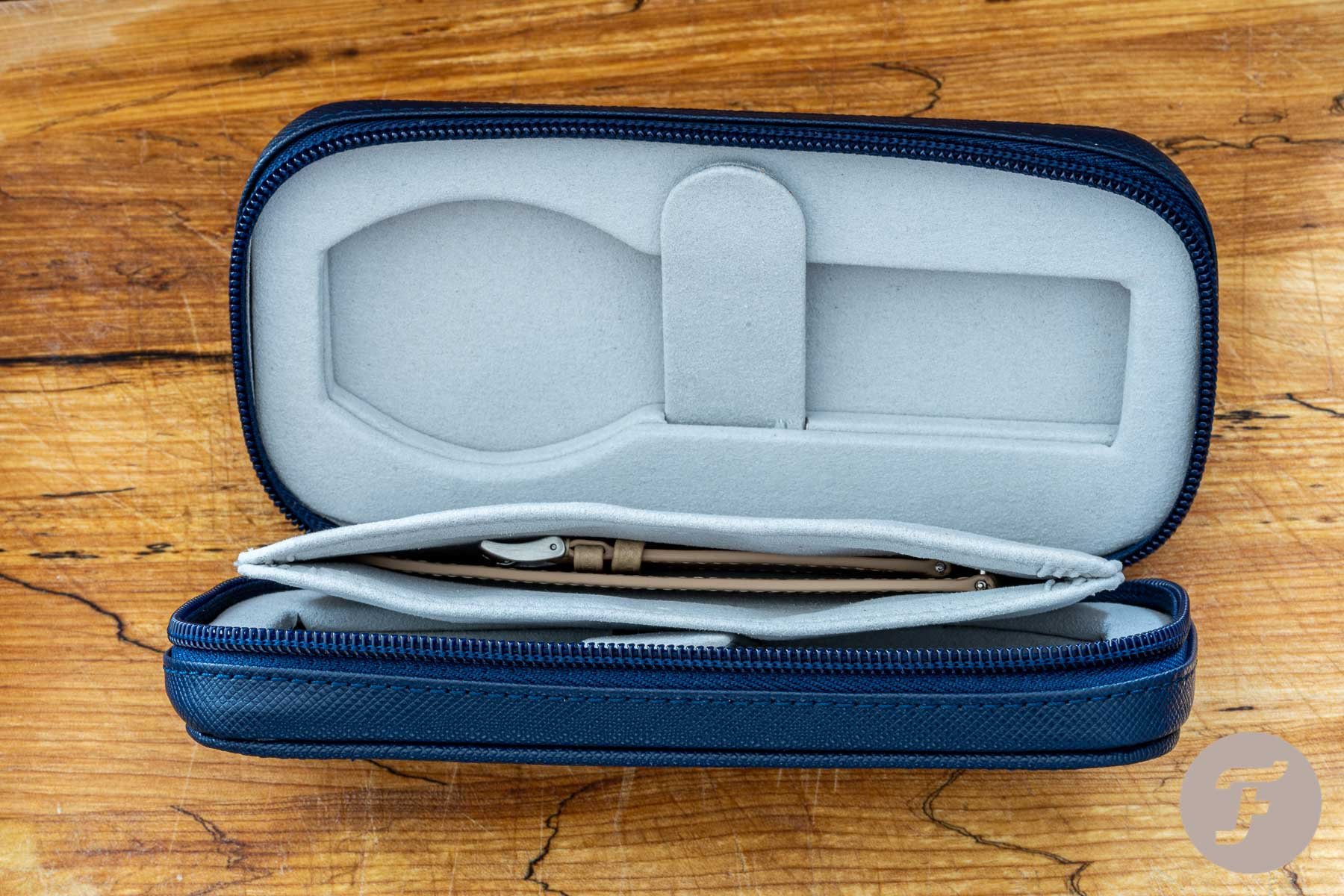 Final words
Every strap from Delugs came with a branded polished steel buckle and a pair of quick-release spring bars. Aside from this, the packaging is also premium, which is rare, especially in this price range. Yes, Delugs straps are not the cheapest, but the prices are reasonable, particularly for what you are getting. If you are not sure about the watch/strap combination, don't worry anymore. A fun tool on the site that might help you with that is the Strap Finder. Here you can select from many watch heads and virtually "try on" every strap from Delugs selection. I'm happy to see Delugs expanding and improving the business. Congrats to Ken and the team, and see you in another 1.5 years.