Watch Strap Review Part 23. – Erika's Originals
The summer is over and I'm back from my holiday. It's time to bring you a new craftsman and a few great straps to this edition of Watch Strap Review. This is our 23rd review and a very cool one in my opinion. I know, I'm a bit biased but you will see. We can also add another country to the list where I have received straps in the past. Even though the owner is from the Netherlands she resides in Spain. Her name is Erika and her company is Erika's Originals. She is not only a strap maker, but has a bunch of interesting stuff in her repertoire. Things like wallets, dog collars or even sandals. Though I'm not here to talk about a card holder. We are here to look at the awesome straps I received from Erika's Originals. Let's get this started.
Erika's Originals
I came across Erika and her business on Instagram a while ago. Contacted her and she replied in a heartbeat, agreeing to provide me some straps for an upcoming article. Now, her business is pretty well-known around the watch community from forums such as Military Watch Resource to The Grey Nato podcast by our friends James and Jason.
It has been reviewed on many other platforms, but not yet in our Watch Strap Review feature. I was interested in her signature product, well as far as watch guys are concerned, the MN (stands for Marine Nationale aka the French Navy) straps. This however was not the only strap I liked from her line-up. Camel leather sounded more than interesting. So I also wanted to check out her summery bright blue camel leather NATO strap. Erika packed up the stuff and off it went to Germany.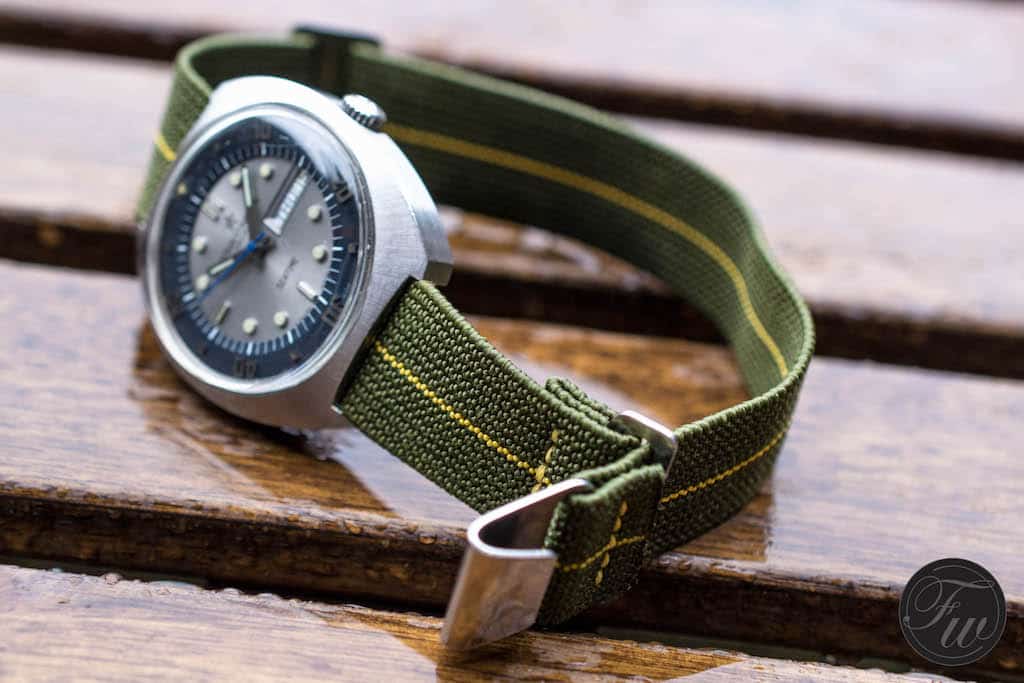 MN Strap
Let's cut to the chase! The MN strap is a great and original design. We love military-inspired straps, just as much as we love military watches. In my opinion the only two times I've seen similar ideas transferred into actual products were the NASA Speedmaster Strap and the RipStop straps by GLC Straps.
We have seen nylon or canvas craftsmen used to make straps but an actual 60-70's vintage parachute braid? Not too often. Erika managed to source vintage braids and based on the original MN design, recreated the strap. First and foremost, I have to tell you that the Erika's Originals MN strap is a perfect fit. It is one of the most comfortable straps in my collection. Thanks to the elastic material and the special design.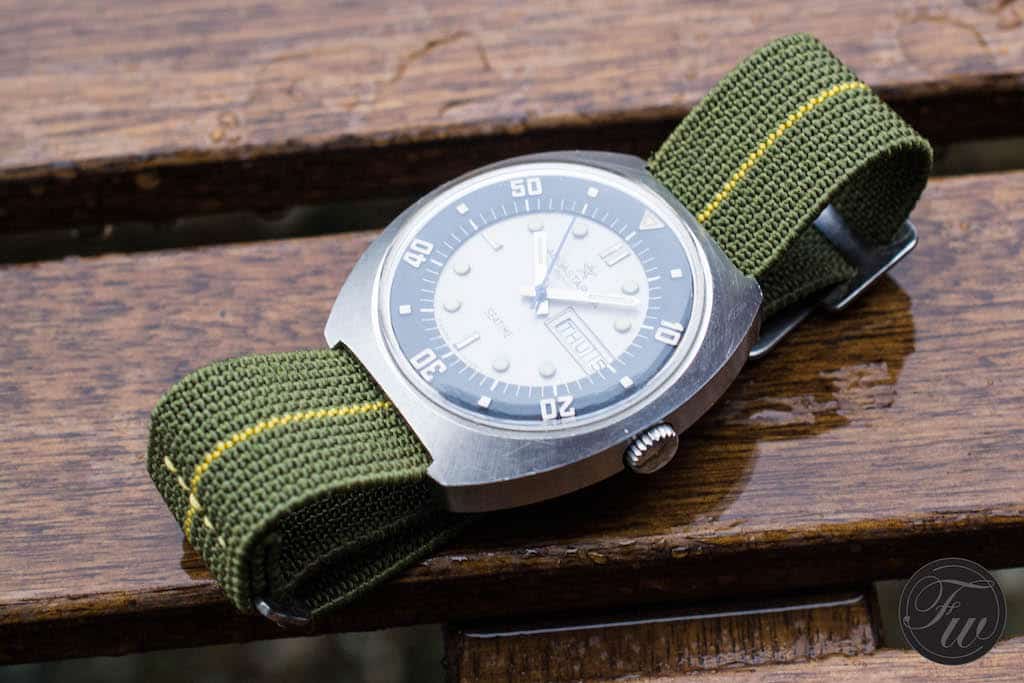 Sizes and Colors
Instead of a regular NATO, the MN strap is actually a loop. You have to put your fist through it, adjust by pulling the end with the hook and fasten it. Due to the elastic material the strap "moves" on your wrist. Even if your wrist swells in the heat the strap will not become tight. The strap comes in 2 sizes; 21 and 22mm. This might sound odd and first but it is absolutely not a problem with 20 or even 19mm watches. Unlike a nylon NATO, the Erika's Originals MN strap can be stretched or squeezed to fit without damaging (rubbing) the sides of the lugs or the case back. It has a cool military green color with yellow stripe running through the middle of the braid. There is also a beige strap with red line but that is rarer and there is a waiting list for that.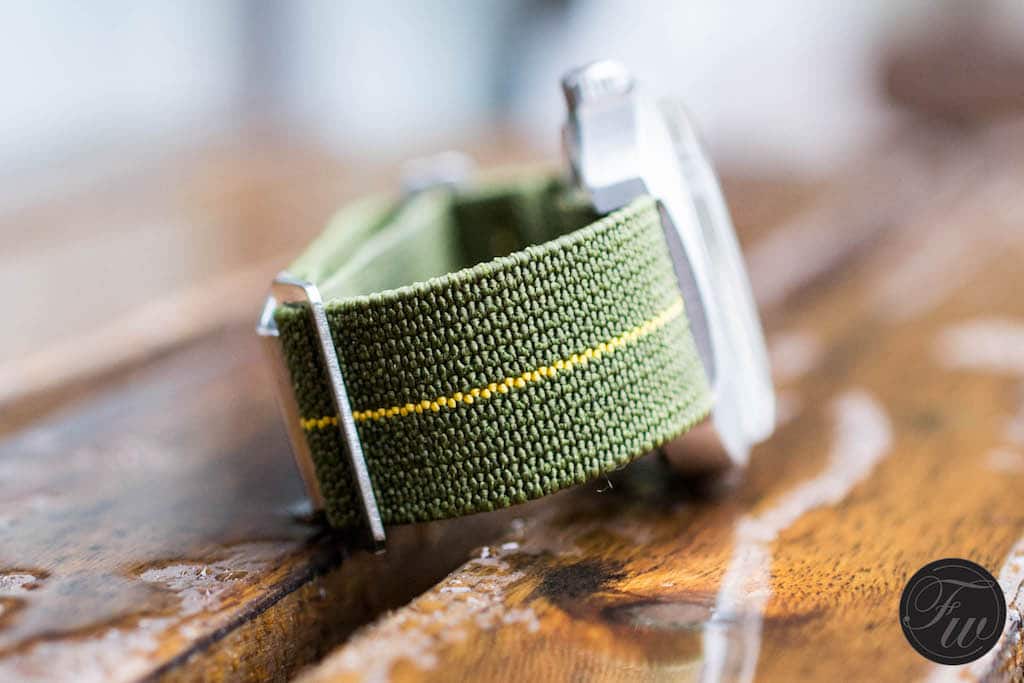 How to Attach
The only down side of the MN strap, if there is one, would be the way you attach the watch to it. Since it's a loop you cannot put it on like a NATO. You have to remove the spring bars, place the strap then reattach the spring bars. So if you are a frequent strap 'swapper' this might take longer than swapping the leather NATO for a nylon. But I have to warn you: once you put the MN strap on, you do not want to get it off your watch too often. I've tried it on my Speedmaster, my Yema Rallye, a JetPilot and even on the Aquastar you see it on now. This might only represent my opinion, but the strap seems to work aesthetically with every watch. Here's a small tutorial of how to install and wear it.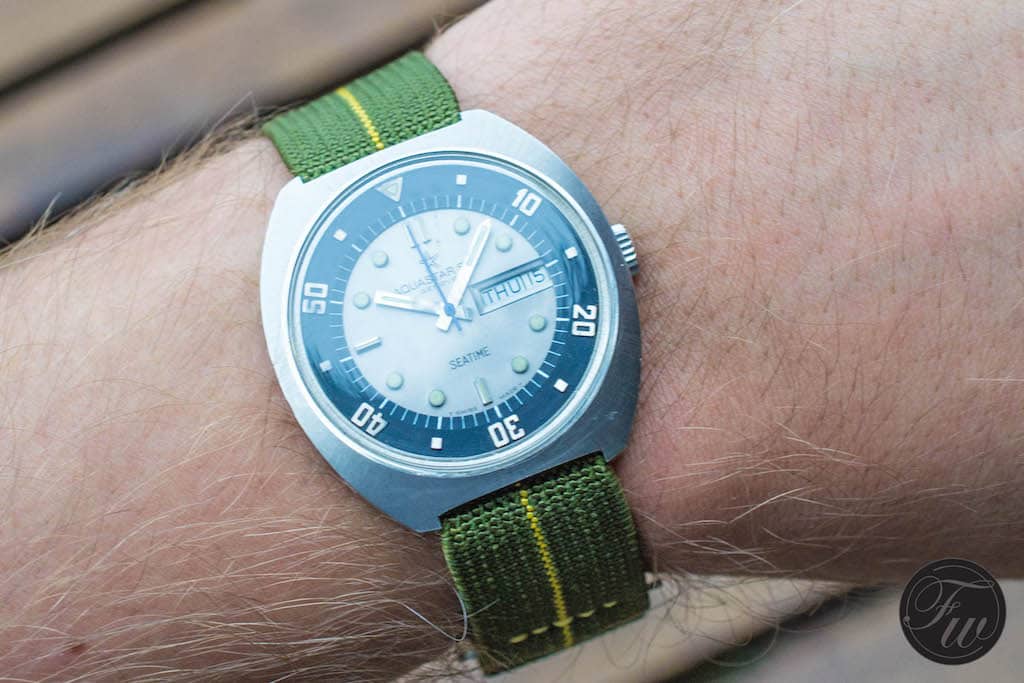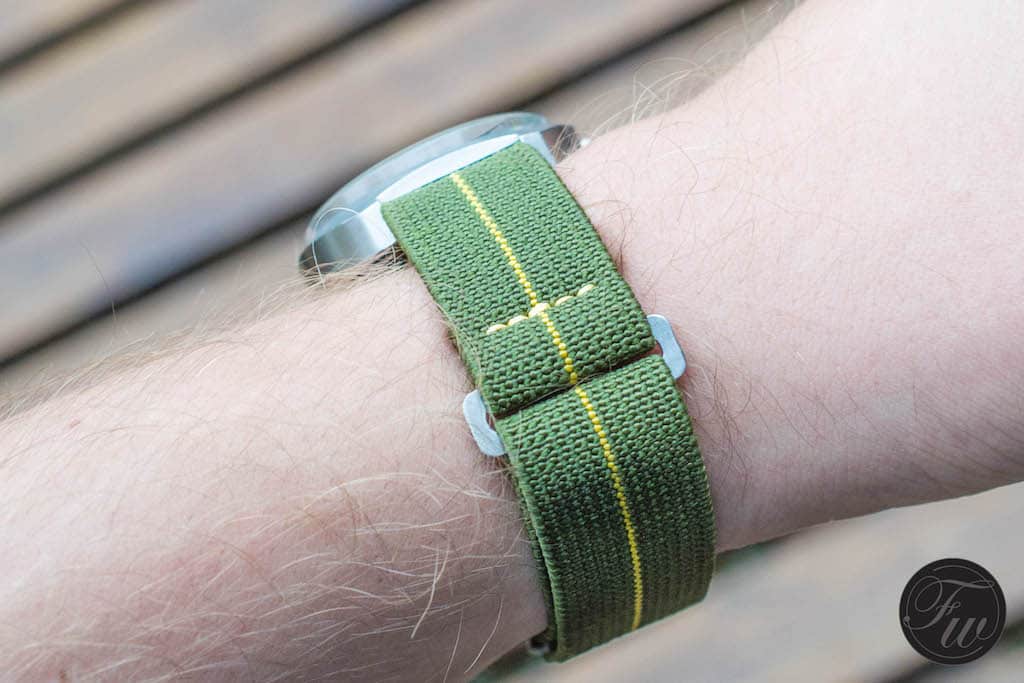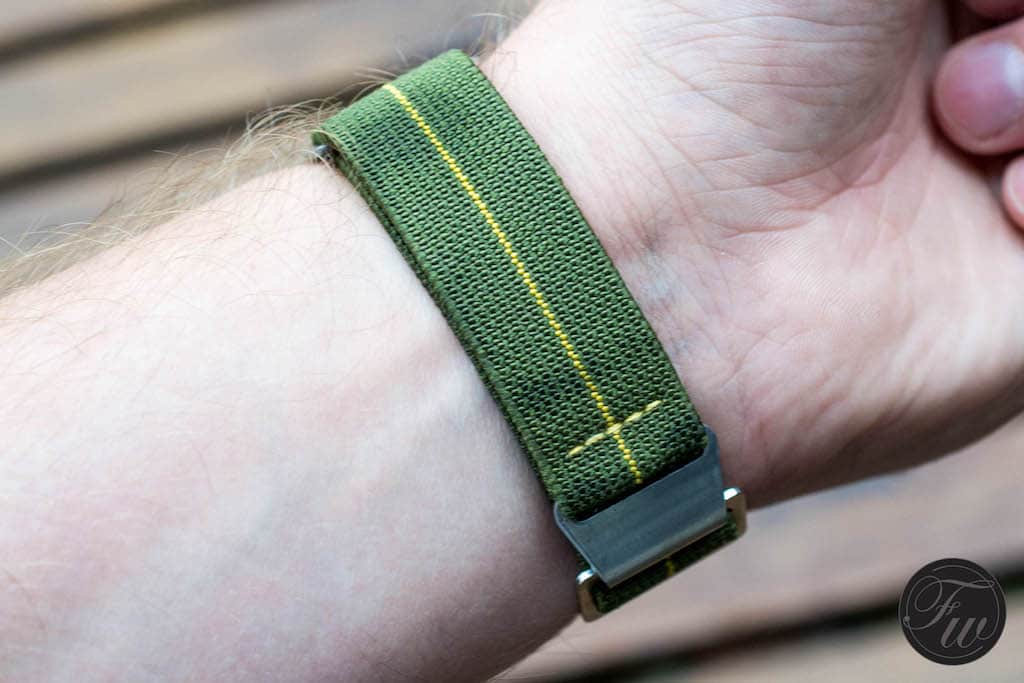 The Erika's Originals MN strap is a true diving gear where the inspiration came from the divers of the MN who used the elastic braid from military parachutes to create straps for their watches.
I used it underwater as well as in the city while out and about. It's the perfect strap for me when traveling, easy to take it off and put it back on after an airport check. Even if I'm playing tourist in any part of the world the strap stays comfortable during a long day. The military green with the touch of yellow is neat, the look is cool and unorthodox. Erika charges €50 Euro for the MN strap, which is absolutely not a crazy price, especially if you consider the fact that this is a one-of-a-kind item. As a matter of fact, she is registered the strap design and the patent is pending at the moment.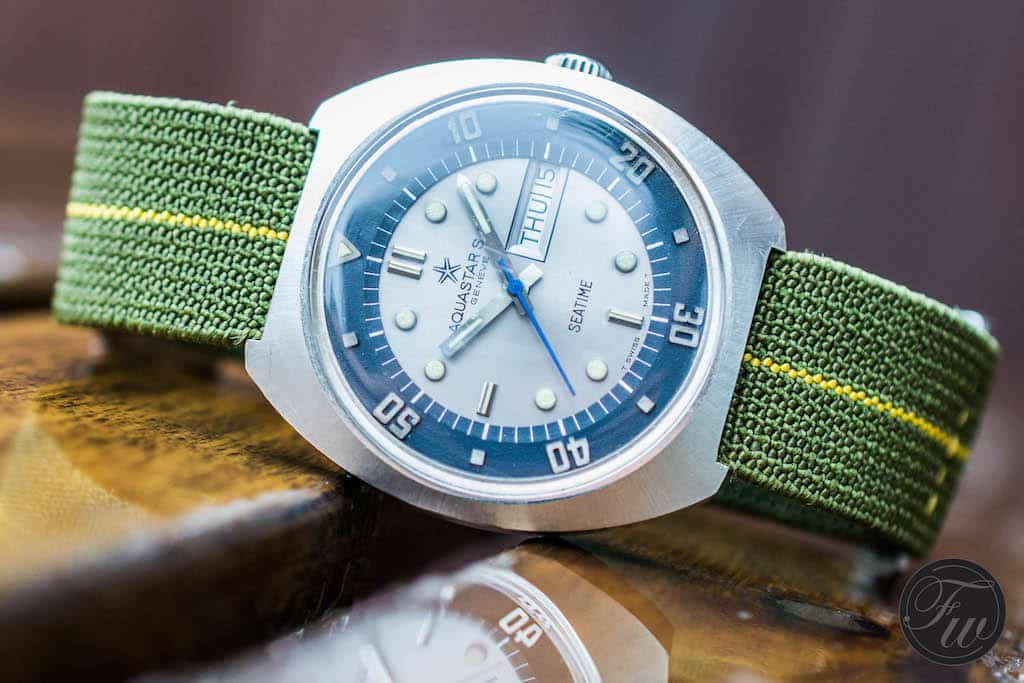 Camel Leather NATO Strap
As I told you in the intro, I did not only receive the MN strap but a fun little summer NATO strap. While you can argue that leather might not be the best choice for this season, due to the color I would still consider it a holiday strap. It's an 18mm light blue camel leather NATO strap with beige stitching. Yes, camel. During my time with Watch Strap Review I had the pleasure of seeing tons of products from various craftsmen. The usual calf leather straps, vintage products made of WW II. ammo bags etc. I have straps made of horse back or ostrich leg but I've never seen camel leather. Not that this is so unique or exotic, I just never had any. Arguably camel is not the first leather you think of when you come up with a design, it is a fine material to work with.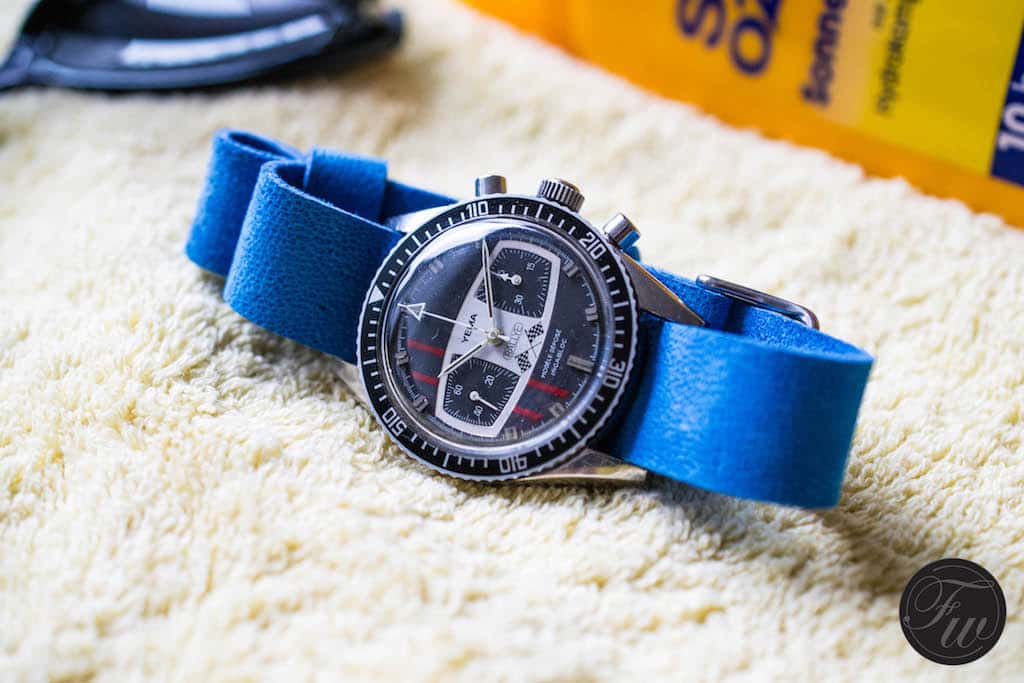 Feel
The leather has a very soft touch. It feels almost like velvet. This is of course an exaggeration but this is how Erika explained it to me when we initially agreed on the products. Well, I have to tell you that she was not too far off. Super soft and comfortable it almost feels like you are not even wearing anything at all. Of course this could be a disadvantage to some, especially to those who want to feel not only the presence of the watch but the strap around their wrists. Camel leather is not only soft though; it is also very durable. As a matter of fact, it has 10 times more fibers than cow (or calf) making it extremely tough to rip. Instead, the leather stretches. So the Erika's Originals Camel leather NATO is soft, comfortable also pretty hard to destroy.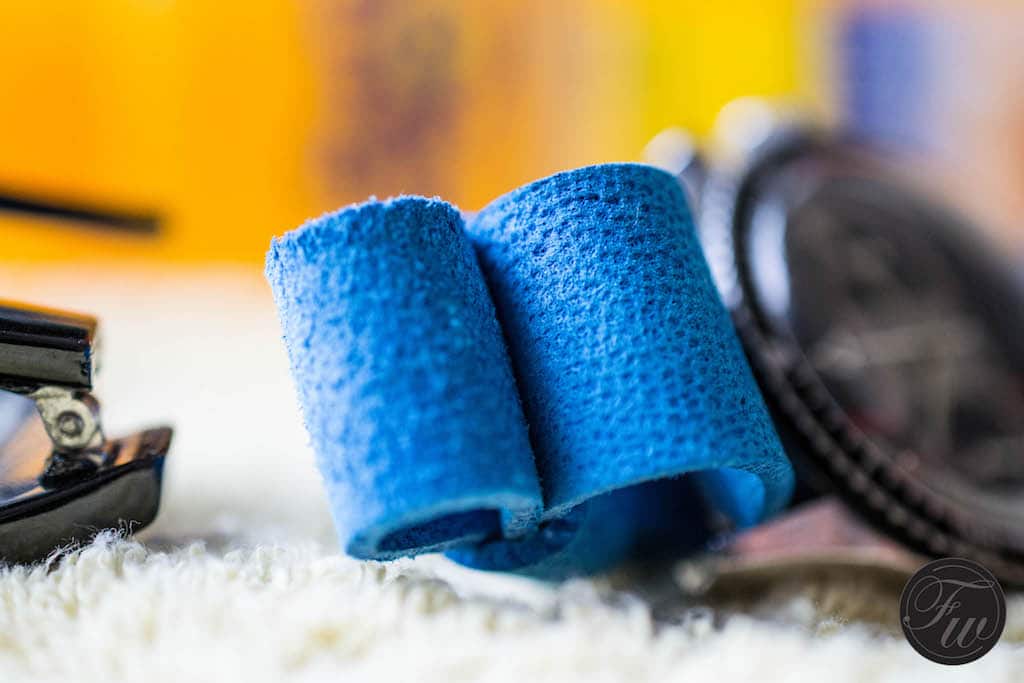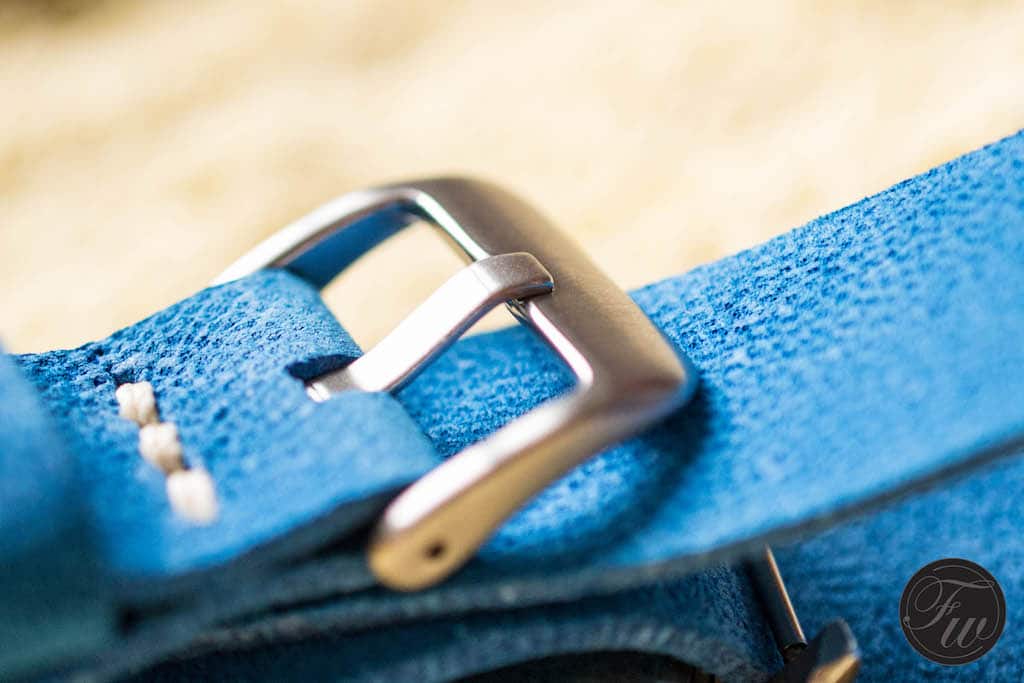 Look
I asked for the 18mm version to try it on a few smaller watches. You can customize the strap to your preferences completely. Buyers can choose the size and color of the NATO but also the color of the stitching, whether you want standard stitching or only "minimal". The customer can also decide if you want the regular NATO style strap or perhaps a folding back version. I opted for the latter. This mean that the NATO is extra-long and once you strapped it on you can take the rest and fold it back under the loops. The Erika's Originals logo is an anchor that is stitched on the tip of the strap. Once folded back the logo appears between the 2 keepers. A small detail yet it makes the strap recognizable instantly. Just like the MN strap, the camel leather NATO is also €50. Straps come with free shipping.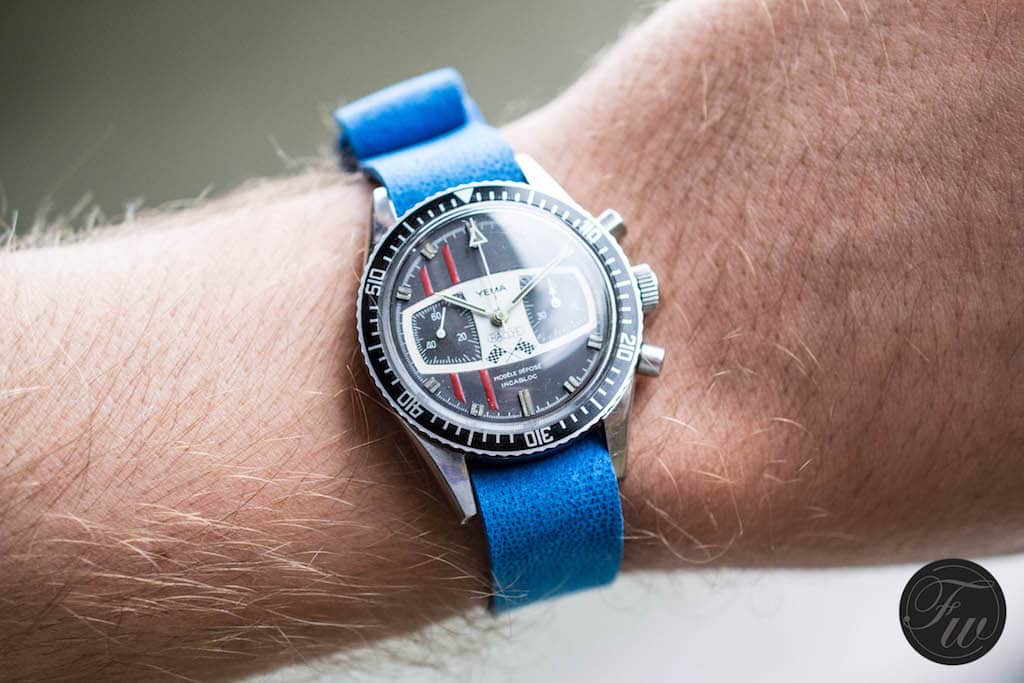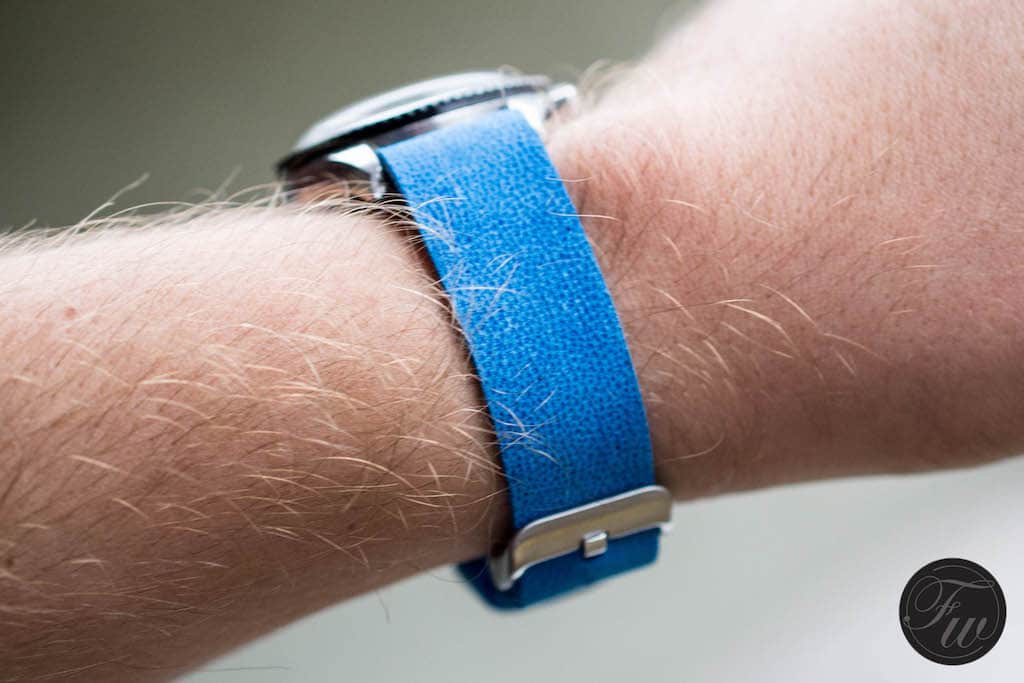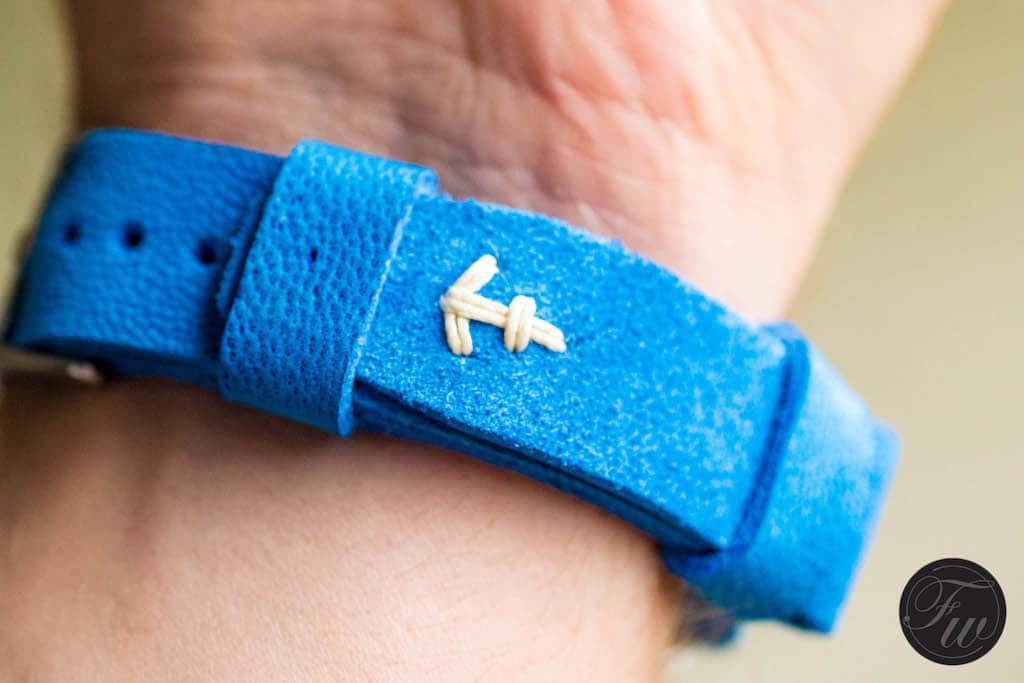 Further Info
I would like to say thank you to Erika for providing me with her straps. I think after reading the review you see how satisfied I was with the products. Both the MN strap and the camel leather NATO strap are truly great, comfortable and interesting alternatives. Something you do not see every day, but you should definitely have in your strap collection. Besides these 2 version, the Erika's Originals website offers a variety of other straps.
Make sure you pay Erika's website a visit. That's it for now, please sign up to our newsletter to get the latest from us week by week. Follow us (and Erika's Originals) on our social media platforms.