Watch Strap Review Part 10. – Introducing: MJLeather
Our anniversary edition of Watch Strap Review Part 10. adds yet another country to the long list of craftsmen. We are going north this time to Scandinavia. The strap maker I'm about to introduce to you hails in Sweden and our very own Michael introduced his work to me. How could I miss him for so long? Anyways, all's well that ends well – as the poet says. I got in touch with Michael (the strap guy, not the watch guy) who turns out to be a very nice, down to earth fellow. He prepared 2 straps exclusively for this watch strap review and some real nice ones too. Ok, enough of the introduction, ladies and gentlemen please meet:
MJLeather
Like many guys from the past Michael also does this as a hobby. He is a one-man operation and does everything by hand from start to finish at his home in a little workshop. He is focused mostly on straps but occasionally you can persuade him to make you a nice iPad case or a belt if you fancy one. Watches are one of his hobbies (how surprising) and this is how he got connected to the strap game. Michael is really into Panerai so any Pam lover should make sure to check out his site. However when I got the word about him I looked at his Instagram account first. Some really cool stuff there. Strap makers tend to be pretty busy but turn around time for custom orders at MJLeather is around a week. Not bad at all. If you are in a rush for some Nordic strap goodness you can find his ready-made straps at his Etsy shop. I received 2 straps from Michael and all I can say that they are both excellent quality, extremely comfortable and super lovely. They come nicely packed in a hard paper box with a solid MJLeather logo pressed onto the top and soft fabric on the inside to protect the work of art you are about to enjoy.
Aged Cognac
The first strap we take a look at is something Michael calls Aged Cognac. The term describes the strap perfectly. It is a fine even-colored caramel to light brown item where vegtan leather was used from the prestigious Tärnsjö tannery. The leather is superb quality with that original deep raw smell. I don't even remember when smelled it last. Stitching is cream that compliments the leather perfectly and eases the dressy look of it. The strap is a bit distressed giving each and every piece a unique look straight out of the box. I asked for 20mm ones, which is the size on both ends of the straps, something in my opinion only looks good on larger watches. The buckle you see on the photos comes with the strap but you can also use deployant on them of course. I like the large keepers and the fact that there are 2 only make them look cooler. Flip the strap and you immediately recognize that stitching on the keepers. That's what I call detail! Due to the color of the strap there aren't many watches that won't look great with it. I prefer black dials so for my watches it's an instant match. Price for this piece is around $70 for custom orders with an extra $15 for shipping. A price you can't really beat in this category.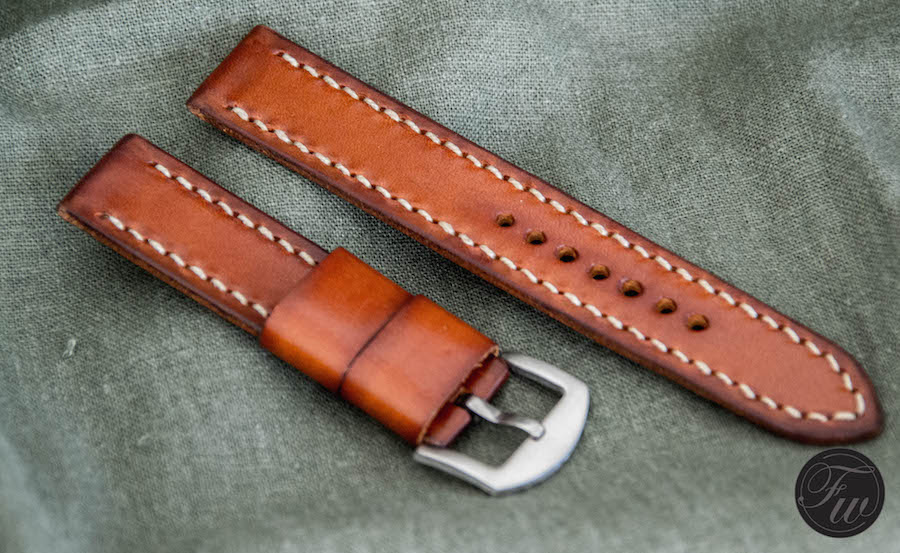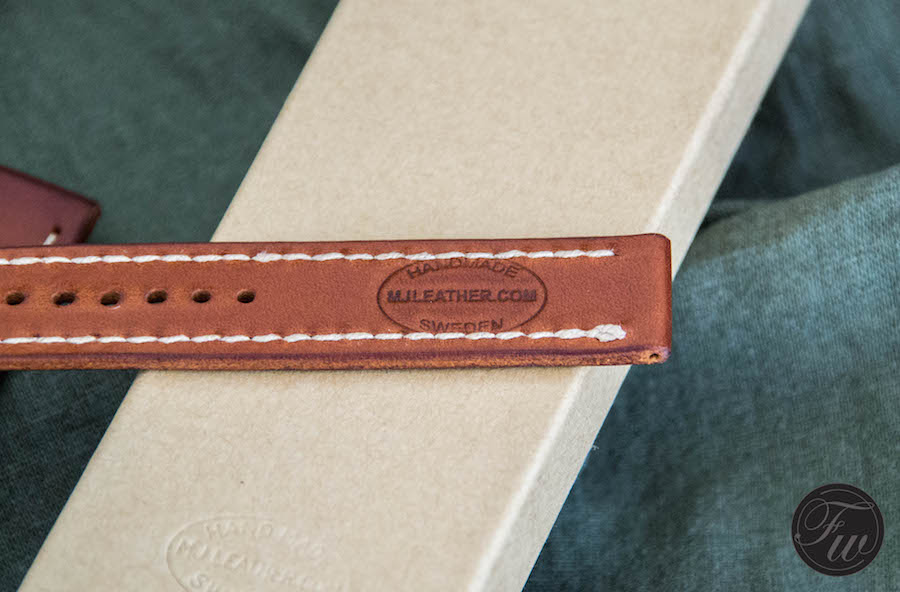 Ammo
I'm a huge fan of straps made of reused old leather. Whether the stuff they butcher was an old motorcycle jacket or a glove: perhaps a ball like we saw in one of our early articles by Detroit Strap Co., the idea is great. In this case we have a true army-themed strap. The leather Michael uses for this project is a vintage Swiss military ammo (that's ammunition for you) bag from the early 60's. The Swiss military might not have been the most experienced in combat grounds, but the fact remains; the leather is coming from an item that is pretty much the closest thing you can have when searching for material for an army-like strap. The color is light burgundy with very minimal creamy stitching. The lining of the strap is of vegtan cowhide, nothing too fancy, but this strap does not require that. Again, we have the same buckle as in the other case and again the same 20mm on both ends. The keepers are much thinner this time, but we get 3 instead of 2. It is softer than the Aged Cognac, easier to bend too, but feels sturdy and well made. The price starts around $90 (+ shipping) and can go up all the way to $160. While I said that the Aged Cognac is great as a dressier alternative, this one is more for the outdoors and something I can have on my weekends as an alternative when I want my watch to look "cool" rather than "elegant".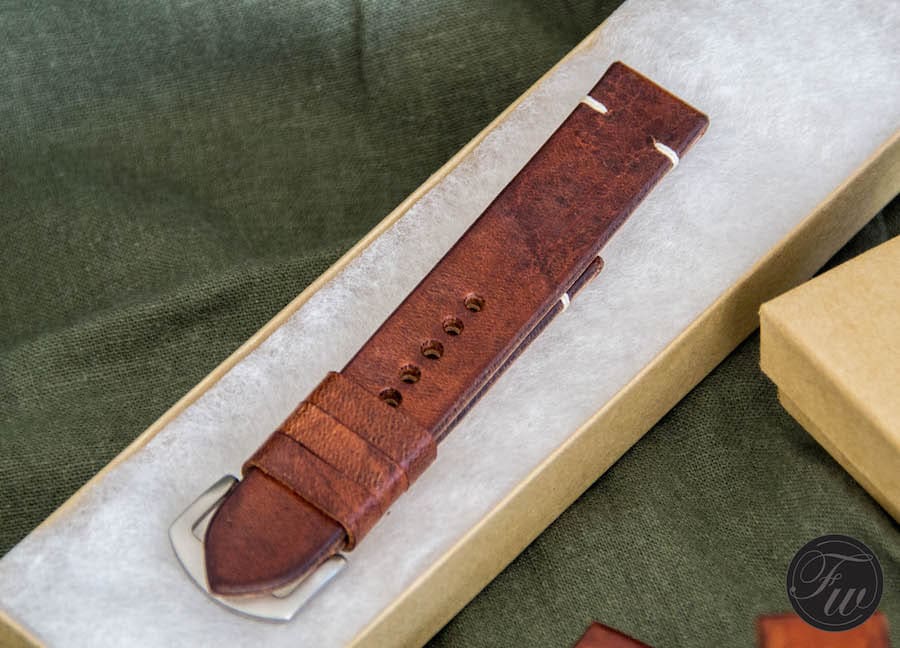 MJLeather lacks the exotic materials; you won't find ostrich, alligator or anything like that. It also lacks the excessive use of extreme colors or various strap styles like rally for instance. If you are a fan of the above-mentioned features then this might be bad news for you. If, however, you are on the market for a nicely handcrafted, perfectly executed leather strap, something that will stand the test of time, that is classy yet interesting, well then you are in the right place. MJLeather can offer you the true essence of this craftsmanship, similar to Equus only on a different scale. Michael really knows his stuff and the items coming out of his hands are second to none. So remember next time you are in the market for something like the pieces I've just reviewed, read and pay his site a visit. Send him an email and tell him I sent you. I'm sure you'll be in for a treat.
Visit the official MJLeather website
MJ Leather watch strap image gallery