Watch Strap Review Part 12. – Difues Leather
I'm back with another episode of our favorite accessories series: Watch Strap Review. Last month I took some time off but I've returned and have so much to share with you. First and foremost I'm happy to announce that Watch Strap Review is back on the imaginary road again. We continue our travels across the globe to find you the best strap makers out here. Also, for the last two months of the year we thought we should give you an early Christmas present with a double-dose of WSR. In November and December you won't only have one but two episodes per month.
The strap maker I am about to present to you comes from up north from a country you'd never guess. He's making straps, wallets, key chains everything a modern day craftsman whose game is leather could and should do. His name is Maxim, he's coming from Belarus and he is; Difues Leather.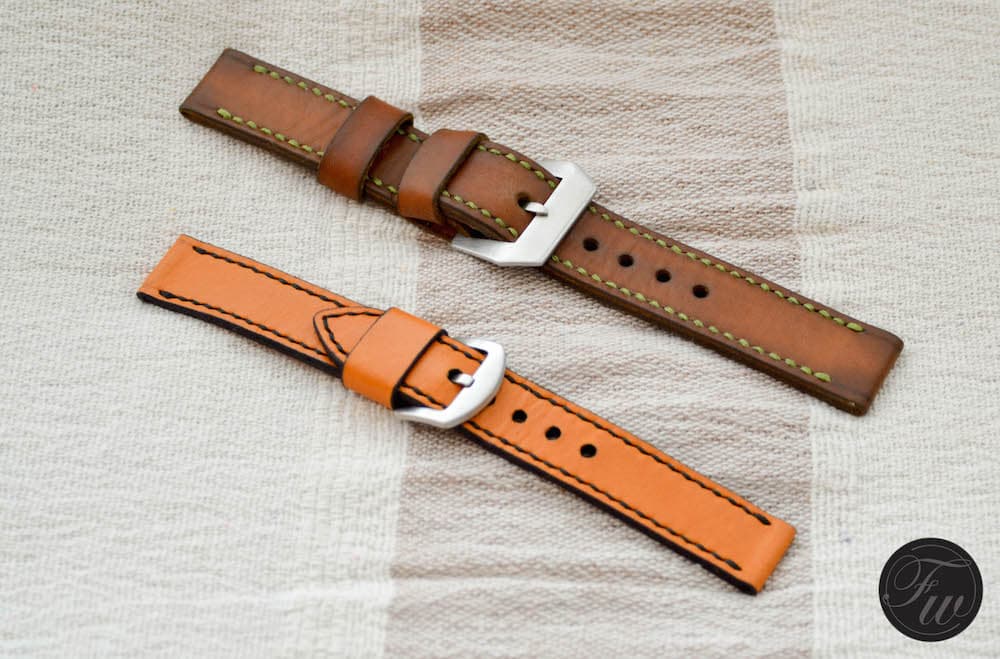 In the past we had a couple of reoccurring countries so I really wanted to focus on different nations and new craftsmen. Belarus is not the country you would associate with your typical strap producer like Italy or the US. However, as we know so less about the country I thought why not draw some attention to them and check out what they can offer? So I contacted Maxim and he was kind enough to send me a few straps for review. He is a newcomer in the business and Difues Leather is a relatively fresh project, Maxim started it about a year ago. He is completely autodidact and only works when he has inspiration. Kind of cool, if you ask me. The straps are produced in his home workshop, where he uses Italian calfskin or Horween leather from the US.
Strap no.1
The first strap we take a closer look is a plain orange leather. The color is very similar to the tone of the basketballs or baseball gloves. It is 20mm on both ends so takes a 20mm buckle but can be attached to a watch with the same lug width. The leather is plain and simple, very even, soft but not too flexible. It has a nice comfortable sit on the wrist. It has black stitching that runs along the rim of it, no sings of saddle stitching here. If you flip the long end of the strap over, you see the big Difues Leather logo with the bullhorn symbol (go Longhorns). The side of both short and long pieces are colored black, which would be a great color match to the stitching but does not protect the edges of the strap i.e. they are not too happy when under water. The keeper on the short end is pretty wide but not too much and the buckle is matte steel, as I have already mentioned, in size 20mm. The price of this Difues Leather strap is more than very friendly at $20.
Strap no.2
I also received a 24mm Difues Leather strap for an Officine Panerai and while I do not own one, this could not stop me from trying out the 2nd Difues Leather strap. This is a medium brown leather strap, normal length with light neon-green stitching. The strap is 24mm on both ends and the material is similar to the other strap; soft, a bit aged but plain without any grains. I think that with time, this strap could develop a pretty nice patina due to the wrinkles of the leather. The neon-green stitching frames the strap nicely and though it may look as an odd combo at first, actually looks cool on the watch. Guess what matches with it? Exactly, the lume on the Panerai dial! Don't be afraid as this strap really complements a Panerai nicely. On the inner side again you see the same Difues Leather logo and the same leather that you have on the top. This time you have 2 keepers, one fixed and one adjustable in normal width. To finish the strap of you have the usual Panerai-style buckle in matte steel. Price-wise you are looking at a whooping $30. I might say the friendliest price tag out there for this type of material and craftsmanship.
Ordering Difues Leather Goods
Please keep in mind that since Belarus is outside if the EU when ordering from Difues Leather customs charges may apply. The tariffs from customers are different per country, so make sure to check first. However given the very low price of his items I doubt it would be a huge sum. Besides the competitive prices the variety of straps that Maxim offers can easily make him a favorite by many of our readers. Please check out his Instagram account for more designs and make sure you hit Follow while you're there. If you have any questions or want to place an order just get in touch with him via the email address in his profile or send him a DM through Instagram.