Watches I Like To Look At But Can't Wear — Examples From Roger Dubuis, TAG Heuer, Bvlgari, And HYT
Why can something that looks so good feel and wear so wrong?
Art is in the eye of the beholder. Is that true for watches too? Yes, your particular taste in watches is highly personal. But what looks nice on the screen of your smartphone and in the shop window might not look so good on your wrist. That's why I would like to state that the right watch is on the wrist of the beholder. Sometimes the mix of wrist, case shape, and/or shades and textures seems to be a good formula on paper, but it just doesn't add up in real life. Allow me to give you a few examples of watches I like to look at but can't wear. There are a few icons and lookers on my list that I wish were not there, but the wrist doesn't lie…
The shortlist you're about to be confronted with needs a bit more of an explanation before I start naming brands and models. When I write about watches I like to look at but can't wear, the "can't" part leaves the money factor out of the equation. The "can't" is, in this case, purely based on looks and wrist feel. Having said that, let's start with a watch that costs US$851,000 before taxes.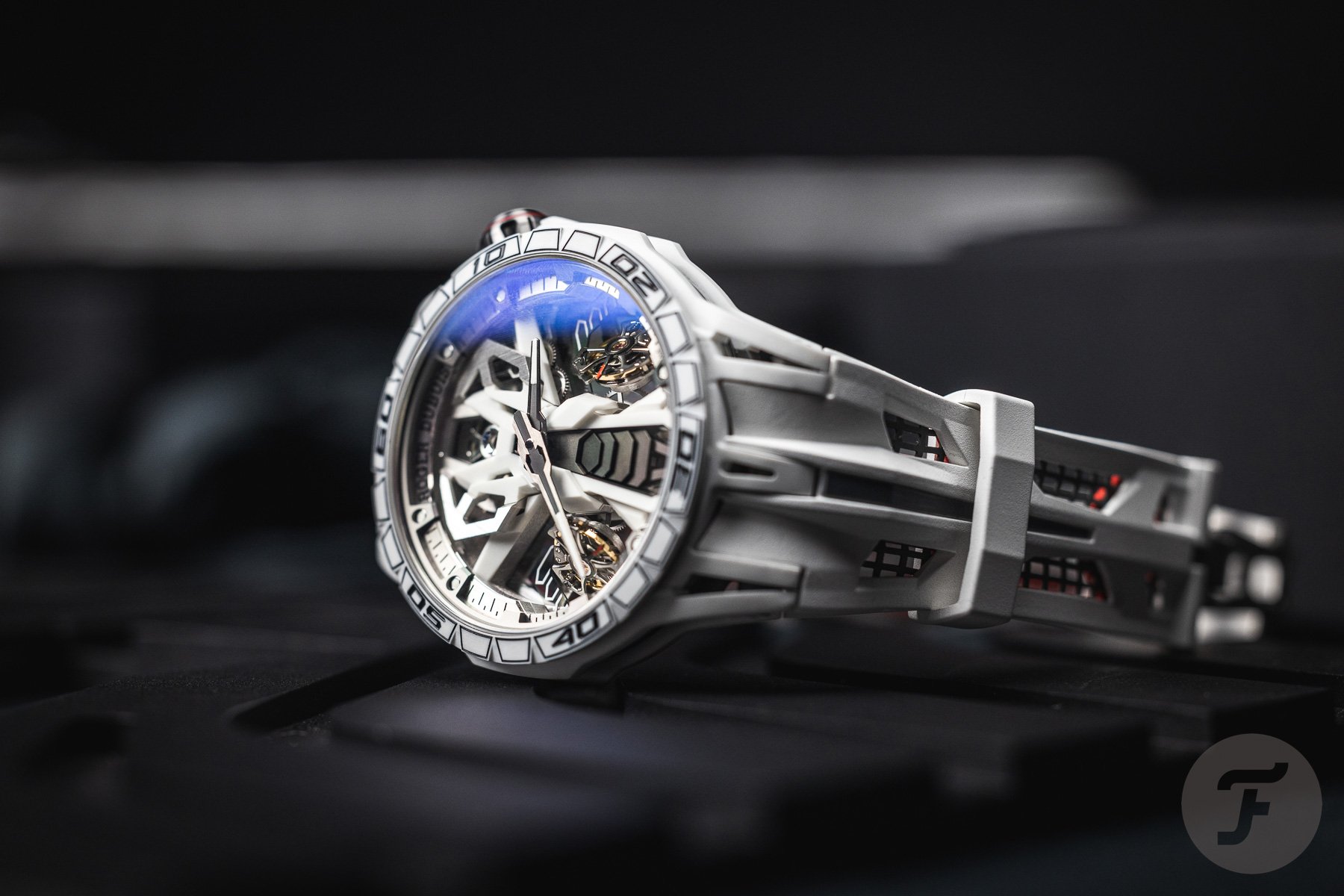 Watches I like to look at but can't wear: Roger Dubuis Excalibur Spider Countach DT/X
I recently got a Countach. It was a gift from my son. He has a thing for the original Countach in white, so he got me exactly that Lamborghini. I haven't built it yet. Yes, I said "built"— it's a Lego Countach. I do appreciate the Countach, but I was never the biggest fan of the car. I'm more of a Ferrari 288 GTO type of guy. But anyway, the Countach is an important car. And the new Countach LPI 800-4, which reflects the original aesthetic of the iconic V12 model, sure is a looker. So is the watch that honors the car, the Roger Dubuis Excalibur Spider Countach DT/X. The design of the "hyperwatch" perfectly matches the mid-engine, hybrid-electric hypercar. And that's also in the sense that they're both hyper-exclusive pieces. Just 112 cars were made, and the watch is even more exclusive, with only eight pieces made.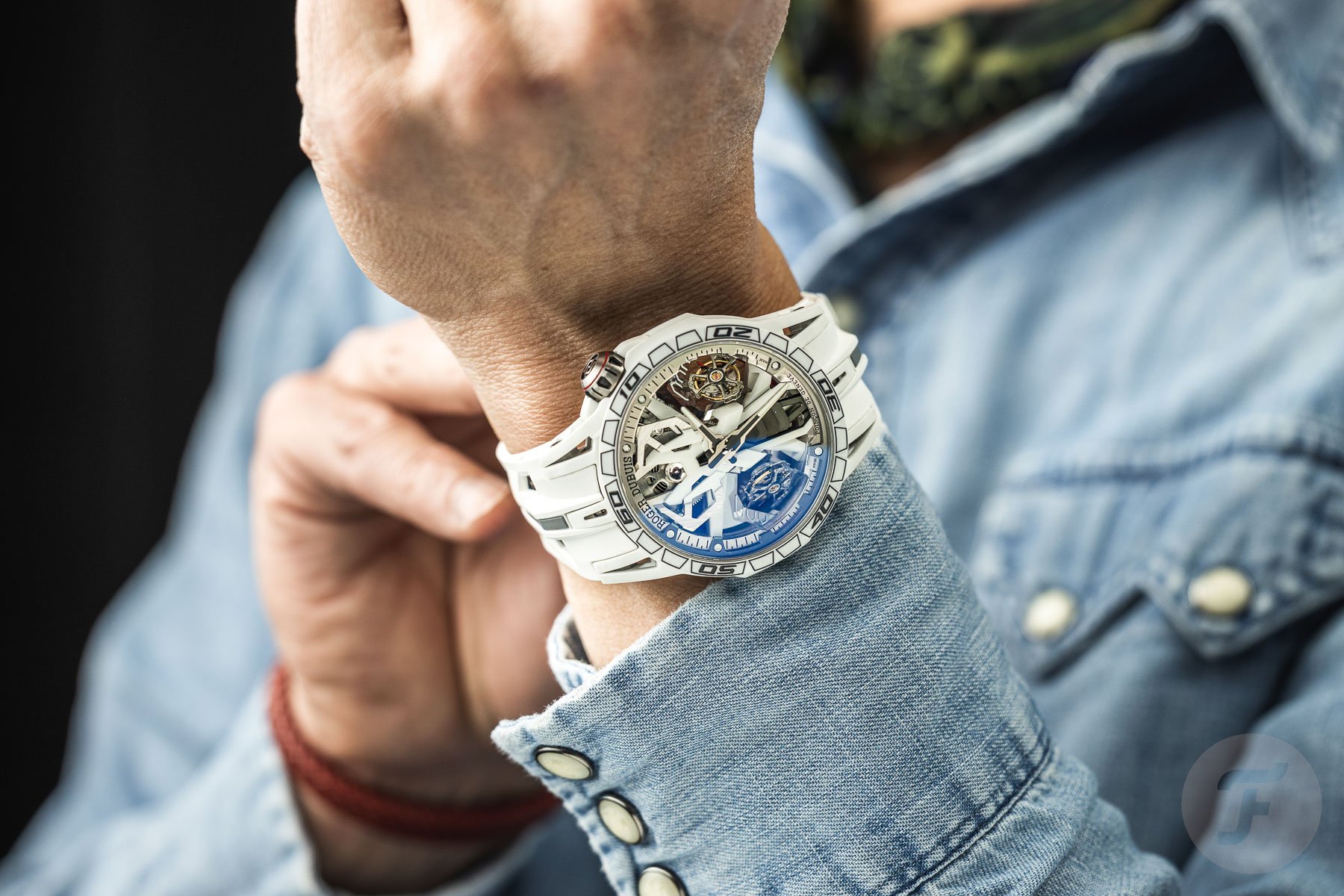 A V12 "Lambo" on your wrist
During the latest edition of Watches and Wonders, I got a chance to try on one of the Countach watches. Putting the watch on your wrist is a bit like getting into a super low hypercar; it takes a while to get the hang of it. It's hard to do it with grace. The folding clasp of the Countach watch is as complicated as its movement. And that RD112 caliber features two tourbillons tilted at 90 degrees to each other in a "V" configuration, resembling the V12 power plant of the Countach. Not only is it impressive at arm's length but, through a magnifying glass, you also get to experience the Geneva Seal finishing. Yes, it is simply spectacular.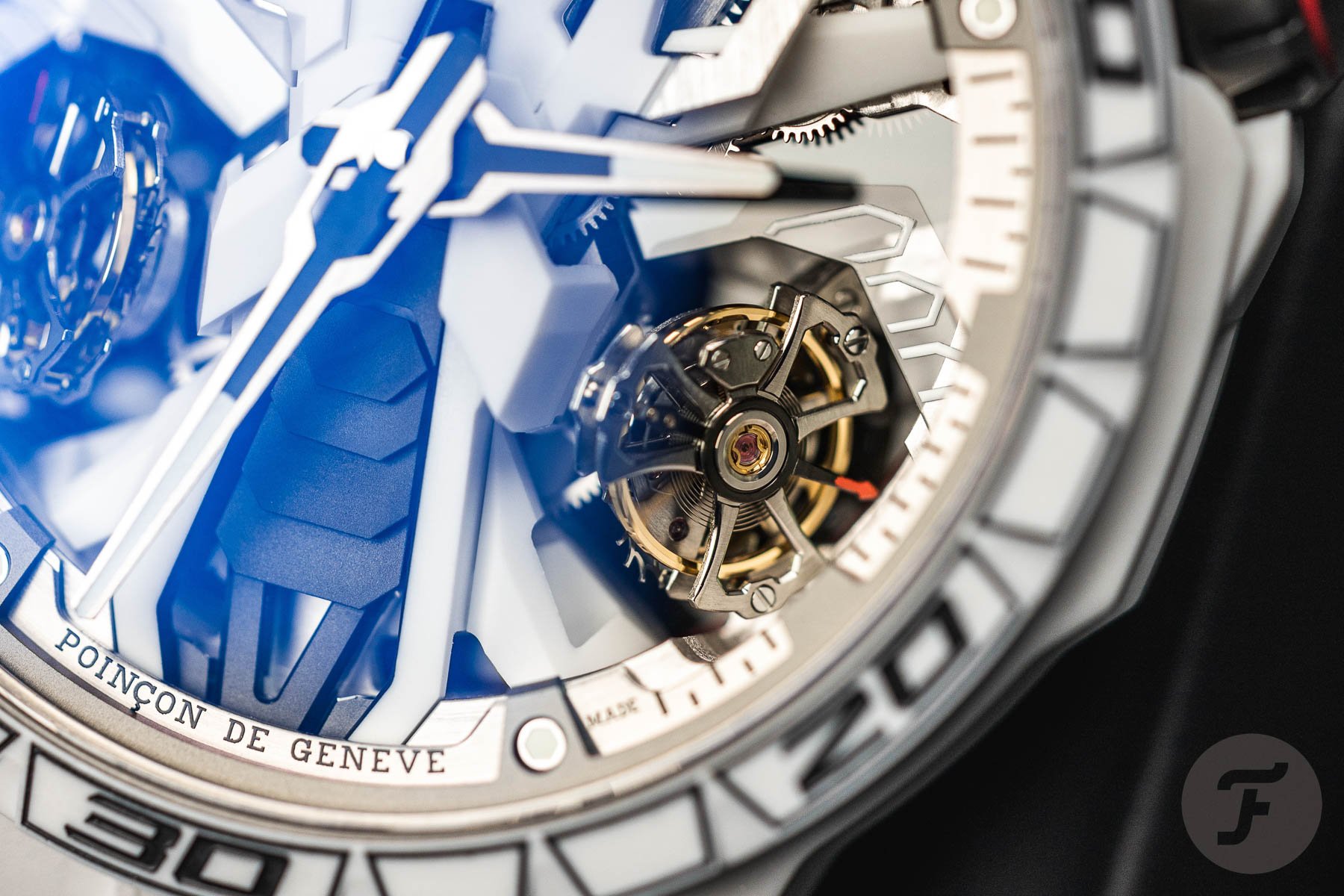 What to wear with this?
Still, on the wrist, the 47 × 16.45mm case is very prominent. It's big, it's brash, and it's bold, but it's not heavy — physically, that is. The case is made of Roger Dubuis's exclusive, high-tech Mineral Composite Fiber (MCF). That's a material containing 99.5% silica and that gets its final shape through a Sheet Molding Compound (SMC) process. And not only is MCF 2.5 times lighter than ceramic and 13% lighter than carbon, but it can also be colored very precisely. So, technically, this isn't a heavy watch. It is, on the other hand, very heavy on the eye. This watch is utterly impossible to miss due to its size and whiteness. It wears a bit like a Stormtrooper's helmet, if you know what I mean. And I also have no clue what to wear this watch with. A white T-shirt and jeans or a black silk suit? I have no idea.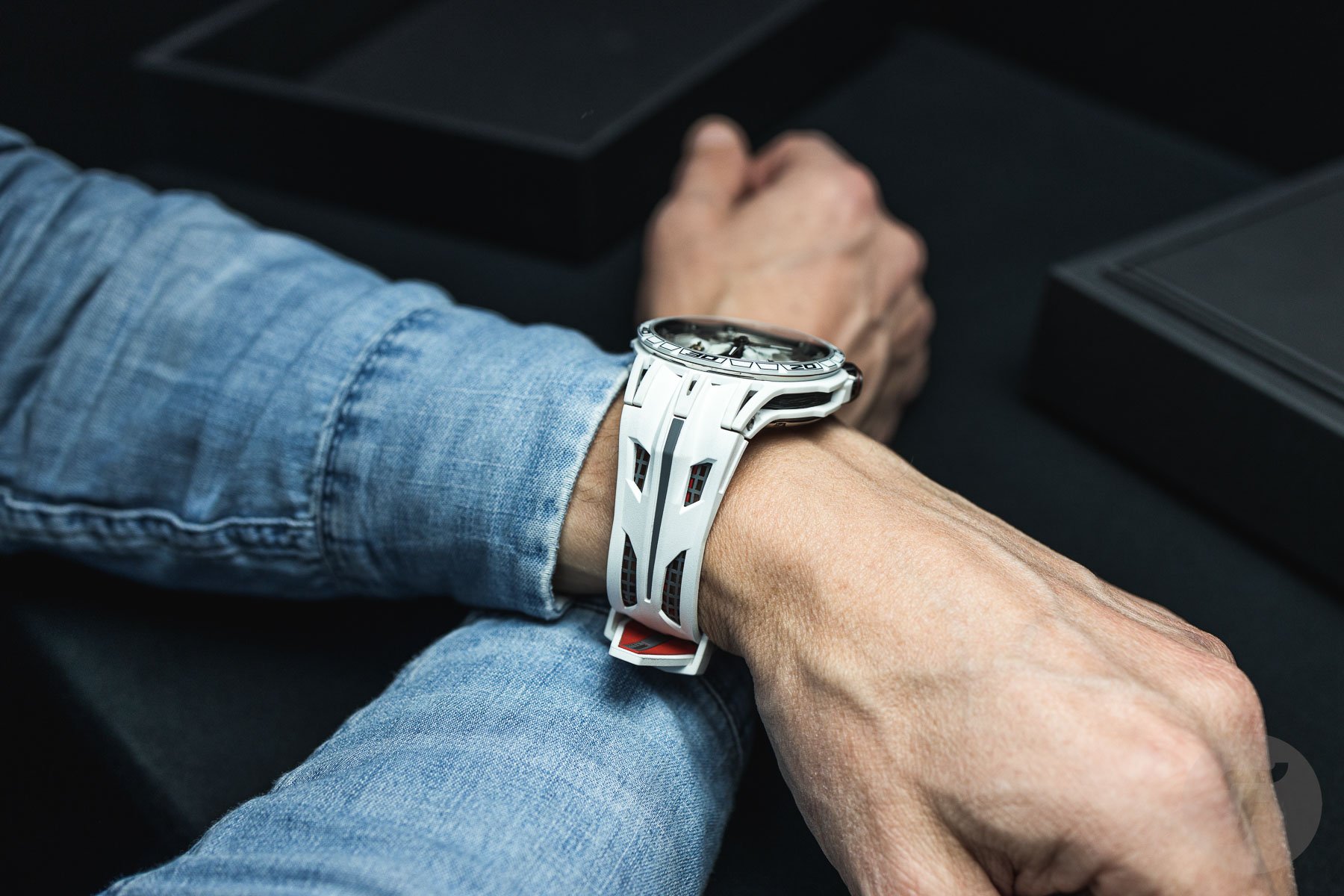 To me, the Roger Dubuis Excalibur Spider Countach DT/X is more of an objet d'art than it is a watch. Put it on display on your desk inside a glass dome, and this miniature time machine will be the perfect kinetic art piece — especially when you put a 1:18 scale model of a Countach next to it.
Allow me a hypothetical question: what would you wear while driving a Lamborghini Countach? A watch from 1974, the birth year of the Countach, perhaps? How about a yellow gold Patek Philippe Golden Ellipse 3644?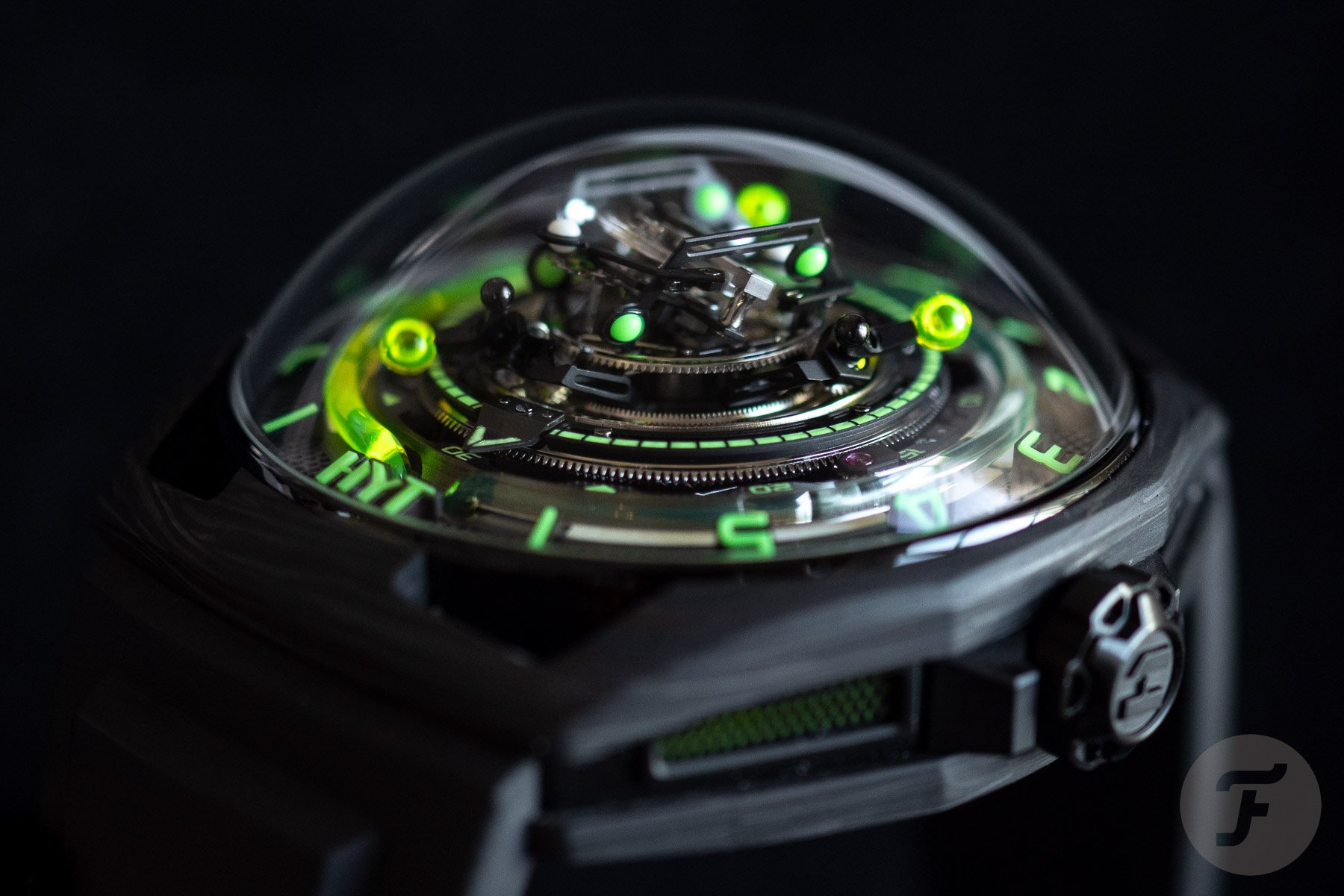 Watches I like to look at but can't wear: HYT Conical Tourbillon Black Eklipse
You look at it in awe, slowly becoming hypnotized, but when you put it on the wrist, the magic wears off quickly, and you start to feel a bit ridiculous. The HYT Conical Tourbillon Black Eklipse (CHF 335,000 before taxes) is both a visual spectacle and a horological tour de force, but it's also a problematic watch from a practical standpoint. When you put a movement inside a watch that mimics a star system within a star system — a star system gone rogue that is — you end up with a 48 × 25.15mm timepiece. Yes, it's a big and tall watch. The gigantic domed sapphire crystal is to "blame" for that. On the other hand, though, it's also quite small considering all the action that goes on inside it.
Master watchmaker Eric Coudray used his signature conical tourbillon — a device he named the "Cônillon"— and took the concept even further. The fast-moving tourbillon completes a clockwise revolution in 30 seconds, and it's surrounded by three tiny, moving spheres. Those spheres, each just 2.5mm in diameter, are filled with the same green luminous fluid that is used to indicate the retrograde hours.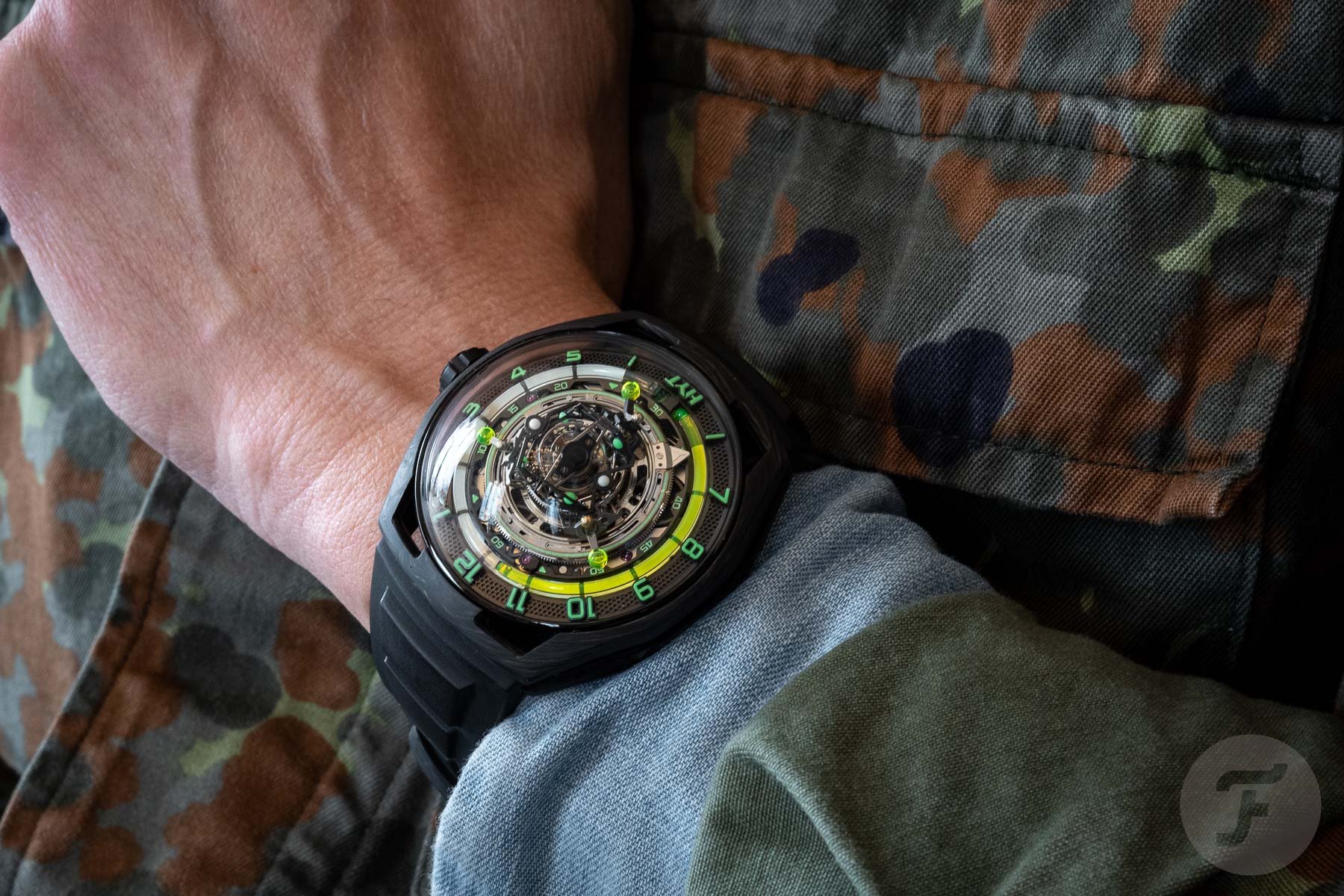 How to wear a star system
How do you casually wear a star system? I don't think it's possible. Not unless you're Marvel's supervillain Galactus, the World Devourer, he who controls the full might of the Power Cosmic, which gives him almost complete control of energy and matter…and I'm not really like that guy. My advice? If the Roger Dubuis sits on your desk, put the HYT on the coffee table.
To be clear, I "singled out" the Roger Dubuis and HYT as objects to be put on display rather than the wrist, but I also could have mentioned extravagant creations from brands like MB&F, Purnell, and Greubel Forsey. Maybe I'm just too simple to pull off ultra-complicated watches.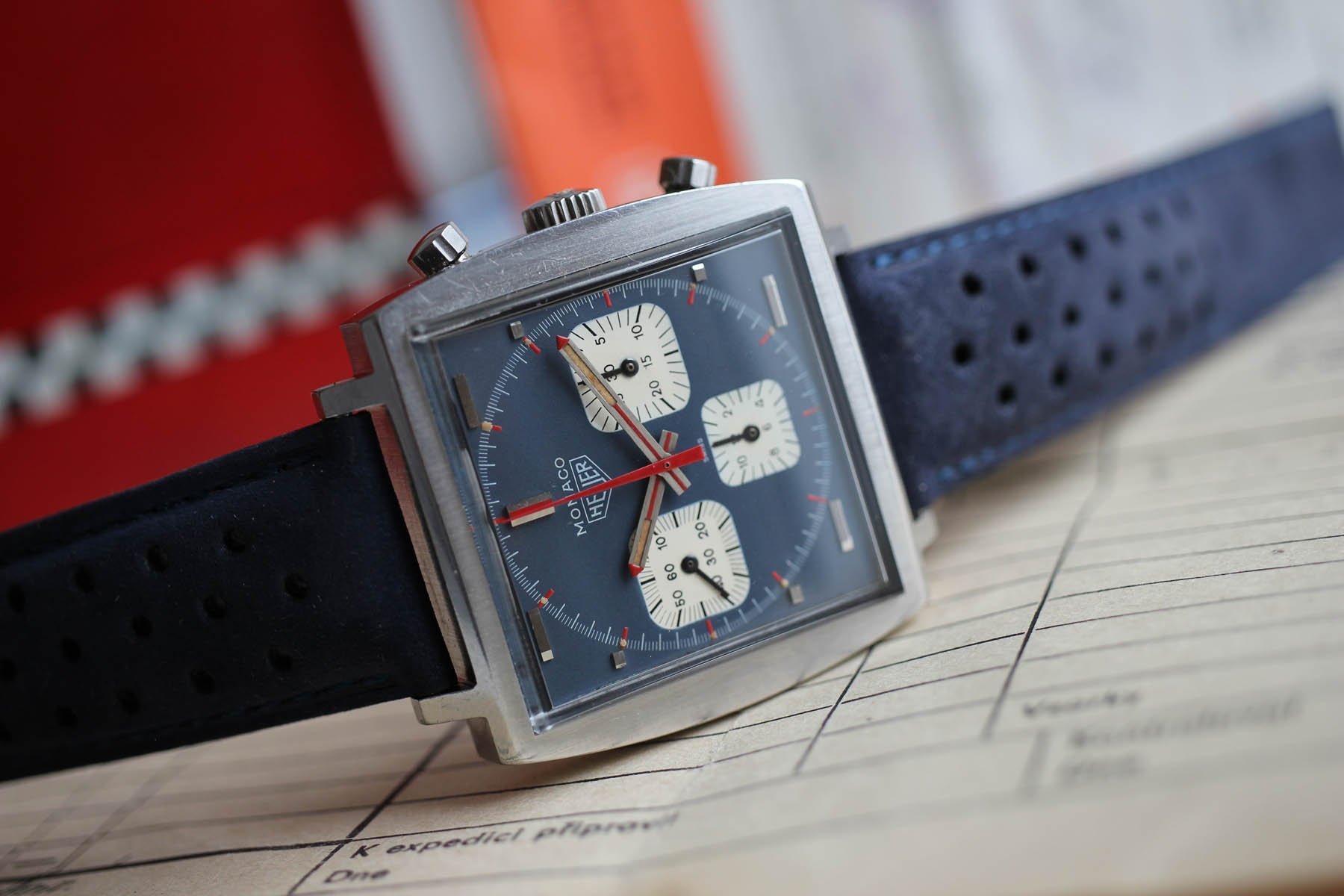 Watches I like to look at but can't wear: unexpected creations from (TAG) Heuer and Bvlgari
What about watches that are not that complicated, not even overly exuberant and extravagant, a one-of-kind design ­— iconic even — that is exactly to my taste but still impossible to wear? They exist. The square Heuer Monaco is an undisputed iconic watch that oozes coolness. I adore a vintage Monaco, and some of the recent interpretations are very cool — just take a look at the very recent TAG Heuer Monaco Night Driver Limited Edition.
When I got into the watch game, I (mistakenly) thought that wearing the right watch would make me cool — or look cool, at least. And that's why I tried on several modern TAG Heuer Monaco iterations. They just never felt right. No matter how right a Monaco looked on someone else's wrist, it always felt and looked wrong on mine. It might very well be the shape of my wrist. It can't be the 18.5cm size; that should be enough to accommodate a 39mm square watch with a 47.4mm length and a 14.7mm overall thickness ­— these are the numbers that apply to the current Monaco. On my wrist, though, the Monaco feels wobbly and looks more like a block of metal than a watch. I have to accept the fact that the Monaco is just not for me.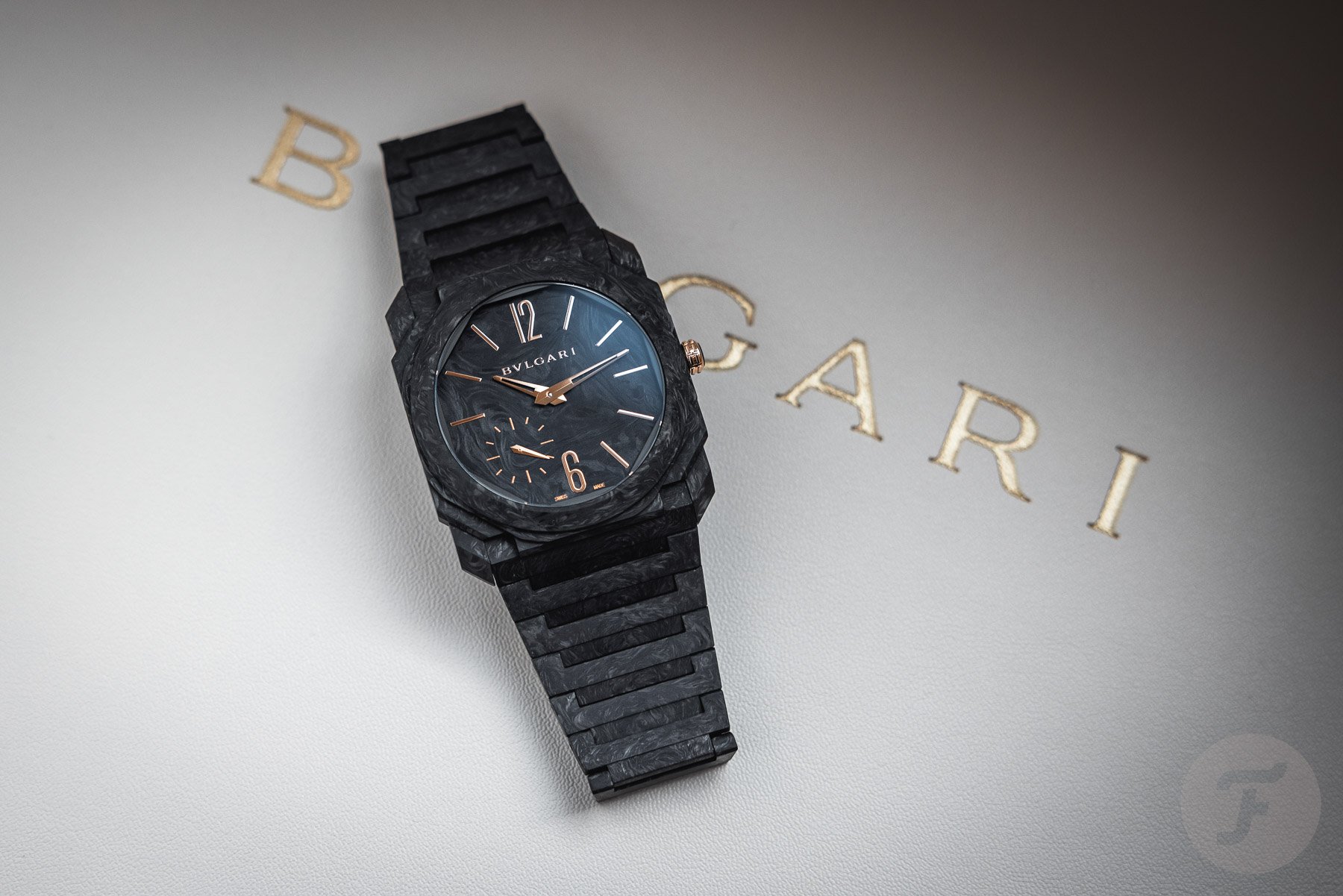 Lamenting the Bvlgari Octo Finissimo
The thin Bvlgari Octo Finissimo watches have quickly conquered the hearts and minds of the often very critical, skeptical, and conservative watch connoisseurs. It happened to me, but conquering my wrist proved "mission impossible" for the Octo Finissimo. Quite possibly, it's the combination of shape and thinness that causes a mismatch with my wrist. And the Octo Finissimo also messes with my brain. I see something sculptural and architectural with many fascinating facets, but because of the lack of thickness and consequent lack of depth, my brain can't translate what my eyes see. It's a bit like looking at a disruptive Escher drawing of impossible objects. I find them fascinating but also highly unsatisfying in a way.
How I wish this were different, especially when I saw the new Octo Finissimo CarbonGold Automatic (€29,000 before taxes). The 40 × 6.9mm case, the bracelet, and the dial are made of an extremely lightweight black carbon with a matte finish. This technical side of the watch gets contrasting details such as the crown, hands, and indexes in radiant rose gold.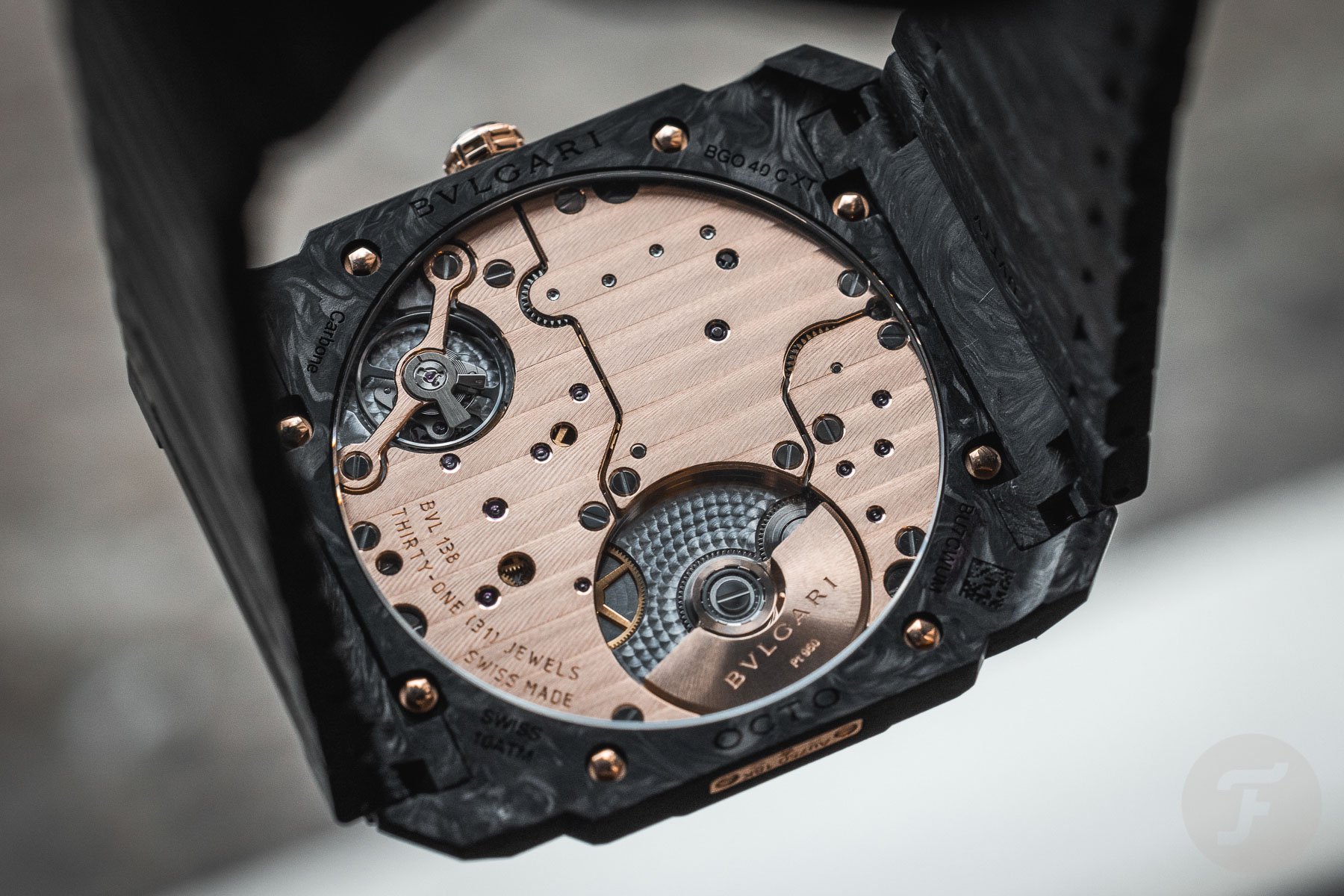 This Octo Finissimo walks a thin line between kitsch and cool and manages to stay firmly upright. That's also because inside the watch beats the wafer-thin BVL 138 caliber. It's just 2.23mm thick, but it packs a punch. The 3Hz movement outfitted with a micro-rotor boasts a 60-hour power reserve. This is very impressive and brought to you with Italian flair and flamboyance. But it all falls flat once on my wrist. Maybe there's something wrong with my wrist. Has anyone ever heard of plastic wrist surgery?