Watches & Pencils #26 – Mechanical Watches VS Quartz Watches
A while ago a friend asked me if I could make a cartoon about the never ending battle between mechanical and quartz watches. It took me a while to form the creative concept, but here it is.
Mechanical Watches VS Quartz Watches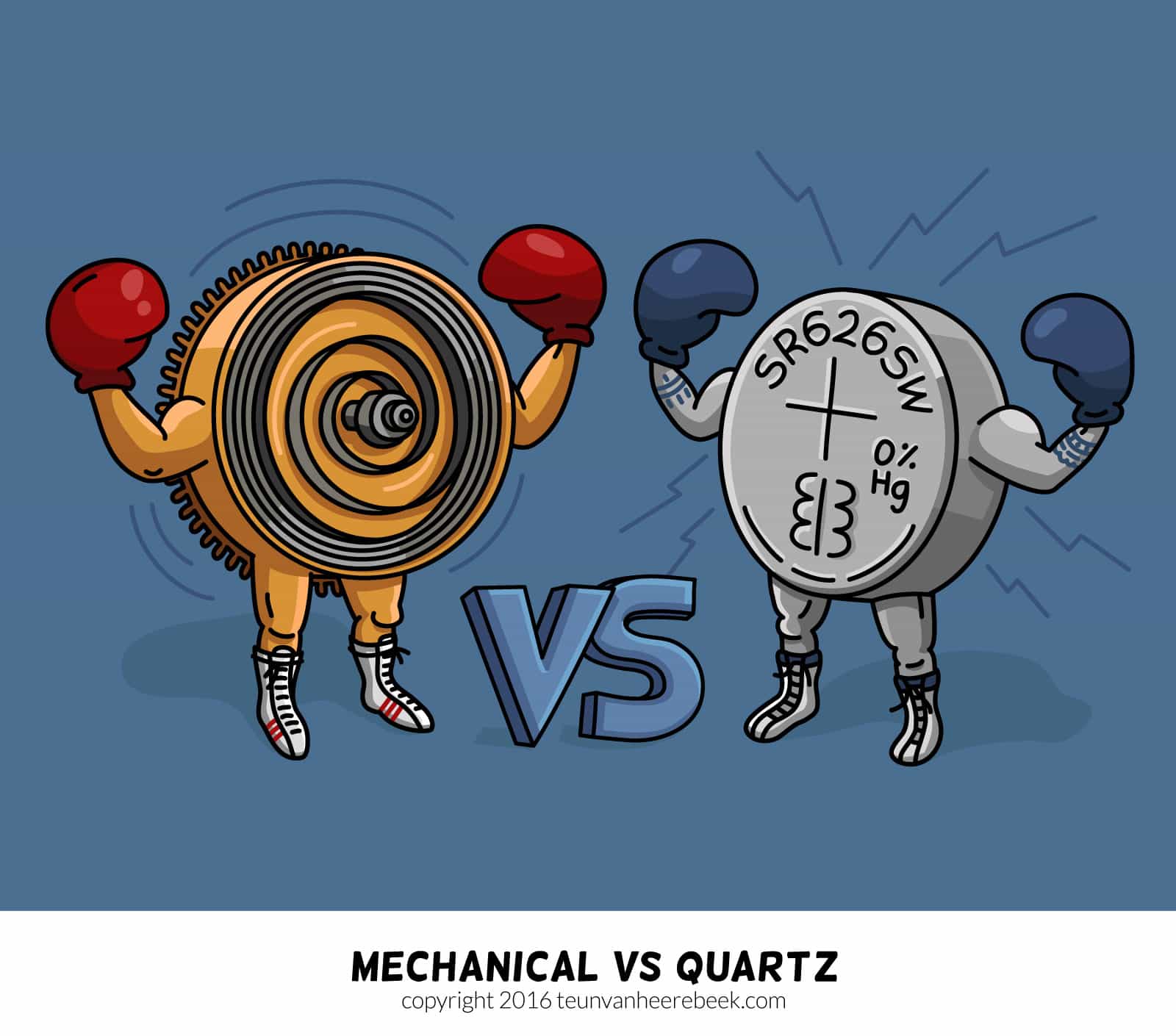 While most of us are totally into mechanical watches I do think it is a good thing that there is another competitor in the game of power sources for watches. From an objective point-of-view every kind has its pros and cons. Because we mainly publish about mechanical watches I thought it would be nice to focus on quartz technology.
Quartz Crisis
As most of us know in the seventies and eighties a lot of Swiss brands had a real hard time because of the introduction and development of quartz movements. Brands went bankrupt or bundled their powers to survive the crisis. It is often called a crisis, but you could also see this as an evolution from a consumer point of view:
The watch market suddenly had more to offer;
It made brands think about their strategy and attitude. Another player was introduced and they needed to anticipate on this;
New accuracy standards were introduced;
What were traditional brands like Rolex and Omega going to do with quartz technique? In other words,  thinking in possibilities instead of threats;
Watch industry became less concentrated around Switzerland. Asia embraced quartz, while most Swiss did keep there focus on mechanical watches;
First Quartz Watches

As with the first automatic chronograph, a lot of brands introduced their 'first' just after each other. All concentrated around the beginning of the 1970's.
On 25 December 1969 Seiko presented their quartz Astron, the world's first quartz watch. Short after this, the first Swiss quartz analog watch was presented at Baselworld in 1970: the Ebauches SA Beta 21 (with the quartz Beta 1 movement). The Beta 21 movement was used by numerous Swiss brands (e.g. Omega). On 6 May 1970, Hamilton introduced the Pulsar – the world's first electronic digital watch.
In 1974 another milestone was introduced: the Omega Marine Chronometer. The first certified marine chronometer. Accurate to 12 seconds per year using a quartz technique that produces 2,400,000 vibrations per second.
High-End Quartz Watches
While the watch industry is driven by a lot of budget quartz watches for the mass, there are definitely examples of more collectable and high-end pieces. To sum up a few: Rolex Oysterquartz, Omega MegaQuartz, Speedmaster Quartz LCD (including the X-33 and Z-33), various Grand Seiko models with calibre 9F movements, Seiko Astron GPS models and the Breitling Exospace, Emergency, Aerospace, etc. Besides this there are also more affordable examples. To name two: the new klokers timepieces or the Mondaine Stop2Go. Both interesting quartz watches with ditto design.
Something to think about
So I did show you that there are a lot of options for a nice quartz watch. High-end or budget. But don't you think those watches are a bit overshadowed by the millions of cheap quartz watches and the lack of heritage? I guess some of us are just as crazy as the old-timer lovers who loves an oil-leaking car with broken (but ORIGINAL) leather seats. Romance, heritage, craftsmanship and authenticity are strong values. What is important to you? Quartz or Mechanical?
Some say that only mechanical watches have a 'soul', but if you've ever taken a look at the beautiful oysterquartz movements by Rolex or the Seiko 9F quartz movements, you might agree with us that they even look nicer than some of the pretty 'rough' looking mechanical movements. It also depends a bit on the purpose of your watch. Is it a pure tool watch with lots of functionality, like any of the digital Breitling or Omega watches? Quartz is your only option then.