Watches & Pencils X UNDONE Limited Edition! – #37
UNDONE Watches is known for its customized watches. When Barry (VP Marketing, UNDONE Watches) contacted me about an illustration to visualize the production process I couldn't wait to start working on the piece. The idea was to create some kind of garage where UNDONE 'builders' are busy assembling a watch. They call them Mr. UNDONE internally.
First Limited Edition With Watches & Pencils Artwork
These last few months I have been working on this project. At some point, we came up with the idea to go one step further: to create a custom and limited UNDONE watch with this Watches & Pencils artwork on it. Unique, because I had never released any watch related artwork on a watch until now. Together with the crew of UNDONE Watches I proudly present  the "Mr. UNDONE" Killy Limited Edition: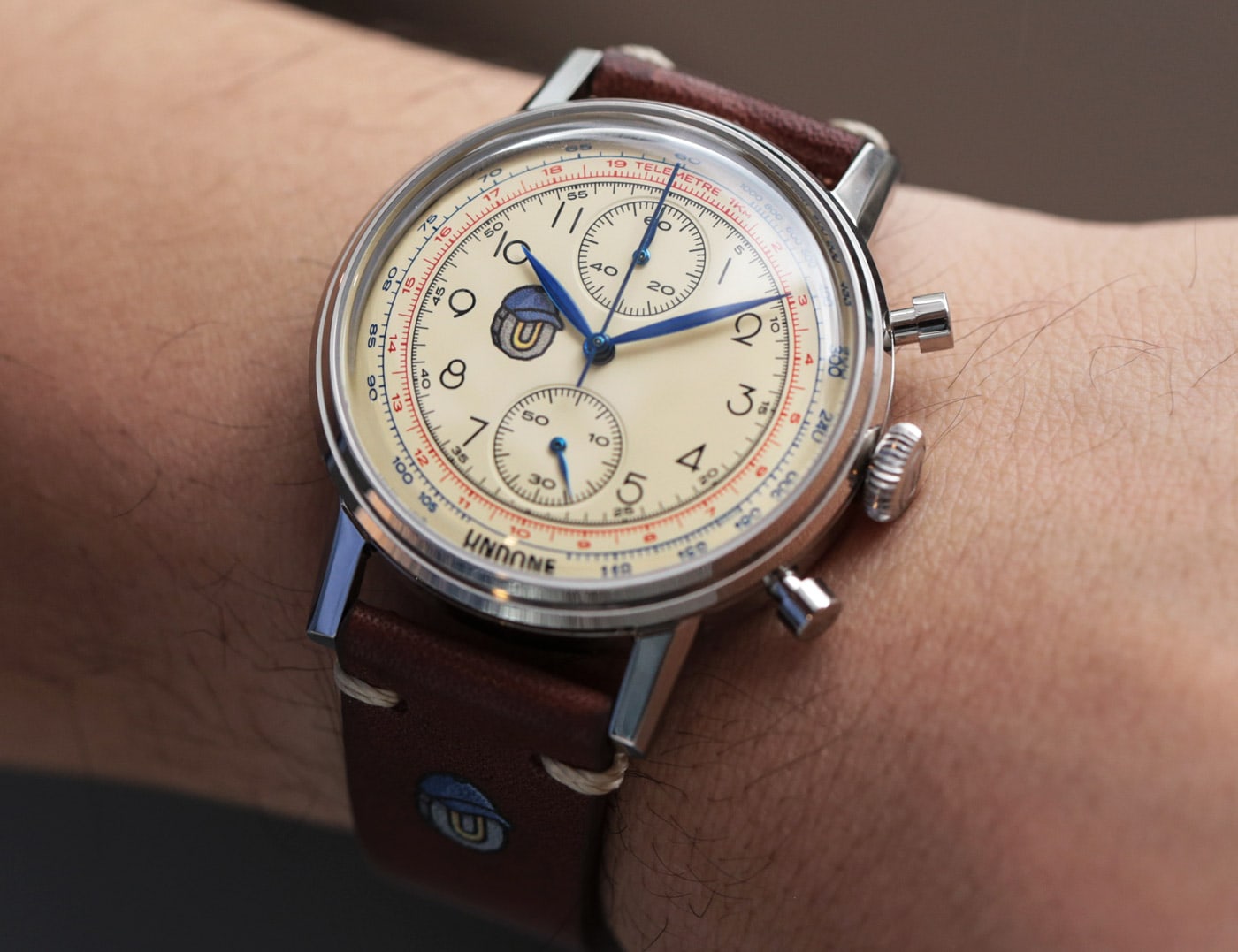 Unique features
As said, this watch is created by a collaboration between Watches & Pencils x UNDONE. Unlike many other limited editions it features artwork in several places:
The watch dial features the Mr. UNDONE logo
The case back glass features a part of the original illustration
It comes with an extra strap which has the head of Mr. UNDONE printed on it and the limited number on the back of the strap (It is also UNDONE's debut of their latest protective leather coating innovation)
Besides these features, it also comes with a hand numbered (limited edition number) card with the full vibrant illustration and story behind the artwork on it. The watch model itself is the popular URBAN 'Killy' chronograph. It is nicely sized: 40mm diameter, 48mm lug to lug and a lug width of 20mm. Vintage looks and a reliable Seiko MechaQuartz 'Hybrid' movement (VK61A) make the package complete.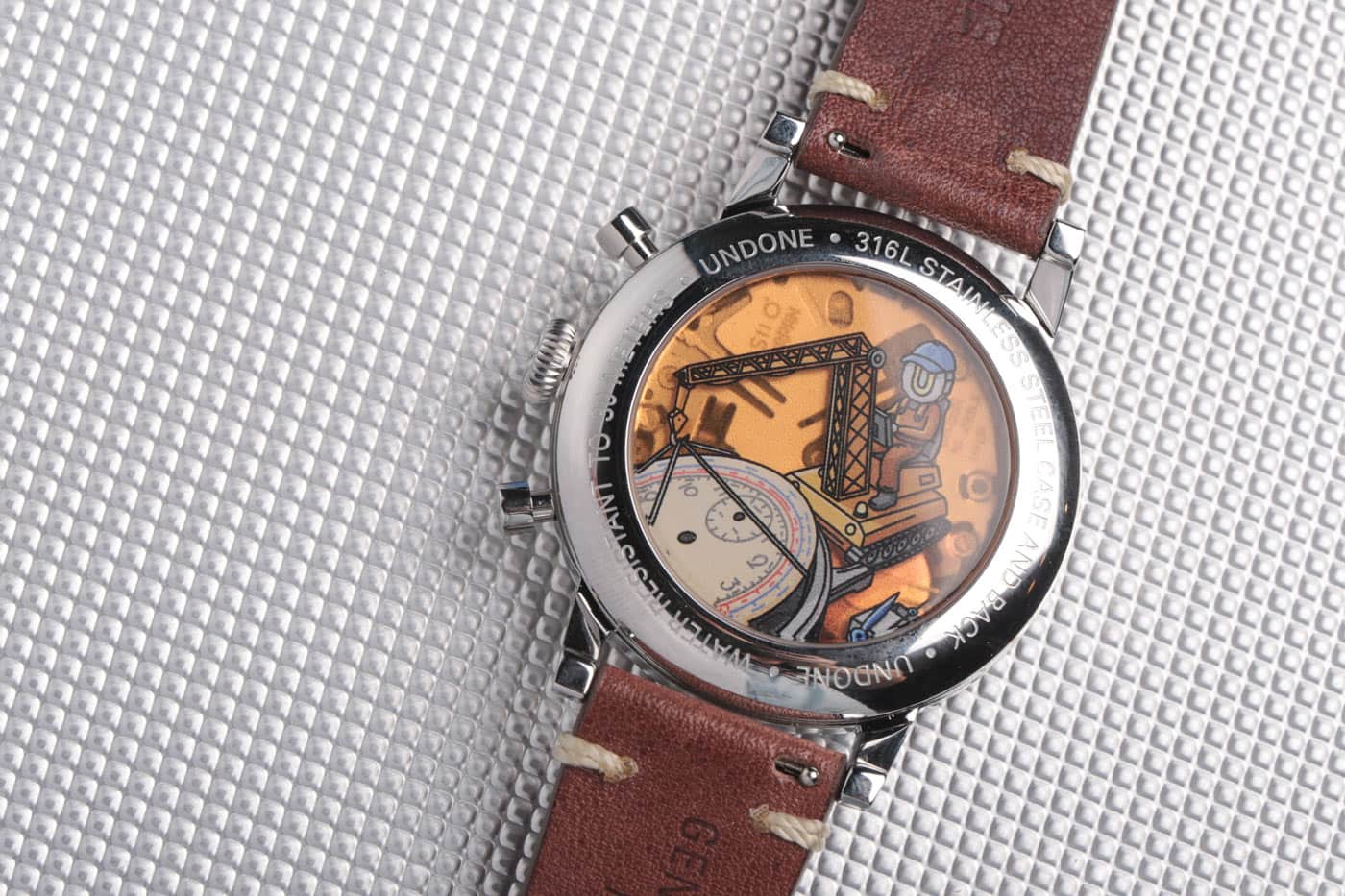 How To Order The Watch
The watch costs 335 USD (excl. tax and shipping) and is available via the official webshop of Undone Watches: order the watch here. You have to be quick, the "Mr. UNDONE" Killy Limited Edition is limited to 200 pieces and will only be available in May 2018. This is your unique chance to acquire a limited watch with Watches & Pencils art.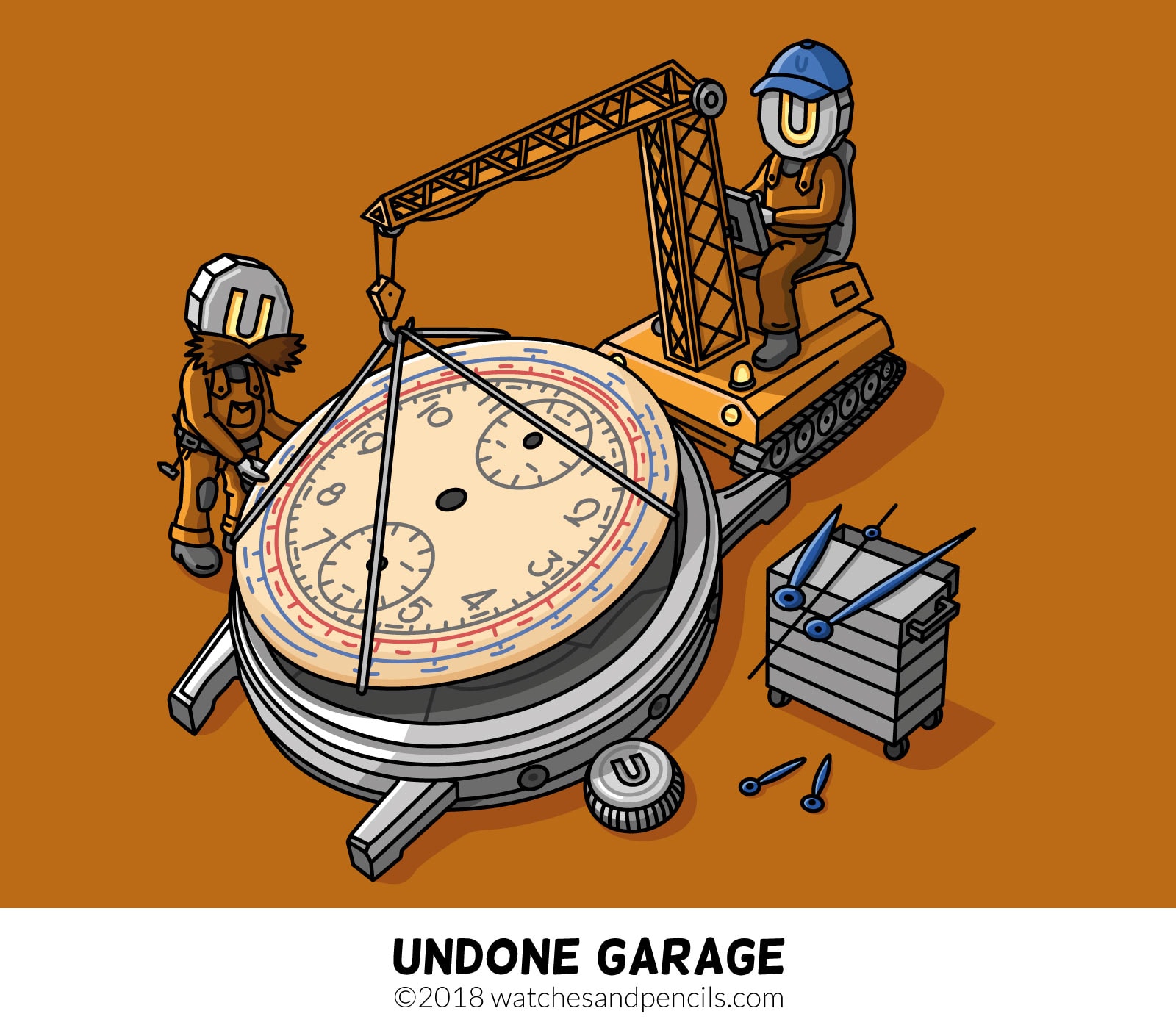 Early Bird Discount
Good news for early birds. When you order the watch within the first 72 hours you will get a discount of 10% (link to the product page).
Want to learn more about UNDONE? Eager to learn how UNDONE Watches experienced the process? Read the story by VP Marketing, Barry, below to find out.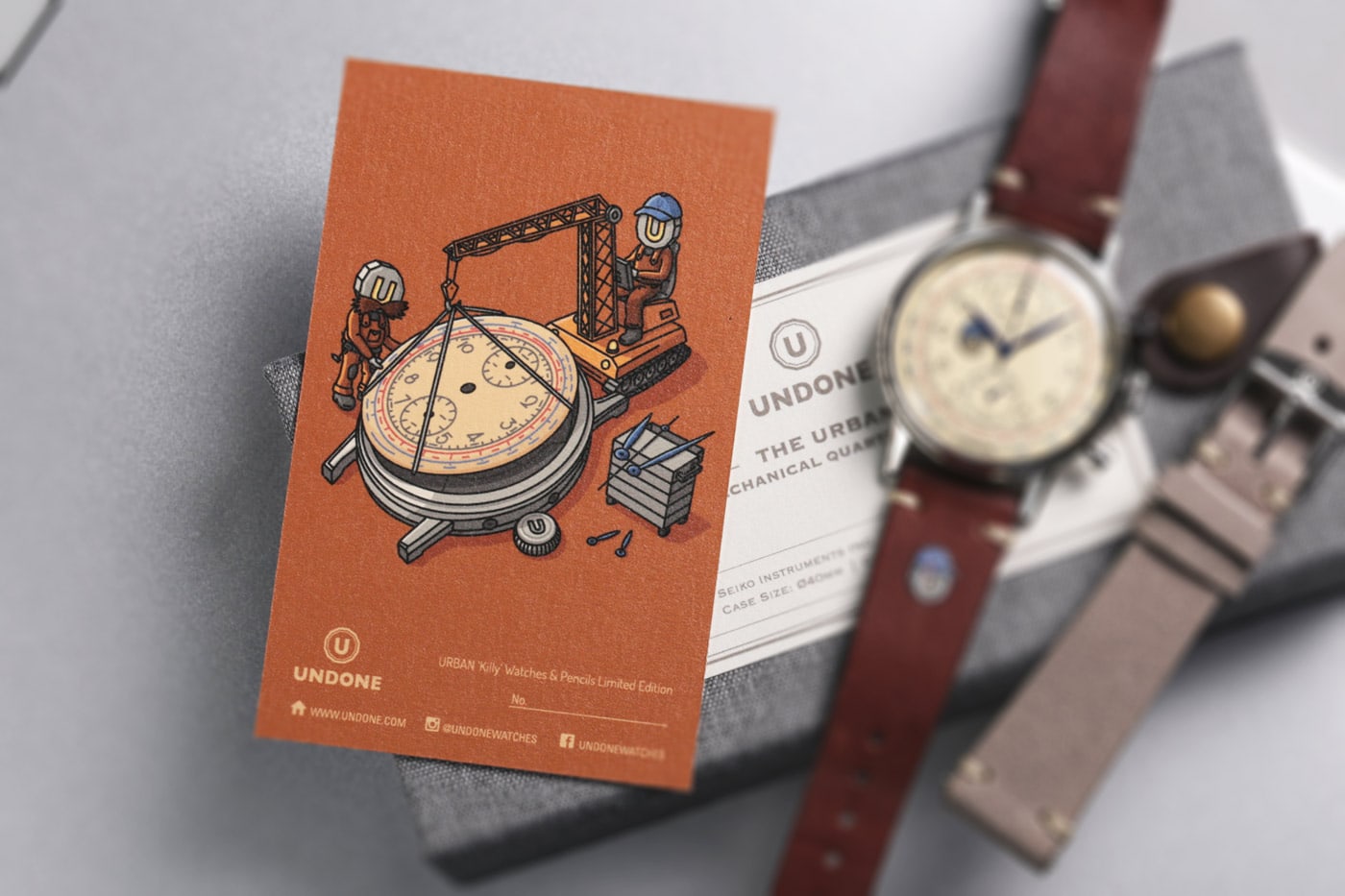 The Story By UNDONE Watches
We are incredibly thankful to the watch community for their recognition of UNDONE's endeavour in promoting the preservation of artisan spirits and traditions established throughout the golden era of watchmaking. Our URBAN 'Killy' Chronograph had the honour to be the inspiration for Teun's latest art release which is featured in Fratello's "Watches & Pencils" episode this month. In addition to illustrating UNDONE's essence of tailor-making our client's watches within our production facilities, it is also the debut of "Mr. UNDONE', a fictional cartoon watch builder that was initially conceptualized together with our brand.
In celebration of this occasion, we are launching the "Mr. UNDONE" Killy Limited Edition with Watches & Pencils artwork that will only be available in May 2018. This watch will feature a special 'Killy' dial featuring the "Mr. UNDONE" icon and the original artwork on the case back display. This box set includes an exclusive Mr. UNDONE watch strap, as well as a cigarette card-sized art print.
Team UNDONE has met with Teun (@WatchesAndPencils) during Baselworld 2018. He is a one-of-a-kind horological artist and illustrator who is paying a massive tribute to the vintage watch collectors community devoting his work to the hobby's sub-cultures and iconic references. A big thanks to Team Fratello, Teun, and of course, the #WATCHFAM community for all the support!
---
All the information about the limited edition watch can be found in the official UNDONE webshop: link to the product page.
I hope for your support and will see you in the next episode of Watches and Pencils!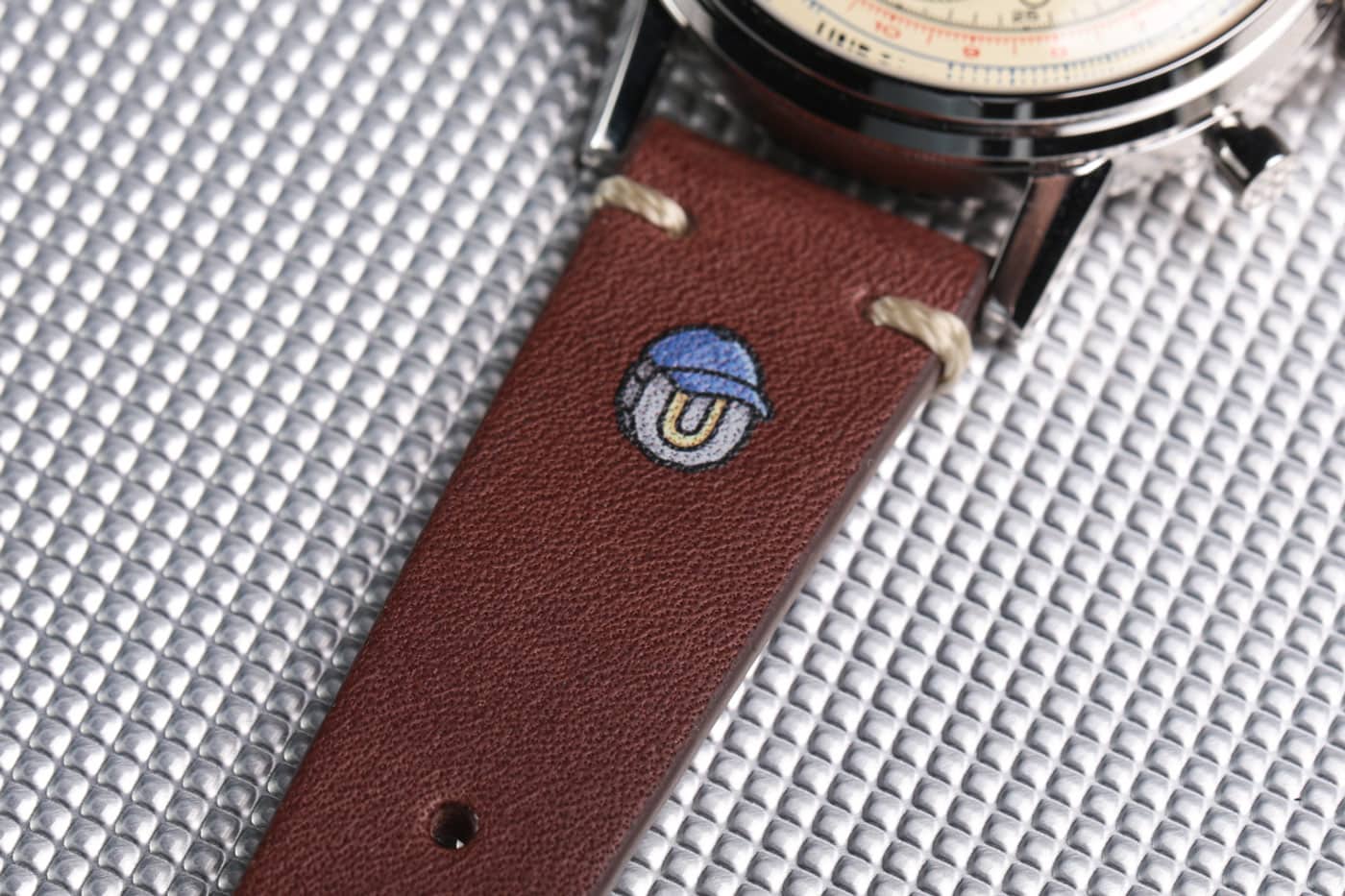 Interested in more UNDONE? We also did another review about another customized UNDONE watch. Click here for the review by team member Balazs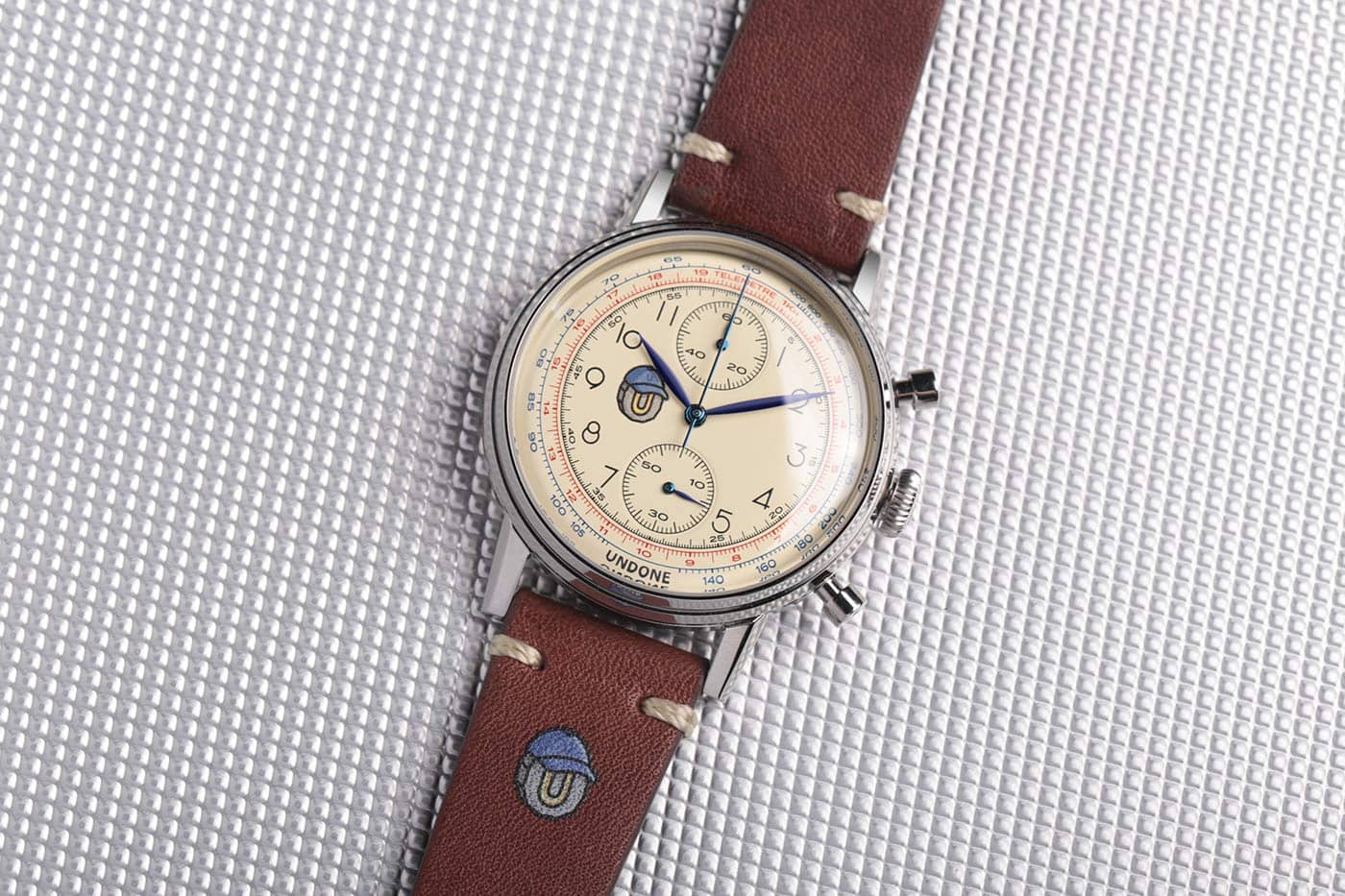 *Note: This is a collaboration between Undone and Watches & Pencils (operated by Teun van Heerebeek), and not with Fratello Watches.