Welsbro's Watches Treat Us To A Tour Of The Best Foods Around Staten Island
Come and try out some of the delicious new dishes — ahem, sorry — I mean watches!
Welcome to the first episode of Fratello Food Frenzy! Today, we'll be exploring the culinary hotspots of Staten Island, New York! Who could say no to the best cold cut, Italian ice, and pizza in town? Get ready for a very colorful and flavorful ride! Oh yes, and the tour will definitely include some sizzling hot Welsbro watches too! But before we kick off our tour, it's time for a little introduction.
Today's tour is courtesy of husband-and-wife team Rich and Katie. In 2021, they relaunched Welsbro as a brand. From the 1930s to the 1970s, Welsbro was a watch brand under the wings of the Weissman Watch Company. The company used to get its parts from Switzerland and assemble the watches in the US. Welsbro disappeared, probably due to the Quartz Crisis, but when Rich found out about the American heritage brand, he couldn't pass it up. Now the watchmaker's son, long-time collector, vintage-watch dealer, and, above all, watch enthusiast launches three "new" watches together with Katie, who is responsible for marketing.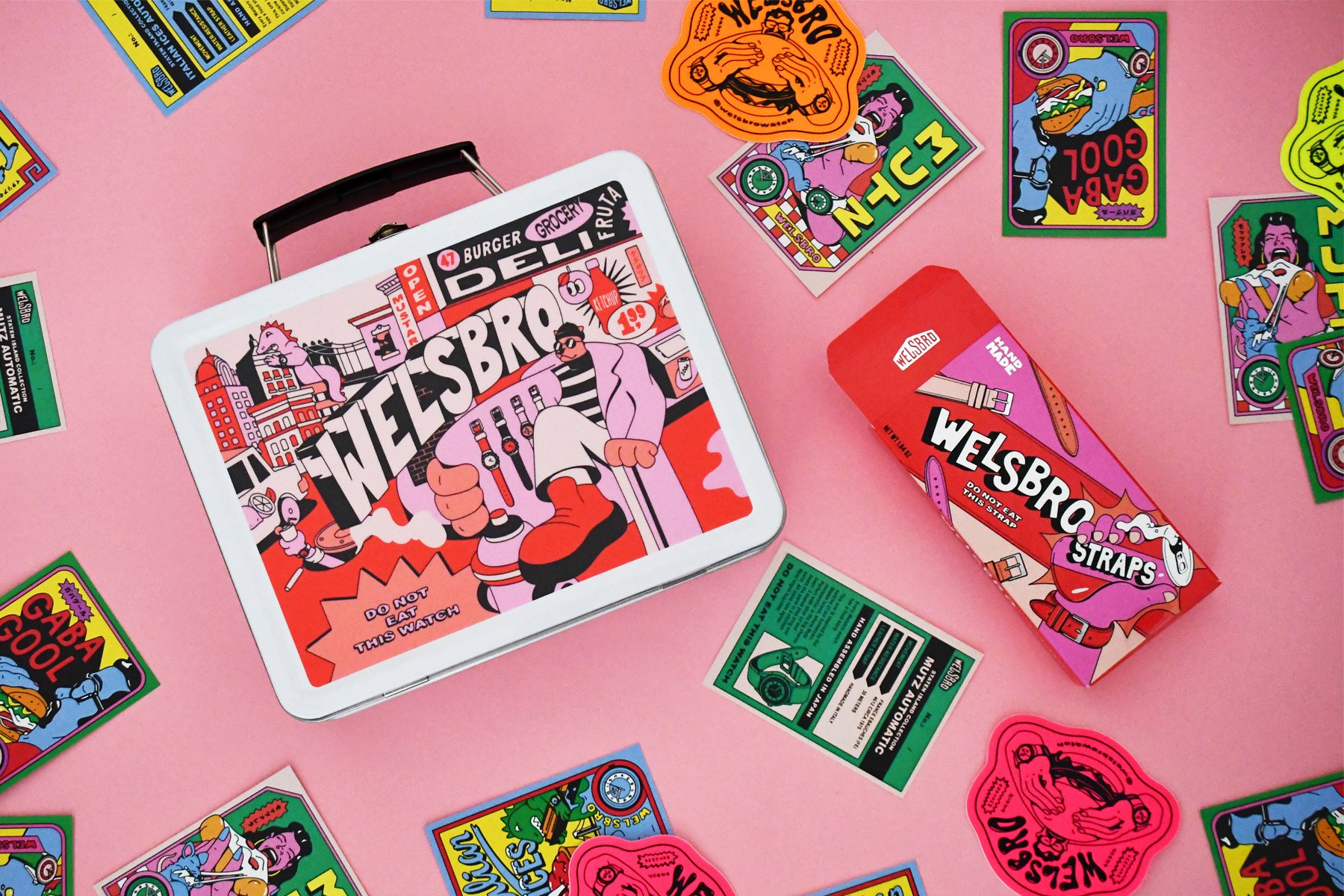 New cases and vintage movements
If you already know Welsbro, you probably also know that the brand's watches are not completely brand new. For the first launch last year, Rich combined new-old-stock (NOS) movements with NOS cases. Because of that, the number of pieces available was quite low. For that first launch, there were only a little over 10 watches of each of the four flavors available. And yes, I say "flavors" because every new Welsbro watch has a food-inspired story behind it. The brand's previous watches went by the names of Ketchup, Mustard, Orange Soda, and Lemon Lime Soda. The dials that Welsbro uses are completely new and designed by Kenkichi Kumada, who is also a watchmaker's son. He's the brain behind the possible combinations of NOS parts and hand-assembles them in his workshop in Japan.
The watches that Welsbro is launching today have a completely new case that was designed by Kumada. Both the all-brushed 39mm case and the (new) colorful dials take inspiration from an original Welsbro design from the 1940s. Similar to what Fears recently did with its Archival 1930 model, Welsbro is also using vintage movements inside these brand-new cases. They are automatic France Ebauches (FE) 4612 calibers from around 1975. That's indeed the same movement that was used inside the '70s Heuer reference 844. The only adjustment that has been made is that the day/date function has been disabled to make it a time-only watch. Now, let's start with our culinary tour of Staten Island, New York!
A Gabagool sandwich for lunch
Rich, the co-founder of the revived Welsbro brand, is from Staten Island. Although he now lives in Los Angeles with his wife Katie, they decided to name the three watches included in today's drop after his favorite dishes on the island. The first one is the Gabagool. Does that ring a bell? Exactly: it's Tony Soprano's favorite cold cut as well! "Gabagool" is New Jersey slang for capocollo or coppa, which is a dry-cured type of salumi made from the muscle that runs from the pig's neck to its shoulders. It's a traditional Italian cold cut, and because it's always sliced as thin as possible, it has a bright pink color. And that's exactly what Welsbro has used in the design of the new Gabagool watch.
The minute track and the ribbed central portion of the dial are as pink as pork. The sector around the numerals, however, is very red. That touch of red is probably there because of the red canopy at Montalbono's, Rich's favorite place to get a Gabagool sandwich. The black hands might be a reference to the black mustache sported by many Italians and found in the accompanying bright, colorful artwork designed by Welsbro team member Oscar Bastidas. All right, I hope you enjoyed that sandwich. Now, let's go down to Brookfield Park and get ourselves some Italian ice!
Italian Ices in the park
The second watch in the Staten Island series is clearly inspired by a place called Ralph's Famous Italian Ices. The blue and white colors that are used for the dial are a recurring theme everywhere in this store, including on its canopies and the cups they use for the Italian ice. Unlike ice cream, Italian ice doesn't contain any dairy. Rather, it's a water-based type of icy treat, perfect for cooling down on a warm and sunny afternoon in the park! Come on, grab a spoon and let's go for a short walk. But don't worry, we'll get in the car once we're done eating those delicious Italian ices, and then we'll drive over to our third and final stop for today. Are you ready for pizza?
Lots of Mutz for dinner
The final watch in the Staten Island series is both very white and very green, and it is called Mutz. "Mutz" means mozzarella in New Jersey slang, so now you know where the white on that dial comes from. The green comes from the basil, which is often paired with the mutz. We'll drive over to the north side of the island to order some pizzas at Denino's Pizzeria & Tavern so you can get a good feel of what that mutz should taste like. How's that to round off the day? I personally think this green one is the best-looking one of the three. The fact that pizza is perhaps my favorite food of all might have a little something to do with that!
So, there you have it — three delicious-looking new watches, one even more colorful than the next, all with a very wearable and robust case. Every watch is fitted with a matching Italian leather strap and comes in its very own lunch box. In this box, you'll also find an additional cream-colored leather strap.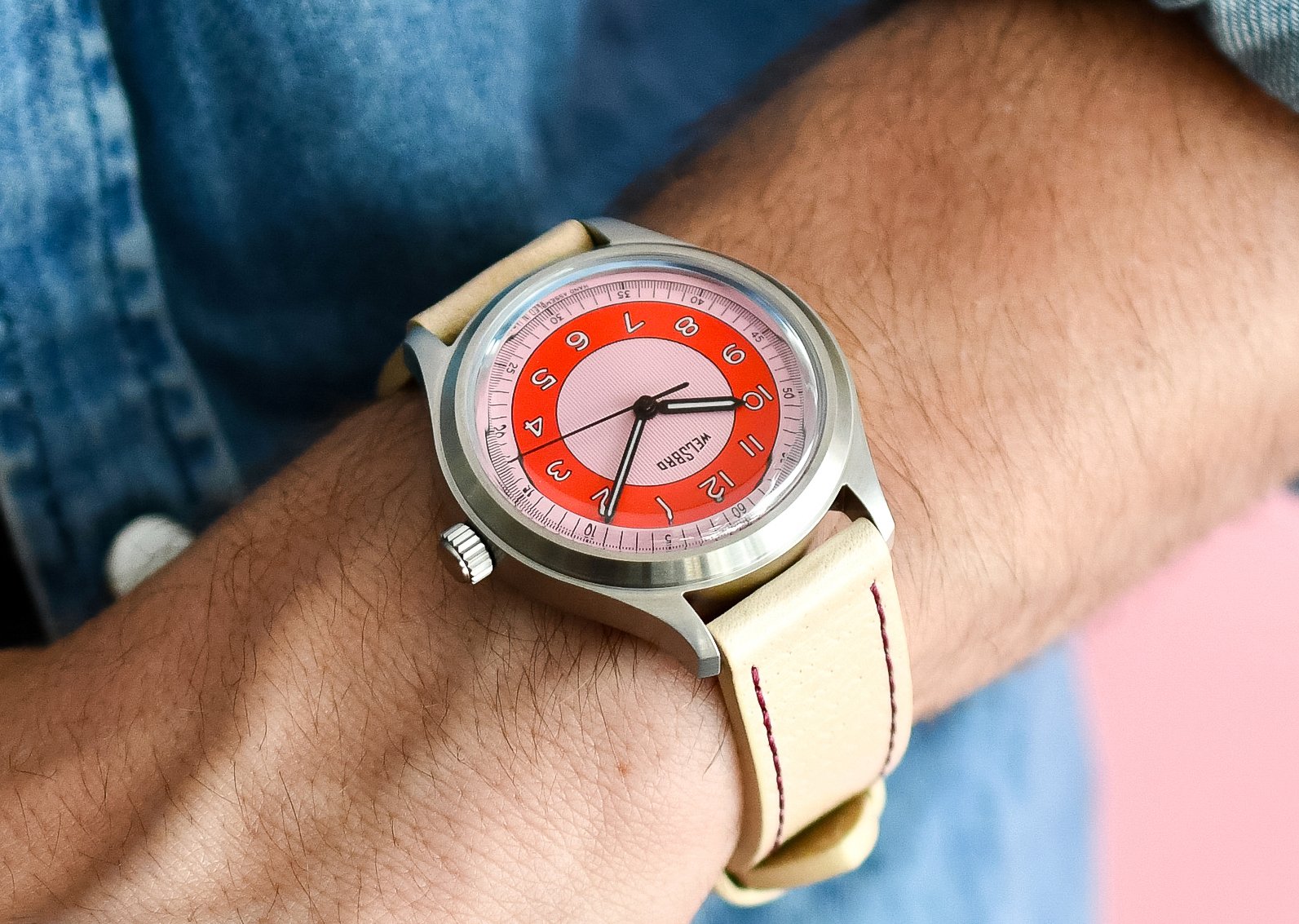 The final verdict
Well, I hope you've enjoyed our culinary tour around Staten Island. I know I certainly did! To me, Welsbro seems like a very personal project executed with a lot of attention to detail by the team behind it. The idea to upscale vintage cases and use vintage movements makes total sense in a world where there's already too much of everything. And I love how there's a food-themed story behind every one of Welsbro's pieces. It shows that watches shouldn't always be taken so seriously. That's also exactly the way we think about watches here at Fratello, and it makes the hobby so much more enjoyable!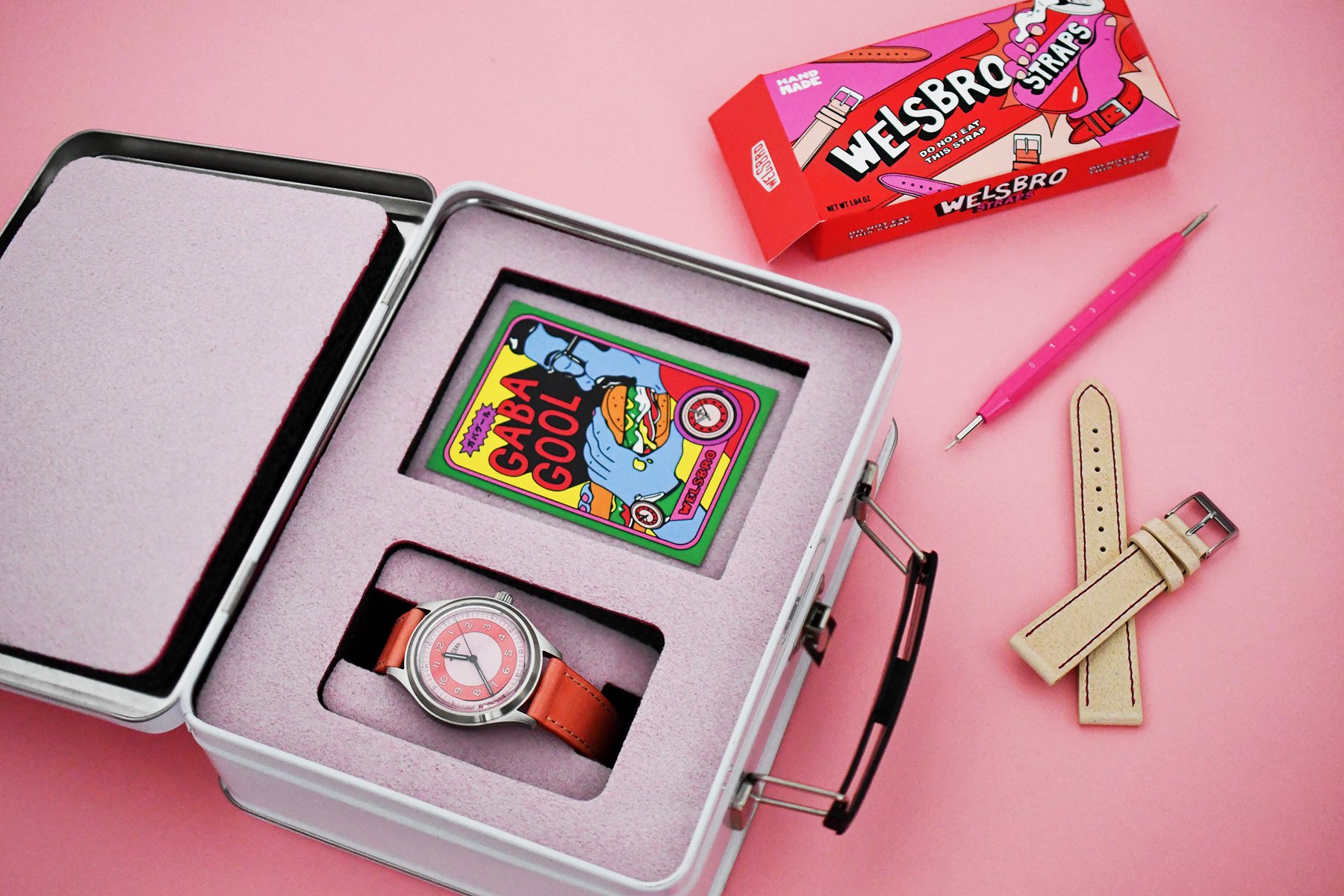 If you'd like to get your hands on one of these very tasteful dishes — excuse me, watches — then you'd better be quick. They'll be available today at 10:00 AM PST (7:00 PM CEST), but there will be only 30 pieces of each. The price is set at $880, and the watches will be available on the Welsbro website. Welsbro will donate 10% of the revenue to City Harvest, a food project for those in need in New York City.
Make sure to stay tuned to the Fratello Food channel because Rich and Katie told us they're already working on their next recipe. I can't wait to find out what they're preparing for us next time!
Which of your favorite foods would you turn into a watch? And which one would be your pick from Welsbro's Staten Island collection? Let us know in the comments!