How Watches Work: What Is An Ana-Digi Display And Is It Useful?
Exploring the oft-ignored timepieces with hybrid displays
OK, it's confession time. Ana-digi watches have never really been "my jam." Other than a G-Shock from my wife that I wore as a beater years ago, I have never expressed any interest in owning (or heaven forbid purchasing) an ana-digi timepiece. So when Rob assigned me this article, I was, admittedly, less than enthused by the subject matter. However, if there's one thing I've noticed so far in my short time at Fratello, it's that I. KNOW. NOTHING.
Or, at very best, not nearly as much as I thought I did three months ago. Therefore, every research article I tackle ends up becoming an incredibly beneficial learning experience. Indeed, each is an adventure that opens my mind to a wider world of horology I would have casually glossed over otherwise. Ana-digi watches may not be the absolute pinnacle of watchmaking that most of us come here to read about. But, as with every topic I've handled thus far, researching and writing about them gave me a newfound appreciation for their history and function that I would not have gained otherwise. So before you go hastily clicking off this article to read about some crazy new high-horology release, I humbly invite you to lay down your torch, open your mind, and let Papa Baines "learn you somethin'." Maybe, as I did, you'll come away seeing "a whole new wooooorld."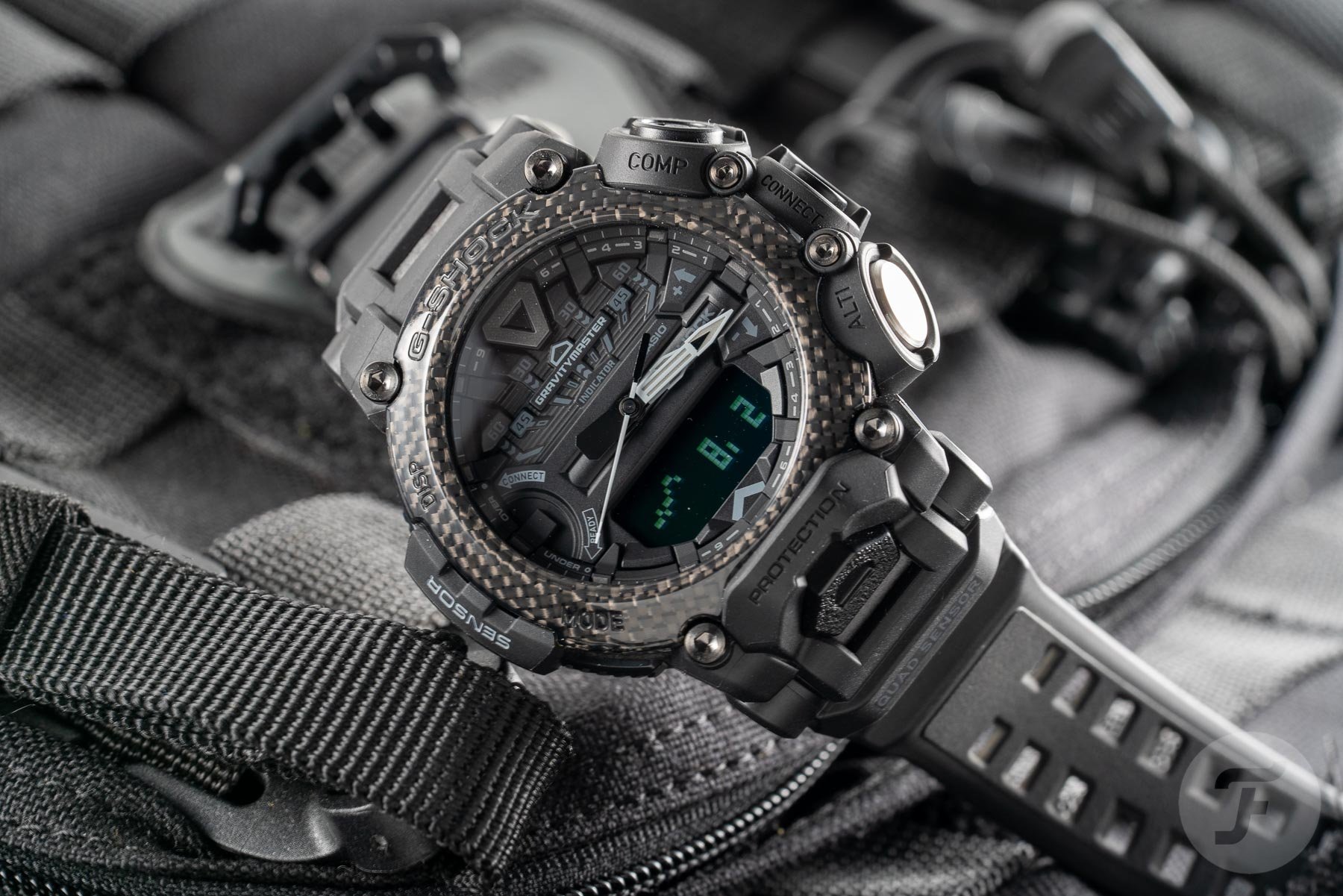 What is an ana-digi watch?
Though an ana-digi watch can be quite complex, the concept behind it is not. Quite simply, an ana-digi watch is one with an analog main time display and digital display(s) for additional functions. In contrast to fully analog multi-function watches, which are often jam-packed with sub-dials or additional apertures, ana-digi watches generally condense additional functions into just a few LCD screens. Depending on the design, these screens may visually blend into the dial. This provides a much cleaner look than subdials would without sacrificing amazing functionality. For those who find the design of a fully analog multifunction watch too busy or that of a fully digital watch too "cheap," ana-digi watches provide an option that some might call "the best of both worlds." But how did ana-digi watches come to be? Let's take a quick trip back in time to find out.
The rise of electronic digital watches
In the 1970s, LED and LCD technology was an exciting technological frontier. While the first mass-produced LED wristwatch, the Hamilton Pulsar P1, and the first liquid crystal display (LCD) wristwatch, the Intel Microma, both hit the market in 1972, it took only a few years before the battery-draining light-emitting diode technology was beaten into the ground by the more power-efficient LCD. It didn't take long for Japanese companies to get in on the action either. Seiko released its first LCD watch, the 06LC, in 1973. Calculator manufacturer Casio followed closely behind with its 1974 release, the Casiotron. Somewhat ironically, the Casiotron was based on technology purchased from Swiss electronics firm Brown, Boveri & Cie (BBC).
Between 1969 and 1973, BBC had developed an 8-digit display that worked in conjunction with quartz movement, called the Twisted Nematic LCD. However, the labor required to produce it for the mass market would cost far more than the BBC wanted to spend. Therefore, the company decided to sell its new tech to the Japanese. Casio was more than happy to jump on the opportunity to get in on the watch market of the future. Their 1974 Casiotron model was the first electronic digital watch to feature a calendar function, and it established the calculator company as a force to be reckoned with in digital watches. Citizen, another Japanese watchmaking powerhouse, wanted in on this new market as well. In 1978, the brand released the world's first watch to combine an analog and digital display, the Quartz Digi-Ana.
Citizen breaks new ground
The Digi-Ana featured an analog display for hours and minutes, an LCD digital display for seconds, and a larger LCD screen with an impressive number of functions for the period. One could either set the digital display to match the analog home time or offset it to a second time zone. The watch featured a 1/100th second chronograph that could time up to 60 minutes, complete with a split-time function for timing laps. In addition, the Digi-Ana featured a "perpetual calendar," and a three-year battery life with a low-battery indicator. It was accurate to +/-15 seconds per month and sold for 25,000–35,000 Yen at the time (€275–385 in 2021). The Digi-Ana was an absolute smash hit and went on to sell over one million units.
You want functions? Oh, we've got functions!
Even with the success of the Digi-Ana, Citizen was not satisfied to rest on its laurels. In 1980, the brand introduced the Ana-Digi Temp, the first ana-digi watch to feature two analog time displays. While the left displayed hours and minutes of the home time zone, the right featured a single hand that could toggle between modes for seconds, a 1/1000 second chronograph, an alarm, or a second time zone. The calendar function was programmed to be accurate through 2019. The watch also included a backlit display and a thermometer. While the user needed to remove the watch from his or her wrist for it to accurately display the temperature, it was the first watch on the market with this feature. The Ana-Digi Temp became Citizen's most iconic ana-digi design of the 1980s, and it was available in myriad colors and finishes.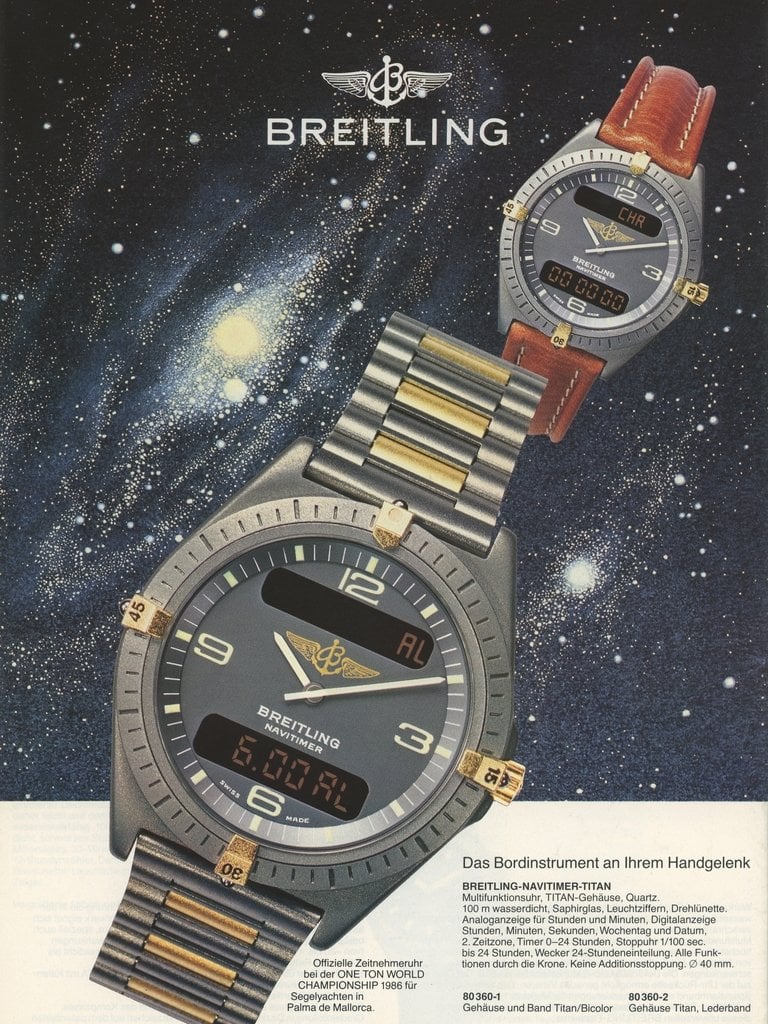 Ana-digi was here to stay
People loved the convenience of a watch that had so many digital functions and a traditional analog time display. The Swiss realized that they had better get in on the ana-digi action, and in 1985, Breitling released the Aerospace. The earliest versions, as seen in the ad above, featured "Navitimer" on the dial, while later ones simply read "Aerospace." The watch featured the most cutting-edge quartz movement the Swiss had to offer at the time, the ETA 988.332 (dubbed by Breitling as caliber 56). In contrast to the busier layout of the Citizen Ana-Digi Temp, the Aerospace featured a much cleaner, classier design with analog hour and minute hands and two LCD screens. These displays provided 12- or 24-hour display modes, a perpetual calendar, a second time zone, a 24-hour countdown timer, a 24-hour chronograph accurate to 1/100 of a second, and an alarm.
The best part about the Breitling Aerospace was that these functions didn't require any extra pushers. Unlike with less-expensive Japanese offerings, the Aerospace user could set all functions through the crown itself. This new, simpler approach to setting and design meant that ana-digi watches would not need to have a head-spinning array of buttons and setting modes to be supremely functional. The Aerospace also featured a lightweight and comfortable 40mm titanium case, just 9.1mm in thickness and 34.3g in weight. Rider tabs, a new stylistic calling card for the brand that made their debut two years earlier on the Frecce Tricolori chronograph, were also present on the bezel of the Aerospace. Breitling produced the Aerospace in this format for 10 years until 1995. Though the model has evolved slightly since then, Breitling has consistently produced the Aerospace in some form for over 35 years.
How do ana-digi watches work?
Ana-digi watches have been around now for over 40 years, and don't seem to be going anywhere soon. While exactly how they work may not be nearly as fascinating to our readers as to how mechanical watches work, this is "How Watches Work" after all. I'd be failing my mission if I didn't at least attempt to explain it, so here goes nothing!
Ana-digi watches all utilize a quartz movement. A quartz movement tells time through a quartz crystal. Electricity (most commonly from a battery or solar panel) passes through the crystal, causing it to vibrate 32,768 times per second. A circuit in the movement counts each set of 32,768 vibrations, producing an electrical pulse each time. On a standard analog quartz watch, this would cause the second hand to jump once per second.
Ana-digi watches, however, usually display seconds on an LCD screen. To do this, the pulses generated every 32,768 vibrations are logged by a counter circuit. The counter converts these to binary numbers, which a microchip then converts to seconds, minutes, and hours. The microchip sends a signal to the screen, which displays the data with numerals made of seven small hexagonal or trapezoidal segments. Quartz movement designers can use various calculations and circuits to program all other functions into the movement.
Ana-digi watches today and the functions they offer
As we saw in our short history of ana-digi watches, they can offer a seemingly endless array of functions, from calendars to additional timezones to alarms and thermometers. Though I will not spend too much time going over all of the options on the market today, I will highlight a few with different displays that may be of interest.
Single LCD — Casio G-Shock AW-500E
For many modern-day watch enthusiasts, Casio's G-Shock line epitomizes the ana-digi genre. Today, ana-digi models like the en vouge "Casioak" make up a large part of the line. The first G-Shocks introduced in 1983 were, however, strictly digital. It wasn't until 1989 that Casio introduced its first ana-digi G-Shock, the AW-500. The AW-500E seen here is a modern re-issue of this first ana-digi G-Shock design. It features analog hour and minute hands at the center with a single LCD screen in the lower half of the dial. Through the LCDs, the user can access a 60-minute chronograph with an accuracy of 1/100th of a second, a dual time function, an alarm, a full perpetual calendar, a 12- or 24-hour time display, and a backlight. The resin case is 55.2mm wide, 47.7mm long, 14.7mm thick, and 200m water-resistant. The AW-500E can be had for around €150.
Double LCD — Dodane Type 23 Quartz
Along with manufacturers Breguet, Vixa, and Auricoste, Dodane produced Type 20 and Type 21 chronographs for the French armed forces from the 1950s through the 1990s. Though the company faced tough times thereafter, Cédric and Laurent Dodane rebooted the business in 2013. Dodane then resumed production of Type 21 and Type 23 watches and onboard chronographs. Today, the brand offers an ana-digi version of the Type 23. This watch uses the same base caliber as the Breitling Aerospace, the ETA 988.333. Breitling's caliber does have a slight edge, being thermo-compensated and chronometer-certified. The movement in the Dodane, however, still boasts all of the extremely handy functions. A perpetual calendar, 1/100-second chronograph with split-timing capability, alarm, timer, 12/24 digital hour time display, and a second time zone are all present and all controlled via the crown.
The 42.5mm case is 100m water-resistant with a sapphire crystal. Options are available for sandblasted or black PVD finishes, a 12-hour or 60-minute bezel, and a strap or bracelet. Retail prices start at €1,500 from Dodane directly.
Triple LCD — Hamilton Khaki Aviation Flight Timer
The Breitling Aerospace may in fact be the go-to choice for an ana-digi pilot's watch. This Hamilton, however, provides even more functions that could be useful for the airmen and airwomen among us. The Khaki Aviation Flight Timer has an altimeter, thermometer, and dedicated logbook for flights. This logbook pilots keep track of up to 20 total flights and up to 99 landings for each! I personally can't imagine a flight in which a pilot would land 99 times. But I can't imagine a human needing a dive watch with 1000m of water resistance either. The point is, it never hurts to have a watch that's more capable than necessary! The Flight Timer also has a stainless steel case that is 40.5mm wide, 13.75 thick, and 46.5mm lug-to-lug, with 100m of water resistance to boot. At least it won't break if you have to do a water landing! *cough*1962-Navitimer-Cosmonaute*cough*
The watch features the E20-373 ana-digi quartz movement, based on the ETA E20-321. Unlike most ana-digi watches, this movement not only displays analog hours and minutes but also seconds. Whether this is good or bad is up to you. The LCD at three o'clock serves as a dedicated date display. The other displays allow the wearer to utilize all the other digital functions. These include the perpetual calendar (which also displays the week of the year), 12/24 hour time, countdown timer, 100-hour chronograph accurate to 1/100 second, UTC/GMT time, two additional time zones, alarm, and a backlight. Retailing at CHF 1,330, the Hamilton Khaki Aviation Flight Timer combines a ton of useful functions for pilots and land-dwellers alike, with very acceptable dimensions and great relative value.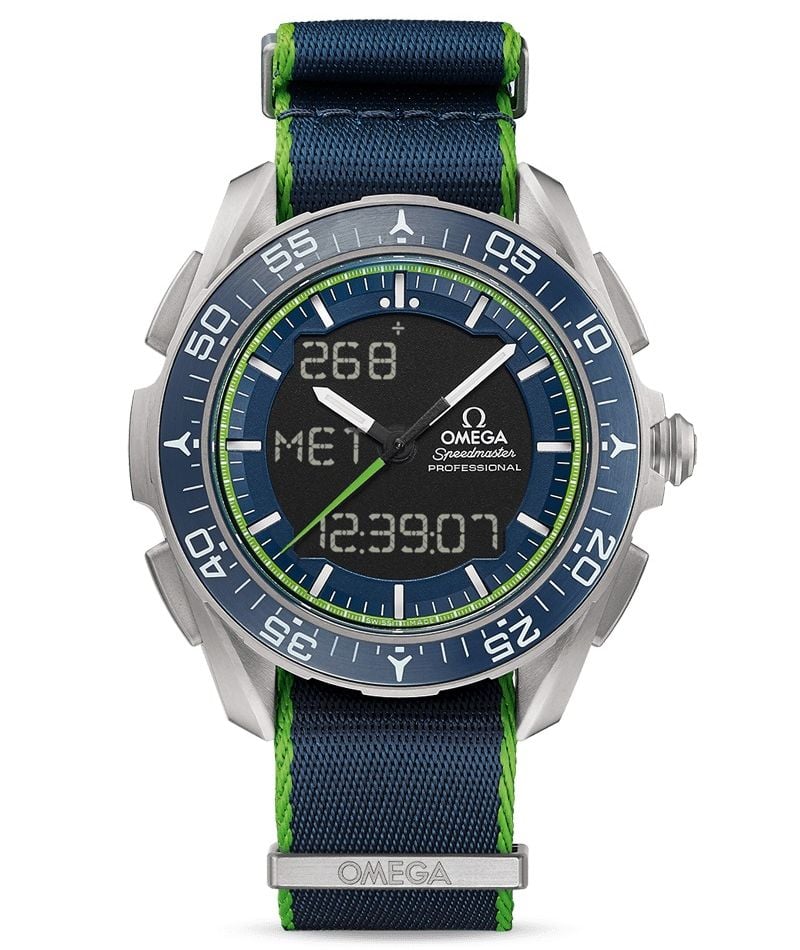 Full-screen LCD — Omega Skywalker X-33 Solar Impulse
Don't let the name fool you; this is not a solar-powered watch. It is actually a limited edition of 1,924 pieces to commemorate the Solar Impulse project, which aims to fly a fixed-wing solar-powered aircraft around the world to promote environmentally friendly technology. I chose this version simply because I think the blue/lime green color scheme is more interesting than the standard black version pictured at the top of this article. Regardless of which color you choose, the X-33 is indeed a super cool piece of kit. Many astronauts these days use the X-33 in space. The Omega 5619 movement offers many functions similar to the Hamilton, including three total time zones (including UTC), a perpetual calendar, a countdown timer, a 100-hour chronograph accurate to 1/100 second, and alarms. Whereas the Hamilton features just two alarms, the X-33 has three.
The standout feature of this Omega, however, is the ability to track Mission Elapsed Time (MET) and Phase Elapsed Time (PET). For astronauts, this is extremely useful because they can count down to or up from the start of their entire mission, using UTC, Timezone 1, or Timezone 2 as a reference. Additionally, they can count down to or up from the start of each particular phase of the "mission," using the start time of the mission as a reference. While this comes in very handy in space, civilians can also use it to track total traveling times, including the legs of flights, as seen here. The titanium case is 45mm wide, 15.1mm thick, and just 48mm lug-to-lug, which means it will wear comfortably on an average wrist. A lumed ceramic bi-directional bezel, lumed hands, and backlit digital display don't hurt legibility either. This X-33 retails for €5,200.
Are ana-digi displays useful?
This is the penultimate question, isn't it? (We'll get to the ultimate question shortly). Well, are you interested in having the day, date, week of the year, month of the year, and year itself all the way through 2099 on your wrist and at the push of a button? If so, then yes, an ana-digi perpetual calendar has got your back. Are you a chaos-dwelling, multitasking parent for whom an hour can slip by in 10 seconds? If you are, an alarm to remind you to get Little Johnny out the door for the school bus could come in handy indeed. Are you an athlete who wants to time anything, from splits between laps in the pool to the minutes remaining until the third quarter of the basketball game starts? Then once again, an ana-digi's split-second chronograph or phase-elapsed timer functions could be just the right tools for the job.
Sure, you could use your phone for all these things. But you could also use your phone to tell the time. As watch people, we don't see many of us doing that these days, now do we? No, sir! Do you know why? Because having all the information you want or need right there on your wrist is what we are all about. While your cousin Freddy frustratedly fumbles for his phone, you can take comfort in the fact you have the functions you want at the flick of your wrist.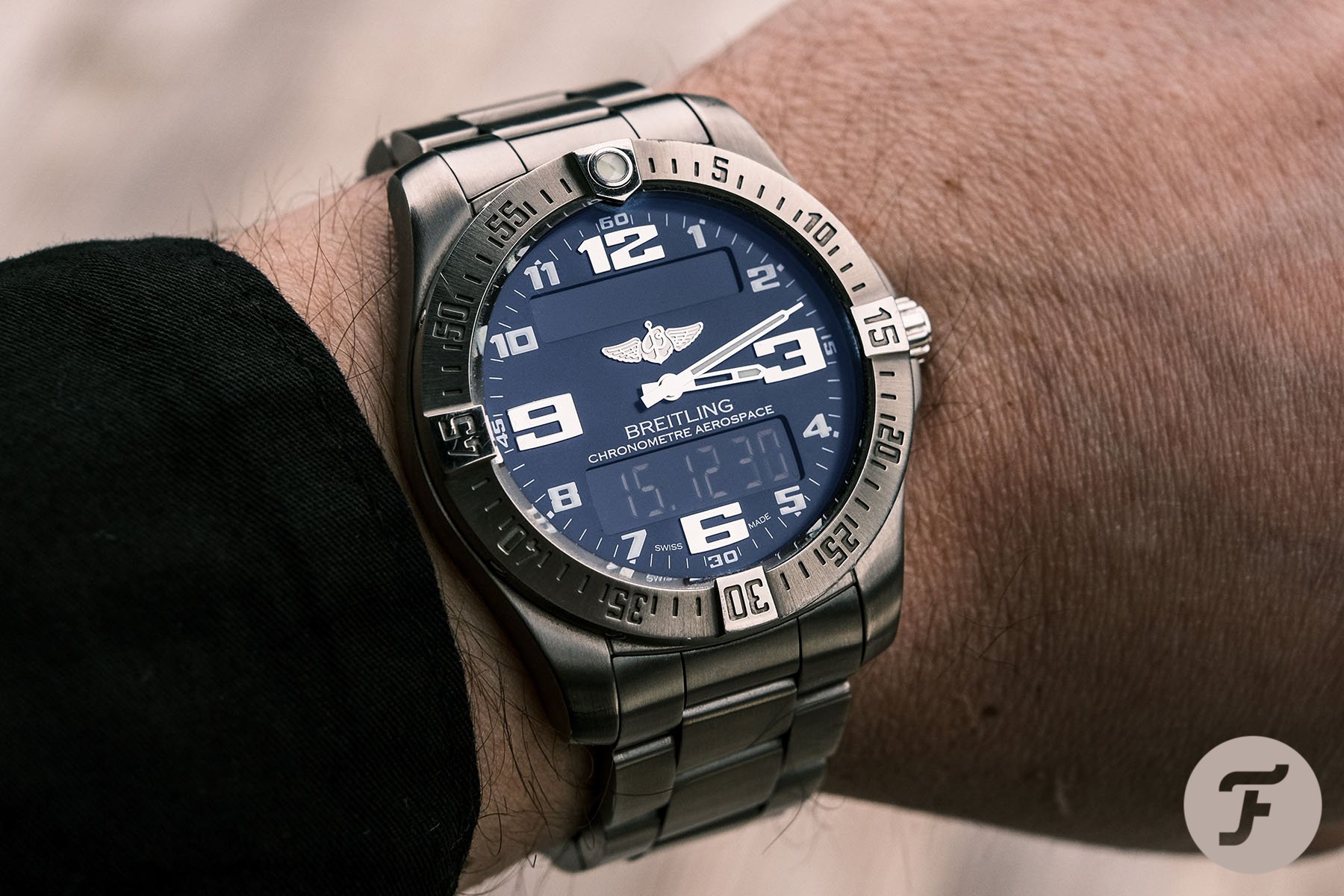 Are ana-digi watches worth it?
Short of going with a full-on smartwatch, an ana-digi certainly watch gives you the best bang-per-buck when it comes to informational wristwear. Not only that, it often balances its incredible functionality with relatively simple aesthetics. Depending on your personality, the traditional hour and minute hands, relatively clean dial, and perhaps even luxury brand name could go a long way in making you not feel like a traitor to the proper wristwatch. But ultimately, asking whether an ana-digi watch is worth it is just like asking, "Is a Rolex Submariner better than a METAS-certified Omega Seamaster?" While we all have our opinions, they mighy just be enough to make me break out my popcorn and hunker down for the spectacle!
So with that, I'll throw it over to you. Do you think an ana-digi watch is worth it? Do you own one? Would you ever buy one? How much is too much to pay for an ana-digi timepiece? I look forward to checking out your answers in the comments below! I hope you found this useful, and thanks, as always, for reading!