Why I Bought An Ebel Sport Classic Chronograph With An El Primero Movement
A longtime love finally enters my collection
For as long as I've been into watches, I've been a fan of the Ebel Sport Classic models, especially the chronograph version. It's not only about the Zenith El Primero movement inside that ticks at 36,000vph but also the shape of the case and the very thin wave bracelet. Admittedly, it does help that it was the watch that Don Johnson was rocking in his role as Sonny Crockett in Miami Vice. If I'm not mistaken, it was one of the first TV shows sponsored by a watch brand. Even guest stars, such as Phil Collins, received an Ebel watch to wear during the show.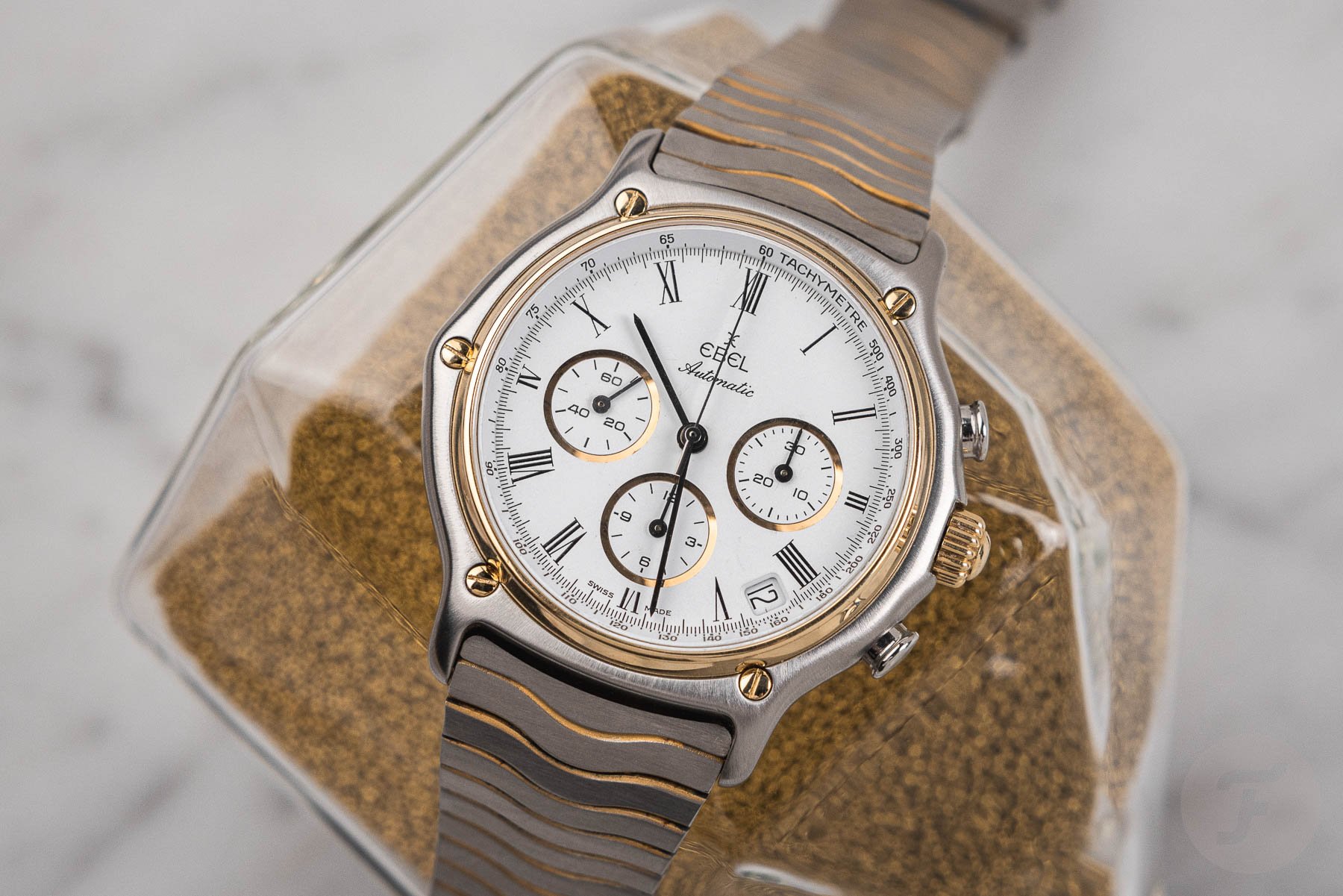 Ebel Sport Classic Chronograph 1134901
When I got interested in watches in the 1990s, Ebel was a big name. Not only professional tennis players, the Miami Vice cast (then already a re-run), and other celebrities wore Ebel watches, but I also saw them in real life in the relatively small village where I grew up. The name Ebel equaled a quality watch with a very recognizable design. Tennis players such as Becker and Edberg (thanks to Miguel Seabra for this info), German schlager music artists like Freddy Breck, and Swiss-based singer Udo Jürgens proudly wore them. Back then, Ebel was what Rolex or AP's Royal Oak is today, for example. An Ebel was the watch to have and be seen with.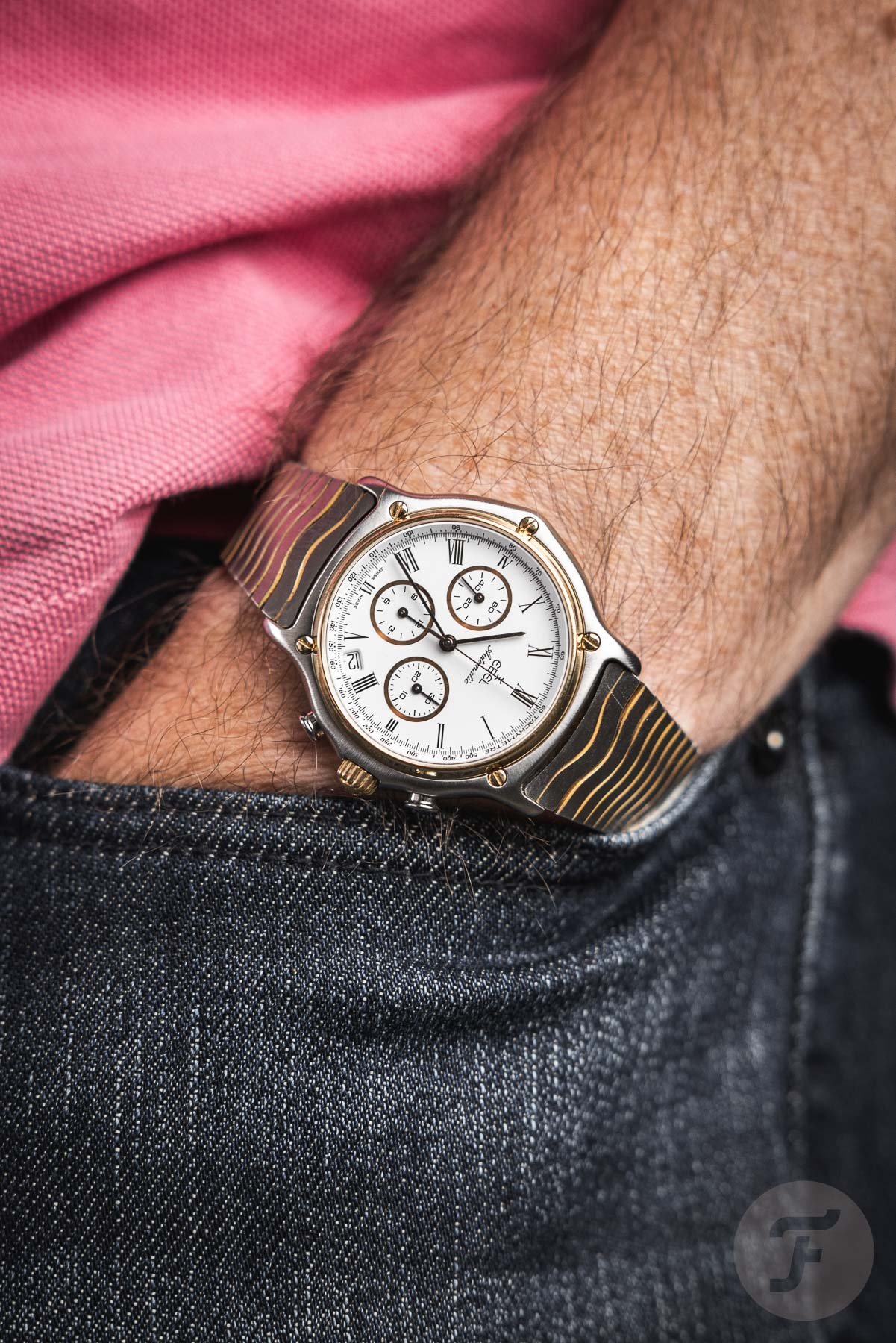 Who could have predicted in the 1990s where Ebel would be today?
At that time, I could not have imagined the minimal role that Ebel would have in the watch industry 20–25 years later. The brand tried to stay relevant with the 1911BTR models in the mid-2000s, but today's collection mainly focuses on ladies' models. The current range of Ebel Sport Classic models is still lovely, though.
My interest and love for the Ebel Sport Classic Chronograph never faded. I've always wanted a nice Ebel Sport Classic Chronograph, preferably in all gold or two-tone.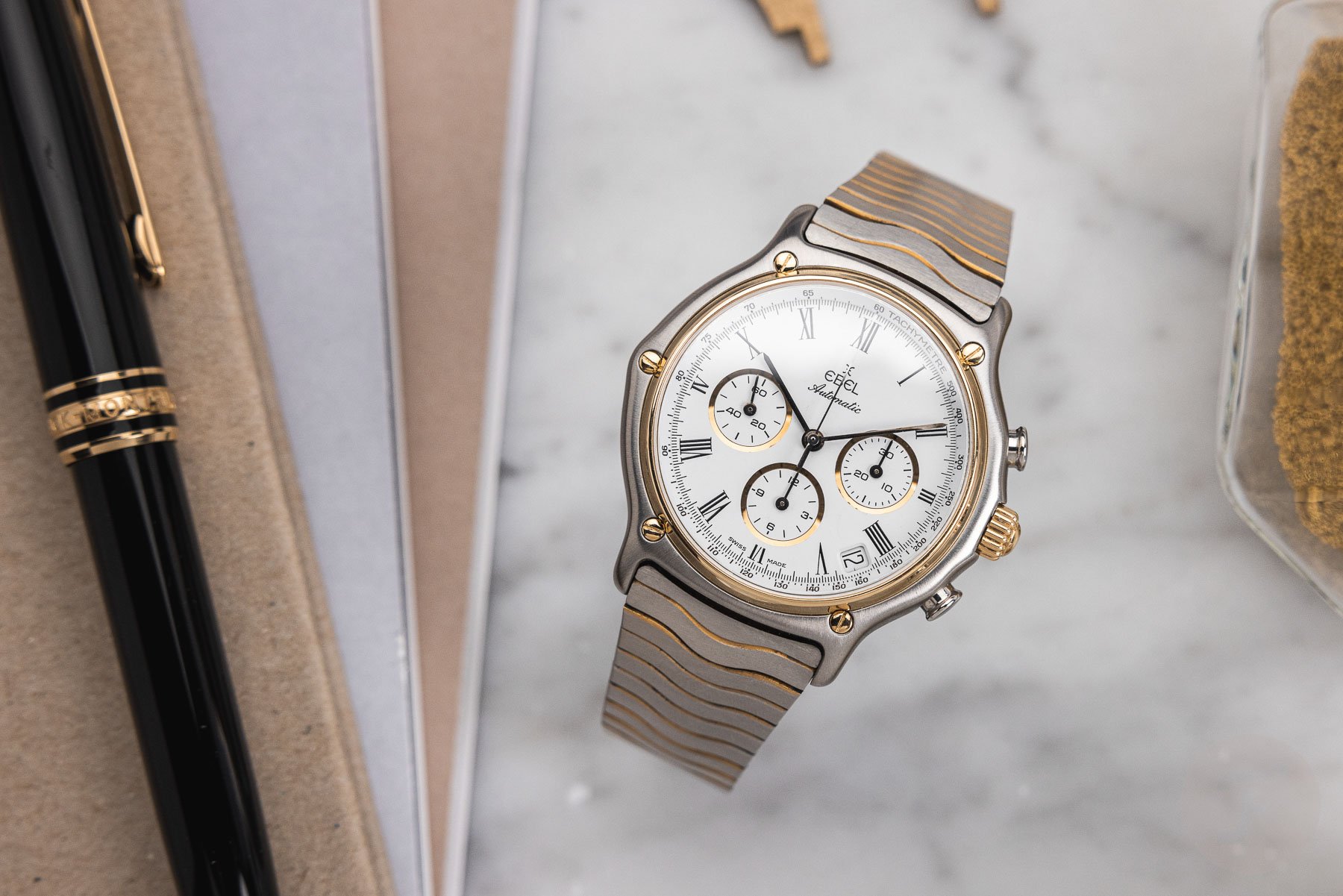 The Ebel Sport Classic Chronograph with caliber 134 introduced in 1982
The first Ebel Sport Classic Chronograph dates back to 1982. Although the Ebel Sport Classic three-hander watch debuted in 1977 (a very good year), the introduction of the chronograph model took a bit longer. According to Rick Denney, one of our commenters and a respected contributor to the WatchUSeek platform, Ebel began to buy some of the El Primero movements that Zenith had stocked and use them for the Sport Classic Chronograph. For the first batch of Sport Classic Chronographs, Ebel used the Zenith 3019PHC movement. In 1986, Zenith restarted production of the El Primero movement with the caliber 40.0. Ebel used this caliber in 1986 and the caliber 400 from Zenith in later production years. Again, thanks to Rick Denney for all this information. Unfortunately, Ebel itself doesn't provide many historical insights.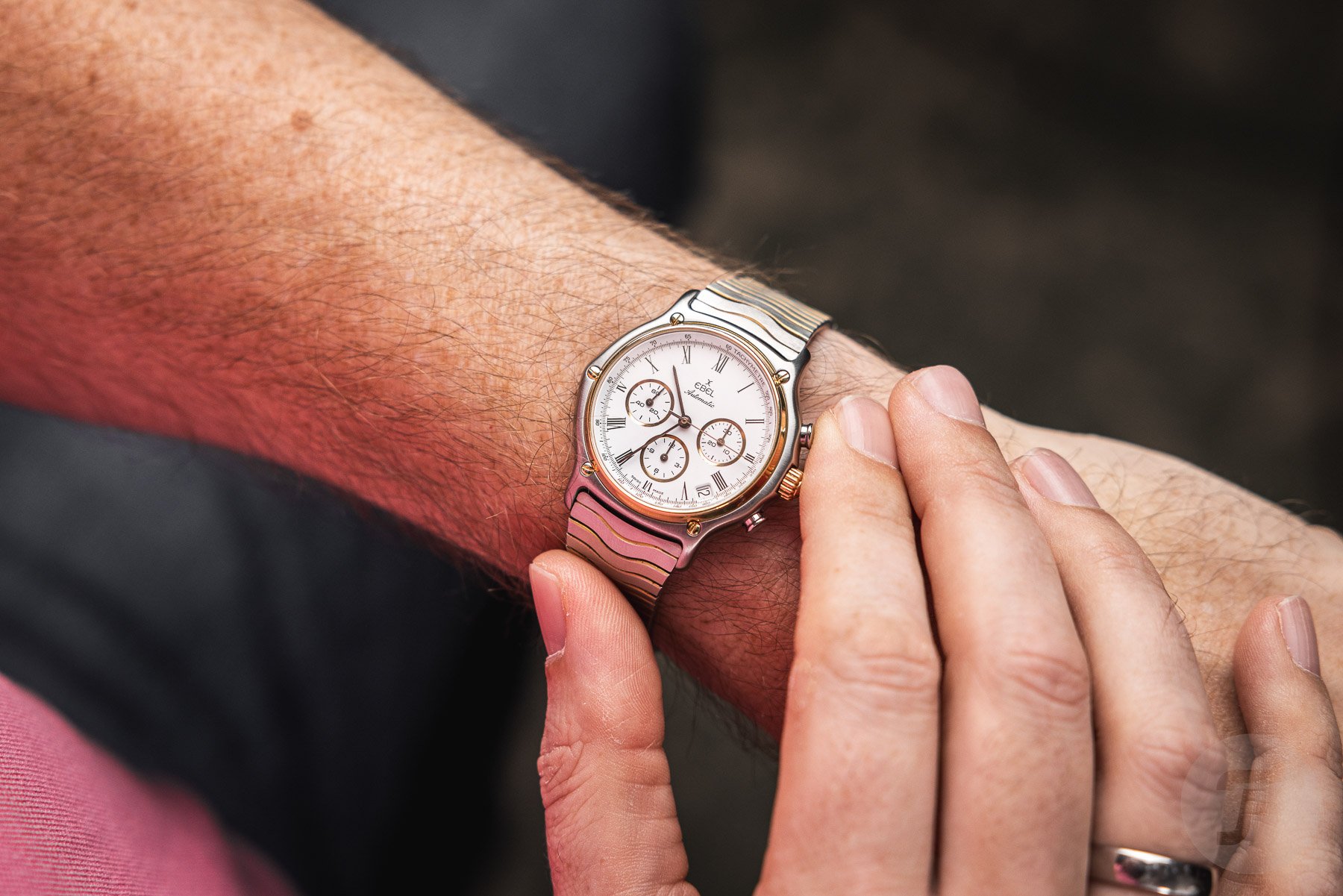 Purchasing the bi-color Ebel Sport Classic Chronograph
Back in 2019, Mike Stockton wrote a Wrist Game Or Crying Shame article on the Ebel Sport Classic Chronograph ref. 1134901. Back then, you could buy that watch for less than $2,000. I should have bought it at that time, but I didn't. Then recently, I visited a watch trade show where there was one offered for even less but in very poor condition (movement not functioning). I didn't want to take the risk, but it prompted me to actively look for one again. So I set a little trigger on my favorite websites so that whenever one came up for sale, I'd be notified. But not much happened. Then, I noticed one for sale on a local watch platform, shot the person a message, and the next day, I was the happy owner of an Ebel Sport Classic Chronograph 1134901.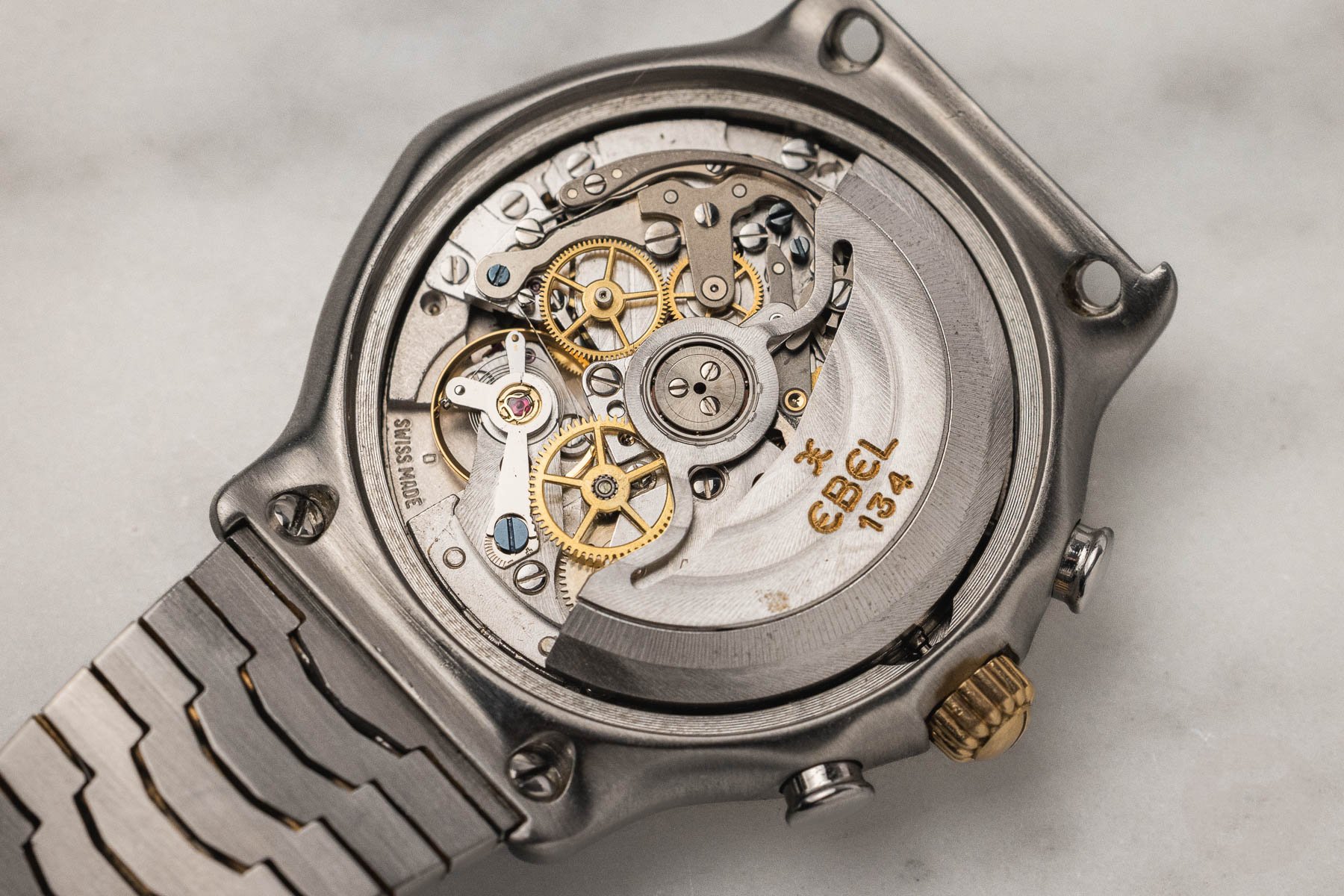 A little bit of work done
Not much later, I gave it to my watchmaker (who specializes in El Primero movements) for a service, and now it's properly functioning and running again. I also purchased another bracelet (but not the correct one, with end links that don't connect well, as seen in the images) because the original bracelet didn't have enough links and showed a bit more stretch than I had hoped. However, I swapped it again for the original bracelet, which fits better. I will wait and see if I can find another original bracelet in better condition at some point, but I am okay with the current one. I also replaced the sapphire crystal as the original one had a deep scratch.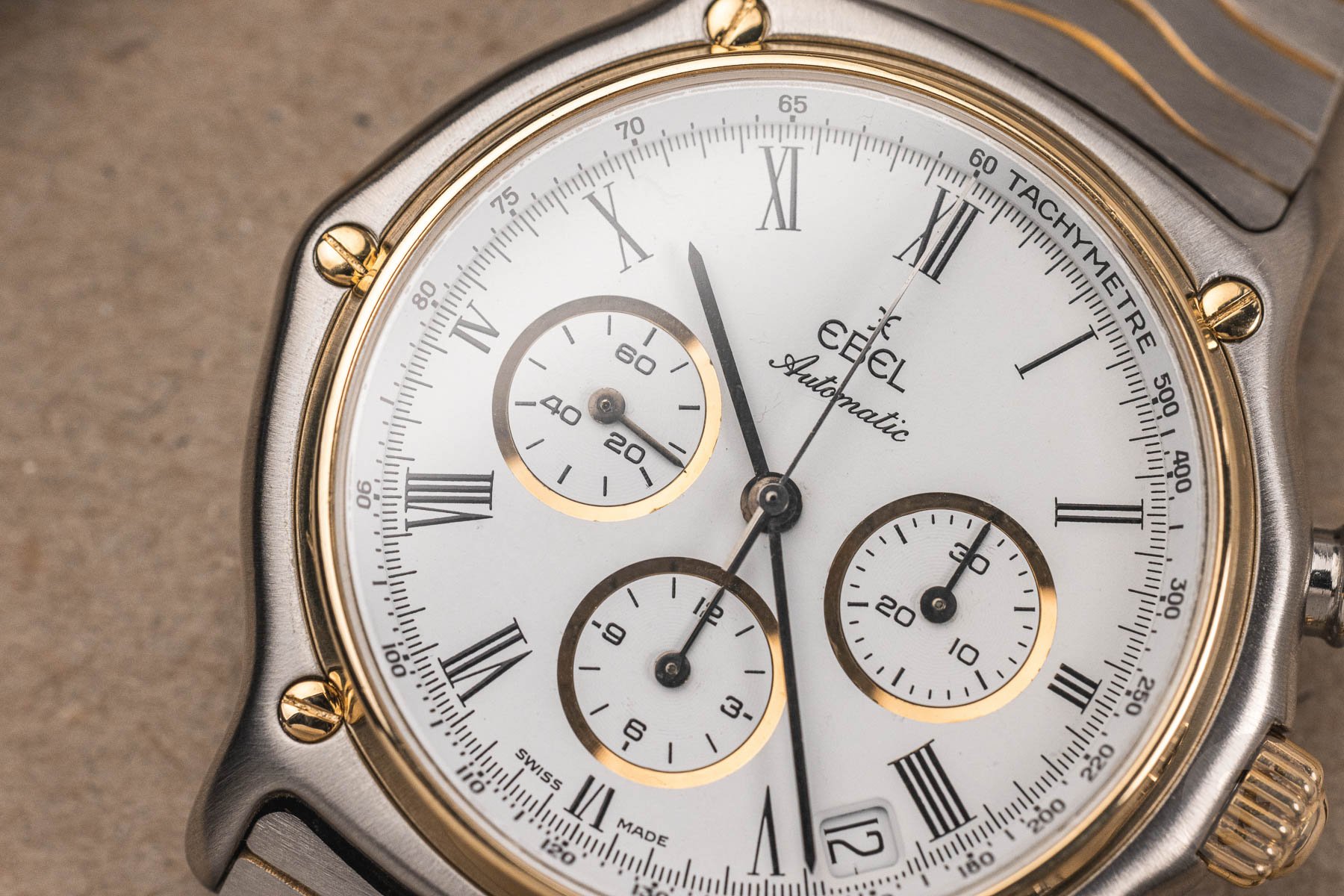 Seatbelt-buckle construction
Aside from the high-beat Zenith El Primero movement and link to Miami Vice, the Ebel Sport Classic Chronograph's design speaks to me the most. When I was a kid, a friend of mine had the regular Ebel Sport Classic on wave bracelet, and I liked that watch. The wave bracelet is incredibly comfortable and super thin. It has a two-piece construction, and the clasp reminds me of a seatbelt buckle. The gold on the bracelet gives it some punch. The watch has a gold crown, steel pushers, and an 18K gold bezel with gold screws. On the dial, you will find gold-colored rims around the sub-dials.
2023 dimensions on a 1986 watch
The steel case has a beautiful vertically brushed finish and a somewhat organic shape. In addition, the dimensions of the Ebel Sport Classic Chronograph are very "now," I would say. With a case diameter of 38mm and a thickness of just 11mm (lug-to-lug is 42mm), it would also be a perfect watch in today's world size-wise. The wave bracelet tapers from 20mm to 15mm.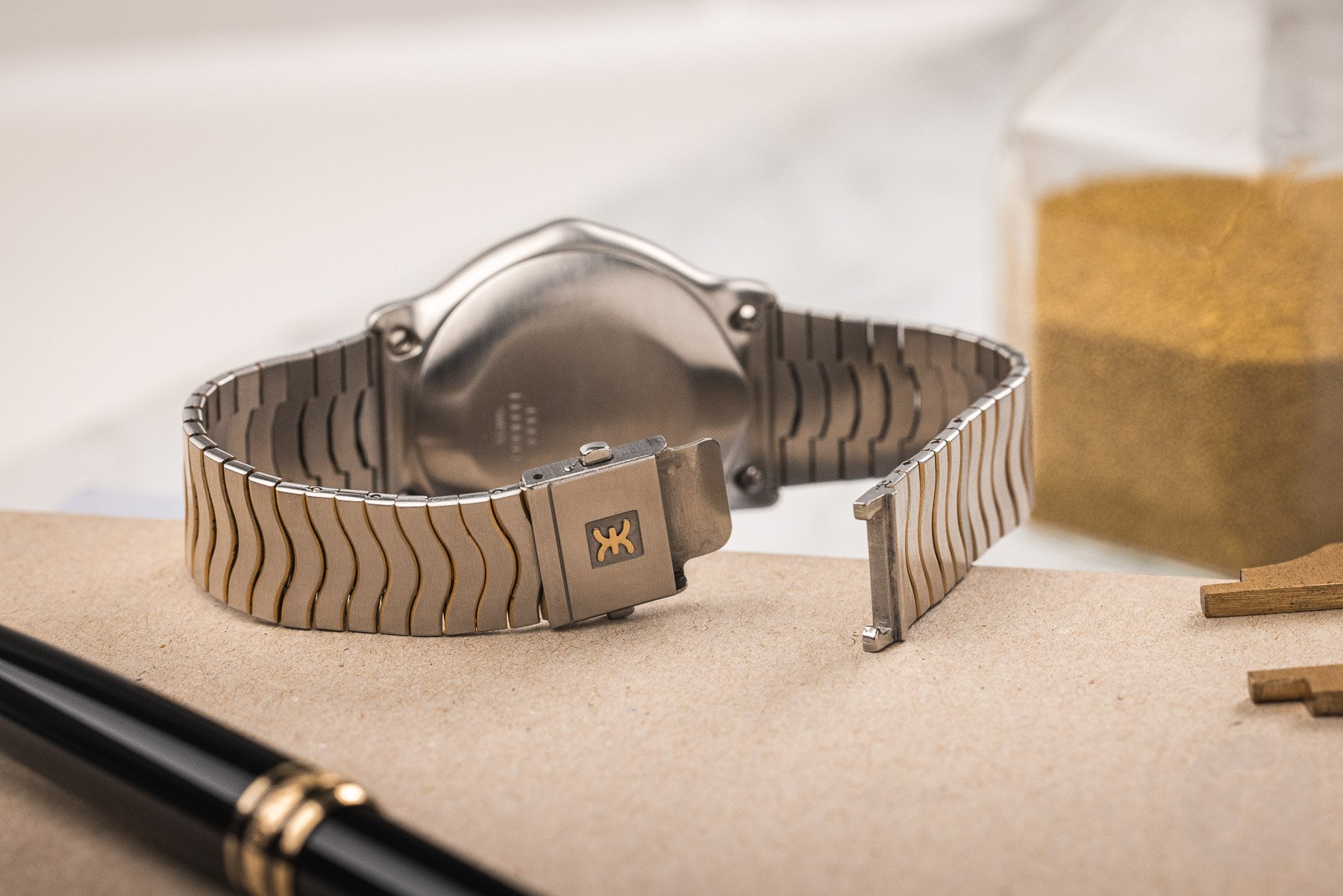 Not bad for €2,000
In 1986, Ebel also introduced the "1911" and used that bracelet on the Sport Classic Chronograph. It has more solid-looking links but also looks a bit less refined. Later, Ebel started using the Lemania 1350-based caliber 137 for the 1911 Chronograph. It is not precisely clear where the cutoff moment was for the Zenith El Primero movement, but I do know I found it a bit confusing at first which chronograph models were considered "1911" and which ones were just "Sport Classic." With the change to the Lemania-based movement, the Sport Classic Chronograph became the 1911 Chronograph.
In full transparency, I paid €2,000 for this watch. Then I bought an additional bracelet for approximately €350 and got a service overhaul for €280. So, all in all, it was less than €3,000, and the €350 for the replacement bracelet was a mistake, so I might sell that one again.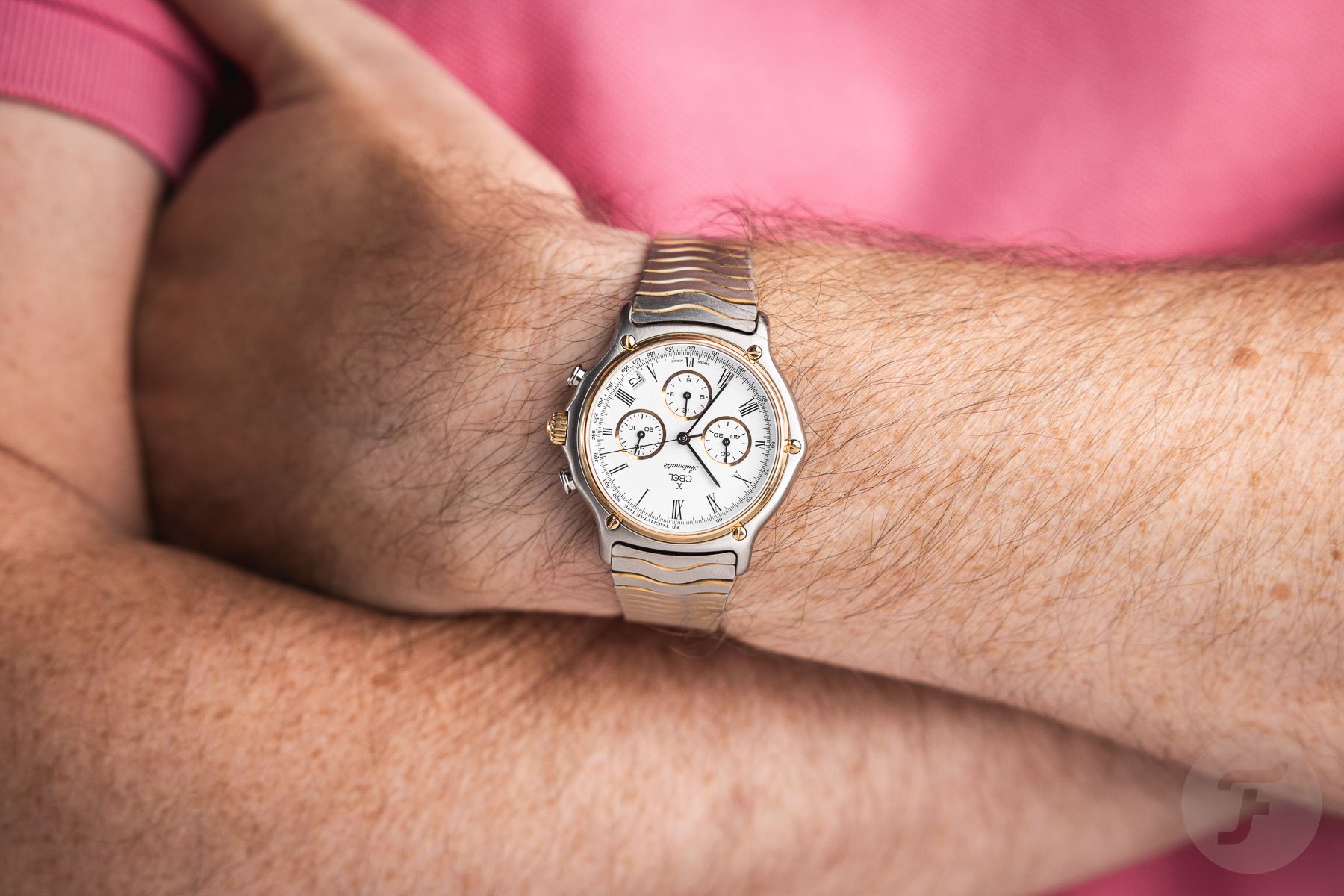 Mind the strap
Prices are a bit all over the place, but for between €2,000 and €3,000, you should be able to find a nice one. And at over €3,000, it should be in excellent condition. The full-gold models (like the one Don Johnson had in Miami Vice) fetch much more, especially on the gold wave bracelet. Expect to pay over €10,000 for those. You can find the gold model on a leather strap for approximately half of that amount. However, remember that it needs an Ebel-specific strap as it connects to the case from underneath with two screws. A strap maker like ABP in Paris can probably make a custom one for you, though, as finding an OEM strap for discontinued Ebel watches is not easy these days.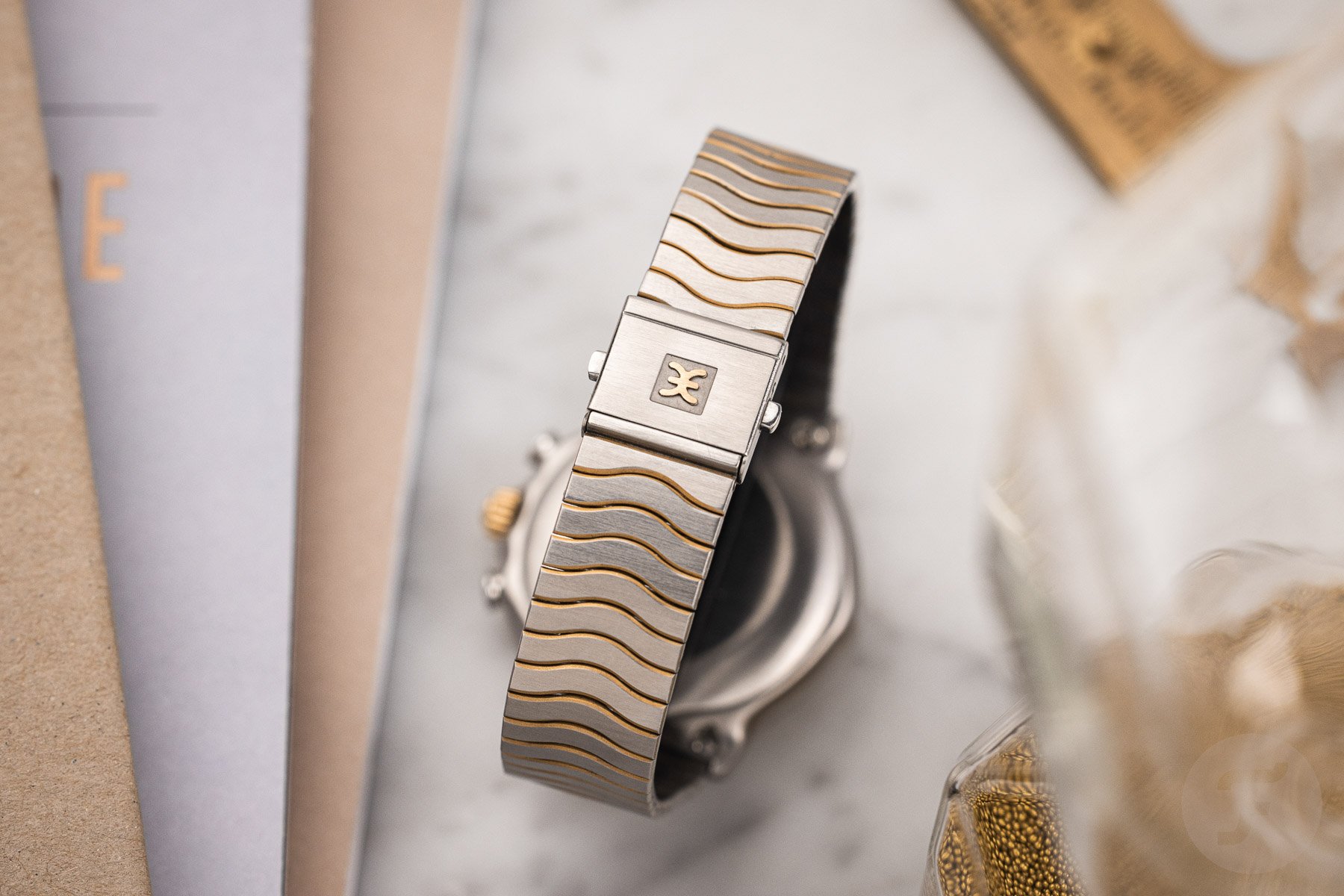 Sourcing parts will be DIY
The problem with a watch like this, from a brand that still exists today but has little to do with the past (as it changed ownership several times), is that getting any support regarding parts and service will be challenging. The positive note is that the El Primero movement is relatively easy to get serviced by an independent or Zenith watchmaker. On websites like Chrono24 and eBay, you will also find many parts available, from crowns to dials and bracelet links. The problem with the links is that the wave bracelets all look alike but differ in thickness, width, etc. There is little to no documentation on this matter.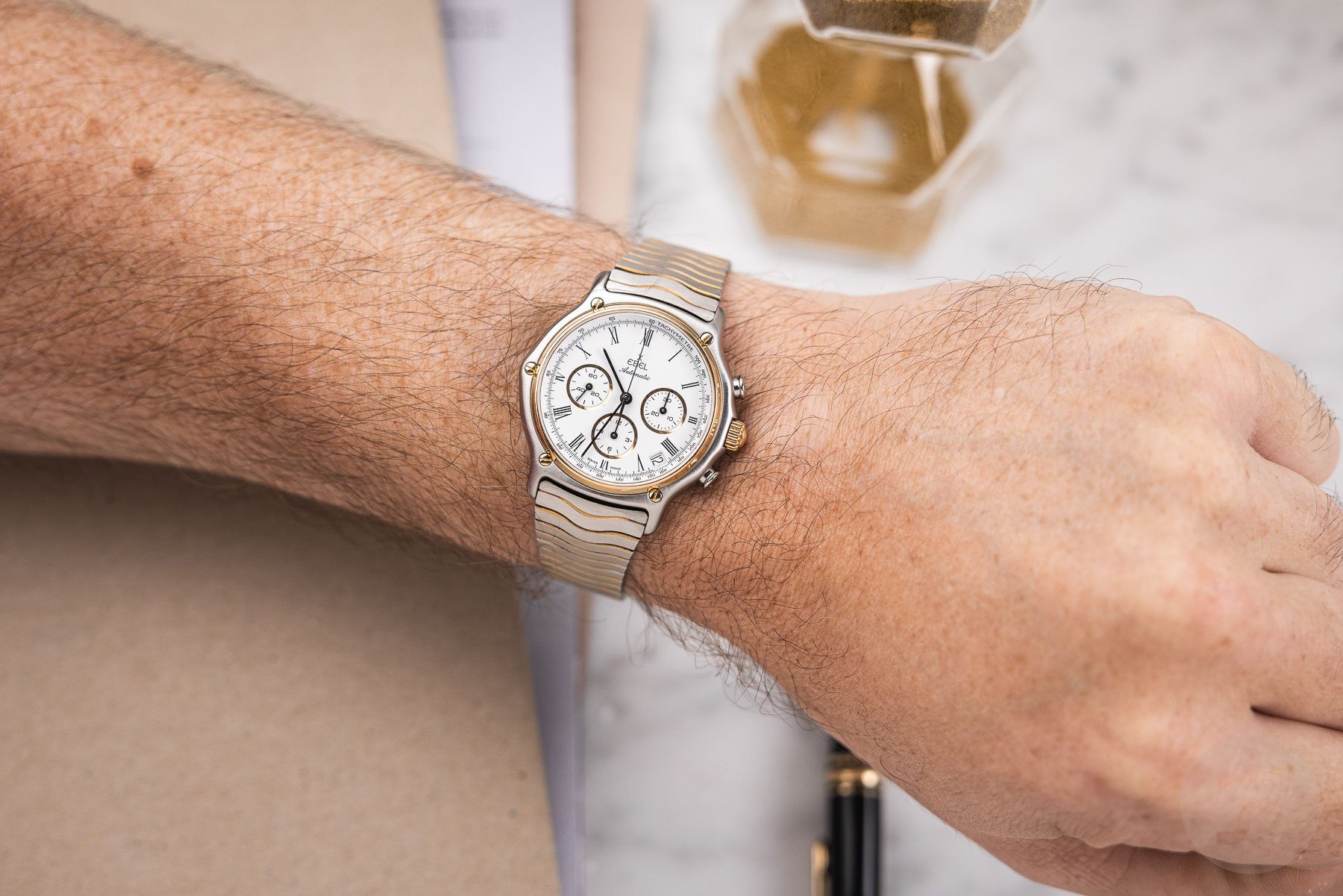 Achilles heel of the Ebel Sport Classic
Wearing the Ebel Sport Classic Chronograph with the wave bracelet makes me aware that I am wearing a 1980s/1990s watch. It reminds me of my youth, or at least of things in my youth that I liked. Without this nostalgic feeling, I would still like the 1980s design of the watch, but it would be mainly about the El Primero chronograph movement. I am amazed by how well the watch is constructed despite the very thin, flexible bracelet. The only thing that I consider the Achilles heel of this watch is how the bracelet or strap connects to the case. Too much pressure on the bracelet or strap will make the (very short) screw snap off (I've witnessed this on several occasions). As long as you are aware of this, it should be fine.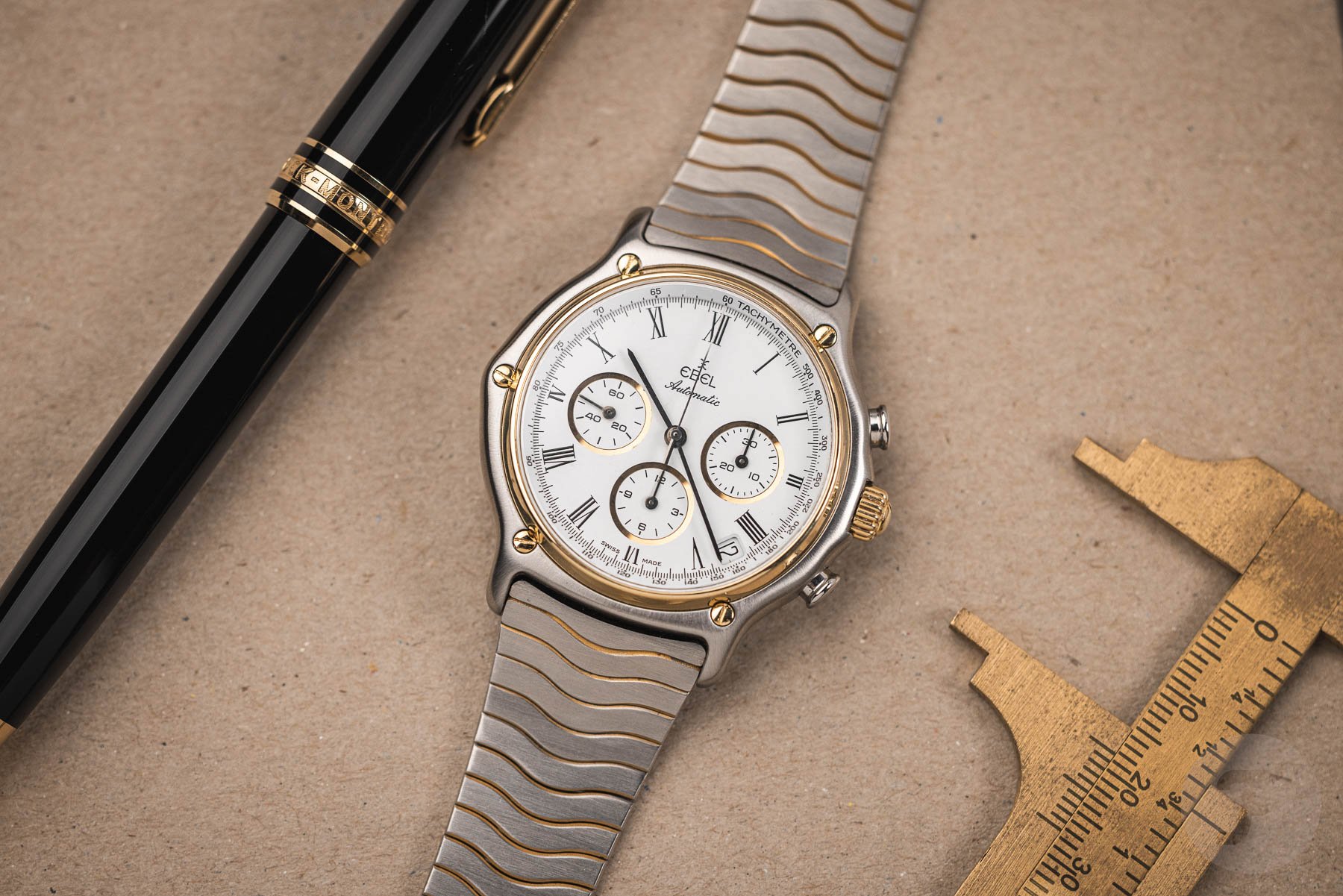 I'm not ruling out a future upgrade
The only reason that I might part with this watch would be if I bumped into a nice gold Ebel Sport Classic Chronograph with a gold wave bracelet. My watchmaker has one of those (I showed it on my Instagram account @rjbroer a while ago), and it's just stunning. The gold wave bracelet has a bit more body due to its slightly different construction and design.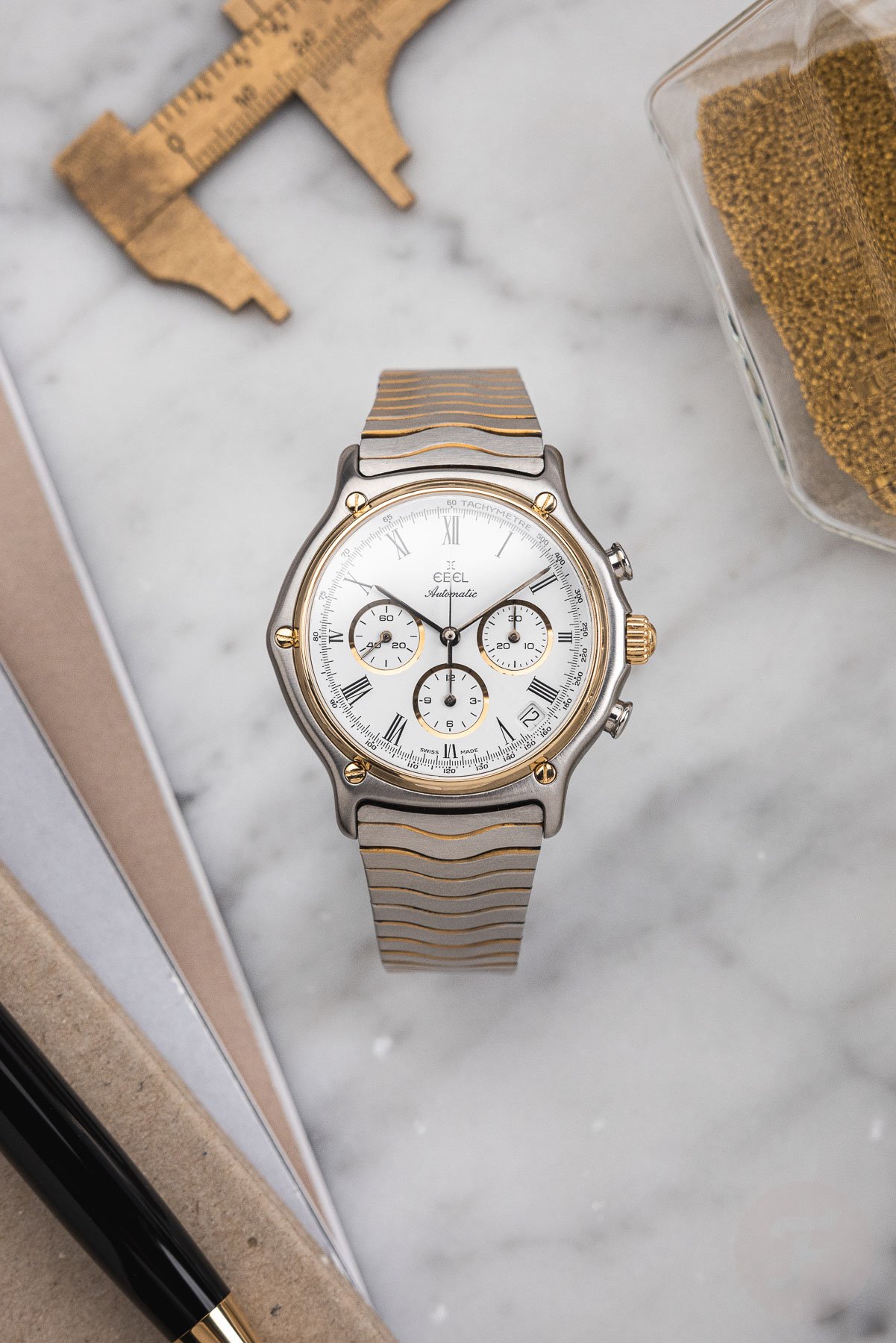 In the air tonight
The Ebel Sport Classic Chronograph 1134901 is a great addition to my modest collection of watches. It's easy to wear, and when I am in a bit of a 1980s mood, I will put it on my wrist and listen to Phil Collins's "In The Air Tonight." There are around 20 of these for sale on the market platform Chrono24, with prices starting at €2,000. If you'd like to have one, now is probably the time to buy.
Many people, including me till just a few days ago, don't seem to know that the all-steel model of the 1980s/1990s has a white gold bezel and a white gold crown. These are difficult to find, especially the first with the raised/applied Roman numerals on the dial. Thanks to Max Büsser for pointing that out to me during a conversation about his first real watch, the Ebel Sport Classic Chronograph with an El Primero movement.
Side note: The marble tile used in the images taken by Morgan Saignes was a leftover from the house where I grew up in the 1980s. My father saved a few tiles that were "spares."